Do you use LinkedIn a lot and have questions about it? Do you want to access LinkedIn help or contact their customer service?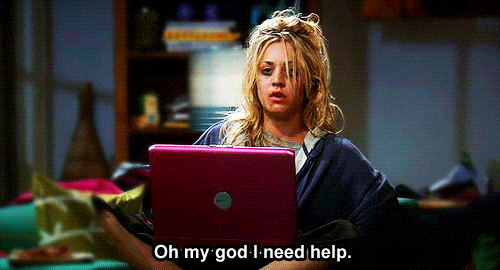 Don't panic. We will help you. Stay calm, don't panic and definitely don't pull your hair out. Just breathe slowly… and let me give you the information you need and quickly explain how everything works. 🧘
LinkedIn customer service: how to access it?
How do you contact LinkedIn's customer support using its help center and online forum? To contact LinkedIn's customer support, you'll need to go through a few steps first, as the company doesn't offer customer support by phone. 😭
There are indeed two phone numbers:
650-687-3600.
650-687-3555.
Down the phone line, you'll only find a recorded voice directing you to the LinkedIn Help page.
So it's best to forget about these phone numbers.
Well, we understand them. LinkedIn has a user base of 660 million members, from 170 different B2b industries and over 200 countries and territories. If they had to answer all our questions, all the time, the service would be slightly saturated. 😂
If that were the case, you'd get this type of phone response:
You've reached LinkedIn customer service. Your estimated waiting time is 2 days and 18 hours, please stay on the line.
Okay, enough with the jokes. I'll tell you how to get your questions answered regardless. 😜
LinkedIn Help: accessing and navigating the site
You have several ways to find answers to your questions on LinkedIn, and they're pretty well laid out.
I'll show you the 3 easiest options. 😉
#1 First way to access the LinkedIn Help Center
Click on this link to be taken to the LinkedIn Help home page.
First, select the type of LinkedIn account you have through the drop-down list.
Then, ask your question in LinkedIn's Help Center.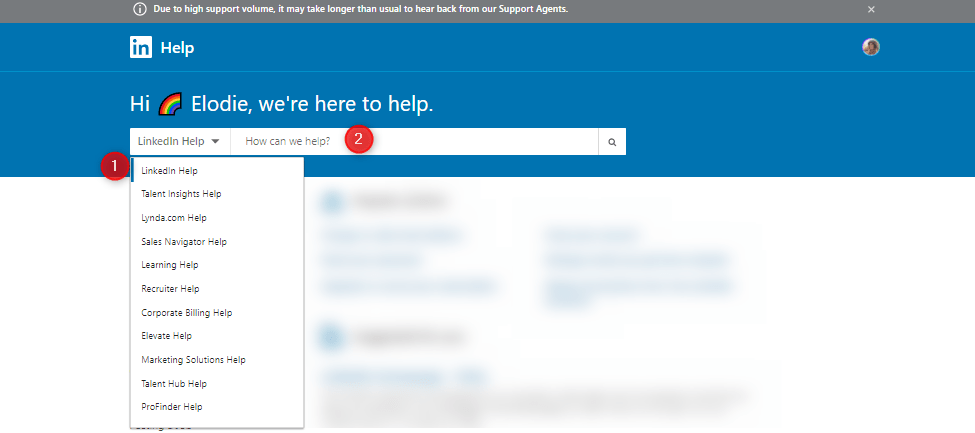 2# Find LinkedIn Help directly on your profile
To go to LinkedIn Customer Service via your homepage or profile, it's easy, just follow the few steps below.
Open your LinkedIn account. (Go to LinkedIn > Connection > connect).
Go to your profile and click on the "you" tab.
You will see "Help" appear, here in red.
Click on it, you are now on LinkedIn's Help/digital help center. 😍
Then just follow the steps in explanation #1.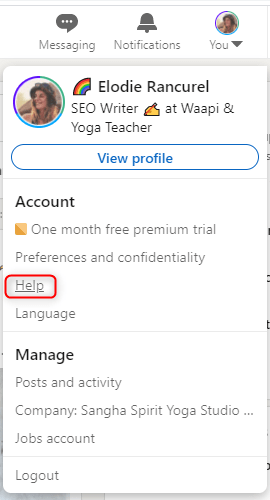 #3 Go to the LinkedIn Help self-service to learn by yourself
LinkedIn tries to train you as much as possible so that you can be autonomous in your search and quickly get the answers to your questions.
To do this, they have set up a "do it yourself" page, an improved resource center (FAQ).
To be honest, I've tested it for you, and I find that the article suggestions often times miss the mark. 😂
But I'll put the link anyway, for "basic" questions, it is still be useful.
Click on this link, to open the LinkedIn resource center.
Write your question (maximum 50 characters). Avoid complex sentences, to make sure you're not confusing the robots that automatically prepare relevant answers.
LinkedIn will then offer you suggested resources, you can click on "see more results" if you are not satisfied with the suggested articles, or rephrase your question.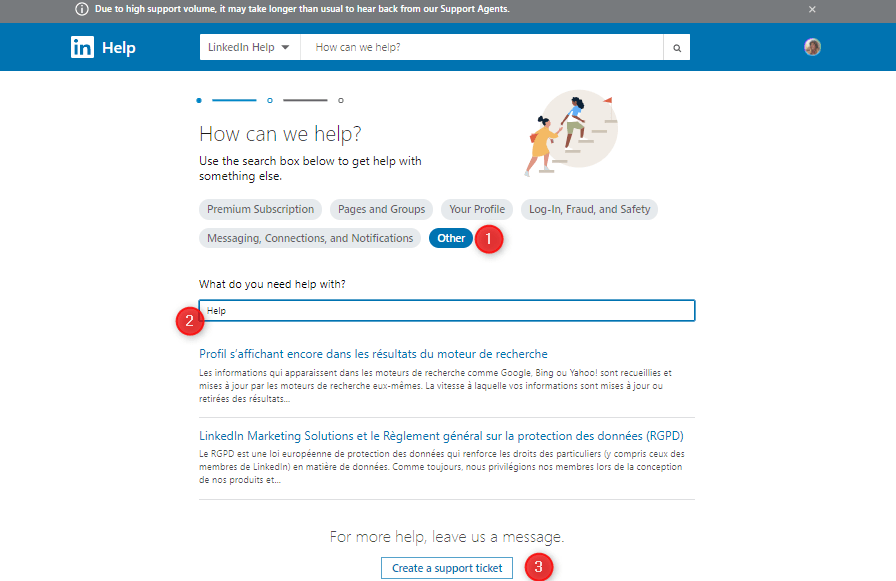 Contacting LinkedIn customer service without going through LinkedIn Help
As I said, it is impossible to contact LinkedIn by phone.
But there is still a unique way to get a human to answer you. 😍
The first good news is that we know how you can do this, the second is that I'll tell you right now.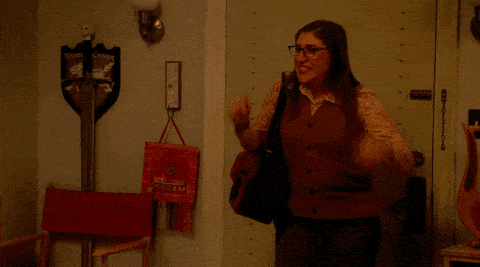 LinkedIn Support
You can click on the contact page.
Click on "others", then write "help" in the search bar.
At the bottom of the page, a magic button will appear. 🤩 "create a request to customer support".
Click the button, fill in your information and explain your problem.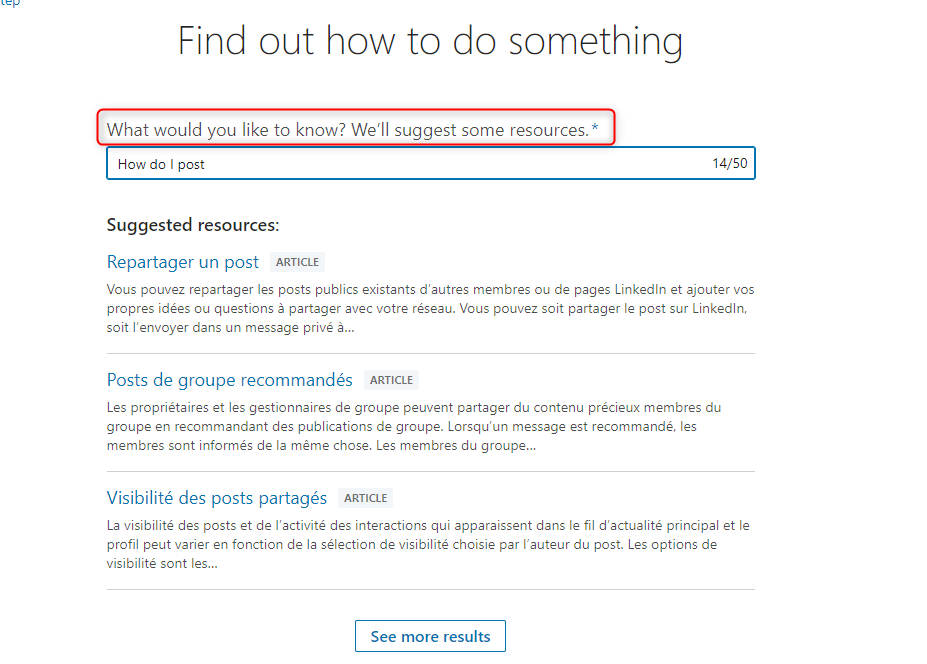 When this page opens, as I told you previously, you'll then have to fill in your the form, detailing what the issue is. Remember to add attachments files to help LinkedIn support understand your technical issues or questions.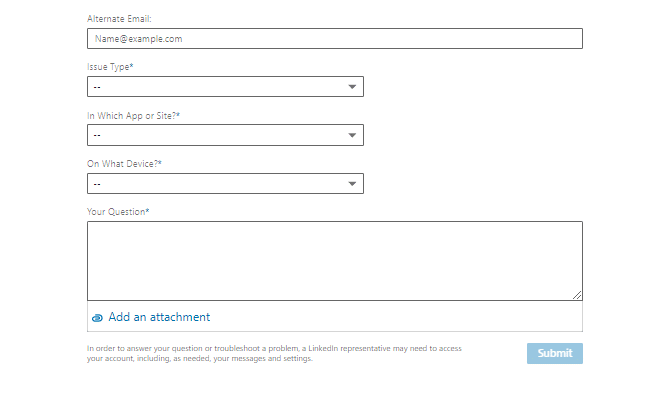 Once completed, your request will be registered with LinkedIn's technical support. You will receive a confirmation by email, usually indicating a time frame for processing your request.
Do you want to contact LinkedIn for commercial reasons?
To contact LinkedIn to purchase their solutions, it's a lot easier, weirdly. 😂
Here's how to contact them, or be contacted by the sales department.
LinkedIn will give you lots of options for your inbound marketing and advertising on the network.
How does LinkedIn help you build your business or career?
Maybe your questions about LinkedIn are not just technical and you want to go further in your use of the social network. Like us at ProspectIn (LinkedIn automation tool 😜), you have realized that there is a lot of potential on this professional network?
Need help to boost your business on LinkedIn?
If you want to sell on LinkedIn and need the best advice to do so, here is a compilation of the 4 must-know tips you need to master your strategy 🔥:
Need help propelling your career?
If you're looking to be more visible to recruiters and get hired, we've got some tips for you too. 🎁
In addition to improving your profile as much as possible, you'll need to know how to contact a recruiter on the network. Good thing I wrote a complete guide 👀 on the subject.
Also remember to be active on the network and start conversations with recruiters from companies you are interested in. Check out what's new, learn how to find the right information, and interact with members of the company in question. What a recruiter is looking for above all is motivation, curiosity and perseverance.
FAQ summary of the article
In this article you discovered:
How to access LinkedIn Help (LinkedIn's customer service).
Three ways to find answers to your LinkedIn questions.
How to contact LinkedIn customer service with a secret shortcut. ✨
How to contact LinkedIn's sales department and get a call back.
How to do a whole bunch of cool things on the network: automate your actions, find a qualified lead, launch marketing campaigns, increase engagement on your posts and provide a real boost to your sales. 🎯
How to be more visible to recruiters by following LinkedIn's candidate guide. 🕵️