Do you use LinkedIn a lot and have questions about how to use it? Would you like to access LinkedIn Help or contact customer service?
Don't panic. We'll help you. Stay calm, don't get out of breath, don't pull your hair out. Just breathe easy… and let me give you access and explain quickly how it works. 🧘‍♂️
As a gift, here's a little video that explains everything you need to know about LinkedIn in 5 minutes, it's a gift! 🎁
LinkedIn customer service: how do I access it?
Are you wondering how to contact LinkedIn's customer support using its help center and online forum?
Well, to contact LinkedIn customer support, you'll first need to go through a few steps, as the company doesn't offer contact with customer support over the phone. 😭
LinkedIn customer service phone
Well, actually, if you look hard enough on the Internet, there are indeed two phone numbers:
🥇 650-687-3600.
🥈 650-687-3555.
Only, at the end of the line, all you'll find is a recorded voice directing you to the LinkedIn Help page.
So it's best to forget about these numbers. 🧠
Okay, we get it. LinkedIn has a user base of 875 million members, from 170 different B2b industries and over 200 countries and territories. How can we tell you that if they had to answer all our questions, all the time, the service would be slightly saturated. 😂
If that were the case, you'd get this type of phone response:
You've reached LinkedIn customer service. Your estimated wait time is 2 days and 18 hours, please stay on the line.
Well, enough joking around. I'll explain how to get your questions answered in spite of everything. 😜
LinkedIn Help: accessing and navigating the site
There are several ways to find answers to your questions on LinkedIn, and they're pretty well laid out.
I'll show you the 3 simplest ways 😉
#1 First way to access the LinkedIn Help Center
Click on this link to get to the LinkedIn Help homepage.
First, select the type of LinkedIn account you have using the drop-down list.
Then, ask your question on the LinkedIn Help Center.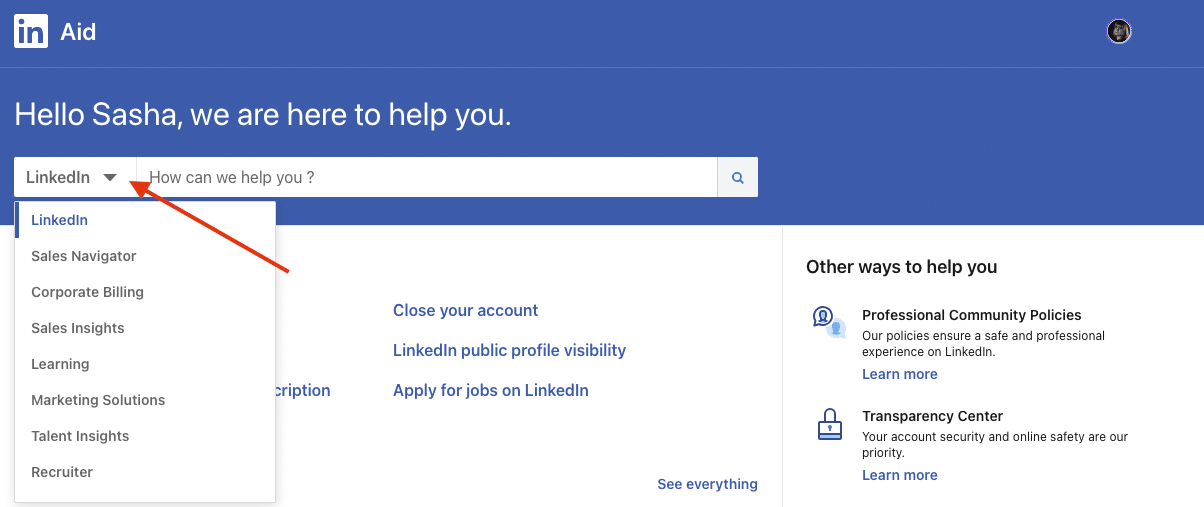 2# Find LinkedIn Help directly on your profile
To go to LinkedIn Customer Service via your home page or profile, just follow the steps below.
Open your LinkedIn account (go to LinkedIn > Connection > connect).
Go to your profile and click on the "you" tab.
You'll see "Help", shown here in red.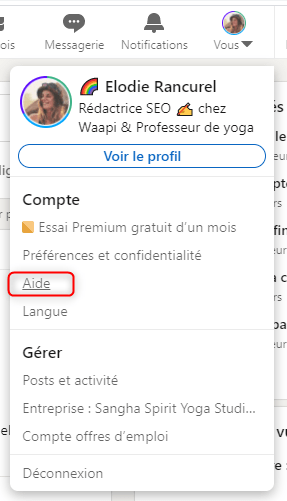 Click on it, a pop-up will appear and you'll have two choices:

You can search for useful articles according to the choices offered.
You can open the Help Center in another tab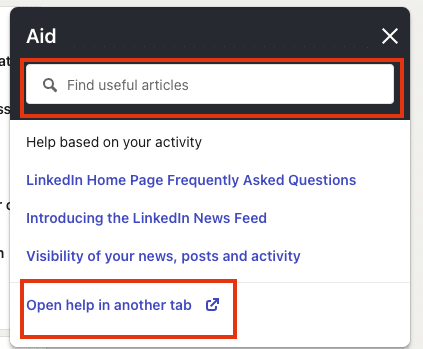 Now it's up to you to choose which option you prefer. 🦋
#3 Go to LinkedIn Help's "self-service" to learn for yourself
LinkedIn tries to train you as much as possible so that you can be self-sufficient in your search and quickly get answers to your questions.
To this end, they've set up a "do-it-yourself" page, an enhancedFAQ resource center.
To be honest, I've tested it for you, and I find that the article suggestions are often off the mark anyway. 😂
But I'm posting the link anyway, for "basic" questions, it'll still come in handy.
Click on this link to open the LinkedIn resource center.
Write your question (maximum 50 characters). Avoid complex sentences so as not to confuse the robots that automatically prepare your relevant answers.
You can then click on "see more results" if you're not satisfied with the suggested articles, or rephrase your question.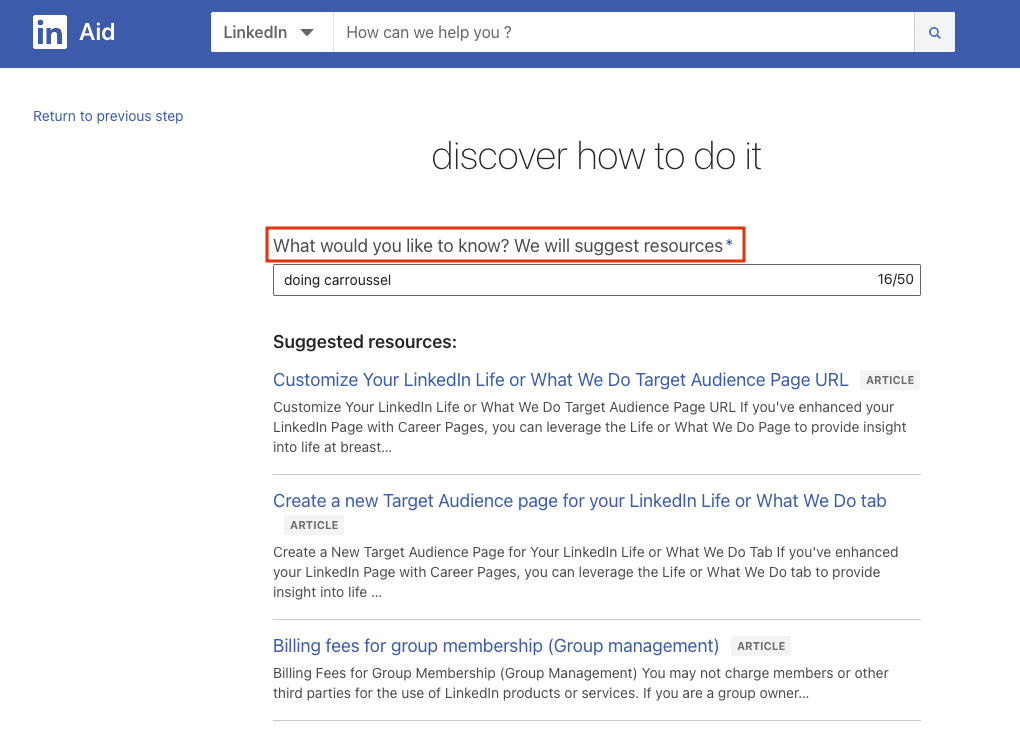 Contacting LinkedIn customer service without using LinkedIn Help
As I said, it's impossible to contact LinkedIn by phone.
But there's still a unique way to get a response from a human. 😍
The first good news is that we know how you can go about it, the second is that I'm going to tell you right now.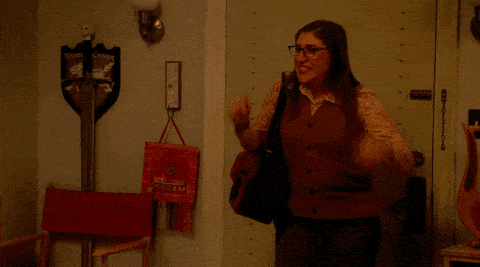 LinkedIn support
You can click on the contact page.
Click on "others", then type "help" in the search bar.
At the bottom of the page, a magic button will appear. 🤩 "Create a customer support request".
Click on the button, fill in your information and explain your problem.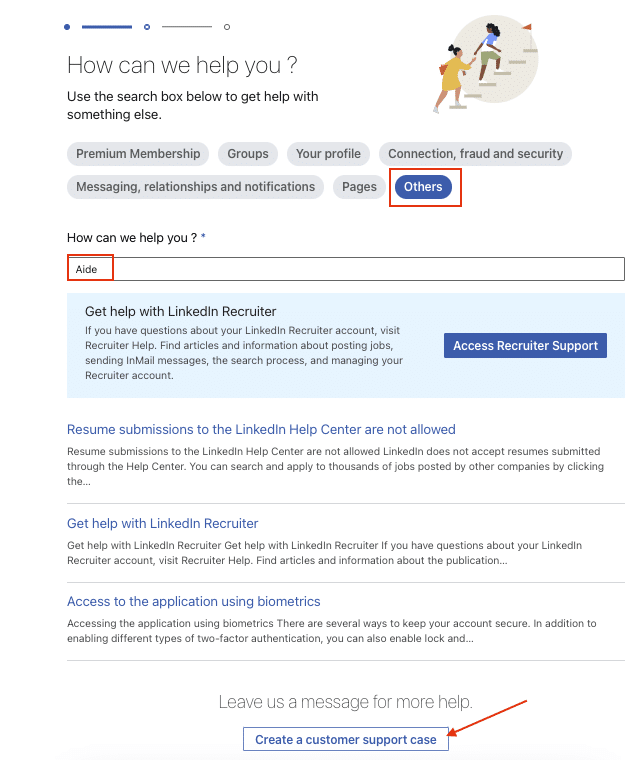 This page opens, as I told you, you must then fill in your problem. Remember to add attachments to help LinkedIn support understand your technical concerns or questions.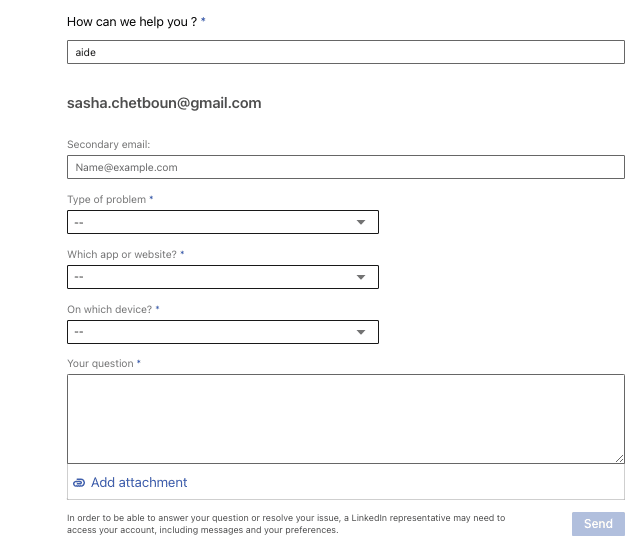 After that, your request is registered with LinkedIn's technical department. You'll receive an email confirmation, and they'll usually let you know how long it will take to process your request.
Contact LinkedIn by e-mail
If you intend to contact LinkedIn by e-mail for assistance, please note that no e-mail is available, as LinkedIn has not transmitted any contact details.
However, if you are a journalist or other, you can contact them via this e-mail address: press@linkedin.com. ✉️
Contacting LinkedIn on other social networks
Of course, LinkedIn has a presence on social networks as well as its own. Let's find out more about the LinkedIn account on different social media. ⬇️
Contact LinkedIn on Twitter
If you'd like to contact LinkedIn on Twitter, nothing could be simpler: just click on this link, and you'll be taken directly to their profile.
Then don't hesitate to send them a message or mention them in one of your publications. ✨
Contact LinkedIn on Facebook
Like Twitter, LinkedIn is also present on Facebook, here's their page. ⬅️
Feel free to send them a private message or also, mention them in one of your publications to get a response. 👀
Contact LinkedIn on Instagram
Finally, LinkedIn is just as present on Instagram, here's their profile. 😎
Would you like to contact LinkedIn for business purposes?
To contact LinkedIn to buy their solutions, it's much simpler, strangely enough. 😂
Here's how to contact them, or be recontacted by the sales department.
Fill in the contact form.
Or call us directly on

+33 8 05 54 20 78.
LinkedIn will give you lots of options for inbound marketing and advertising on the network.
How does LinkedIn help you build your business or career?
Maybe your questions about LinkedIn aren't just technical, but you'd like to go further in your use of the social network, and you've realized that there's a lot of potential to be exploited on this social media?
Need help boosting your business on LinkedIn?
If you want to sell on LinkedIn and need the best advice on how to do it, here's a compilation of the 4 must-have tips you'll need to master:
Optimize your LinkedIn profile ➡️ do's and don'ts.(profile photo, portfolio…)
Gain visibility and brand awareness ➡️ with a real digital strategy. (How to get 75k views per week.)
Find the best prospects ➡️ find your prospects on the network and segment your searches.
Automate all your actions on the medium ➡️ connection requests, personalized messages, marketing strategy campaigns.
Need help boosting your career?
If you're looking to be more visible to recruiters or to be selected from a multitude of candidates, we've got advice for you too. 🎁
As well as improving your profile as much as possible, you'll need to know how to get in touch with a recruiter on the network – good timing, I've put together a comprehensive guide 👀 on the subject.
Also remember to be active on the network and start conversations with recruiters from companies you're interested in. Check out what's new, learn how to find the right information and interact with members of the company in question. What a recruiter is looking for above all is your motivation, curiosity and perseverance.
How about a recap?
In conclusion, we can say that LinkedIn Help is proving to be a valuable resource for all LinkedIn users looking to optimize their experience on the platform.
Indeed, whether it's to resolve technical issues, get answers to frequently asked questions or benefit from professional advice, LinkedIn Help offers a comprehensive and accessible range of resources. 👀
Whether you have an attractive profile, the desire to develop a strong network or maximize professional opportunities, users can count on LinkedIn Help to guide them through the platform. 📚
Here's a quick summary of what you've learned in this article:
How to access LinkedIn Help (LinkedIn's customer service).
Three ways to find answers to your questions on LinkedIn.
How to contact LinkedIn customer service using a secret shortcut. ✨
How to contact LinkedIn's sales department and get a call back.
How to do a whole bunch of cool things on the network: automate your actions, find a qualified prospect, launch marketing campaigns, increase engagement on your posts and offer a real boost to your sales. 🎯
How to be more visible to recruiters by following the LinkedIn Candidate Guide. 🕵️‍♀️
Frequently asked questions
Did you think we were done? Not at all, here are a few more questions we have in resource. 📦
How do I find the LinkedIn Help phone number?
As said earlier in the article, you can find two phone numbers:
📞 650-687-3600.
📞 650-687-3555.
Nevertheless, this is simply a phone line featuring a recorded voice that redirects you to the LinkedIn Help page.
How do I contact LinkedIn without an account?
The principle remains the same as before, just Google "LinkedIn Help" and you'll come to this page.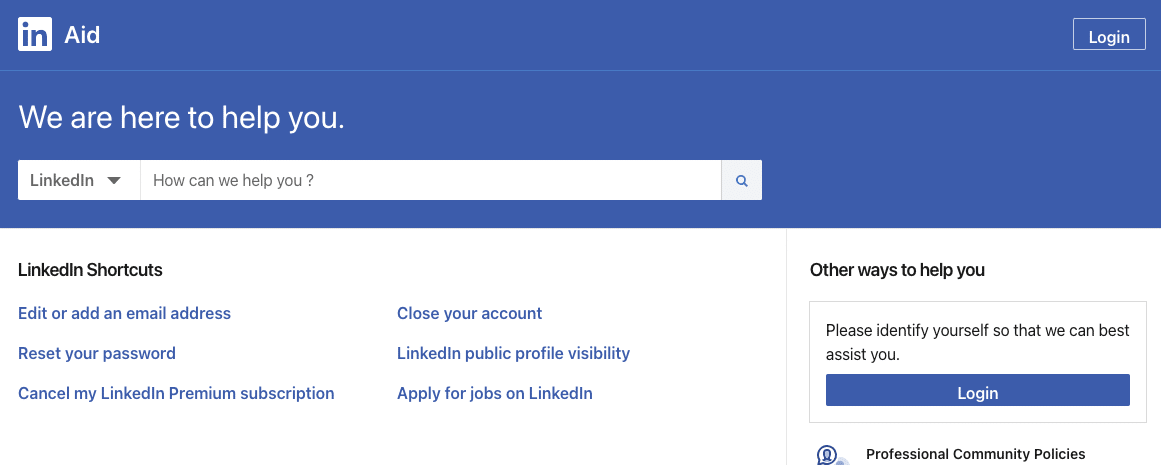 You can now ask all the questions you want in the search bar. 🦋
And that's it, that's now the end of this article about LinkedIn Help, we hope we've sharpened your thoughts. ✨