In this article, you'll discover how to do an effective marketing email ; both from a technical point of view, going through the writing and finding along the way examples that we can review together. 😉
To avoid making you read 30 minutes of blah blah blah, I've condensed everything to the 5 best tips I've found for making good marketing emails.
It's not just from me, but also from great marketers, creatives and sales geniuses.
🧲 Step 1: Define your email marketing strategy.
💌 Step 2: Find your message.
✍ Step 3: Know how to write and deliver your message.
Along the way we'll discover together:
List of 12 tools on the market to launch a marketing campaign (depending on your strategy).
Top 5 email writing tips to write better marketing emails.
What is Meant by Marketing Email Strategy? Definition Here!
A Marketing Email is the set of strategies aimed at using email to generate sales, boost brand image and/or build customer loyalty.
If we analyze this definition, we realize that there are two important things to underline:
🧲 The word strategy: Which will define the methods, tools and techniques we will use later.
👊 The goal of the action: Sell, gain visibility, build loyalty through email marketing (The goal of the call to action stems from the initial strategy anyway).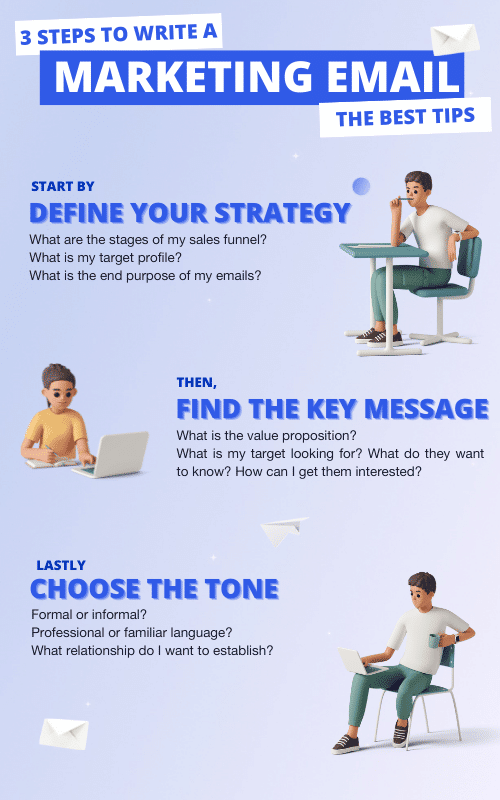 Why Do Email Marketing?
Each type of email marketing corresponds to a particular objective. This objective must be defined in advance by your strategy.
🤑 Customer acquisition strategy = Adopting a digital strategy is therefore a great way to comply with prospects' practices. To acquire new customers.
🤝 Customer retention strategy = The goal is to encourage the customer to make a repeat purchase or renew a subscription within a more or less long time.
👶 Lead magnet strategy = The principle of lead nurturing is to help a prospect progress through the conversion tunnel (or sales funnel). It aims to maintain a long-lasting relationship with your prospects, to turn them into customers, and then into ambassadors.
🎤 Brand development strategy through digital communication = The brand strategy, or branding strategy, consists in giving a personality to the brand, a universe clearly identifiable by consumers and customers and distributing this information through different marketing channels.
What Are the 4 Types of Marketing Emails?
There are several types of marketing emails and each one will correspond a little more to a particular strategy.
Let me explain. 🤓
There you have the non-exhaustive list of email types you can use for your strategy:
Welcome or registration validation emails = loyalty strategy. The prospect has already become a customer. You will now use lead nurturing to make them stay and consume your new products or services.
Newsletters = can be used for a branding strategy and/or a customer loyalty strategy. The idea is to transpire the image of the brand and its added value in each email.
Reminder emails = customer loyalty and lead magnet strategy.
Follow-up or post-sale emails = loyalty strategy. This type of email can also help you better understand your customers' needs and the improvements to be made along your sales tunnel.
Prospecting emails = customer acquisition strategy via emailing, often they are followed by transactional emails to accompany the prospect towards the purchase.
Cold email 🔥 = This is a first contact with a qualified prospect with the aim of turning him into a customer. It does not fall into the category of marketing emails, but is a real strategic tool for creating a new database of contacts.
What is the Difference Between a Cold Email and a Marketing Email?
The difference is simple:
A cold email indicates that it is the first contact between you and your prospect. He did not subscribe to a newsletter, you found his data (scrapping) and you contacted him.
A marketing email = the person has subscribed or filled out a form to receive content, he has decided to follow your brand and therefore to take in the first place. Often, they're even a customer already. 💞
Here's the Complete Guide to Cold Email. 👀 (Bonus: how not to land in the "spam folder" or junk mail).
Marketing Email: What Strategy to Adopt?
If your strategy is to attract new customers, I recommend either prospecting email or cold email.
Prospecting email: create your database
If you decide to use the prospecting email, you will have to collect the data of your prospects and ask for their authorization to contact them. (See the GDPR rules).
Before, sales people used to use events, fairs, shows to give forms to prospects… But now, with both covid and mass digitization, it's becoming a bit "old school". It still works in some markets of course, but it's very expensive and it's complicated to do volume that way. 😱
Recently, the "lead magnet" system has become widespread and has become one of the great ways to send prospecting emails.
It is a win-win system. For example: you set up a visual on your e-commerce website, which promotes an exclusive content, to access this content, the prospect fills in their info and agrees to be contacted again. 📑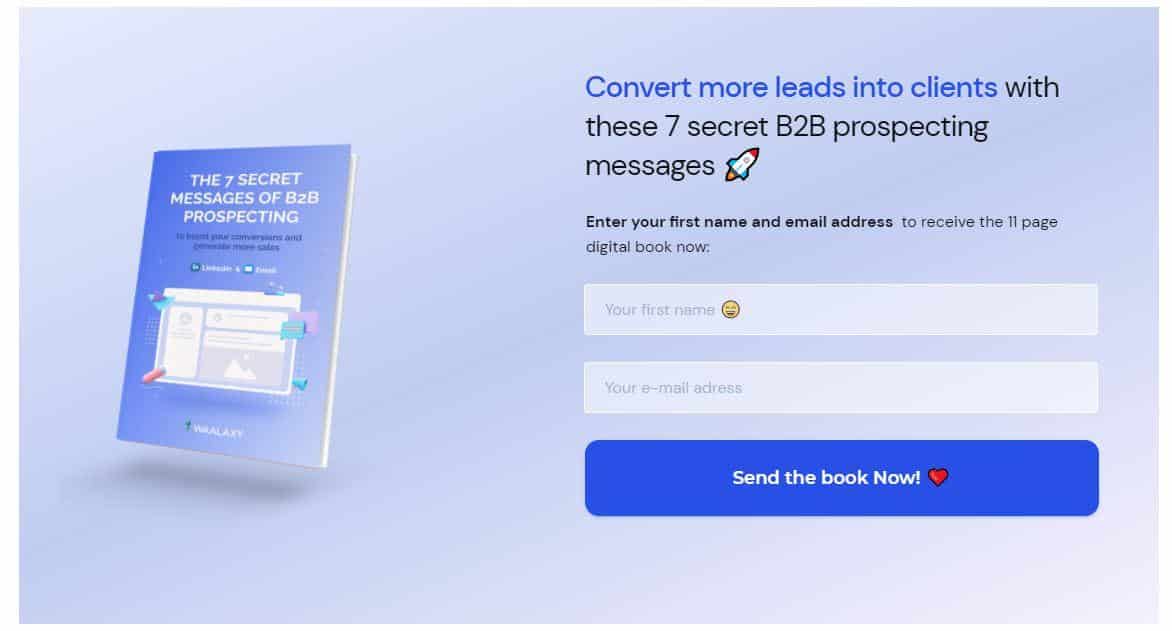 At Waalaxy, we did this, in just one month we won only because of this link:
37 new customers.
703 new registrations.
The "How to Write a Prospecting Email" guide, it's this way. 👀
Cold email: create your database
To get into cold email, it's a little different, because you directly get data from the audience who might like what you do and you're going to write to them.
They don't know you. 😱
You're getting their data back. 😏
You try to get in touch with them. 👽
Cold email has become one of the flagship techniques in Btob. 🚀
To create a solid base of several hundred prospects and start your colds emails, here is a super effective example:
How to Boost your Branding Using Email Marketing?
In this case, you're going to focus on the newsletter. The newsletter will have to exude your values, your tone, your touch and what you have to offer. Of course, boosting your branding will create customer loyalty and bring you new prospects. The only difference is in the subtlety of the approach.
A prospecting email will be more direct = I want this person to buy now.
A Newsletter is more likely to be subtle = remember us, be interested, talk about it around you and come back to us. 👇
How to Build Customer Loyalty Through Emailing?
Here we will rather talk about customer support:
Welcome or registration validation emails.
Reminder emails.
Follow-up or post-sale emails.
The goal is to accompany the customer throughout his purchase process and after it, to ensure that he was satisfied with the user journey. 🥰
At the same time, setting up a customer newsletter allows to keep in touch while offering the customer the feeling of being privileged, being accompanied and receiving news about the companies.
What can be quite complementary to this is the LinkedIn company landing page on which you can publish and accumulate subscriptions (followers).
What Are the Best Free Email Marketing Tools?
Now that you have enough information on the different types of email marketing and how to successfully create your own emails, we can analyze the tools that will allow you to launch your automated email campaigns.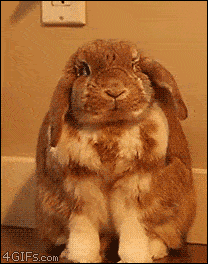 Which Email Marketing Automation Software to Use?
Again, the email marketing software you use will depend on your initial strategy. (That's why we started with this by the way.) 😉
If you want to write newsletters to build customer loyalty in Btoc (business to customer), you're not going to use the same tool as if you want to do cold emailing to attract new prospects in B2b (business to business).
I've put together a nice comparison of the tools on the market, some of which offer the option of a multi-channel campaign with a series of emails = LinkedIn + Email.
In this comparison you have: the brand name, the price of a subscription and the type of marketing channel that you can automate with each tool. Now it's up to you to see if it fits your needs, or not. 😉
AUTOMATION TOOLS BENCHMARK
TOOL
PRICE
LINKEDIN
EMAIL
WAALAXY
⭐ FREEMIUM ⭐
✅ (FREE)
✅ (PAID)
SNOV.IO
€€
🚫
✅
LEMLIST
€€
✅
✅
LUSHA
€
🚫
✅
LINKHELP
€
✅
🚫
START&LEAD
€€
✅
🚫
LEADIN
€€€
✅
✅
ZAPLIFY
€€€
✅
✅
ZOPTO
€€€
✅
🚫
NEODEAL
€€€
✅
🚫
DUX-SOUP
€
✅
🚫
MEETALFRED
€€
✅
✅
👉 If you feel like sending your first emailing campaign and you have more of a Btoc targeting, meaning you are using consumers' email addresses directly, I invite you to check out the Sendinblue tool, which we use and recommend, as it's pretty easy to get started. 😊
Sending campaigns can be done by hand as well, by retrieving a prospect database from an Excel spreadsheet, or you can use automated emails campaigns.* (Combine a marketing automation email campaign with a LinkedIn campaign, for example).
*Which is suitable for mass mailings and allows you to send thousands of messages in a few clicks.
5 Tips for A Good Marketing Email Copywriting
Email has been the source of many changes in the digital world, especially in terms of sales. But it has also become very intrusive in recent years, which is why some emails do not have the expected open rates.
Therefore, you have to do everything possible to make your customers want to open the emails you send them.
So, how do we do this? You guessed it, it's thanks to copywriting (well also thanks to a good targeting, but we'll focus on the email copy, thinking that you've already done the job before 😁). Let's get going.
#1 Take Care of Your Email Subject Line
Don't try to buzz 🐝 in your email subject line, or sell with a promotion (it doesn't always work). Think about your target's segmention, put yourself in their shoes and ask yourself, "What would make me open this email?".
This is what you should think about when you put the title of your email. Don't be aggressive and answer directly to your target's need.
You can rely on :
Personalization to make your target feel special (you know your target so you can talk about their interests, preferences).
Curiosity (mention a significant event, unusual to make them want to click on your email).
Propose an offer. Everyone loves novelty, you could offer a promotion on a new range of new products you sell or even a sample.
# 2 Be Concise
You have brilliantly met the challenge of the email subject, everything is not yet won since you will also have to interest your target 🎯 through your message. On the other hand, there is no question of going on and on with a long message.
If they can understand your message by reading it diagonally, then that's fine. No one has time to stay on a long message and this applies even more if your target checks his messages on the phone.
#3 Personalization
The more data you have, the more you can personalize the messages in your emails. Be careful not to overuse it and don't use everything you know about your prospects and customers in the same message (it can be terrifying).
#4 Avoid Attacking Your Readers
What do we mean by this? Don't capitalize words to draw their attention to a particular word. The same goes for the use of exclamation points. No one likes to be ordered around ❌ let alone by a stranger or a sign… And that's exactly the impression one gets when you use too many capital letters or exclamation points.
#5 Speak Like You Normally Speak
When doing email copy, you try to write as much as possible like you speak. This adds lightness to a message and makes it easier to reach your target.
This will allow you to persuade through emotions 💗 and get your audience to take action.
Make your prospect feel close to you and your solution.
How Do You Write a Good Digital Marketing Email?
Now that you know what types of marketing emails exist based on your goals, we can talk more about your writing techniques. ✍
Of course, the content will depend on your strategy (commercial campaign, brand image..), as for the container, we'll talk about guidelines to follow, which will help you for any type of content and for any creative process that will challenge your professional life.
How to Make your Email Marketing Successful?
There are 9 concepts you need to know to learn how to write a good email marketing. 😍 Here, I'm not going to tell you about the best practices you see in absolutely every article on copywriting. I'm not going to tell you what technique and turn of phrase works. Simply because as soon as you start saying they work, everyone is aware of them and they already work more. And those even more so in B2b, because we're all trained to recognize those techniques with sharp eyes. 👀
😱 #1 Stop trying to be original, it's not possible.
🎭 #2 Learn to be inspired without imitating.
😑 #3 An email that worked once, won't necessarily work twice.
😪 #4 You can use the best email templates, but it won't be enough.
🤐 #5 Don't speak for nothing. Every word counts.
🤿 #6 Create your own world, and dive in.
😎 #7 Speak to inspire, not to sell.
🤮#8 Don't spend 5 hours improving 2 lines.
🎨 #9 Get into a creative process the moment you are able to.
Conclusion: What Is an Email Marketing Campaign?
To develop a good management of the marketing campaigns you will be in charge of, ask yourself the questions:
#1 Strategy.
What strategy am I putting in place?
What are my goals?
How will I measure their success? 👈 (Go to part 6 of the article to get all the math).
#2. Message.
What is my brand or new product identity?
What is the tone and style I use?
What is the mentalization and reflection I want my customers to feel? 😎
#3 Copywriting.
How can I be creative and relevant with an email copy?
How do I engage in a writing process (method)? ✍
How to use high-impact words and convince my audience?
#Bonus.
What tools should I use to start a campaign?
FAQ : Marketing Email Automation
Why Does Email Marketing Platforms Work So Well?
Email marketing is still the second great way to acquire potential customers and has become a must for your digital marketing strategy. The strength of emailing lies in its speed of implementation and its ultra-affordability.
However, the most effective way to build a database and get customers is still LinkedIn automation + automated emails. 🔥
So we advise you to combine email marketing with other forms of acquisition. An effective newsletter is something to work on, but remember not to put all your eggs in one basket. 😱
The best thing to do is Ab testing of the tools, platforms, methods, and see what works best for you and according to your targets. No one better than you and your best result knows this.
Numbers don't lie, go get the detailed stats, find out what works and use those types of acquisitions. 😉
How to Create a Marketing Email Campaign?
Sending an email is not as trivial as it seems. A French internet user receives an average of 39 emails per day. That's 39 brands or marketers who will steal some time and patience and concentration from your prospect before he receives your email.
That's also why the average open rate is not very high, especially on professional email addresses. So, the big debate for all community managers is:
When?
What is the perfect day?
What is the perfect time?
How often should I send without being a spammer?
Tuesday and Thursday: the best days to send your email.
According to a study by customer.io.
I don't really believe in these studies.
Not at all. 😪
Furthermore, these studies are very vague. Who did they want to target? What was the search volume? Was there a significant difference between days? How many weeks were tested? How responsive were their databases? What was the average email open rate and click through rate?
In short, no one better than YOU will be able to tell what day is the best day to talk to your target and deliver your message. 💌
Again, do some A/B tests. You have nothing to lose. Everything to gain.
How to Do a Good Marketing Emailing For Free?
Well, there are free email campaign tools, like Waalaxy, which offers more or less advanced versions depending on what you want to do.
The tool is multi-marketing channel. That is, you can contact your prospects on LinkedIn, find their email addresses thanks to a built-in enrichment tool and contact your leads by email. All this while keeping track of your email marketing KPI's thanks to the integrated CRM.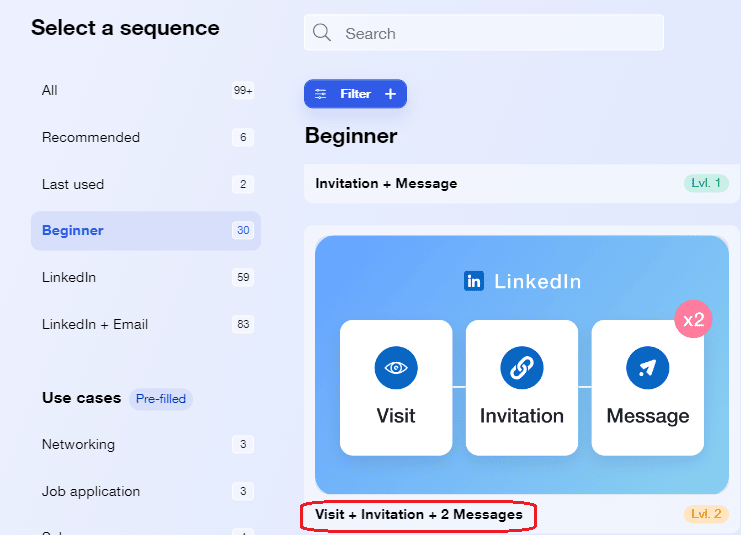 Where to Find Marketing Email Templates? Examples Here!
You're ready to launch your campaign but you need an email template or example, Here are some email templates for your prospecting. Good luck for your next marketing email campaign.
You can contact us on LinkedIn, see you soon. 😘