Want to generate leads on LinkedIn? Find new leads? 🚀
This article should help you. Read it to the end, apply the strategies and watch the results on your lead acquisition.
In a moment you will discover 7 step-by-step strategies to follow to propel your number of customers in your product or service sales business.
Let's start in a moment with an essential criteria on LinkedIn…
1 – Optimize your LinkedIn profile
Optimizing your profile on LinkedIn should be your top priority.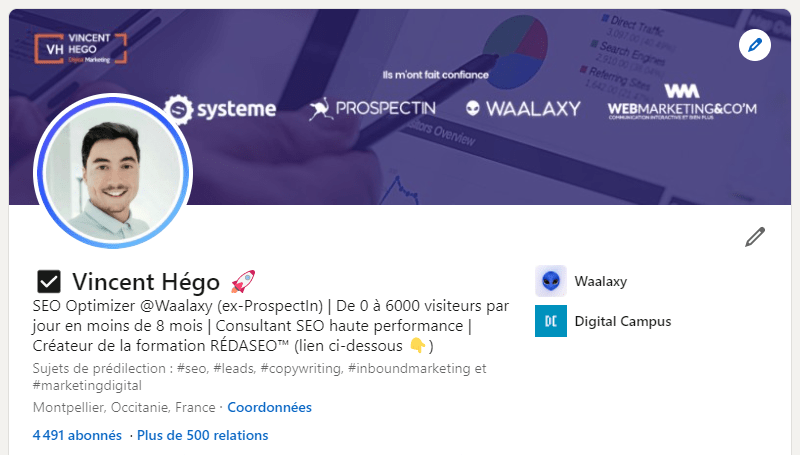 Example on https://blog.waalaxy.com/wp-content/uploads/2021/09/Visuel-Article-Blog-69-1.webp Hégo's profile. What happens in your prospect's head if you don't make a good impression? They won't trust you. Your profile should highlight 3 criteria:
Caring.
Integrity.
Professional ability.
Friendliness
You must evoke sympathy in the first 7 seconds when someone scans your LinkedIn profile. If the person doesn't feel that you are caring, then they will leave, and you will leave a bad impression.
Remember this: first impressions definitely control the 5% of your relationship with a person. They can't change their state.
And that 5% will even condition the other 95%. Don't neglect the first impression.
But how do you create that goodwill? 😊
Smile in your LinkedIn profile picture.
Use emojis.
Be positive in your LinkedIn posts and comments.
Caring on LinkedIn is a must if you want to boost the feeling of trust in you, and if you're looking to get more clients.
Integrity
Transparency and honesty are also qualities to use.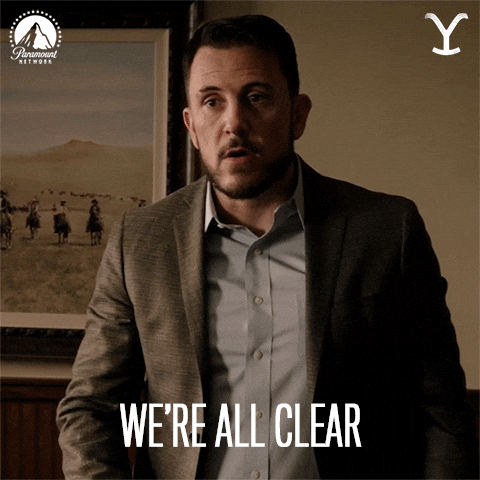 The problem with some people on LinkedIn is that they seem nice. But when you dig deeper, you find out that they are not transparent with their community or potential clients.
Fake degrees.
Pompous LinkedIn titles.
Exaggerated volunteer experiences.
Here's what stands out the most when it comes to a lack of integrity on LinkedIn. But luckily there are solutions to boost your good side:
Be authentic in your LinkedIn resume (experiences and education).
Put your ego aside and don't try to please everyone.
Don't be afraid to talk about your weaknesses and problems.
Learn to say no when you can't/won't do something.
Building trust with your B2b network requires strong integrity on your part.
Professional skills
Being caring and having integrity is a great soft skill to highlight on your LinkedIn profile.
But it's not enough.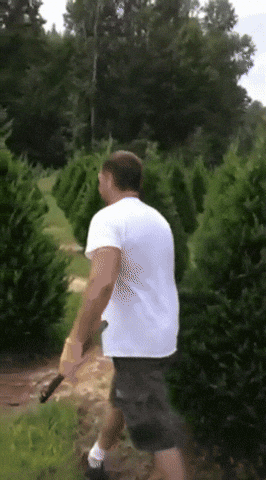 You need to prove that you're an expert in your field. 🤝
On LinkedIn, companies are increasingly looking for big shots in highly specialized areas. It's also the best way to make a living, because as we know, a surgeon makes more than a generalist.
The problem with most entrepreneurs on LinkedIn is that they are too caring/integrated but don't know how to sell themselves.
What are some solutions to prove your professional capabilities? How do you build confidence in your prospects through this pillar?
Here are some solutions.
Show your client references in your LinkedIn banner.
Be visible alongside other experts in your field.
Give the impression of being unapproachable to your prospects.
Here you play on several very powerful cognitive biases to influence your potential customers. First and second, you use the authority principle. 👌
Third, the scarcity principle. 👌
Using these solutions, you will be able to:
Convince your most wary prospects through logic.
Persuade through the authority of others.
Optimize your LinkedIn profile. And as you've seen, this means strengthening your goodwill, integrity and professional abilities as perceived by others.
What are other ways to generate leads on LinkedIn?
You'll find out in the following lines…
2 – Create an automatic connection sequence with Waalaxy
Now that you have applied the tips on the first point, you should generate trust in your prospect.
You are now in a position to create your digital strategy.
In this section, you will understand how to use LinkedIn to prospect effectively. As we all know today, the biggest problems for entrepreneurs are :
A lack of time in their prospecting activity.
Fear of not having enough customers ready to buy your offers.
Low effectiveness of prospecting approaches.
Today that's all over with Waalaxy. 👽
Our automated LinkedIn + Emailing prospecting tool is surely for you.
Why?
Because it allows you to:
Send personalized invitations to targeted people on LinkedIn.
Create marketing automation sequences via LinkedIn.
Finding your prospects' email.
Send newsletters to your prospects.
How can Waalaxy help you save time in your business?
Follow this step-by-step tutorial:
Download the Waalaxy extension from the Chrome Store.
Import dozens or hundreds of leads into the pre-built CRM.
Create a campaign and name it.
Choose the sequence "visit + invitation with personalized note".
Write your message.
Launch the campaign.
You don't have to do anything else! Waalaxy works for you. 🔥
Dozens of people, whom you have selected, will receive an automatic visit to their profile and then an invitation with a greeting.
So you create a good impression with one message at a time:
Enthusiastic.
Energetic.
Human-centered.
With Waalaxy, you can go even further with more advanced campaigns to find more people interested in your products and services. Try it now.
3 – Organize Live Events to use online lead generation
We're seeing more and more of these on LinkedIn live conferences. Also called lives, webinars, masterclasses… they are a great way to generate trust.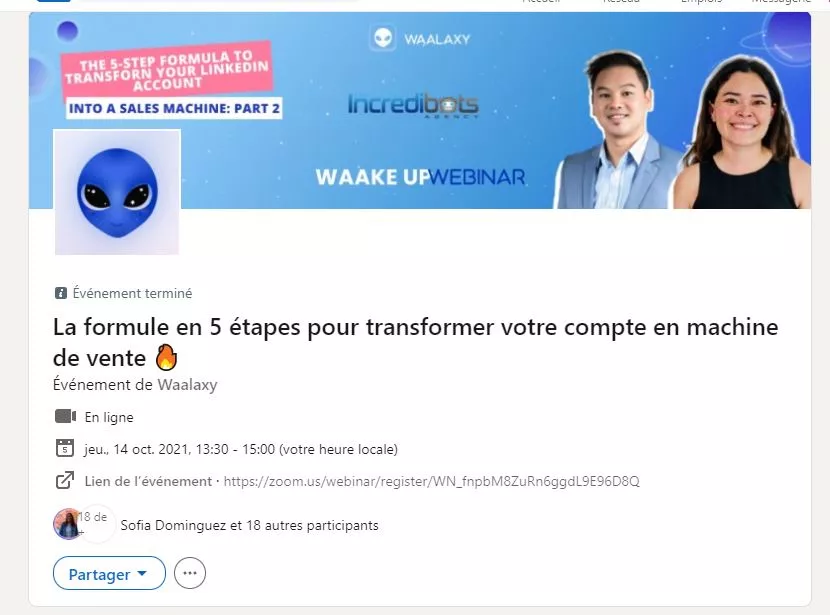 There is something that can scare people.
It's buying something from someone who has never seen or heard it. Live events convey a lot more emotion than simple posts.
How do you successfully find customers with lives? 🔴
First, you need to choose a topic within your theme. Then turn it around a problem or desire. Let's take an example.
If you are in the copywriting business, here is what you could do.
Conduct a survey on the topic of the article "3 tips for creating a landing page that converts" (desire) or "3 mistakes to avoid that are keeping your landing page from selling".
Observe the results of the survey when you get several dozen responses.
Very often, "problem" topics work well on cold prospecting. The "desire" topics on a community that knows you fairly well.
By doing lives on LinkedIn, you will also generate trust by meeting the 3 parameters seen previously: benevolence, integrity, professional abilities.
Now you will see the #1 skill on LinkedIn if you want to maximize your impact, reach more people and find more new clients…
4 – Get trained in copywriting and use it in your marketing messages
Copywriting. Have you ever heard that word? 🤔
Copywriting: the science of selling with words.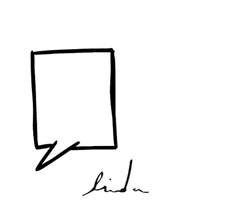 That is, writing to trigger a reaction, conversion or transaction in the person in front of you. The best content creators on LinkedIn understand this.
Copywriting is essential to grab readers' attention and make sure they read to the end.
If there's one thing you should remember about copywriting, it's to use the AIDA framework in your marketing messages.
A = Attention.
I = Interest.
D = Desire.
A = Action.
Your messages should start with a strong hook that appeals to the reader (your target). Then, a part that arouses the interest of the person (and must have the impression to recognize himself).
Then, his desire (the benefits and features of your offer), and finally a clear call to action. If you want to learn about copywriting, you can follow these 3 people, true aces of the pen:
Nina Ramen.
Benoît Dubos.
Thibault Louis.
They will help you write better and be more impactful.
Copywriting is super powerful to find the right clients. Get trained and use it.
5 – Use Robert Cialdini's 6 levers of influence
This is one of the most important points. If you apply the tips in it, then you will create irresistible marketing around your personal or professional brand.
There are 6 levers of influence, explained in the book Influence and Manipulation by Robert Cliadini (professor of social psychology at the University of Arizona in the USA).
Here they are:
The principle of reciprocity.
The principle of authority.
The principle of social proof.
The principle of coherence.
The principle of sympathy.
The principle of scarcity.
Using reciprocity is simple to understand: the more you offer to your prospects/customers, the more they feel indebted in return. Be generous in sharing your knowledge, feedback, etc.
Authority is about linking your image to that of an expert who is recognized as trustworthy. For example: some brands use celebrities in their advertising. The goal: to transfer the popularity of these people to the brand. In the collective unconscious, this is a proof of trust.
Social proof can also help you. For example, you could say how many clients you have helped, how many reviews you have received on Google or TrustPilot, etc. The goal: to make the person feel that they are not the only one interested in your offer.
Consistency. This influence technique consists in asking for a small action from the person, before asking for a more significant one later on. For example: you can ask your prospect a small question in writing before calling him by phone. Send them a quiz before they book a call. The goal: to create commitment towards bigger actions later.
Scarcity is certainly one of the most powerful influencing principles here. It consists in making your offer irresistible by playing on 3 factors: exclusivity,urgency and loss aversion (more importance to the pain of losing than to the pleasure of buying). For example: make a promotional offer for the first 5 customers, or limited in time. The goal: to trigger pressure to act quickly.
In your marketing messages, use these influence levers on LinkedIn. They will allow you to convert more visitors into leads, then into customers.
6 – Comment on others' posts
You get it: to get people to trust you on LinkedIn, you need to work on your image. ✨ And commenting on others' posts can help you build a generous, open, and professional image.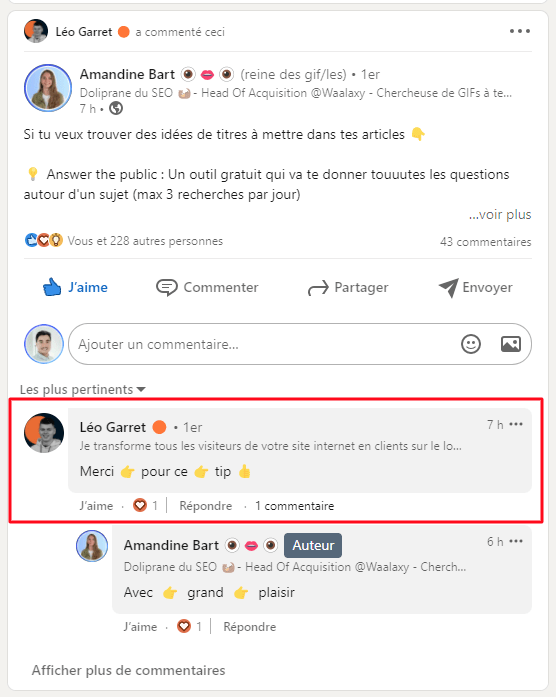 Leo Garret rocks in this area.
There are many people on LinkedIn who don't dare to comment. Often, they are afraid of how others will look at them.
The stress of not knowing what their colleagues or boss thinks. If you are an entrepreneur, there are more advantages to commenting on other people's posts than not doing so.
But what about and how can it help you generate customers on LinkedIn?
First, understand that you should always be in a positive mood if you comment.
The reason is simple: if you are negative, even if it is to help others, it will not be perceived as constructive but destructive.
Bring your advice in your theme.
Encourage content creators.
Do not denigrate the work of others (even if they are your competitors).
Avoid basic comments like "great post".
Keep in mind that your comment should add value to the post, not the other way around. When you comment on LinkedIn, your close network sees that you have commented.
Your name and photo appear on their news feed, which can generate visits to your profile. And if you bring your expertise, you increase your notoriety.
7 – Publish massively about a subject
Commenting on other people's posts is good, creating your own content is better for expanding your customer base! 💥
If you really want to be seen as an authority figure in your field, then you need to create your personal brand on LinkedIn.
For example: I only publish in the SEO field.
The first step is to choose a topic and publish only in that theme. For example, if you are in the Facebook advertising business, don't talk about gardening, cooking or real estate. Before you start, you need to understand who your personas are.
Who are your ideal customers? You need to understand:
What are their interests?
Their frustrations?
Their dreams?
Then establish an editorial strategy on LinkedIn.
To do this, make posts of different kinds.
Ranting posts.
Value-added posts.
Posts where you tell your story.
Posts where you show your results.
If you are starting out, try to post once a day.
Then over time, move to 2-4 posts per week where you build up their quality.
Posting on LinkedIn has multiple benefits. It allows you to:
Use B2b lead generation strategies.
Active lead-nurturing method.
Boost your ROI in your new business.
Fill up your sales funnel or sales pipeline without outbound.
Find new customers with your expertise.
Prospect effectively without appearing aggressive.
Enhance your branding as a marketer with all these tactics.
Increase the number of visitors to your website.
Generate referral with your expertise.
Use a fast growing b2b digital marketing channel.
Retain some of your current customers.
Capture customers who are not necessarily on other acquisition channels.
Gain customers without cold calling.
Use Inbound and converting without ads.
Generate sales if you're selling products online.
Start your LinkedIn adventure now, and don't forget to use Podawaa to get more views on your posts!
Summary about LinkedIn Leads
As you can see, generating leads on LinkedIn is possible. However, you will have to use the 7 techniques learned in this article to stand out from the crowd. Indeed, the increasingly tough competition requires you to be more and more strategic. ♟️
Here are the 7 points to recap:
Optimize your LinkedIn profile.
Create a connection sequence with Waalaxy.
Organize live events.
Learn copywriting and use it in your marketing messages.
Use Robert Cialdini's 6 levers of influence.
Comment on others' posts on LinkedIn.
Publish massively in a specific theme.
You now know how to use LinkedIn to generate leads! 🚀