Starting a b2b lead generation strategy on LinkedIn is not very complicated. It requires understanding some basic concepts of marketing, prospecting and how the platform works.
Nevertheless, without these concepts, you will remain among the 99% of people who don't know how to make it a relevant growth lever for their business 😉
What is lead generation?
Lead generation refers to all operations that allow the creation of more or less qualified business contacts (usually called prospects). These leads may or may not become actual leads.
We mainly talk about lead generation in the field of BtoB marketing, but the concept of lead generation can also be applied to BtoC markets with a long transition period (automotive, higher education, engineering and interior design…).
The concept of lead generation means that the leads go beyond simple advertising or marketing contacts, the commercial contacts being generally more or less identified and qualified.
Lead generation activities are often referred to by their abbreviation "leadgen".
The main lead generation operations are:
Content Marketing and Inbound Marketing System.
Participate in exhibitions or trade shows.
Cold calls.
Forms on a website.
White paper distribution.
Cold emailing.
Finding leads on LInkedIn.
Why have a lead generation strategy on LinkedIn?
Lead Generation is the engine of any business.
Read more about it.
Most people don't know that LinkedIn has unique features in B2B. This feature makes it a very powerful platform for professionals who want to accelerate their business and achieve daring goals.
We often tend to think of it as the place to go in search of your next professional challenge. And it is.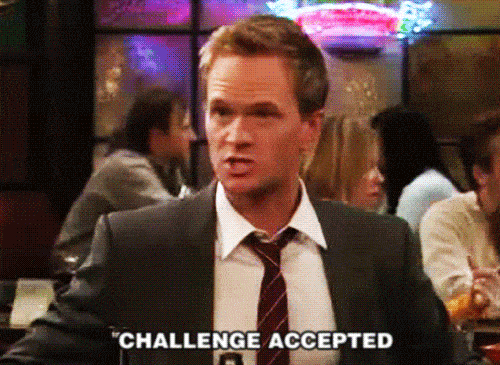 Recruiters use LinkedIn to find candidates. However, LinkedIn is not a simple job search site. Smart salespeople are well aware that LinkedIn has the power to help sell to globally connected markets.
Many (smart and savvy) LinkedIn members use it as their primary source of B2B contacts. It's a particularly effective and efficient channel. People all over the world rely on LinkedIn for business development. Finally, it's a great way to gain insights and potential ideas about industry decision makers.
As you probably know, LinkedIn has over 600M members worldwide. So there are inevitably potential prospects for your industry. Administrators and decision makers regularly ask questions on the platform.
This is your chance to reach key players by providing useful content. In many cases, they are happy to provide their own email address for this quality information. This is an incredible opportunity! 1 in 2 B2B buyers refer to LinkedIn when making that buying decision.
So LinkedIn is a real treasure trove. Users join LinkedIn to interact with people in their industry, to recruit, but also to keep track of the latest news in their industry. That's what makes it so powerful.
Before starting a lead generation strategy on LinkedIn?
Before starting a lead generation strategy on LinkedIn, you need to master some basics:
Know who you want to reach.
Have a viable product and a solid sales process, so you don't send prospects on a wild goose chase.
Have a professional LinkedIn profile that shows what you do and makes people want to know more.
Know your typical persona
In marketing, a persona (or buyer persona) is a semi-fictional character that represents a set of people who share the same issues as a proposition.
Thy may also have similar consumer and lifestyle habits, if you want to better classify them.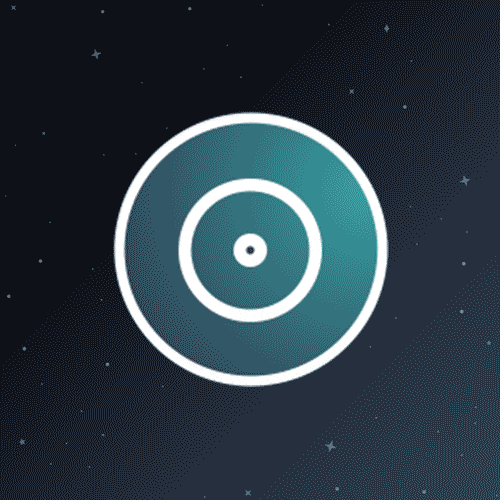 Let's take a look at four steps that make it easier to define a marketing persona.
Creating a persona will help you understand the way your future customer thinks.
The goal is to provide the most relevant information to get an accurate picture of future customer issues, barriers, consumer habits and mindsets. We not only meet the market expectations, but also propose to meet the customer experience that the market expects.
The number of personas may vary depending on the type of industry and the type of product sold.
Each persona will require a different LinkedIn targeting and approach, or even a specific sales funnel.
There is a lot of information available on the subject of personas on the web. Don't hesitate to consult it before going any further, in order to get a clear picture of who you are going to talk to.
You're not going to say the same thing to your brother, your grandmother and your neighbor. So you have to identify who you are talking to, to make the message relevant.
Have a solid sales funnel and a good product
The sales funnel is one of the most important concepts in digital marketing and is the foundation of a company's successful sales process.
In my opinion, the simplest definition to describe a sales funnel is the path taken by your prospect from the moment they don't know you yet, to the moment they become your customer, or even the moment they promote your product themselves.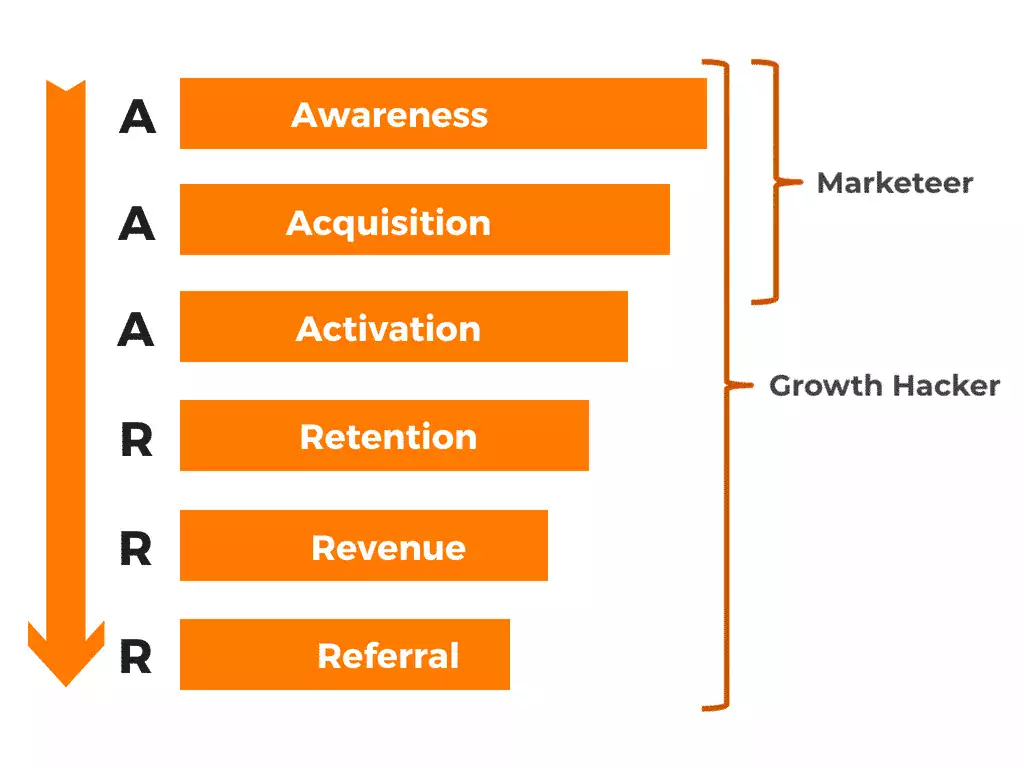 Image: https: //growwithward.com/.
In "Growth marketing", we talk about the AARRR framework (mostly used in online software) for:
Acquisition: the prospect makes a first step towards us. In general, this means visiting our site or registering on our site.
Activation: the prospect, now using our services, takes a first action that will allows them to see the value of our product or service. For example, they launch their first prospecting campaign on Waalaxy or agrees to have a demo.
Retention: the prospect comes back. They get in touch again, revisit our site or use our product regularly in its free version.
Revenue: the prospect becomes a customer and pays for our service or product.
Referral: the customer now talks about our product to those around them.
A sales funnel must be well optimized at all stages Activation, Retention, Revenue, Referral, to create a positive growth loop and avoid sending leads into a leaky barrel.
In a LinkedIn lead generation strategy, we will therefore focus mainly on the Acquisition and Awareness part.
Optimize your LinkedIn profile
To attract leads on LinkedIn, your LinkedIn profile should be a comprehensive presentation of what you do and how you will help your future customers solve their problems."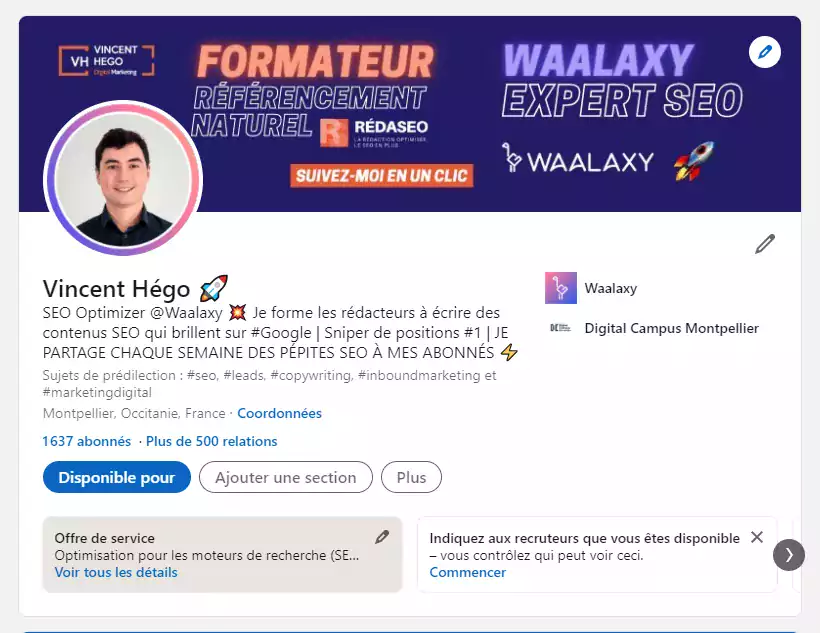 It is your personal showcase, as almost everyone you contact on LinkedIn will visit this profile to learn more.
It must be optimized. This means it must be beautiful, clear and lead to action. Here are the important things to remember about optimizing your LinkedIn profile.
Choose the right LinkedIn profile picture
Imagine three people you don't know on LinkedIn. How do you picture them? 80% usually imagine a profile picture. That's what everyone always sees on social media sites. Posts, publications, comments and… profiles.
Don't overlook this. If you start a lead generation strategy, you need professional photos. A common practice is to surround your profile picture with a colored circle. It's a simple change that makes it stand out.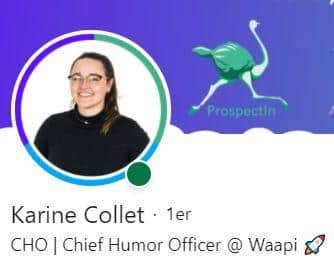 Think about it, you're 36 times more likely to get in touch with someone with a welcoming and professional profile picture, than someone who does't even have a photo.
An evocative title
Your title and profile picture will appear first on LinkedIn, even if the prospect doesn't have access to your profile.

When you post and comment, the title will always appear. For this reason, it is crucial that it is clear and concise. No need to have your whole life story in your title, because it will not be fully displayed.
The cover photo: essential passage
Yes, we are talking about the famous LinkedIn banner. Your LinkedIn profile is a bit of your personal website. If someone searches for you on Google, it's one of the first results.
And if you're active on LinkedIn, it's the first thing your prospects will see. So the cover photo is essential.
This banner should explain what you do, your value proposition. Your prospect shouldn't even have to scroll down to understand what you do.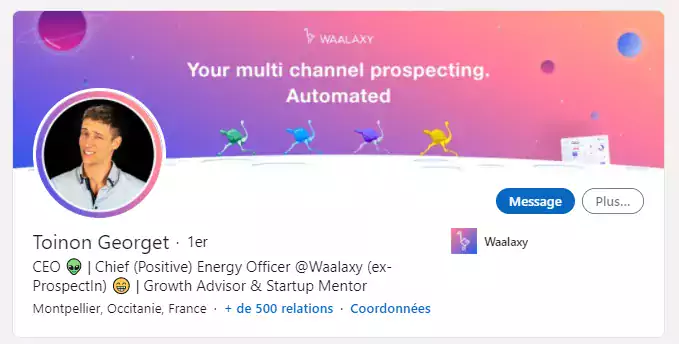 The summary, to learn more
In our experience, people rarely read LinkedIn summaries. Since the overview is only two lines long, it's not very engaging.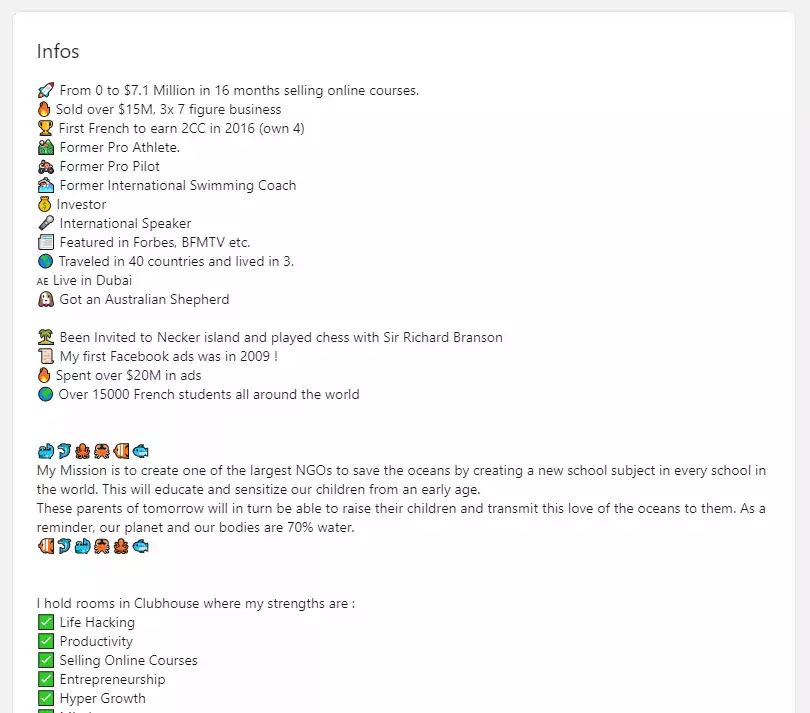 Profile: Franck Rocca. Compared to the rest of the profile, the format is very small and less intuitive. It's here where you can go into more detail. Provide more background information for those who really want to know more.
Like any editorial piece, focus on the story. Tell your story. A story that gives credibility while focusing on your call to action. A story that makes people want to get in touch with you.
Also, avoid "10 years of solid work experience" and any content present in cover letters and resumes. Unless, of course, your goal is to sound like other profiles. 😇
Work experience
Don't tell your whole life story. The more info you give the more time you take from your prospect. Take out the bachelor's degree and all the things that don't highlight your expertise on the topic you're covering.
If your prospect gets to this part, what you want is for them to go on your company's LinkedIn page and subseqently on the site.
Don't give them an opportunity to look at anything else.
The different lead generation strategies on LinkedIn
There are different ways to approach a lead generation strategy on LinkedIn. Here are the 4 most used, but this is not an exhaustive list.
To get known in general
Also called a "personal brand", Linkedin is a great channel to get known as a person.
The idea of "getting known" is to work on the first part of the sales funnel, which is Awereness.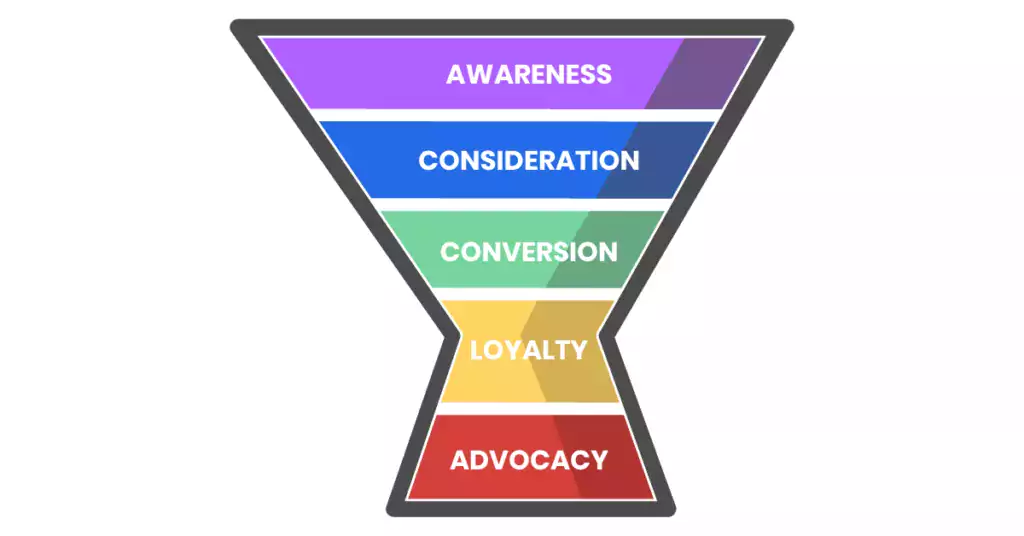 Image: https: //journeys.autopilotapp.com/.
In this case we will add people who are relevant to us, comment on other posts and create value-added content, without trying to sell anything at all. It is a long term strategy but very effective.
We will come back to this "content creation" part at the end of the article.
Direct and commercial approaches
This is undoubtedly the most common b2b lead generation strategy on LinkedIn (and maybe you only had this one).
We are talking about contacting potential prospects and, by putting forward the problem we are solving, offering them our services or our product.
This is a strategy that works well on a small scale and in the short term. Nevertheless, it will be more powerful combined with another strategy in the long term.
Distribute content
Personally I love this technique. Nobody likes to be prospected. Even less by robots.
This lead generation strategy consists in contacting prospects, not to sell them something directly, but to share with them a content with high added value.
When we say"high added value", we mean ontent that aims to teach them something, to help them solve a problem they may have.
This content can be about you but it doesn't have to be all about you. So we're not talking about sending a PDF presenting your service, but rather information about a trend in your industry.
In our case, at Waalaxy, we use articles like :
The idea is that at the end of the article, your prospect will see you as an expert on your subject and will not feel that you have tried to sell them something.
This technique works great if you combine it with retargeting ads on Facebook, either to promote another piece of content or to highlight your product this time.
To test a business idea
LinkedIn is a great channel to do BtoB market research.
You target people you think will be your future customers, talk about the problem you are trying to solve and try to have a conversation ewith them over a phone call to highlight a need and improve your idea.
I won't go into detail about this type of strategy, which is in the minority.
Find your prospect on LinkedIn
The performance of your lead generation strategy on LinkedIn is limited by the quality of your targeting.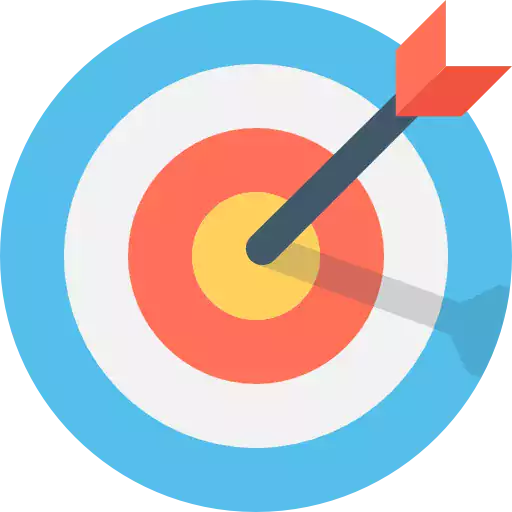 If your lead list is a 50% match with your persona, you will never achieve higher than a 50% success rate.
However, volume on LinkedIn is limited and it's not very good for your image to prospect people who have nothing to do with what you do.
The challenge of finding the right prospect is therefore fundamental. There are several methods that I will present to you here to help you with this.
Informational targeting
Informational targeting is the use of information provided by users in their personal data. Generally we use:
The position in the company, or title.
The company.
The region.
Sometimes the school.
This technique is the most used because it is "easier to access". Nevertheless, it presents several problems:
The search results are sometimes not very qualitative and need to be reprocessed (30 to 40% of leads do not match your LinkedIn search).
These leads are in high demand because they are all in Sales Navigator.
Nevertheless, being the most used and the most accessible, here are some tips.
Do a good search on LinkedIn
We have a comprehensive article on the subject. Nevertheless, I will give you a quick recap.
Do not use keyword search
Don't enter keywords directly in the LinkedIn search engine. There is no reason to enter keywords directly into LinkedIn's search . Do you want to target prospects who are in "marketing"?
Use the "Title" filter to search for the term "marketing" or "marketer". What if you wanted to talk to people in the "Marketing" industry? Search with "Industry" for the term "marketing and advertising".
The only reason to use keywords is to search for someone directly by name. Otherwise, there are other LinkedIn filters. For example, if you search for the keyword "fitness" you will get:
Results with "fitness" in the title. This is usually what we are looking for.
Companies in the "fitness" industry which can still be of some interest.
People who have fitness in their skills.
Profiles with "fitness" as an interest/hobby.
And profiles with just "fitness" on their profile.
Use the profile title
The title is the best filter to qualify your prospects in a regular search.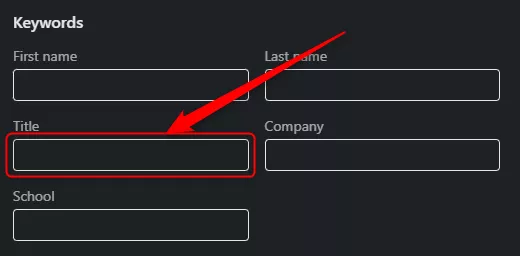 Do not exceed 1,000 results
LinkedIn, on the normal search, returns only 1,000 results. Therefore getting a results page of 36k profiles is useless. In this case, use other filters to sub-segment your searches. By region or by industry for example.
This way, you can use this information to personalize your approach! To learn more, check out our article on how to access over 1,000 results in a LinkedIn search.
Search by Company
You can also find a directory that lists companies in the sector you are targeting, which is often more precise than LinkedIn, which can give mixed results (when it comes to this type of filter).
On the normal search, it's a bit tedious but you can search the companies one by one. This way, you will have a super qualified list of prospects in your target sector or sub-sector.
And that's what you want for the next step.
Do a good search on LinkedIn Sales Navigator
Performing a good search on the Sales Navigator is based on the same principles as performing a good search on a regular search, except that Sales Navigator offers more filters.
We can't say it enough: using Sales Navigator is highly recommended to have an effective lead generation strategy on LinkedIn.
We have already written a comprehensive article on the subject so I will just summarize. The most useful filters are:
The size of the company. Essential to address prospects by need (you don't talk the same way to a decision-maker in a small business as to a decision-maker in a large company).
The hierarchical level. Interesting but not to be used alone as it is not very precise (it is calculated by LinkedIn according to the title, so the LinkedIn algorithm may be wrong).
Seniority. Useful if you want to target people who are new to the company (and who could bring new products to the company) or conversely, decision-makers in the company.
Clean up your LinkedIn lead lists
Regardless of the type of account (free or premium), LinkedIn returns between 30 and 40% of false positives in your searches.
It is therefore essential to "clean" your lists, i.e. to re-sort and exclude prospects that do not match. Here are 3 ways to do it.
Use exclusion in your searches
It doesn't always work but you should always give it a go. On Sales Navigator, it is quite simple to exclude. You will have to use the keyword "NOT" followed by what you want to exclude if you use a normal search.
The idea is to hover over your searches to see profiles that don't match your search. For example, you searched for "Sales Manager" and on page 3 of your search is a "Sales Assistant". This is not at all what you are looking for.
So you will exclude him from the results. You have to repeat the above several times. It can take 10-20 minutes but it is fundamental, because it is the basis of your prospecting!
Import and delete prospects
Once this initial work is done, you can import your leads into an automation tool like Waalaxy, then browse the results to see the leads that don't match your audience.
Select them and delete them, or better yet, transfer them to another list, which you will name "Blacklist". Thanks to the anti-duplication security, they will never be re-imported into another list, so you'll be safe next time.
Much like the previous step, this step, albeit a bit tedious, is essential. With these first two techniques, you can reach 95% of matches with what you want in 20 minutes, on a search of 1000 people.
Use Evaboot to automatically clean up your searches
There is also a tool, Evaboot, that allows you to automatically clean up your Sales Navigator searches.
I haven't personally tested the tool but I've gotten good feedback from it. To date, it only works for Sales Navigator but can save you a lot of time.
Behavioral targeting
Behavioral targeting is based on data left behind by users who have expressed interest in topics on LinkedIn.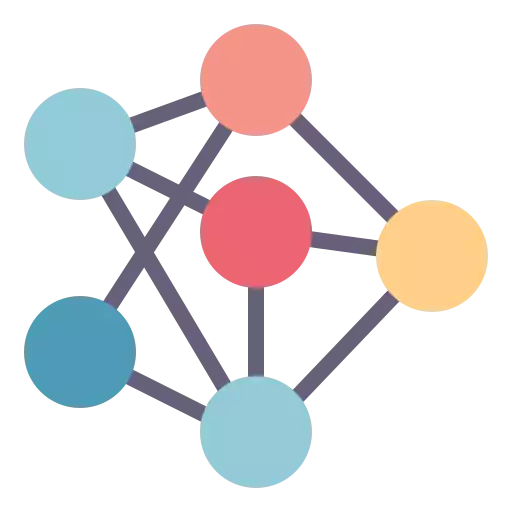 The advantage of this type of targeting is that it allows you to contact people who are active on the network, who are less solicited than those found in traditional searches, and who have expressed an interest in a topic.
This last point is quite fundamental because, if we talk about lead generation strategy for example. For many CEOs on LinkedIn, they are simply not interested.
On the other hand, if I contact people who have shown an interest in this topic, in one way or another, when I approach them, they're much more likely to find my contacting them relevant.
Here are 4 of the most effective behavioral targeting techniques:
Who visited your profile
They already have some interest in you.
Prospecting them directly would be difficult, but recontacting them under the guise of "You visited my profile" offers a significant increase in participation rate.
Perfect for network growth and networking!
Post on a hashtag
There are probably hashtags on LinkedIn that match your topic.
Thanks to tools like Waalaxy, you can target these people automatically and thus prospect people who talk about topics closely related to yours.
By using a "I saw your post on LinkedIn" approach, you can target people who are talking about your topic:
"I saw your post on the hashtag #prospecting, which I found very interesting, and wanted to see more of your content".
This will guarantee high performance campaigns.
The only disadvantage of this technique is that it can be quite time consuming to set up, you don't know exactly what prospects are talking about and volumes on niche hashtags are often quite low.
Getting people to comment on a post
With the widespread use of "lead magnets" which consist of asking for a comment in exchange for a link to a high value content, you can have hundreds of people show up on a post to request the content in question.
What a deal!
These people have just told you that they are interested in a specific topic. All you have to do is get their profiles and send them an invitation.
This technique goes great with sharing content similar to what the author of the post is offering. The only drawback is that it is sometimes difficult to find posts that talk about a topic and have a lot of comments.
But trust me when I say, it's worth the search. 😉
Get the members of a group
Groups are useless on LinkedIn. Except to be scrapped to extract members. Starting from a group offers several benefits:
The prospect bases are large (there are groups with several million people).
There are groups on every conceivable subject.
It is a clear sign of interest in a subject.
You can send messages directly to other group members, without going through the invitation request (feature soon available on Waalaxy).
The only drawback is that people rarely leave a group. Therefore there's always a reasonable risk that your prospect joined the group a long time ago, but it's no longer relevant to them.
How to contact your prospects on LinkedIn?
Once you have a list of prospects, you have to contact them.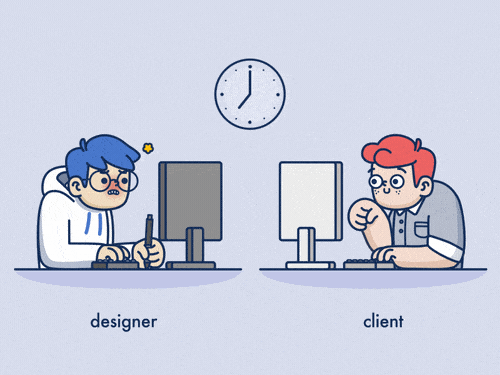 And it's not enough to throw a "Hi, how are you" or "Hi, my name is x and I sell stuff" to generate leads.
Although far too many people think so.
What is the best message template?
The answer is simple. There is none. First of all, because a LinkedIn invitation, a message and even an email, depend on you, who your prospect is, what you offer and what you expect from them.
So yes, we wish there was a message that worked every time. But there isn't. And anyone who tells you otherwise is lying.
Simply because even if it was, once a person has received this message 3 times, it becomes ineffective.
How to write a message that converts on LinkedIn?
There is a framework, a model, a logic, that works quite well. It doesn't guarantee you systematic results but it has been proven in the past.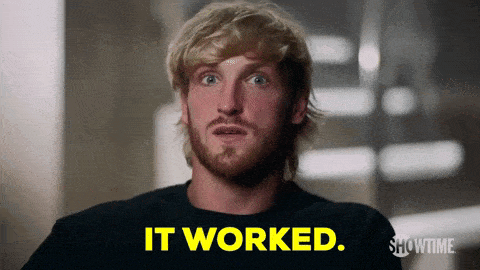 These are the VS4C techniques.
No, it is not a robot like R2D2 that writes your messages. V is for Value. S is for Sincerity. Then 4 C's for :
Clarity,
Conciseness,
Targeting,
Trust.
Your prospecting must respect these concepts, that is:
Messages that bring value: talk about the prospect, not about yourself.
Authentic messages: be yourself.
Clear messages: what do you want from your prospect?
Concise messages: a message of 300 characters or less is twice as effective as a message of more than 1000 characters.
Targeted messages: each persona and each segmentation must be the subject of a different message. Do not use a general message for everyone.
Inspire confidence: this goes through an optimized LinkedIn account, a social proof "we helped 500 companies to grow" and a perfect spelling.
How do you know if your approach is the right one?
For the rest, it's up to you. Your lead generation strategy is unique and specific to what you do. Be original, test approaches and above all, be empathetic.
A good way to know if your prospecting approach is the right one is to ask yourself: "If I get 10 prospecting messages a day on LinkedIn, will I respond to THIS message?"
If the answer is a no, you've missed something. If the answer is yes, send a hundred such messages and see what happens.
Choosing the right sequence for your LinkedIn lead generation strategy
Once you have a list of what you want to say, you need to choose the best sequence to approach your prospects on LinkedIn.
A lead generation strategy on LinkedIn can contain:
Profile visits: your prospect can see that you visited their profile and is sometimes notified (but very rarely so not very useful in my eyes).
Profile follow: your prospect receives a notification that you are following them (except for those who have deactivated it, but most people have not). Intrigued, they may go to your profile.
Skills recommendation: we have not integrated it on our tools because nobody is fooled when this is done automatically. It is not very qualitative in my opinion.
Sending an invitation (with or without a note): a necessary step before you can send messages to your prospects.
Messages.
Once you know what you want to say, you have to ask yourself: what is the best sequence? Our statistical studies have shown that:
Visiting a profile before contacting them has no impact.
A connection request without a note gives a 10% higher acceptance rate than one with a note.
Over 90% of responses come after the first or second message.
Based of this knowledge, my favorite sequence and the one I recommend is Arion on Waalaxy. It looks like this: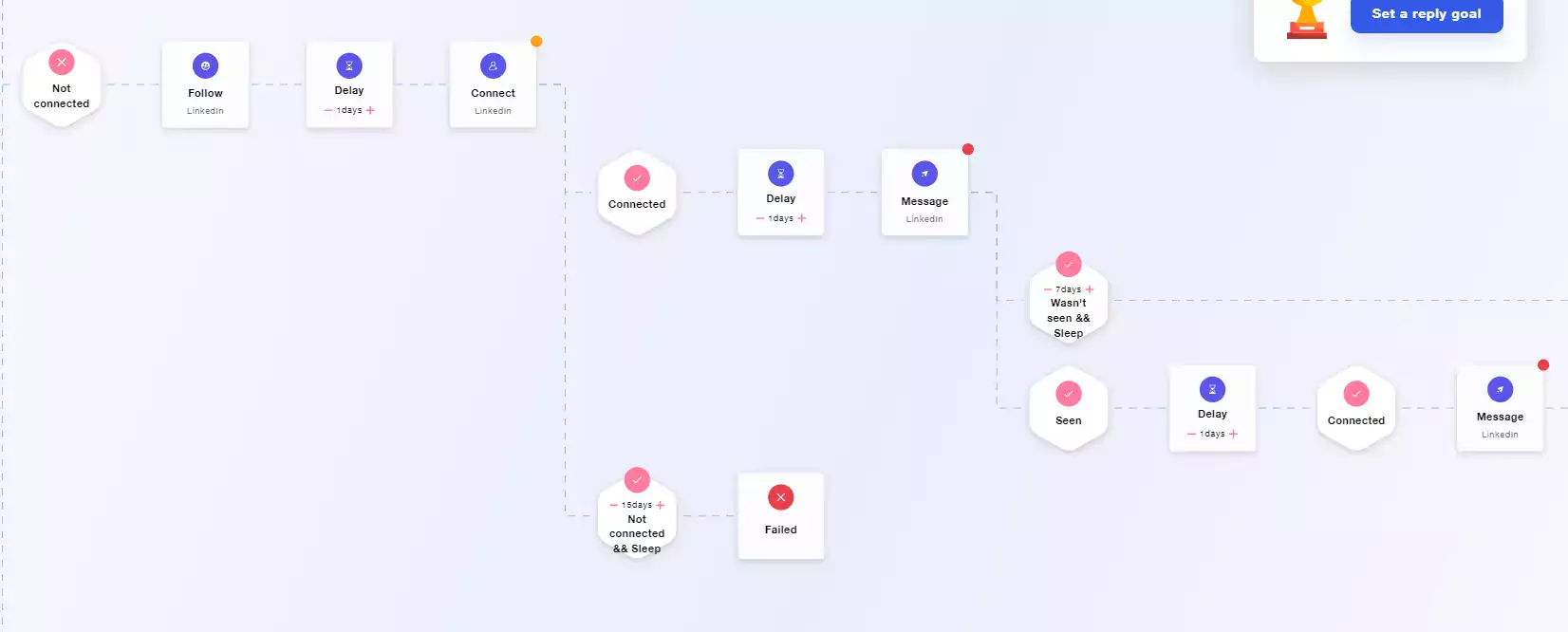 It consists of a profile follow and then an invitation without a message and two messages if the prospect accepts your invitation.
But that doesn't mean you absolutely have to use this sequence.
Everyone's needs vary, this is just the one I recommend if you have trouble choosing one or want to start on something effective and simple.
Publishing on LinkedIn: essential for a lead generation strategy on LinkedIn
We have seen in some detail the lead generation strategy on LinkedIn, how to target prospects and how to contact them.
This is an"outbound" approach, which means contacting the prospect directly. This strategy works but has its limits.
That's why we always advise conducting a content strategy on LinkedIn simultaneously.
When we say "content strategy on LinkedIn", we mean "publish regular posts that bring value, educate your audience on your topic, teach prospects things".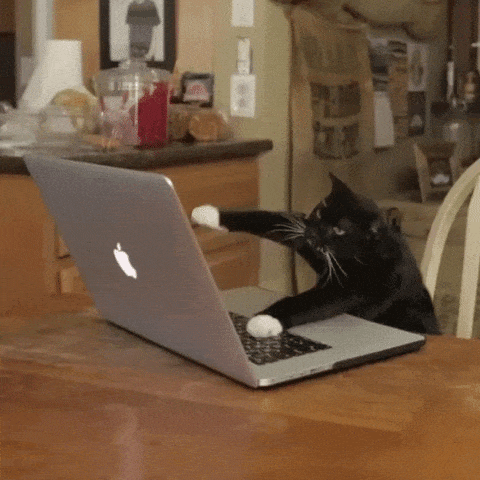 Indeed, we used to say that when we sell an innovative product, only 5% of the market is ready to buy, while 95% do not know that there is this problem and that there are solutions.
But 2/3 of the people who accept your invitation will never respond to your messages. That means 2/3 of prospects lost forever.
Or not.
Because, being in your network, they are more likely to see your content, and therefore learn more about you, what you do, the problems you solve.
Content strategy on LinkedIn: key points
Here are some key points for creating content on LinkedIn, with the goal of generating leads.
Don't talk about what you're selling
No one cares. And nobody wants to know about your latest product. They say you should have no more than 10% self-promotional content.
So then, what should you talk about?
Talk about your topic
This is huge. When we publish on LinkedIn at Waalaxy, we'll talk about how to prospect on LinkedIn, what the best practices are, whether or not to add an invitation note…
As well as about our tools.
And it is by developing this expertise with our audience that we educate them on the benefits of prospecting on LinkedIn.
Doing this allows us to highlight the value of tools like ours, while providing value to our prospects.
Be regular
This is the key to any content strategy. Your customers won't come running into your arms after your first post. Content takes time, but it always pays off in the end.
So it's better to publish once a week for 1 year than every day for 3 weeks. Also, don't look for virality at any cost.
It is better to have 100 people who like your content, follow you and see all your posts than 1M who see you once and don't care about you.
Be authentic: forget about company pages
LinkedIn is a human network. Company pages should be banned from content strategies. They only serve as a platform to showcase your solution when prospects want to know what you do.
Already because the algorithm favors the content of individual accounts, in order to encourage business pages to pay for visibility.
But also because we like to follow a person, to read content that is not hidden behind a brand. We like authenticity, emotion, connection.
Not the sanitized & corporate content of a group or a company.
Test, vary, find your style
As there is no perfect message template, there is no perfect post. You need to test different formats, approaches and content. Switch things up. Create where you feel most comfortable. Improve your style.
And most importantly: get started. No one will remember your post that didn't take off. But many more people will remember a publishing strategy that works.
So you have nothing to lose.
Quality content first
What's the best time to post on LinkedIn? Should you post photos or videos? Should you create long or short content?
Should you use pods? Add links in the comments or in the post? These are all questions that content creators ask themselves when they start out.
This is a big mistake. The main driver of content that works is quality content. All of these metrics are an over-optimization!
When you're posting every day for 6 months, you may start to wonder if these metrics can improve your reach. Before that, it's just ridiculous.
LinkedIn lead generation strategy and more
We've seen the outline of a lead generation strategy on LinkedIn. If this is your first step in this field today, congratulations for getting this far! It will take some time to implement before going further, but I still have to tell you about it.
LinkedIn is one of the best channels for prospecting and finding clients in 2021. But the future will be multi-channel and omni-channel. What is that? For some it's the same thing. The difference is subtle. I would say that the multi-channel prospectin is to contact prospects on LInkedIn but also by email or even by Twitter, SMS or anywhere really.
This type of prospecting has proven itself and when the channels are mastered independently of each other and then well implemented, the use allows you to increase the performance of campaigns tenfold.
Omni-channel goes even further, by putting in place all the marketing tools available to reach the prospect. We are talking about adding search engine optimization, advertising (mainly on social networks) and the creation of content on different networks, the distribution of a newsletter, the organization of webinars…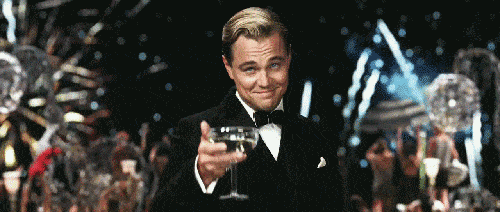 In short, the objective is to create a complete present online that will create a bubble of omnipresence with the prospect and reinforce the presence of the brand in their mind…
If you are interested in this type of methodology, we talk about it in detail in our community. Join us! Now you know how to establish a lead generation strategy! 🚀