When you start to get interested in digital prospecting, one of the first questions that arises is whether you should subscribe to LinkedIn Sales Navigator premium offer or not.
In this article, we take a quick tour of the pros and cons! 😜
What is Sales Navigator?
Finding customers should no longer be a problem in 2022. It should even be easier with all the tools at our disposal.
Sales Navigator is one of LinkedIn's premium subscription plans, along with Recruiter Lite and Business Plus and Job Seeker subscription plans. You will be billed $79.99 per month in the case of a monthly subscription and $64.99 per month in the case of an annual subscription. 🤪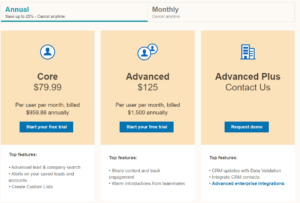 As its name suggests, Sales Navigator is a product designed for sales people, looking to sell goods or services.
Sales Navigator is essentially a search engine for LinkedIn. However, it is much more powerful and precise than the "standard" search engine, with access to more filters to categorize your searches.
It also includes some additional features such as the prospect tag and the ability to send a specified number of InMails per month. Although not essential, these features can be useful – especially Inmails, if you're in the situation where you only have a very small number of potential prospects.
Thanks to this tool, you will be able to improve your social selling? Your what? Social selling. It's a four-step method that allows you to find the right people when you're trying to sell a product or service, create your professional brand and increase awareness of it, exchange information with your prospects and build trusting relationships.
How does Sales Navigator work?
Above all, don't panic because LinkedIn will guide you through the use of its tool. You don't need to be a graduate to set up your Sales Navigator, you'll see it very quickly.
Once everything is set up, you can start prospecting. We hope that you will have thought about your persona beforehand. This is an essential step for effective prospecting.
Because in order to sell a product or a service, you must already start by making a portrait of your ideal buyer, and this means that you will have thought about :
His first and last name.
His age.
His position.
His sector of activity.
His decision level (if it is a BtoB target).
His pain points.
His expectations.
And so on…
In fact, you will have to think keyword by keyword in order to flesh out your ideal customer as much as possible. Is the persona ok? Let's move on.
It is important to understand that Sales Navigator is an excellent way to generate leads. You will be able to import your connections (thus your contacts or list of prospects) or do a search yourself.
Sales Navigator Tutorial
Now we'll get our hands dirty. Here we go. LinkedIn Sales Navigator allows you to search with keywords. Let's say you're looking to generate a list of prospects with CEOs. Very simple:
Log into your Sales Navigator account.
Enter your keyword (here we chose CEO).
On the screen, you will have a whole list of potential prospects BUT they may not all match your criteria. That's why on the left side you will have a column with additional information where you can do much more precise targeting.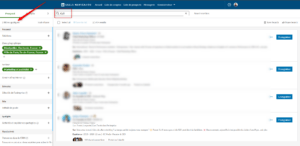 Once you have selected all your criteria, you can save the search and name it.
You have your list of prospects and you can start sending messages. By the way, speaking of messages, keep in mind that a good message is a personalized message.
Sales Navigator login
To connect to your LinkedIn Sales Navigator, you will first need to connect to your personal LinkedIn page or go to the LinkedIn Sales Navigator page. You will use the same email address and password as on your personal page. You won't need anything else to connect to your Sales Navigator.
What is the price of Sales Navigator?
Well, the tool is very good, but how much does it cost? There are three packages:
This service costs 99,99€ per month and per access but you can also take out a yearly subscription (which will cost you less if you do this) costing 959,88€ per year and also per access.
Sales Navigator Advanced.
This is more expensive than Sales Navigator Core. Here you will pay $129.99 per month or $1190 per year (again, if you decide to go with an annual rate, it will be cheaper than a month-to-month subscription).
The Sales Navigator Advanced Plus
For the latter, depending on your needs, you can request a demo and then commit to them.
Well, we understand the prices of the different formulas, but what changes?
Which subscription to choose?
Again, it all depends on what you need. The first thing to know is that you have a free trial to help you get an idea of the tool.
What does Sales Navigator Core allow you to do?
Simple, basic, it allows you to do advanced searches 🔥 on the prospect (you're going to be able to exclude certain terms and as a result be able to prospect more effectively because your targeting will be more precise), receive alerts on your prospects and accounts you've registered and you're going to be able to make custom lists (so you're going to be able to segment your different targets).
You will also have access to LinkedIn Learning, unlimited searches, emails, integration with your sales tools.
What does Sales Navigator Advanced do? You'll have access to the same features as with LinkedIn Sales Navigator Core, but you'll also be able to interact with prospects through your team's network (TeamLink), optimize your lead generation, access administration tools and reporting. But that's not all: you'll also have access to enterprise tools and centralized billing.
Navigator Team
Finally, LinkedIn Sales Navigator Advanced Plus combines the features of the two previous plans but you will have the ability to synchronize your data with your CRM and make advanced CRM integrations.
With this plan, your prospecting team will always be operational on their tasks.
What is the point of taking a Sales Navigator subscription?
An improved search engine? Is that all? Yes, that's all. But that's all that matters. Being able to categorize your prospects with precision means making sure you start your prospecting on solid ground. It's essential. This is what will allow you to target the people you wanted to target, to compare your prospecting campaigns with each other, and to personalize your campaigns.
In addition to offering a high level of depth thanks to:
Company workforce size filters,
The number of years of experience,
Seniority in the current position and in the current company,
As well as the hierarchical level;
Sales Navigator allows you to search for members of a specific group, even if you are not in that group, a great feature for performing interest-based searches.
An additional benefit of Sales Navigator is that it can display up to 2,500 search results (100 pages of 25 results) compared to only 1,000 for the standard search function (100 pages of 10 results).
Of course, you will still have to think about categorizing your searches in order to access all the results.
Finally, when you use ProspectIn's Enterprise plan, the purchase of a single Sales Navigator subscription is enough to supply all your accounts with prospects, so it very much mitigates the cost 🔥
Standard LinkedIn search bar? Too basic.
LinkedIn's standard search function has a number of filters that may look useful at first glance.
But, as you can imagine, LinkedIn has no interest in making its standard search bar 10/10. Its goal is to make you switch to a paid plan when you want to perform a more complete search.
If you want to search for a former classmate or former manager by searching for their surname + first name, the standard search function will do its job, but if you want to do more, it's simply not going to cut it…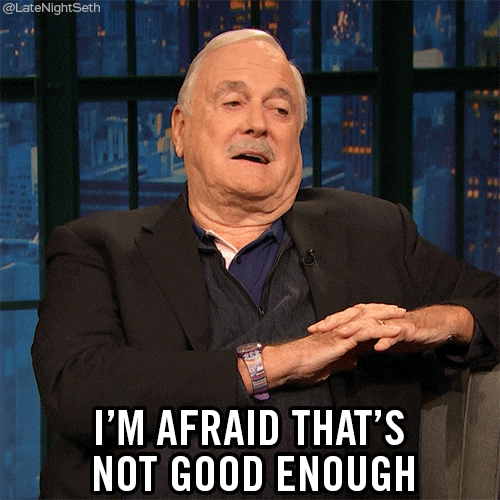 In addition to not offering all filters, search results from LinkedIn's standard search bar could be downright distorted.
For example, if you search for "IT Director", the results will include both "Director" and people working in "IT".
Here is what we found on the 1st page when we entered the words "IT Director", and utilized Boolean operators. (See: How to master the LinkedIn standard search feature)

I'll let you guess how relevant our results were on page 70 or 80…
If you want to ensure maximum accuracy in your search results, you won't go far with the standard search feature. ❌
On the other hand, if your goal is simply to grow your network, or you're not too keen on the quality of your searches, the standard search function may be adequate for you.
Although we recommend you go for a Sales Navigator plan, it is still possible to have very impressive prospecting results using ProspectIn and the standard search bar on LinkedIn.
If the only thing that's holding you back are the cost of Sales Navigator, then our article on How to Use Sales Navigator Without Paying It should appeal to you. 😉
Sales Navigator: pros and cons
Good reasons to use LinkedIn's standard search bar
You are new to LinkedIn and simply looking to grow your network,
Your target audience is broad and the criteria of basic filters allows you to get relevant results,
You are broke,
You only use one LinkedIn account.
Good reasons to use Sales Nav
You already have a network of more than 250 connections,
You want to be able to segment your personas in a fine and precise way,
You want to optimize your prospecting and get access to categories of prospects otherwise unavailable,
You use multiple accounts.
Furthermore, follow the complete guide on prospecting for your business here!
Sales Navigator Invoice
LinkedIn will not provide you with invoices regarding Premium offers 😁. However, you will be able to find your purchase history by:
Logging into your LinkedIn page.
Clicking on your portrait.
Selecting "Preferences and privacy".
Clicking on "Subscriptions and Payments".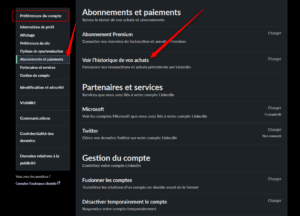 FAQ of the article Sales Navigator: Essential for prospecting on LinkedIn?
We're coming to the end of this article and we're going to do a quick recap of what we've been talking about. But first, let's talk about Sales Navigator in general.
Acquiring new customers is one of the priorities in business development, which is why a good number of software have emerged ☀️ to help marketers in their quest.
Sales Navigator is one of those little nuggets that will help your sales teams.
How do I get started with Sales Navigator?
If you are new to this service offered by LinkedIn, you should know that it will allow you to boost your business prospecting. It is a very complete tool that will give you the possibility to find new customers.
There is no magic formula to use this commercial tool, you will have to subscribe to one of their offers. You are going to be able to do an extremely precise targeting 🎯 where you are going to be able to include or exclude very specific criteria about your potential customer.
When you get to the tool, you are going to be able to search with very specific words that match your persona.
Moreover, coupled with a marketing automation software like Waalaxy, your prospecting activity will be even better.
Free Sales Navigator ?
No, unfortunately you won't be able to get Sales Navigator for free, well not for an infinite period of time anyway. LinkedIn offers you the possibility to test Sales Navigator for 30 days. This gives you time to make up your own mind about the tool.
You can also use an alternative such as Waalaxy to do some excellent prospecting. And on top of that, Waalaxy is free. Yes, free 🎁 to prospect 100 people a week. It's crazy but it's real.
With our little Chrome extension, you'll be able to import your searches (done on LinkedIn), send them invitations and messages. And what's more, completely personalized messages and that's what we love.
Building a customer base with Waalaxy will cost you nothing if you only start with this solution, which is already a great start. As said in this article, when you merge a tool like Sales Navigator with Waalaxy, your business conquest will fly into space.
Sales Navigator logo
The Sales Navigator logo is similar to the LinkedIn logo (logical you might say, it's the same company) but when you're on the Sales Nav page, you'll know by looking at the top left when you see the logo below.

How to install Sales Navigator?
You don't need to do anything complex to install LinkedIn Sales Navigator. The tool is very easy to use because when you go to the Sales Navigator page, you can request a demo (have a free 30-day trial).
You will of course have to put your credit card but you will not be charged the first month. You will get a reminder 7 days before the end of your free trial allowing you to decide whether or not you want to continue using the tool.
How do I use Sales Navigator?
In order to use Sales Nav properly, LinkedIn offers you the possibility to test it before subscribing. This is good news, because you can make your own idea and already get your hands on the Sales Nav.
And you can test it for a period of 30 days! So you'll have plenty of time to start your first prospecting research with Sales Navigator.
How do I unsubscribe from Sales Navigator?
If you think you've done your time with Sales Navigator, you can unsubscribe by clicking on Sales Navigator. You will then need to click on your little portrait and select "Preferences". Once you're there, go to "account type" and cancel your subscription.
Be careful! Be aware that you will lose all your information once you cancel your subscription 🎁. If you want to start another one, all the data you have recovered will be permanently lost. Think about it.
Premium Sales Navigator
Remember, Sales Navigator is a tool for sales people (yes, it has the word "Sales" in it). This tool will allow you to get monstrous data on a lot of people on LinkedIn? It will allow you to improve your social selling.
And LinkedIn is a colossal and incredible database. Incredible because it's the only database in the world where you can be sure of most of the information you're going to find, so it's automatically updated in a way. Yes, if there are job changes, region changes or the slightest change, chances 🍀 are your prospects will go in and change and update their info.
Once your trial is over, you have a LinkedIn premium offer. You will explode your prospecting. This kind of account will allow you to find people in an extremely targeted way. The difference between a traditional search and with Sales Nav is that with Sales Nav, you will be able to exclude or include words as you wish 😁.
Sales Navigator Training
When you take the Sales Navigator, you also have access to LinkedIn Learning. There are many interesting courses on the platform. You can find courses on:
Digital marketing.
Online advertising.
Personal development.
Technology.
And many others…
Thanks to this tool, the world of prospecting is at your fingertips, but you'll need to put in place good practices to turn your prospects into potential customers and loyal to your brand.
Now you know everything about LinkedIn Sales Navigator, all you have to do is find your customers 🚀 !