Sales Navigator. Quite an expensive tool (see: How to use the Sales Navigator for free) but of unmatched power in the BtoB acquisition market. It's simple yet very much comprehensive.
Here is how to use Sales Navigator
This article complements an earlier article we wrote on How to master the LinkedIn standard search feature. The 6 principles mentioned in this first article are totally valid for Sales Navigator. So don't worry, I'm not going to repeat myself here. Rather, I'm simply going to suggest some other filters that you could use.
Target the decision-makers
It is one of the most effective filters on Sales Navigator: the seniority level. I don't know how the LinkedIn algorithm determines this information, but it is very effective. When you want to sell, it is rarely to a junior member of the company (and if this is the case, it is always possible to filter by "young graduate").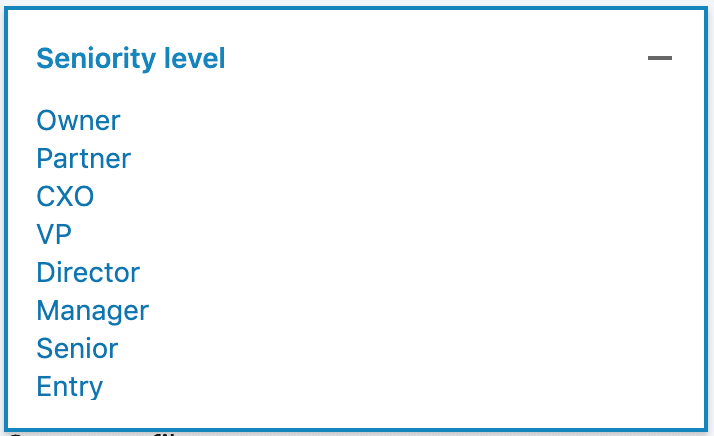 It is not a filter that is used alone, but rather in combination with other filters. If you are looking for people in marketing, add the hierarchical level you want to target, and you'll get much better search results.
Focusing on length at a company
Another interesting and complementary indicator is the length of time in a company or in xxx position. If the prospect has been there for less than a year, it's unlikely they'll be able to buy a service or product that you offer. Of course the exception is if the prospect is the founder/the co-founder. In which case, the length of time they've been at the company is still interesting to know.
Use company size
This is one of the most useful filters on Sales Navigator. A product/market fit or a targeted campaign is often defined by a specific company size (we do not sell the same product/service in the same way to S&P500 companies and to SMEs).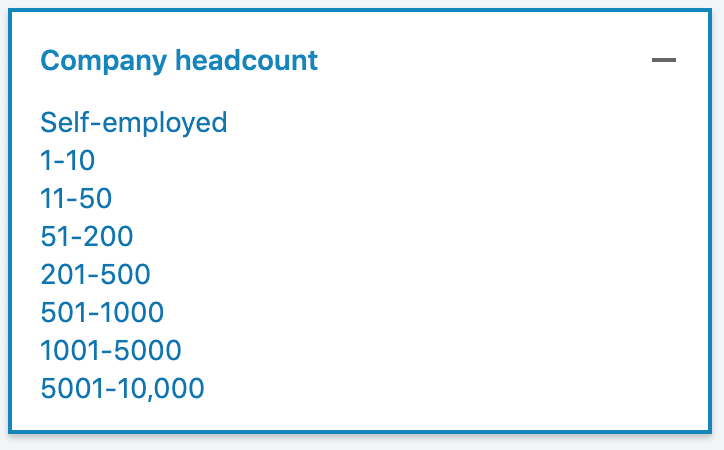 Here, you can target from "Independent" to "more than 10,000 employees". A great way to categorize your campaigns and create specific landing pages for each group. That way you tell a story perfectly adapted to each prospect.
Group filter
I already spoke about this in the Standard Search article, but thanks to Sales Navigator, you don't have to join a group. You can target prospects who belong to one or more groups. And this is very very powerful. (See how we managed to get more than a 50% acceptance rate with LinkedIn's groups).
Posted on LinkedIn in the last 30 days
Want to contact only people who are active on LinkedIn? This can be a very useful ! You only contact prospects who published in the last 30 days and who are therefore active.
Using exclusion
As with the Standard search, it is possible to use Boolean operators. But it is also possible to use exclude keywords in specific filters, and not just the Standard search field. For example, you can add a "France" region filter and exclude prospects in "France" by clicking on the filter.

Now you know exactly how to use Sales Navigator! 🚀!