You certainly know that ProspectIn allows you to automate your LinkedIn activity, but did you know that you can automate the Sales Navigator? We'll explain it to you in detail! 😁
Harnessing the power of the Sales Navigator
The Sales Navigator is undeniably powerful but its price can make you hesitate and we understand that!
It allows you to carry out advanced searches and obtain much more precise results. To do this, the Sales Navigator offers various filters such as :
The hierarchical level. This filter is ideal when you want to address a particular person in a company.
The size of the company, a good tip if you only want to target large companies for example.
By recent publication: this filter allows you to obtain in your searches people who have published in the last 30 days for example. This trick is ideal for filtering people who have left a company without having updated their profile, for example.
Of course the Sales Navigator offers other functions but it seemed interesting to recall the most used ones!
Automate the Sales Navigator
ProspectIn is a great way to automate your searches with the Sales Navigator. For example, you can :
Export your searches from Sales Navigator,
Run scenarios based on this research,
Get much more accurate research results.
How? ProspectIn allows you to personalize all your campaigns. This feature represents a real time-saver in your prospecting and allows you to immediately test your strategy and see what works best or not. A/B testing. 😜
Among the campaigns you can set up are :
The profile visit with the possibility to send a request for addition with a personalized note
Follow-up if the prospect has not accepted your request after a few days
The ability to cancel your add request if it has still not been accepted after a certain period of time.
Send different messages to start a conversation with a prospect who has accepted your request
Distribute your content in a targeted manner by message to prospects who may be interested in your articles.
In fact, the idea is to implement a series of automated actions based on the path of your prospect. It goes like this (this is only one example among the 50+ scenarios that exist):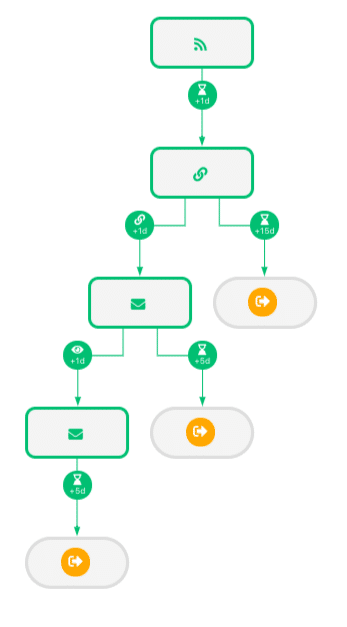 To learn more about the scenarios, here is a short video:
Integrate Inbox waalaxy messaging to save time in your exchanges
To save you even more time, we have developed Inbox waalaxy. This tool is a messaging for LinkedIn with additional functionalities.
Inbox waalaxy is a Chrome extension like ProspectIn and Podawaa and looks like a messaging interface.
In addition to exchanging with your prospects and contacts Inbox waalaxy allows you to :
Tag your contacts in order to easily filter your messages and easily find a conversation,
Put a conversation on Snooze to make it disappear and come back to it later.
Relaunch your contacts automatically by choosing the date on which a message is resent.
In short, you can save time with the Sales Navigator and carry out more actions in order to go further in your prospection. But what if I told you that you could get the Sales Navigator for free, would you want to know more? 😜