LinkedIn Sales Navigator. An expensive tool (see: how to use LinkedIn Sales Navigator for free) but with an unmatched power on the BtoB acquisition market. It's a B2b digital marketing tool. It's simple, yet at the same time it's so complete. As long as you know how to use it… 🤗
Using LinkedIn Sales Navigator
This article complements the previous one on "how to do a good search on LinkedIn". The 6 principles discussed in that first article are applicable to LinkedIn Sales Navigator. So I won't repeat them here. Instead I'll be showing exploring how to use other filters.
Targeting decision makers
This is one of the very effective filters in Sales Navigator: the hierarchy level. I don't know how LinkedIn's algorithm determines this information, but it's very effective. When you want to sell something, it's rare you're going to contact the junior member of the company (and if you do want to, you can always filter by "recent graduate").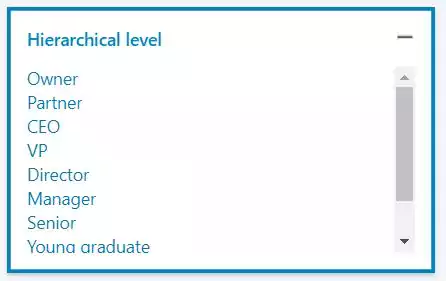 This is not a filter that is used alone, but rather in combination with other filters. If you are looking for people in marketing, you add the hierarchical level of the person you want to contact, and just like that, you get a much better quality search.
Use seniority as a basis
Another interesting and complementary indicator is seniority in the company or position. If a prospect has been at the company for less than a year, it is unlikely they will be able to buy a service or a product from you. This is unless they are the founder and you are targeting startups. But even in this case, having this information can be very useful.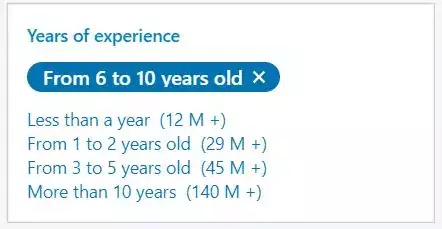 Use the size of the company
For me this is one of the most useful filters in LinkedIn Sales Navigator. A product/service or an approach is often defined by a specific company size (you don't sell the same things in the same way to a CAC40 company as you would to a small business).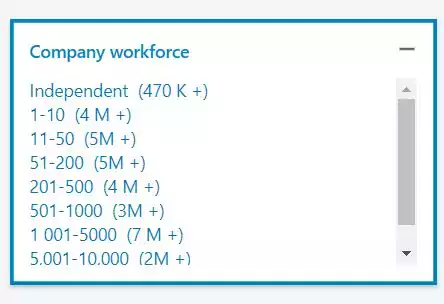 Here, you can target from "Independent" to "More than 10 000 employees". A good way to define your strategy and if possible your landing page, so that your tone of speech is suitable for the prospect you're contacting.
The group filter
I talked about it in the article on the Standard search. Except that thanks to LinkedIn Sales Navigator, you don't have to join the group. You can filter prospects that belong to one or more groups. And that's very, very powerful (see how we managed to get over 50% acceptance with groups).
Published in the last 30 days
Want to contact only active people on LinkedIn? This option is very useful! You only contact prospects who have published in the last 30 days. This indicates that they are active on their network and that their profile is up-to-date (well, we'd hope so).
Use the exclusion in LinkedIn Sales Navigator
As with the standard search, it is possible to use Boolean operators. But it is also possible to use exclusions in filters that are not keyword fields. For example, you can add a region filter "France" and exclude leads in "France" by clicking on the filter again.
Any other filters you would like to put forward? Do not hesitate to contact me to make a suggestion for this article! There you have it, you now know a lot about how to perform the best search on LinkedIn Sales Navigator 😉