People may say that email is outdated, but this is not the case. On the contrary, this is precisely the time to take advantage of it. You know what we're going to see today? The follow up email. You'll learn the best examples and tips you should apply. Moving forward, we've got our work cut out for us 🥖.
When you're in the business world and especially in the BtoB field, sometimes you need to send emails (and you'd rather do that than make phone calls, trust me). Sometimes, we will answer you and that's great. On the other hand, in other cases, nothing is going to happen. Maybe an oversight 😲. Either way, we're going to let them know we're here 👀.
The best examples of a follow up email
There are many ways to follow up with your target, but let's look at the different scenarios that may come your way.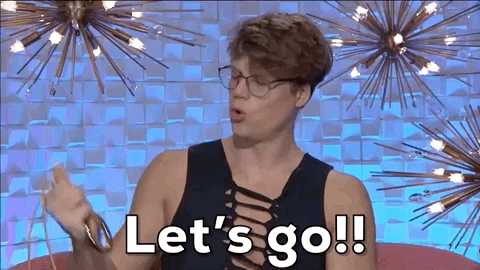 #1 Dunning email for an unanswered application
You found a job offer that sounded amazing and you sent your resume and cover letter 📨 with a very nice email accompanying it. Maybe you even set out to contact your recruiter on LinkedIn as well (great idea). But you haven't received a response yet? Opt for the follow-up email. As a bonus, it will show your interest in the company.
Mrs/Mr [Name of the person],
I am writing to you in response to the application for the position of sales representative that I sent you on [Date on which you sent your application]. I would like to make sure that you have received my CV and cover letter as I am very interested in joining your company and I am convinced that my analytical, active listening and sales skills will be a big plus in your company. I would like to have the opportunity to have an interview with you to show you my motivation and my ability for the position.
Yours sincerely,
[Your name and surname]. [Telephone number].
The advice
You are addressing a recruiter, so you must take care of several things:
Your language: you are expressing yourself to a recruiter, you need to write with as few mistakes as possible (0 is always better) and don't talk to him as if he was your old 🧐 Uncle George.
Response time. Don't follow up with the recruiter if it's the day after you first sent it. Wait a week and send your follow up.
Be clear and concise: give your reader all the elements they need to know. So that means you need to specify the date you sent your application.
Highlight a few key skills.
Schedule a meeting if you can.
#2 Send a follow-up email to a prospect
You may have sent an email to a prospect but he never replied. How to make him understand that you are there? We'll show you right now. You may need to send several reminders, several emails but we will focus on the first one you send.
Hello [Name of your prospect], I am contacting you again following the first message I sent you on [date] about [product name]. I believe I have not yet received an answer from you. Perhaps you have some questions about the product? I would be happy to help you. Could we arrange a meeting?
Best regards, [Your name and surname].
[Position in the company].
Tips
When you contact a prospect, keep this in mind:
The tone: Speak as you do in your communication strategy, so that people know who you are.
As with an email you're going to send to a recruiter, keep in mind that you shouldn't overwhelm your prospects with your emails, especially if you're trying to sell 🤑 a thing.
#3 Follow up after an interview
You've landed an interview with a prospect, with a client or even with a recruiter. Already, congratulations, that's a big step 👟. Now you're going to have to put together a little email.
Hello [Name of person],
I would like to thank you for taking the time to interview me about [put the reason for the interview] on [date of interview]. This exchange was particularly enriching for me and I was able to learn more about [subject], which reinforces my idea to fully adhere to this project. I would like to know what the next steps will be and when we can implement it.Sincerely, [Your name and surname]. [Your phone number].
Tips
It's great to have had an interview, but you don't want to leave too much time to get back in touch with the person (without overwhelming them again). As usual, you'll need to:
Watch the tone of your emails for the person you are writing to 🖋️.
Continue to show your interest in the person you are writing to.
You can also suggest a phone date.
#4 Payment follow up email
This one isn't much fun 💀 but if you offered a subscription, maybe you haven't received payment from one of your customers yet. Therefore, he is overdue for payment. In this case, we have a sample email for you.
Unless there is an error or omission on our part, it has come to our attention that Invoice No. [invoice number] dated [insert date] has not yet been paid. We are still waiting for your payment. We kindly ask you to settle this invoice, otherwise we will be obliged to terminate your premium services such as [name of services] If your payment has been sent before receiving this email, please disregard it.
The [Name of the service] team or [Your name and surname].
The tips
This is not a very fun part of the process, but you may well be confronted with it. What we advise you to do to write a good payment reminder email is to think about :
Please provide as much information as possible about the unpaidinvoice (date, invoice number).
The amount of the invoice that your customer must pay.
If you apply late payment penalties, you must specify this in your email.
You must include an attachment reminding your bank details 💳 or redirect the user to the payment platform.
#5 Contract signature reminder email
Our prospecting habits have profoundly changed thanks to the advent of digital technology. Email has become an excellent way to acquire new customers and facilitate the retention of new ones. It will certainly happen in your career that you have to sign a contract. If you don't get a response after a while, here's what you could send to your target 🎯.
Mr. [name of your target],
We made you an offer dated [put date] regarding [put type of product or service]. I wanted to know if you received it and if you are still happy with the proposal? If you need more information about the project, I can also be available to clarify any unclear points. Do not hesitate to send me an email or to call me at 06.00.00.00Bien cordialement, [Your name and first name].
Tips
For a contract signing reminder, as with all your other emails, there are some things to keep clearly in your mind:
Conciseness, be precise and clear in your writing. Your interlocutor must understand why you are contacting him.
Recall the important elements of the contract such as the name of the contract, the date you sent it.
You can offer to exchange via email or phone 📱.
Feel free to make an appointment if necessary and specify it in your email.
#6 Quotation reminder by email
You will walk on a tightrope in this case. You must succeed in combining the fact that your future client signs your quote without harassing him too much. It will be up to you to find the right balance. Once you have sent the estimate, you will have to wait a few days before sending your reminder (yes, be patient). You can also try a telephone reminder.
Hello Sir,
I would like to contact you again regarding your project [name of project]. I sent you a quotation on [insert date of quotation] and I would like to know if you received it. I would like to propose you a telephone conversation according to your availabilities so that I can answer your possible questions if you have any. I remain at your disposal for any further information.I remain at your disposal for any further information,
[Your name and surname]
Tips
As we said above, you don't want your customer to feel harassed by your message. You must give him time to take all the information he needs and to weigh the pros and cons if you have a project in common. But in the email it is imperative to :
Recall the quote number.
Put the name of the project/product/service.
Suggest a phone call.
#7 Employee follow-up email
Here, we are not going to remind a customer (phew) but someone you work with. It may be a colleague from another department or another agency (and in this case you do not know him). To follow up with a colleague, you will need to think about the relationship you have with them. Here is a typical example that you can use as you wish.
Hello [put collaborator's first name], I'm coming back to you following our last exchanges about [put name of file]. Have you had time to think about possible solutions? I've been brainstorming with [name other collaborator], we have several ideas to submit. Can we set up a meeting for early next week? [Put your name].
Tips
There is no average waiting time when you send a reminder email to a collaborator. Once again, it all depends on the type of relationship you have and whether you know the person. Sometimes you may be on a project with a collaborator from another region and in that case, you will have to adapt your pitch. Keep in mind though:
To be clear: your collaborator must understand what you are talking about.
To put important elements 💡 of your last exchange.
#8 Client follow-up email
Granted, a customer reminder email can be very generic. However, we're going to offer you a template to copy and paste so that you can use it if necessary. In this example, we will adapt a more friendly tone by using emojis (again, you can do this if your brand and your communication lend themselves to it).
Hi [first name of your client],We decided with part of the [put company name] team to surprise you. We will do a live and give the best tips to make your sales take off. These tips will be available in an E-book that you can download for free.
If you want to have fun, join us on this link [put link name] on [put date of live]. [put name and surname]
Tips
When we talk about customer relaunch, it can be to promote a new offer, to offer them a discount or to ask them to participate in a live event that can give them relevant and useful information. In any case, here is what you should do:
Don't hesitate to add value to your email.
Be careful with the tone you use.
Explain why you are sending an email like this.
#9 Shopping cart follow up email
If you have an e-commerce site, this can happen quite often for various reasons… Sometimes it is enough to reassure your target to take the step of conversion. Here is an example you can apply in case of cart abandonment 🛒 from a customer.
Hello [first name], You have recently placed items in your [site name] shopping cart. Maybe you didn't have time to finalize your order or maybe you forgot aboutit? Don't worry, they're still there, safe and sound. So you don't have to think about it, we're offering delivery with [put in your code] for 48 hours.The team at [brand name].
Tips
In order to meet the diverse needs of your customer base, you also need to understand their disincentives. In your email, you could:
Add a promo code to get people to take action.
Play on the sense of urgency (not to be done all the time) by mentioning the fact that stock is low.
Offer shipping.
Offer additional items that might interest your target.
Add an image that speaks to the target's items.
Waiting time to launch a follow-up email
We are not going to teach you the definition of an email, we think you already know it very well. On the other hand, do you know how long to wait before sending a follow up email 🤨? We're definitely going to disappoint you but there's no ideal time.
What you need to keep in mind is that you need to choose the right timing, so it will be according to your target. That's why it's extremely important to know your persona well (and incidentally to spend time setting it up well). The main information you should have in mind is that if your prospect has to answer you, he will usually do it the same day he receives your email. With that, you're not very far along.
You don't want to wait too long to follow up with someone. However, here is what we think is consistent in terms of follow-up. When you are going to send reminder mails, you will proceed as follows:
D+2 for your first reminder.
D+4 for your second reminder.
D+6 for your third reminder.
D+10 for the fourth one.
For the rest, you can add D+1 but don't forget to let your target breathe.
How to make a reminder email?
To make a follow-up email, you should not torture your mind. What was your strategy at the beginning? If you have made your persona, thought about the communication of your product, you normally know how to proceed.
Don't worry, we won't leave you like that. To make a good reminder email, you'll already have to think about the situation. Is it a payment reminder? Is it an application reminder? Here is a list of what you need to think about:
The structure of a reminder email
Subject of the email
Reminder X
Copywriting
Hook to attract the attention of your target
Reminder of important elements
Invoice number, interview date…
Greeting formula
Please accept, Madam, Sir…
The signature
Your name and surname or the name of the company
The importance of personalization
We can imagine that you are aware of this, but a reminder is always good to take 😁. Know that a personalized email can only benefit you. When you receive a personalized email, you are more likely to go and see what they can offer as a service. This is one of the basics of customer relations. To convince you of this, we will talk about some key figures.
Out of 117 companies surveyed, 89% of companies that consider that personalization positively impacts the customer relationship.
Indeed, personalizing your emails will allow you to considerably increase your audience's satisfaction and increase their loyalty.
Thanks to the implementation of personalization, you will be able to benefit from time and money savings (especially true when using automation software) and you will benefit from the consideration of your target.
Acquisition is not the only thing that counts in life, think also about the retention of your customers. They themselves can help you promote your services or products. So don't neglect personalization and the effect it can have on your customers.
The limits
You have to manage the data the right way, especially since security rules are becoming more and more demanding.
Not everything is perfect, let's face it. When it comes to email personalization, you can't get into your consumer's life and know everything about them. It's not legal 💀 to have a lot of personal information about someone.
So you have to know how to use what you are given and analyze user behaviors. There are 65% among these companies who answer that data management is a major difficulty in their strategy. If you are curious to know the statistics made by the Boston Consulting Group, go to this link.
Tips for perfect emails
So that you don't miss any opportunity (or almost), we will discover together the little tricks that will make all the difference when you send an email to your targets. By the way, this word is particularly important since you are going to have to know your target on the fingertips 🤌.
Know your target
Yes, you can expect us to talk about this on almost all of our articles since this is the most important step in your digital strategy. You need to know who you are going to address, who you are going to sell to…
And for that, there are not 30 000 solutions, you have to create your persona. The persona is the portrait of your ideal customer. By creating this portrait, you need to know how to meet their needs, how to get there and what you need to put in place for this potential customer to convert. All the socio-demographic information must be included, such as
His first and last name.
His age.
The place where he lives.
His marital status 💒.
The number of children (if this impacts your products or services).
His or her needs.
The pain points 🩸.
Her favorite means of communication.
His income.
Etc…
All the information that is likely to be important in your lead's move to action. Of course, among the profile that you will identify, others will appear. It will therefore be necessary to segment them.
Segment
If this term does not speak to you, you should know that segmenting simply means that you will have to divide your persona into subgroups based on certain segmentation criteria. Criteria like :
The geographical situation.
The language.
The buying behavior.
The gender 🔞.
Etc…
Based on these differences, you will make your segmentation to best fit your targets.
The email subject
It may seem strange to you, but if your email subject doesn't look like anything, you can be sure that your potential customer won't open the email. The subject line has to speak to them, it has to make them want to click on it.
Copywriting
Learning to convince is quite an art, especially when it comes to selling a product or a service to a customer. In our case, we do it through copywriting.
We have to ask ourselves how we can reach our target 🎯 with words through email. That's why the persona is very important. It will give you an indication of what to write in that email to sell your offer.
We suggest you to know everything about copywriting by going to discover this article. It won't happen overnight of course, but you can set up what we call A/B tests to see what works best. An A/B test, if you don't know what it is, will allow you to test several versions of the same email to know which message works best.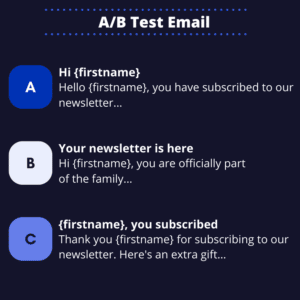 On this example, you can see that there is a third possibility of A/B test, in fact the more tests you do, the more letters you add. So it can become A/B/C test and much more. Now all that's left is to figure out which of these messages work best 🤑.
Personalization
We're not going to repeat what was said above but it's important that you pay attention ⚡ to how you're going to write your email. Personalize it as much as possible with his first and last name already. If you know that he has already visited your site, you can mention it.
When you personalize your messages, your user feels privileged, and that's what makes them come back to buy from you. Personalization will allow you to make a big step on the retention of your customers.
Automation
When you do mailing, you can (and even should) surround yourself with good tools. Writing good emails is time consuming so it's better to automate everything. To do this, here is a small list of tools you can use:
Drip.
Autopilot.
SendinBlue.
Mailchimp 📩.
Automation is really cool because you will be able to save time on thousands of emails sent. It will require a little bit of configuration at the beginning but after that, it will only be a benefit.
Conclusion of the article
We are almost at the end of this article and we are also sad to leave you, but don't panic, we are going to recap everything we said about the dunning mails. So, as we went along, we could see :
Tips to make them successful.
The waiting time for a reminder.
How to make a dunning email.
Why it was necessary to personalize.
The tips 💡 to write the perfect email.
FAQ of the article
When you do emailing, there are a few more things to note. This is exactly what we will do in this FAQ.
How to make an effective reminder?
Most marketers think that if their email has not been answered, it is easier to think that the prospect is not interested. To give you a key figure, you should know that only 2% of sales are made at the first point of contact. 2% is not a lot. If you don't follow up, you're going to miss a lot of opportunities ❌. It takes about 8 touch points before a sale is made (so quite a few follow-ups). Now that we know that, we're going to have to:
Don't leave your prospect without news for too long.
Avoid pestering him.
Be clear in the messages you are going to send him.
Choose the right email subject.
Use an automation tool.
The greetings
We do not talk about it very much and yet to finish an email, you must put a polite formula. Of course, it depends on who and how you address the person. If you are talking to a customer, you can use :
Sincerely yours.
Yours sincerely
Yours faithfully
I remain at your disposal for any further information.
You can learn more in this article. Now, we definitely have to leave each other 😿… Until the next article but now you know everything there is to know about the follow up email. What are you waiting for to set them up?