In any field of digital 🖥️, it comes back to often using the same means of communication. The one that particularly comes up is email. Are we using it correctly? I guess so, but what about the email signature? This is the topic of the day. I'm going to show you 13 examples of original email signatures that stand out from the crowd.
Come on, don't be shy. In this article, our email signature templates are free, you can use them endlessly.
You might be wondering what we are going to see in this article? Don't worry, here is the list:
What is a mail signature 📩.
The famous 13 examples (which you can reuse as a bonus).
How to set it up.
How to create a professional email signature?
The tools to create a signature that stands out.
What is an Email Signature?
An email signature is a block of text or an image that is automatically added at the end of an email message you are about to send. It usually includes your name, contact information and possibly a logo or other graphic elements. Some people use their signature to include a quote, personal motto or other information about themselves 🥳.
To create a signature for your emails, you need to access the settings of the email client or webmail service. You look for an option to create a new signature or edit an existing one. Once you have created it, you can choose to add it automatically to all your messages or manually insert it in specific messages if necessary.
When you send an email, whether it's to a client, a collaborator or a future partner, people should immediately understand who you are thanks to your email signature.
13 Examples of Email Signature
To make it easier for you, I will group the mail signatures by category and profession 😉.
Mail signature : CEO
You can be the head of a multinational corporation 🤑 or you can be the owner of a small online clothing store, it doesn't matter, you can stand out thanks to your email signature by implementing a unique visual and professional identity.
#1 Signature without a photo
You don't have to put a face in your email signature, you can just put your company logo. However, you must put all the information related to your recognition. I will show you an example.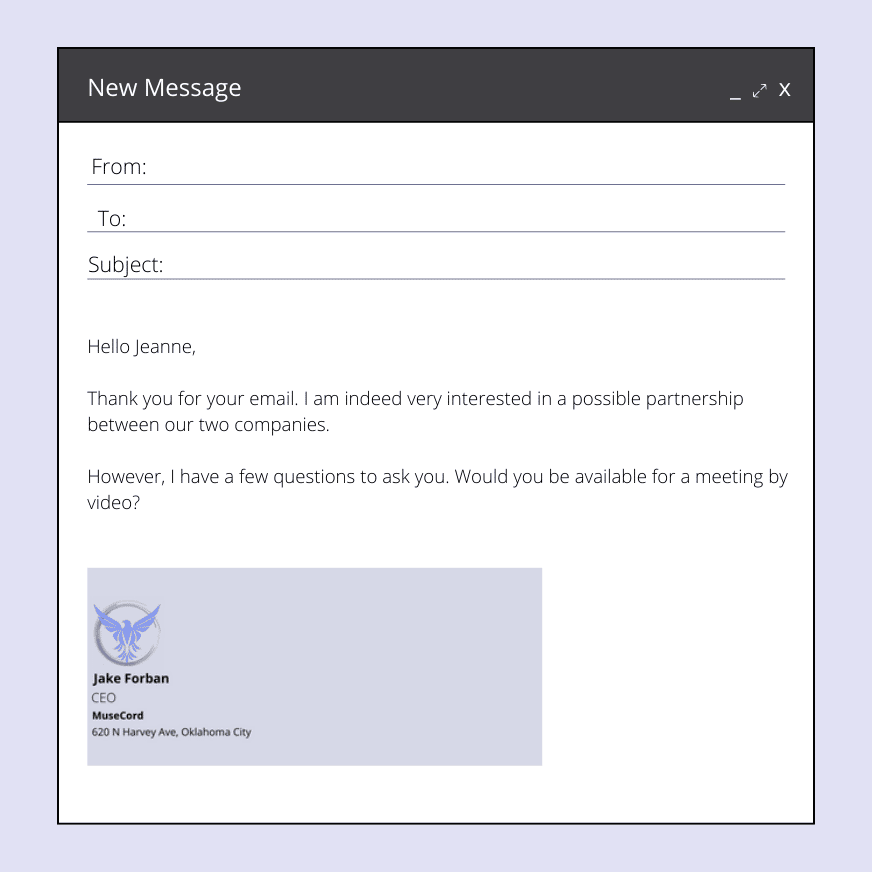 It is a very simple signature. You can recognize the first and last name of the person, his position, his company as well as the address of the company.
#2 Email signature with photo
On the model that I am presenting to you now, there is a photo of the person who sends the email. Useful if your recipient already knows you. It allows him to instantly recognize the sender of the message.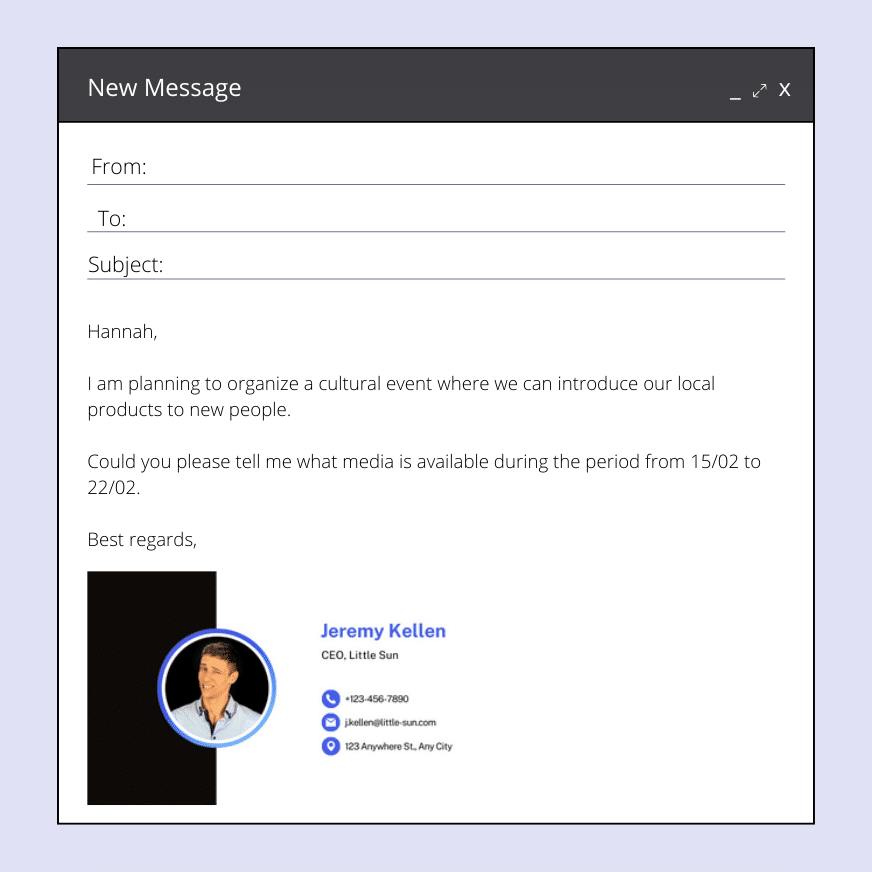 #3 The elegant signature
You don't want a picture, nor too many elements on your email signature but you still want it to look good? I've prepared a little example for you ✅.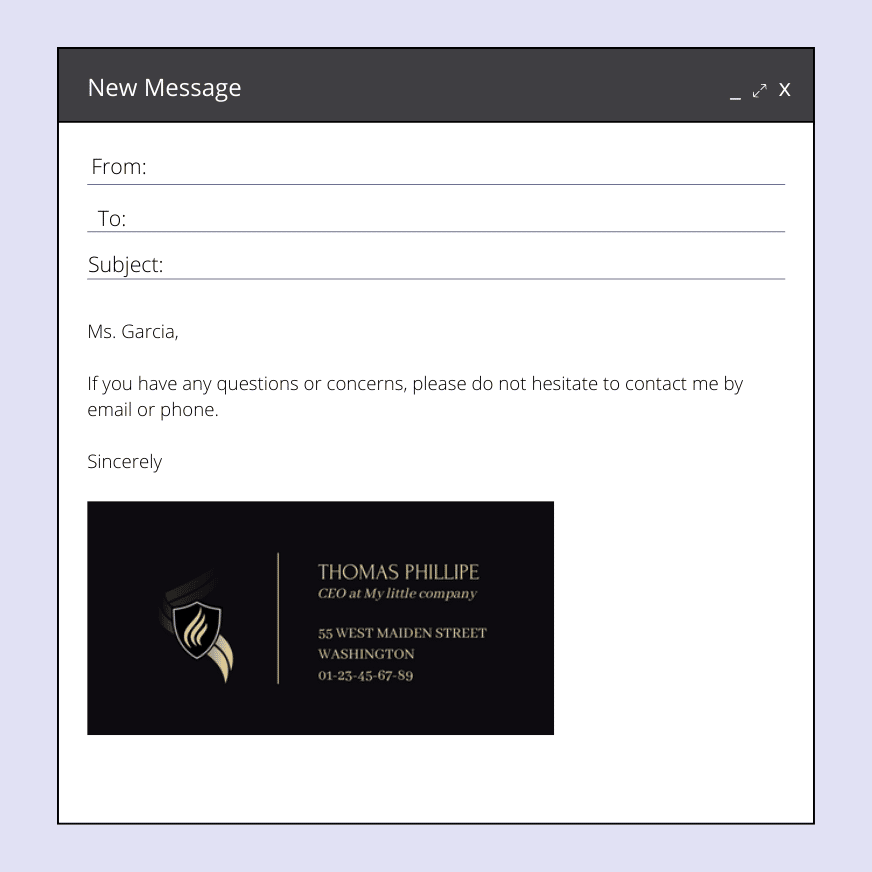 Email signature : Salesmen
When you're a salesman, you need to stand out from your colleagues (you want to get the commission before Jean-Mi anyway 💰 ). And as such, it's good to be recognized through your email signature.
#4 Minimalism
Sometimes there's no need to get into overly complicated visuals. You can keep it simple and still have the elements you need on hand. I'll show you how to make a simple signature as a salesperson (but you can use it for another job too).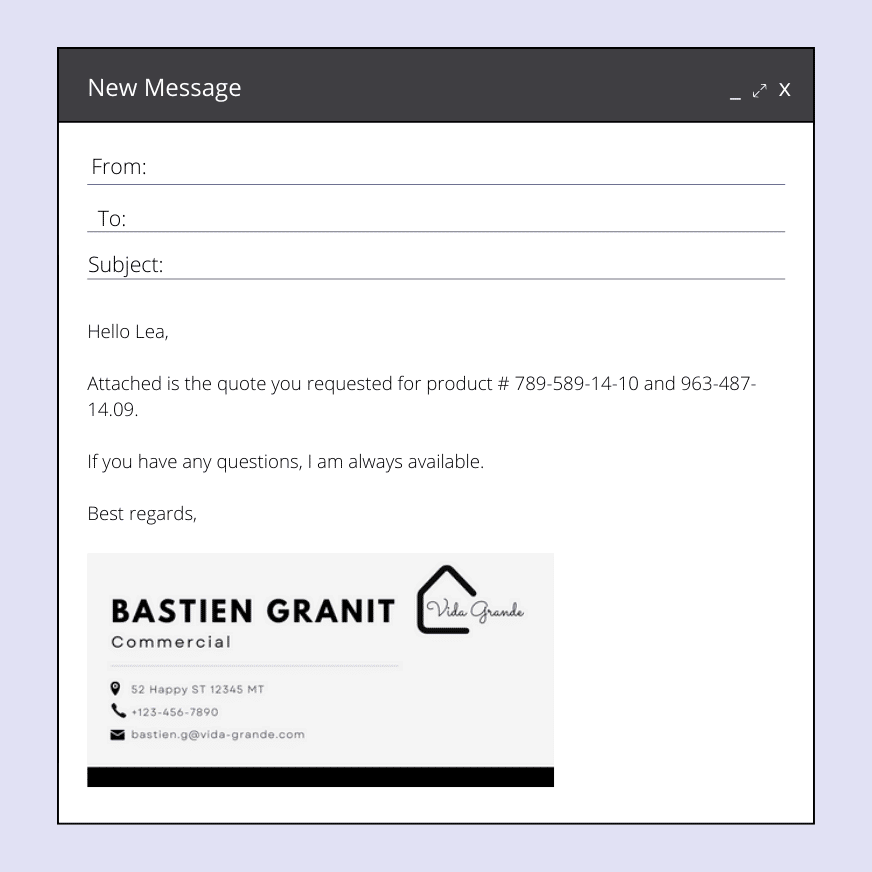 #5 Insert a banner
To highlight your business, you can also include a banner in your email signature that will allow your client or recipient to understand what you are selling.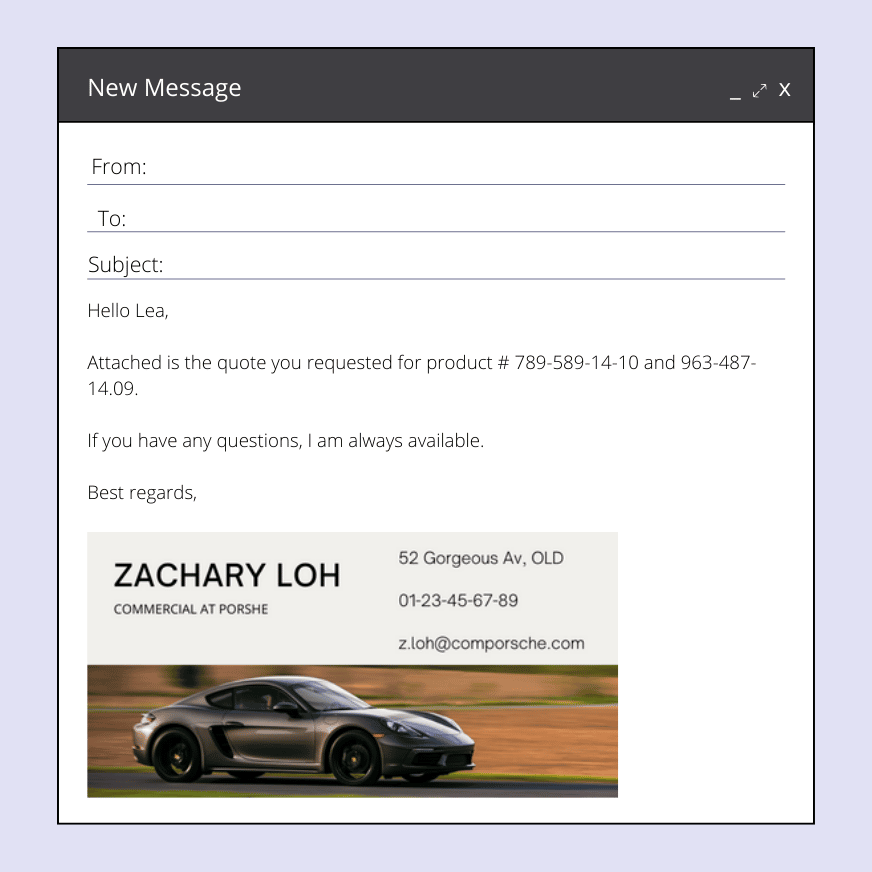 #6 Add a GIF
Why not make your email signature a little more lively 🫀? Well, we've got the solution, and that's to put a small GIF in it. I'm not talking about something big, it's still necessary that your email can load and that it doesn't overwhelm the receiver.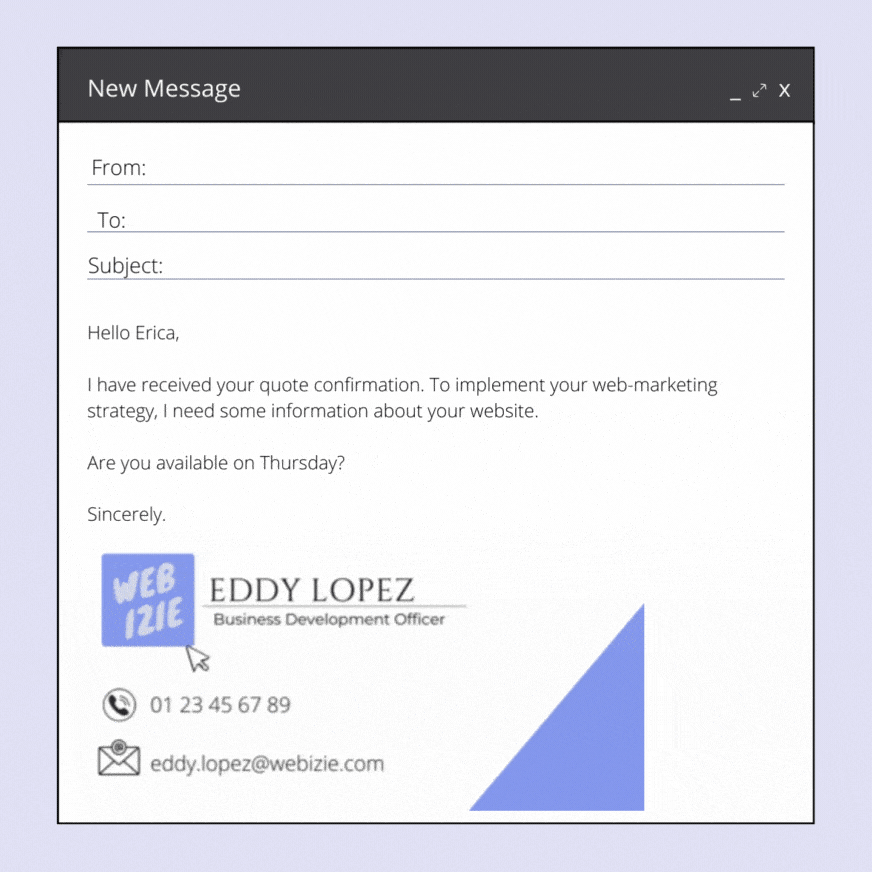 #7 Keep the same color palette
All your communication is based on visuals and you want people to recognize you at first glance 👀? You can also continue in this line with your signature.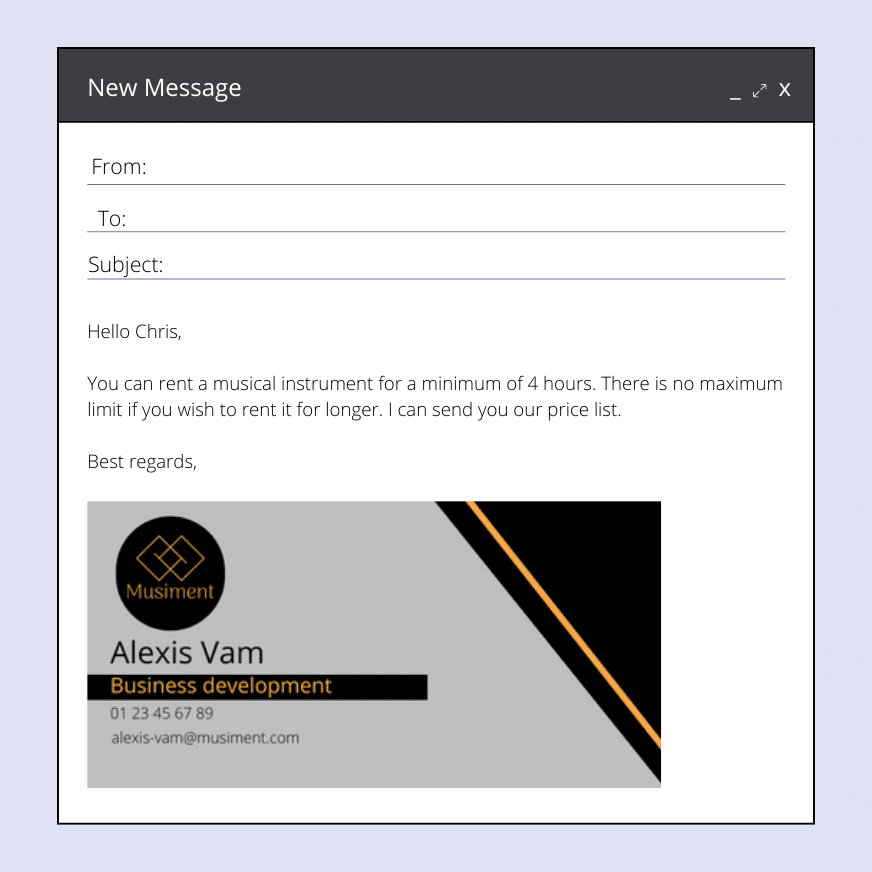 #8 Keep it simple
You don't necessarily have to add visuals or particular graphic styles when you set up your email signature. You can keep it simple with just the information needed for recognition.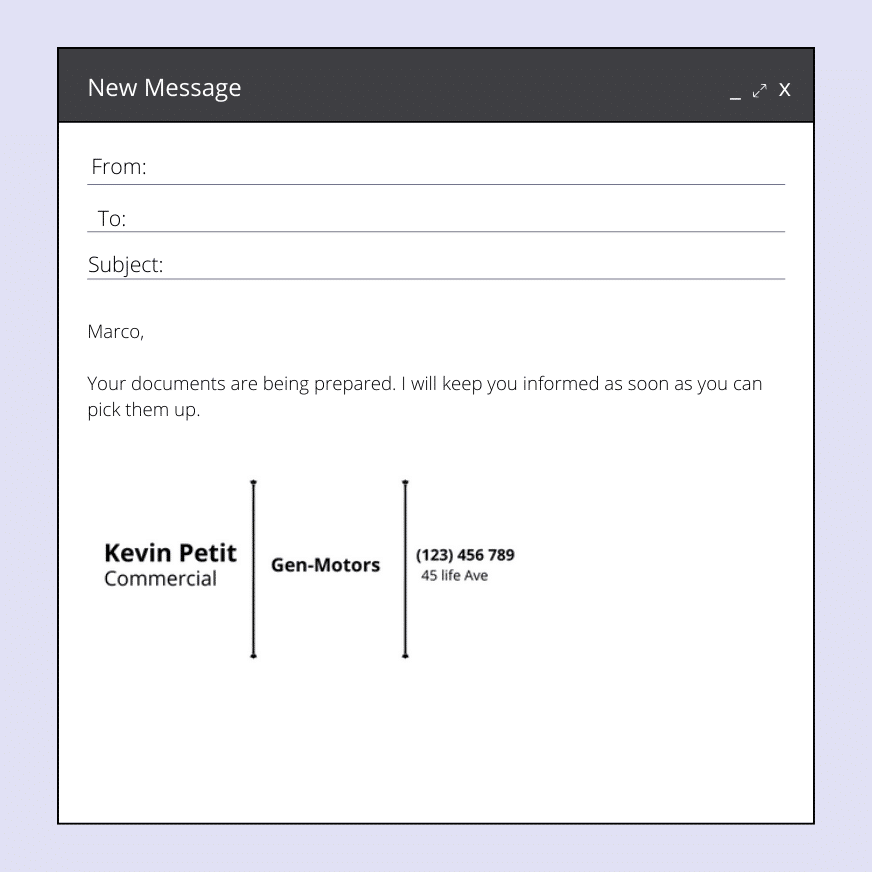 Email signature : Freelance
#9 Social networks in evidence
You don't have to put your phone number 📱 nor your email address (technically if your recipient received your email, he has your address) but you can highlight your social networks. Especially useful if you're in the art business (photographer, designer, baker) but you can also put a link to your LinkedIn profile.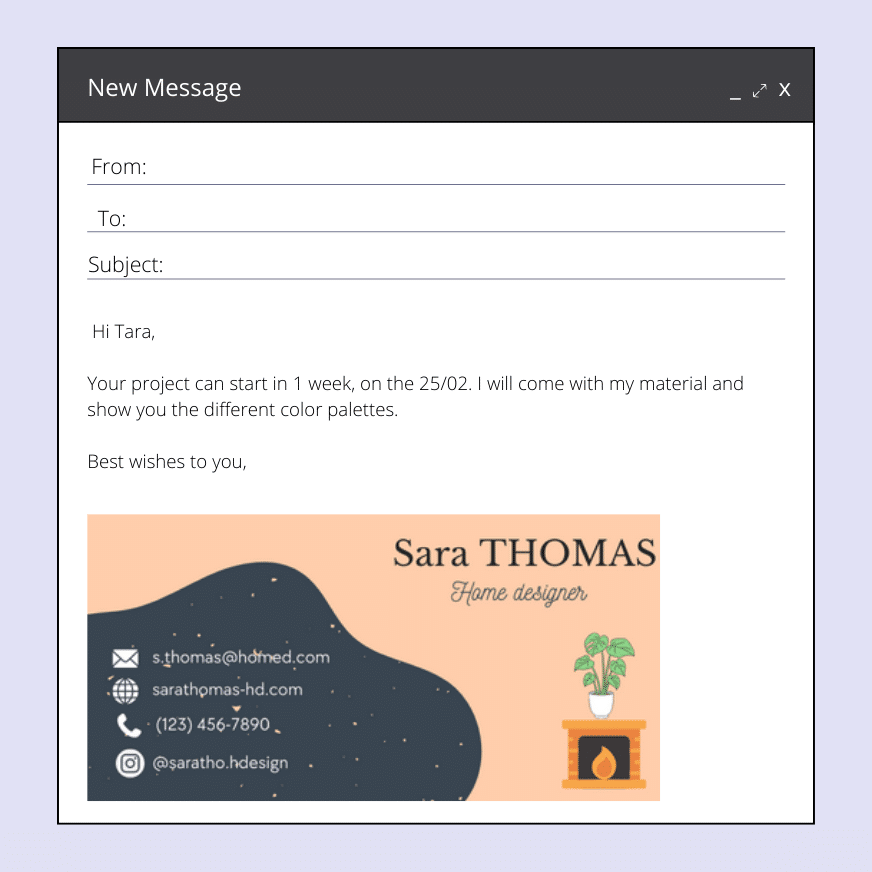 #10 The signature that gathers all the information
In this example, you can add:
Website.
Social networks.
Phone number.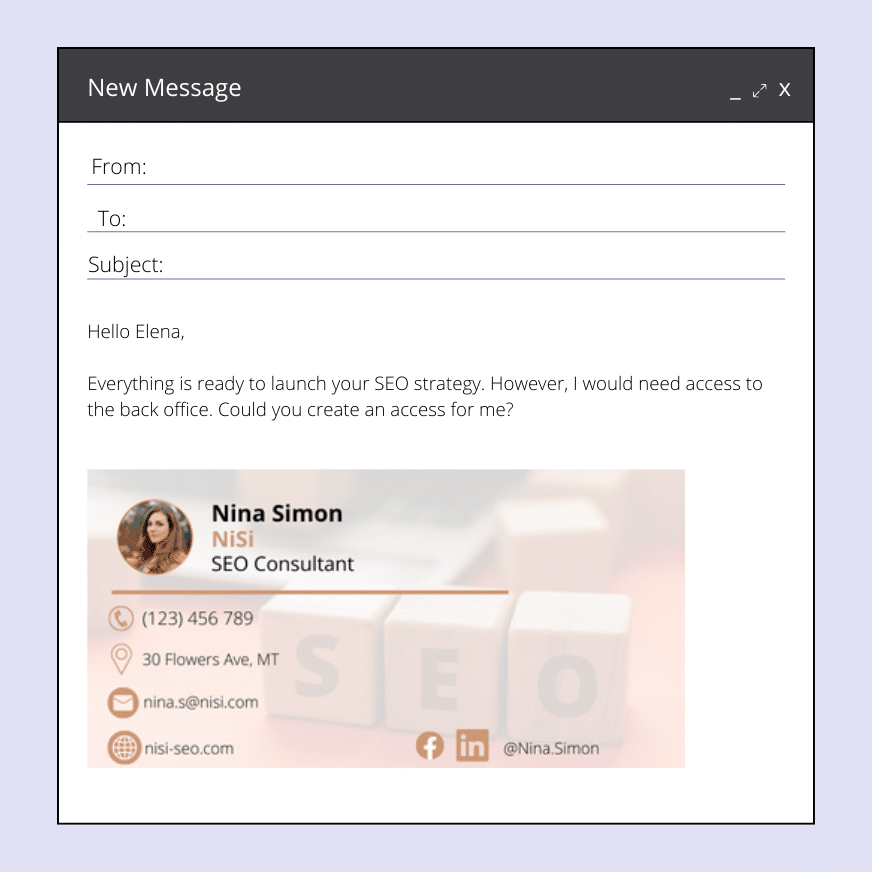 #11 Add a value proposition
In order to make your customer understand what you can offer them, you can add a value proposition in your email signature.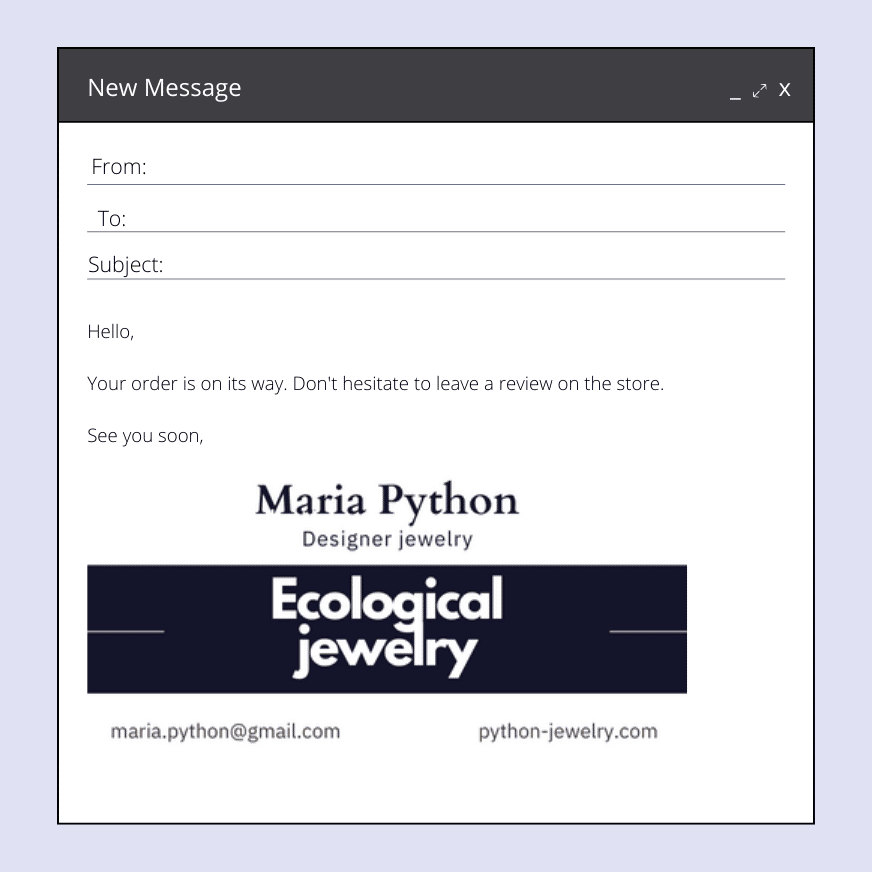 Email signature: HR
#12 With a CTA
When you are in human resources, it can be interesting to add a small button that leads to your job offers. We will then add a CTA.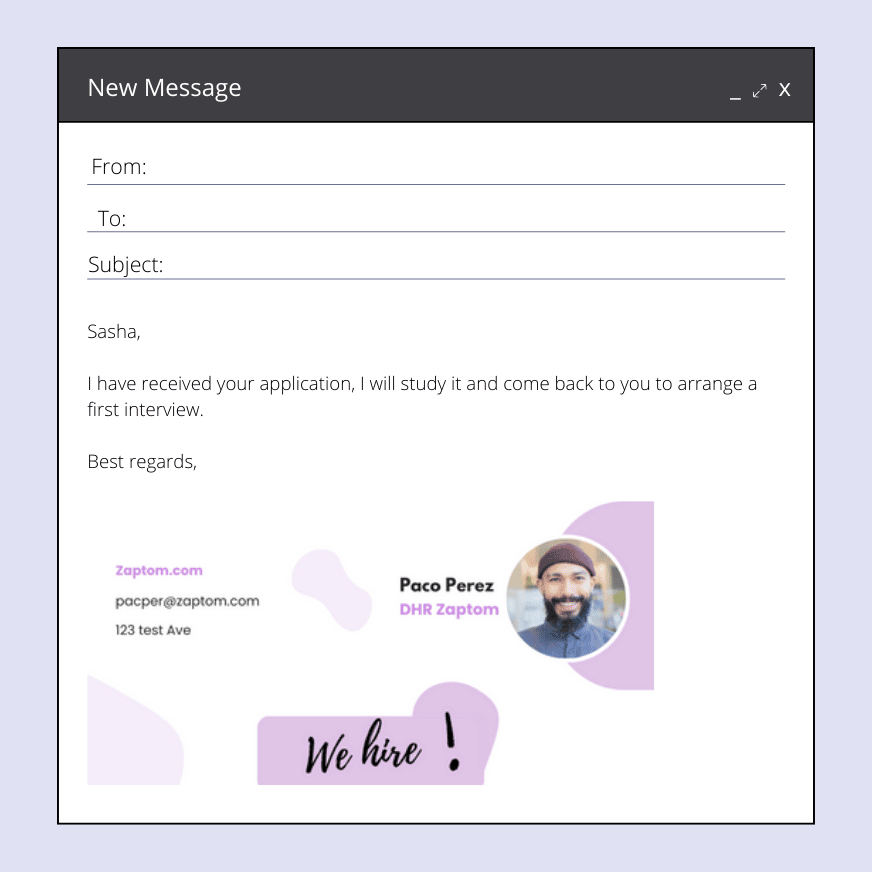 Email signature for companies
#13 Set up an email signature for the whole company
When you do not need to recognize a particular person in the company, you can set up an email signature for all employees. Only the company is defined.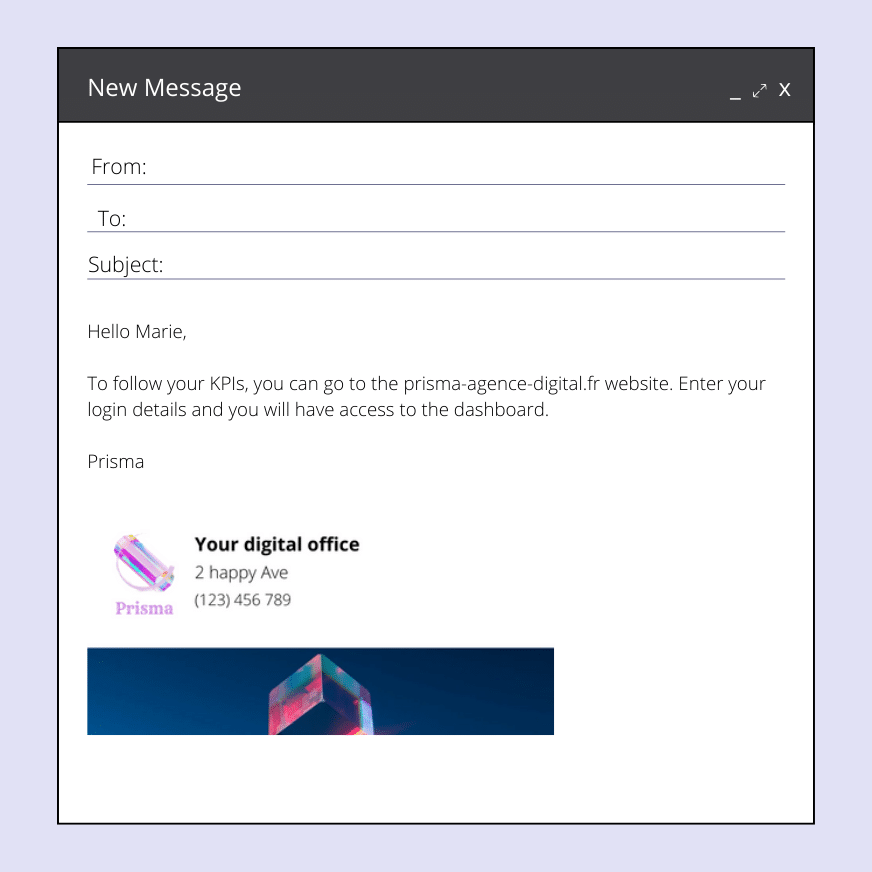 How to get the email signature template you are interested in?
You have seen the different email signatures through my examples. If you're interested in having them so you can modify them, we'll give them to you 🎁. Here are the templates that you can reuse and modify as you like.
Maybe you're not familiar with Canva and in that case, I'll show you how to grab a design.
When you click on the link I shared with you, you will get a window like below 👇.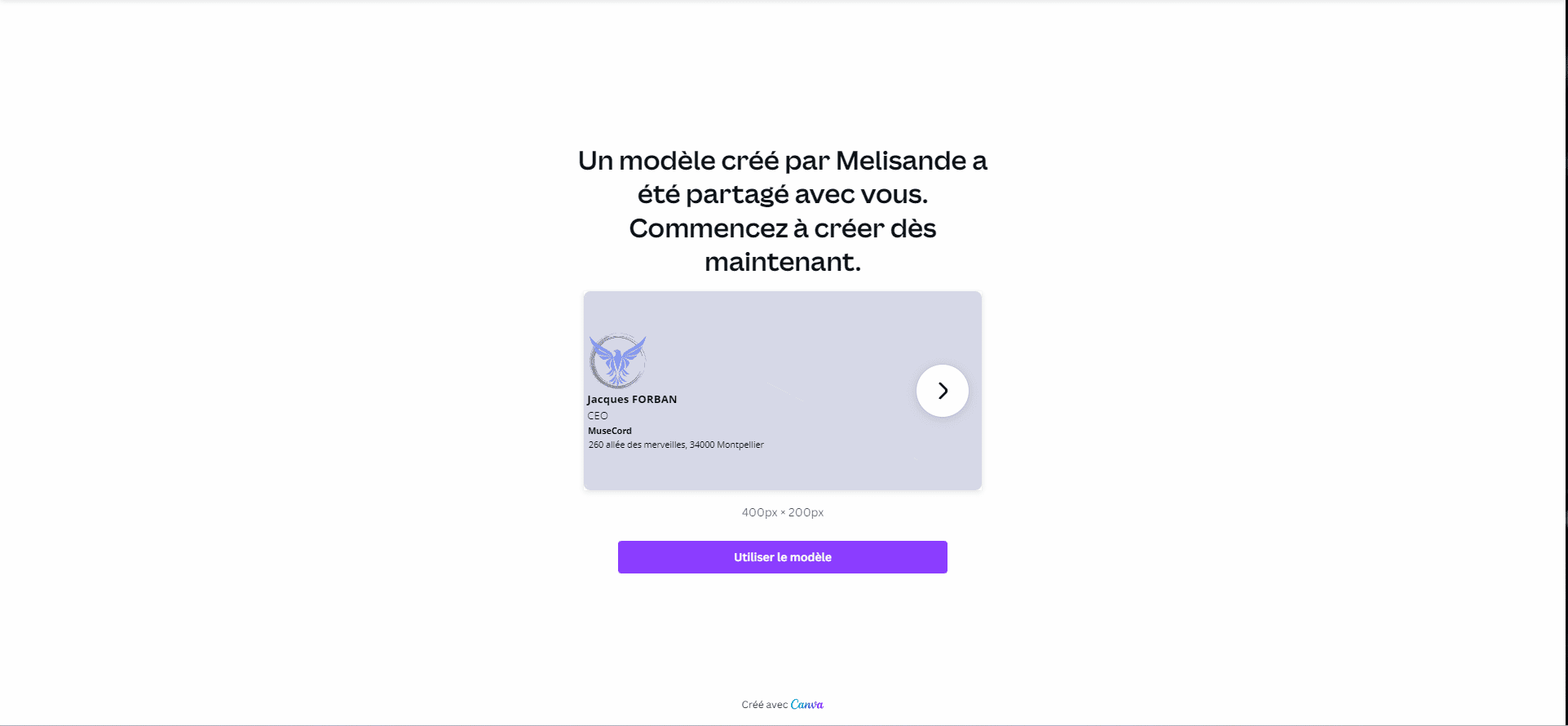 We'll then proceed in steps:
Click on "Use template". You will find 13 templates available in 2 different languages.
Choose the template you like and modify it if you wish.
Then click on "Share" on the top right and then on "Download".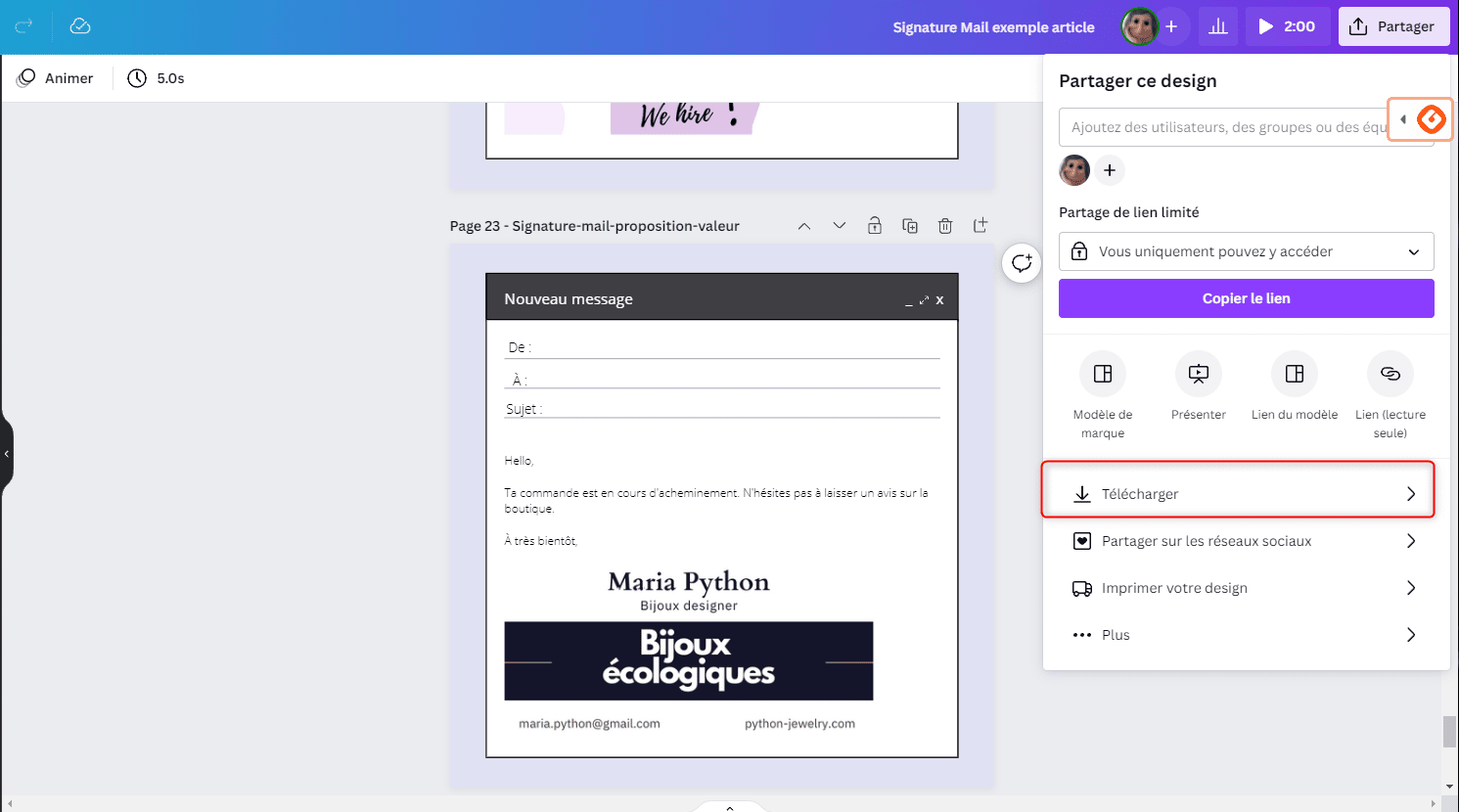 Choose the right format (Png if it is an image, GIF if the template has a GIF).
Enter the number of the page you want to download.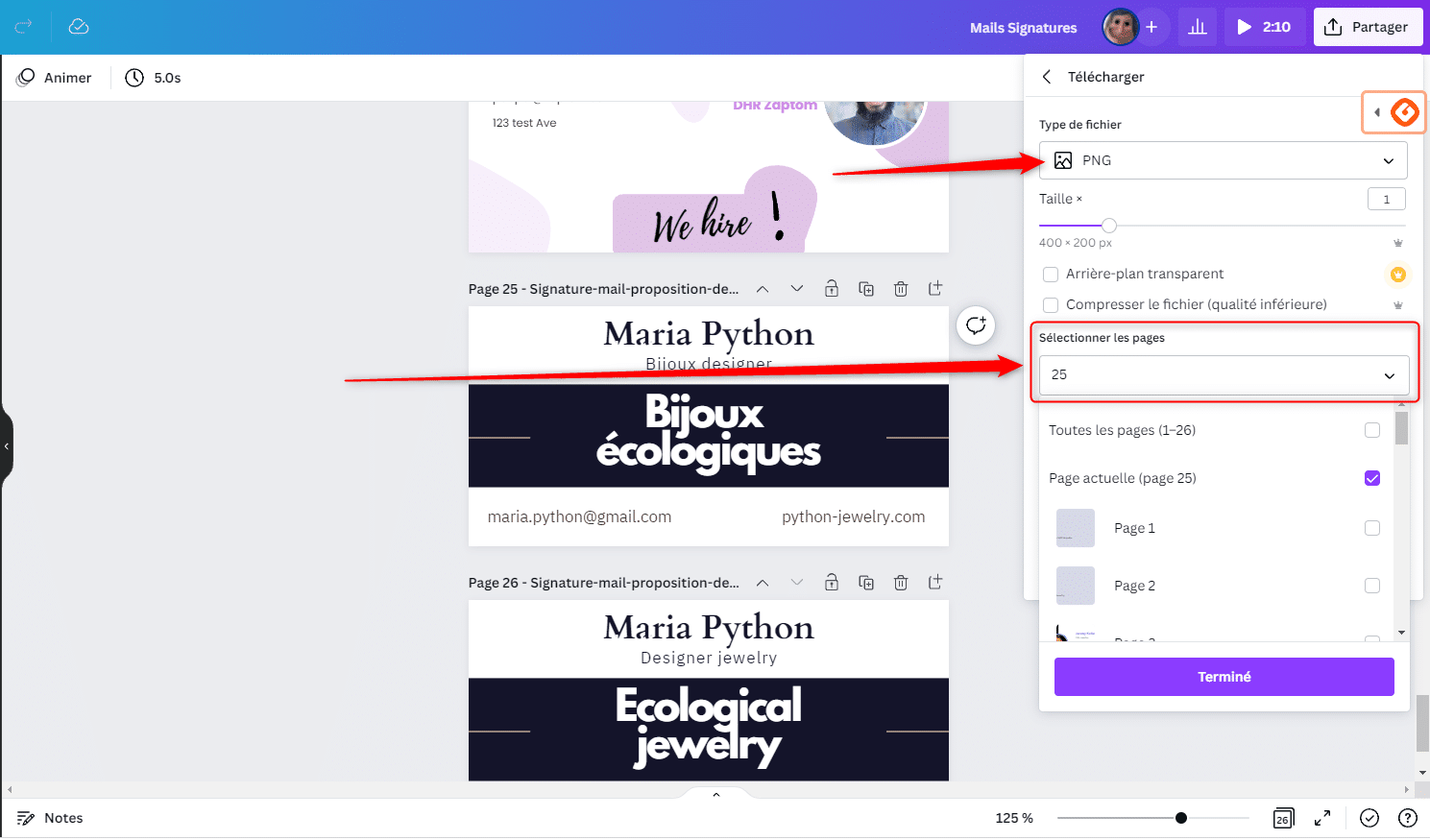 How to Set Up an Email Signature?
Depending on the email client you use, there may be some subtleties in terms of settings. But don't panic, I'll explain you how to proceed according to what you use.
Microsoft Outlook
To set up your email signature on Outlook, it's very simple ✅, just follow these steps:
Open Microsoft Outlook.
Go to "Message" in the main menu and select "Signature".
Click on "New" to create a new signature.
You will be able to name it with the name you want.
When you click on "Edit Signature", you will be able to compose the one you want.
Once you are satisfied, you just have to click on "Ok".
Your email signature is now created and will be automatically added at the end of all the messages you send. You can also set different signatures for different email accounts, if you have several.
Gmail
On Gmail, it's as easy as on Outlook, and I'll give you the steps to follow:
We leave on Gmail.
Then you will have to click on the cogwheel icon in the upper right corner of the window to access the settings of your account.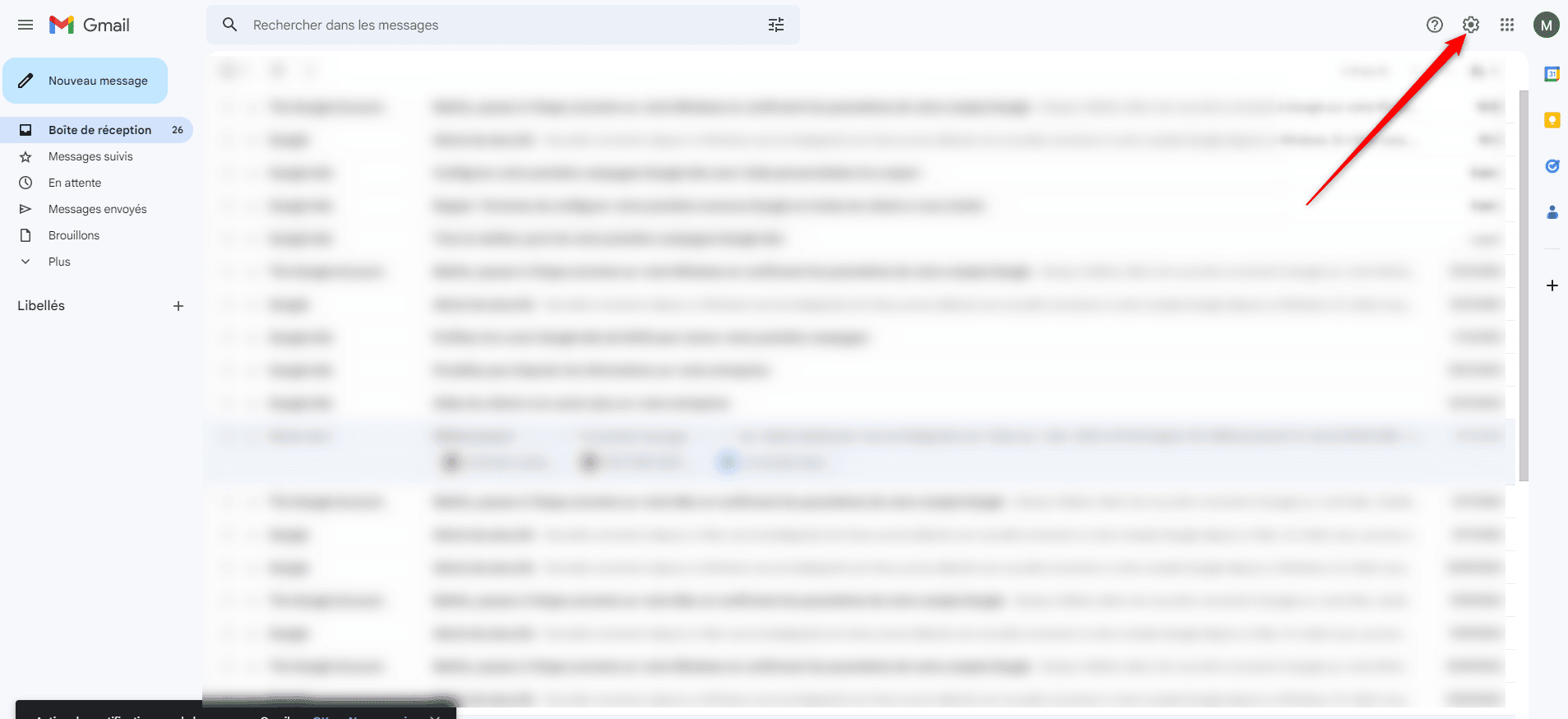 Click on "All settings".
Find the section "Signature", we will "Create" a signature.

Name your signature.
Enter the text of your signature in the text box. You can use simple text, or add links, images or graphics.
When it is finished, click on "Save changes".
Yahoo Mail
Like other email clients, it is very easy to set up Yahoo Mail to set up your signature. Here is how to do it:
We open Yahoo Mail.
Then we click on "Settings" at the top right of the page.
Then we select "Other settings" ⚙️.
Then click on "Mail writing".
You have to activate the button to insert a signature.
Enter your text and save.
Apple Mail
Here are the steps to create an email signature in Apple Mail:
As usual, open the "App mail" application.
Then select "Preferences"> "Signature".
Choose the email address to which you want to associate the signature.
Name your signature ✒️.
Type your text and then close the application to save.
Thunderbird
If your email client is Thunderbird (created by Mozilla), here is the procedure to create your own signature :
Open Thunderbird 🕊️ and click on the "Tools" menu > Account Settings.
Select the account to which you will associate your signature.
Type your text in the "Signature text" field.
And you can close, your signature will appear in your message.
Of course, you can also add an image, just go to the menu "Insert">Image, choose your image and click on "Ok".
How to Create a Professional Email Signature?
You can create a standard signature for all these mails but you can also set up a professional mail signature. I explain you the best practices.
Size and format
There are some rules that we must respect when we create an email. Thinking about your interlocutor, you have to keep in mind that the signature should not exceed a few lines at the risk of becoming cumbersome for the recipient.
One pays attention to the format under penalty that your signature is bigger than the body of text.
Then we will use a readable font with an appropriate size (if it is tiny and we can't see what is written, we will not be able to know who writes the message). On the other hand, using a font that is too large can make you look aggressive or unprofessional. Of course, we also pay attention to the color that we will use. No background or text too flashy under penalty of assaulting the poor eyes 👀 of his recipient.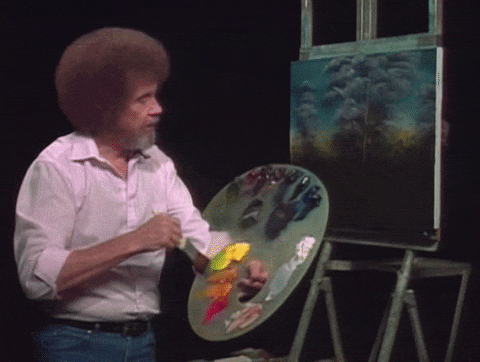 So it's better to keep the colors sober and professional, that's what is recommended. In case you would like to add an image in your signature, we choose it preferably of good quality and make sure that it is displayed correctly.
If possible, you can make your signature responsive to think about the recipient who checks his emails on his phone 📱.
By following these tips, you should be able to create a professional and easy to read email signature for your recipient.
Tips for Creating an Email Signature
Here are some tips for creating a professional email signature:
Make sure it is short and concise. Your signature should not be too long and should be able to be read quickly 👍.
You should include their essential contact information. Your name, position, company and contact information (phone, email address, website) should be included.
Add an image of the company or an image of the logo if there is one. This adds a professional touch and can help your recipient remember you better.
Pay attention to the layout and presentation. It's best to use a legible font and appropriate sizes, and make sure your signature is properly aligned.
Avoid including too much information in your signature.
Test your signature before using it. You can send your own signature to check that everything is displayed correctly and that it is readable.
Tools for Creating an Email Signature
You don't want to use what your email clients offer you? No problem, you can also create everything from scratch since, I remind you, you can insert an image as a signature in an email. If you want to have a stylish email signature, you can use these tools. I present you only free tools so that you don't have to ruin yourself for a mail signature.
The first tool I want to show you is Canva.
Free Email Signature with Canva
We really like this little tool that allows you to create great visuals. Here, we are not on a generator strictly speaking but we have the possibility to create an original visual and that stands out thanks to the many possibilities of creation.
There are many designs that you can use and modify as you wish.
Signature Maker
Signature maker is a free tool that you can use to create your signature. To use it, nothing could be easier. You go to the site and start creating your signature, filling in the following fields:
First and last name.
Your position.
Your email address.
Your company name.
Your phone number.
The name of your website.
An address.
A picture.
You don't have to fill in everything of course.
LeadFuze
This little tool is totally free and extremely simple 😁 to use. When you get to the page, you'll be asked to fill out information such as:
First name.
Last name.
Your job title.
Company you work for.
Your phone number.
Company phone number.
Your address.
Your email.
The website.
Your logo.
Of course, you don't have to fill in everything but you'll get a simple signature with the option to copy it to HTML.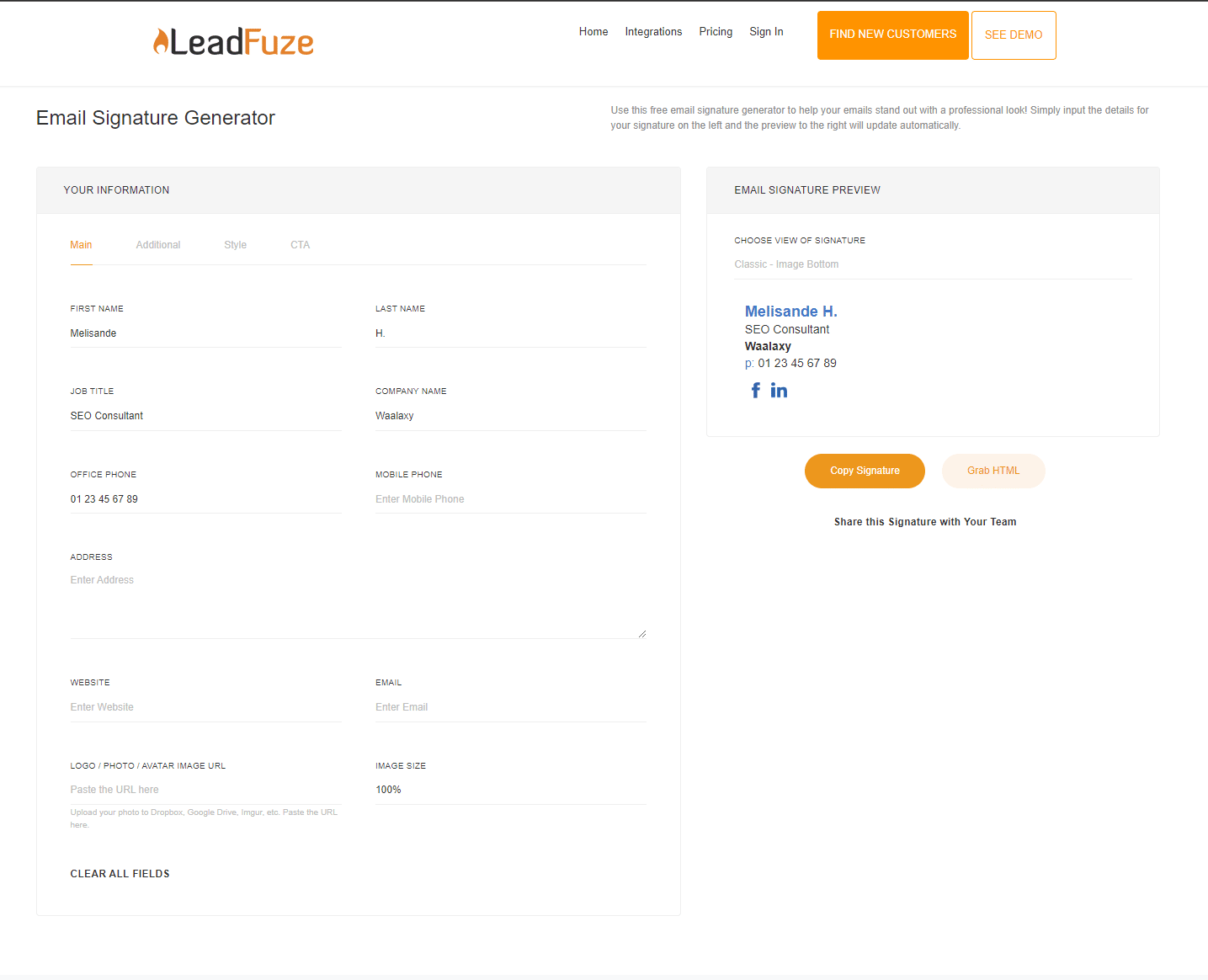 WiseStamp
Like its other companions, WiseStamp can help you set up your signature. It is very easy to use, you just have to fill in the different fields requested.

Conclusion: Email Signature
Well, that's it, we're pretty much up to speed regarding the email signature 📩. To make it easier for you, we're going to recap what we've seen during this article.
We have seen what the email signature was and what it was used for, I have given you 13 examples of email signature that you can reuse. We saw how to set up a signature mail according to its client of mail, the councils to create a signature as well as the various tools helping you to create it.
FAQ of the article
Adding an email signature at the end of a message is to make sure that your recipient recognizes you. 🪶
What are the Elements that Make Up a Good Email Signature?
A good email signature usually includes the following elements:
Full name
Title or position held
Company or organization name
E-mail address
Phone number (optional)
Physical address (optional)
Links to professional social networks (optional).
How to Create a Free Email Signature?
There are several ways to create an email signature for free, here are some easy options:
Online generators: There are many online signature generators that allow you to create a signature from predefined templates. All you have to do is enter your information and customize your signature by adding images, logos, links, etc.
A text editor: You can also use a text editor to create your signature. All you have to do is enter your information, format the text and add images or logos (if you know how).
A graphic design program like Canva offers options for creating aesthetically pleasing and professional signatures.
Your email client's features: Some email clients, like Outlook and Gmail, have built-in features for creating and managing signatures. All you have to do is follow the configuration steps to create a signature.
We've covered it all, now you know everything there is to know about email signature. 🚀