And yes, you have to start somewhere 😃 So, "how to send an email?" is very simple. Let's get started without waiting. 👇
How to send an email = Prerequisites
To send a professional email, you must have:
A professional email address: That is, an address that does not end with @gmail or @outlook but with @companyname.com,
You must have the email address of the people you want to contact.
Know the basics of a professional email: choose the subject, the content, and the signature (optional).
How to send an email on Outlook?
4 small steps to writing an email on Outlook :
Log in to your account (add password and username),
Select Home > (+) New,
Add a recipient in the "cc" field, a subject line and a message in the body of the email,
Select Send.

How to send an email on Gmail?
It is very simple, to send an email on Google :
Open Gmail on your computer.
At the top left, click on "New Message".
In the "To" field, add a recipient.
Add a subject line in "object".
Write the message.
Click on Send.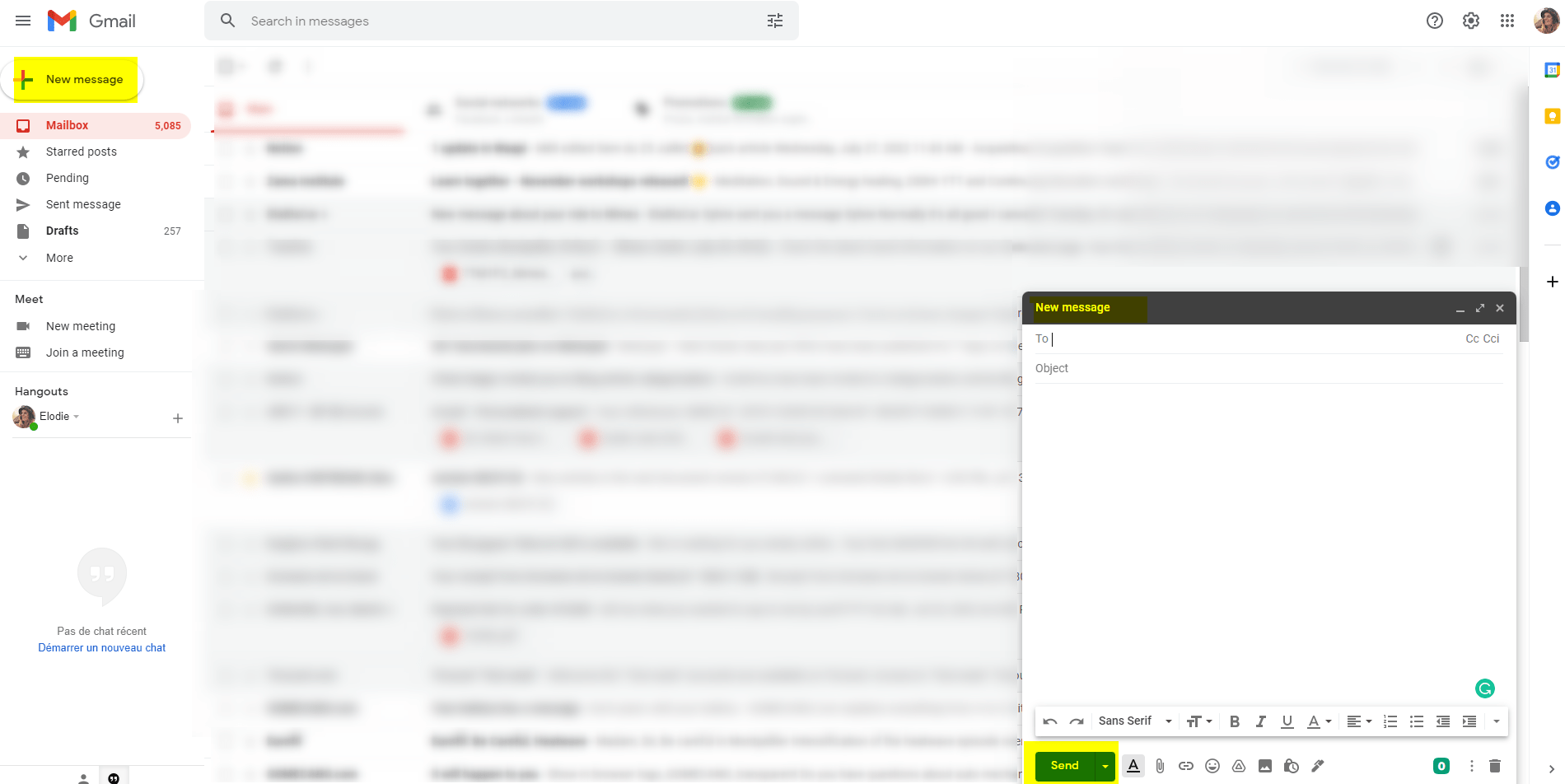 How to send a mail on Yahoo?
To send a mail on Yahoo :
Press the "To write" icon,
Add contacts in the "To" field.
Enter a subject line.
Type your message in the body,
Press Send when ready!
How to send mail to several recipients?
You can also add recipients:
In the "Cc" fields = The recipients will see the other people you are sending the email to and will have access to their emails too. This is rarely done for professional emails, except internally.
In the "Bcc" fields = The recipients will not see who you are sending the mail to and will not be able to see if you are sending it to several people.
By inserting the "+" or "@mention" sign followed by a contact's name in the text field, when you write a message.
By using a mass emailing tool like Sending blue, or a cold emailing tool like Waalaxy.
How to send an email directly with a CRM?
Here, we enter a more technical and professional aspect of sending emails. Do not panic, it is still very accessible. There are two types of emails:
Newsletter or informative emails = you already have the email address of the people you want to write to because they have signed up to receive your messages.
Cold emails = you have found or purchased professional email addresses and you are writing to these prospects for the first time.
Both of these techniques are widely used in the digital marketing world and they are simple to implement. There are dozens of tools on the market, but we have decided to present two for the sake of simplicity. If you ever want to see more, you'll have to go snooping around some online comparisons. 😋
Sending Newsletters with Sendingblue
To get started, click on the blue "Create a new campaign" button: You'll fill in the details of your newsletter: Name, then subject. Then you will have several templates offered, you can choose your template and make the necessary changes: colors, images, text.
Then, you will have to import the list of contacts: Just go to the "contacts" section. Inside, you can import Excel files or directly copy and paste them. There are plenty of email tools, this one is easy to use. See here the 10 free software and their comparative study. 👀
Send emails With Waalaxy
Waalaxy allows you to send cold emails. As a reminder:
A cold email, also known as email outreach, simply refers to proactively contacting someone you've never had a prior exchange with. It is one of the most effective channels in digital marketing: It is inexpensive and very effective in terms of B2B acquisition.
It's about finding the email of your prospects, thanks to LinkedIn, then sending them an email with your prospecting CRM: Waalaxy. Some tools have an integrated "email finder", which means that you don't need to have a database to do emailing.
And this information is quite revolutionary! You can send emails to hundreds of new people every week without having their contact information beforehand.
How to schedule an email to be sent?
💡 To schedule an email to be sent on Outlook, you need to:
Go to Outlook, and select the "other options" arrow in the top ribbon.
Go to Properties, to check the box "Do not send until…" and fill in the date and time of scheduling.
Your email will be in the outbox until the given date and time. 💡 To schedule an email to be sent on Gmail, you must:
You type your email, and add the recipients and the subject of the email.
At the bottom left, next to the "Send" option, click on the down arrow,
Click on "Schedule Send".
💡 How to schedule newsletter sending?
Add the Excel file filled with your contacts or add them by hand.
Fill in your steps (wording, recipients, visuals), then in the 5th step, you will be asked to choose the date of sending.
Just click on the "Send later" button and select a date and time to send.
💡 To schedule Cold emails sent with Waalaxy :
How to send mass emails?
Now that you know all the ways to send an email, let's focus on sending mass emails. 💡 Case study: you are a salesperson, marketer, community manager, HR… And you want to send a large number of emails for your marketing or recruitment campaigns. ✅ Simple solution:
Have a database or find contact information of your prospects with the email finder.
Choose the tool that suits you: Newsletter format or/and Cold email.
Read the prerequisites before you start! This is the most important step.
Indeed, to avoid landing in spam and being flagged by Google, you need to make sure your mailbox is well prepared to send mass emails, for that, follow the guide. 😜 👇
How to automate email sending?
To automate your email sending, you should try to think about your marketing email strategy well beforehand. It is not enough to automate the sending of 100 emails per month, you must think "long term" and use an adequate tool to allow you to be effective over time. It's not just a matter of automating the sending of emails, but rather of achieving :
🔍 Segment your prospects,
🎯 Personalize your emails,
📶 Track their results,
👨💻 Do A/B testing of mails,
✅ Continue to improve your processes,
📊 Have an interactive dashboard,
🤝 Continue to find leads to feed the databases,
🤑 Increase ROI (return on investment).
For that, don't hesitate to test the tool for free. 👇
[maxbutton id="58″]
To automate sending emails on Outlook without all these options, you can find more information over there.
Conclusion + Faq of the article
To conclude, you now know how :
Send an email with Outlook,
Send an email with Gmail and Yahoo,
Send an email via an external tool (CRM),
Send mass emails and automate the sending.
Not bad right? 😁
Isn't that enough? 😱
We've prepared a little Faq for you with the most asked questions from our users. You will surely learn a couple of tricks!
How to send an anonymous email?
It's not so complicated to send emails anonymously, you just have to send them with an external tool. This tool will hide your email address and remove your IP address from the recipient's email provider. Among the easiest to use :
AnonymousEmail.
TempMail.
With AnonymousEmail you can even receive a reply from the recipient by specifying an address to reply to. Be careful though, sending emails anonymously is not at all interesting in a marketing strategy. And it can even penalize you.
How to send an email with acknowledgment of receipt?
💡 With Gmail, you can access it through 3 small steps:
Type your email in Gmail, fill in all the recipient and subject fields.
At the bottom right, click on More options. Ask for "read confirmation".
Send your message.
💡 With Outlook, you can have the acknowledgement of receipt by going sure:
Your Outlook page,
Click on the File tab of the ribbon at the top left,
click on Option.
Click on Mail, then > Follow-up.
Validate the box "Acknowledgement of receipt confirming that the message has been delivered to the recipient's mail server" and validate.
💡 With Waalaxy, go directly to the "waiting girl", to see the actions that have been done. There you can find out if the person has :
Received your message,
Opened to read more,
Reply to your message.
And also when the next actions will take place.
How to send a document by mail?
On all mail providers, it is the same visual = 📎. You need to locate it and click on it to add a file (also called an attachment).

Click on File 📎,
Select the corresponding file or files on your pc, several formats are accepted: PDF, Powerpoint, Excel… Validate,
Enter the recipients, modify the email subject and the body of the message then click on Send.
How to send a file by email?
To send a file by e-mail, you have to do the same thing:
Click on File 📎,
Select the file.
On the other hand, the files are sometimes too heavy to be sent by mail, there, are several options are offered to you, the simplest :
Create a folder on the cloud and share only the link to it. Via Google Doc for example.
Go to Wetransfer to share the file online.
How to delete a sent mail?
This is the little bonus that can save lives or careers! This is my favorite = How to delete an email before it reaches your recipient's inbox? 😍 If you want to cancel sending an email, you only have a few seconds to do so. Right after sending an email, you can "recall" it, so that it never reaches the recipient 💡 On Gmail:
You go to the settings on the top left = ⚙
You click on "View all settings",
In "General" then > Cancel sending.
And there you change the time allocated to the cancellation from 5 to 30 seconds. (30 seconds is the maximum granted by Gmail… They are tough 😂)
Then, when your email is gone, to cancel it, only one option, click on the cancel button that appears at the bottom right in black. 👇

If the band disappears, it's too late, there is no going back.
💡 On Outlook: You don't need to set the time in advance > Sent items and search for the email you want to recall. It should be at the top of the list.
You must double-click on this email to open it before proceeding to the next step. And there you have it, you know a lot about sending emails.
Now that you know how to send an email, you can find out more about cold emailing. 👀