Customer relationship is a key element 🔑 for any company wishing to build customer loyalty and boost its growth. In a context where digital is taking more and more place, it is essential to offer a personalized and quality customer experience to differentiate yourself from your competitors, in this article we will see why and how. 👀
What is Customer Relationship Management?
The customer relationship is all the interactions and exchanges between a company and its customers throughout the cycle of purchase of the product or consumption of the service.🤝
It includes how the company communicates with its customers, how it meets their needs, how it resolves any problems and how it creates a positive experience for the customer. ✅
The importance of Customer Relationship Management
Customer relationship, it's just essential to build loyalty. It creates strong, lasting bonds with your customers, ensures they don't go to the competition and will come back to you. 💕 So you absolutely have to rely on customer relationship and look to improve it constantly to ensure maximum satisfaction all the time. 🚀
Moreover, customer reviews are going to be a real asset to attract new prospects, this is called referral in inbound marketing.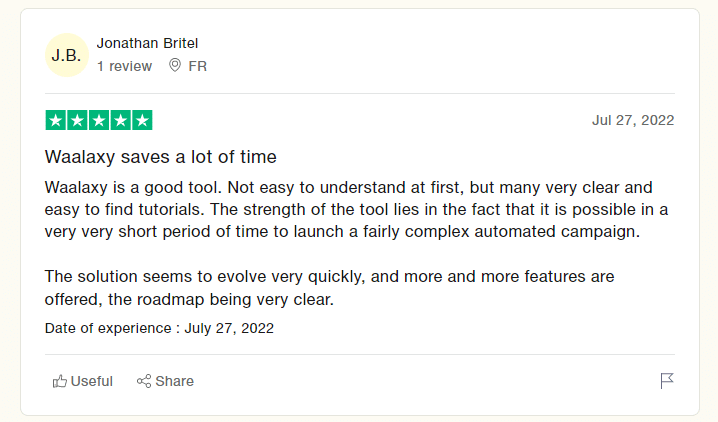 What skills to have to succeed in a good Customer Communication?
There are several skills that are cited everywhere, active listening, empathy. I'm going to talk about real forgotten skills that are however at the heart of customer relations:
⚙️ Technical skills 👌 setting up digitalized communication tools via instant messaging, emails and chatbots to save time and stay constantly in touch with the customer, but also to personalize in a simple way the communication.
Problem-solving skills 🤌 Be able to quickly and efficiently resolve customer issues.
⌚ Time management skills 👉 be able to effectively manage time to respond quickly to customer requests, hence the importance of automating much of the process.
Sales skills 💰👉 be able to promote the company's products or services while providing a positive customer experience. Basically, walking the customer through and really meeting their need without being too heavy-handed in trying to sell them all your products.
Of course, you need a manager to steer the tone, the messages conveyed and the team's objectives.
How to ensure good Customer Relationship Management?
To ensure good customer relationship management, you need to set up an efficient team structure and organization.
For me, the keys are going to be the following: 🔑
👨‍👩‍👧‍👦 Having a dedicated customer relationship team :
A skilled and trained team to ensure prompt, consistent and personalized communication with customers. This team must be able to respond to customer requests via different channels, such as social networks, emails, live chats, reviews… so that nothing is missed. 🫡
👨‍💻💌 Use customer relationship management tools:
There are many customer relationship management (CRM) tools on the market. These tools allow you to centralize all interactions with customers, track their requests and segment the data, and then automate certain communication tasks. Yes, automate, always automate. 🤩
📄 Establish clear processes:
It is important to establish clear processes to ensure effective communication with customers, that, that's going to be more the role of the manager. There will be, for example, a process for handling requests, following up on customers, managing complaints, etc.
🧑‍🎓📈 Trainings and continuous information:
Customer relationship team members should be trained regularly to ensure they have the info they need to communicate with customers effectively. For example, tools may change in functionality, products may evolve, competitive developments in the market may also have developed new advantages… If the customer service doesn't have enough info, it can downright harm customer satisfaction. 💔
Tracking performance indicators 📊📉 :
KPIs are the core of the business. In this department, you have to measure the effectiveness of customer relationship management and challenge yourself as often as possible. Here are some examples rather oriented digitalized customer relationship management 👉 Average response time, first contact resolution rate, customer satisfaction rate.
12 Tips for successful Customer Relationship Management
Among the 12 tips, I will propose 3 different cases to best answer your problems according to the type of customer relationship you need to set up; management of an online service, an e-shop and a point of sale.
⬅️ Use the summary to orient yourself on what interests you the most.
Customer relationship on a digital tool
1. Create a perfect customer onboarding
Onboarding is the accompaniment of the customer upon arrival.
Identify the objectives to be reached for each step and prepare the resources needed to help the customer reach them.
Here is an example of the content we put forward at Waalaxy to help certain types of entrepreneurs to better create their brand identities.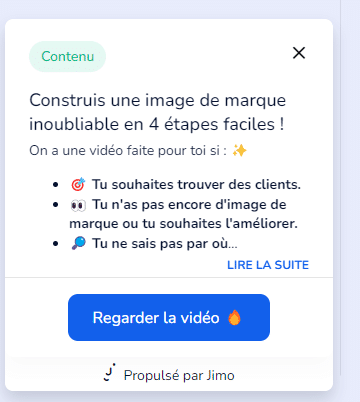 Also, use gamification elements to make onboarding more fun and interesting. For example, you can offer badges or rewards for completing key onboarding steps, and then (gently) entice them to jump in. 🚀
Again, this is what you can find on our tool.🤩

2. Personalize the customer relationship to the maximum
Personalization is a key aspect of the customer relationship in a digital tool like Waalaxy. 🔑 To create a personalized experience for each customer, it is important to understand their individual profile and needs. Creating personas can help define these profiles and associated needs.
They can help create targeted marketing messages and help you develop personalized features that meet the needs of each persona.
Learn how to create my buyer persona
3. Automate the customer relationship
The first thing you need to do is set up a chatbot. 🤖 It can already answer a maximum of user questions… If ever the customer still has a problem, he can ask to talk with a human 😉
Chatbots are computer programs that can chat with users using artificial intelligence. They can answer the most common questions and solve problems.
To set up a chatbot, you can use online chatbot platforms like BotStar, Chatfuel, Tars, or Dialogflow. All you need to do is create a script for your chatbot and connect it to your digital tool.
I don't know if you've already used ours, but in any case, customers are delighted with the experience, it's fast and efficient.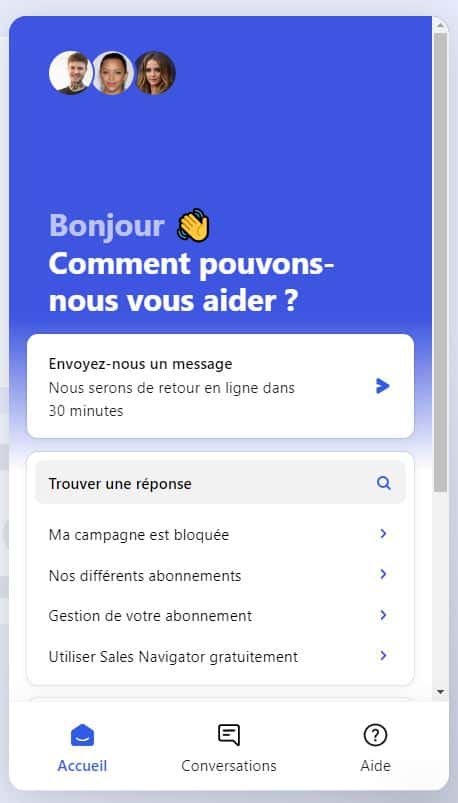 4. Create resource centers
Self-learning means helping your customers to learn how to use your tools on their own. It means creating a tool that is easy to use, but also help centers.
Resource centers are online knowledge bases that provide users with information about your product or service. You can include tutorials, quick start guides, FAQs, blog posts, videos, webinars and case studies.
Your centers are real gold mines for your customers, so don't neglect them.🥇
For example, you can add spaces where customers can ask their questions, and the articles that answer them will magically appear. 🌟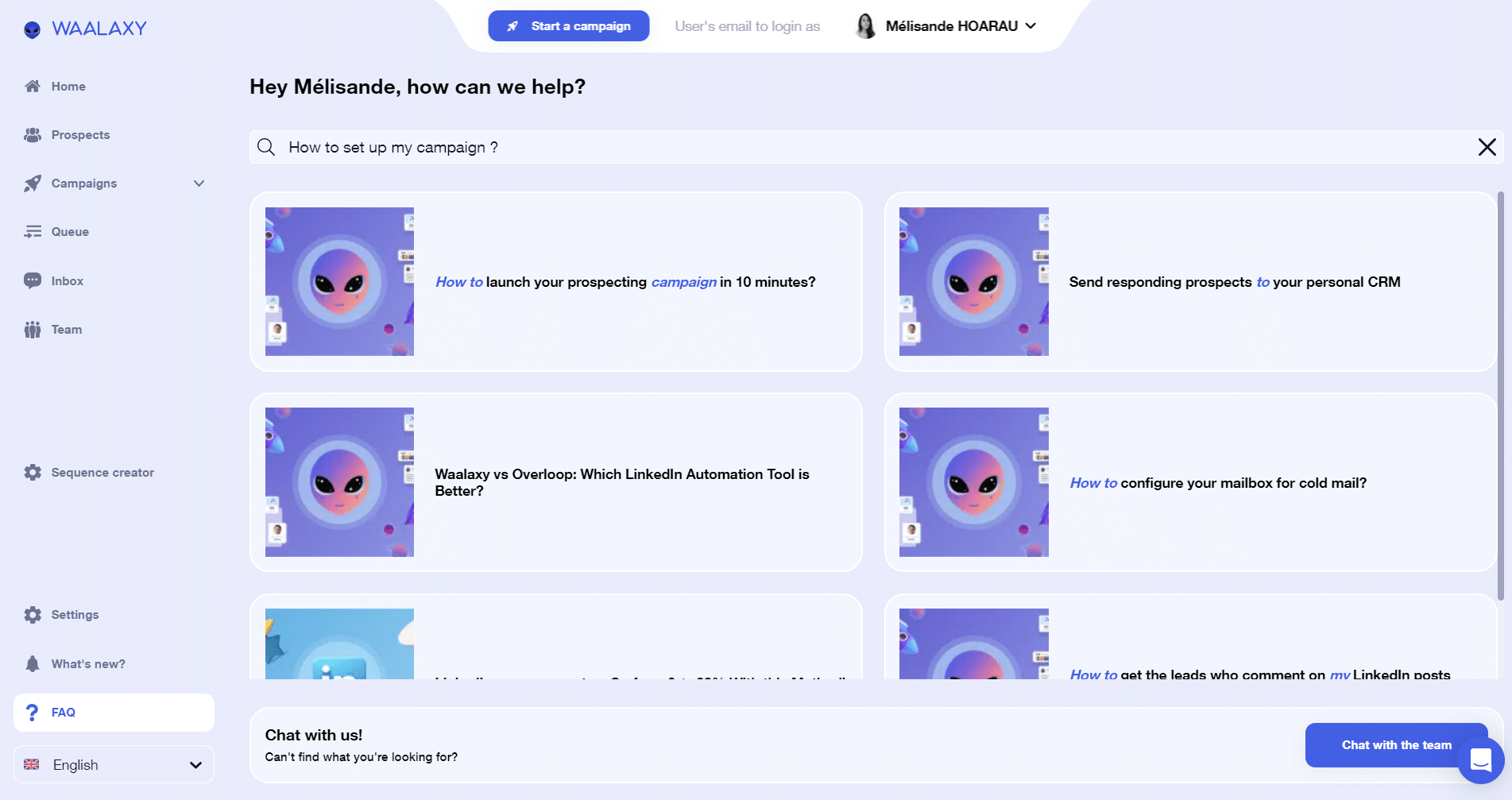 To set up a resource center, you can use platforms like Helpjuice or Freshdesk.😜
Customer relationship on an online sales platform
On online sales platforms, you don't interact much with customers. You can also add chatbots and spaces dedicated to questions and complaints.
5. Collect customer data through cookies
🍪 Cookies allow you to track your customers' browsing habits on your site, such as pages visited, products viewed, time spent on the site, etc.
Session cookies: these cookies are used to store temporary information, such as items in a shopping cart. They are automatically deleted when the user closes the browser.
Persistent cookies: these cookies are stored on the user's computer or mobile device and are used to store long-term information, such as language preferences or login information."
To set up these types of cookies, you can use specific plugins for your website platform 🧩. For example, if you're using WordPress, you can use a plugin like Cookie Notice to display a notification to the user that cookies are being used on your website and give them the option to decline cookies 🚫.
To interpret the results of cookie usage, you can use analytics tools 🔍 to see how users interact with your website based on the data collected from those cookies 📊.
For example, you can see how much time users spend on your website ⏱️, which pages they visit the most 📄, and what actions they take, such as adding products to their shopping cart 🛍️. This will allow you to better understand user behavior and therefore improve what is called the"customer journey".
If you see that a lot of users leave the page after reading the product page, you can then add a section "Ask us live questions" bubble at that point.
Analyzing customer behavior is the best way to know where, when and how they need support. 😜
6. Collect customer feedback through a form
Customer feedback helps to better understand customer needs and expectations, detect friction points in the customer experience, and identify areas for improvement. 📈 Forms can therefore also be your allies to better understand your customers' issues.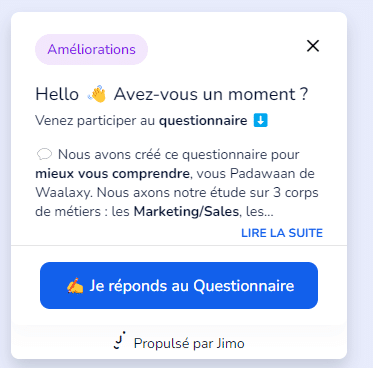 Here are some tools that can help you to set up your forms on your sites or digital tools:
Jimo.
Typeform.
Wufoo.
JotForm.
SurveyMonkey.
7. Respond to customer dissatisfaction
Want to respond to customer dissatisfaction but not sure where to start? 😱
I've made you a framework to reuse, which works almost every time.
This outline is effective because it shows that you take the customer's problem seriously and are willing to work to find a solution. It also allows you to understand the details of the incident and offer concrete steps to resolve the issue. 💜
8. Analyze and improve the customer relationship
We're going to talk about the important things to track to know if we're doing well or not with our customers 💪 They're called KPIs (that's the acronyms for "key performance indicators").
For example, we can look at how many customers are happy with our services (the customer satisfaction rate), how long it takes us to respond to their requests (this is the average response time), how many people who come to us end up buying something (the conversion rate of prospects into customers). 📈
So the goal is to identify which metrics are important for your business, track them and look for solutions to constantly improve them. 💪
The customer relationship in store
19. Reframe the customer's need
To reformulate a customer need, it is important to listen carefully to the customer and understand their expectations. 👂 Then, the need can be rephrased in terms that are more precise and more adapted to the company's offer.
To better adapt to the needs of customers, you can apply the SONCAS method. 🤓 This method is a sales technique that consists in focusing on the customer's needs and desires in order to better understand their motivations and propose adapted solutions.
10. Offer them a loyalty card
A digital loyalty card is also a mine of information. It allows you to collect data on customers, such as their purchase history and preferences, which can help the store to better understand the needs and behaviors of its customers. It can also be used to offer promotions, highlight products and create brand loyalty.
11. Do not break the link with the customer thanks to the newsletter
Setting up a newsletter is an excellent way to create nurturing, i.e. to maintain a relationship of trust and proximity with potential or existing customers. By offering quality content in its newsletter (tips, advice, news, etc.), you bring real added value to your potential or existing customers, you can also promote your offers and talk about your new products. 😜
Bonus: 12. The design of the customer experience
The design of a website or e-shop plays a crucial role in the customer experience, as it can have a direct impact on the customer's perception of your business, as well as their decision to buy your products or not. 💅
A well-thought-out design can help showcase your products and services, make navigation easier for the customer, and improve the overall usability of the site. It can also help reinforce your company's brand image, using a color palette and graphic style that is consistent with your visual identity. 😎
In short, before thinking customer relationship, think also "customer experience", you will be asked fewer questions and there will be less dissatisfaction if your site is clear and airy.
Conclusion and answers to the questions asked
What are the different types of customer relations?
As we have seen in this article, there are several types of customer relationships,
Face to face customer relationship 🙃 it is a direct and face to face interaction between the customer and the salesman, for example.
Digital customer relationship 👩‍💻 The use of digital channels such as websites, social networks, mobile apps, emails, chatbots, etc.
Remote customer relationship 📞 this refers to other channels such as phone, emails, text messages, etc.
Customer relationship through social networks. 👍
What attitude to adopt with a customer?
It is important to adopt a professional, courteous and empathetic attitude with a customer, listening to their needs and trying to satisfy them as much as possible. 🥰
How do you react to a difficult customer?
Here are some quick tips on how to react to a difficult customer 🤓
Keep calm, tell yourself he's just unhappy in his life (I swear it helps).
Listen carefully to the customer to understand their point of view.
Be empathetic and show that you understand their frustration.
Offer realistic solutions to the problem.
If necessary, ask a colleague or supervisor for help.
What are the jobs in customer relations?
There are several jobs in customer relations,
Customer advisor.
Customer manager.
Customer relations manager.
Customer support technician.
Teleconsultant.
Customer relations project manager.
Customer satisfaction analyst.
Consumer mediator.
Customer relations trainer.
To conclude: The importance of customer Relationship Management in Marketing
Customer relationship is at the heart of any successful digital marketing strategy. 🚀
Indeed, with the ubiquity of digital in customer management, it is more important than ever to offer an exceptional customer experience to stand out from the competition. 😎 Customers now have high expectations for service and personalization, and the companies that successfully meet these expectations are the ones that position themselves as leaders in their market.
So, are you ready to deliver on your customer relationship?