Companies are recognizing that the customer is king and are putting him at the center of their strategy. They are facing longer and more complex customer journey that don't end when the customer leaves the point of sale. 😮
Therefore, they need to consider and optimize the customer lifecycle from end-to-end, to ensure business growth. 🚀
What is a Customer Journey in Marketing? Definition
The customer journey is the series of steps that a customer or a prospect potentially goes through when entering into a relationship with a company. Not only the purchase stage should be considered, but also the moments before and after it. 🤔
A customer journey is the positive or negative emotions a customer experiences during this customer process. Customer journey analytics is essential in B2b marketing estrategies, as it helps you better understand your customers' needs. 🔍
You can study each step to:
Know

exactly

what

the

friction

points

are

.

Improve

customer

interaction

 

and

build

brand loyalty

.

Harmonize

the

information

on

all

 

channels to

offer

 

omnichannel experiences

.

H

ighlight

the

opportunities

.
What are the Stages of a Customer Journey? Mapping process
Customer journeys can be physical and/or digital. 🌐 To improve customer experience management  during the journey, it needs to be mapped.
A customer journey mapping highlights different touchpoints and makes it easy to measure the quality of the answers provided. 🎯 The customer journey consists of 8 steps:
Search for

information.

Compare offers.

Making

a 

decision.

Receiving the offer.

Evaluation.

Customer

service

.

Loyalty.

Recommendation.
Customer Journey Mapping
Before going into the details of the customer journey, here is a little map out: ⏬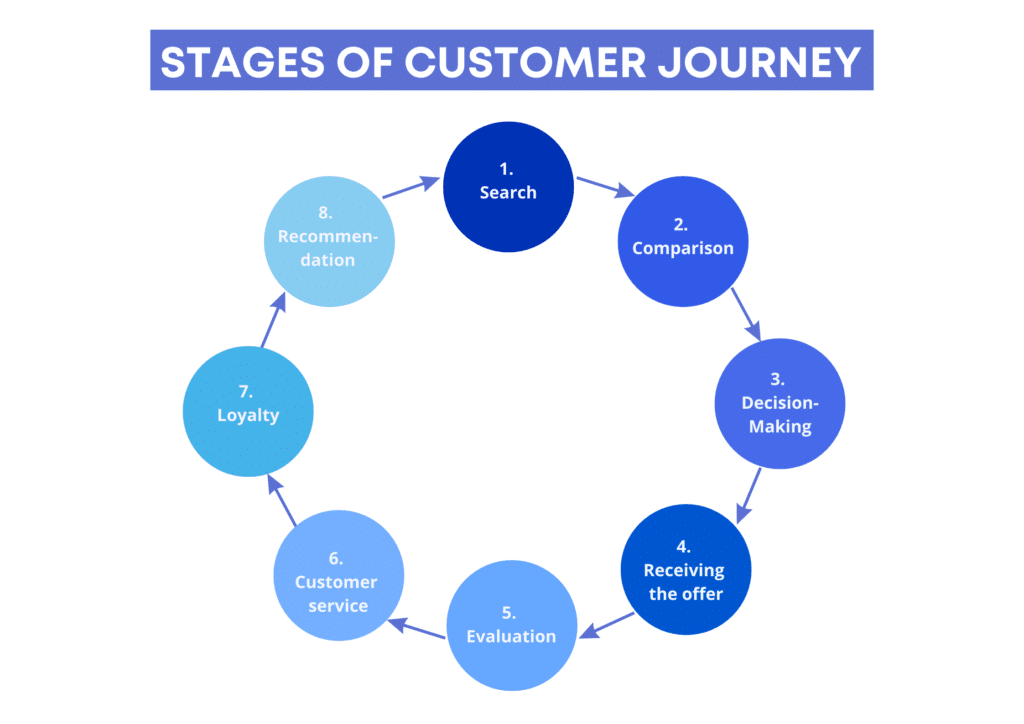 Step 1:
Search for I
nformation
When potential customers have a need for a product or service, they search for information to remedy the situation and find a suitable solution. 👌
At this stage of the customer journey, companies need to understand their prospects' problems and respond by providing quality informational content about their products and services. 🥸 A variety of content should be integrated into the marketing funnel, to encourage leads to make a purchase decision.
Step 2:
Compare Offers
In the comparison stage, leads go to the store or do further qualitative research on the Internet to test the solutions they found during their research. 🏹
Leads then look at product features, prices, warranties, services offered or previous customer experiences through reading customer reviews. Then they compare them, to decide which option is best for them. 😏
Companies need to highlight its products and services to entice prospects to choose them over others. They need to know how to create a connection with them to build trust.
💡 At this point, your store's salespeople and your website are essential to creating that connection and bringing growth back to your business.
Stage 3:
Decision-
Making
As a result, customers choose the products that best suit their needs. 💯 Then, they can either buy the product in-store or buy it online.
Your business makes a sale, but the customer journey doesn't end there! 🤭 The customer enters a new stage of the buying process in the customer relationship management.
For example, you must ensure a quality welcome, reduce delivery times, have the desired product in stock and guarantee a quality after-sales service.
Step 4:
Receiving the Offer
There you go, the customer decides to buy and receives the product and tries it on. 🛍️ It is important that his experience and insights are as positive as possible, so that he will want to repeat the purchase experience with your company.
To do this, you need to accompany your customers while using your product or service. 👂 You need to provide simple and easy to understand content in your "social media" for example, to help them install or assemble your product. Buyers should feel supported by the company, even after the purchase.
Step 5:
Evaluate the Solution
Next, customers evaluate how they feel about the products they use. 🤨 This step is crucial, as it represents the shift from conversion to loyalty and determines the rest of the customer journey.
For example, you can conduct customer satisfaction surveys to collect customers' opinions on your products and services. This way, you will know the real feeling of your customers, and you can identify areas of improvement. ✅
Step 6:
Customer
Service
However, if the customer has a problem with the purchased product, they will contact the company, especially the customer service to ask for information or make a complaint. 🤐
At this point, the company must do everything possible to ensure customer satisfaction. It must ensure that customer service requests are handled as quickly as possible. ⚡ You need to provide efficient technical customer-support that can resolve customer issues with minimal interacting.
Step 7:
Retention
In this step, the buyer decides whether to continue the relationship with the company.😨 For example, if the exchange with customer service went well, they will decide to stay loyal to your brand experience, even after encountering technical issues.
Then, the company can send thank you emails or offer personalized promotional offers to reinforce customer loyalty and encourage repeated purchases. 🤑
Step 8:
Recommendation
Finally, the recommendations are the proof of a solid customer-base and deliver a great customer experience strategy. 🥰 In this final stage of the customer journey, the buyer becomes the brand ambassador.
You can contact them again a few weeks after the purchase to ask for their feedback and ask them to share it in your social networks. 📣 For example, you can encourage them to leave positive reviews by giving promo codes in exchange.
How to Achieve a Good Marketing Customer Journey?
When companies pay more attention to the customer journey, the user experience is smoother, and there will be fewer friction points. 🚿 Here are 5 tips for achieving a good customer journey:
Have a

Customer-Centric A

pproach
Customer satisfaction should be at the center of all actions and decisions a company takes. 💖 The customer centricity must be at the heart of your strategy, to do this, companies can develop "buyer personas" to define who their target audience is.
Creating these "personas" helps the company to offer their customers a personalization and quality customer journeys. 👉 Please note: A customer-centric strategy requires the involvement of the entire team to be effective.
Delivering

a

Seamless E

xperience
You need to use all conversion channels (physical and digital) to harmonize customer conversion. 🌈 The prospects need to be able to move easily from one acquisition channel to another, without impacting their overall experience with your company.
Companies need to provide a consistent experience accross all channels, regardless of which channel the customer chooses to engage. 👋 For example, to facilitate this journey, companies can concentrate exchanges in an automated CRM.
Ask for C

ustomer

Feedback
Companies need customer feedback, so they know who they are talking to, otherwise they won't be able to optimize their customer journey. 🧐
Asking for customer reviews allows you to better understand their needs and customer expectations. Whether it's positive or negative reviews, it allows companies to react quickly and optimize their products and services. ⚒️

Reviews can be collected at every stage of the buying process, whether it's via social media, email campaigns or by conducting satisfaction surveys via the website.
Establish

L

inks

with

the

C

lients
Building an emotional connection increases customer loyalty and increases sales at the same time. 🔗 In fact, the customers loyal are more likely to recommend a product or service and purchase it again.
Companies need to provide quality customer service to keep buyers coming back. Building trust and giving special attention to customers is an effective way to keep them for the long term. 💍
Follow-up on

the

C

ustomer Journey
You need to put in place actions designed to optimize the customer journey. 🛣️ The company must monitor it closely, to ensure that all the measures taken are effective and adjust the strategy if necessary.
To do this, the company should define different performance indicators (or "KPIs ") to track. For example: ⏬
The CSAT

(Customer S

atisfaction

S

core).

The NPS

(Net

Promoter

Score).

The CRR

(Customer R

etention Rate).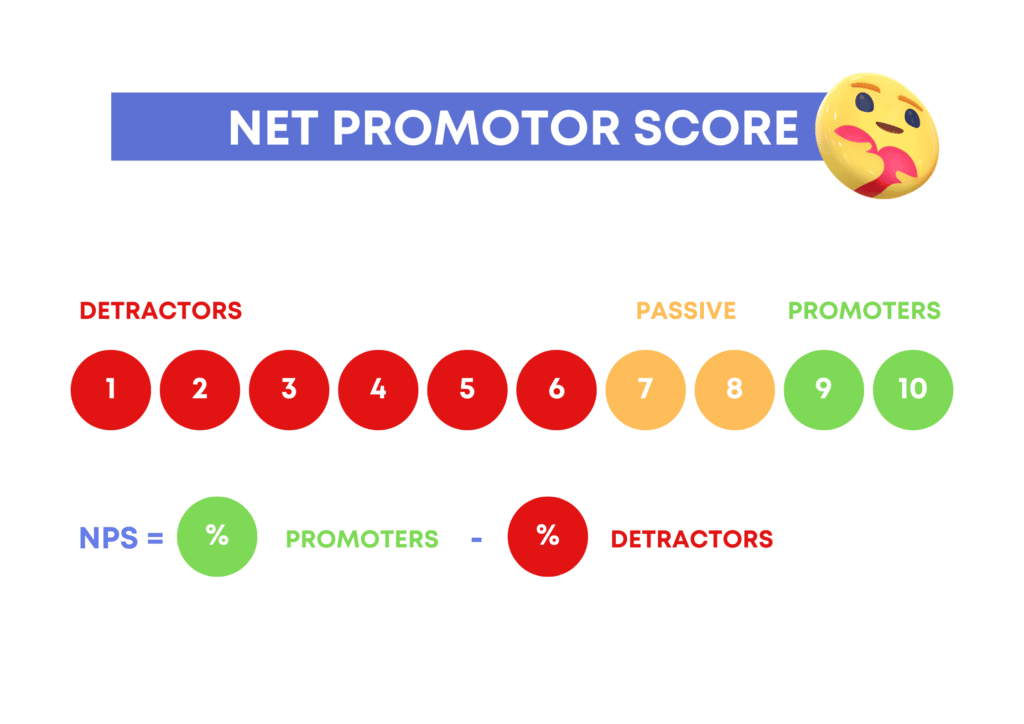 👉 To go further, read this article on customer loyalty to better understand customer reviews and make communication that promotes retention (avoiding churn)!
Customer Journey Examples:
As a general rule, no two customer journeys are alike. 🤫 For at least two reasons: the journey itself varies by customer, product, channel served, etc. Second, the mapping format and acquisition methods can vary by company.
Here are the three basic stages of the buying journey customer: ⏬
Recognition

of the

need

or

the

problem

:

A

t

this

first

step,

the

prospect

identifies

a

need

(for example,

the purchase of a new car)

.

It

does

not

always

know

how

to

respond

to

this

need, so when he searches, he wants to find

content

explanatory

aimed at

 

solving

 

his

problem.

😉

Consideration of the offer

:

The

prospect

realizes

that a

solution

exists

and

begins

to

research

the

best

product

or

service available in the market.

Guides

and

other

comparisons

help

the

prospect

understand

how the product works,

and

in

what

situations they can

use

it

before

buying

.

Decision

:

The

prospect

is

ready

to

buy

and

narrows down the

list

of

potential

products

that

fit

their

needs

and

budget.

🤑 F

or

this

last

step,

he will need

a

detailed

product

sheet

,

find

positive

customer

reviews

or

even

have

a

free

trial

period

.

All this

can

make

all

the

difference

compared

to

your

competitors!
👉 On the other hand, keep in mind that a prospect doesn't necessarily have to go through all these steps and, on the contrary, can proceed directly to the purchase on a simple recommendation from a trusted friend. 🗣️ That's why the satisfaction of a loyal customer and the "word-of-mouth" are very important in the purchasing process.
All of these phases are usually represented visually in the form of a digital-marketing funnel, also called a prospecting funnel. ✨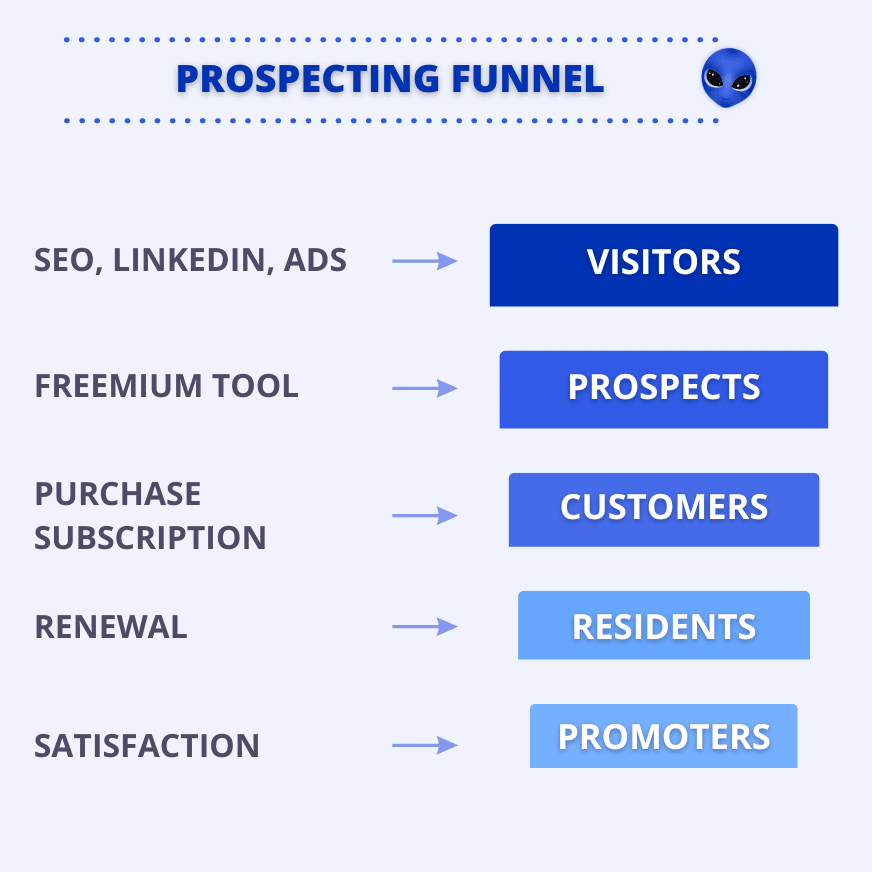 However, holistic customer journey maps have something in common. You can use these commonalities to create your own mapping.
💡 Here are 2 examples of journey customer journey to help you understand the expected outcomes:
Example 1: Buyer Customer Journey
Here are the steps in the example from a car buying journey : ⏬
The

potential prospect

discovers

car

offers

through

TV

commercials

,

searches for

more

information

on

the

Internet,

and

compares

prices

.

The

customer

data

search

takes

time,

and

he

decides to

go

to

the

nearest

dealership

,

selects

a

model

and

tries

it

out. 🚗

A

trial

period

is

a

very

important

step

for

this

type of

purchase,

unlike

other

products

.

Then, he confirms that the vehicle

meets

his expectations and

he

negotiates

the

price

.

He

buys

a

new

car

and

shares

his opinion with his friends

.

He

posts

comments

on

social

networks

and

other

costumer engagement

 

platform

.

When

buying

a

car

,

the

phase

of

recommendation

is

long,

because

the

car

is

often

used

over

several

years

.

In the

end

,

the

purchasing

process

of a

car buying process

includes

the

 

following phases

:

A

wareness,

research

information

and

comparison

of

price,

 

test phase,

acquisition

and

recommendation. ✔️
Example 2: In-Store Customer Journey
Here are the factors to take into account to optimize the customer journey in store and boost your sales: ⏬
Let's say the prospect is attracted to your

storefront

because it's the first thing they see.

😍 You need to create a strong, identifiable visual identity for your store to enhance your brand image.

Some

large

stores

"circularize" the customer journey, like

the

IKEA

method

and

force

customers

to

follow

a

specific

path

,

they

can

encourage

customers

to

follow

a

previously

defined

circuit

, with well-identified hot and cold zones. 🧊

Point-of-sale

(POS)

advertisements

can

actually

stimulate

impulse

purchases

of

products. This obviously improves the user experience. For example, department stores can install self-service kiosks for their customers to view the product catalog, to quickly find the products they are interested in, find out the product specifications, etc.

Finally, don't neglect the physical greeting

of

customers

in

your

store

,

as

this

can

greatly

improve

the

digital

customer

experience

. 🤗 So

make sure

your

salespeople

are

familiar with

in-store

greeting

techniques

so that

on-the-spot sales can be completed efficiently

.
👉 Also, taking an omnichannel approach is important! 😲 By connecting the "digital" to the "physical", brands can deliver richer, a more seamless customer experience without interruption.
(We'll talk about this omni-channel approach in the next part!)
Conclusion: Tips for a Successful B2b Customer Journey
Here are some tips for having a customer success journey: 👇
Define

your

offer and detail all the benefits of your product or service.

Create

some

marketing personas

.

This

you

allow

to

better

understand

your

customers

and

to

personalize

the

digital pathways

 

based on

 

several

profiles.

Use the

competitive advantage

 

of

your

 sales funnel.

Put

in

highlight

the

actions

that

count

 for new B2b customer acquisition.

Don'

t

underestimate

omnichannel.

Analyze

customer

behavior

when they

visit

your

site

and track online reviews

.

Regularly upgrade

your

 customer journey, to test new selling techniques

.
How to succeed in an Omnichannel Customer Journey?
An omnichannel customer journey is a buying journey in which customers use different information and contact channels to achieve their goals. 🎣 Cross-channel customers can integrate online and offline touchpoints into their journey.
For example, you can find offers in posters on the street, you have the option to order online or pick up your items in a "drive-through". 🏎️
There are so many potential touchpoints in omnichannel commerce that it would be very difficult to list them all, but we can already mention a few: 👇
Physical S

tore

,

Telephone

or "Cold call"

,

Mail and C

atalog

,

Email Campaigns,

Ecommerce website

and

Marketplace,

Forum, Webinar

and

Blog

,

Social Networks,

Messaging

 and SMS

,

"Click and collect",

QR

Code…
💡 As omnichannel becomes the norm, it is becoming a strategy in some industries like banking. 🏢 Customers perform basic transactions on their own online, and only visit the agency if they need specific advice.
How to Make a Multi-Channel Customer Journey Successful?
A multichannel customer journey is an evolution of omnichannel because it adds another touchpoint such as emails and phone calls, but there is no link between them.
In many cases, it's nearly impossible to track the journey of customers who would have used multiple channels. 😮 The number and availability across channels that can be used in a so-called multichannel customer journey has led to a gradual abandonment of the term, in favor of the so-called omnichannel customer journey.
To boost your sales, you need to be everywhere! 🤭 In fact, the use of several customer acquisition channels is more likely to increase customer engagement rates.
Automation tools, such as Waalaxy, are on your side. Use them wisely and you'll see your results soar. 📈
👉 Note that multichannel should not be used to compensate for campaigns that don't work on a single channel. 🙈 This is what causes "spam". So use digital tools to optimize your existing customer journey.
Article FAQ
What are Other Ways to Say "Customer Journey"?
There are several ways to refer to the customer journey: ⏬
"On the customer/buyer experience",
"In the customer journey map/

customer experience mapping

",
"Along the customer path/pathway",
"On the path of the customer."
How do you Successfully Track the Customer Journey?
The follow-up of the customer journey is the key to knowing your customers, their behaviors and their opinions. 🤩 This gives you the information you need to redefine your action plan to anticipate and meet their specific needs.
Having the best customer experience depends on this delicate process that needs to be done carefully. 🌬️ Thanks to this follow-up, it becomes easier to build customer loyalty and encourage them to buy again. If you want to identify the factors that influence the quality of the customer relationship, there is nothing like A/B testing and seeing how customers react to different actions.
That's it, now you know what the customer journey is all about! 😘