Facebook Market Place is an online sales platform that allows users to buy and sell products and services. It is available in more than 70 countries and has more than 1.6 billion monthly active users. 🤑
To use Facebook Marketplace, simply create a Facebook account and log in to the platform. You can then search for products and services in your area, or post an ad to sell your own items. ⚡
What is Facebook Market Place?
Facebook Marketplace is a platform integrated into Facebook that aims to bring buyers and sellers together. 🤝 As a result, users can buy new and second-hand items and sell them to other users.
Launched in France and other European countries in 2017, Facebook Marketplace is an online marketplace that connects sellers and buyers by advertising online sales. It was first introduced in the US and is used by a third of Americans. 🤯
The functionality of Facebook Marketplace is similar to that of other groups and sites for the purposes of selling, bartering, advertising such as LeBonCoin or Vinted. 🛍️ The platform allows individuals to find what they are looking for close to home.
There are dedicated filters that make it easy for individuals to find products nearby. 📍 To access it, simply download the Facebook application and create an account. Merchant ads are integrated directly into Facebook. What's more, you can search for products using filters:
By location,
By category
Or price.
Finally, you can also contact sellers via Facebook Messenger to finalize the transaction. 💲 Sellers and buyers have access to each other's public profiles, making for a more human relationship. As a result, buyers feel reassured before buying on the platform. 🤗
How do you use Facebook Market Place?
As with all platforms, it's important to adopt best practice to maximize your chances of a successful sale on Facebook Marketplace and a positive customer experience for potential buyers. 😊
Here are the steps to selling on Facebook Marketplace: ⏬
Log in to your Facebook account. Like other Facebook services, Marketplace is completely inaccessible without a Facebook account. Therefore, you need to be connected to a social network to use this feature.
Accessing Facebook Marketplace is very simple. Simply click on the icon (house) at the top of the screen in the web version, or go to the navigation menu and click on "Marketplace" in the mobile version.
Then click on "Create new listing" and select the type of ad you want to create (items for sale, vehicles for sale or houses for rent).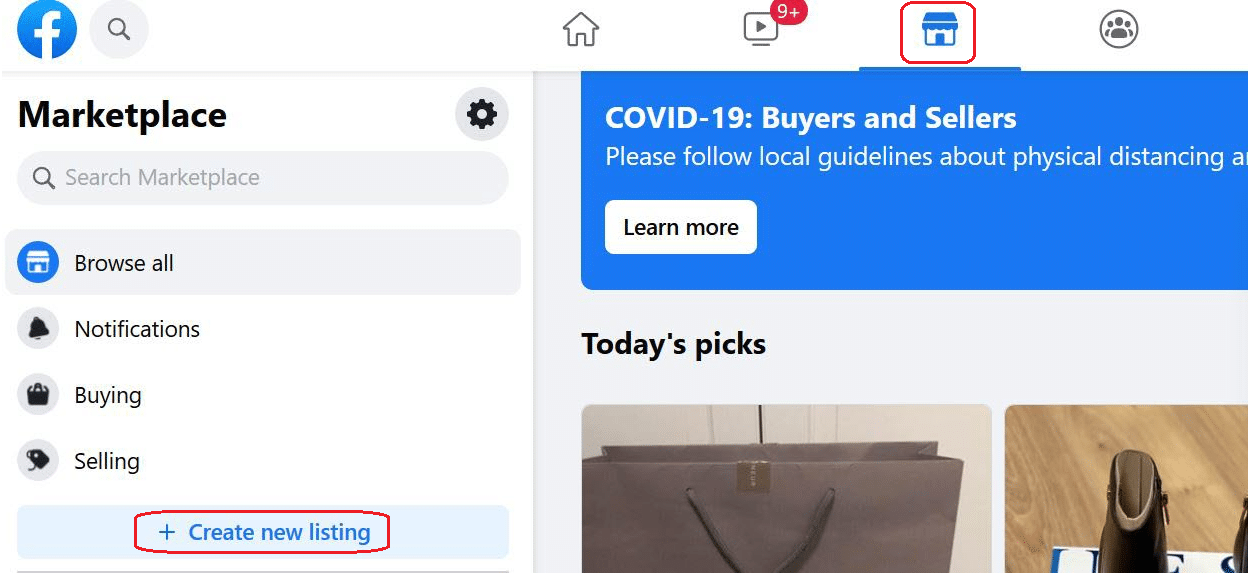 The platform offers four types of ad: products for sale, vehicles for sale, property for sale or to rent and a job ad.
Next, you need to fill in a creation form to help buyers find your product. In particular, you need to choose a category and tags to describe the product, its price and its location.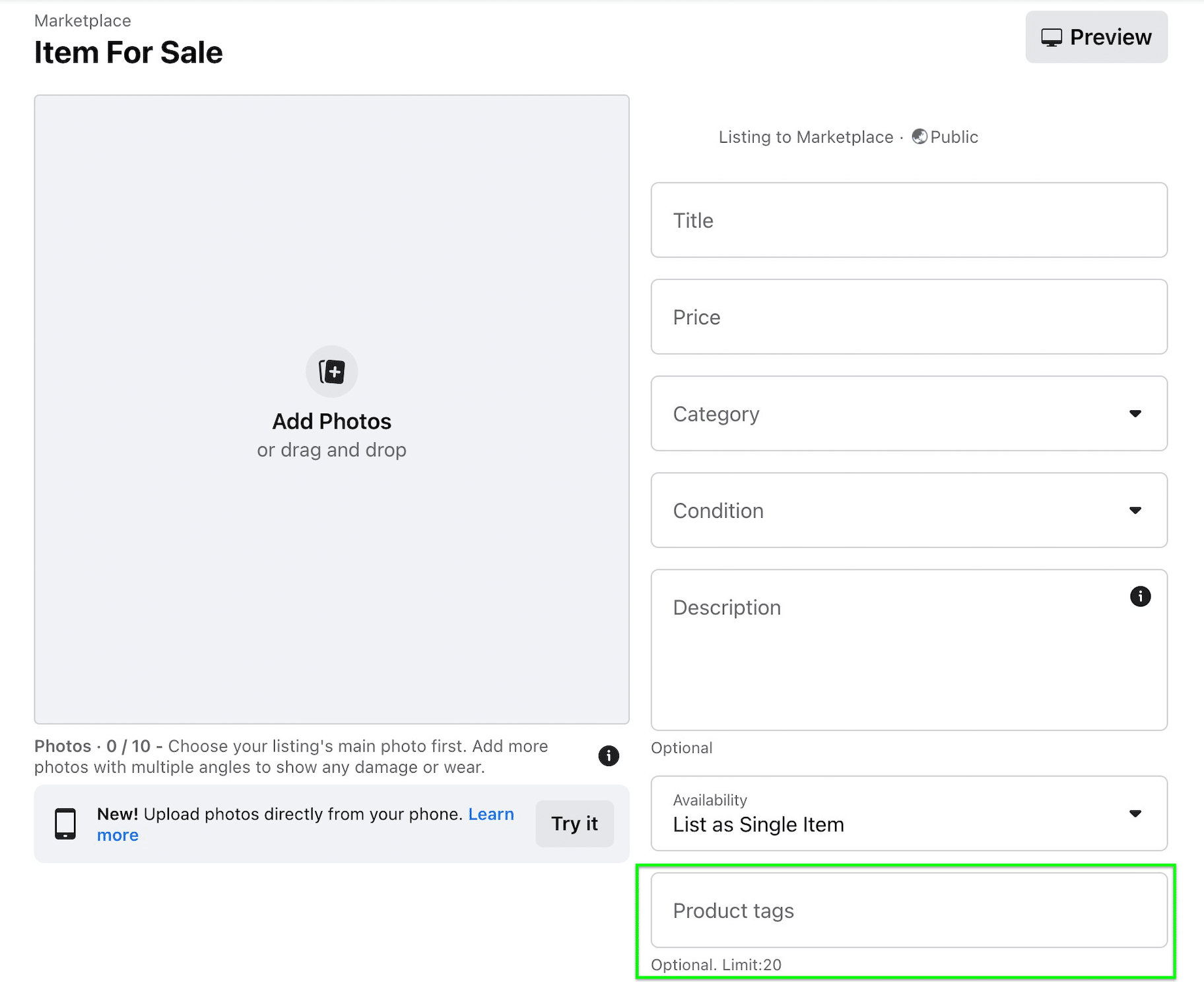 What's more, if you want to offer this product for free, you need to set the price at €0.
Add high-quality photos (up to a maximum of 10).
Select

relevant filters

to help buyers find your products.
Publish the advert. Once your ad is complete, simply review the details and click on "Promote now".
That's all there is to it! 😛 Ads are published online and are immediately visible to interested parties.
Finally, you need to choose where you want your adverts to appear in order to increase your reputation on social networks. By default, it will only be published on Facebook Marketplace. You can also publish in a Facebook group or your personal profile.
Your ad will be checked and validated. From there, you can come back to edit it, delete it or mark items as sold.
Now all you have to do is wait to hear back from the first buyer. 🤩 Once the buyer is interested, you can offer them two payment solutions: 👇
Go to a place to make the exchange, and proceed to finalize the transaction.
Buy the product on an e-commerce site, and make a home delivery if required.
Simple, isn't it? 💯
How do I buy on Market place in Facebook?
As the success of Facebook Marketplace proves, many consumers prefer to buy second-hand goods. 😍
Here are the main steps to buying on Facebook Marketplace: ⏬
Search for products: use the search bar or browse the categories to find the product you want to buy. You can also filter the results by location, price, etc.
Check the seller's listing for product details. Please read the description carefully and look at the photos for condition, price and other relevant information.
If you are interested in the product, please click on the ad to see the detailed description. From there, you can contact the seller directly via Facebook Messenger to ask further questions, negotiate prices, discuss payment terms or make an appointment.
It's worth checking the seller's authenticity before completing the transaction. You can check their Facebook profile to see if they have any reviews, recommendations or positive ratings. Don't hesitate to ask for

additional information

or photos of the item to check its condition.
If you are satisfied with the item and its disposition, you can arrange to meet the seller and physically exchange the item for payment. We recommend that you choose a safe, public place, preferably during the day.
During this exchange, you will make the payments agreed with the seller. We recommend that you use secure payment methods such as cash, money transfer applications and mobile payments. Facebook Marketplace does not offer an integrated payment system, so it is essential to complete the transaction in person.
After the transaction, you can leave notes and comments about your experience with the seller. This helps other users make decisions when interacting with that seller.
Now you know how to use the marketplace! 👏
(Image source: Meta).
How do I sell on Market place Facebook?
So, how do you sell on Facebook Marketplace? You should know that any Facebook user can use this platform. 👋 The service is free, as social networks do not charge fees. However, please note that the seller is solely responsible for payment and shipping of goods.
To optimize your listings, follow these tips: ⏬
Photos should be of high quality, show all aspects of the product and be taken from several angles to reassure the buyer. Photos also look more professional against a plain background (white or light gray).
Ad title: please note that your ad is in competition with other ads. The title should encourage the buyer to want to know more. We also recommend that you avoid titles such as "Wardrobe in good condition" and instead use "IKEA wooden wardrobe – 3 doors with drawers – 200 x 160 cm – white".
The description should try to

answer the

buyer's

questions

about, for example, the brand, color, dimensions, features, shipping method, condition of the second-hand product, etc. You can even omit a few details to make it easier for the buyer. You can even leave out a few details to encourage the buyer to contact you.
Set fair prices based on your analysis of competing offers. Selling at a lower price doesn't necessarily mean that people will be more interested.
To earn the "Very responsive" and "Recommended by the community" badges, you need to reply to users' messages within the hour and have at least three positive reviews.
(Image source: Meta).
Facebook is not involved in sales or disputes. 🤫 What's more, you don't need to create a business account to be able to sell on the platform. However, it goes without saying that you must comply with the platform's commercial policies. For example, certain products are prohibited from being sold on Facebook Marketplace, including: 🚫
Drugs, tobacco and alcohol.
Consumable food supplements.
Animals.
Adult products/services.
Health products such as contact lenses.
Gambling services.
And more.
However, Facebook Market Place allows sellers to publish different products. 👌 Items are classified by categories, such as:
Clothing and accessories.
Classifieds and offers.
Entertainment.
Hobbies.
Home and garden.
Housing.
Vehicles for sale.
What are the advantages of Facebook Marketplace?
Facebook Marketplace offers a number of advantages, including: 👇
A wide choice of products and services available,
Competitive prices,
A secure platform,
An easy-to-use interface.
A key advantage of the marketplace is that it makes it easier to put buyers and sellers in touch, whether they are private individuals or professionals. "Social selling" on Facebook is open to everyone. 🪄
The features on offer are very relevant and useful in helping buyers find what they're looking for. 🔍 It also allows sellers to get to know each other better, particularly by filtering by geographical area.
This is a huge opportunity for local businesses that don't have the funds to launch a website or global marketing strategy. 🌐 In fact, publishing an ad like this on Facebook is free! 💰
What's more, Facebook marketing is a great way for businesses looking to launch new products while cutting costs. 👌 It's also a great way to conduct market research at a lower cost. This way, you can get initial feedback from your customers and improve your offering before the "real" launch. 😉
This human side helps you build a lasting relationship of trust with your buyers! ✨
What are the disadvantages of Facebook Marketplace?
Despite these advantages, Facebook Marketplace also has a few drawbacks to consider. 🙊 Indeed, the platform does not offer support for online payments or shipping management. This would force physical payments and require additional travel for users.
Nor are the ads linked to shops or Facebook Business pages. There is no specific category for professional sellers on the platform. 🤐 What's more, Facebook Marketplace doesn't allow ads using your page name. In fact, you must use your name in your personal profile.
However, you can solve this problem by syncing your e-commerce site, such as Shopify, with your Facebook shop. 🔗 Facebook customers can then benefit from the secure delivery and payment service when they buy from your e-commerce site. 🌟
Finally, there is a more or less long list of products prohibited from sale, as we saw earlier. 👆 Including tobacco, adult products, health products (contact lenses, thermometers, first aid kits), 🌡️ subscription or digital products, event tickets, etc.
However, even with these drawbacks, Facebook Market Place is still a very profitable platform for its users! 😏
To Recap: Facebook Marketplace Free
To recap how the Facebook marketplace works, here are the steps to follow: ⏬
If you're on a computer, you'll see Marketplace as a small shop in the left-hand column of your News Feed.
However, if you're using the Facebook app, you'll see the same icons in the horizontal menu at the top of your screen.
To

create your ad

, simply click on "Sell an item".
Next, you need to choose the type of ad you want to publish. An item for sale, a vehicle for sale or a house for rent.
Finally, you need to fill in a short and simple form, select the category, the products you want to sell, the price, the geographical area and upload your photo.
The final step is to choose where you want your ad to appear. In fact, in addition to the

standard publications

on the marketplace, you can also publish ads in other groups that you follow or of which you are a member.
Once your ad is online, all you have to do is wait to hear from potential buyers.
You can modify or delete ads at any time if you wish.
You're all set! ✅
Article FAQ
Why sell on Facebook Marketplace?
There are several ways to sell on Facebook. 😊 But, Marketplace is the most effective way, as this feature allows users to buy and sell goods in their local area and across the country.
Even though Facebook Marketplace is a feature thought for individuals, it can also be interesting for B2b sales professionals. 🤩 In fact, you can upload a detailed catalog of your products, event tickets, accommodation and vehicles for rent or sale, etc.
What's more, Facebook Marketplace is an entirely free feature. 💲 Facebook doesn't charge any fees to connect buyers and sellers. It's an opportunity for professionals to promote their products for free, but it also allows them to develop their marketplace shop on social networks if they wish.
Another advantage is that you can link your Facebook Page shop to your Marketplace shop. 🛒 This way, interested parties can easily buy professional products without leaving the social network. 🙌 This free shop system allows new entrepreneurs to get started quickly without having to develop a website.
How can you avoid Facebook Market Place scams?
In addition to the limitations of the features on offer, using Facebook Market Place also requires a certain level of vigilance against scams. 😫 In fact, Facebook wanted to give users the security that every transaction was with a real person with a social network of friends and professionals. But that's not always the case…
In fact, feedback from users shows that all kinds of fraud and malicious activity are not uncommon on the platform. 🤫 Some merchants don't hesitate to use stolen or counterfeit goods, while others use several fake accounts to commit fraud.
In addition, some users make fraudulent payments or fail to show up for scheduled appointments. 🤷 These malicious people also have very useful Facebook features, such as blocking people or masking comments that don't favor them! 😡
Which photo to sell on Facebook?
Photos are one of the most important elements for selling on Facebook, as they allow the product to be presented. 🖼️ Therefore, it's imperative that products for sale are identified with high-quality photos that are properly presented.
Here are a few best practices for taking product photos: 👇
Use a neutral background.
Take at least three photos (one of the front and one of each profile).
Leave the photos in color.
Don't use filters.
Don't hesitate to point out any defects in

second-hand products

.
Cool! Now you know all about how to buy or sell on Facebook Market Place. 😎