Want to send a connection request but don't know what LinkedIn networking message template? That's good, in this article, we reveal you :
30 sample LinkedIn message templates,
3 tips to improve your LinkedIn message.
Are you ready? So are we, so here we go! 😎
LinkedIn networking message template: 30 examples
Marie BLOSHET: Hello, I would love to join your network :).
This is what I receive almost every day. Personally, it doesn't make me want to accept the invitation! First of all, the message is much too vague, we don't know for what reasons Marie BLOSHET wants to join my network. Secondly, even if I accept her invitation, how will Marie start the discussion? 🤔
To avoid this kind of situation, we offer you (yes, it's a gift 🎁) 30 message templates for the Linkedin network! ⬇️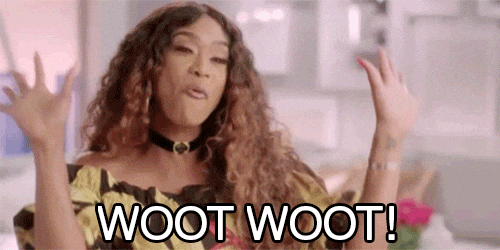 #1. Person present in the same group
Being part of a LinkedIn group is a great way to meet new people, make new connections and grow your Btob network. 📈 So don't wait any longer, do your little research and join discussion groups that add value. ✔
Example of a message template with a person present in the same group
Example 1: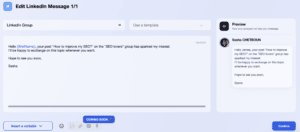 Example 2: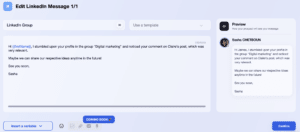 Example 3: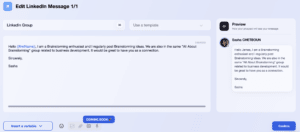 #2. Person with common knowledge
Connecting with someone you already have a relationship with in common is a great way to start a conversation easily! 😇 This way you show that:
You are interested in the person's industry, 👯
You asked about her connections. ❤️
Example of a message template to connect a person with common knowledge
Example 1: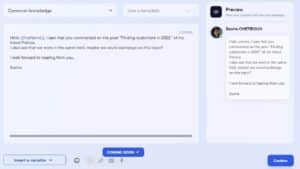 Example 2: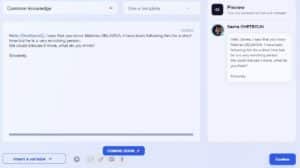 Example 3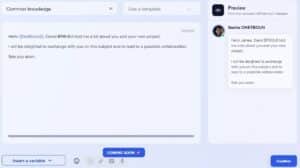 #3. Person you met at an event
Went to a product launch party or digital event and didn't have time to chat with a specific person? 😕 Don't panic, thanks to the social network LinkedIn, you'll be able to stay in touch easily! 😎
Sample message templates to connect with someone you met at an event
Example 1: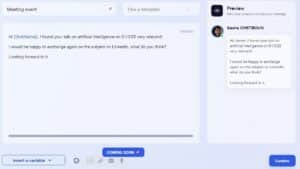 Example 2:
Example 3: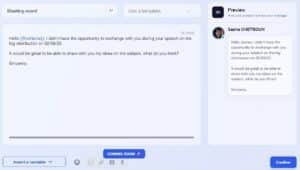 #4. First contact with a customer
After your successful sales prospecting campaign and marketing strategy, you want to move on to the discussion stage? Great, here are 3 sample message templates for Linkedin professional network that can be useful for you! 👇🏼
Sample message templates for a first contact with a client
Example 1: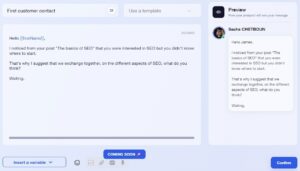 Example 2: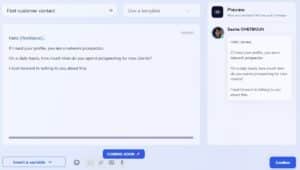 Example 3: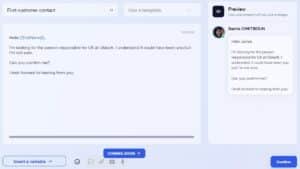 #5. Partnership request
When networking, if you want to approach a potential partner, your message should be attractive, clear and concise. ✨ You should, through your message:
✅ Showing interest in this person and their work,
✅ Demonstrate that your collaboration is beneficial to this person and yourself,
✅ Get to the point, what your new contact is interested in is what this partnership can do for them.
Sample message templates for a partnership request
Example 1: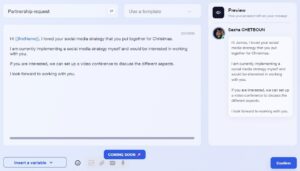 Example 2: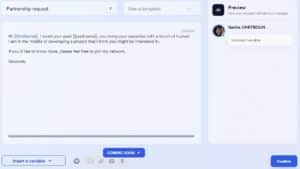 Example 3: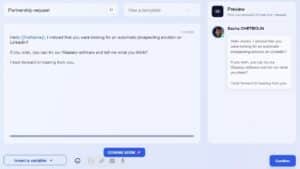 #6. Recruiter message LinkedIn
The recruiting process requires skill and tact, remember you are a human and not a robot. 🤖
To successful networking, you need to show that :
You are interested in his professional profile and ambitions, 🔍
You are up to date on her professional experiences and studies, 🏫
Your message is exclusively for her. 📧
Sample message templates for a LinkedIn recruiter
Example 1: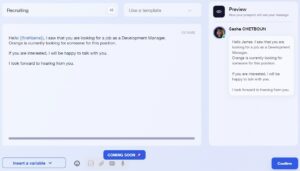 Example 2: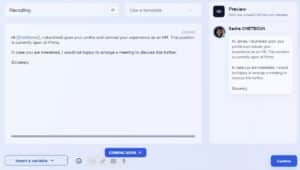 Example 3: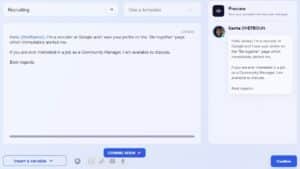 #7. Ancient fellow student
Recognized an old classmate from a post on your professional social network? You can totally meet in contact with this person 😀 Besides making him/her happy (which I hope for you), you can share your strengths, experiences and views on certain topics, I'm sure. 💭
Small plus, you are already familiar with this person, so you have more chances to be accepted in their network and thus, expand your network! ❤️
Sample message templates for an old classmate
Example 1:
Example 2: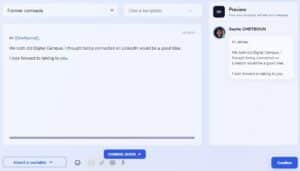 Example 3: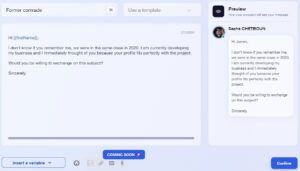 #8. Relauching prospect message
Have you already launched your prospecting campaign but got no response? 🥵 Don't panic, you can contact your prospect again, this time emphasizing the message's intent and personalization. 😇
Here we go with 3 examples of prospect follow up message templates for LinkedIn professional network.
Sample lead nagging message templates for a lead
Example 1: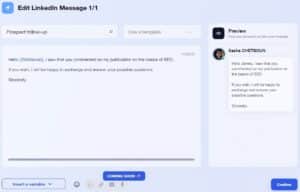 Example 2:
Example 3: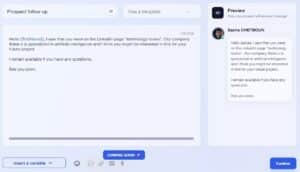 #9. Connect to a webinar
If you want to generate more leads and increase your professional relationships naturally, you can do webinars! 🎦
To reach more people, feel free to send invitations to your contacts and share it around! ❤️
Sample message templates for a webinar login
Example 1: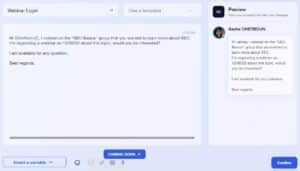 Example 2: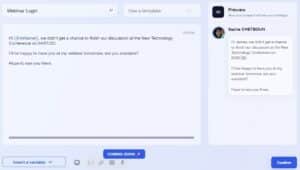 Example 3: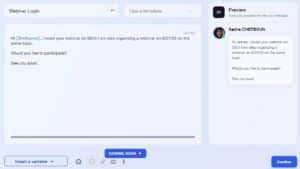 #10. Applying for a job
Known as the 1st professional social network, LinkedIn allows you to send an application. 💌 By doing your job search via a social network, you will :
Know who you're talking to, thanks to their LinkedIn profile, 🌐
Talking directly to recruiters, so you have a more direct approach, 🎯
Show interest in the company. ❤️
Examples of sample messages to submit your application
Example 1: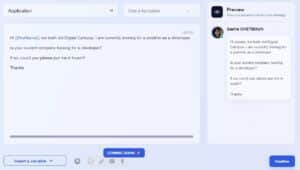 Example 2: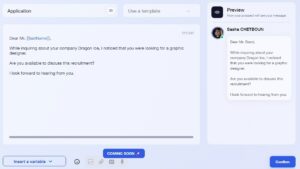 Example 3: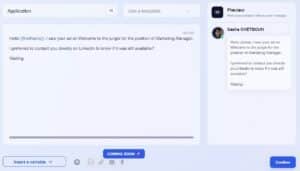 Good linkedin message : 3 tips to improve it
LinkedIn is the premier professional social network that allows you to network quickly and easily. 🤗 Using LinkedIn is a bit of an obstacle course 🦾 there are several steps: ⬇️
🔳 Creating an account,
🔳 Optimizing your LinkedIn profile or company page,
🔳 Define the people you want to add to your network,
🔳 Thinking about your content strategy,
🔳 Follow inspiring profiles,
🔳 Join discussion groups on LinkedIn,
🔳 Interact with other users,
🔳 Comment on posts,
🔳 Perform A/B testing when applying for connections.
Your LinkedIn profile is your resume, so make sure you maintain a proper professional image. Let's go into a little more detail with these 3 tips for improving your Linkedin networking message templates! 👇🏼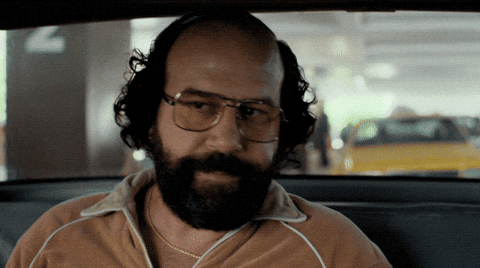 1) Personal message on LinkedIn
On LinkedIn, you can easily grow your b2b network as it has millions of members. 🧑🏻🤝🧑🏾 You can contact them via login messages, which can be customized. ✨ You might be asking yourself "well, do I customize or not?" 🤔 The answer is yes, the more you will personalize your message, the more the person you want to talk to will feel "privileged" and accept your request, which will boost 🚀 your prospecting.
2) Forget the commercial
LinkedIn is 850 million users worldwide (yes, that's starting to add up). 🤯 In order for your prospecting to work, you need to prioritize the human side! ☀️
Between us, it's nicer to talk to someone who shares their experiences with us, who shows interest in our profile, rather than someone who always writes the same thing to everyone and neglects the human side. 😬
3) LinkedIn automation tool
How could I talk to you about prospecting and Linkedin networking message template without telling you about our little gem: Waalaxy. 👽
It's a chrome extension, directly connected to your LinkedIn account that allows you to automate certain tasks, like 👇🏼
Find clients easily on LinkedIn without technical skills, 🔎
Grow your network to generate opportunities, 📈
Automatically send invitations and messages on LinkedIn, 💭
And much more… 👀
Now I'm going to show you how to launch a message campaign for your already existing relationships with our networking tool 🥰
Create a LinkedIn campaign
Click on "start a campaign" at the top of the home screen.
Select the campaign "Message (relationships only).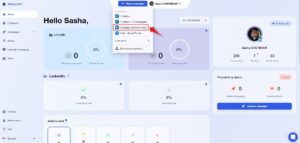 Name your campaign so you can find your campaign among the others.
Import your leads in two different ways, either from an existing list on Waalaxy or from LinkedIn directly.
If you don't know how to import your leads to Waalaxy, we explain everything in this article. 👈🏼
Write your personalized message.
Either use a sample template (like the image below), or write it manually.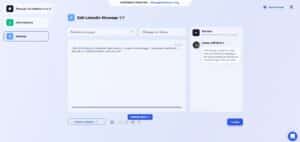 Above, I give you 30 examples of Linkedin networking message template! ✨
Last step, you can click on the "Launch my campaign" button if everything is ok for you.
Well done! 👏🏼 You just launched your campaign!
LinkedIn campaign: the results
Launching a campaign without first conducting a test can sometimes be scary. That's why I made a test, just for you! 🥰
I ran an invite and message campaign on Waalaxy on a base of 1,500 prospects and here are the results: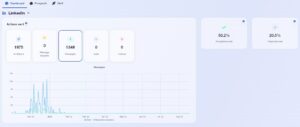 50.2% accepted my connection request I had a 20.5% response rate. So, still not convinced? 😏
Conclusion of the article : Linkedin networking messages template : 30 best examples
It's already the end of this article… We showed you 30 Linkedin networking message template, with templates to copy/paste or, thanks to our automation software Waalaxy at :🚀
A person in the same group,
A person with the same acquaintances,
A person you met at an event,
A first contact with a client,
A partnership request,
A recruitment message,
An old classmate,
A follow-up message from a prospect,
An invitation to a webinar,
A job application.
FAQ of the article : linkedin networking messages template
How to optimize your profile on LinkedIn?
Successful prospecting involves optimizing your LinkedIn profile, which means: 👇🏼
✅ Profile photo: avoid bathroom selfies, a professional photo, first impression is always important,
✅ Banner or cover photo: use your company's graphic design and fill in key information or even current offers,
✅ Custom URL: optimize your URL with your first and last name,
✅ Description: describe your interests, your values, your story,
✅ Experiences: stipulate any experiences you may have had, company name, association, your educational background.
Optimizing your profile allows you to improve your personal brand ! 🌞
How do you increase the visibility of a post on LinkedIn?
There are several things you should focus on if you want to increase the visibility of a post on LinkedIn, such as ⬇️
Add external links,
Define a content strategy that is just right,
Be authentic,
Publish at times with high influence.
How do I send a connection request to someone?
To send-out a connection request, nothing could be simpler, you just have to :
Search for the person you want to add,
Click on their profile,
Click to the connect button "To log in"
You have the option to add a note (personally, I don't recommend it, find out in this article why).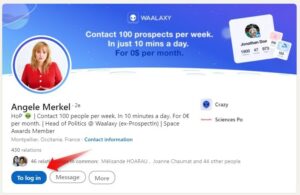 And that's it, your connection request has been sent, just wait for it to be accepted! 🔥
I hope you found your happiness among the 30 Linkedin networking message template! ✨
See you soon 🥰