If you've clicked on our article, it's because you want to know what an editorial calendar is or how to create one?
Well, we're going to talk about that today, but not just that:
Why have an editorial calendar?
Why use it in 2023?
What tools should you use to create one?
2 examples of calendars
Ready to become an ace 🃏 of the editorial calendar? Let's get started!
What is an editorial calendar?
It's a planning tool that allows you to organise and manage the creation and publication of content on different communication channels, such as websites, blogs, newsletters, magazines, social networks or any other distribution medium. 💭
This is structured over time, usually in the form of a table or chart, listing the different content to be produced and published, together with their planned publication dates. 📆
It takes into account:
🔵 The communication objectives.
🟣 The themes addressed.
🔵 Key events.
🟣 Key periods.
🔵 Important dates.
🟣 Seasons.
🔵 Any other elements that could influence the content strategy.
We live in an ever-changing digital world where competition for attention is more intense than ever. 🔥 That's why, in order to stand out, it's more than necessary to carefully plan the content you want to distribute and make sure it's consistent, relevant and delivered at the right time. ⏱️
Why have an editorial calendar?
As mentioned above, having an editorial calendar offers a number of advantages for any individual or organisation wishing to get involved in content creation and distribution management.
Here are some key reasons 🔑 why it's crucial to have an editorial calendar:
Organisation and planning

➡️ it allows you to plan in advance the topics, themes and content to be produced over a given period. This makes the work easier, avoids publication delays and enables better time management.

Brand consistency

➡️ if you structure future publications, the editorial calendar helps to maintain consistency in the tone, style and values of the brand or your company, while reinforcing the brand in the eyes 👀 of the audience.
Meet the needs of the audience

➡️ if you rely on research and analysis, the calendar helps you to better understand the needs and interests of the target audience 🎯. This ensures that the content proposed is useful and relevant to readers, and users.
Manage events

➡️ it enables the promotion of events, product launches or special campaigns to be integrated into the editorial strategy.
Lack of content

➡️ If you organise your publications in advance, you will drastically avoid periods of overload when too much content is published at the same time.
Performance measurement

➡️ Finally, you'll be able to track the performance of each piece of content published more quickly, enabling you to identify 🔎 what's working well and what needs to be improved.
Why use an editorial calendar in 2023?
In 2023, the use of an editorial calendar remains more relevant than ever for all marketing professionals, content creators or even businesses. With the rapidly changing ⚡️du digital landscape and increasing online competition, an editorial calendar offers a number of advantages (pictured below), but not the least of which is explaining why it's essential to use it! ⬇️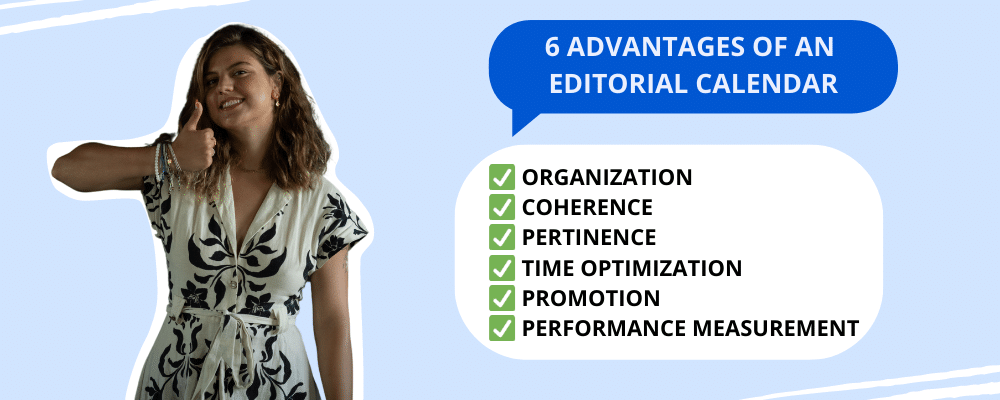 Improve content consistency
These days, consistency is key to standing out from the crowd and establishing a strong brand identity 💪🏼. By using an editorial calendar, you can plan and organise your content in a consistent way. This includes :
🐠 The tone.
📝 The writing style.
💭 The topics covered.
🦋 The visuals used.
📆 The frequency of publication.
A consistent approach helps to reinforce 🫱🏽‍🫲🏼 brand recognition, build audience loyalty and establish a relationship of trust with readers or consumers.
Avoiding duplication
Publishing duplicate content can damage your brand's credibility and annoy your audience. Nevertheless, thanks to a calendar, you can have an overview 🌁 of your past and upcoming publications. This allows you to avoid unintentionally repeating the same topic or publishing content that's too similar at the same time.
By avoiding this, you'll be able to keep your content fresh, original and engaging 🧲 for your audience.
Easier collaboration with your teams
Working as a team to create content requires close coordination between the different members involved. You'll need to work closely with all the members of your team to create your content, because it serves as a central reference point for the whole team, whether they're copywriters, designers, marketers or social networkers.
If you decide to share a collaborative calendar, everyone can see the tasks to be completed 💪🏼, the deadlines and the priorities.
Regular publication of quality content
If you publish quality content on a regular basis, you'll find it easier to keep your audience engaged and improve your SEO.
You'll be able to plan publication dates in advance, ensuring that you have enough time to create high-quality content. By doing this, you'll avoid slow periods 📉 when content is scarce, which can lead to a loss of interest on the part of your audience.
How to create an editorial calendar in 5 steps?
Well, now that you know more about the editorial calendar, we thought it pertinent to explain step by step how to create an editorial calendar, with a concrete example. Ready to take notes? 😇
Right, here's the example:
🦋 You're in charge of the content strategy for an online fashion company that aims to increase traffic to its website, increase engagement on social networks and boost product sales. 🦋
1) Define your objectives
In this first step, you need to clarify the objectives of your editorial calendar based on the needs of your business.
You may have several objectives, such as awareness, visibility, engagement and loyalty. It all depends on your business sector and your expectations. 👀
For example, in our case:
🥇

Objective n°1-

Increase website traffic by 20% by the end of the quarter by attracting more organic visitors through informative blog posts on the latest fashion trends.
🥈

Objective n°2-

Increase engagement on social media by increasing the number of shares and comments on posts by 30% by focusing on eye-catching visuals and engaging captions.
🥉

Objective n°3

– Boost product sales by launching a special campaign for a new clothing line and planning regular publications to promote flagship products.
Once you've completed this step, you'll be able to move on to the next. 👇🏼
2) Choose the right themes
Based on the objectives you've set, select relevant themes for your editorial calendar. You can have several themes, depending on the seasons or events in the year.
To illustrate our point, here are a few examples:
Theme based on advice

➡️ "The must-have trends of the autumn/winter season: how to adopt them in your wardrobe".

Theme from saison➡️

"Style tips for a successful summer holiday look".

Theme with promotion➡️

"Discover our new autumn collection and get 20% off at the exclusive launch".
3) Define publication dates
Next, you need to define publication dates according to your schedule and the specific objectives of each piece of content. Ideally, we advise you to have a publication schedule one or two months in advance, at least for things that come up again and again.
Still in our business of fashion via our e-commerce, here are some examples of dates we've picked out! 👇🏼
| | | |
| --- | --- | --- |
| Type | Subject | Date |
| Blog post | The must-have trends for the autumn/winter season | 15/08/2023 |
| Post on Instagram and Facebook | Style tips for your summer holiday look | 25/07/2023 |
| Promotion for the launch of the new collection | Discover our new autumn collection | 01/09/2023 |
4) Assigning responsibilities
As the fourth and penultimate step in creating your editorial calendar, you need to identify the members of your team who will be responsible for creating each piece of content and assign them specific tasks. 👀
We plan to produce blog posts, so we need a blog editor, who will research and write the autumn/yesterday trends article.
Then we need a social media specialist, aka, a community manager, who will be in charge of creating and scheduling posts about holiday style tips.
Finally, we need a marketing manager who will be in charge of creating the promotional visuals and setting up the campaign to launch the new collection.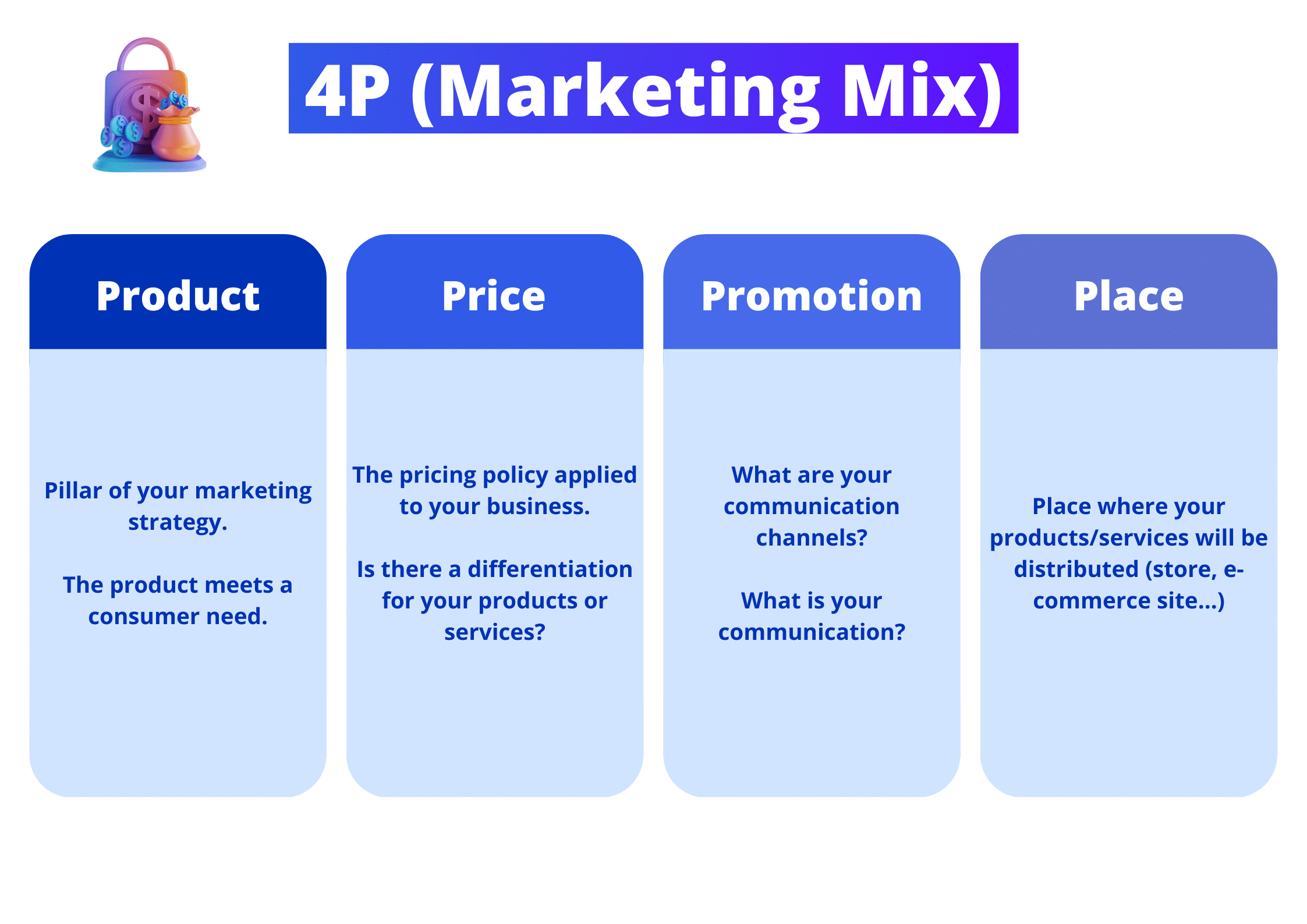 5) Regularly update the calendar
Last but not least, the regular updating of the calendar. To keep your editorial calendar relevant, make sure you update it regularly. You can take account of news, sudden events, emerging trends or feedback from your audience to adjust your calendar if necessary.
Here are a few ideas:
You notice an emerging search trend via a hashtag on Instagram about ethical clothing. You then decide to add a new blog post on "Ethical fashion brands to discover" to your calendar and hey presto, you're responding to this new demand. 🦋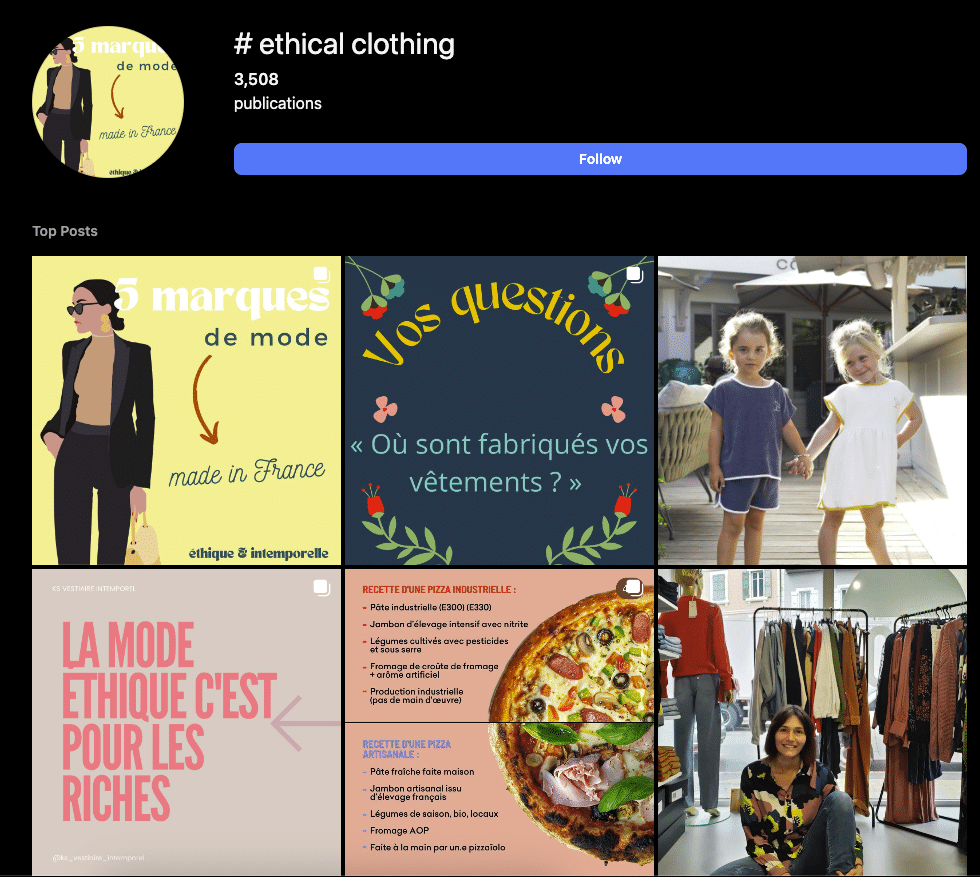 In September, a major awareness campaign gets underway, so you decide to postpone the launch promotion of your new collection to avoid a conflict of interest and a loss of audience. 📉
Finally, if you manage to follow these five steps, you'll be able to create an effective and strategic calendar, tailored to the needs of your business and those of your audience. And don't forget one of the most important points: by keeping your calendar regularly updated, you'll be able to maintain a strong link with your audience so that you can maximise your communication objectives. 💟
Use tools to create a social media calendar
You can use tools to create an editorial calendar, to make the content planning and management process easier. We've selected 3 types of nugget tools for you. 🍪
Spreadsheet-based editorial calendar
You can totally use a spreadsheet such as Excel or Google Sheets to create a global view of your calendar.
In fact, you'll be able to create columns for publication dates, subjects, distribution channels, those responsible for each task, and also statuses (in progress, completed, published).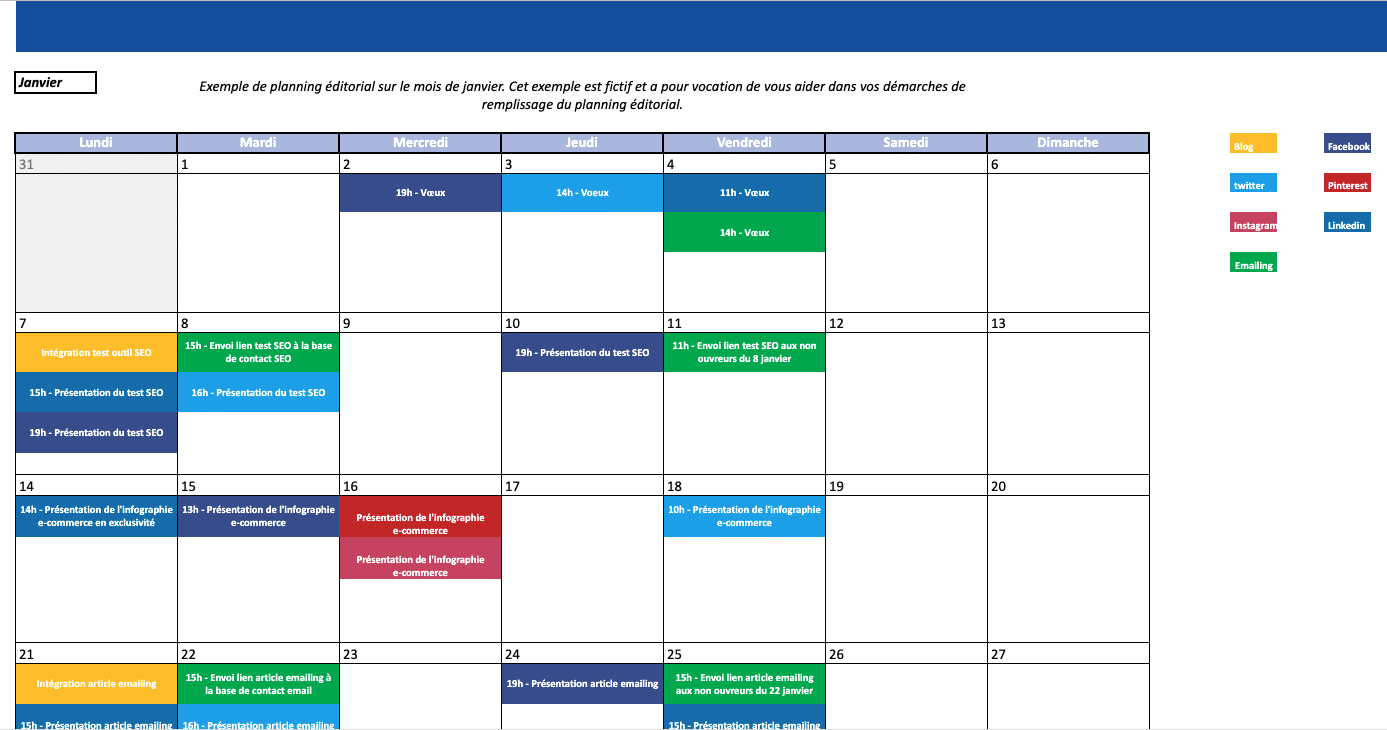 You can organise the different rows according to the calendar, starting with the publications closest to you.
Management tool
With certain management tools such as Asana, Clickup or even Trello, you're going to be able to further detail the specific tasks needed for each piece of content. In fact, you can create cards or tasks for each publication and organise them according to process stages, such as :
🔲 Writing.
🔲 Design.
🔲 Validation.
🔲 Programming.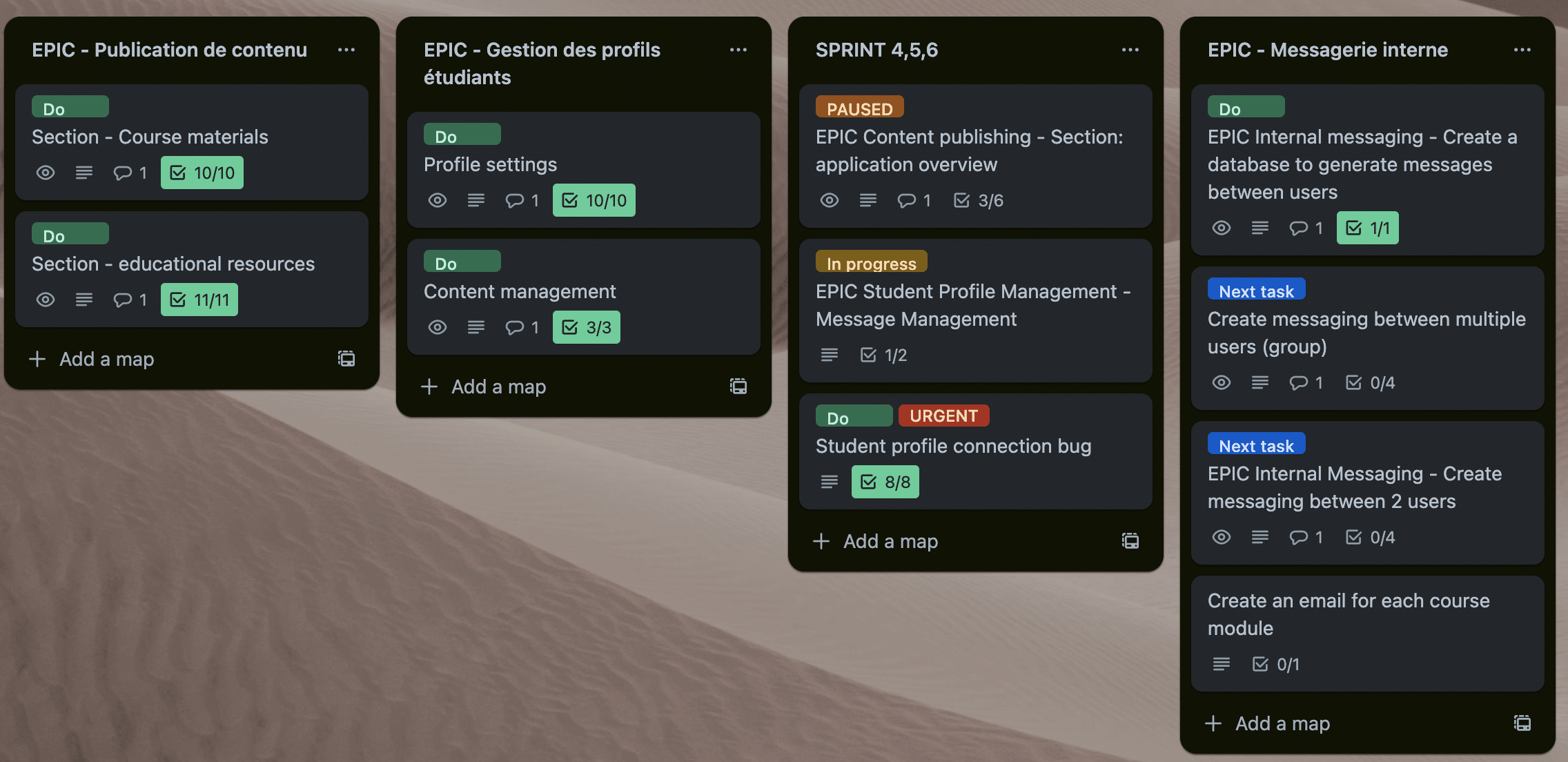 In the image above, you can see the Trello management tool, which is pretty handy for describing a mission, setting a due date, tasks to be completed, assigning a person, or even putting labels.
Design tool
The final way to create your editorial calendar is to use a design tool such as Canva. It has a number of advantages, and here they are, grouped together in a table! 👇🏼
| | |
| --- | --- |
| ✅ Advantages | 💭 Explanations |
| User-friendly, easy-to-use interface | Intuitive interface that lets you create an editorial calendar quickly, without necessarily requiring advanced design skills |
| Wide range of templates | Extensive library of calendar templates, from page layouts to styles and themes. |
| Visual calendar management | Easy visualisation of publication dates, topics and associated visuals. |
| Team collaboration | Several people can work together on the same design, so you can add comments and make changes if necessary. |
| Integration of images and visuals | Add images, graphics, icons and illustrations to best illustrate your editorial calendar |
| Easy to update | Modification of dates, addition of new publications, according to the needs of your strategy. |
Editorial calendar social media template: 2 examples
Now that you've got all the keys in hand and we love giving you a treat, here are two examples of editorial calendars. 📆
Editorial calendar template
Remember the calendar template on Google Sheets? Here's one! ⬇️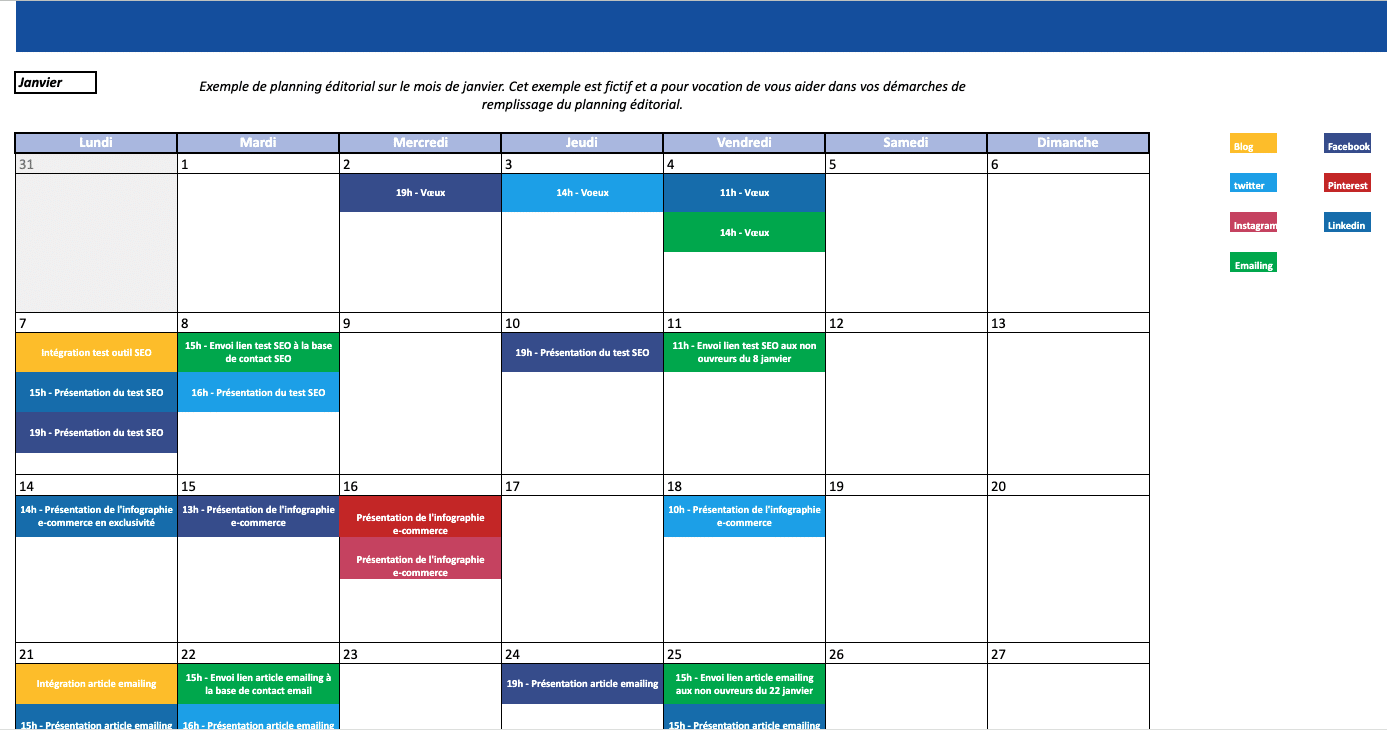 Well, as you can see, it's colour-coded according to the distribution channel. You have different social networks, but also the blog and emailing.
All you have to do is click on the button below to be able to duplicate it and then, modify it to your liking. 🎁
Edit editorial calendar
Editorial calendar for Instagram
We also told you about Canva, to create more design-oriented calendars. Would you like a template that you can modify as you like? Just ask – here it is! 👇🏼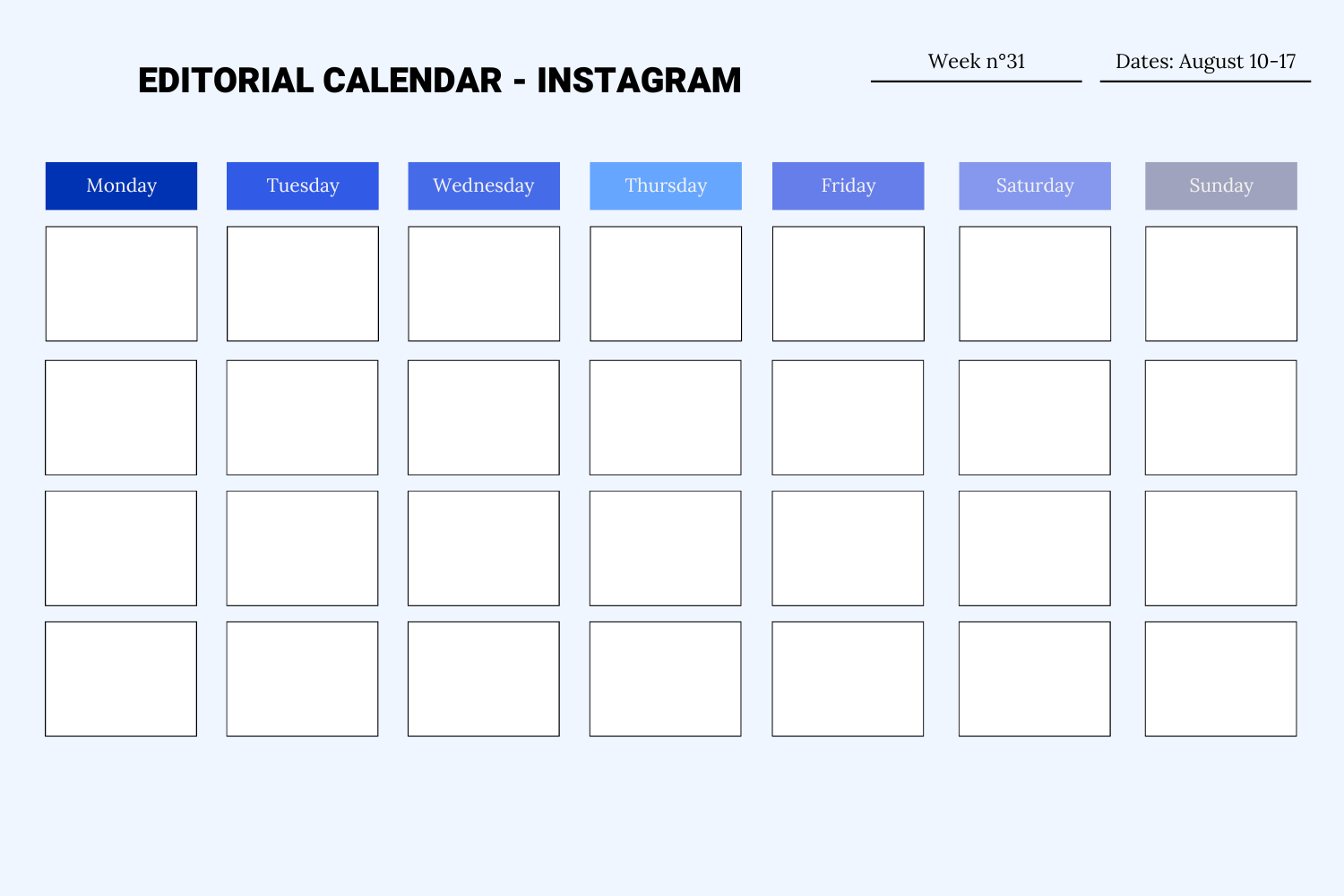 Modify template
How about a recap?
To conclude, we can tell you that setting up an editorial calendar is essential for any company or content creator wishing to maintain a consistent, relevant and, above all, effective online presence 💪🏼.
This strategic tool makes it possible to organise and plan the creation and publication of content, while meeting specific communication objectives. What more could you ask for? 🤩
Frequently asked questions
Don't go away so quickly, we still have a few resources in stock 📦 that I think will interest you. 👀
How do you create a communication calendar?
The communication calendar is equivalent to the social network calendar, quite similar to the editorial calendar. Nevertheless, we advise you to follow these little tips:
🔹 List all the important events of the year as well as public holidays.
🟣 Identify the different content themes.
🔹List topics for each theme.
🟣 Develop each idea and each piece of content.
🔹 Plan your content in advance (two months).
What is the purpose of an editorial?
In reality, its main objective is to present the opinion, viewpoints, analyses of a media outlet or an editor on issues concerning current affairs, events, politics, social problems, controversial subjects or subjects of general interest.
It is also often published in newspapers, magazines, online news sites or other news media.🗣️
What's the difference between a calendar and a diary?
The simple difference between the two is that a calendar is a way of dividing up the passage of time, whereas a diary is a way of organising your day-to-day life, including birthdays, unmissable events, appointments, and so on. 📆
We hope you've enjoyed this article on the editorial calendar, and we look forward to seeing you soon! 👋🏼