Prospecting on LinkedIn cannot be improvised. There are different approaches to attract new customers, depending on your targets, your appetite and your business. Here are the 2 B2b prospecting methods used today on LinkedIn. 😊
Forget the telephone canvassing, cold e-mailing, and commercial prospecting of the 90s. The key is to choose active prospecting.
Follow the guide to perform on LinkedIn…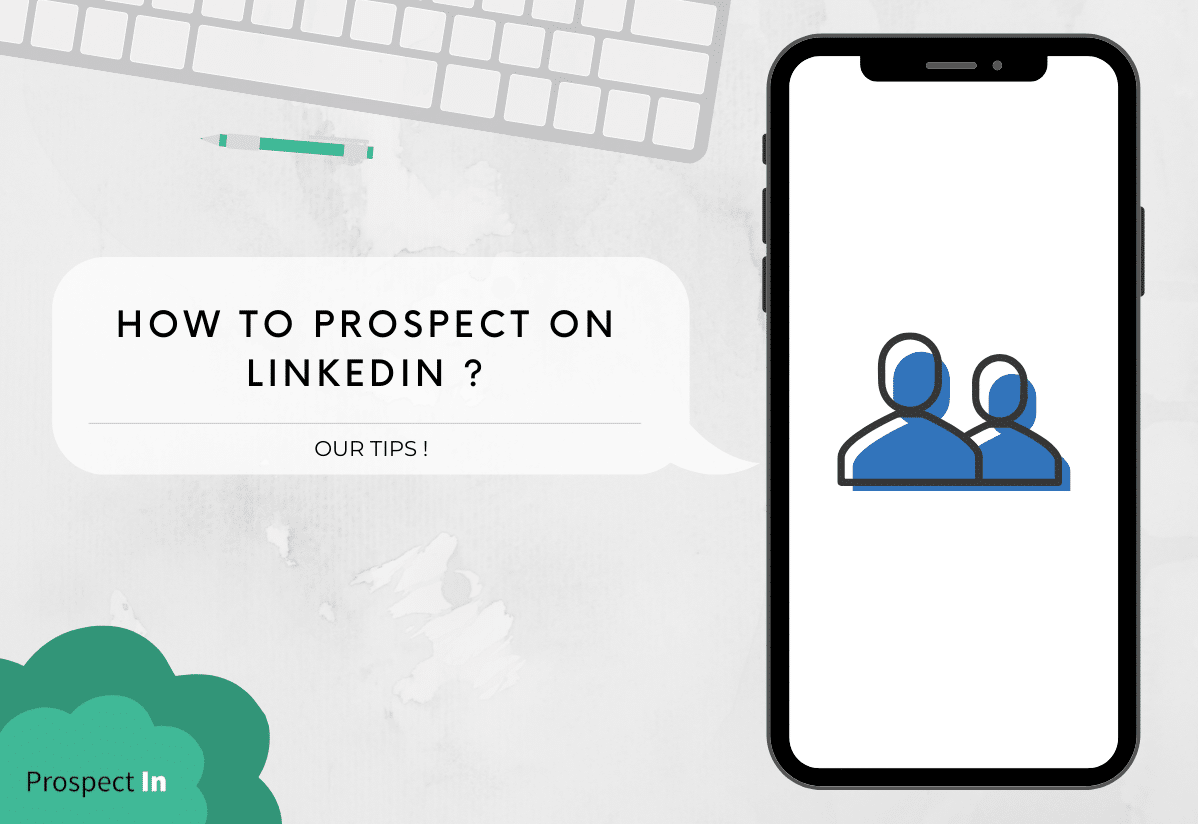 To prospect on LinkedIn, it is clear that first, you need to have:
Identify the target of your digital prospecting and segment it.
The LinkedIn prospecting strategy called "the open question"
Your initial contact is made with an open question. Let's take an example: we are currently targeting marketers in our prospecting. One of our strategy consists of asking a question like:
"Hello John, as a marketer, I would like to know more about your acquisition via LinkedIn. I would be glad to discuss it with you."
Write this message directly in the note or in the first follow-up.
This open question strategy is very useful because you show interest to your prospect. In many cases, we obtain very interesting pieces of information on their LinkedIn use, which expand our knowledge and allows us to sharpen our personas.
Another example:
"Hello John, 

We are currently developing a SaaS and we are looking for tips on how to improve our acquisition. As a marketer, what would you advise? Here's a link to get a glimpse of what we do (your website's link).

Thank you in advance."
This message gave us very interesting answer rates (between 8 and 10% on a note). But it is very complicated to measure whether prospects convert better or not at the end of the funnel.
What not to do to prospect on LinkedIn
In one sentence, what you shouldn't do: all that is not customized! Here are some examples…
"Hello, I would like to join your network"

"Hello, I saw your profile and I think we have a common interest"
Also, you'll have better acceptance rates but in the end, you'll convert less afterward.
Don't forget: even with an automation tool, you can implement customization: you just need to make good searches ! 😊
Solicitation's strategy to prospect on LinkedIn
Then, for our second sales technique, it is a more "classic" approach to Btob prospecting. In general, conversion rates are less interesting with this method.
Our example: Here we add in the first note or the first message a presentation of your activity.
"Hello John,

We have developed a tool allowing for significantly saving time in leads BtoB acquisition on LinkedIn. It's a safe and very handy automation tool, here's the link if you're interested: (your website's URL)".
This approach is a bit robotic but nevertheless very often used. Why? The sequel of our analysis will deal with the qualitative vs the quantitative approach.
Two opposing prospecting methods: quality vs. quantity
The "qualitative approach" prospecting technique
The advantages of the qualitative approach
By showing interest to your prospect, you attract curiosity. Everyone likes to generate interest. The more you customize your message, the more you'll get interesting results. Besides, at ProspectIn, we work on an advanced customization method, to combine benefits from both the quantitative and qualitative methods.
More involvement/retention.

Possibility to customize your speech according to your prospects' feedback (I don't use the same speech if a prospect answers "I use LinkedIn to generate BtoB leads" or "I use LinkedIn to broadcast my content").
Disadvantages of the qualitative approach
This method is way more time consuming: your answer rates are better but you must engage and hold a conversation with each one of your prospects to transform them into qualified leads, understand their needs and suggest them the offer that suits them the best.
The "quantitative approach" prospecting technique
The advantages of the quantitative approach
This approach tends more towards "spam". If you use it in your notes it has a major advantage: unqualified/uninterested prospects will not accept you. A kind of "unsubscription" to your contact that saves you from spending time chatting with your prospects. You then save a considerable amount of time since you send your prospects directly to your site, which takes care of converting them. Useful to find customers.
Disadvantages of the quantitative approach
Quantity means loss of quality. When you use this prospecting approach, you risk missing prospects who will not respond to you because your approach is too direct and your goal to sell them something is obvious.
When to use this method?
In reality, here you need to think in terms of ROI (Return On Invest). If you sell a high-priced product or service, it is in your interest to use the first method. Your conversion process will probably be longer and the amount of time to be spent more important, but you must take the time to convert every prospect, even if this means limiting your prospecting volume.
However, if your product or service sells at a lower price, and if your potential prospects volume is important, you should use the second method: if your product/service costs €2 per month, you obviously can't spend many hours chatting with each one of them.
The interest of transactional scenarios
Regardless of the method you use to prospect on Linkedin, you should create your Linkedin recovery scenarios in advance. On average, you get a 3 to 10% response rate on a personalized invitation note, while you can easily go up to 60% acceptance: a major part of your hot prospects must therefore be re-launched afterwards. Scenarios allow you to automate this process.
To send or not to send an invite note to prospecting on LinkedIn?
This remains an important issue. Our first intuition is to say that it depends on the personas and especially on the profile you are prospecting with. Here is a very thorough case study to determine which note transforms best and whether or not an invitation note is needed.
And you, what do you think of these two prospecting techniques? Many people today swear by personalization.
At ProspectIn, we prefer that too. Creating real interactions with prospects allows us to better understand their needs. But sometimes the mass mailing method is also interesting.
Now you know how to prospecting on LinkedIn efficiently to find new customers! 😉
You can try ProspectIn to do it!