What's Referral Program? 🤔 A referral program is a system where a brand identifies and targets people who like or use the brand and asks them to tell their friends and family.
The program typically offers an easy and secure way to share messages, closely tracks the success of referrals, and offers rewards for each verified transaction. 👌
Referral Program: How does it work?
Are you considering a referral program for your business? This article covers the different types and examples of the most successful referral programs. 💯
Let's go! 🚀
Referral Program Meaning: What is a Referral Program?
A referral program is a marketing strategy that encourages existing customers to share your brand with their friends and family. 📣 When someone refers a new customer to make a purchase, the original customer receives a reward from the company.
🧲 Referral programs are a great way to attract new customers and build loyalty with existing customers.
Without a referral program, you're relying on organic word-of-mouth to get customers to recommend your brand to friends, family and colleagues, and perhaps only a few reaches their full potential. 😓
And while word of mouth is a natural social behavior, it is more prevalent for some products and services than others, such as music, movies, fashion, beauty, interior design, and other passion-filled products. 🎶
But conversely, recommendations from trusted friends can add value to more thoughtful purchases, such as telecommunications, insurance, banking, and utility bills. 📄
And since the value of referred customers is often much higher in these industries, the opportunity cost is higher if a referral program is not in place.
Modern referral programs typically use software developed in-house, by an agency, or outsourced. 👉 However, referral programs are still manually operated in some industries.
Examples of Best Referral Programs to earn money
Like any marketing program, referral marketing is most effective when efficiently managed and optimized to attract the right customers. 🏹 But having the best referral marketing software is only half the battle.
The real challenge is to actively promote referrals in your marketing, meaning that loyal customers will recommend your business to their friends and family. 👂 Like any marketing program, it can be built, but not necessarily implemented.
To inspire you, we've created a list of the leading referral programs that use effective tactics to get more customer retention. 🤩
You can use these examples for your own referral marketing template to generate more customer referrals.
Let's discover them! 👇
1. Tesla Referral program
Nowadays, Elon Musk and Tesla Motors are all over the news! Tesla is a household name in the technology and energy fields. ⚡ Tesla's method is sometimes perceived as aggressive and controversial, but its customer satisfaction is among the highest of the automobile industry, outperforming other automakers around the world. 🌎
In 2016, the company leveraged customer loyalty by launching a referral program. 👀 This is a classic example of rewarding referrals with perks beyond just product discounts, by making it an important part of its growth marketing strategy. 💪
Since then, the company has constantly changed its strategy, running different programs and experimenting with different rewards and incentives.
Over the years, there have been several rewards for the referrers, including: 👇
Free "Roadster" cars.
$1,000 rebates.
Cash rewards.
Car roof solar panel chargers.
Free supercharger miles and more…
However, the referral program has been turned off since 2021 until further notice. 🥲
Referral results: 💡 Tesla has created a relentless fanatic spirit around its vehicles. The referral program was aimed at Tesla owners who already have a passion for the brand and the performance of their vehicles, with perks that they believed were of real value to customers. 🪙
Tesla understands how the referral program can be customized throughout the customer journey, from inception to high levels of growth and maturity, and how the ingenuity of rewards and incentives makes the program relevant and exciting. 😉
2. Mailchimp Referral program

Did you know there is a Mailchimp Affiliate Program? 🤔 If not, it's probably because the website calls it the Mailchimp Referral Program.
This is a referral marketing program using the concept of referral badges, but essentially it works the same as an affiliate program. 🏅
The main difference between affiliate and referral marketing is the type of person doing the marketing for your brand. 😄 In referral marketing, your current customers are usually people, but in affiliate marketing, you target everybody. 🎯
Earn your own "MonkeyRewards" badge with the Mailchimp referral program. This badge is clickable, and the link is unique, just like affiliate links. This badge can be used in campaigns, websites, sign-up forms, and emailing campaigns. 📩
This badge is editable, so you can customize it for different platforms. When someone clicks on your special MonkeyRewards badge and signs up for a paid rate plan, you'll receive a $30

billing credit

(no, the credit cannot be redeemed for cash).
Referral results: 💡 Based on the commission rate, the difference between affiliate marketing and referral marketing becomes clear. As you can see here, unless you're an existing customer, you don't get paid for using the link to sign up for Mailchimp.
✍️ Instead of making money, you save money compared to the subscription price you already had to pay, which is an interesting offer for recurrent customers.
3. Airbnb Referral program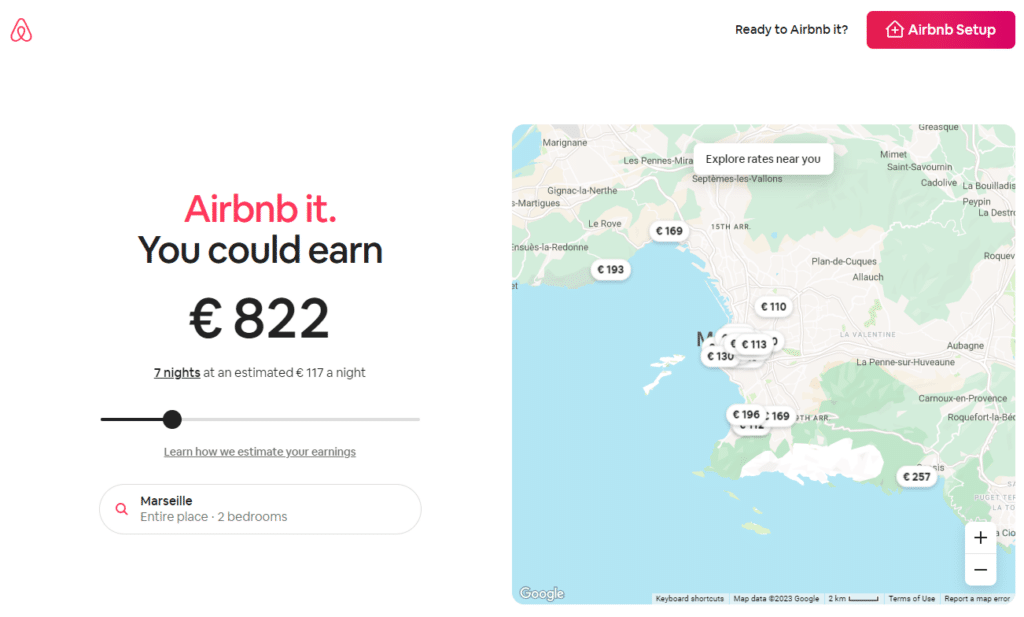 As of 2023, it's hard to find someone who has never heard of or used Airbnb. 🏠 In fact, it's now one of the main examples people use to talk about a startup "unicorn".
Airbnb's referral program is currently closed to new referrals, but here's how it worked until 2021: 👇
Referral Rewards: $18 per Qualifying Stay, $10 per Qualifying Experience.
Referee Rewards: Up to $46 in account credit.
Referral results: 💡 Their approach was successful for two main reasons. One is streamlining the sharing and shopping experience, the other is using A/B testing to prove that positioning rewards as gifts for friends produces better results than rewarding yourself.
They were responding to users' desire to help others. 🤗 In fact, using social or friendly rewards can improve the performance of your referral program.
4. Shopify Referral program
In case you didn't know, Shopify sells ecommerce software that gives individuals, small businesses, and large businesses the tools they need to sell online. 🤩
Before we get into the details of their referral program, keep in mind that Shopify has specific application requirements. 😬
To join the affiliate program, you must: 👇
Run your own active affiliate blog or website,
Gain an established (and relevant) audience,
Post content related to the Shopify Services, such as blogs, videos, and online courses,
Have experience with Shopify or other

ecommerce solutions

,
Read and accept the Shopify Affiliate Program Agreement.
If you meet all of the above requirements, you can proceed with your application. 👍
Shopify previously operated its own affiliate program, but as of June 2022 it is operated by the "Impact" affiliate network. It will pay partners a fixed bounty of $150 for each qualified referral. 💰
Referral results: 💡Shopify is one of the largest e-commerce software and relatively easy to use. It offers easy-to-use affiliate marketing software that makes it easy to track sales, build links, and gain marketing insights.
📊 Potential sellers can sign up for the 14-day free trial, which helps affiliate marketers close deals.
5. Referral Program software that pays off = Waalaxy!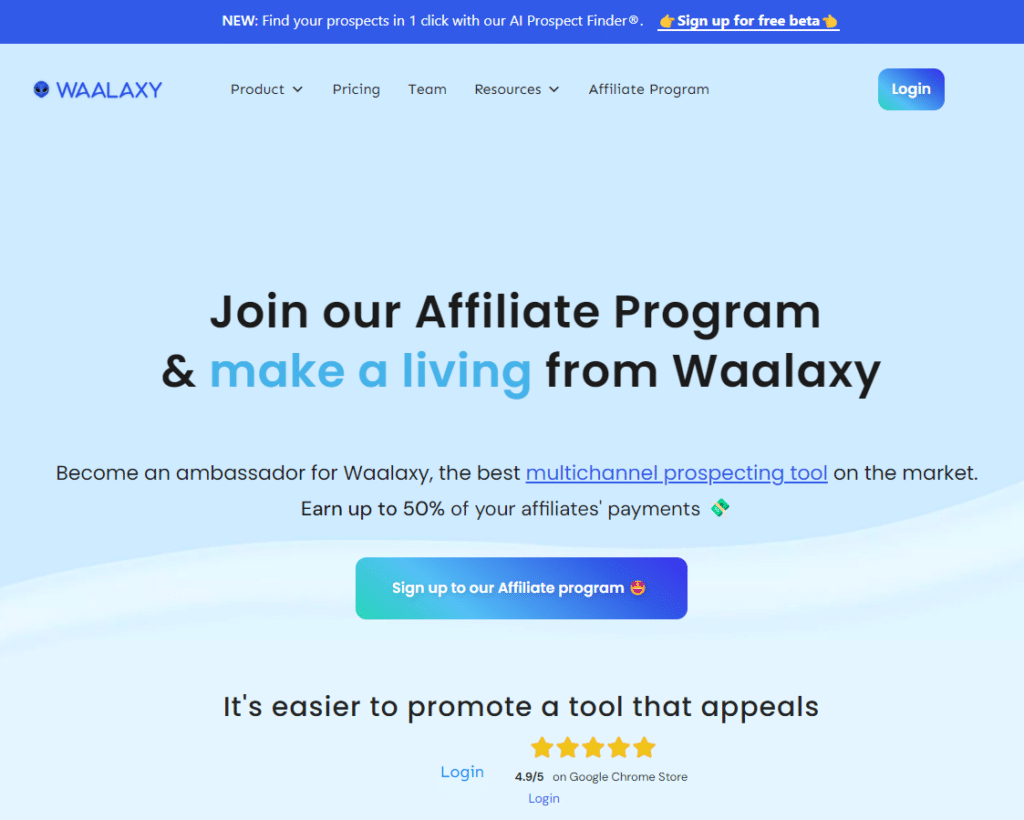 Did you know that with Waalaxy, you can earn up to 50% commission by selling our tool? 😜
There are three options, and depending on which one you choose, your affiliates will receive benefits: ⏬
1 month trial instead of 1 week. (+ 50% commission for you).
20% promo code valid for all

paid subscriptions

+ 2-week trial (+ 30% commission for you).
2 month trial (+ 30% commission for you).
Furthermore, there are two types of Waalaxy Ambassadors: 🧑‍🚀
Those who incorporate Waalaxy into their current business.
Those whose sole purpose is to

earn an income

.
In the first case, you are already involved in supporting a sales strategy for a client, agency, company, etc., and in this process they want to use Waalaxy as a lead tool and earn commission from the sales generated. 🤌
In the second case, you want to generate additional recurring income through Waalaxy through your existing channels (YouTube channel, TikTok account, newsletter, blog, etc.) or other channels (Facebook ads, leads, etc.). 👁️‍🗨️
Both cases are welcome at Waalaxy and are not mutually exclusive. 💥
Discover our Ambassador Program 🔥
Do I need a sponsorship code?
No! 🙌  At Waalaxy, we use affiliate links instead. They are an essential tool for your strategy, without these, you run the risk of not getting paid. 😓
Here's what you need to do when you visit our affiliate platform: ⏬
Click on "Manage Links".
And "Generate", there's your link. 🥳
By now, you know several successful referral programs examples, and how to start affiliate marketing without spending a lot of money! 🤫
Now, let's a more in-depth look at the different types of referral programs you can use. 👇
The different types of Referral Programs
Referral programs are run by B2C and B2B brands and can encourage customers or clients to endorse the brand within their sphere of influence. 🤗 Many principles of B2C referral programs and B2B referral programs are often the same, especially the time from referral to action. Also, referral rewards in B2b tend to be higher.
Referral programs are often targeted at customers or clients, but may also be limited to specific audiences, such as a customer or group of customers (such as a member of a loyalty program) or to an employee (as an employee benefit, so that an employee's friend or family member can receive special offers). 🤑
Also, the triggered action is often a sale or a subscription, but not always. Because any action that is valuable to a business and that can be tracked, can be done through your referral program.
For example, participating in loyalty programs, downloading apps, signing up for newsletters, etc. ✍️
In addition, typical referral programs that offer both rewards to referrers and incentives to referred friends (dual or double referral programs) or rewards to referrers only. 😐
You can also distinguish between referral programs that Incentives for referred friends (one-sided referral programs), sometimes programs that offer no rewards or incentives to either side.
Two-way referral programs are often the most effective for B2b Business. 👌 Because the referral reward is a reward for the effort of the referrer.
🧠 Several studies show that offers from close friends can encourage customers to refer their friends in return.
1. Referral marketing by Sponsoring
Referral marketing through sponsorships utilizes influential individuals or organizations to promote products, services, or brands. 🗣️
In this approach, a sponsor (often a well-known person or entity) supports the brand among its audience and encourages them to try out the product or service. 🛍️
These sponsors can receive unique referral codes and links to share with their followers, and offer discounts and special offers to attract new customers. 🤩
Additionally, sponsors often receive commissions and incentives for each successful referral, creating a win-win situation. ✅
This strategy leverages the trust and relationships sponsors have built with their followers, which helps generate buzz and reach a wider audience. ⚡
By choosing sponsors that align with brand values ​​and aesthetics, companies create authentic and impactful referral campaigns that resonate with potential customers, drive organic growth and increase brand credibility. 💥
2. Referral by Partnership
In partnership referral programs, companies enter into strategic alliances with other complementary, non-competitors to promote each other's products and services. 🤝
This method expands the scope of a company's marketing efforts by leveraging the affiliate's established customer base. 👌
Through these partnerships, both companies can offer exclusive deals, discounts or value-added services to each other's customers, creating a symbiotic relationship that fosters customer interaction and business growth. 🚀
Customers benefit from the seamless integration of complementary services and unique promotions, resulting in a strong reputation and increased customer satisfaction. 💘
By fostering collaboration based on trust and common goals, ⚽ referral programs through partnerships are a successful and cost-effective way to acquire new customers while strengthening the market position of both participating companies.
This strategy not only expands your customer network, but also strengthens your brand reputation through cooperation with other well-known companies. 💯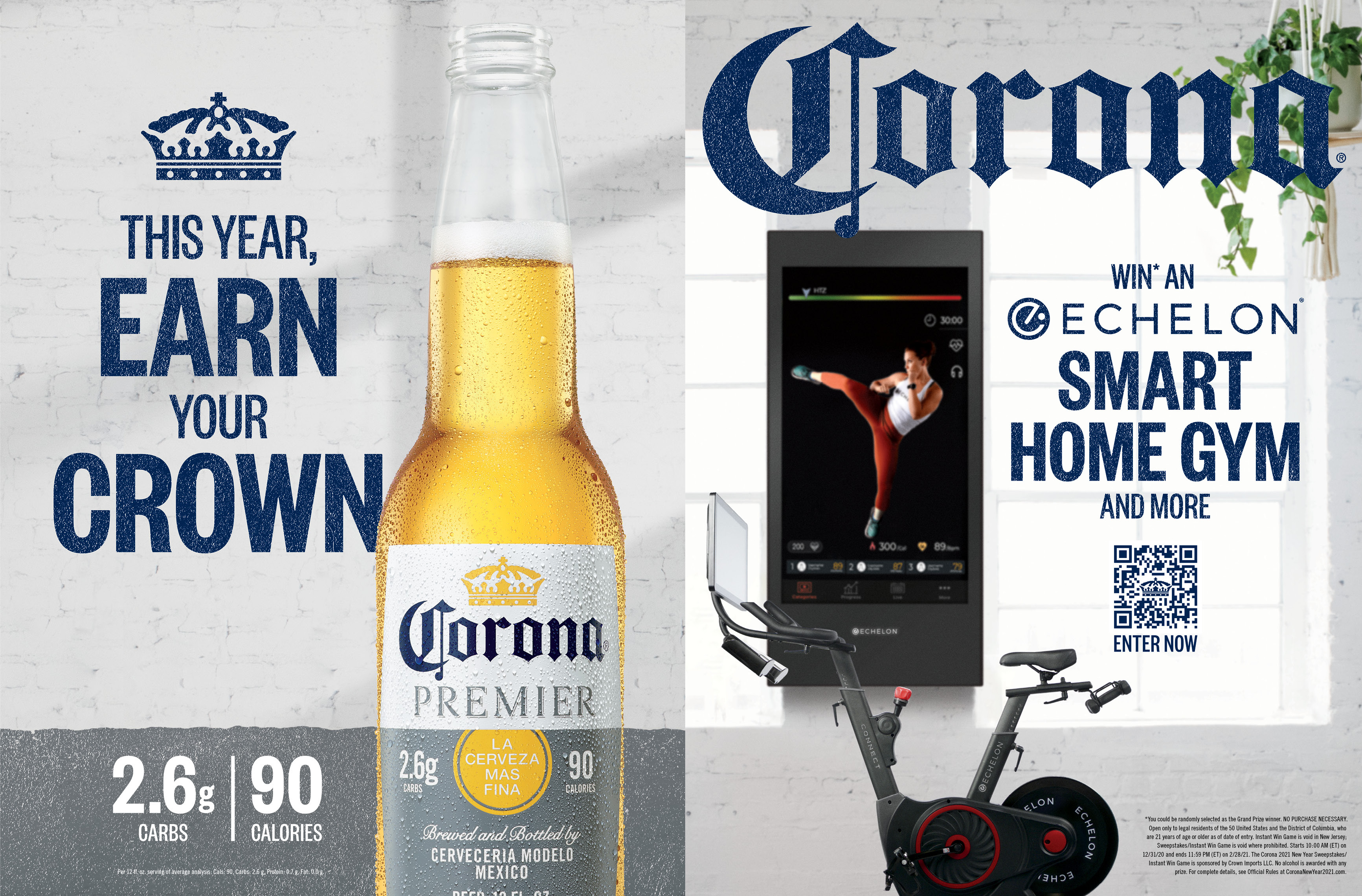 3. Referral by Ambassador Program
The Ambassador Referral Program leverages the endorsement of passionate customers, influencers or industry professionals who actively promote your brand in their circles and communities. 🦻
These ambassadors are often chosen for their alignment with brand values ​​and their ability to reach large audiences, providing tools to share positive experiences and encourage others to engage with the brand. 🥰
These tools can include referral codes, affiliate links, or promotional materials that facilitate the referral process. 👏
In return, Brand Ambassadors receive rewards in the form of discounts, free products, or financial incentives. 🤑 The program embodies your brand and fosters genuine relationships with prospects through trusted and influential figures.
The collaborative nature of this strategy creates a community of loyal brand advocates, increases brand image awareness, and potentially increases customer trust and affinity, ultimately leading to sustained growth and an attractive customer base. ✨
Conclusion: Which Referral Program online to choose?
I wouldn't be doing my job right if I didn't say Waalaxy is the best online referral program out there! 🌟
After that, the question becomes more complicated. It depends on the type of audience you have and the type of referral you prefer… 🤔
But if you're starting from scratch and have a bit of a passion for B2B, Waalaxy is a good way to start your affiliation journey. 👽
Discover our Ambassador Program 🔥
FAQ : Referral program Ideas
How to do a client Referral Program?
A successful referral program starts with identifying your target audience and setting clear goals for your program. 🧨 Then design a simple, easy-to-use process that allows existing clients to easily recommend your services to others:
Offer attractive and mutually beneficial rewards such as discounts, cash backs and exclusive benefits to encourage participation. 😏 Give your customers the tools they need, like easy-to-share referral codes and links.
Be sure to maintain

open communication

with your referrers by letting them know the referral status and thanking them for their engagement. 📨 At the same time, warmly greet the referred customer and create a positive first experience.
Carefully monitor your program, collect data to analyze performance, and make adjustments where necessary to

improve effectiveness

. ✔️
Promotion of the program in your communications and your website can encourage more participation.
Focus on creating a seamless and rewarding customer experience, Customer referral programs can be powerful tools for business growth. 🦾
What is the difference between Affiliate and referral program?
Both affiliate and referral programs are powerful marketing strategies, but they are based on different principles. 🧐
Affiliate programs typically involve working with individuals or organizations (affiliates) who offer a company's products and services to a broad audience through content such as blogs, videos, and social media posts. 🧾
Affiliates receive a commission for each sale made through their unique affiliate link and are primarily focused on incentivizing sales and reaching potential customers across multiple acquisition channels. 📣
Referral programs, on the other hand, 👋 are typically more personal and leverage the trust and relationships that existing customers have within their network.
🔗 Customers recommend the company to their friends, family, and colleagues, often offering bonuses and discounts to both the referrer and the referrer.
The program leverages word of mouth to cultivate a community of brand advocates who share positive experiences with those they know, building a loyal customer base, that is based on trust and personal connections. 😉
How to make money with a Referral Program?
To monetize your referral program, start by offering a well-designed product or service that inspires customers to naturally engage with your brand. 🌬️
Set up a referral program that allows existing customers to easily refer other customers and receive rewards and incentives for successful referrals: 👇
Incentives can be in the form of cash, rebates, or credit to encourage ongoing referral cycles. 💲
Use

promotional strategies

to keep your referral program on the customer's mind, such as through email, social media, and websites. 🌐
Make sure the referral process is easy with clear instructions and tools like

easy-to-share

referral codes and links. 🤙
Constantly monitor and fine-tune your program to adjust rewards and strategies based on

customer feedback

and preferences. 🙌
By creating seamless, rewarding, and mutually beneficial referral programs, businesses can attract new customers at low cost, increase revenue streams, foster community engagement, and generate organic returns based on customer satisfaction and trust. 😇
That's it, now you know all about the Referral Program. See you soon! 🖖