Selling a product or service is one thing, but what about the after-sales service, does your product or service meet your customers' expectations? To find out, there is the customer satisfaction survey. ✅ In this article, we explain you step by step 🐾 how to make a questionnaire, but also :
Why make one?
6 100% free and editable questionnaire templates.
5 tips to have a successful satisfaction survey.
And finally, how to analyze the results?
Are you ready? We are. Then let's get started! 🚀
Why conduct a customer satisfaction survey?
One of the first questions that may come to mind 🧠 is: why conduct a customer satisfaction survey?
Well, as we all know, customers are essential to the smooth running of your business. Making a sale is good, but collecting and knowing your customers' opinions about your product or service helps improve and increase the growth of your business.
This one brings a positive impact on your brand image of your business because, it helps to build trust with the customer, create a bond and proves that you pay attention to your customer. It is a delicate attention that allows customers to better engage with your brand. 💟 In short, here are some benefits:
🔵Optimize customer loyalty.
🟣Measure the quality of the offer or product.
🔵Anticipate the expansion and evolution of your market.
🟣Develop customer relations.
🔵Anticipate upstream of the actions to be implemented.
🟣Monitor the evolution of satisfaction indicators.
🔵Improve the e-reputation of your brand.
Don't panic, we will detail 3 benefits that we think are particularly relevant. ⬇️
Develop the customer relationship
As said before, it is essential to know the expectations of your audience in order tobuild customer loyalty. Thanks to the questionnaire, you will be able to collect precious information that will allow you to improve the satisfaction rate and especially, the quality of your offer. 🏅
If you listen and take care of your customers, they will have more confidence in you, talk about your brand to their friends and family, all with the aim of creating a strong and unique bond. 🔗
Measure the quality of the offer or product
Another advantage of the satisfaction survey, it allows you to measure the quality of the offer or product proposed because, thanks to relevant questions and realize beforehand by you thanks to concrete objectives, it can detect the elements that bring your customer satisfaction but also the elements that generate misunderstanding, frustration or dissatisfaction.
Let's take the example of a Japanese restaurant 🥢which has just opened its doors, the questions you should ask yourself are :
Are you happy with the menu selection?
Did you find our products fresh?
Are the prices in line with the quality of our products?
Is the service in the dining room up to your expectations?
Thanks to these questions, you will be able to adapt your products and services and thus, reinforce the links with your current customers or with your future prospects. 🫱🏼‍🫲🏽
Follow the evolution of satisfaction indicators
Satisfaction indicators are sometimes forgotten, but they are essential. You have already heard the following acronyms: CSAT, NPS or CES? 🤔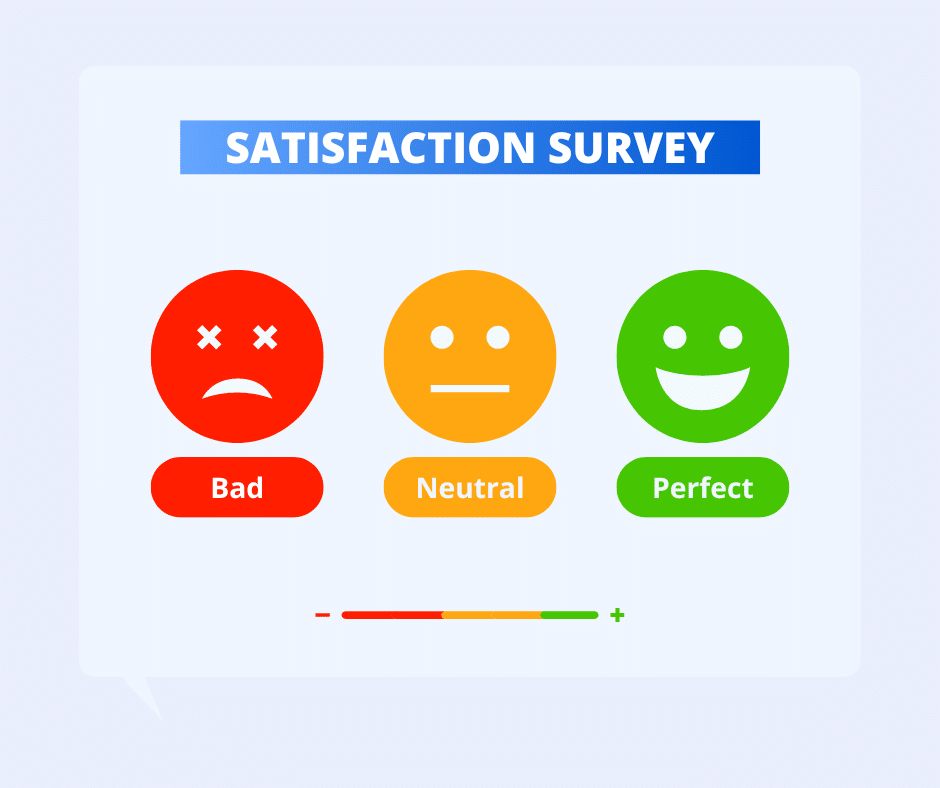 So, a little lesson for today, here are the definitions of these acronyms:
CSAT (Customer Satisfaction Score) ➡️ it measures the level of satisfaction of a company's customers.
NPS (Net Promoter Score) ➡️ it allows to evaluate customer satisfaction and loyalty.
CES (Cstomer Effort Score) ➡️ it measures the ease for a customer to contact a company.
All these satisfaction indicators are key elements 🗝️ to improve the customer relationship and especially your company. Okay, now that you know why we recommend using this marketing tool for the good of your business, let's move on to one of the most interesting parts, the free questionnaire templates. 🎁
6 free customer satisfaction survey templates
No, you're not dreaming, we offer you 100% free and editable questionnaire templates, without the need to fill out a form. Here are the different themes:
🏬 Store.
🎈 Animation.
🏨 Hotel.
💅🏼 Aesthetics.
🎉 Event.
Alright, no more blah blah, now we're getting to the heart of the matter. 🔥
Store customer satisfaction survey
Let's say you own a food store, clothing store, cosmetics store or even a tool store, it is essential that you know what your customers think about the layout of the products, the reception, but also the cleanliness of it. To do this, you can ask types of questions. 👇🏼
1. How did you find out about our store?
Internet.
Word of mouth.
By chance.
On social networks.
2. Were our employees available to meet your expectations?
Completely.
Moderately.
Not at all.
3. How would you rate the hospitality offered in our store?
Excellent.
Fair.
Poor.
Very bad.
4. Do you have a comment or suggestion for us?
[Free response from the customer].
To download our customer questionnaire template related to a store, click on the button below! ⬇️
Go to store questionnaire
Questionnaire of satisfaction animation
You are a company that offers its service for animations such as birthdays, weddings and parties of all kinds. 🥳You want to realize this survey in order to improve your next services. Here, we took the example of a birthday party. 🎈
To download our customer questionnaire template related to animations, click on the button below! ⬇️
Access the animation questionnaire
Hotel satisfaction questionnaire
You are a hotel owner and you are concerned about the smooth running of your customers' stay? The customer satisfaction questionnaire is a perfect marketing tool to improve your services! Here are some examples of questions you can ask your customers.
To download our hotel questionnaire template, click on the button below! ⬇️
Go to hotel questionnaire
Questionnaire of aesthetic satisfaction
For this example, we decided to make this questionnaire for improvements in a beauty salon.
To download our sample questionnaire for a beauty salon, click on the button below! ⬇️
Go to the aesthetic questionnaire
Event customer satisfaction survey
For this one, we made a questionnaire related to events, such as festivals or weddings. Discover the types of questions to ask. 👇🏼
To download our event questionnaire template, click on the button below! ⬇️
Access the event questionnaire
Satisfaction questionnaire example word
To finish, we propose you a template a little bit different from the previous ones because, this one is not on Google Forms but on Word. Yes, here we are also in the old way with tables and text! If you want to get our satisfaction questionnaire in Word or PDF format, it happens below! ⬇️
Access the questionnaire on Word
Access the questionnaire in PDF format
How to create a satisfaction survey?
Now that you've seen some sample questions and templates, you may want to create your own satisfaction survey. Good thing we're here to help! 💁🏼 However, if you are too lazy to make your own questionnaire, you can duplicate one of our templates below thanks to this tutorial! 👈🏼
Let's go, let's blow it up 💥 the 5 steps!
1) Define objectives that fit your need
Just like a marketing strategy, your questionnaire must meet clear, precise objectives that you have defined beforehand. It all depends on what you want to know about your customers. It can be related to the service, the speed, the hygiene, the price, or even all at the same time!
In summary, with the right goals, you'll be able to:
🔎 Get ideas for improvements from users.
💡 Understand and put yourself in the customer's shoes.
💟 Know the customers and how they feel.
📏 Measure the quality level of the product or service.
2) Choose a clear survey customer satisfaction introduction
We all agree that the longer a text is, the less we want to read it? Good. It's the same thing for a questionnaire introduction. It must be short (no more than 150 words) and precise, the customer must quickly understand the theme that will be addressed.

As in this example, it is quite easy to understand that it is a questionnaire related to a future clothing brand creation.
Bottom line:
Clearly explain to customers why you are conducting this survey. It is important that they know what you are trying to understand and how their answers will be used.
Reassure users that the survey will be confidential and anonymous. They should feel comfortable and confident in completing the survey.
Show your appreciation for their input and time by expressing your thanks at the beginning and end of the survey.
3) Ask the right questions
As you will surely have understood, the questions you ask in a satisfaction survey depend on several factors such as the type of service or product, the objectives as well as the information you wish to collect from your customers or prospects.
Just for your own eyes 👀, here are some common types of questions asked in customer satisfaction survey questions :
1. Overall evaluation questions ➡️ they allow you to evaluate the overall satisfaction of your customers towards your company, your product or even, your service.
Overall, how would you rate your experience?

[Free response from the customer].
On a scale of 1 to 10, how satisfied are you with our product/service?

[Set up a score from 1 to 10].
4) Find your ideal format
You will only find your ideal format once you have completed the previous 3 steps. Now that you have your objectives, your introduction and your questions, it's time to format it! Here, you have a lot of choices: Google Forms, Word, PDF, Google Sheets, Canva, Pop-up via a crm…
In short, this choice is personal because it depends on your means and your comfort with these tools. 🦋
5) Test your questionnaire
We can't repeat it enough but, the last step of a questionnaire realization and not the least, the test! Yes, you have to be your customer zero, you have to check that everything works, that there are no spelling mistakes, or that the questions are in the right order.
4 tips for a successful online customer satisfaction survey
Yes, creating a satisfaction survey takes time, but trust me, it's worth it! Good. Now that you've finished your questionnaire, here are a few tips to perfect your questionnaire. ⬇️
#1. Avoid questionnaires that are too long
You have to put yourself in your customers' shoes, we don't all have 10 minutes to spend on a questionnaire. That's why you need to keep your questionnaires short (20 questions maximum) but relevant.
📢 If you have read our article, you know that the Objectives and Questions steps are essential! 📢
#2. Inform your customers
This may seem trivial to you but, informing your customers that you are conducting satisfaction surveys is important! You can for example:
Inform them orally if you have a store. 🗣️
Send a newsletter with the link. 📩
Make posters with QR codes. 📜
Share on your various social networks. 💟
#3. Use the scoring system
You've probably already noticed in our sample questions, we offer scoring systems.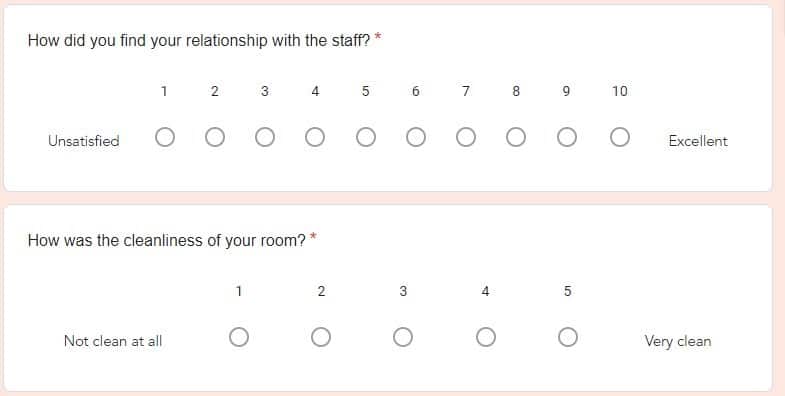 Indeed, this saves the respondent from thinking of a sentence or writing a comment, we simply offer to rate the answer. 🥰
#4. Leave a free comment area
Throughout the questionnaire, we are the ones asking the questions. At the end of it, it is important to leave a free comment area so that the customer can, for example, give feedback on the questionnaire or, bring some remarks or suggestions about your company. ✨

How to analyze your results?
The purpose of conducting a satisfaction survey is to measure customer satisfaction, so far, so good. Once you've gotten the responses from your new and existing customers, it's time to analyze the results! 🔎
Here are some basic tips:
Collect the data ➡️ gather all the survey responses.
Profile the respondents ➡️ determine the characteristics of the responding population (age, gender, job, location etc).
Clean up the data ➡️ check that the responses are complete and correct. If, unfortunately, some data is missing or incorrect, you have the option of deleting that response or contacting the respondent again to clarify the response.
Interpret the results ➡️ according to your objectives, draw conclusions using graphs or tables.
Let's take a closer look at some ways to analyze the results. ✨
Use relevant performance indicators
As said before, it is essential that you use relevant KPI's in your survey such as CSAT, NPS or even CES, as they will allow you to discern trends in order to improve your product or offer. 📈
Filter the results
Depending on the response rate obtained, you must in any case, filter and interpret the results thanks to tools such as graphs or tables. To illustrate my point, here is an example made via a google Forms questionnaire. 👇🏼 Once the questionnaire is finished, you will go to the "Responses" and "Summary" sections.

You will then click on "View in Sheets".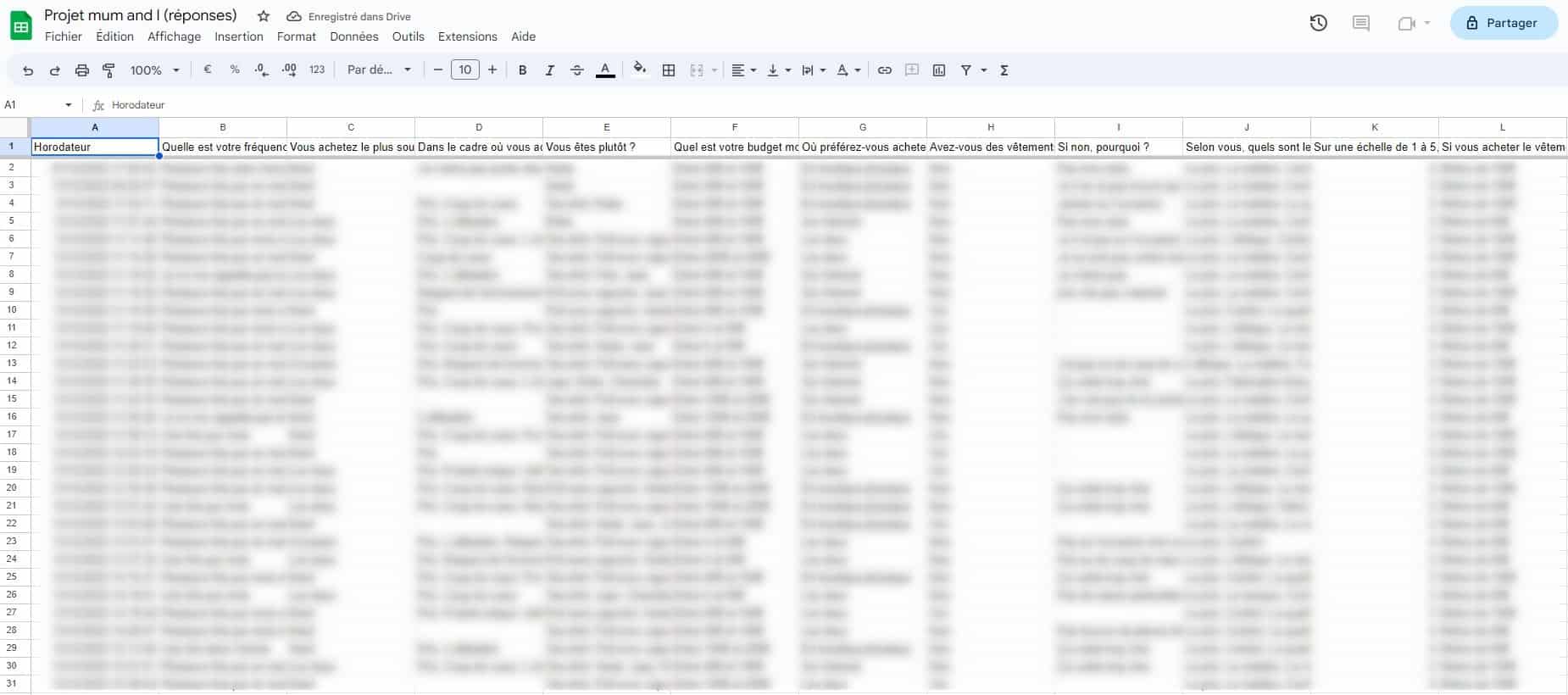 And there, magic, a Sheets table appears with all your answers sorted by question, amazing right? 🤩
Deploy some actions
Obviously, this is to be expected. Unless you only have 10/10 and positive responses, you now need to take the necessary actions and precautions to improve according to your respondents' recommendations, your product or service.
To best help you organize the deployment of your actions, we advise you to use a retroplanning.
How about a recap of the article: satisfaction survey example?
To conclude, the satisfaction questionnaire is an essential marketing tool for companies that wish to improve the quality of their products or services. Indeed, it allows to collect the opinion of customers on their experience and thus, measure the degree of satisfaction. 📏
The quality of the questionnaire is essential if you want to obtain relevant and, above all, usable results. This one must be clear, precise and adapted to your objectives that you will have defined beforehand. ✨
Think that the method of collecting responses must be carefully chosen to maximize the response rate and minimize errors. Finally, know that the satisfaction questionnaire is not an end in itself, but see it as a starting point for a future improvement process. 💖
Frequently asked questions
What are the types of customer satisfaction surveys?
There are 3 types of customer satisfaction surveys, here they are:
NPS (Net Promoter Score) ➡️elle offers a relevant analysis of the customers regarding the products and services of a company, especially regarding quality and recommendations.
CSAT (Customer SATisfaction) ➡️ measures the general satisfaction of customers, in terms of products, services, welcome, cleanliness, etc.
CES (Customer Effort Score) ➡️elle measures the satisfaction of the customer's steps during the purchase process such as customer service, purchase, complaint, return of an article etc.
How to make a nice questionnaire?
There are no secrets. Making a good questionnaire takes time and dedication. Nevertheless, here are a few tips that we advise you to follow if you want to create a good-looking questionnaire: 👇🏼
Make your content as clear as possible.
Prefer words to numbers.
Use "Yes / No" questions wisely.
Use harmonious images and background colors.
Bold some important words.
Change your typography.
And that's it, we're done with the customer satisfaction survey. See you soon! 👋🏼