During your studies or before launching your business, you will surely be led to conduct a market research questionnaire. Why would you tell me? 🤔 Be patient, we tell you everything and, more specifically:
Why make a questionnaire?
8 free and editable sample questionnaires.
How to make it?
4 tips for success.
How to distribute it?
Yes, you read correctly, all our templates are free and you can use them as you wish, thanks to our tutorial! Let's get started! 🚀
Why conduct a market research questionnaire?
This question may seem trivial, yet still many people forget to conduct a questionnaire. Yet, when you start a business, making a survey questions is essential to understand and know who are your competitors, what is your target, and especially, who will be your future consumers. ✨
1) Identify your consumers
In reality, without your future customers, your business will not be able to function because, it is thanks to them that your business can endure. That's why it is essential to know your target well with simple questions like:
What is your age?
What is your gender?
Where do you live?
What are your consumption habits?
Once you've identified your consumers, you can then establish a typical target, which is also called a buyer persona, your ideal customer. 🦋
2) Estimate the size of your market
In addition to consumer habits, it is important to know the size of your market, thanks to a sample. But beware, it is important to define your sample size (the number of people to be interviewing) because, if your questionnaire got 10 responses, it would not be viable.
Also, if the sample exceeds the expected number of responses, it may incur additional costs and time. ⏲️
8 market research questionnaire templates
As a promise, you will find below 8 sample Google Forms questionnaires that have been written for various industries, such as:💟
🍴 The restaurant industry.
🏘️ Real estate.
💻 Business creation.
❤️ Health.
🧘🏼 Wellness.
🧴 Cosmetics.
If you want to use them for your business, just follow our tutorial further down in the article! ⬇️
1. Market research questionnaire for business creation
Before starting your business, you need to collect some information about your future customers. To make it simple, we chose to create a clothing brand. ✨
To download our sample questionnaire related to business creation, click on the button below!
⬇️ Access the business creation questionnaire
2. Questionnaire market research for a tea room
Before opening a tea room and in order to improve and validate a marketing strategy we carry out a questionnaire to know the consumption habits of your future customers. 🍵
To download our tea room questionnaire template, click on the button below! ⬇️
Access the tea room questionnaire
3. Naturopathy market research questionnaire
For this example, we chose to conducting a questionnaire for a naturopathic appointment. 👀
To download our naturopathy questionnaire template, click on the button below! ⬇️
Access the naturopathy questionnaire
4. Sophrology market research questionnaire
As with naturopathy, an appointment with a sophrologist requires access to certain important information in order to properly prepare for the appointment. 😇
To download our sophrology questionnaire template, click on the button below! ⬇️
Access the sophrology questionnaire
5. Example of a market research questionnaire for real estate
Here, we are going to speak about the real estate. In order to know the expectations of your future client, you can quite send this questionnaire in order to know his attentions and his project. 🏡
To download our real estate questionnaire template, click on the button below! ⬇️
Access the real estate questionnaire
6. Market research questionnaire for an e-commerce website
You are a freelance or a company that deals with the creation of websites and you want to send a questionnaire to your future client in order to know his project and his means.
To download our questionnaire template for an e-commerce site, click on the button below! ⬇️
Access the questionnaire for an e-commerce website
7. Example of a market research questionnaire for a restaurant
Before the opening of a restaurant, we realize a questionnaire in order to know a little more about the potential customers in the surroundings and their consumption habits. 🍴
To download our sample questionnaire for opening a restaurant, click on the button below! ⬇️
Access the questionnaire for opening a restaurant
8. Market research questionnaire for cosmetics
Finally, for the last model of questionnaire, you can for example, be a few months away from the launch of your future cosmetic product. 🧴 But first, you need to know where your future consumers buy their products, their budgets etc.
To download our cosmetic questionnaire template, click on the button below! ⬇️
Access the cosmetic questionnaire
How to make your questionnaire in 4 steps?
Now that we have proposed 8 examples of questionnaire totally free, modifiable, all, without duration in time, you must surely wonder how to use it for your business? 🧐 Well, that's what we're going to see right now. Let's get started with the tuto! 🔥
Now, click on the quiz of your choice. Here, it will be the cosmetics one. You will arrive on this page.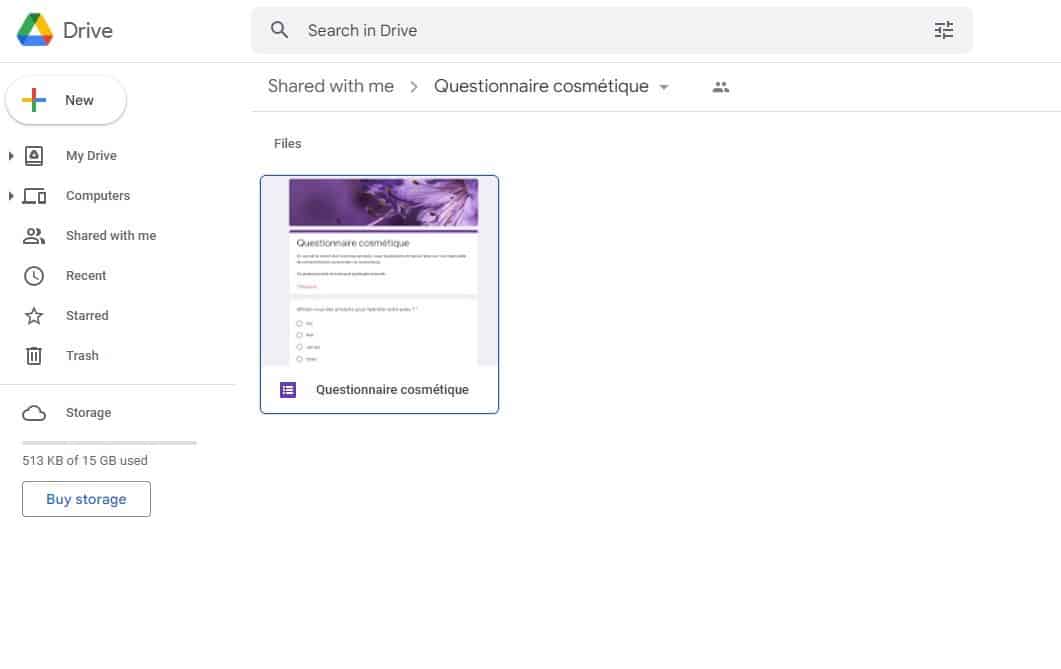 Then, right click and click on "Create a copy".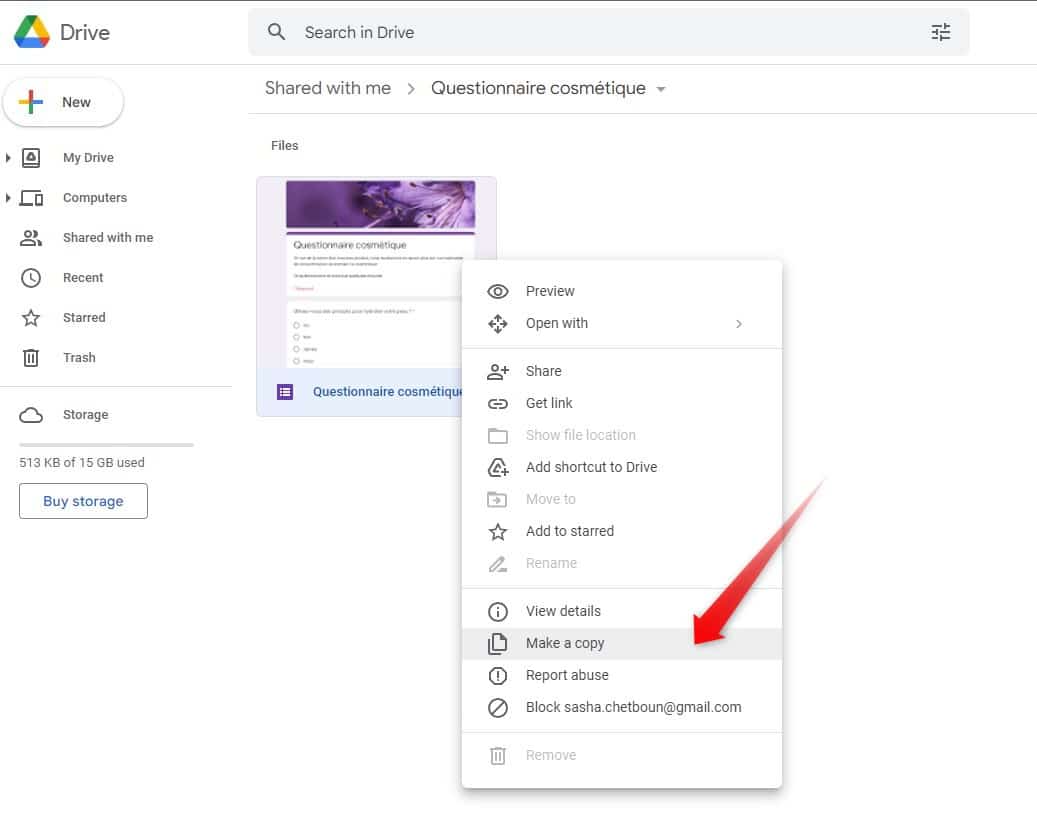 A small message will appear at the bottom left of your screen to confirm your action and to warn you that this file has been duplicated to a location. Click on it.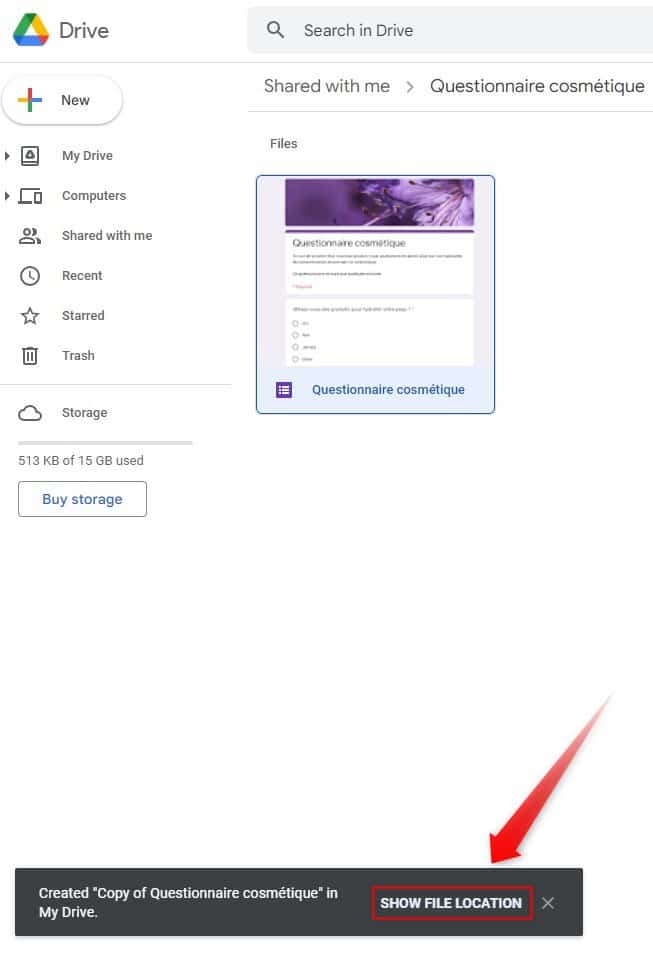 You finally see your file, and I recommend that you move it to a folder that you have created beforehand. To do this, right click and then "Move to".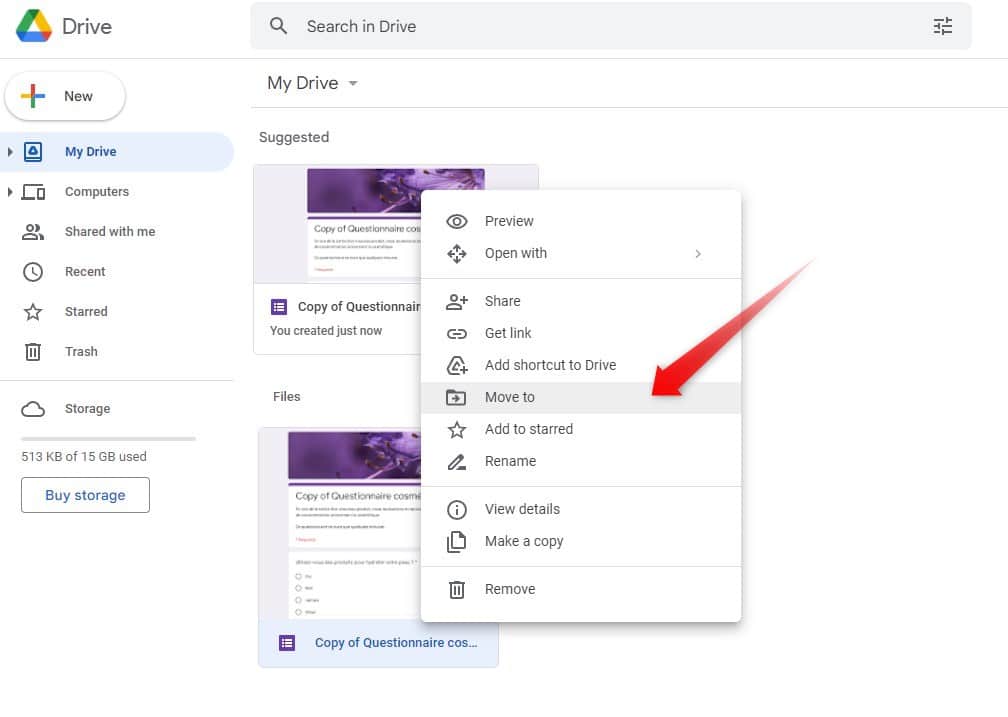 When you have moved your file, you can access it and hop, magic 🪄, the file is officially yours, which means that you are the only one who can modify it, send it and subsequently, analyze its results.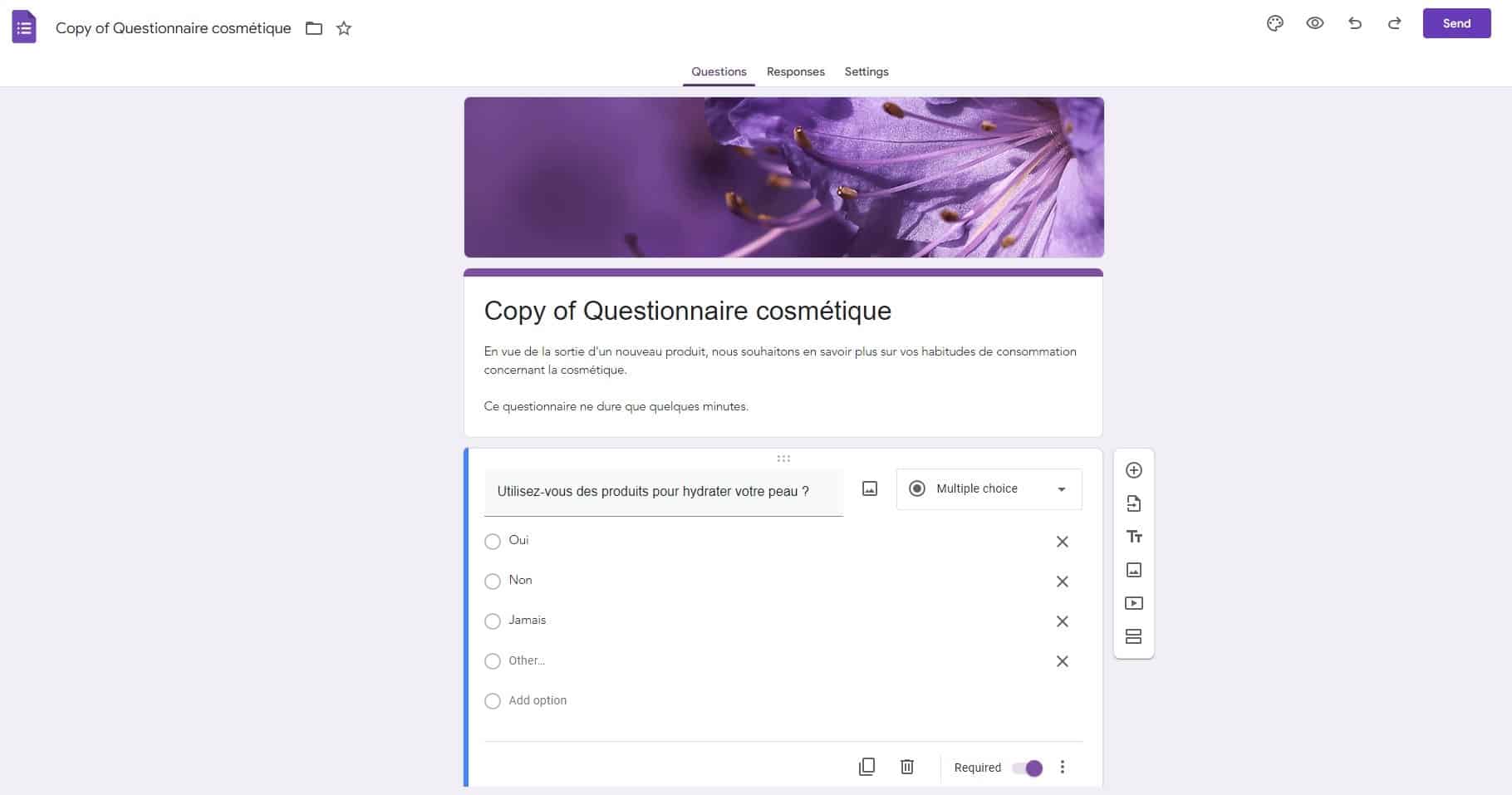 This process is exactly the same for all the templates we've offered you! 🥰
4 tips for a successful questionnaire
As you will surely have understood, a questionnaire is a tool that you can use to improve your market research surveys but, this one must follow some very specific steps. This is what we will see right away. 😇
#1. Define the objectives
Just like a prospecting campaign, defining the objectives is one of the most important first steps because, thanks to these objectives, you will succeed in formulating questions that can be found in your questionnaire. 📖
For example, you can list objectives related to their consumption or purchasing habits such as:
🟦 The demographic area of purchase.
🟦 The frequency of purchase.
🟦 The maximum budget.
🟦 The type of product studied.
Don't forget the psychological aspect, such as:
🟪 What price to acquire a new product.
🟪 The non-consumption of a product.
🟪 Preference for one store over another.
Once you have listed all of these goals, you can then formulate them into questions, which you will then incorporate into your questionnaire. 🥰
#2. Quantitative or qualitative surveys : which one to choose?
In reality, you have to choose both, let me explain. Doing a market research survey actually has two types, qualitative and quantitative. Don't panic, here is the difference:
Survey quantitative➡️ as its name indicates, we seek to have quantity, that is to say a maximum of raw and concrete data-collection collected, which will serve you to deepen your qualitative study.
Qualitative survey ➡️ here, we are looking for quality, i.e. the opinions, views, habits, attitudes and reasoning of consumers that will be used to finalize and carry out a market study. Beware, the results are more difficult to analyze.
Therefore, to conduct a thorough survey questionnaire, we advise you to use these two studies. And then, after all, why choose when you can have both? 🥰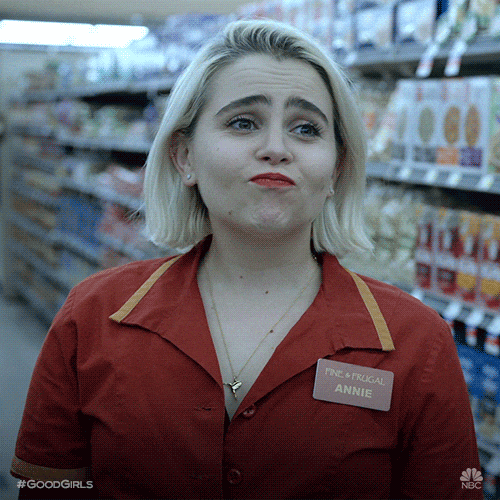 #3. Choose a questionnaire introduction
The introduction is kind of like the back cover of a book 📘 the first thing a reader reads, so this one better be appealing and relevant. To do this, there are some basic rules that we encourage you to follow: ⬇️
Introduce yourself and your project.
Briefly describe the objectives of the satisfaction survey.
Indicate the amount of time respondents will have to spend on the form.
Don't forget to thank them.
Avoid spelling mistakes, as this will discredit you from the start.
Be clear and concise, no need to write 20 lines.
#4. Test your questionnaire
Last but not least, test your questionnaire! Just like A/B testing, it is important that you are the first to respond to your article because, you will surely notice errors to be modified, such as turns of phrase, spelling mistakes, omitted words etc. 👀
Once you have tested it, you can also pass it on to your friends and family who can point out any blocking points that you may not have noticed.
How to distribute a market research questionnaire?
Yes, we are already at the last stage of the realization of a questionnaire, namely the distribution. It's all very well to make a questionnaire that fizzes 💥but if you don't distribute it to the right places, you won't get any responses… That's why we're offering you 4 channels of distribution! 🥰
1) Broadcasting on social networks
It is not a discovery for anyone, social networks today have become one of the fastest and most effective means of communication. At the top, we find Facebook, Instagram, LinkedIn, Twitter and Snapchat. Thanks to certain features such as polls on Instagram or focus groups on Facebook, you will be able to reach a more precise audience, thanks to multiple targeting possibilities such as location, interest, age, gender, socio-professional category etc.
Always think, more people reached, more responses! 🥰
2) Broadcasting via emailing
Another means of dissemination, emailing. This channel allows you to reach a very large audience for a moderate price. To do this, there are many web tools that allow their distribution and monitoring. Among them, there is our little gem, Waalaxy which will allow you to send campaigns via Email and LinkedIn! 👽
If you want to know more, it's here! 👇🏼
Try Waalaxy 🚀
3) Field Survey
Also known as a street or face-to-face survey, this type of survey allows you to get in direct contact with consumers. But, it has some constraints like:
The risk of direct refusal,
Wrong target,
Waste of time,
Confusing survey data.
4) Directly on your website
If you are in the process of improving your product or releasing a new product, you can propose your questionnaire on your website, which will appeal to your existing targets, your prospects and your partners.
There are several ways to reward a prospect or customer for answering your questionnaire such as: ⬇️
A promotional code.
Downloading a white paper.
A product sample.
A discount on a certain product.
Now you have the choice to use one or more of the channels we've presented! 💟
How about a quick recap?
Well, you'll have understood, the questionnaire is an essential step for your online market research survey. Thanks to the results of this one, you will be able to know and define who will be your customers and especially the consumption habits. All these steps will allow you to have a solid and reliable survey results. 🦾
Don't forget, you have access to 8 questionnaire templates that are totally free and customizable to your liking, enjoy! 🥰
Frequently Asked Questions
Not so fast, we still have 3 open-ended questions to answer that come up often. 👀
What are the questions to ask for a satisfaction survey market research?
Depending on your field and industry, the questions may vary. Nevertheless, there are similarities in every market analysis and some questions are more or less the same, such as: ⬇️
What are the main trends?
What is your budget?
How did you discover our product/service?
How often do you use or buy our product/service?
What is your age? Your first and last name? What is your email address?
What are the different types of questionnaires?
You can make several questionnaires, depending on your objective. For example, you can make a questionnaire:
Before your restaurant opens. 🍴
In order to improve the quality of a product. ✅
To know the customer satisfaction following a service. 💭
Before a medical appointment. 🗓️
What is the role of the questionnaire during market research surveys ?
Its role is above all to know the consumption habits of your future customers, to know their opinions and views on the subject, in order to improve your product or service. The more answers you have, the more you will be able to improve your service and thus, reach more people. 🎯
And that's it, you now know everything you need to know about the market research questionnaire. See you soon! 🥰