As a freelance digital marketer, there are certain tools that you absolutely need to know in order to succeed in developing your business in a sustainable manner. Whether it's to manage your business, find clients or manage your cash flow, the tools we're going to present will make your life of freelance in digital marketing easier.
And as if that wasn't enough, we'll even give you some tips on how to run your freelance digital marketing life like an expert. Get out the notebook and pay attention, here we go! 😊
Freelance in digital marketing, what does it involve?
To start this article properly, we need to start by laying the foundation. A marketing freelancer is a freelancer who develops a business activity related to the marketing sectors.
In this day and age, these subjects are essentially digital. They include communication, google search engine optimization, social media advertising or even data analysis. 🔍
But in addition to carrying out missions for his clients, the freelancer must also manage his business in general. Creating quotes and invoices, managing his clients in a CRM or even prospecting, you have to know how to juggle all the things you have to manage. 🤹
Managing your life when you're a freelancer is getting close to a full-fledged job. But fortunately, with the surge of entrepreneurs who have created a their business in recent years, more and more tools have emerged to help freelancers manage their business on a daily basis. ☀️
We spent hours looking for the best tools to help you with your business. We kept the ones that offered the best ratio between number of features and price accessibility, while favoring free tools when possible. With these, running your freelance digital marketing business will be a breeze. 😎
The must-have tools of a digital marketing freelancer
A freelancer without tools to help him or her run the business is like a cook without utensils to cook with. It's still possible, but it's clearly much more complicated.
There are many tools that offer a freemium version or a subscription that costs only a few euros per month. When you compare their prices to the time they save, there's really not much to think about. 🤷
This list we've put together for you is a compendium of the best tools on the market. All you have to do is to quietly choose the ones that will be most useful for your business.
What is essential for a marketing freelancer:
A CMS to build your site.
A complete profile on freelance platforms.
A billing tool.
A project management tool.
A design tool.
A bank dedicated to the professional activity.
A productivity tool.
A CRM tool + multi-channel prospecting.
A professional freelance digital marketing website
The basis for developing your freelance business is already to have a website worthy of the name. It will serve as your portfolio, and will give you a certain stature with your clients.
There are several tools to develop a quality website. Depending on your level and the time you have to spend on it, some tools will be more interesting than others.
For example, if you don't have any knowledge of website creation and are looking for the simplest solution, we recommend you to turn to Wix.
This platform allows you to create your website from pre-built templates. You only have to set up a few parameters 😉
On the other hand you will be quite limited in terms of possibilities. If you want something more customizable and you have a small budget, you can try Webflow. There you will have much more freedom in terms of the possibilities and features available.
But if you want total freedom without having to pay a euro, I advise you to opt for WordPress. Coupled with Elementor, it offers a very wide range of possibilities. 😍
This CMS is used on 1 out of 2 sites in the world, which shows its popularity. However, you will need to spend some time to understand how it works.
But don't worry, there are hundreds of training videos available for free on Youtube to help you build your freelance digital marketing consultant site. Just search for what you want to learn, and chances are there is a video on the subject.
Wix, Webflow or WordPress, all three solutions have their respective advantages and disadvantages. It's up to you to see which one suits you best!
It's funny by the way, they all start with a W… coincidence? I don't think so… 👁️

A complete profile on freelance platforms
If you're looking for new sources of clients, freelance platforms are great ways to create one for yourself.
These platforms that connect freelancers and companies are good solutions to develop your business and find freelance marketing jobs.
But if you want them to bring you clients, your profile will have to be well optimized and inspire confidence.
For this, you will need positive reviews from former clients on the platform. Except that you don't have any yet!
So to reassure your future customers, the best way is to put a link to your personal website (which you could do thanks to one of the tools we saw in the previous part 😉 ).
The customer will then be able to see your previous achievements, and he will be more inclined to trust you for the realization of his project.
If you are interested in freelance platforms, we wrote an article that lists the best ones according to your sector of activity and help you find freelance digital marketing jobs.
To access it, just click on the button below! 😊
freelance digital marketing platform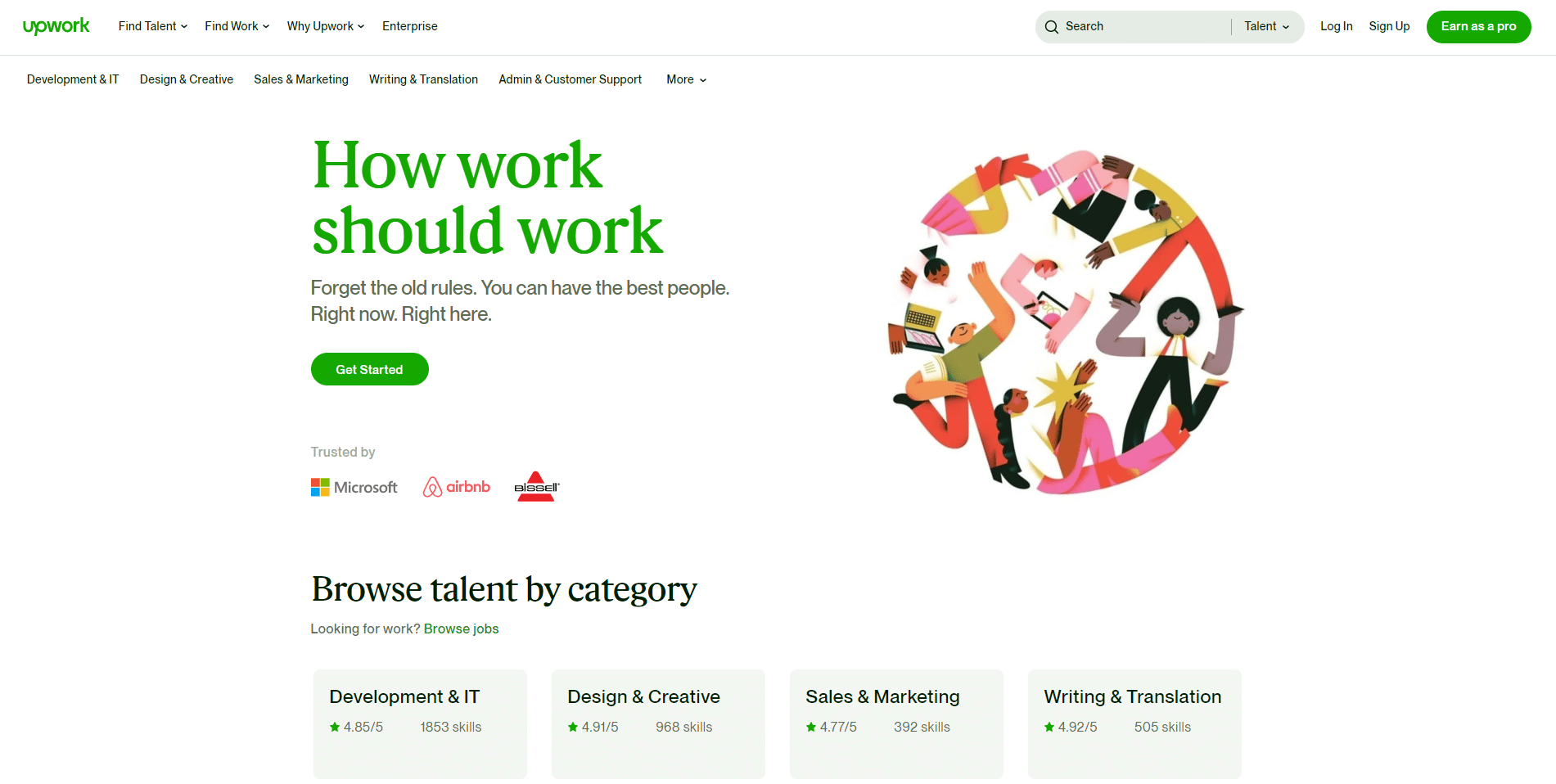 A marketing project management tool
Too many projects drag on due to poor organization at the start. Especially if you're working with others, it's absolutely essential to structure your project well.
Break it down into parts, set deadlines for each part and divide them up if there are several of you… This will allow you to respect the deadlines you have given, and to check at any time if your project is progressing as planned.
There are many tools that allow you to do this, like Monday, Zoho Project or a Gantt chart. We advise you to use Trello.
This project management tool offers an impressive number of features in its free version. It only becomes paying when you start using it in a very thorough way, at which point the subscription price is well worth it.
But for simply structuring your projects as a freelancer, the free version will be more than enough.
A billing tool for freelance digital marketing
Once you've found your clients, you'll need to offer them quotes and invoices. These legal documents are quite complicated to make if you do them yourself, especially since there are certain legal requirements that need to be met in order for them to be compliant. 🙌
So yes, you can try to make them yourself with Google Sheet or using a free template found on the internet… but really, there is little chance that your quotes will make you look professional. 🧑💻
If you want to offer your customers documents, sober and confidence-inspiring, while ensuring that they are valid in the eyes of the law, there is a solution. Billing tools can take care of that for you, without you having to put too much money into it. 💶
A very comprehensive tool that won't cost you too much is Abby. It allows you to create your quotes and invoices in an unlimited way, and also allows you (among other things) to manage your accounting.
In short, it's a very good tool that will simplify your life for sure. 🏝️
A design tool
Whether it's to create your logo, graphic charter or to create visuals for your website, sooner or later you will need a design tool.
There are of course the classic Photoshop and Illustrator proposed by Adobe. Of course, they are very good tools, but their price is not negligible.
As long as you are not a designer or graphic artist, a tool like Canva will be more than enough for you!
It offers all the basic features to make simple designs, and it especially has the advantage of offering an ultra-complete free version. 😍
In short, a tool we love and can't recommend enough if you need to create visuals for your LinkedIn strategy or otherwise. 😛
A bank offering a business account
Opening a business account is not a requirement when you are a micro-entrepreneur. However, we strongly advise you to separate your professional finances from your personal finances.
In addition to the fact that this allows you to better manage your money, it also allows you to not mix everything up, and not to spend your money until you have paid your contributions.As a freelance digital marketing consultant, you are taxed on your turnover.
Online banks like Shine or Qonto allow you to open professional accounts optimized for micro-business and freelancing. For a much lower price than traditional banks (around 10$ per month), these banks allow you to get everything you need.
Personally, we recommend Shine which also offers a tool to create your quotes and invoices. This allows you to do without an additional billing tool and save some subscription fees. But depending on what you're looking for, Qonto might be more interesting… you decide!
A productivity tool
This one I wasn't sure which category to put it in, because it actually does a little bit of everything. In fact, there are so many possibilities that I couldn't pass it up.
You may have already heard of it because of its popularity, this tool is Notion.
It can be used for simple tasks such as word processing, but also to manage your content strategy, create your online portfolio, organize your to-do list, create your business model or even manage a project globally. 🤩
But the great strength of this tool is also the fact that the free version allows you to use almost all the available features. It becomes paid only when you want to collaborate with more than 10 people on a workspace.
Presenting you all the features of Notion would require an entire article, so I suggest you learn a little more about this tool to find out how it can help you manage your business.
For this, you can check out the YouTube videos of the official notion channel, who specializes on this tool! 😛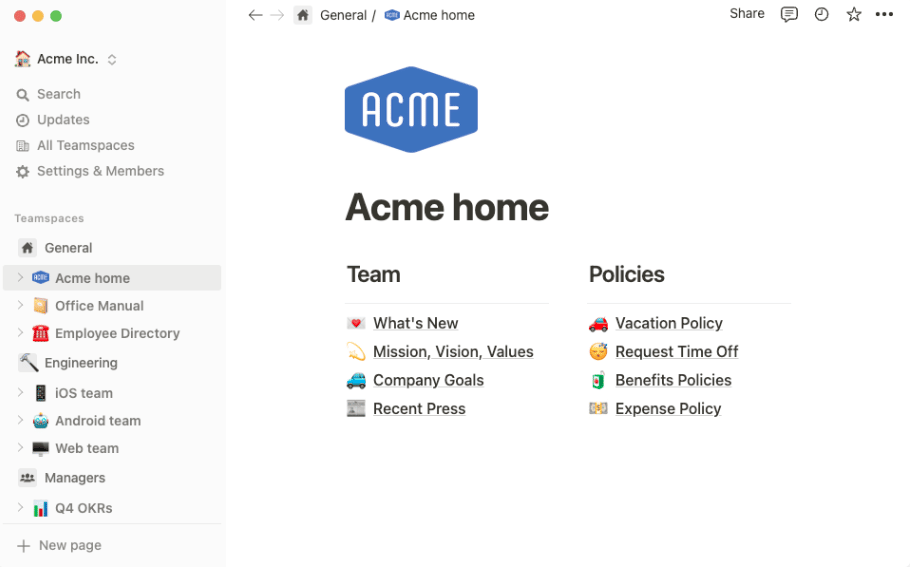 A CRM + multi-channel prospecting tool
We're coming to the end of this list, and that's good news, because I saved the best for last. 😎
When you want to grow your digital marketing freelancer business, one of the most powerful sources of acquisitio is prospecting on LinkedIn.
The largest professional social network has a client base of over 800 million users. That's a lot of prospects ready to work with you.
But for that, you'll have to take the lead and contact them. So I know what you're thinking, if I have to contact them all one by one, it's going to be really time consuming. 😒
And you're right. That's why the latest tool I'm introducing is none other than Waalaxy, the best automated prospecting and CRM tool on LinkedIn.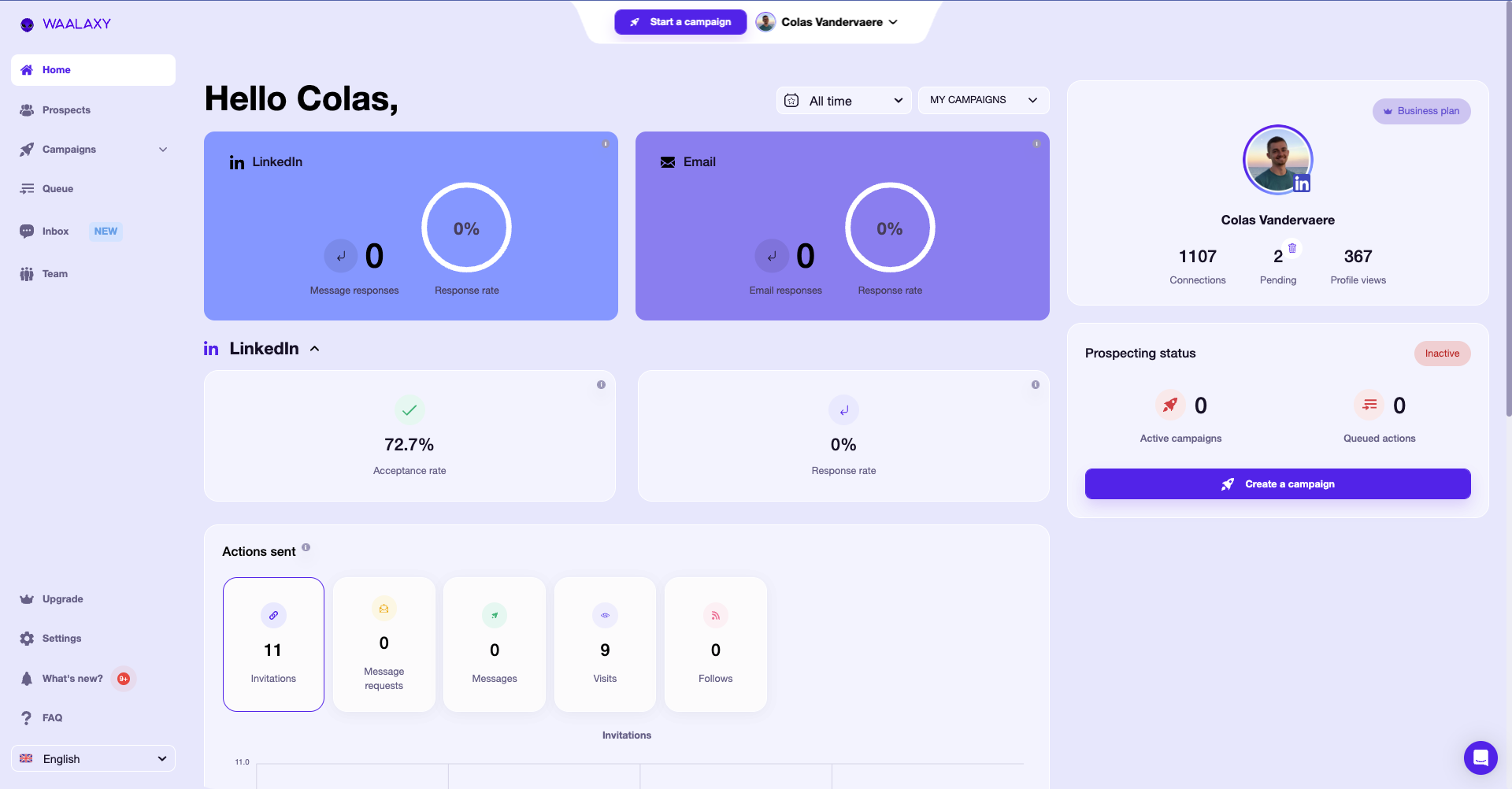 Thanks to this tool, you will be able to launch automatic multi-channel prospecting campaigns (LinkedIn + Email), and manage your B2B prospects thanks to the integrated CRM tool.
And the best part is that the tool is available… for free. You only pay if it works, and the money you've invested allows you to earn even more. 🤑
Test Waalaxy for free👽
Plus, we'll have a blog post every week to help you sharpen your LinkedIn prospecting techniques.
And to think that some people don't even try… It's beyond comprehension. 🤷♂️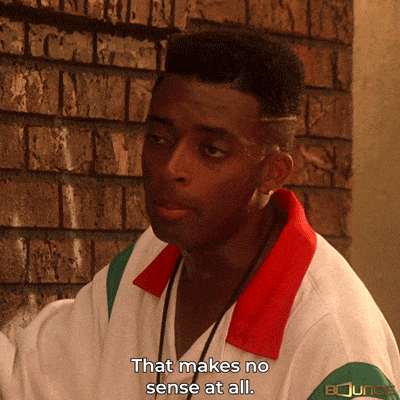 Freelance digital marketing: what are the most sought after assignments?
Digital marketing is such a vast world that it would be almost impossible to list all the assignments you may be asked to do.
Here are the main families that we can find:
SEO support
SEO is one of the most powerful digital acquisition channels. Of course, it is long and a bit complex to set up at the beginning, but it can become in the long run an almost automatic source of leads.
This is why many companies are willing to pay a lot of money for a competent SEO freelancer. Develop your skills in this area, and you'll be guaranteed to find clients without much hassle. 🙌
In addition, SEO encompasses many subfields. For example, there is SEO strategy creation,technical websiteoptimization or even data reporting and web writing.
So many subfields in which you can specialize in order to find your place in this flourishing market 😉
UX-UI design
UX design consists in thinking and optimizing the experience and the customer journey on a website, a landing page, an application or a tool.
UI design, which is often associated with it, consists in designing a graphic interface adapted to the previously thought UX. 🧑🎨
The two form the profession of UX/UI designer, which is increasingly in demand by companies.
This field is gaining popularity as it is one of the most powerful levers to increase the conversion rate on its website. 😎
Paid referencing
The paid referencing corresponds to the creation of campaign via Google Ads to be referenced on certain keywords instantly on the Google search engine.
Unlike natural referencing, you have to pay for Google to display your website through this acquisition lever.
But the instantaneous aspect attracts many companies, who are willing to pay a lot of money to an SEA expert if it brings results. 📈
Social Ads
We were talking before about advertising on Google, now here is its equivalent on social networks. Social ads are an ultra-powerful webmarketing lever, especially for B2C e-commerce brands.
But here again, this field gathers a lot in its heart. We can count the creation of the strategy, the design of visuals or the creation and management of the marketing campaign.
Don't hesitate to learn more about this field which can be very lucrative for the most talented marketing freelancers. 🤑
Graphics & Design
There's one thing every business or freelancer has in common: all of them need a graphic design and a logo sooner or later. That's why graphic design is one of the easiest sectors to get started in. 🧑‍🎨
By sharing your designs on social media and feeding your portfolio regularly, you won't have a hard time finding clients.
There are also many subfields that can be interesting, such as product design, packaging design or even clothing design. 👕
One thing is for sure, this is an interesting sector to get into. 💪
Marketing data analysis
In marketing, it is very important to analyze the results of the actions implemented. This allows you to know if what you did worked or not, and to find the points to improve. 🧐
And for this, there are not 36 solutions: you have to analyze the KPIs (key figures) related to your activity. 📈
For a website for example, this consists in consulting Google Analytics in order to find relevant improvement tracks.
However, you have to know the tool well to manage to get interesting data. That's why the job of freelance data analyst is highly sought after by companies and why it's a sector in which it would be silly not to be interested. 👀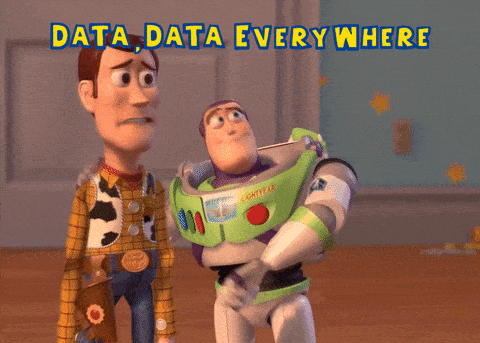 Copywriting
Knowing how to write, what an essential skill in this day and age! Whether it's to ensure your communication on social networks, write sales pages or do emailing, copywriting is a highly sought after skill.
That's why you can find more and more copywriters & ghostwriters on LinkedIn. 😛
So if you have a sharp pen and are wondering which industry to sell your services in, look no further! Copywriting is surely for you.
Community management
Managing a community on social media takes time. Creating posts, planning them and developing the number of subscribers is a job in itself.
Many companies have understood the importance of communicating on social networks, however not all can afford a full-time community manager. ❌
So for many, finding a freelance community manager who knows how to create impactful visuals, masters storytelling and social media marketing and knows the tools of the trade a real challenge.
One thing is for sure, if you master these skills and are looking for assignments in this field, it won't be too complicated to find. 😊

What are the rates for a marketing freelancer?
The prices for these assignments vary greatly from one freelancer to another. This can be explained by the experience or the complexity of the project.
But still, here is a range of rates you can charge for each assignment.
| | |
| --- | --- |
| Sector | Average price found |
| SEO | 350$ / day |
| UX-UI design | 450$ / day |
| SEA | 350$ / day |
| Social Ads | 400$ / day |
| Graphic design | 380$ / day |
| Data analysis | 500$ / day |
| Copywriting | 400$ / day |
| Community management | 200$ / day |
Our tips to excel as a digital marketing freelancer
Diversify your customer acquisition sources
If you want to be free in your business and not depend on the few clients you have, you absolutely need to diversify your acquisition sources. 💼
Otherwise, you'll soon be forced to lower your prices to keep your customers, who will exert significant bargaining power over you.
For this, you can look for clients in your entourage if you are still starting out, sign up on freelance platforms or create content on LinkedIn to develop your personal branding!
Do content marketing
Content is the new Eldorado to develop your freelance marketing activity at high speed.
By publishing content about your industry and yourself on a regular basis, you develop your personal branding. 😎
Because of this it is becoming easier to find clients as well asincrease your prices, in addition to becoming a must on LinkedIn.
Specialize to increase your freelance digital marketing prices
An American expression says "Riches in niches". In good French, it reads "The rich are in the niches". 💶
This means that if you want to increase your prices, you're going to have to specialize in a particular area.
The more you're going to specialize, the more knowledgeable you'll be and therefore legitimate to raise your prices. 🤷♂️
Don't accumulate too many clients at the same time
A classic mistake when your business starts to take off is trying to take on too many clients at once and burying yourself in the workload.
You get more and more requests from prospects (surely found with Waalaxy 👽), and you don't dare to refuse their requests for fear of not getting any later.
Result: you have too much work at the same time and you can't meet the deadlines anymore. Your customers' satisfaction drops and your business suffers.
So if you start getting requests and you don't want to waste them, raise your prices until you get back to an acceptable number of customers! 😊
Conclusion: what you need to know as a digital marketing freelancer
Starting out as a marketing freelancer is a great adventure. However, managing everything without the right tools can be really complicated.
So I hope the list of tools we've seen will be helpful and make your freelance life easier.
Hopefully you'll heed the advice we've given you, I wish you the best for your digital marketing freelance life! ❤️
Article FAQ: what you need to know when you're a freelancer in digital marketing
How to become a digital marketing freelancer?
Becoming a marketing freelancer requires going through several legal steps.
And since it would require an article to explain things properly, well… we made it a whole article! 😊
If you're interested, you can find all the information you need right here. 🙌
How much does a marketing freelancer cost?
The cost of a digital marketing freelancer can vary a lot depending on their industry, how long they' ve been in business, or the complexity of the assignment required.
However, you can refer to the grid presented above to get an idea of the prices charged by depending on the field.
I think you now have all the information and tools to become a freelance digital marketer who excels in his field, no more excuses for not succeeding in your life as a freelance consultant in the digital field!