With millions of freelancers around the world and the number growing, having a freelance job has become the preferred way of working for many professionals and self-employed workers. 🥸 There are professions that fit this model perfectly, and different skills attract clients in different ways.
In this article, we'll look at the Top 10 Freelance jobs, 💥 platforms to find job offers and tips on how to become one!
What is a Freelance Job?
Before we begin, here is a quick recap. The advantages of freelancing are numerous and attractive: 👇
You

will be

your

own

 boss.

You will control

your

load

of

workload.

You will

decide

for

who

you

want

to

work for.

You

choose

your own hours.

You

decide

this

what

is

worth your time.
👉 Freelancers work for themselves, not for a fixed company. Freelancers take on work for companies and organizations, but are ultimately independent workers. Freelancers also have to manage all sorts of things that traditional workers don't have to manage, such as: scheduling work hours, tracking time spent on various projects, invoicing clients, paying social security and business taxes.
Who Can Work In a Freelance Job?
Anyone can work as a freelancer! It doesn't matter in which field you work, you need to know how to show your added value to find work as a freelancer. 🤩
For example, start by creating a portfolio or website to showcase your skills and your accomplishments. 📸
Then, use your professional contacts to explore your network and get your first client. 💲 Some freelancers set hourly rates, while others prefer to charge a flat rate per project. Unsurprisingly, tech jobs are some of the highest paying freelance jobs. But unlike employees, if you offer a unique service, then, you can charge and negotiate your rates accordingly.
What Salary to Ask as a Freelancer?
When it comes to setting salaries, freelancers have two different options for charging for their services: 👇
H

ourly

Rate

:

You

can

calculate

your

hourly rate

 

based on

of

number

of hours

required

to

perform

the

work.

Daily rate

:

You can

define

your

price

per

day.

You

count

your

work

in

days

,

not

hours.

However, this

is

a

rather

fuzzy

concept

,

as

a

work

day

can

last

seven

hours

or

more

.
👉 So to choose one over the other, it will depend initially on the nature and circumstances of your assignment. For example, if a client offers you an assignment that requires you to work in an office two days a week, your daily rate may be lower.
The work pace is also important. 🏃 Some freelancers know precisely how long it takes to complete a task, while others need slightly more flexible deadlines.
Freelance salaries also depend on the amount of professional expenses, as well as any expenses required to complete the work (direct or indirect). These include coworking memberships, software, hardware, subscriptions, office supplies, training… 🧐
Top 10 Most Wanted Freelance Jobs:
Here are the Top 10 most wanted freelance jobs: ⏬
Web Developer.

Community Manager

.

App Developer.

UX

Developer

.

P

roject Manager.

SEO copywriter.

Coaching.

Virtual

A

ssistant.

Graphic Designer.

Photographer.
👉 Let's get to the heart of the matter. The most coveted profession among freelancers is clearly that of Web Developer. The second most popular freelance profession is "Community Manager" on social networks. The most coveted freelance jobs obviously require some technical knowledge. However, be aware that there are different fields and different computer languages. 💻 A web developer specialized on WordPress may be less in demand than an expert in the Python language, for example. Since the offer is almost greater than the demand.
We are also discovering new professions such as trainers and "personal coaches". As more and more people aspire to become self-employed, they need training alongside their future professions and jobs. 🎒 When most people think of freelancing, they think of graphic design and copywriting. But these fields are bound to "disappear", competing more and more with all available tools and even artificial intelligence. 🤖 Freelancing is evolving, and there is a real emergence of new online jobs.
How to Become a Freelancer? 5 Examples of Jobs and Advice!
Example 1 Freelance Job:
Web
Developer
Web development is one of the most sought-after freelance jobs, with a majority of job offers available on the market. 🧲 Programming is one of the most popular professions in the world. Every business, organization or creative project needs a strong online presence, so qualified professionals are needed to build it. 🤓
👉 What are the basic skills to start as a Web Developer?
Of course, to become a freelance Web Developer, you must have a strong interest in computers. 🌐 You also need good analytical and consulting skills to effectively answer client questions. To be a good Web Developer, you need to master the most sought-after programming and coding languages. Self-study is also encouraged.
👉 Where to start if you are a beginner in Web Programming?
Start by defining your goals. You can create your own website to showcase your qualifications and offer targeted services.
You need to define your billing strategy and reach your potential clients.
Analyze and learn new skills, by taking online courses like in OpenClassrooms or follow trainings on LinkedIn Learning, for example.
Example 2 Freelance Job: Community Manager
A "community manager" helps a company or a brand to create, develop and manage an online community. 🗣️ They use analytics tools to monitor social media, online forums and blogs to improve the brand image of its clients' marketing efforts. 🤗
👉 What are the basic skills to start as a Community Manager?
First, you need to have a strong interest in social media. Community managers usually need a minimum of marketing and communication skills.
You should have experience in marketing, online sales and social media networks management. Having a personal touch, also contributes to be successful in this field.
👉 Where to start if you are a beginner in community management?
The only way to do it is by gaining experience. You can start creating, managing and growing your own social media community around your topic of interest (like your Facebook page, Instagram or LinkedIn profiles.) 😉
Consider specializing in specific platforms, apply for jobs every week, and work to improve your profile and skills.
Example 3 Freelance Job: SEO Copywriter
On average, Copywriting is a very popular freelance job. 🪶 Content creation has been declared king of the modern world of marketing, so companies have large budgets to produce quality articles, blogs, guides, press releases, essays and other types of written content. 😏
👉 What are the basics of becoming an SEO copywriter?
To start writing online, you need to be interested in writing and have a good knowledge of the language you use. If you are motivated, you can succeed!
👉 Where to start if you are a beginner in copywriting?
Start by optimizing your freelance profile to showcase your writing skills.
Search for jobs daily and send personalized applications for each position.
You can write a few articles on your topics of interest and use them as examples of your work. This greatly increases your chances of standing out.
The best writers are the best readers. As an SEO writer or "copywriter", you also need to understand the basics and importance of SEO and, most importantly, how to write web articles.
Here's an article on SEO strategy, so you know how to get started! 💯
Example 4 Freelance Job: Virtual Assistant
The virtual assistant job, is a new job in the freelance world. 🌎 Virtual assistants work remotely to perform various administrative tasks and services for their clients.
👉 What are the basic skills to become a Virtual Assistant?
A good virtual assistant should be versatile, organized and responsive. 🤓 They can provide a wide range of services such as email management, appointment scheduling, calendar management, reception, research and data collection…
👉 Where to start if you are a Virtual Assistant beginner?
To get started as a Virtual Assistant, first list the services you can offer to your customers.
Align your offering with market demand, get positive feedback, and ask for endorsements from past employers to create your online assistant profile.
Example 5 Freelance Job: Graphic Designer or Illustrator
Freelance graphic designers or illustrators are responsible for editing the visual aspects of the Ads campaigns, the communication materials, websites, posters for events, etc. they create.
👉 What are the basic skills to become a Graphic Designer?
Ideally versatile and proficient in various drawing/painting techniques (felt-tip, ink, gouache, etc.). They must also learn to use digital tools and digital tablets.
👉 Where to start if you are a beginner in Graphic Design?
Having an attractive portfolio is what will set you apart from the competition, throughout your graphic design career.
Visual work is paramount in this profession. 🎨 Therefore, as a beginner, you should focus on building your professional portfolio.
For example, create a Google Drive file with 5-10 examples of your best work.
You can also train yourself in design software, such as : Photoshop, Illustrator o Figma.
To find your first clients, you can offer your services on freelance platforms like Fiverr, with competitive rates to get your first positive reviews.
Best Platforms to Find Freelance Work:
Nowadays, the internet contains many free (or paid) platforms that allow freelancers or consultants to find jobs online. ⌨️
The principle of these sites, is to put in contact jobseekers with companies, and individuals looking for professional services. 😎 Whether you have a profile with specific skills or you want to diversify your projects and missions, here are some very popular platforms that will help you find your dream missions! 🍀
Freelance Job on Upwork
Upwork is one of the largest platforms of freelancer work, with a client base in the millions. It is a very intuitive site that companies can use to hire freelancers for specific projects or hourly assignments. The freelancer profiles are categorized from beginner to expert, so they can get recruited according to their abilities. ✨
Freelance Job on Malt
Malt is a platform that connects professionals looking for new talent and sources of inspiration, whether they are SMEs or NASDAQ players. 🪙 These are clients who are looking for freelance profiles and contact them directly without a call for tenders.
Freelance Job on Freelance.com
Freelance.com is a platform where you can find your own assignments and build a team of freelancers to tackle large-scale projects. This website is specialized in marketing jobs, communication jobs and IT consulting jobs.📱
Freelance Job on Fiverr
Fiverr is a platform used by thousands of freelancers around the world, with many jobs starting at $5 (hence the name of the platform 😋). So these jobs can be as simple and short as writing an email, or they can be more complex like developing a mobile app, doing a graphic design, etc.
Conclusion: What are the Future Freelancer Jobs?
In conclusion, there are many skills needed to work as an online freelancer. ✍️ Now you know what the most in-demand freelance jobs are:
Web Developer.

App Developer.

UX Developer.

Project Manager.

SEO Copywriter.

Coaching.

Virtual Assistant.

Graphic Designer.

Photographer.
👉 If you already work in any of the jobs on this list, your profile may be interesting to many clients. 😯
But, what if your occupation is not listed above? 😱 Don't panic!
As you may have noticed, freelancing covers a wide range of careers and industries. 🦚 If you want to do this type of work, start by doing some research to make sure there is a real demand for your skills and work experience.
Check freelance platforms like Indeed, Malt, etc. often, in order to see what new opportunities are out there. ⚡ Once you have a clear idea of the available work opportunities, start building your path to launch your freelance career. 💪
FAQ: Freelance Job
How to Get Freelance Jobs From Home?
Here are some tips for doing freelance work: 👇
Developing

an

ecommerce

web

site

.

Work

 

as

a

 

CRM/Customer

Service.

Write

online

articles

.

Become

a C

ommunity

M

anager.

Become a G

raphic Designer, W

eb Designer/UX

D

esigner.

Take

some

photos

and

edit

 

videos.

Become

a c

oach

or

online

consultant

.

Offer

online

courses

.

Become

a Virtual A

ssistant.

Start

a

blog.

Join an affiliate program.
How to Find Freelance International Jobs Online?
Currently, there are many professional platforms, social networks and associations to find international work. ✈️ Notably : V.I.E contracts (in France), JobTrotter website, WHV (Working Holiday) visas, etc… Depending on your country of origin, you will have different opportunities to become a "digital nomad"! 😏
Which Freelance Job Pays the Most?
In general, Web Developers make the most money as freelancers. 👀 Their average salary in the US, is $80K per year. A freelance Web Developer uses their computer and programming knowledge to serve their clients. As a senior developer, the demand is higher, so the bill is higher. 💹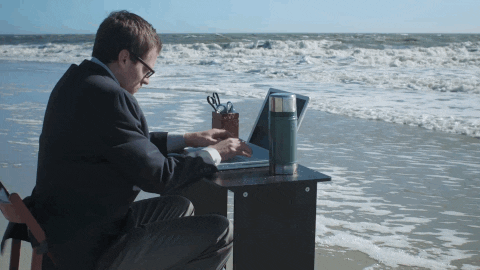 That's it! Now you know all the tips to find the best freelance job according to your profile! 🥰