When you are self-employed, it is classic to use a freelance platforms to find new clients and new assignments. What is more complicated is to know which platform to use. Indeed, there are hundreds of them around the world, each with its own specificities.
So how do we find the one that suits us best? That's what we will see in this article. Whether you're a freelancer, freelancer or consultant let's go for a complete tour on freelance platforms! 😊
Why use freelance platforms?
Make it easy to get in touch with each other
There are plenty of freelancers willing to offer their services in exchange for money, and plenty of companies willing to get some work done.
Freelance platforms make it possible to connect these two parties. It's a great way to start freelancing. 🤝
Thanks to a dedicated interface, companies can find freelancers thanks to their profiles, see their achievements as well as their hourly rate.
In other cases, it is the freelancers who can respond to assignments directly proposed by companies on the platform. 🙂
Ensuring security
When you start a freelance business and manage everything by yourself, getting paid fast is very important. It is possible to face a dispute with a client who does not want to pay for the service provided or that take too much time to pay the bill.
In this case, freelance platforms can provide support to help find a solution, and even provide a payment guarantee that meets deadlines. 🙌
This is a very useful guarantee for freelancers who face recalcitrant clients, but also for companies if they find themselves facing an incompetent freelancer or one who does not deliver the order despite paying a deposit.
How to choose between 2 freelance platforms?
As a self-employed contractor, you wondered how to find freelance clients, and you opted for platforms (in addition to prospecting with Waalaxy of course 😉 ). The problem is that there are so many of them, and you quickly get lost in the mass. As a result, we don't know if we should choose one over the other to get freelance work. 🧐
But don't worry, we'll help you see things a little more clearly. Wether you prefer working from home or get a part-time assignment, here are the criteria you should consider.
Look at the popularity of freelance platforms
The first thing to look at to find freelance projects is the popularity of the platform. Indeed, the more the platform is known, the more companies will look for missions on it.
In the same way, the number of freelancers who offer their services will also be more important. It's up to you to figure out how to make the most of it! 📍
To estimate the popularity of the platform, look at:
The number of freelancers who trust it.
The number of partner companies.
The external opinions on them.
The sectors offered
Not all platforms offer missions in the same fields. If some are generalists, others are specialized in certain sectors in particular.
Depending on what you are looking for, you will have to choose a certain type of platform. For example, if you offer your services in several different sectors, prefer a generalist platform to focus your requests in one place.
On the contrary, if you are specialized in a particular sector, then it will be better to choose a platform that is specialized in that sector, where the customer requests may be more adapted.
The remuneration system
The remuneration system is a very important element to take into account when choosing a freelance platform that get you gigs.
Not all of them pay in the same way. Some models benefit freelancers, others benefit companies.
There are three different types of remuneration for freelance platforms:
The assumption of costs by the client.
The monthly subscription for the freelancer.
The payment of a percentage of the turnover.
Let's take a closer look at how they work.😎
The assumption of costs by the client
In this mode of operation, the freelancer does not have to pay anything. It is the companies that pay a commission to the platform when they find a freelancer that fits them. 😍
This model is interesting for freelancers because they receive 100% of their remuneration and have no additional costs.
However, it usually results in a lower number offers. This is because companies prefer platforms that benefit them, where they don't have to pay anything. 🤷
The monthly subscription for the freelancer
In this case, it is the freelancer who pays a monthly subscription to the platform to be able to access the offers.
This model is interesting for a freelancer with a more junior profile because the competition is lower, and the number of offers can be higher 😉
However, you will have to put your hand in the wallet to access it. The price is usually around 30€ per month for the basic subscription.
Payment of a percentage of the turnover
This method of remuneration also benefits companies. It consists in giving a percentage of its turnover to the platform.
In this way, you are guaranteed to pay only if you find customers through the platform. 🔥
This percentage can be decreasing depending on the turnover achieved.
Comparison of freelance platforms to use by profession
The 3+1 best generalist freelance platforms in the world
#1 UpWork, the largest platform in the world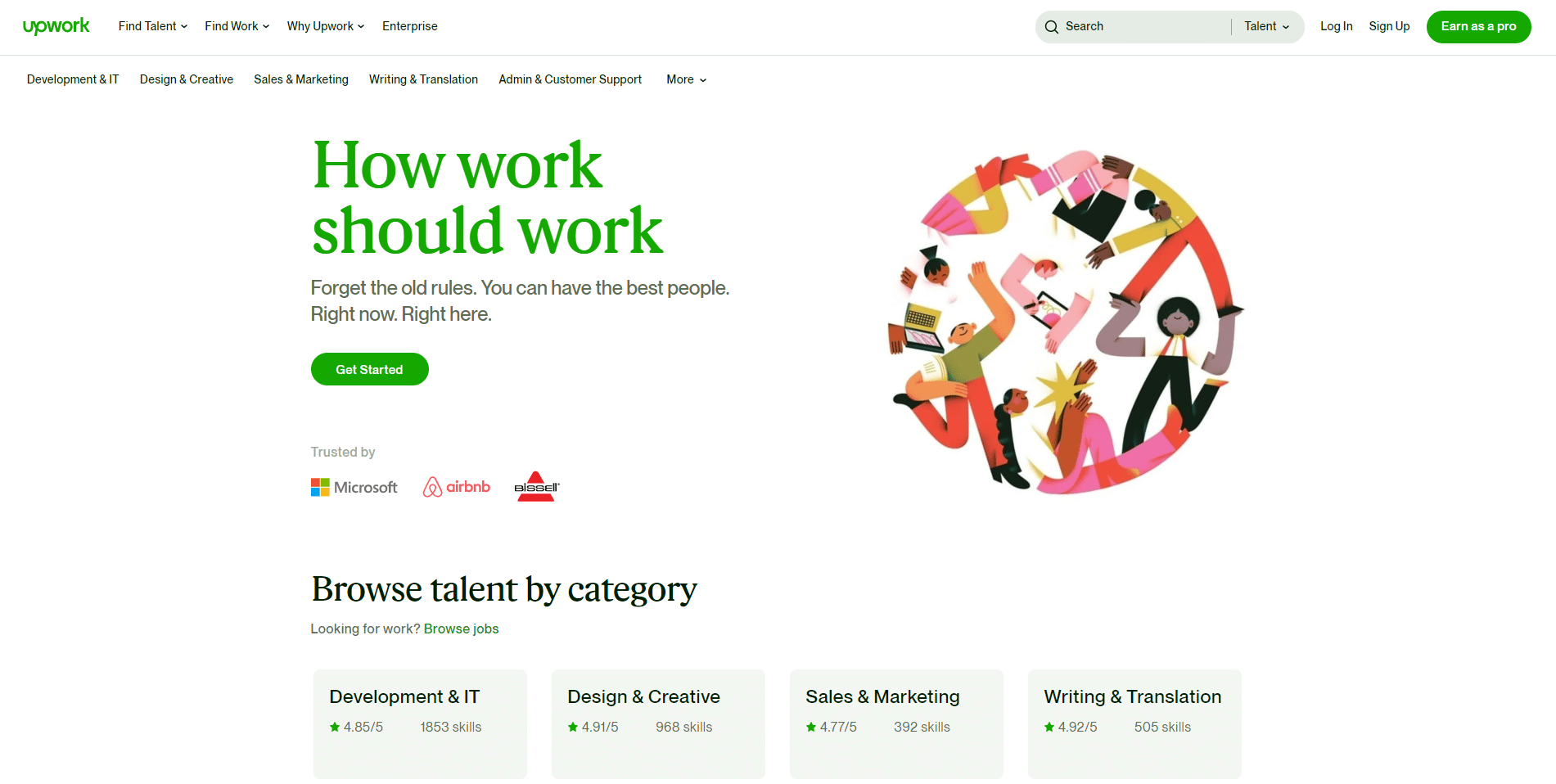 Upwork is a giant among freelance platforms. Launched in 2015, the platform went public in the United States in 2018. It is now present in more than 180 countries and is one of the must-have platforms. Simple to use thanks to an easy-to-understand interface and a mobile app, it is a true reference in the sector if you want to get freelance opportunities. It's one of the platforms with the most freelance workers registered around the world.
As far as remuneration is concerned, the company takes a commission corresponding to 20% of the freelancer's turnover. This percentage decreases as you work with a client, possibly down to 5%. The company offers a freelance rating system that will allow you to be recognized if you are talented and your clients are satisfied. It's one of the best platforms to find freelance jobs.
#2 Fiverr, leader in microservices freelance platforms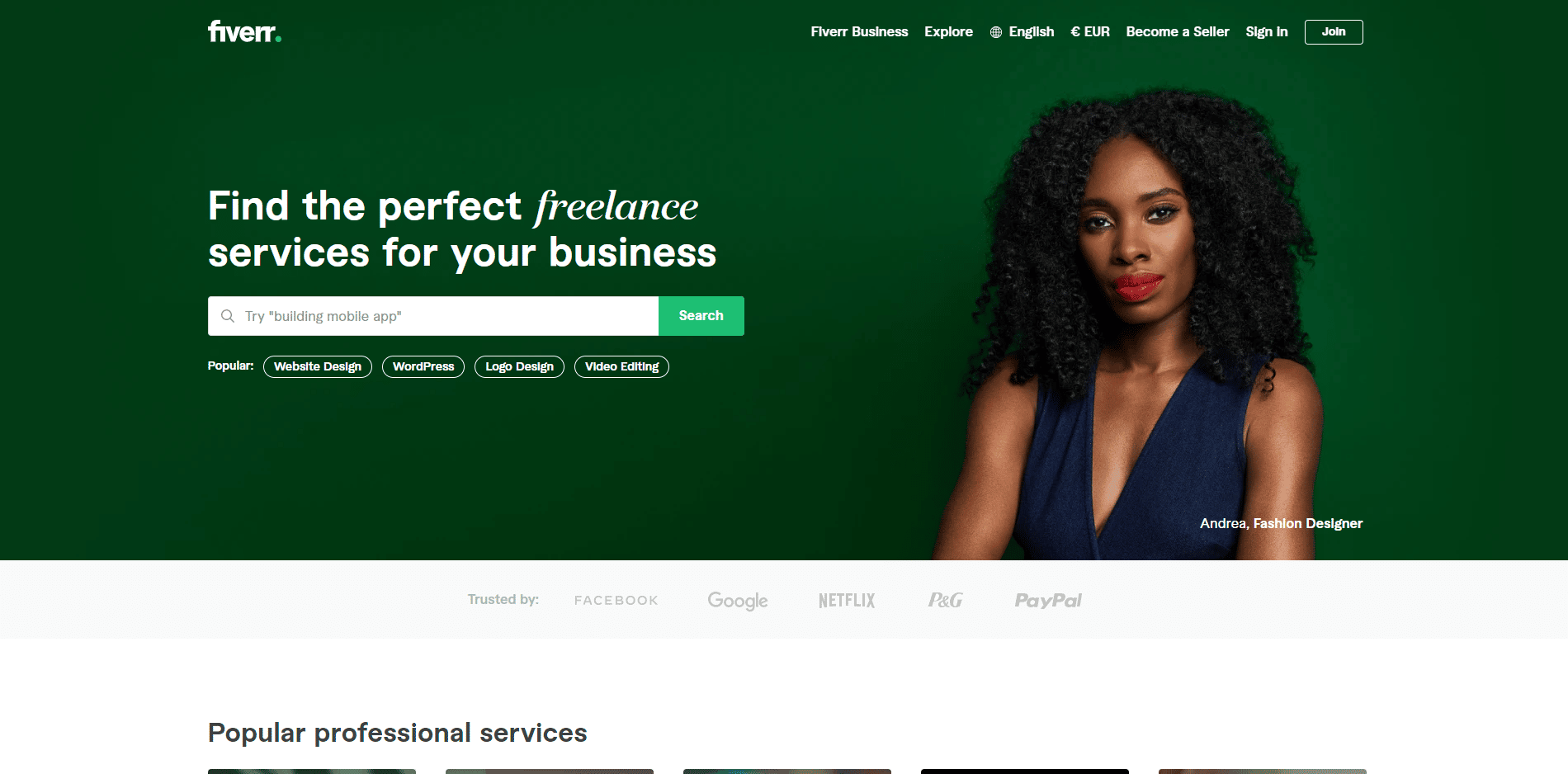 Fiverr is a real reference in the world of freelance platforms. It has built its reputation on a very specific value proposition: missions from $5. This Israeli platform founded in 2010 and listed on the stock exchange is therefore specialized in microservices. 🔥
This freelance marketplace proposes the profiles of freelancers to companies, and they are the ones who decide to contact them. As far as remuneration is concerned, the platform works thanks to the commission system. It collects a 20% commission on your earnings. However, there is no sliding scale percentage system like on other platforms. 😶
#3 Freelancer.com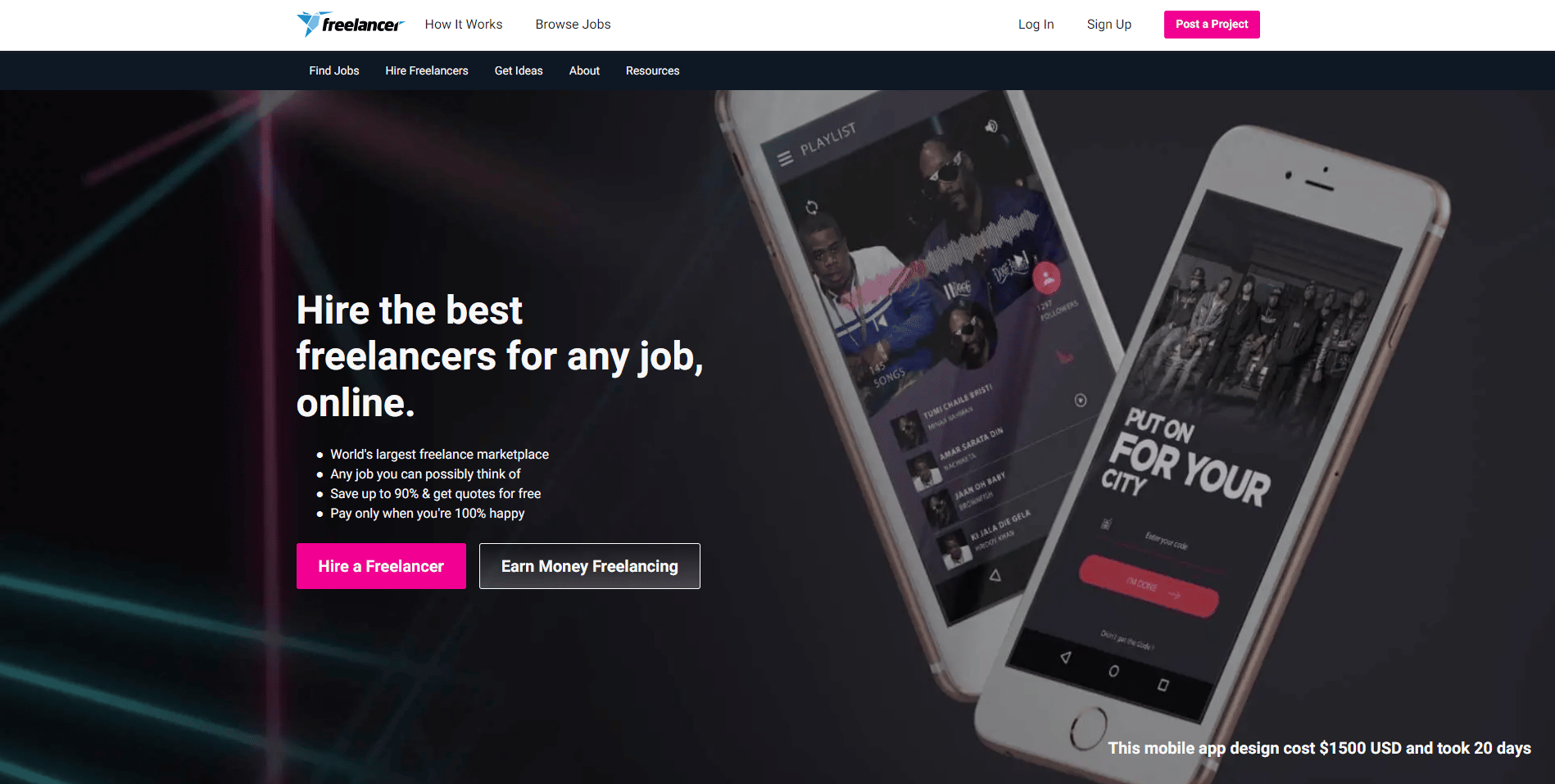 This Australian freelance platform, existing since 2009, offers its services worldwide. Freelancer.com offers "every job you can imagine" as a freelancer. And indeed, it is a site that offers a choice of freelancers in a very large number of fields of expertise. 🙌
In terms of compensation, the platform applies lower fees than its competitors, but it applies them to the freelancer and the client. Specifically, you can count 10% commission for the platform as a freelancer, while your client will pay 3% commission. You can also choose to be paid by the hour or by the flat fee. 😊
#4 LinkedIn, not so far from freelance platforms
LinkedIn is not a freelance platform per se, but the social network is still a great way to find clients. The leader of professional social networks is a must if you want to find freelance clients.
In addition, many traditional freelance platforms allow you to link to your LinkedIn profile. Companies look at it in most cases, so you might as well optimize it to the fullest! 🔥
If you're interested in generating leads via LinkedIn, we've created an e-book that explains the 5 most effective techniques for generating leads on LinkedIn. It's 100% free, and you can access it right here. 🚀
The 4 best freelancing platforms in France

#1 Malt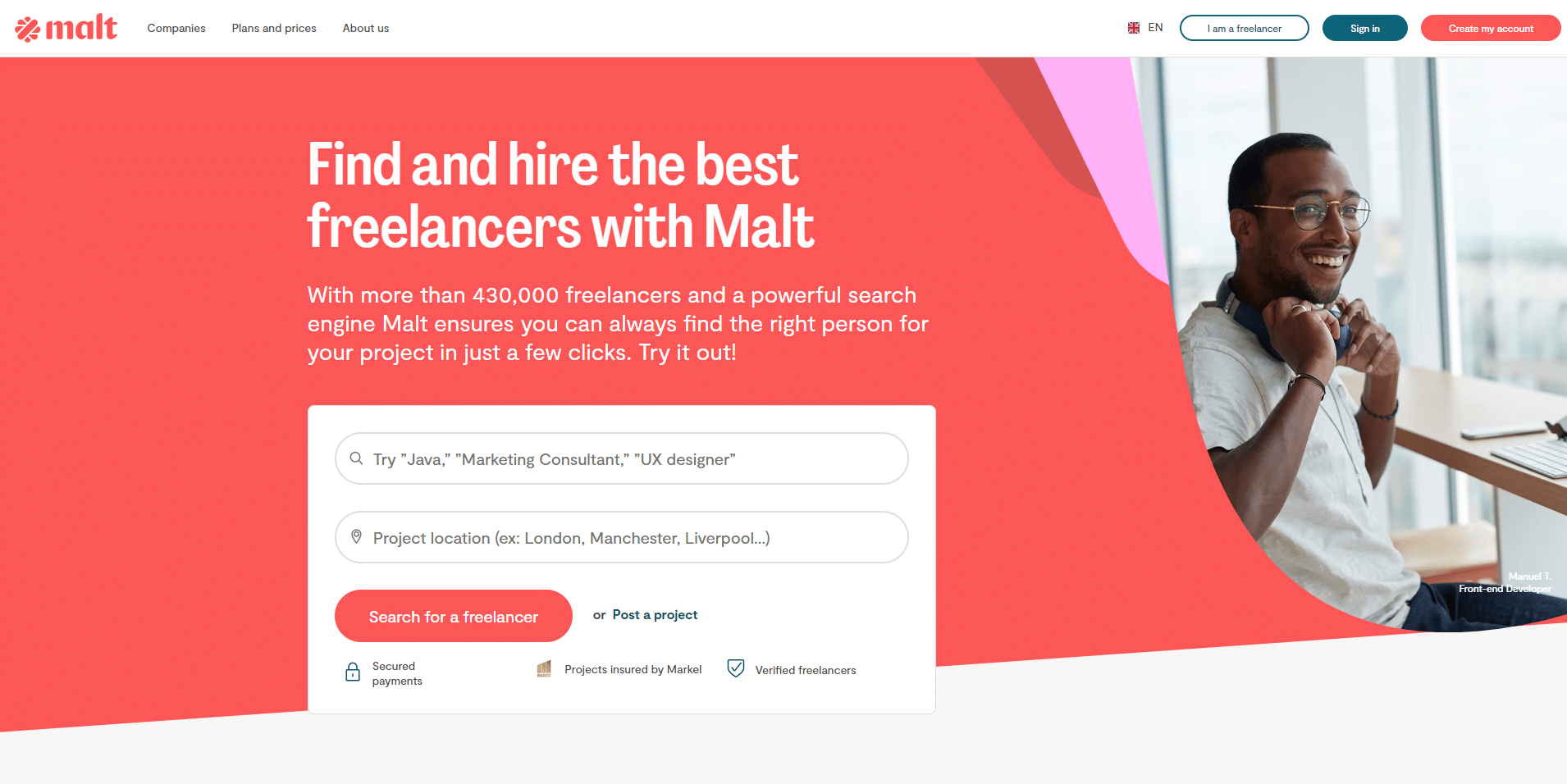 Formerly Hopwork, this French platform is the leader on the national market. Also available in many European countries such as Spain, England and Germany (among others), it now boasts more than 430,000 registered freelancers, as well as more than 40,000 client companies (including 36 from the CAC40).
It chooses as a remuneration model the commission system paid by the client company. This amount amounts to 10% of the price of the mission, excluding tax. It is therefore an interesting platform because it combines prestigious clients and an advantageous system for freelancers. Beware, the competition is tough 😉
#2 Codeur.com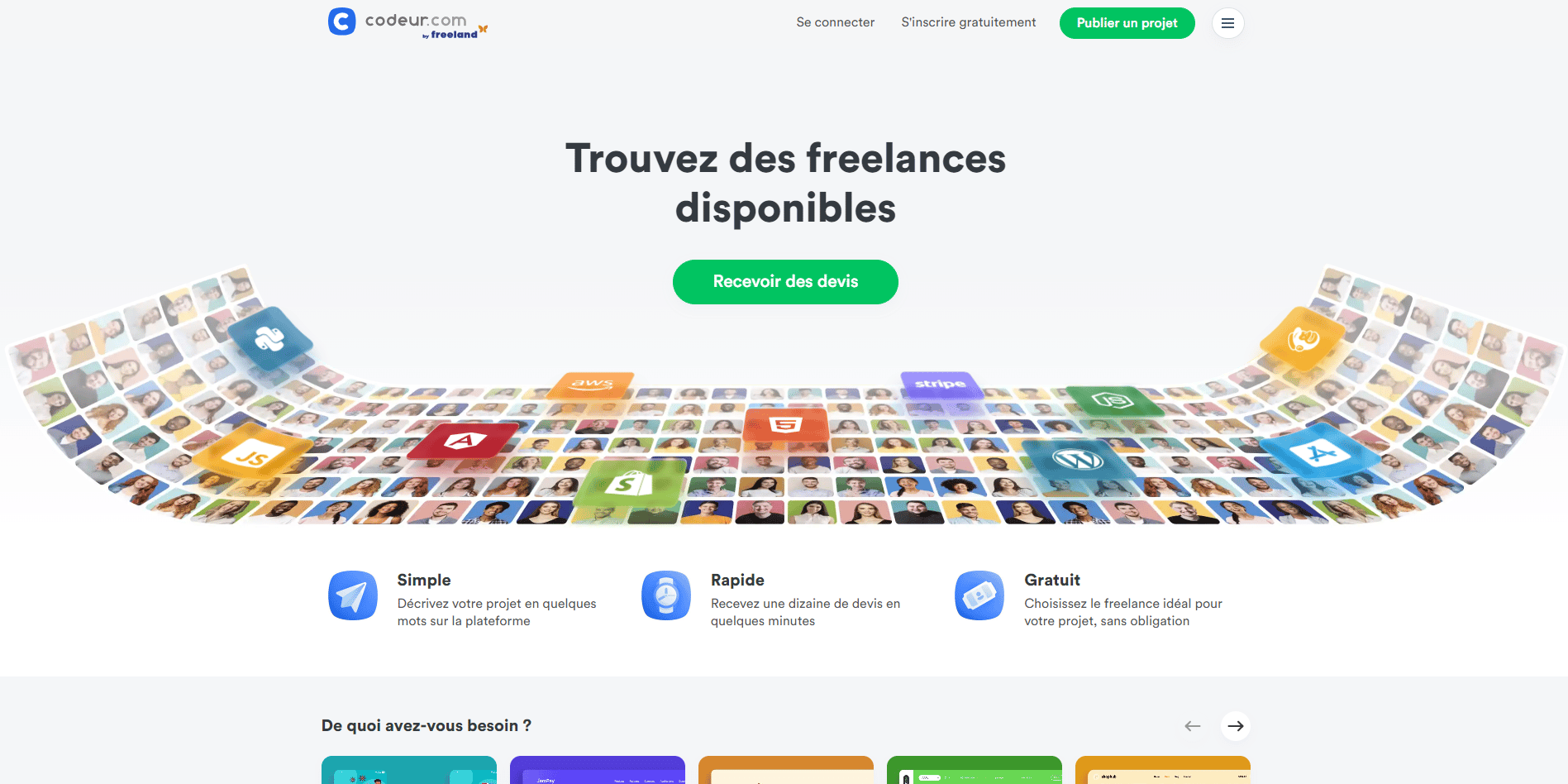 The freelance platform Codeur.com is one of the most famous French platforms. Designed for developers and other digital marketing professionals, the platform uses a call for tenders system and offers to put freelancers and companies in touch with each other.
The platform is paid through a subscription system that allows to answer a certain number of customer requests. The different formulas are 29€/month to answer 80 customers, 59€/month to answer 200 customers and 99€/month to answer 400 customers.
#3 Freelance.com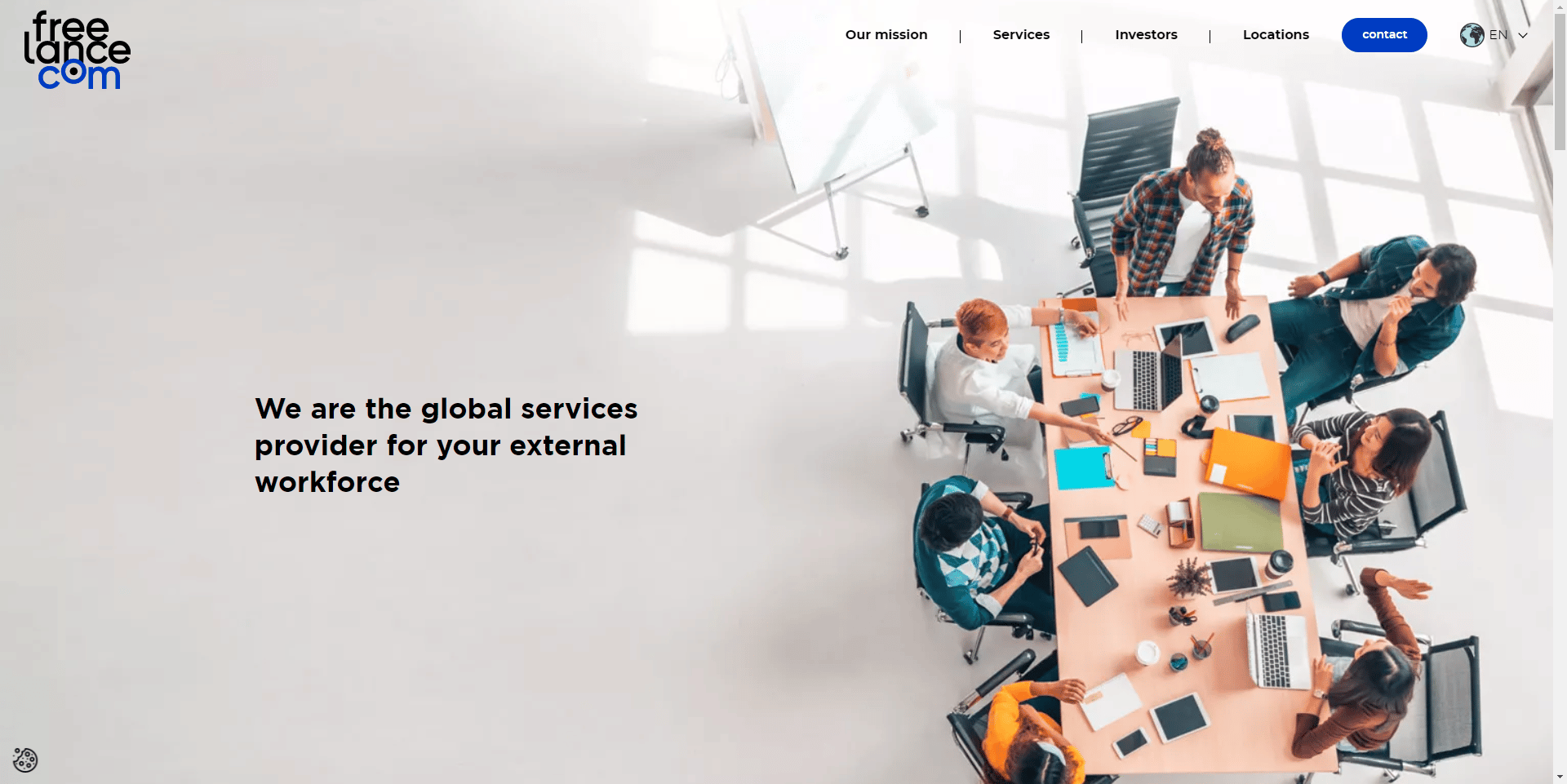 Let's go back to the French side and talk about Freelance.com. This French platform is one of the precursors of the field. It permit companies to hire a freelancer in many fields since 1995. Listed on the stock exchange, it stands out for its seniority in the sector. This generalist platform accepts all types of profiles.
For the remuneration, it is the customer who pays a commission to the platform once the work is done. As a freelancer, you receive 100% of your turnover. Moreover, the platform makes payments within 24 hours once the mission is validated by the client, a real comfort when you know that this is not the case with all platforms. 😎
#4 ComeUp (5euros.com)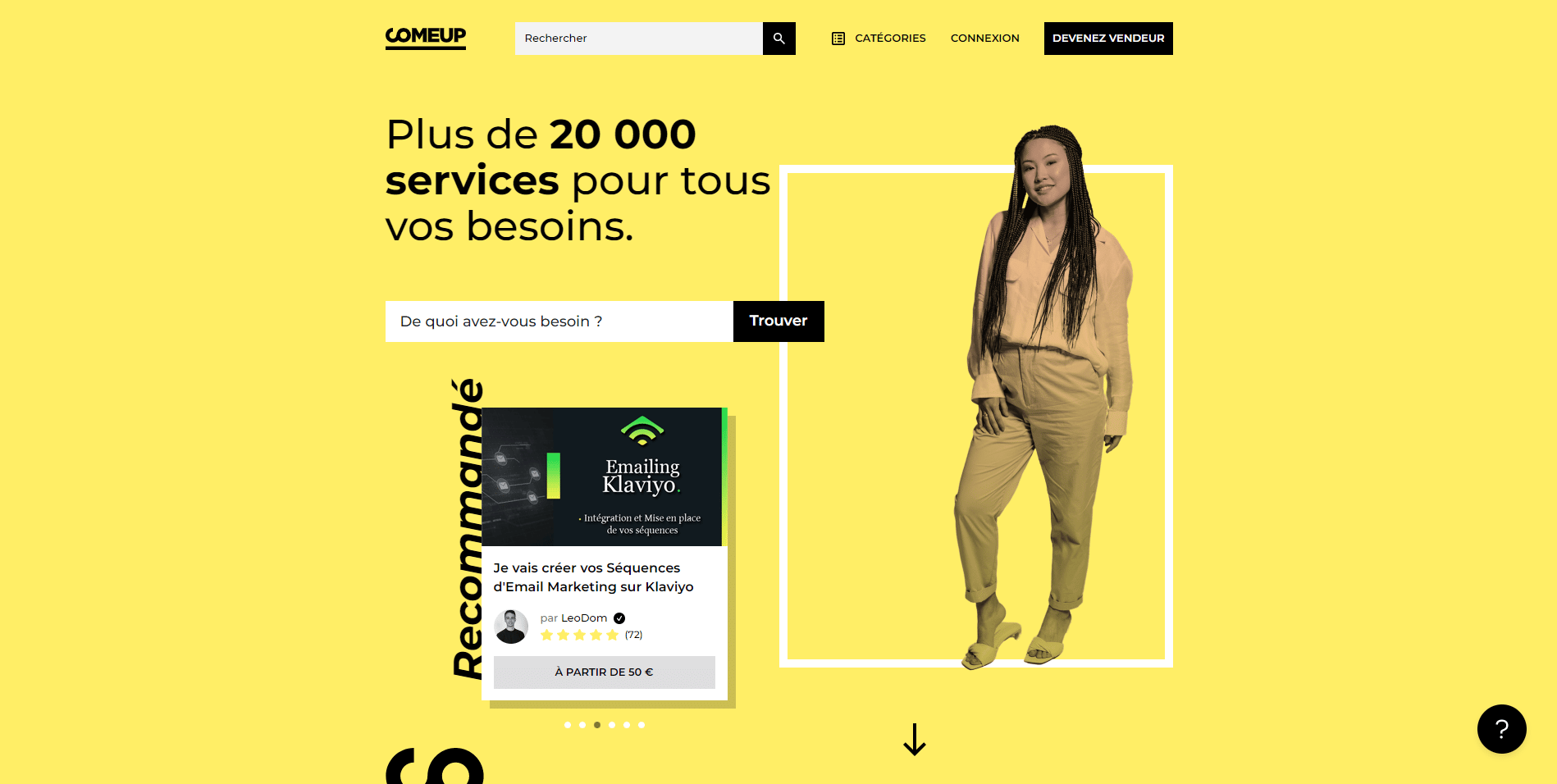 Formerly 5euros.com, this freelance platform had taken the model of Fiverr and proposed essentially microservices. But this one now wants to break away from this image of "low cost" freelance and changes its identity to ComeUp. You can find offers of missions in various fields, from design to web development, including audiovisual, email marketing strategies and daily life.
The platform works on a commission system, 20% paid by the freelancer. Note that by subscribing to the ComeUp Plus option at 8.99€ per month, the commission is reduced to only 1€, regardless of the amount of the transaction. An interesting system that proves to be very competitive compared to market prices. 🔥
The best freelance platform for administrative services
1001secretaires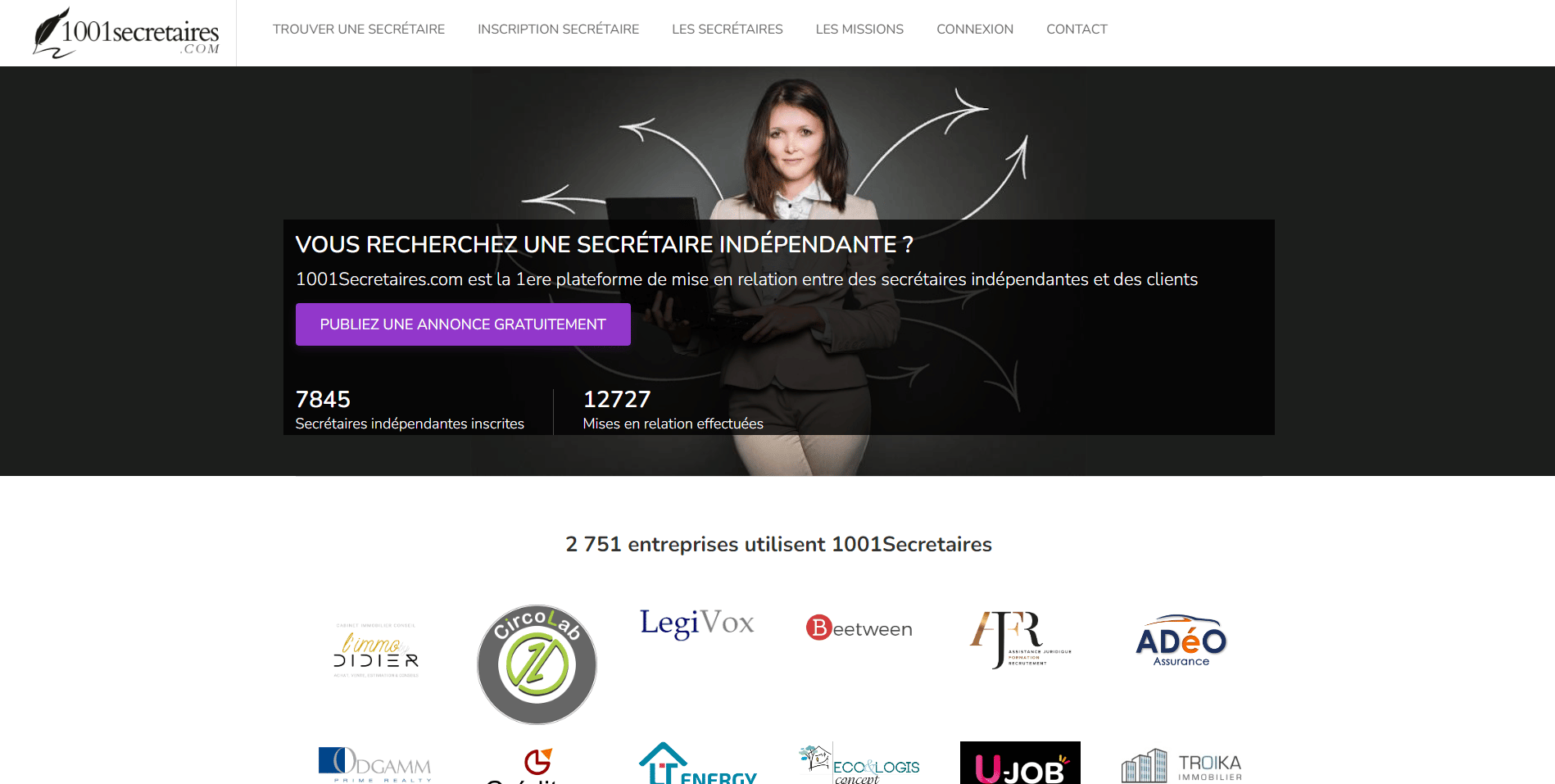 1001secretaires is a niche freelance platform specialized in support functions, such as administrative tasks, management or legal assistance. If you have experience as a secretary, there is a good chance that you will be able to offer your services on this platform, regardless of your area of expertise. 😊
In operation since 2009, it is possible for a company to place an ad for an assignment for free. This is not specified on the site, but it suggests a commission to be paid by the freelancer for each connection.
The best among all freelance platforms for web developers in France
Freelance-informatique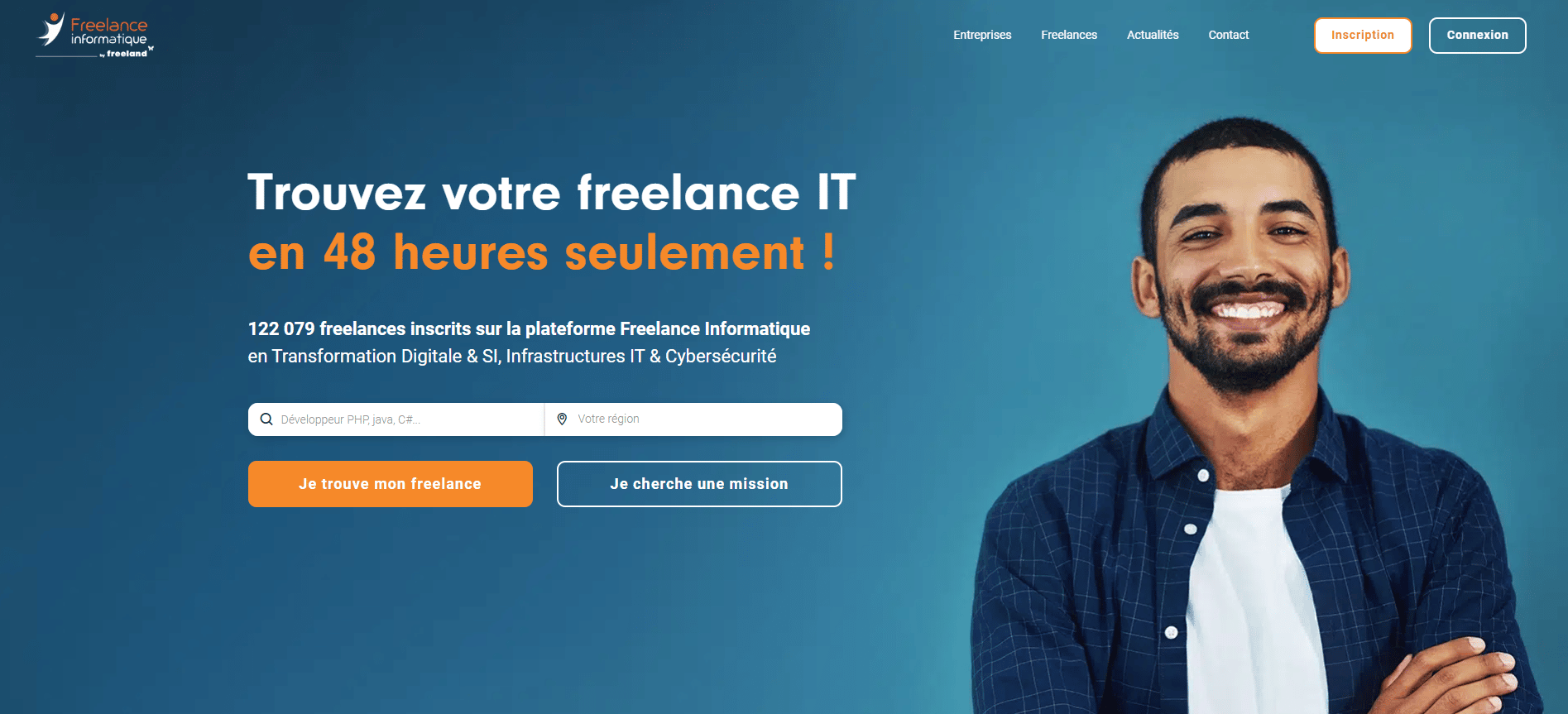 Freelance informatique, as its name suggests, is a platform specialized in IT freelancing. It has more than 100,000 registered freelancers, which makes it the largest freelance platform in this field in France. It offers mainly long-term and full-time missions for large accounts. Howerver, most of the missions proposed aren't availaible remotely, you'll have to go to the company premises. Probably not the best if you prefere a work-from-home freelance job.
As for the remuneration, the platform is 100% free for the freelancers. It is the companies that pay to submit assignments. The free version allows you to submit up to 4 offers per month. Beyond that, a subscription of 2500€ per month is required. An expensive positioning that can be explained by a clientele composed mainly of large accounts. 🚀
The best freelance graphic design platforms
#1 Graphiste.com, among the best freelance platforms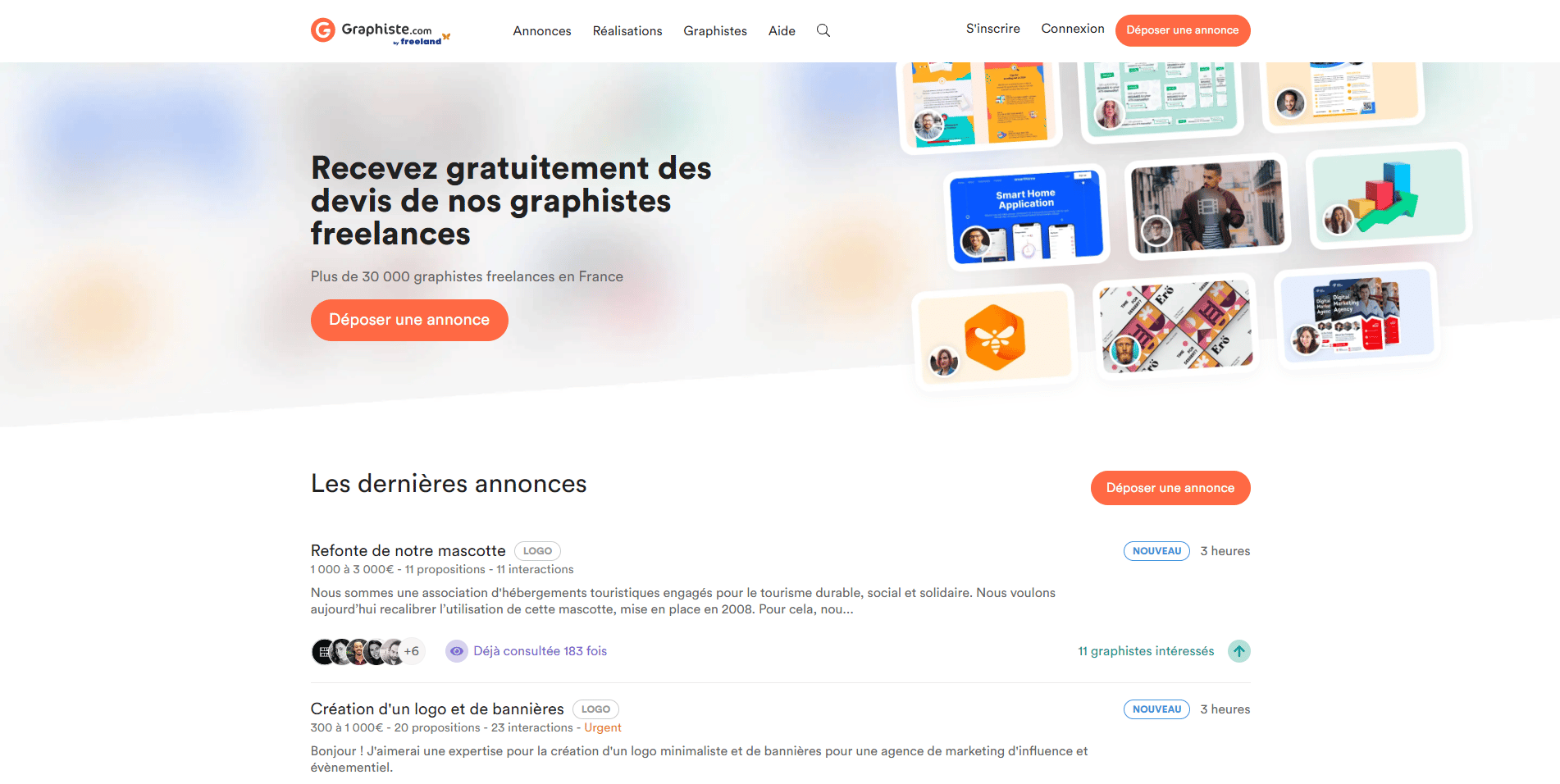 Graphiste.com is a reference in the field of design. This platform, which has more than 30,000 freelance graphic designers, offers the possibility to fill out its portfolio to find prospects. This allows freelancers to offer their services in everything related to graphics and design (like a linkedIn banner for example). 🎨
Graphiste.com uses a subscription system paid by the freelancer to get paid. It charges a flat rate of 29€ HT per month to contact up to 1000 customers per month. The deposit of offer by the customer is totally free, which allows to maximize the number of offers on the platform.
#2 GraphisteOnline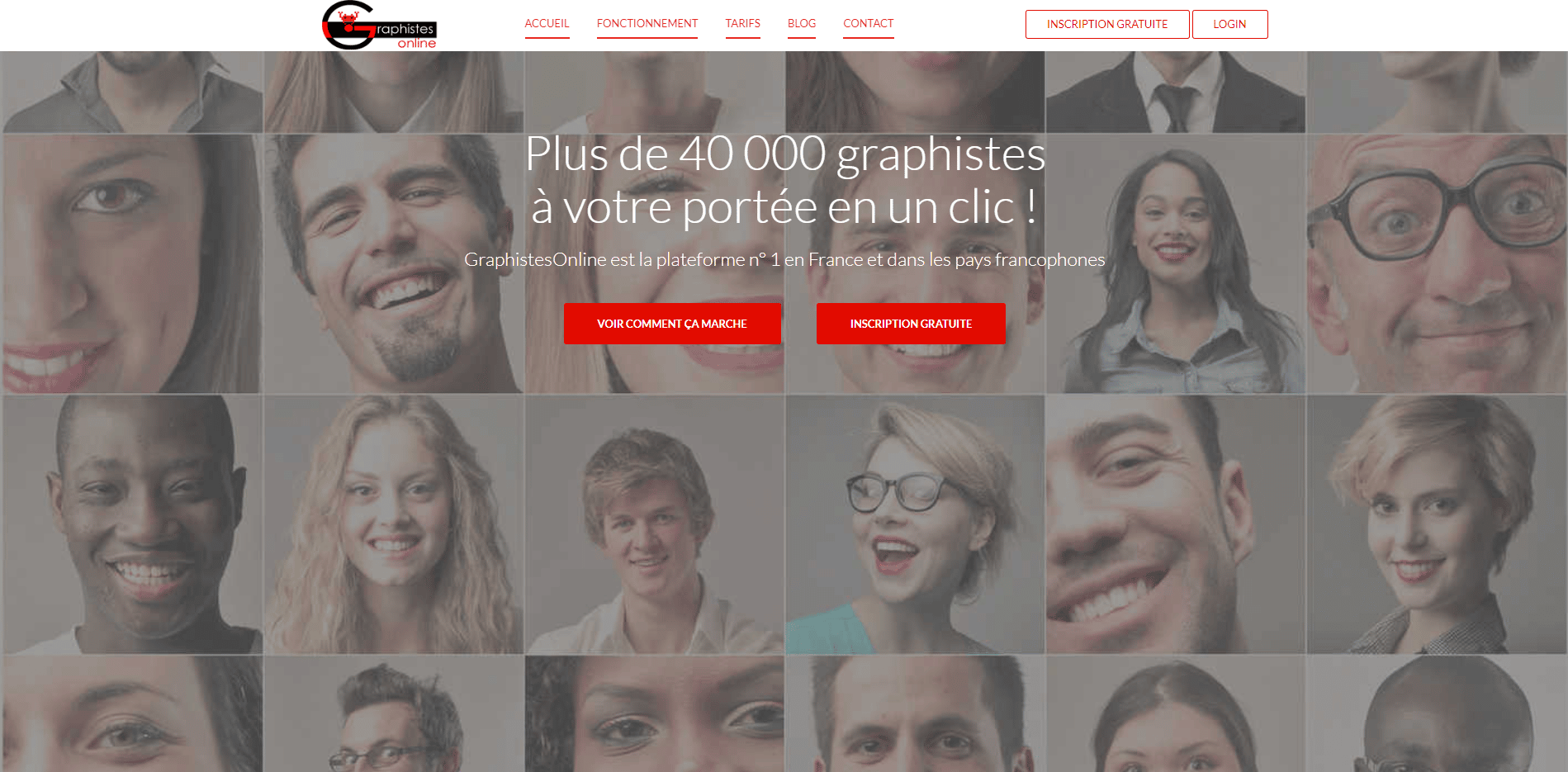 GraphisteOnline is a platform specialized in connecting freelance designers with companies having needs in this sector. It has more than 58 000 registered creatives, which makes it the biggest French freelance platform focused on graphic design. You can also propose your services in other fields than design, such as marketing or audiovisual (maybe even propose LinkedIn carousels?).
The publication of an ad is free for the client companies. For service providers, the platform offers two formulas based on the subscription model. A freemium version, which allows you to respond to projects by buying credits, and a version at 39€ HT per month, to respond to an unlimited number of projects without having to buy credits. In both cases, the platform does not take any commission on the turnover.
#3 99designs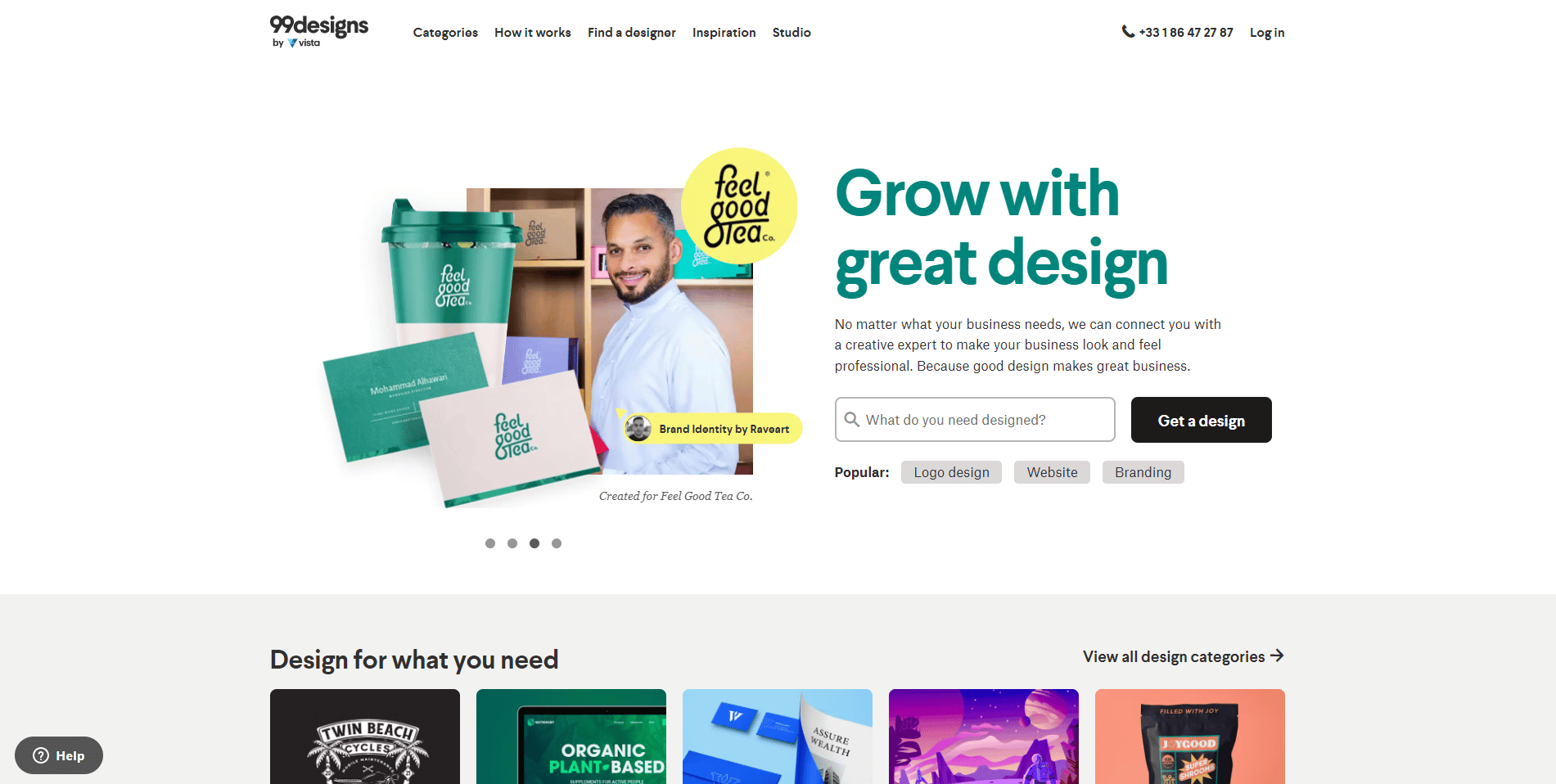 99Design is a platform that help companies that want to hire graphic designer. If you propose in your services creative jobs like the creation of logos with Photoshop or Illustrator, graphic charters or in the creation of packaging, then there is no doubt that you will find missions. Founded in 2008 in Melbourne, Australia, its headquarters are now located in the United States. As for the platform, it is available for all creative freelancers in several continents including Europe or South America. 🌍
The model is based on abidding system. The platform then takes 5% commission from the client, then 15% from the designer. This percentage is degressive for designers and can be reduced to 10%, then 5% as you use the platform. A way to encourage freelancers' loyalty! 😉
The best freelance platforms for marketing
#1 Crème de la crème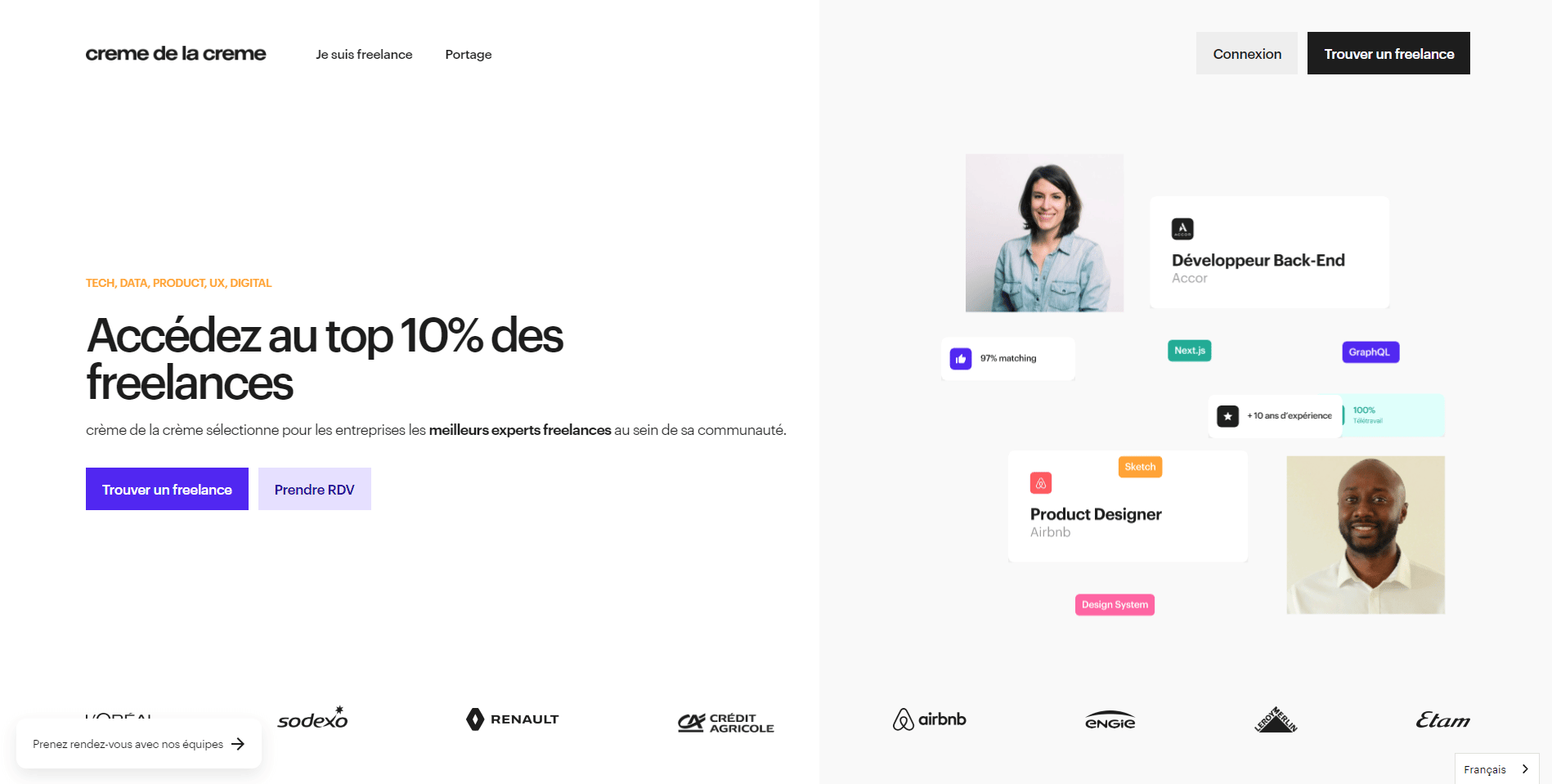 Crème de la crème is a freelance platform that differentiates itself by its selectivity in the providers it refers. If you pass the tests to be listed on the platform, an account manager will be dedicated to help you find missions. In terms of operation, clients submit an assignment offer, which is open to 5 applications only. You can also enjoy access to the slack channel of the cream of the crop freelancers, a personalized dashboard… 🔥
Perfect for a freelance consultant, the sectors referenced on the platform are increasingly generalist, but the most sought-after profiles are mainly in the digital field. Regarding the fees, you will have to leave a commission of 15% HT of your turnover. Payments are made in 48h at the end of each month. 🙌
#2 Dgitags.io freelance platform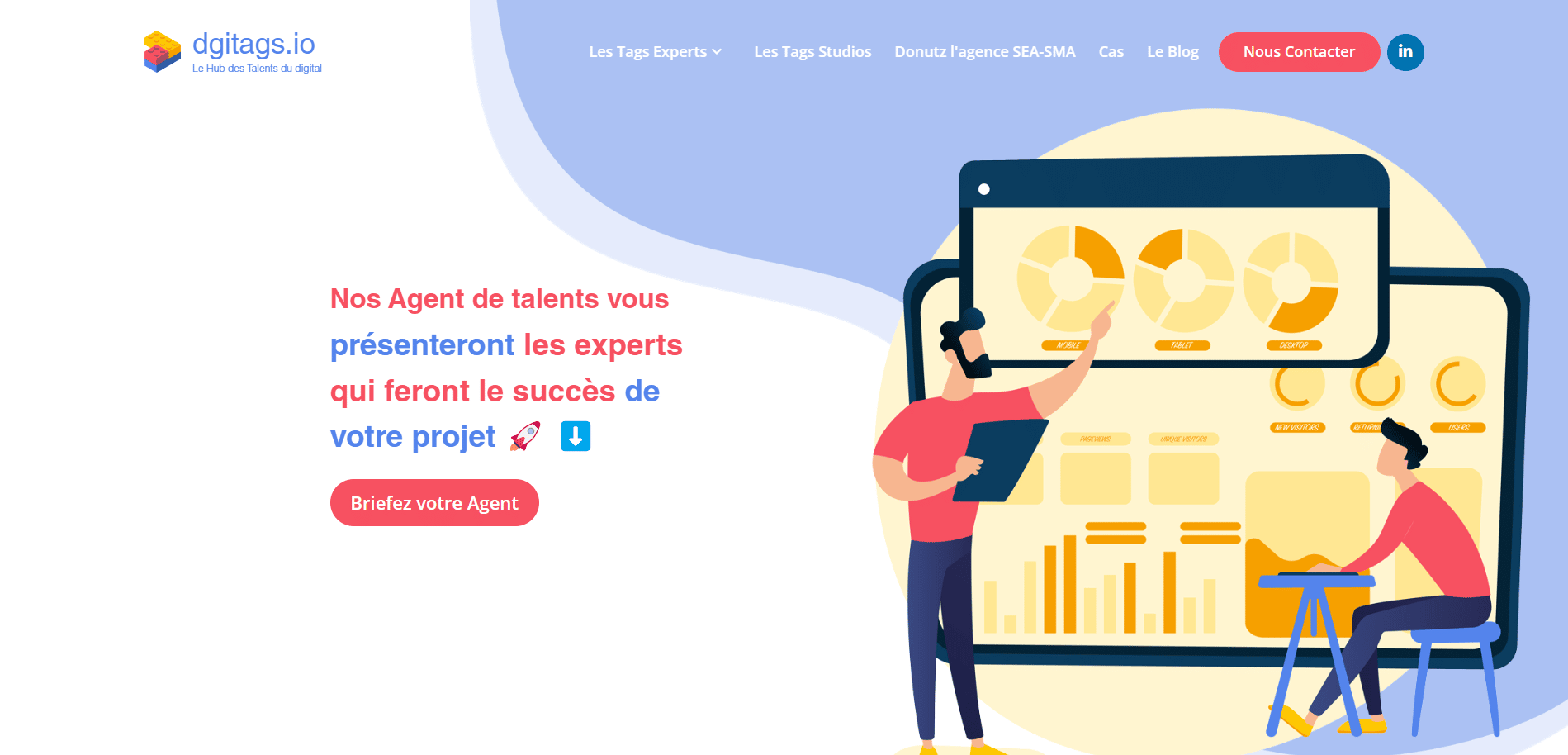 Dgitags.io defines itself as a digital talent hub. Halfway between a freelance platform and a digital agency, this Parisian start-up supported by La French Tech already has more than 1200 freelancers. You will be able to offer all the services that revolve around webmarketing and design. Once you have registered on the platform, a talent manager will contact you to help you find the right assignments.
Best freelance writing platforms
#1 Text Broker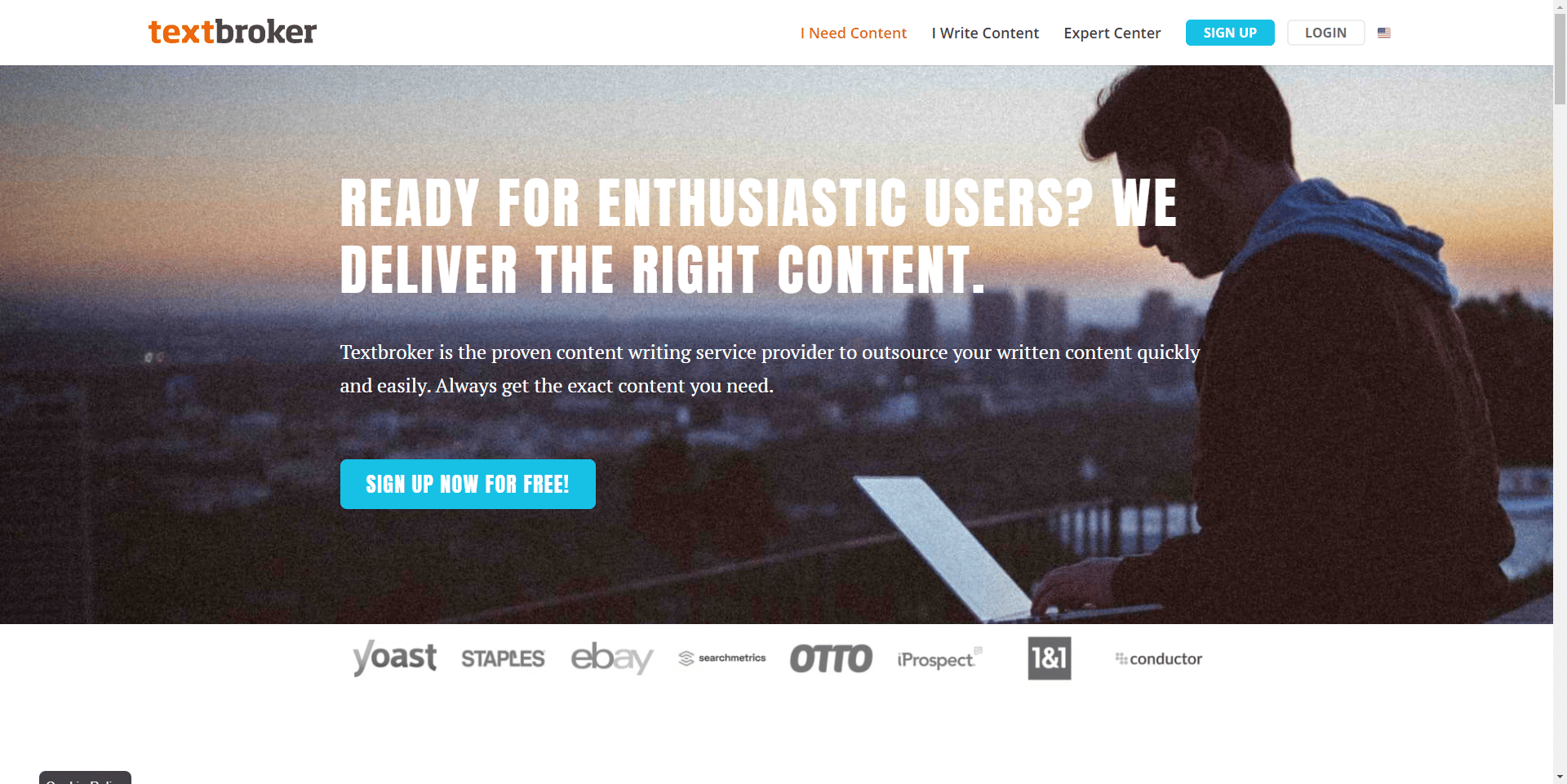 Yout want to become a freelance writer? TextBroker defines itself as the world's leading platform for freelance writers. Whether it's for simple texts,email marketing, specialized articles or translation, you'll be able to find clients if you're in the writing business. With over 80,000 clients worldwide looking for writers and over 11 million orders placed, it is a behemoth of a freelance writing platform.
Textbroker pays you by the number of words written, and according to the quality and the requirement of the client for the text in question. So there are different remunerations depending on your copywriter experience, but in all cases you'll be making money.
#2 Redacteur.com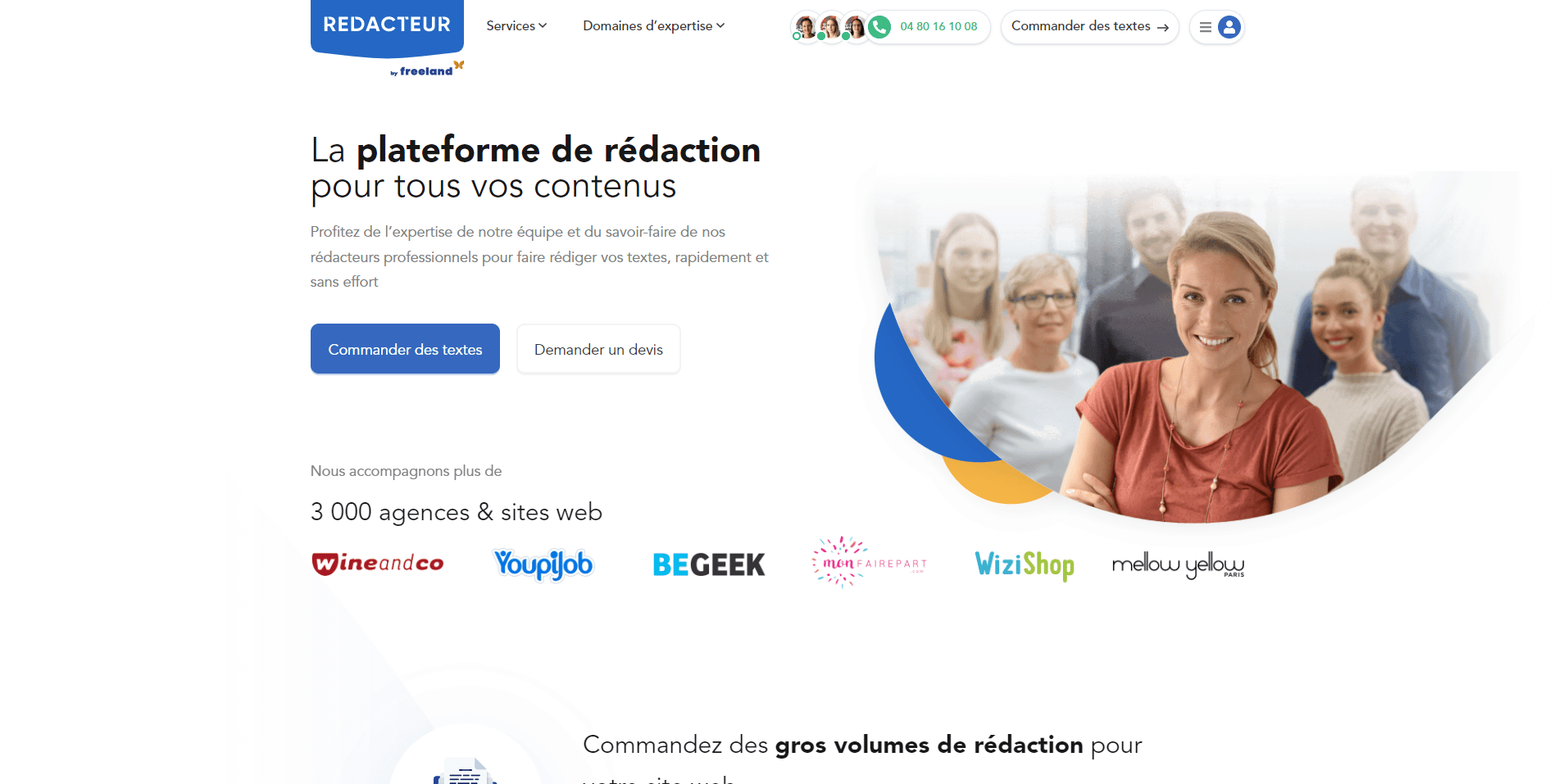 Made for those who has writing skills, Rédacetur.com is a French platform specialized in freelance writing jobs. Whether it's for SEO optimized blog posts, copywriting for landing pages, article writing or press releases, you can find assignments on this platform. Today, it has more than 15,000 registered writers.
As for the remuneration, the platform charges a certain price to the client and pays you a flat fee according to the number of words written and the complexity of it. The commission taken by the platform is not specified.
The best platform for freelancer photographers
Utopix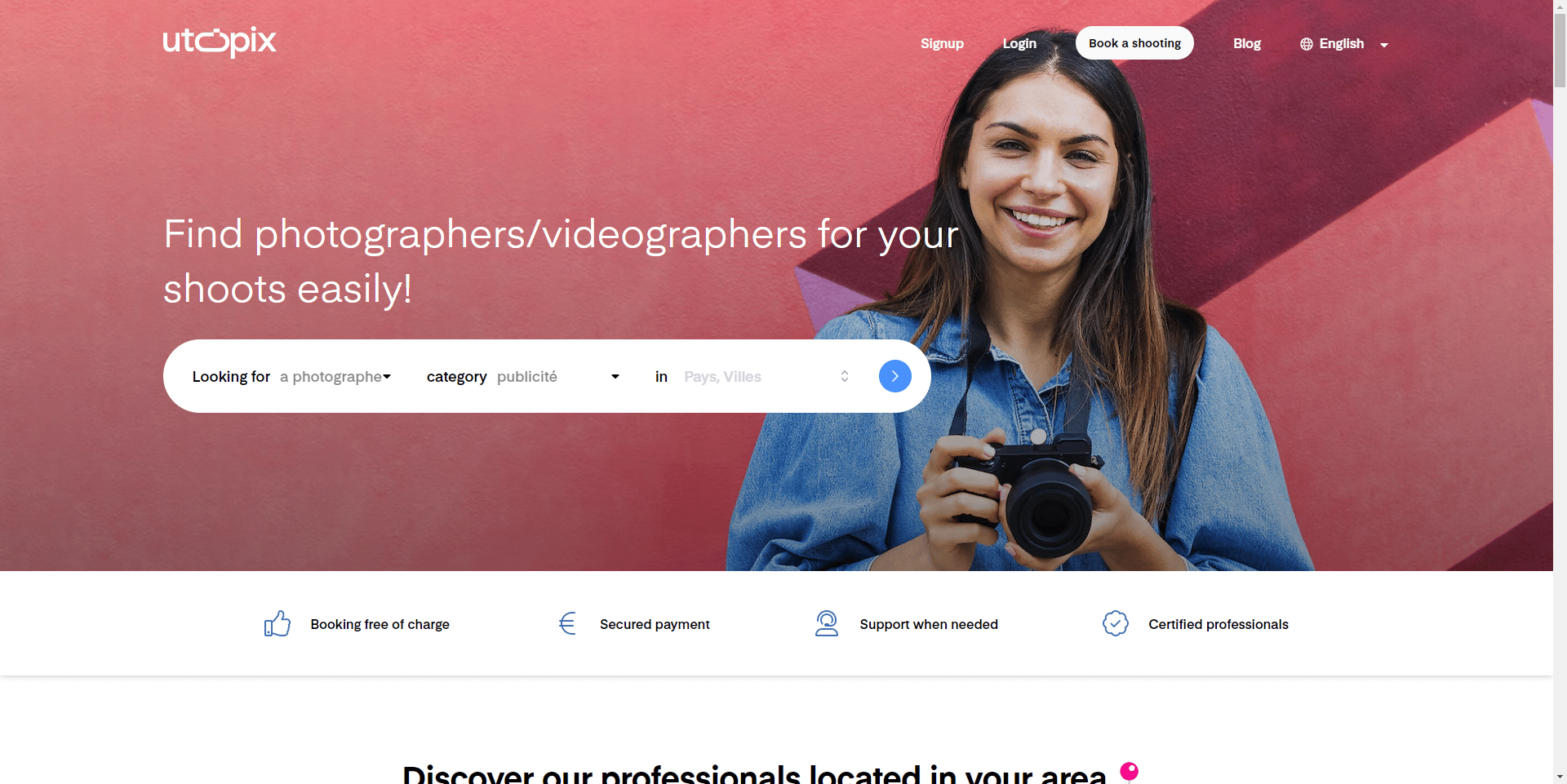 Utopix is one of the only freelance platforms dedicated solely to freelance photographers. The site UX is designed for services in the field of photography. It has more than 3000 freelance photographers. You can propose any type of shooting there (including for linkedIn profile photos 😉 ). If you are looking for a platform that will get you photography jobs, Utopix is made for you.
The platform does not take any fees from freelancers. It's up to the client to pay a commission ranging from 10 to 15% for each shoot done through the platform. Utopix collects your payment at the beginning of the service and pays you once the client has validated your photos. An efficient way to protect yourself against unpaid work. 💰
Conclusion: where to find freelance assignments?
If you're self-employed and looking for clients, freelance platforms are a great way to snag assignments easily.
There are generalist platforms, just as there are specialized platforms. It's up to you to figure out which one suits you best! 😊
There you go, I hope you find what you're looking for in the platforms above!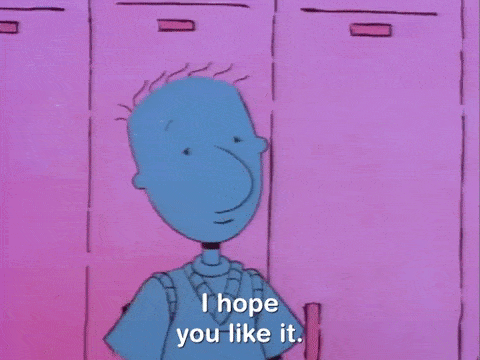 FAQ about freelance platforms
What is a freelancer platform?
Those platforms has been created to connect freelancers with companies that need their services. There is many types of freelancer platforms, with different payment systems.
Some work through a subscription system to respond to customer offers, others through a commission system. These commissions may be paid by the customer or by the freelancer depending on the platform.
This is what differenciate a platforme from another. Depending on what you'r looking for, you may prefer a platform or another.
That's why the best freelance platform may not be the same for you as it is for someone else.
How to register and work on freelance platforms?
Each platform has its own way of working. Then, it will depend on the way the platform works. Sometimes it's up to you to respond to offers, sometimes it's up to the companies to contact you. Choose the way you want to work, and let us guide you!
How to find your first client on the platforms?
The more your freelance profile inspires confidence, the more likely it is that companies will contact you for freelance assignments. This may vary depending on the way the platform works. Ask about it directly, all of them explain their way of doing! 😉 And mot of all, don't forget to work on your LinkedIn Profile. No matter the platform you chose, it has to be perfect!
How many freelance platforms are there in the world?
There are hundreds of freelance platforms in the world. But not all of them are equally suitable for every business. It's up to you to find the one that suits you the most!
Which freelance platform should I choose to start?
If you are a beginner, it is better to choose a platform where the competition is not too tough. Then favor those that require a monthly subscription, as the number of freelancers who are registered there is likely to be lower. 💡
Hoping that this complete tour has helped you to choose among all freelance platforms, see you very soon for a new article! 😊