In this comprehensive guide, we will look at the different methods of real estate prospecting (passive and active). 🌆
On the menu: Tips on how to prepare your prospecting scripts, Techniques to promote your real estate agency on the internet, and a Focus on the importance of digital prospecting tools in the real estate sector.
Are you ready? 🚀
How to do Digital Real Estate Prospecting?
Real estate digital prospecting consists of exchanging with a person to convince them to entrust you with a project to sell, buy or manage a property. 🏢
As you know, the commercial actions to search for a property and the amount of mandates signed go hand in hand. The digitalization of the last few years has opened up new hunting grounds for real estate companies.
But, with all the latest digital techniques, it can be hard to know where to start. 🤔 You need to optimize your real estate prospecting strategy so you don't waste time and resources on low-value activities.
Learn how to search for real estate to harness the power of social media to achieve your growth goals, future-proof your business and position your real estate agency as an expert in your field.
Let's discover the 2 main types of prospecting that exist in the real estate industry. ⏬
A) Passive Prospecting in Real Estate
More than any other industry, real estate is the most field-oriented. 🏗️ A real estate agent's core business is to think locally. Real estate companies typically have local and/or regional mandates.
For this reason, it's important to align your marketing efforts with the local awareness of your real estate company. 👋
This includes some online promotional campaigns:
Start by basing your SEO strategy on local keywords. 🗝️
If you have a blog, your article content should be localized to your area so that inbound marketing is focused on converting local leads.
Similarly, your marketing campaigns on social networks and real estate websites should target potential customers in your city.
Don't forget to create a listing on "Google My Business" to inform your real estate agency. Enter all requested data and information and provide links to your blog content to support your inbound marketing strategy. 🧲
Also be sure to include call to action buttons on your website. And strategically on your website! Include relevant CTA buttons in your blog content, property listings, social media ad campaigns, etc.
These passive digital real estate prospecting activities can generate qualified leads that add to the prospects found through active real estate research (physical and digital) that we'll see next. 👇
B) Active Real Estate Prospecting
If you are a young real estate agent or if the real estate agency is new, you are going to have to put a lot of effort into actively searching for properties and prospects. ✨
Active real estate prospecting involves direct marketing efforts to pick up new mandates. ✍️
Here are some examples of active prospecting:
Make cold calls to find and generate leads. Although this technique is often perceived as invasive by clients, it is still used by real estate agents. 📞
Call qualified prospects who advertise their properties on professional websites and social networks.
Do some real estate prospecting and field research.
Follow up with prospects who haven't given responses during previous collaborations.
Build trusting relationships with property management consultants who may be looking for rental investment projects.
Host and/or attend real estate events to find new prospects and network.
If you have the means, launch targeted advertising campaigns on your professional social network (LinkedIn Ads, for example) or on site (display).
There, now that we've laid the groundwork for digital real estate prospecting, let's get to the real-world examples! 💥
Examples of Successful Real Estate Prospecting Strategies
Example of Real Estate Advertising Flyer
Even today, communication around real estate is not limited to the web to be effective. 🧐 The distribution of "flyers" or leaflets, to advertise your agency and your real estate services, has always been a key element of the marketing strategy.
But, in order to make a real impact and generate business, every aspect of communication must be strategically thought out and designed, whether it's paper or digital. 🪶
Here's a real estate agency flyer template to incorporate into your communications to create impactful campaigns: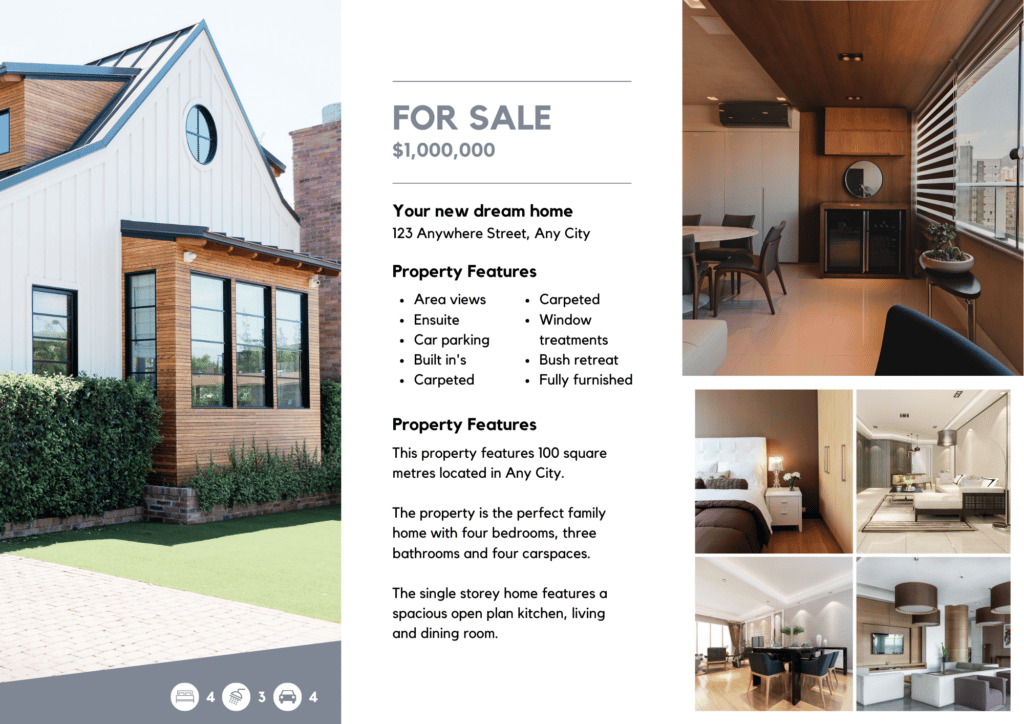 Showcase and highlight the properties of your choice and persuade buyers to contact you. 🤳 Once you've piqued their interest, you can work with them to target the advertised properties that best meet their needs.
So be sure to list only the best properties and a selection showing the variety of properties the agency has to offer. 😏
💡 For even more impact, this type of flyer can be used in addition to pricing information for your location. Thus, by communicating local price ranks, potential buyers nearby, can be better informed and you will be perceived as an expert in the market.
Example of a Telephone Prospecting Script (PDF)
As you know, freelance prospecting is one of the most important tools to actively and effectively search for new customers. 🏹
To be successful in real estate cold calling, you need to be well prepared beforehand. 🎢 Before calling, find out about your prospect so you can propose a meeting between the buyer and seller, and possibly sign a mandate.
Be careful not to waste your time or your lead's time just "chatting" 🌬️, it's up to you to propose a date and time to visit during this exchange, for example.
If you give them too many slot options or if you leave them too much time to think, they will never get anything concrete… 🙈
Download our phone prospecting script, as a PDF here! 💫
Download Script 🔥
Example Mailing and Catchphrases for Prospecting
Prospecting by "cold emailing" is part of a real estate agent's daily life. 🥶 It is a very important approach, because this market is very competitive and the ROI on emails is very high (when well executed). Therefore, it is imperative to stand out in order to win more purchase offers.
Here are some sample catchphrases to attract and captivate potential sellers and buyers, nothing beats an effective catchphrase! ⏬
💡 Also, remember to take care of your email subject lines, as this is the first thing your prospect will see in their email inbox. 🤐
Example Real Estate Prospecting Mail (Sample Letter)
Prospecting letters have many benefits for real estate professionals, allowing them to find new clients through on-the-ground canvassing, while strengthening their existing client database. 💪
Finding warm prospects, maintaining relationships with an old buyer base, and soliciting reviews are all purposes that personalized letters can serve. So we've compiled a few sample letters you can send to your lead base: ⏬
👉 Now let's get to the heart of the matter, 😍 the best real estate prospecting methods.
Digital Real Estate Prospecting: Best Methods to Get Started!
Digital Prospecting with a Website
🪟 Your website is the "showcase page" of your real estate agency, it must be well thought out and designed to help your customers quickly find real estate solutions that fit them.
🤓 To ensure this, the site must be readable, meet certain criteria and contain various important features such as contact forms or FAQs.
🔍 Don't forget to use a domain name similar to your agency's name. Including your agency's name makes it easier for potential clients to find you on the internet.
🔔 Your website should be updated regularly, to get the most attention from prospects.
📱 Also, customize it as much as possible for your agency, think about the UX to improve the customer journey. It is imperative to develop your website in "responsive web design" mode so that it can adapt to all screen sizes (mobile, tablet, computer).
🌐 For example, don't hesitate to add a "New Offers" tab on your site. This ensures that your content is fresh and keeps your prospects engaged. Most importantly, you'll benefit from SEO thanks to optimized content.
🏠 Talk about various topics such as: new tourism or real estate development projects in your area, tips on buying/renting a property, etc.
Digital Prospecting and SEO Strategy
Having an attractive website is great, but having internet awareness is even better! 🤩
That's why it's important to work on your SEO, because without it, very little traffic will be generated, so very few leads will be generated via this marketing channel… 😪
There are two types of SEO: natural (SEO) and paid (SEA) :
As the name suggests, "natural SEO" aims to place websites in the so-called "natural" results page (SERP) of search engines like Google, for example.
In contrast, paid search engine optimization "SEA" consists of buying keywords to place a "sponsored link" at the top of the search results page.
👉 Working on your SEO means giving yourself every chance to show your website to potential prospects and get more sales opportunities!
For more information, check out our article on SEO strategy to understand how it works.
Digital Prospecting on Social Networks
First of all, it's important to know your goals. 🎯
Define the profile of your leads (or "marketing personas") that you want to reach with your ad.
By targeting your marketing efforts, you increase your chances of getting more leads and more business. The more active you are on social media, the more likely you are to achieve your goals. 💪
We recommend posting on average twice a week. 🗣️
We also recommend alternating between commercial content and lighter topics such as news from your agency (new recruitment), feedback, etc.
Finally, it is important to know that not all social networks are adapted to the real estate business. Therefore, you need to choose a specific network that matches your target audience, your communication objectives and your content strategy. 🧨
1. Real Estate Prospecting on LinkedIn:
As a purely professional social network, LinkedIn is very useful for recruitment campaigns, for example. 🎓
In addition, you can exchange news about your company and business areas, as well as keep in touch with colleagues and collaborators. 🤗 Your profile is above all enhanced by your professional background. In this network, they are three levels of contacts to know which people in your network have links to your connections.
👉 Don't forget to regularly share professional content to attract new talent to your real estate agency!
2. Real Estate Prospecting on Facebook:
This social network is mainly used by the 25-34 year old community and is relevant to both buyers and sellers, as well as renters and owners. 🤝
It can be used in two different ways:
To create a company page for your agency.
To create a personal account and communicate about your business.
To stay professional, include your agency's logo in your profile picture so that people can easily identify you. 😎
Next, create an attractive visual for your cover image. 🌈 Remember that your profile picture should be neat. Similarly for your cover photo, choose a properly formatted image that will showcase your agency or business.
👉 Facebook also offers a "Marketplace", similar in style to "Leboncoin.fr". It is an interface of offers integrated to this social network, through which real estate ads can be published by professional or private accounts.
It is an increasingly popular platform used by real estate professionals, as it is an additional sales channel that is completely free. 💲
3. Real Estate Prospecting with Instagram:
Instagram is the third most used social network after YouTube and Facebook, and only allows you to post photo or video content. 📸
Therefore, it is important to measure performance indicators such as the number of views or the number of new followers. Think about content that is appealing to your audience, and that matches your brand image and agency values. ✨
Don't forget to highlight your text with emojis and use hashtags.
Comment on or like the posts of accounts you follow without moderation. This helps you gain visibility and view activity on your network.
Don't forget to reply to comments and messages as often as possible, to stay in touch with your followers.
"Reels" or videos are a great way to get the attention of your community.
💡 Also note that these two social networks are linked. You can post to your Instagram and Facebook accounts at the same time!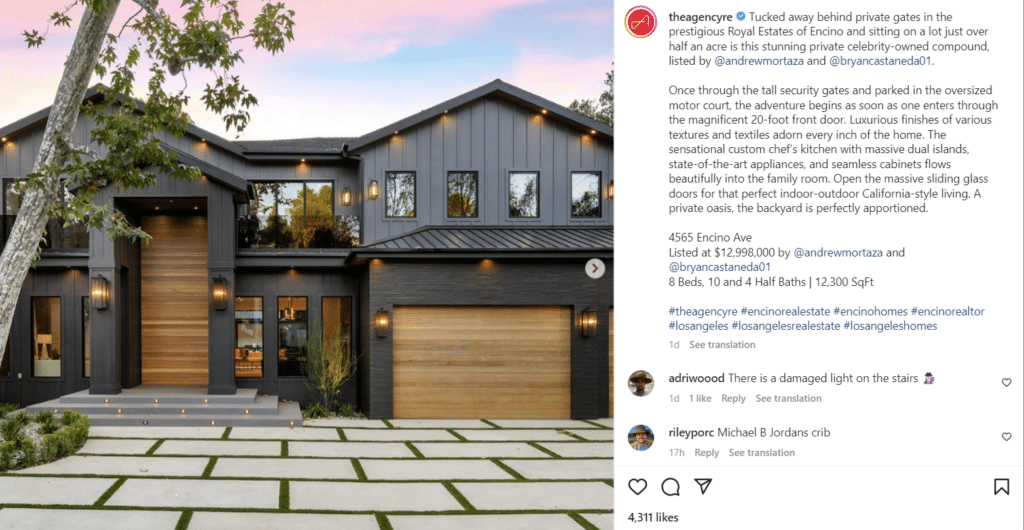 Here are some content ideas for your Instagram account:
Hold contests to expand your audience and attract new people to your profile.
"Stories" (24-hour ephemeral videos or photos) are used, for example, to share information about your site, share everyday moments, or showcase goods. Don't hesitate to engage your community with the tools available in Instagram Stories (voting, Q&A, etc.).
Post your real estate listings. But be careful not to post every day. Only share your unique features and favorites to avoid flooding your page with commercial offers.
Do sponsored content! This method of prospecting is essential to increase your visibility and reach your goals on social networks.
In summary, we've outlined the three essential social networks you can connect with as a real estate professional. 💯
There are other sites such as Twitter and YouTube, and of course you are free to use them. For example, YouTube is a good way to store and distribute your virtual tour videos. 💻
Also, we recommend you to be active only on a few social networks and manage their content appropriately. 😯
Don't leave your pages inactive, ask a "community manager" to animate your pages, if ever you don't have time! ⌚
Digital Prospecting with a Newsletter
A "newsletter" is a subscription to recurring informational or promotional emails, it's a form of digital prospecting that allows you to regularly broadcast real estate information to your prospects and customers. 📨
It is a very good tool to get more leads and keep your customers updated with the real estate content you publish.
Nowadays, regular newsletters are an integral part of the digital communication plan. Organizing your editorial content and planning your distribution schedule can be very effective at a pretty reasonable price. 🤑
It's a good idea to send out your newsletter at the beginning of the month to summarize the news of the past month and inform your recipients of upcoming events, for example.
Some of the most popular tools to create newsletters are Sarbacane, Mailchimp and Sendinblue, be aware that these tools are essential, as managing mass emails requires a dedicated platform. 💥
Don't hesitate to try each of them and choose the one you feel most comfortable with before taking out a paid subscription. 💁
In summary, newsletters are a great tool to keep your prospects informed about your news and to showcase the specialized services your agency offers. ☎️
Real Estate Prospecting and SMS
Phones or "smartphones" are such an indispensable tool in our lives today, that we use them several hours a day, every day! 🤪
However, SMS ads are often considered invasive, so you need to use them with some caution. 🤫 It's important to limit the frequency of these messages so that they don't disrupt your potential customers' daily lives.
To maximize your chances of being read, we recommend creating short and concise messages with emojis that catch your target's attention. 👀 This simple and effective method of communication can give your potential customers a little "wink".
It's also an opportunity for your past clients to remember you, and contact you again for future real estate projects. 😏
Source : Constantcontact.com
Digital Prospecting and Automated CRM
A CRM is a customer management software for professionals in any industry, including real estate. 😉
Real estate CRMs gather data and information about customers, enriching contact data constantly. 💎 These tools and features help you analyze and process information about your customers to establish a more personal relationship with them.
So, CRM integrates the notion of customer relationship management and IT tools that accelerate transactions and exchanges through collaborative workspaces with your sales team, for example. ✍️
Here are some examples of Waalaxy CRM features that can be used in your digital real estate prospecting:
Detailed customer profile data,
Performance analysis,
Acquisition of new customers through multi-channel,
Import of leads from a CSV file or a LinkedIn search,
Precise follow-up of contact lists,
Personalized messages via email or LinkedIn,
Collaborative work (anti-duplicate lead protection).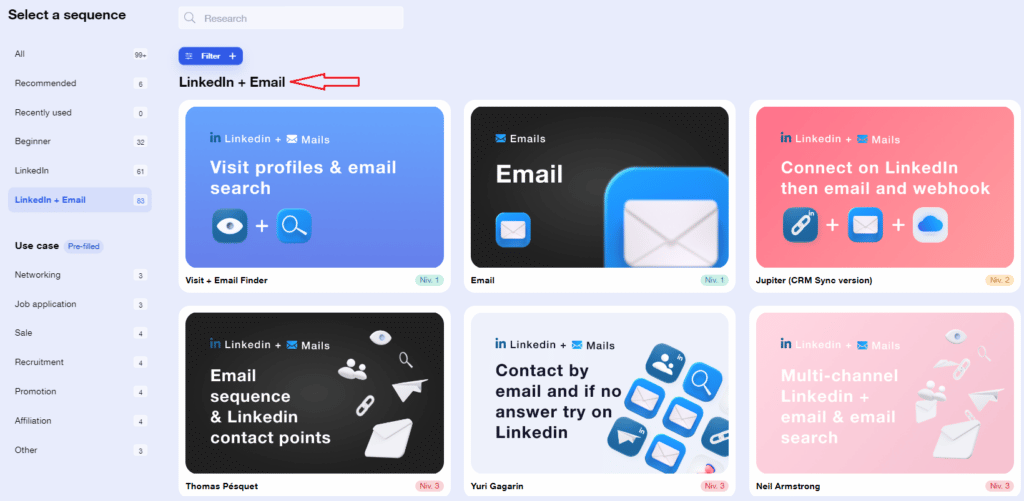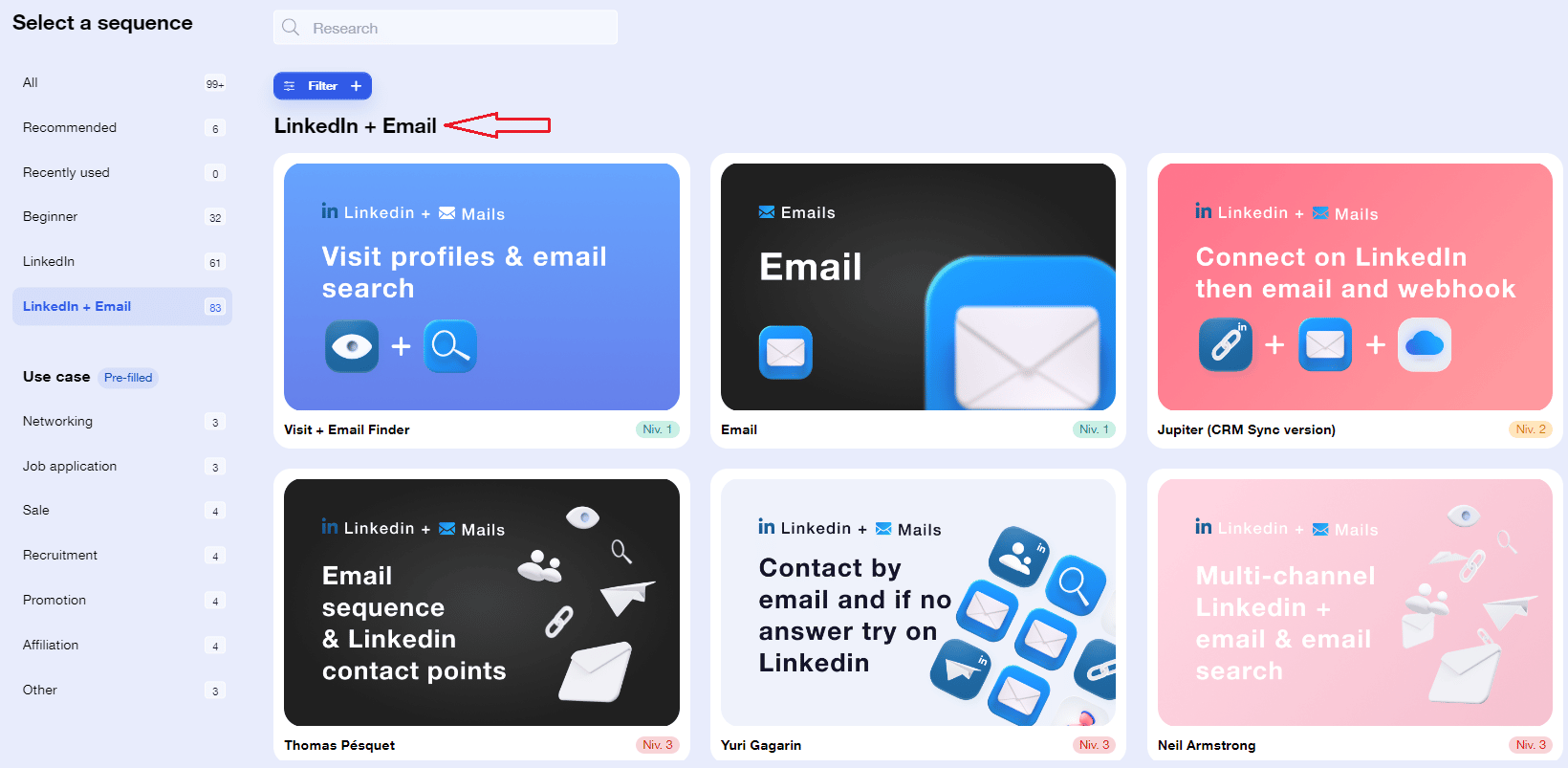 💡 As we've seen in this guide, digital communication is an effective and efficient way to acquire customers!
🚀 With these easy to implement methods, you can attract new leads quickly. Having an online presence shows your targets your social proof and that they can therefore count on you for future real estate projects.
Conclusion: Digital Real Estate Prospecting
Just like a building, the cements are the most important part to be able to build a construction that lasts long. ✅ That's why having a good prospecting foundation is essential, too.
To better understand your target market, you need to understand how supply and demand works in the real estate market.
Because first and foremost, you need to build an accurate real estate digital prospecting strategy, rather than just doing a series of actions without any specific goal. Use all the digital means and tools that are at your disposal! 👌
Also, a real estate agency will only work if there are new sales mandates… 🤌 So, it's imperative to look for leads through many acquisition channels, both digital and physical.
Here's a recap of the main points we've seen in this guide: ⏬
How to do digital real estate prospecting?
Examples to succeed in your real estate prospecting strategy.
Digital real estate prospecting: Best methods to get started!
Discover Waalaxy 🪐
FAQ of the article
How to Find Real Estate Clients?
Now that you have the basics of prospecting, you need to make sure you have the tools you need to keep growing your real estate business. ⛏️
What makes it easier for real estate agents to find clients is tracking their goals and taking the time to analyze the results of their prospecting campaigns. ⚡
Your business development is constantly changing so: ⏬
Stay focused on prospecting for real estate sellers,
Validate that your organization is serving your goals well,
Develop a quality business network,
Build the foundations of your digital real estate prospecting with emailing,
Have an entrepreneurial mindset.
👉 If you want to know more about outbound marketing techniques, read this article!
How does a Digital Real Estate Agency Work?
There is no official definition to define a digital real estate agency. 🤔 However, I can provide a few things to help answer that. An online real estate agency allows owners to manage their properties remotely.
It also allows tenants to show apartments from home, via virtual tours. 🤖 A digital real estate agency should offer the same kind of service as a so-called "classic" agency.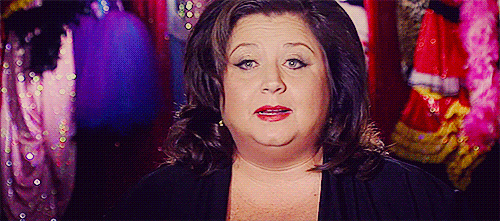 On that note… I hope you found this comprehensive guide to digital real estate prospecting useful. 😘