Sendinblue is a SaaS tool, an email marketing platform designed to ensure the communication and growth needs of businesses. It's a tool more dedicated to SMBs than to big boxes. 🚀 If you use this tool, you will be happy to know that it is possible to synchronize Waalaxy and Sendinblue very easily via Zapier.
We explain all about this automation here! 😁
What does Sendinblue allow you to do?
In a few words, here's what you can do:
Design welcome messages: automate a welcome email when subscribing to an email list. Handy to address visitors "logged in" to your site and allows personalization of your messages. 👋
Birthday messages: send mailings for a special event, such as a customer's birthday, to build loyalty. This is a classic type of personalized mailing, but it still works very well in terms of marketing strategy! 🥳
Page visit: send an email after a visitor has visited this or that page. This type of email gives you endless possibilities in terms of marketing automation. 🌌
Website event: send an email with a regular newsletter after the visitor has done a previously defined action on the website. 🤗
Product purchase: sending transactional emails after a purchase can increase its open rate. 💰
Marketing activity: send an email according to the marketing actions in your emailing solution. This scenario allows you to create complex mailing campaigns and precisely manage your marketing pressure. 📩
Abandoned cart: a great classic, this scenario allows you to address the visitor who abandoned his cart. 🛒
Waalaxy x Sendiblue Zap link
You can directly copy the link of the pre-completed Zap for Waalaxy x Sendiblue synchronisation.
For people who want to follow the tuto and do it by themselves, then.. good luck! 💪
➡️ Waalaxy x Sendiblue Zap link
Prerequisite: connect Waalaxy and Sendinblue
Before you can synchronize Waalaxy and Sendinblue, you will need to build the first part of the "zap" with Webhook and Google Sheets, to know more visit this article. 👈
See you in a bit! 😉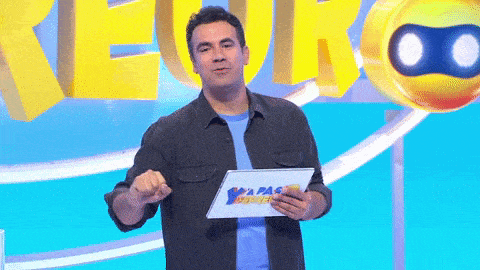 Synchronize Waalaxy and Sendinblue
You have just made a first zap that sends the data received via a webhook to your sheet on Google Sheets. 📁
Now we'll be able to link your Waalaxy CRM and Sendinblue so that the data is sent from Waalaxy >> transiting on Google Sheets to >> land on Sendinblue. ✈️
A little additional information, Sendinblue is a tool that allows communication via SMS and email address, so we will just set up the emailing synchronization from Waalaxy to Sendinblue. 👌
Back to the Zap:
Click on the little "+" and search for "Sendinblue".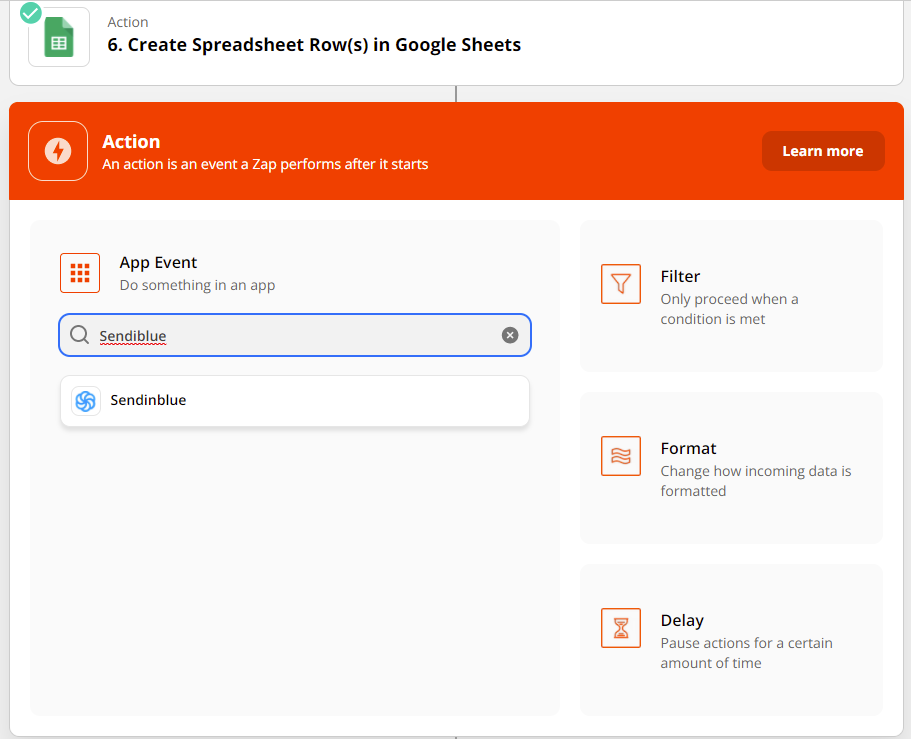 Select "Add or Update Contact" in "Action Event" and do "Continue".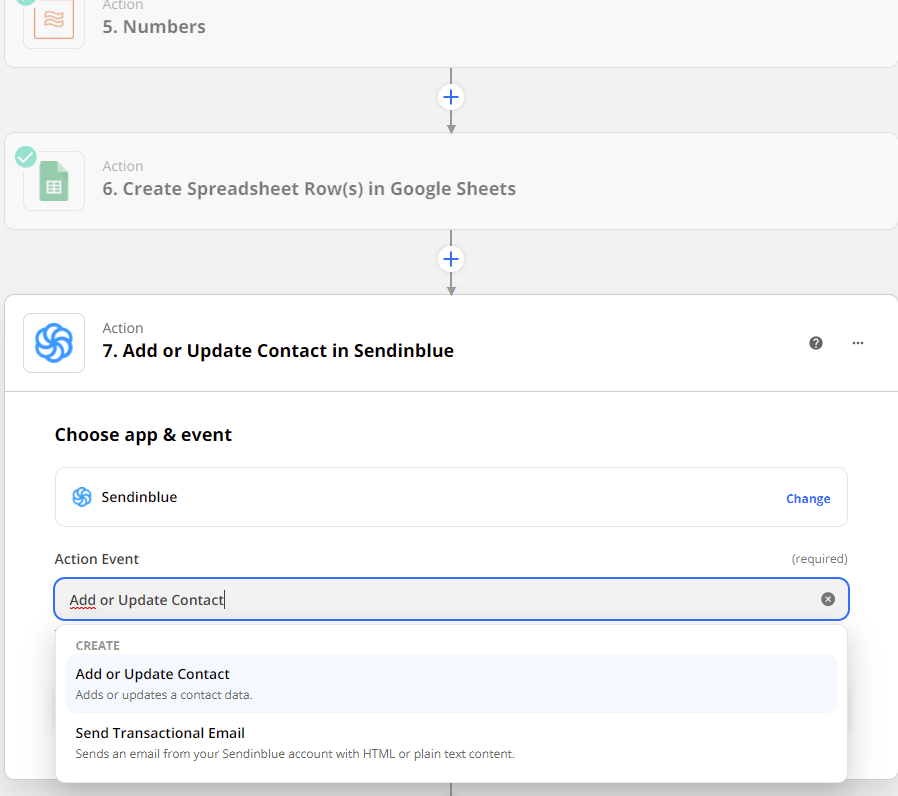 Connect your Sendinblue account. ✨
You will be asked to enter your API Key. 🗝️
Go to your Sendinblue account,
Click on the arrow on the top right to access your profile,
Then click on "SMTP and API".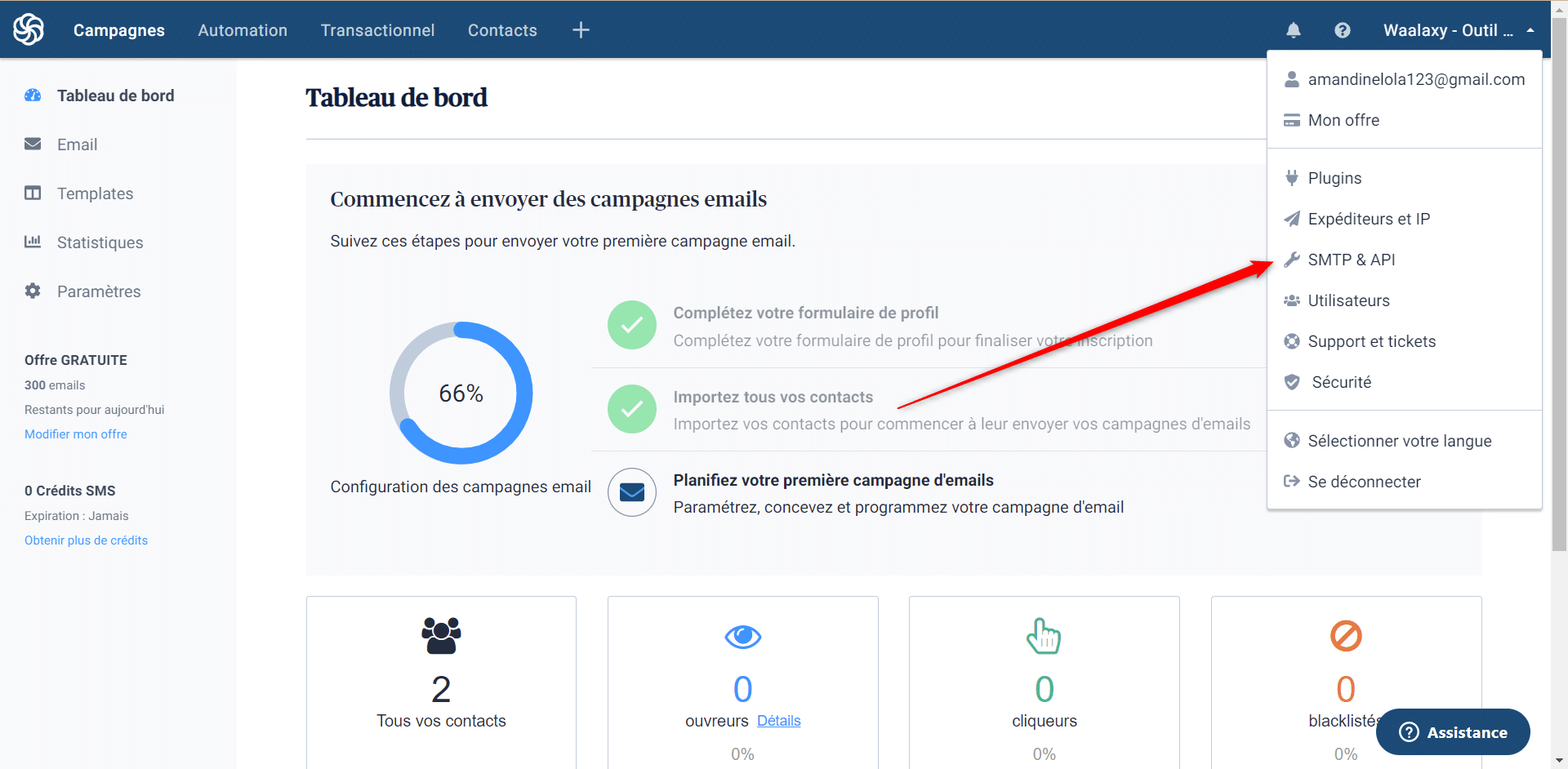 Then click on "Generate a new API key".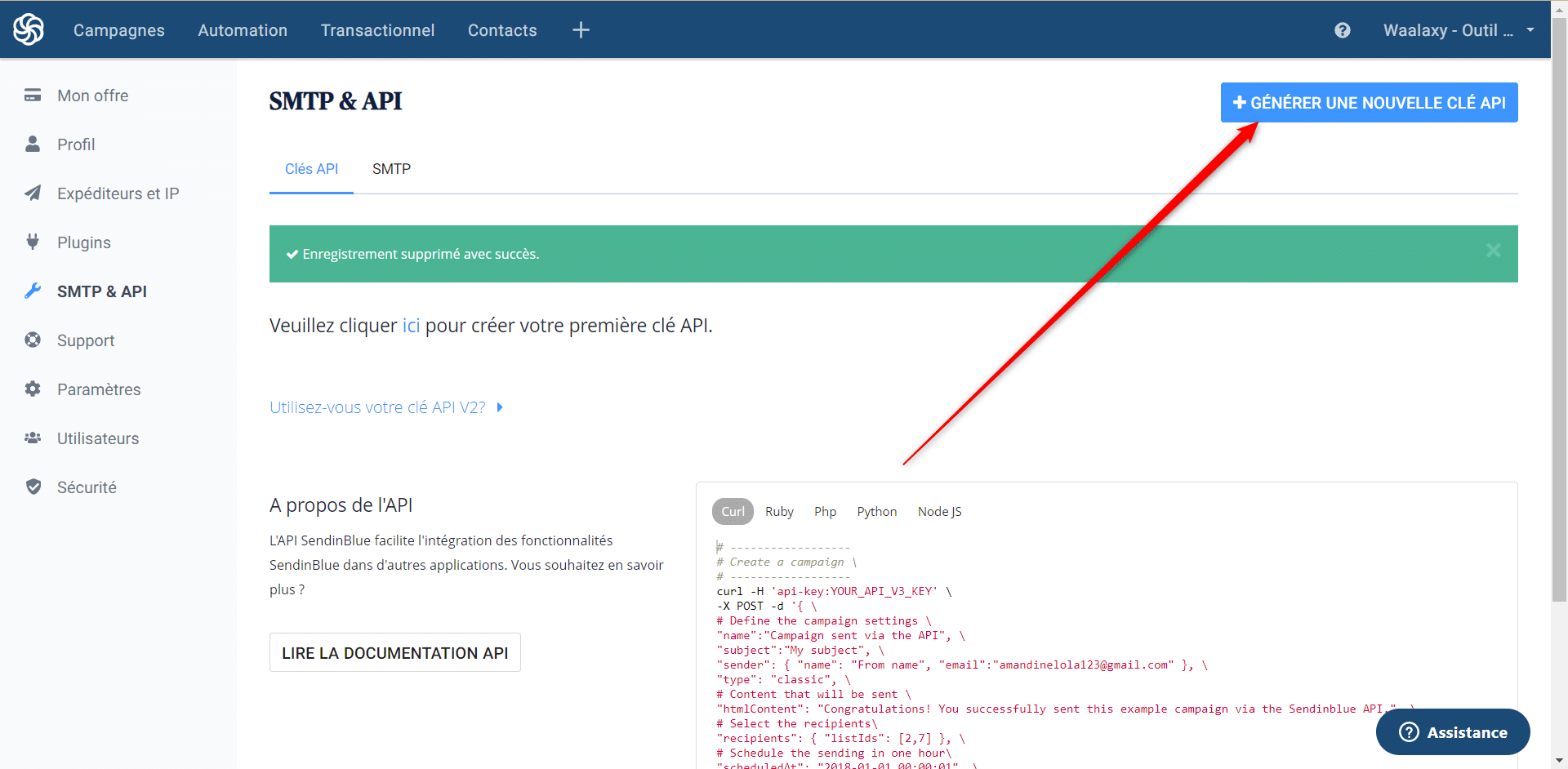 Give it a name and copy the API Key.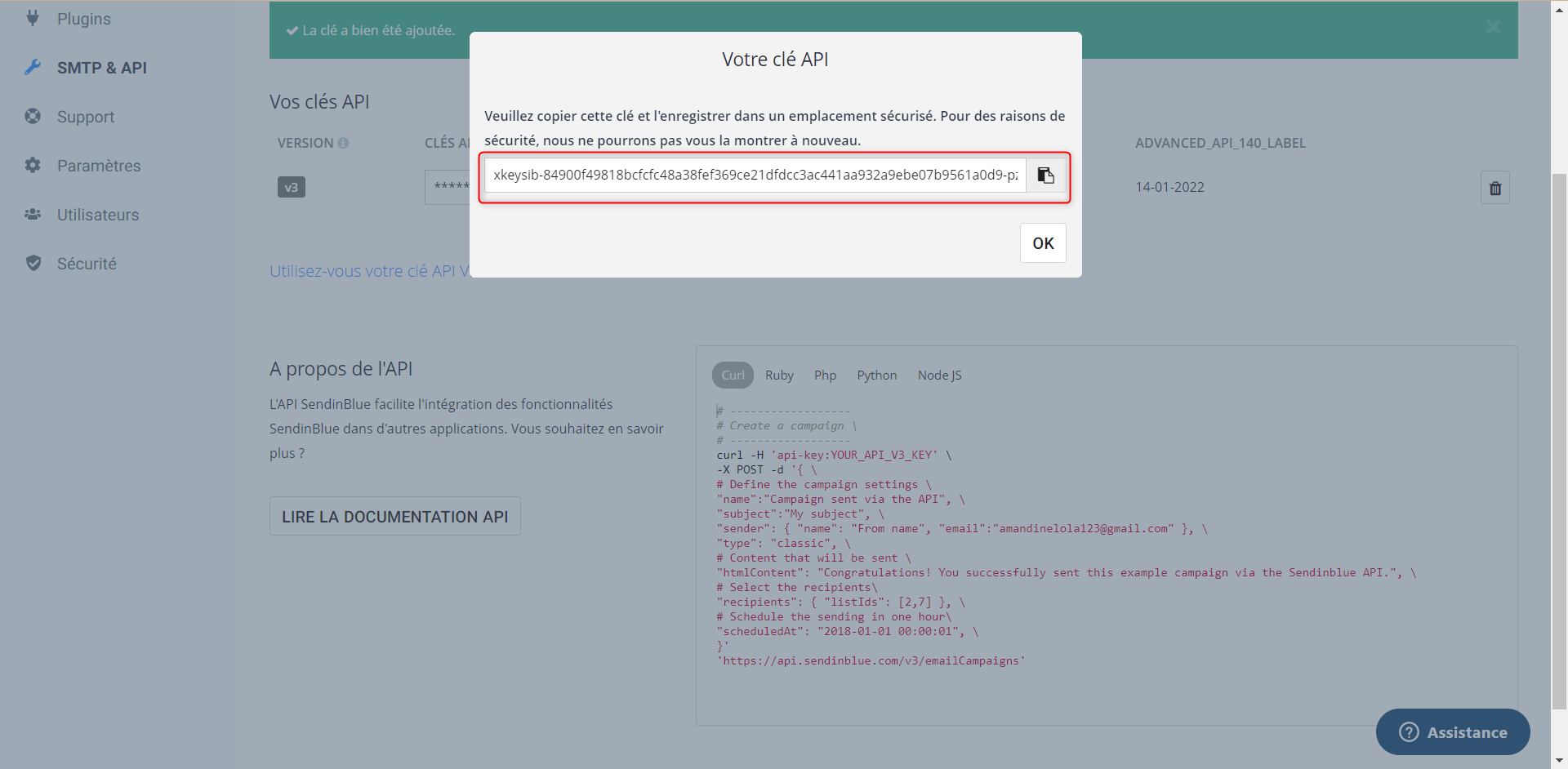 Back to Zapier. 😎
Paste the API Key in the window so that your Sendinblue account is linked to your Zap and click "Continue".
In the "Email" box, fetch the email address from Google Sheets.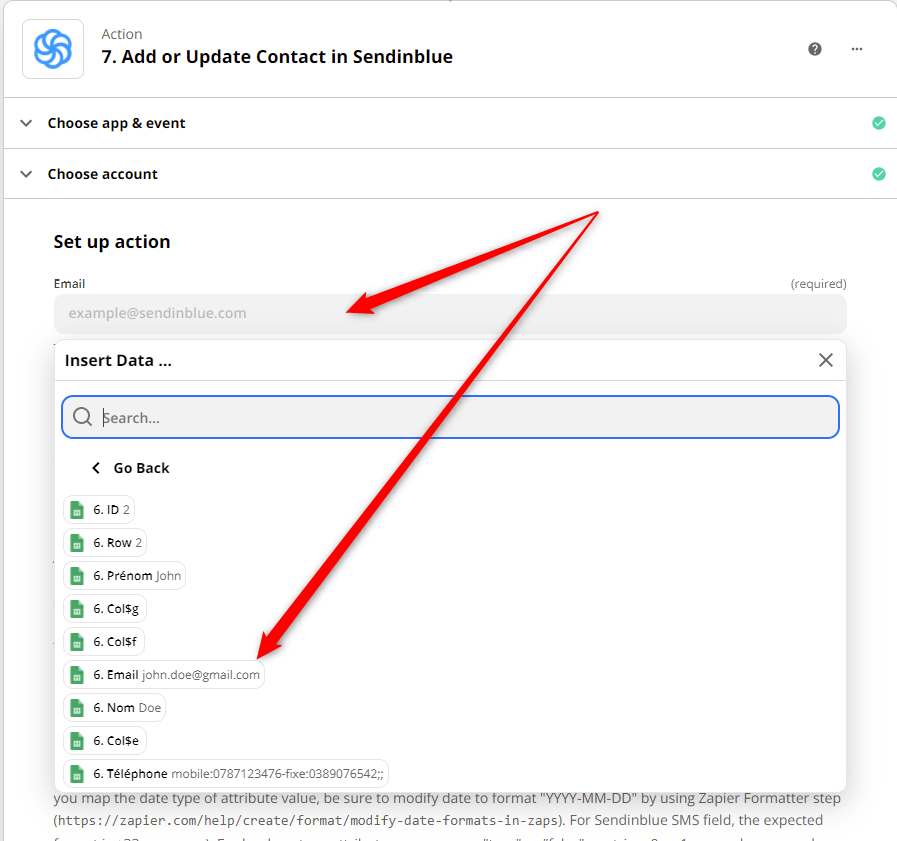 Select the email list you want the contact to be transferred to.
Select "Add" in the "Update Type" section and click "Continue".
Test the action and "Turn On" the zap. ⚡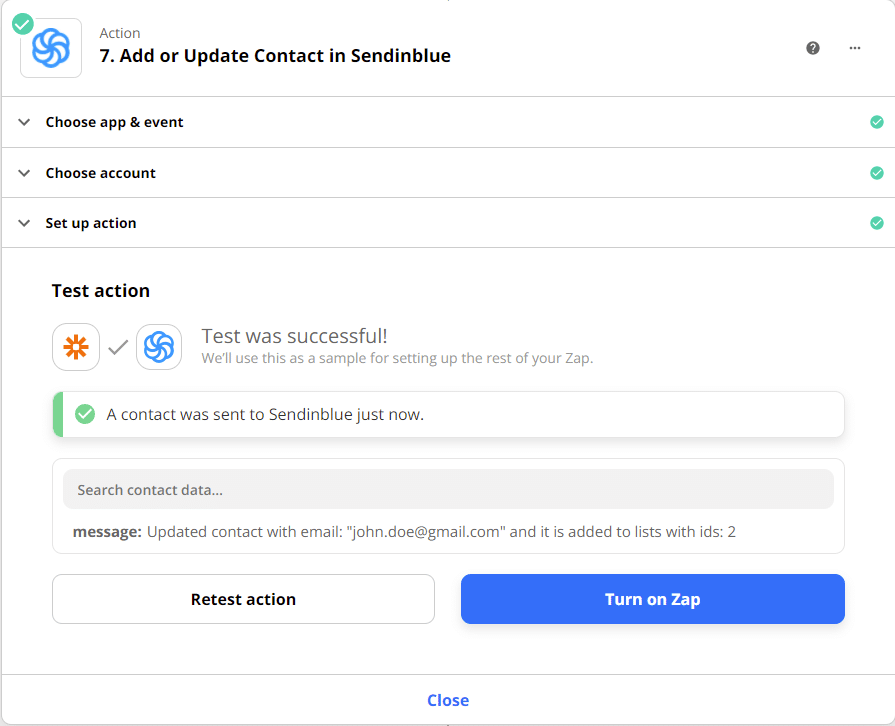 View on Sendinblue
To check that an initial data stream has been sent, go to Sendinblue, in the "Contacts" section. 👇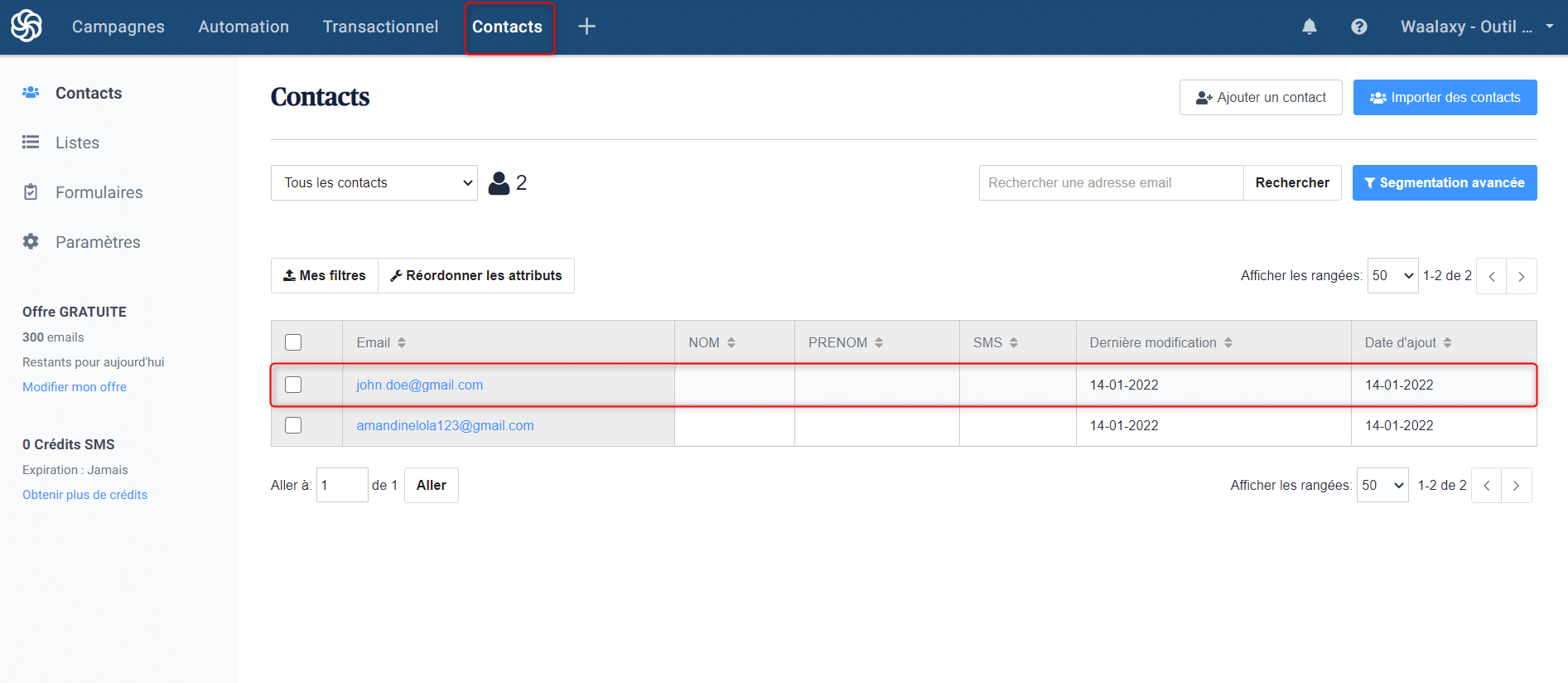 FAQ of the article Waalaxy and Sendinblue
What is the pricing of Sendinblue?
You can find Sendinblue's paid pricing here. ➡️
This one mainly depends on the volume of email sends and some additional features. 🔗
There is a Freemium version that allows you to have as many contact lists as you want and send up to 300 emails per day, which is quite interesting. 🧐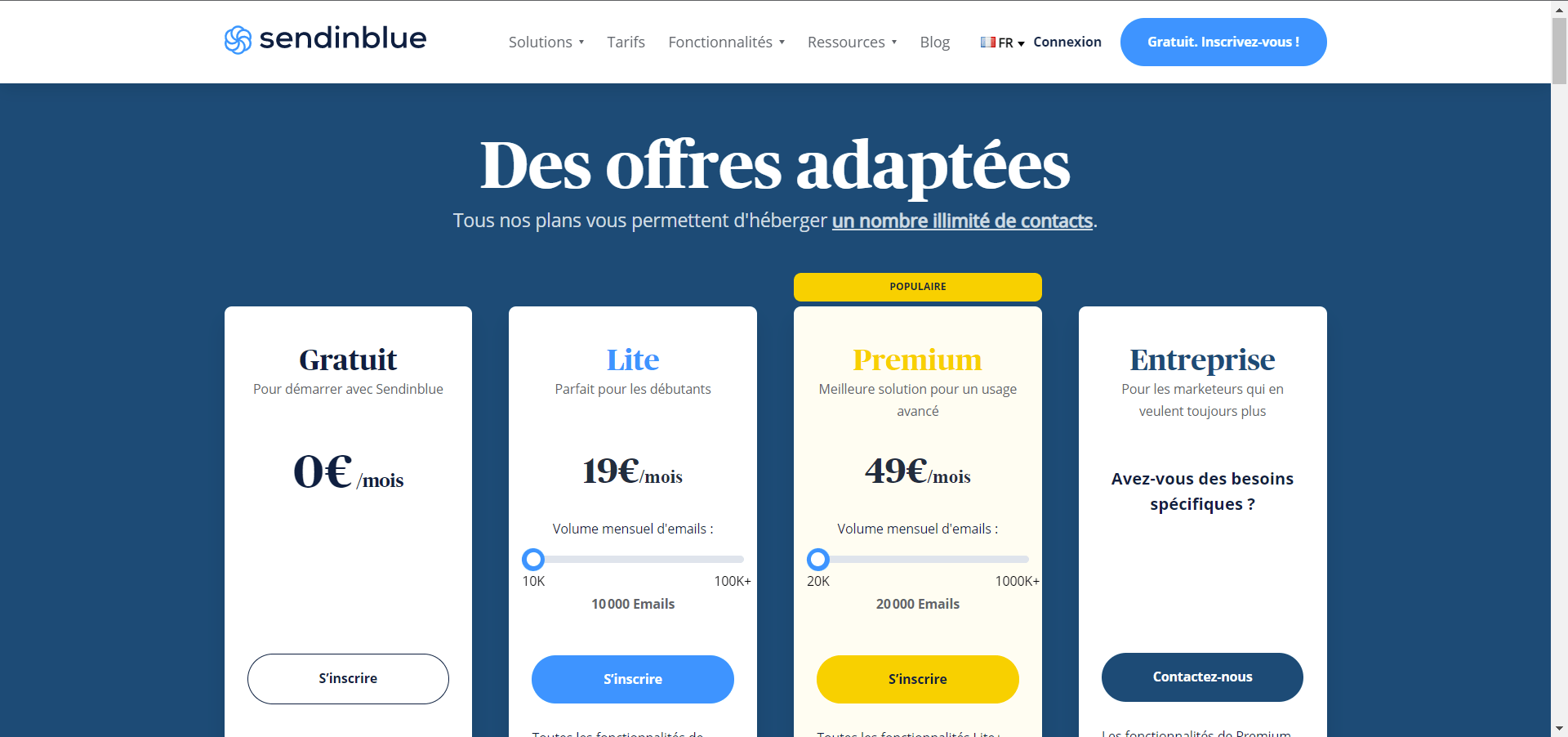 How do you send data from Waalaxy to Zapier?
We send data in batches or "bulk", not 1 by 1. 😬
Batch sending triggers after the 10th lead, however no worries, we have set automatic sends every 30 minutes if you ever fail to reach 10 leads. 👍
What Waalaxy sequences work with Zapier?
Firstly, you can only use scenarios for Zapier in the Waalaxy Business subscription. 👽
You can find the sequences that work with Zapier, from Campaign > Create Campaign > Use Case: Zapier Integration. ✌️
But it is also possible to define a "response goal" in all the sequences we offer that consists of at least one "message" step. Roughly speaking, all these sequences can trigger a data sending via a Zapier webhook. 👇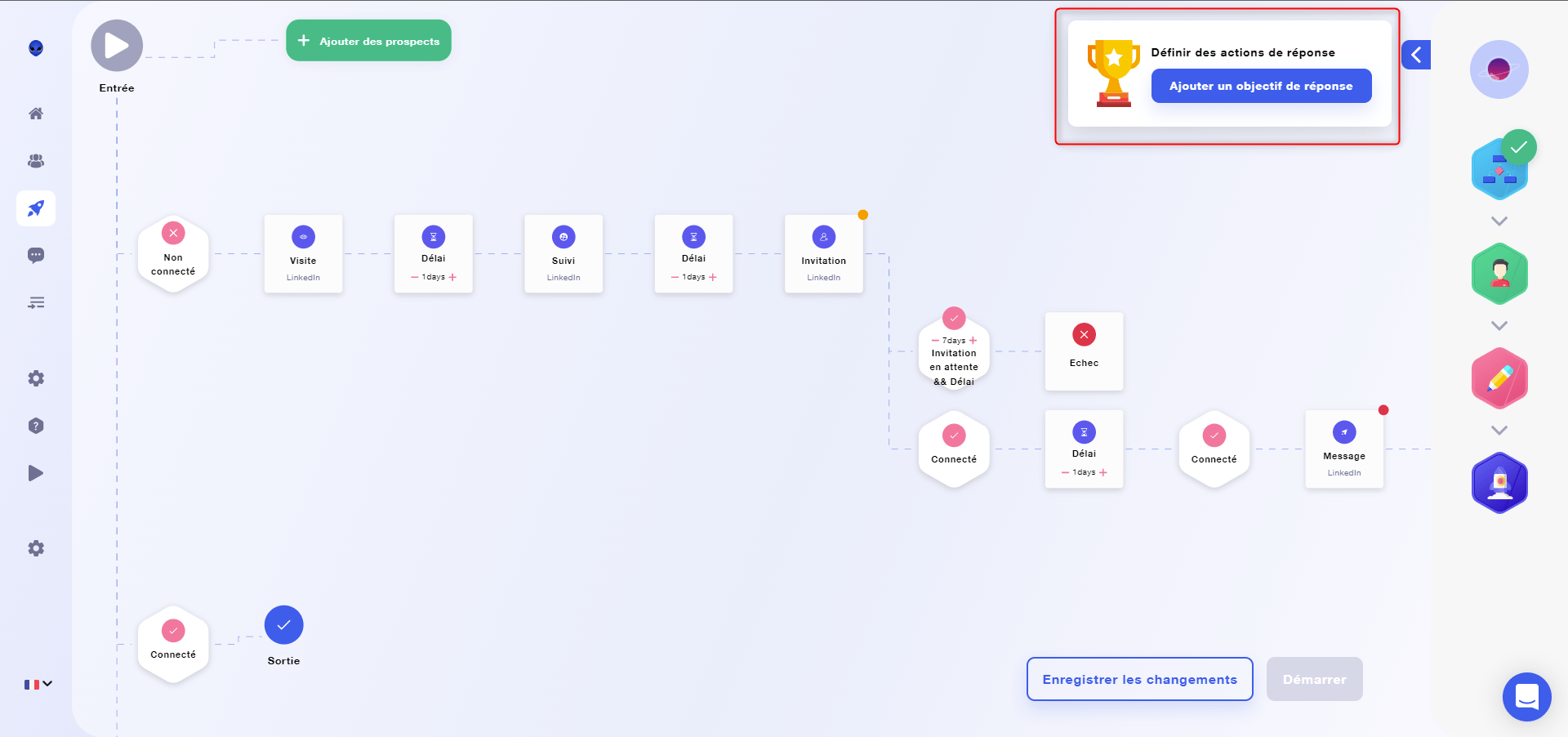 Conclusion Waalaxy and Sendinblue
As you can see, Sendinblue is a pretty comprehensive marketing tool that allows you to do some pretty interesting things and can have a real impact in your segmentation strategy. 🎯
It's a sending tool with a simple grip, a lot of usability and very complete to manage small teams and/or small structured. 🌳
Waalaxy and Sendinblue are two marketing tools that combine perfectly to optimize your B2b prospecting and loyalty campaigns. 🔥