Want to know more about omnichannel strategy? Learn about the definition, implementations and necessary prospecting tools. 🚀
Ready to take notes on the upcoming tips? 🪶 Here we go!
Omnichannel Strategy Definition: What Is It?
It's about reinventing relationship marketing. 🤝 The term omnichannel means using multiple channels of a brand at the same time. For example, a customer can check out a brand's products online on their phone and at the same time be at the point of sale. This refers to doing information distribution through different online solutions.
Omnichannel was born out of the fact that customers have changed their consumption habits. 🛍️ Now, everyone learns about brands online and then, they buy in store, or, consumers go to the store and can't find what they want. So, they go to the e-boutique site to find products not present in the store and make their purchases.
As a rule of thumb, customers inquire before they buy, online or offline. Whether it's for product or service sales. 👇
👉 In B2B prospecting, we may see some customers travel to trade shows, conferences or events and take the opportunity to look at a brand's website and products.
This event is due to the fact that we have changed the way we consume: we are looking for information to help us make our choices, for several reasons:
The surge in new business development – leading to increased competition and many players in the market. Faced with this multitude of offerings, consumers are lost, and need help to make their choices easier.
The need for transparency. The new generations, whether in B2B or not, need to understand and know the brands in order to project themselves in the purchase. You need to focus on the relationship
The need for meaning. Companies have been playing "branding" kings lately. 👑 Why is so much money being implanted in branding strategies? Beyond the need for transparency, there is another actor of change: the quest for meaning of generations X, Y and Z… And certainly those to come. This quest for meaning is becoming more and more intense, and requires companies to be creative in conveying messages: why does your company have important values? What does it bring to society?
3 Examples of Omnichannel Sales Strategies
Here are 3 examples of companies that have differentiated themselves from their competitors with a well-thought-out omnichannel strategy. 💪
Example 1: The

O

mnichannel Strategy

of

Disney

Disney offers its customers the ability to book and organize trips on its website from a computer, tablet or cell phone. Whether it's a restaurant or a hotel, you can plan any activity within the Disney parks. 👸 You can also access to information in real time, such as wait times for each attraction and parade schedules. They also offer "all-inclusive" experiences, which allow guests to access their hotel rooms, see their photos taken in the park, order food, etc. Through its strategy omnichannel experience, Disney offers its customers a simple and seamless user experience with the goal of building loyalty.
Example 2: The

O

mnichannel S

trategy

of

Starbucks

Starbucks is a well-known American coffee chain, which quickly became interested in the customer experience it offers à its consumers. 🍵 The brand offers customers a website that provides information, finds favorite drinks and offers special deals. At the same time, Starbucks has developed an app that allows consumers to pre-order and pay for their products online, as well as use the free Wi-Fi on site and purchase branded merchandise, such as mugs, purses, etc.
Example 3: The

O

mnichannel Strategy

of

Netflix

Netflix is a perfect example of a successful omnichannel strategy. 💯 The success of a "streaming" platform is based on the user experience it offers to its customers. Basically, you can watch movies and series on different media (computer, tablet, phone). You will also receive notifications via your email or app offering new shows to watch. The Netflix platform is intuitive and allows users to access their accounts on all channels at any time.

👉 As seen in these examples, the customer journey to purchase is changing. To do this, you need to optimize your channels to provide the most efficient experience possible. An omnichannel strategy allows you to meet these different needs by offering sales channels adapted to consumer behavior. Don't forget that the customer experience is at the heart of digital prospecting. ✨
Why adopt an Omnichannel Strategy? 3 Main Reasons
There are several benefits to making an omnichannel strategy: ⏬
Reach consumers through good customer communication.
Build customer loyalty.
Humanize the customer relationship.
Be present, like your competitors, on all communication channels.
Do 360° communication: be able to follow up your prospects by email, SMS, on YouTube.
Multiply the acquisition channels and multiply the points of contact, thus the sales and the ROI.
The goal is to be omnipresent in your topic. 🎯
If you don't know which marketing channel to use, list of sales and communication channels is in this article. ⚡
Here are the top 3 reasons to do an omnichannel strategy. 👇
#1 Several Points

of

C

ontact = More

R

esults

The omnichannel strategy provides a holistic view of your customers for the better experience possible user and easier contact. 👂 Today, buying products can be done online and offline. Consumers use a variety of media to purchase products or services, so you need to use a variety of channels to reach as many potential customers as possible. Each touchpoint represents a "lead generation" business opportunity. 🤑
#2 New

M

odes

of

C

onsumption = New Customer Paths

Customers are adopting new habits and consumption patterns. 😮 They learn about brands first, they compare competitors' sites, they read reviews online, they buy in store or online, they pay by credit card or PayPal, etc. Omnichannel is a perfect example of combining the physical and the digital for the benefit of a resolutely focused on the customer approach. 🌎
#3 Brand Image = L

oyalty

of

C

ustomers

Plus, delivering the same content across all media and channels can help refocus customers on your brand image. An omnichannel strategy is a perfect fit for these new consumption patterns. You can also streamline the customer journey and find obstacles that may be hindering consumers. ⚠️ Omnichannel presents a real opportunity to loyalty of customers in the long term. The goal is to build quality relationships with them and provide a personalized experience to ensure their satisfaction.
How to move from a Siloed Strategy to an Omnichannel Marketing Strategy

?

The main idea behind "siloing" (strategy of marketing silos) is SEO. 🤩 In practice, this can correspond to an e-commerce site (digital store) with its categories, sub-categories and products in each sub-category.

In short, a website is always structured according to its own tree structure. 🔍 And navigation will then be through silos, thus tree branches.

For example, here on Waalaxy: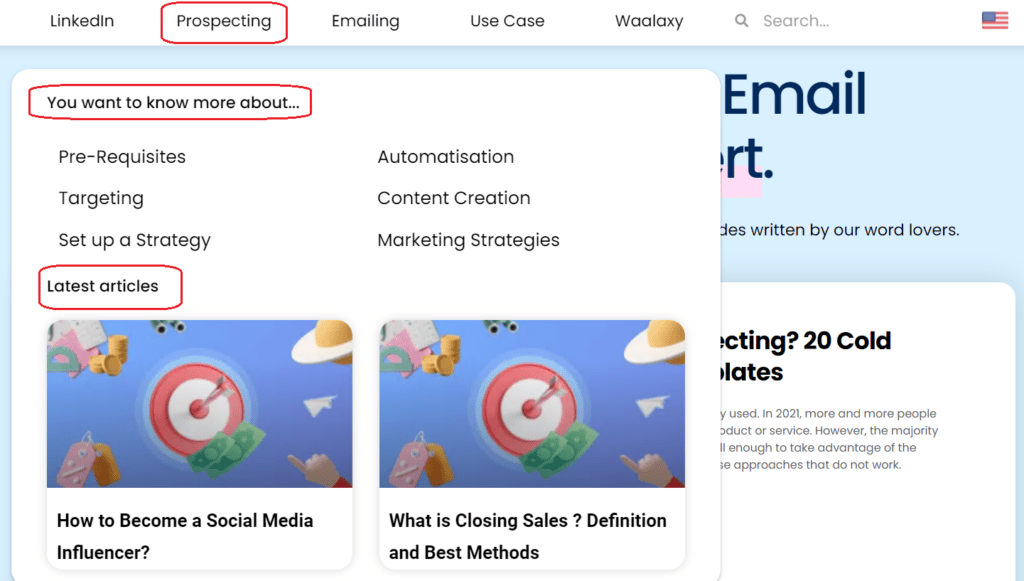 👉 Indeed, many companies use siloed channels, but don't use data to enhance and improve the customer experience and generate consistent content. This lack of consistency leads to miscommunication and therefore lower customer engagement.
The shift to omnichannel is very recent and companies are faced with the fact that they don't know how to accumulate, store, process and create relevant actions (personalized messages, emails, SMS). 🤳 There are many tools out there, as many reliable ones, as very unreliable ones, and companies find themselves lost with a multitude of choices.
What you need to do to get started:
Study the market offers on your communication channels. (Digital and Physical channels).
Look at the reviews and make sure they are reliable in terms of security and functionality.
Ask for demos usually, it's free or available on YouTube.
Look at reliable comparisons online.
Watch out for comparisons that exaggerate and only find fault with their competitors. 👀 It's just a little war between products, but it's not very relevant to you.
Test the tools: there are always trial periods.
Have a CRM or store the data. (especially if you are in BtoB).
Some tools like Waalaxy do both scrape (email addresses), prospect (personalized sequences) and have a built-in CRM to manage your campaigns. Other tools like Salesforce and HubSpot are full-featured, customizable CRMs. 🤗
We've created a comparison of B2B multichannel automation tool offerings on the market. 🚀
What are the 4 Ways to Implement an Omnichannel Strategy?
It's going to depend on your target, your budget and the communication strategy you want to implement. 👽
Therefore, here are 4 tips for setting up your omnichannel strategy. 👇
1.

Collect

the

C

ustomer

D

ata

First, you need to know and understand your customers in detail. 🧐 To do this, we regularly collect information to understand their behavior, preferences, consumption habits, etc. Simply use traditional tools like online surveys, customer reviews, social media, etc. Use data analysis programs to draw from all these sources from trends from all these sources.
2.

Optimize

the A

cquisition

C

hannels

Choose the right acquisition channel, based on your target audience. 🧲 Larger companies have more resources and can use multiple sales channels. Small businesses, on the other hand, have to make decisions. This means designing your communications around your customers' habits. Select and reach the most popular channels with a deep understanding of consumer habits and preferences of consumer habits.

For each channel, make sure consumers can find you without looking for you. Therefore, by analyzing their behavior, you can know exactly how to address your audience target. You'll have all the data to set up personalized paths to engage customers and drive purchases and consumption.
3.

Adapt

the

C

ontent

W

ithout

C

hanging

the

M

essage

Finally, always think about the customer experience. Their goal is to maintain a positive brand image regardless of the sales channel used. 🤗 That's why the message must spread in all ways simultaneously. Specifically, you need to standardize all promotional actions. 📣 The point is that the message is the same and the consumer has the same experience regardless of the channel. On the other hand, adapt the format according to the medium: website, social network, flyer…
4.

Think

L

ong

T

erm

After all, you need to maintain sustainable relationships with your customers. 🤝 Thus, omnichannel strategies are designed for the long term. These personalized relationships promote the loyalty and increase customers' willingness to spend. 💲 It is mutually beneficial: customers maintain a positive experience and your business will increase sales. These relationships can be nurtured, for example, by establishing programs from loyalty for customers or by doing "affiliate marketing". This shows them that you know and care about them, as they are the focus of your business offerings.
What Tools Should I Use to Simplify the Omnichannel Customer Journey

?

You'll need to organize yourself to collect all relevant information about your customers across all channels. 🏊 Next, you'll rely on technological advances, especially with customer management software and the expertise of a team that specializes in customer personalization.

Use these tools to do optimization on your omnichannel strategy: ⏬
A network post scheduler: Like Podawaa on LinkedIn or Hootsuite on all social networks.
A marketing management CRM: Like Salesforce, HubSpot or Waalaxy. With which you will be able to associate the information about the prospects. Email + phone number + URL on social networks, for example.
An information scrapping tool (search): Waalaxy "scrapes" the email addresses of your prospects on LinkedIn. If your target is on another network like Instagram, we invite you to look at the tools available on the market.
A prospecting automation tool: see the comparison here. 👀
AUTOMATION TOOLS COMPARISON
TOOL
PRICE
LINKEDIN
EMAIL
WAALAXY
⭐ FREEMIUM ⭐
✅ (FREE)
✅ (PAYING)
SNOV.IO
€€
🚫
✅
LEMLIST
€€
✅
✅
LUSHA
€
🚫
✅
LINKHELP
€
✅
🚫
START&LEAD
€€
✅
🚫
LEADIN
€€€
✅
✅
ZAPLIFY
€€€
✅
✅
ZOPTO
€€€
✅
🚫
NEODEAL
€€€
✅
🚫
DUX-SOUP
€
✅
🚫
MEETALFRED
€€
✅
✅
👉 Are you in B2B and sending private messages on LinkedIn to contact your prospects? Do you think that's not enough? 🤔
Then you need to get a multichannel prospecting CRM, like Waalaxy. 🏹 You can add LinkedIn + an emailing sequence to your digital sales development strategy.
Try Waalaxy Now 👩‍🚀
Conclusion : Stakes of The Omnichannel Strategy
Omnichannel strategy refers to the fact that all possible channels of contact and possible sales channels are used between the company and the customer. A first contact is initiated by a potential customer, but it can also be initiated by a company. 🏢 Omnichannel also means that these touchpoints can be used simultaneously.
👉 For example, a consumer visits your website while inside your store. Mastering this approach requires breaking down all the marketing silos to get a 360-degree view of your customers and optimize the customer experience.
The reason to go omnichannel is simple. 🤓 By implementing this in-house strategy approach, you can create real value on the one hand and gather valuable insights about your customers on the other. You can then analyze these data and adjust your offerings accordingly.
In addition, adopting an omnichannel strategy can eliminate the issue of impersonal communication. With all channels available, you can work smarter. This way, you can communicate in a way that more personalized. ✍️ Using all the information gathered from consumers about their habits of consumption and their preferences.
FAQ: Omnichannel Strategy & Customer Experience
What is the Difference Between a Multichannel & Omnichannel Strategy?
The multichannel strategy is about multiplying the touchpoints between businesses and consumers. 💡 This comes from the observation that the more channels of distribution are diversified, the deeper the relationships between the two. 🥰 To implement multichannel, companies are organizing themselves by creating departments for each channel they use. Of course, this approach creates silos, companies have to find new approaches to make the buying shopping experience ("online" or "offline") of their customers more fluid.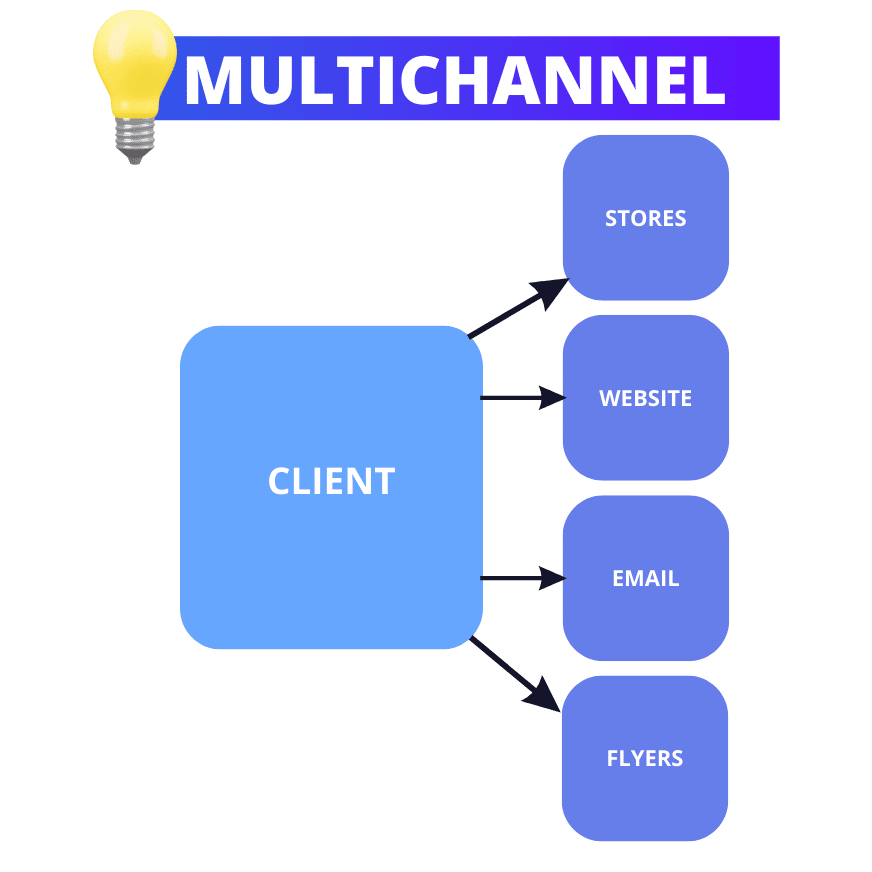 The omnichannel strategy is an evolution of the multichannel. ⚡ In fact, this approach takes into account the fact that customers are free to move from one channel to another during the buying process. Customers do not interrupt their purchases and have a positive experience. 👍 In fact, the omnichannel approach is based on three complementary pillars : the customer, the customer experience and the various distribution channels.
There you go, now you know everything about the Omnichannel Strategy. 🔥