Want to implement a marketing multi channel strategy? Not sure whether to go for cross-channel marketing, multi-channel marketing or omnichannel marketing? Let me show you how to get started in a simple and effective way. 🚀 Here are the 6 steps you need to follow. In this article, we will discuss:
The different existing marketing strategies.
Why move towards a cross-channel strategy.
How to develop a cross channel strategy.
The different communication channels of the cross channel.
The choice of tools in your strategy.
Shall we get started?
Multi Channel Strategy, Cross Channel or Omnichannel: Which One to Choose?
To answer these questions, here are some definitions from sas.com on different marketing strategies.
What is Multi Channel Marketing?
"Multichannel marketing refers to the practice of interacting with customers using a combination of indirect and direct communication channels."
In other words, you use multiple channels (mailing, mail, SMS…), whether digital or not, to contact your prospects. What is important to note is that in multi-channel, there is no correlation across all channels. You can send an SMS about a promo code and an email about your new collection. In short, you can't create links between the different marketing channels.
As you can see, cross-channel is an improved multi-channel strategy. 🎯
Here's an example of B2B cross channel : ⏬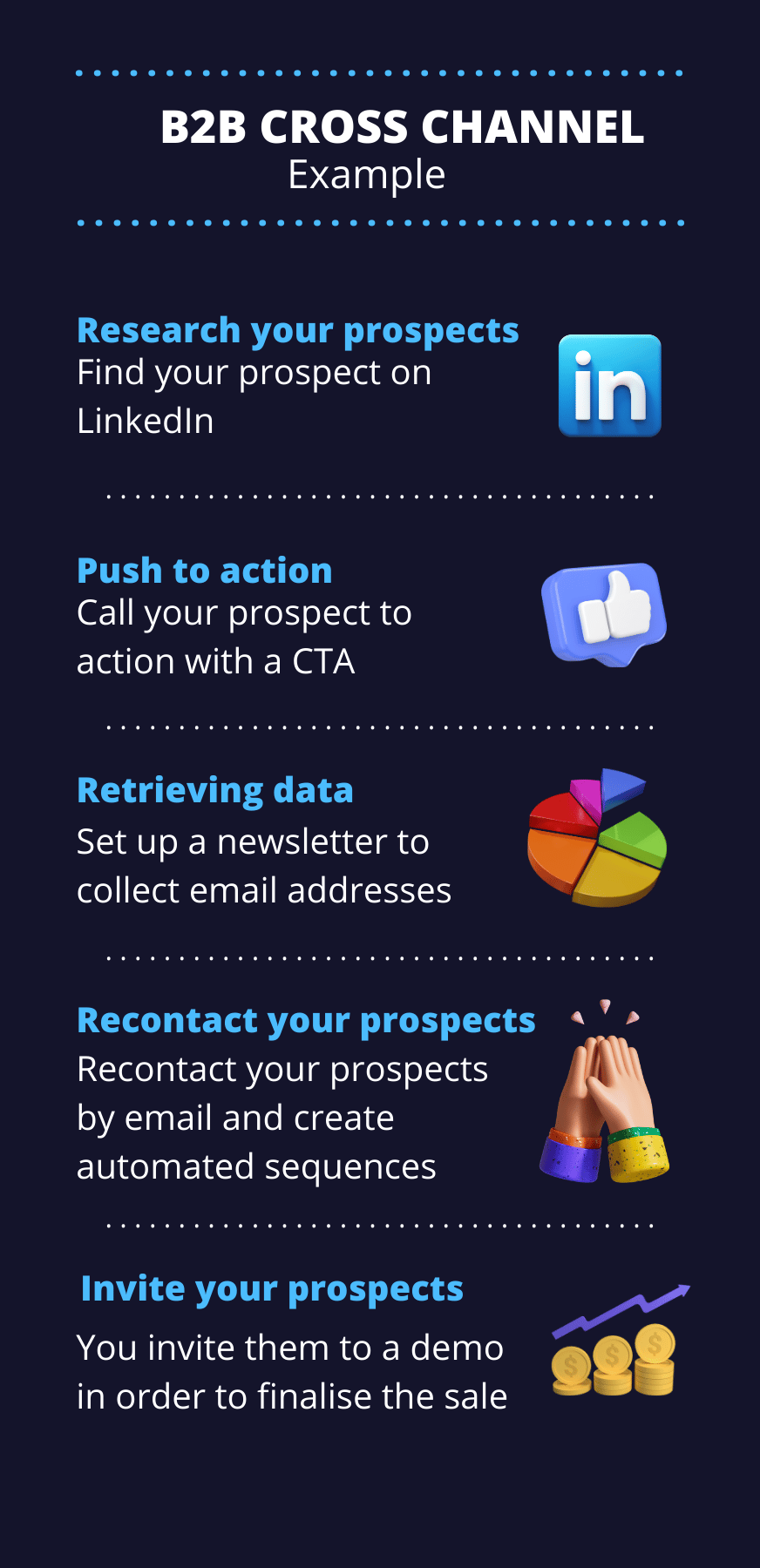 What is Cross Channel Marketing?
"Cross-channel uses all distribution channels simultaneously". It's also called cross media marketing. 
A BtoC example: You're going to send an Instagram message to all your subscribers telling them about a promo on your products. To receive this promo code, they have to fill in their email. Once the info is added, you'll follow up with those same subscribers in your newsletter by adding them in a series of transactional emails. There is a link between the two means of communication – you talk to the same prospect on different channels. 📣
A BtoB example: You can use LinkedIn to get in touch with your prospects, then you can use a tool to find their email address on LinkedIn, enter them in your Waalaxy CRM and start an automated email prospecting strategy.
What is Omnichannel Marketing?
💡 "Omnichannel marketing approach mobilizes all distribution channels. It can be physical (stores, fairs) or digital channels (SMS, calls, website, emails)."
"Omni-channel" means that all possible contact and sales channels between the company and its customers are used and mobilized. In short, you use absolutely all channels, whether linked (cross channel) or separately (multi channel).
In short, almost everyone is multi-channel, but are you really using all the necessary acquisition channels? Do you know how to use cross-channels, or does it seem too complex?
Well come on, leave it to me to solve the equation. It'll make sense in the end. 👩‍🔬
To Summarize: Different Types of Marketing Strategies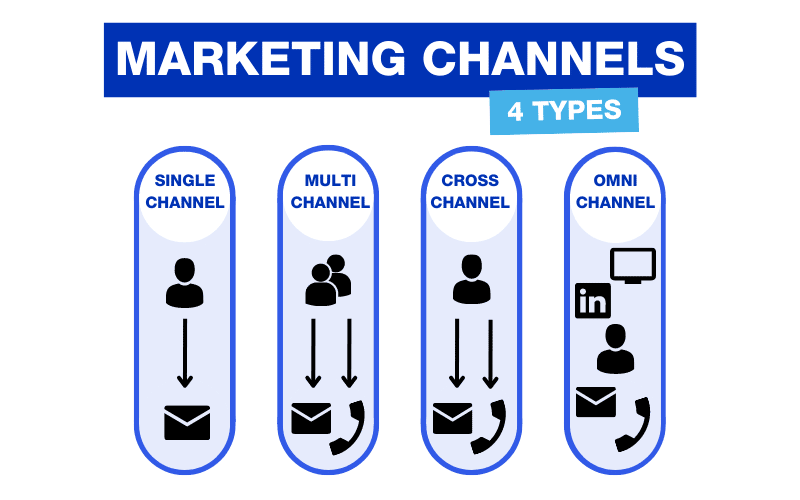 Single Channel: Use only one distribution channel in order to communicate offers to the target market.
Omni Channel: use all available acquisition channels relevant to your business. 🔥
Multi Channel Strategy: Use several different channels without the communications being linked together. ✊
Cross Channel: Operate in prospecting "sequences." A prospect enters a sequence in which the prospecting messages will have a link and follow a certain continuity. 🚀
What is a multi channel strategy?
Now we can get to the heart of the matter: is a cross-channel or cross-media strategy the key to your success? 🤔
You can no longer neglect cross channel.
The problem, which is also an advantage when you think about it, is that everything is moving very fast now. The competition between brands is increasing, and you have no other option than to stand out from the crowd of brands that offer similar products to yours. And the worst thing is that they are also trying to stand out, and we all end up doing the same thing and using the same codes. The consumer, whether he is B2B or B2C, knows this. They know these codes. So your only option is to do a little bit better than your competitors, both in your execution technique and in your originality. Companies have to constantly reinvent themselves and find the best tools and ways to communicate. Those that will allow you to personalize your prospecting without wasting too much time. ⌚
It is crucial to create a relationship of trust with your potential customers.
Why does it matter ? The era of competition goes hand in hand with the era of spam. There is too much spam on social media, on the internet, and even in stores. It's un-targeted sales techniques that damage the user experience. In addition to telling you not to send just anything to anyone, know that today, if you want to sell your product, you have to make the consumer feel unique to you. Since the 2000s, there's been a real trend towards the need to belong and to have societal recognition. This is growing. The person you are talking to should hardly know that your emails or messages are automatic, but that they have been carefully prepared for them. 🙌
💡 Once the prospect is converted, you'll need to similarly pamper your customer relationship and provide an optimal customer experience.
It is a super powerful tool.
With the mass rise of online and digital sales, cross channel has quickly emerged as the modern solution combining personalization, efficiency and profitability. Before, you needed 10 salespeople, where today you have one person implementing strategies through multiple digital tools. You go faster and it costs less.
How to develop a cross-channel strategy?
Cross channel = multi-channel with a link between all the content. The consumer follows a "story" that you designed.
To launch your marketing strategy, you go through 6 essential steps. Read these 6 phases carefully, they will serve you for all your future campaigns. 👽
#1 Clearly define your targets
This is the very foundation of selling. Like we said, we're in the age of spam, so now's the time to do a little better than the competition. To do this, you need to start by "creating a persona" for each of your targets.
By following this link, HubSpot help you to create your persona 👉 How to create your persona step by step.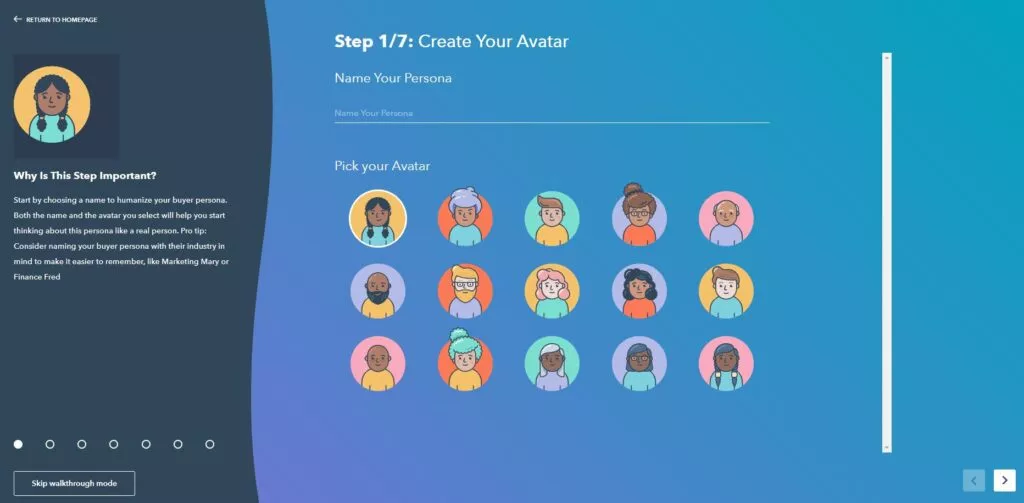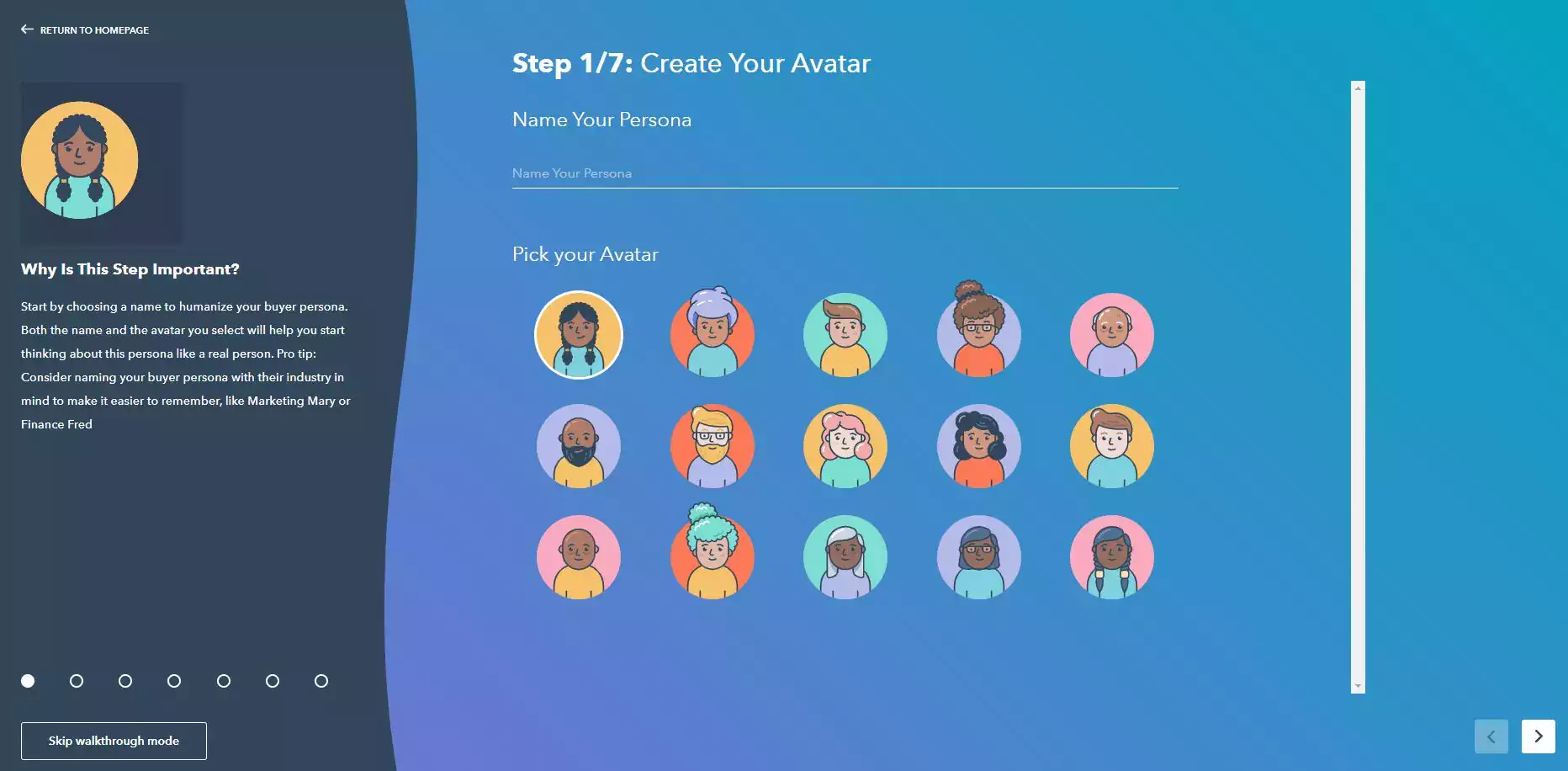 #2 Choose your communication channels carefully
There are several communication channels: ⏬
Online via computers.
Online via mobile phones.
Apps via smartphones and tablets.
Marketplaces: Amazon, Cdiscount, eBay, Place des Libraires, Fnac.com, etc.
E-mails: newsletter, e-mailing, cold emailing, transactional email sequences.
SMS.
Physical stores and shops.
Ephemeral stores, fairs, exhibitions.
Telephone, via incoming calls.
Radio.
Online and offline channels: which strategy to adopt?
Clearly, it will depend on the target you have determined and the products you sell. However, what I can tell you is that the cases where you will not use an online strategy are very rare, even almost nil. Because we are truly in a digital age. Anyway, if you are reading this, it's because you have the internet, so it's good to remind yourself that your customers do too. 😂 Digitizing part of your marketing campaigns is always a good idea. 🚀
What you need to know:
Offline marketing is generally more expensive and requires more organization.
Online marketing requires a certain level of digital fluency and mastery, but anyone can do it, even my Grandma Huguette.
How do you find the right channels for your targets?
Once you've defined your persona, you now need to understand which channels are the most effective to interact with your targets. I'm not into omni-channel, I'm more into using only the relevant channels. It'll keep you from tarnishing your brand image and save you time. 😎 There are plenty of generational comparisons on the net.
#3 Find relevant tools
Once you have the target and the channels, you need to find out what tools can help you reach that target automatically. In order not to go off in all directions, I advise you to prepare yourself. For that, ask yourself: What are my priorities? 🧐
Is it about the price?
The quality?
The choice of sequences?
How easy it is to use?
Determining a budget can seem complicated when you have no idea of the market price, some tools are free and others are very expensive. It all depends on what you want to do. So leave this task for later, look at what's out there first, readjust your priorities and determine your price. Why should you readjust your priorities? If you have no idea what's out there, you may be surprised by some of the options you haven't considered. Leave room for discovery. ✨
Here is an example of 4 tools you can find:  This description shows the diversity of tools you can find in the cross-channel market. Hence, the importance of understanding what your target is in order to find the type of communication, then the tools that will help you achieve your goals. 🎯
4 CROSS CHANNEL TOOLS FOR YOUR PROSPECTING
TOOLS
AdEspresso ☕
Waalaxy 👽
MobileMonkey 🐵
BuzzSumo 🥷
CHANNELS
Multi Channel Online Advertising
B2b Cross channel LinkedIn + Emails
Cross Channel Chatbot
Finding Relevant Content
FEATURES
AdEspresso is designed for performance markers who need to manage hundreds of ads and ad variants at once across multiple channels.
Waalaxy is a cross-channel automated prospecting tool that allows you to contact your prospect on LinkedIn, by email or even by phone, super simply and from a single interface.
MobileMonkey is an omnichannel chatbot that enables businesses to proactively engage with audiences on their website, Facebook Messenger, SMS text messaging and other popular web chat applications.
BuzzSumo is a tool to reveal what content works and what content doesn't work on different social networks.
#4 Determine the message you want to convey
Once you have found the right tools, you will be able to send your marketing prospecting messages. In order to determine these messages, you can use case studies and templates that you can find online depending on your target. For example: you are looking to communicate on Instagram, simply type in "Instagram post ideas." 📸
Remember one thing, though: You have to be more original and creative than your competitor. An idea that has already made the buzz, will never do it twice. Take inspiration from what you find, but use your creative genius to customize and modify that content. At Waalaxy, we're pretty pro at Cold Emailing and LinkedIn messages. After testing over 200 different campaigns, we identified the 7 templates that work best in the digital industry. 🌐
So we came up with a big case study (click-through rates, open rates and conversion rates). If you want some inspiration, you can download them here. 👇
Les 7 templates de prospection 🔥
#5 Run your own tests
Break out of the mold and free of conventional wisdom. Tired of boring marketing strategies? Want to launch something offbeat? 😏
Take small samples of emails and do A/B testing.
Try daring approaches on networks.
The more excitement you share, the more likely you are to be seen. If you're just getting started on LinkedIn, here's some help to get you on your way. 🚀
#6 Analyze and repeat marketing actions
👉 In order to understand what worked and what didn't and readjust, you're going to need to closely analyze what you did well and what little missteps you encountered. For this, many tools have integrated Dashboards. To give you an example, at Waalaxy, it looks like this.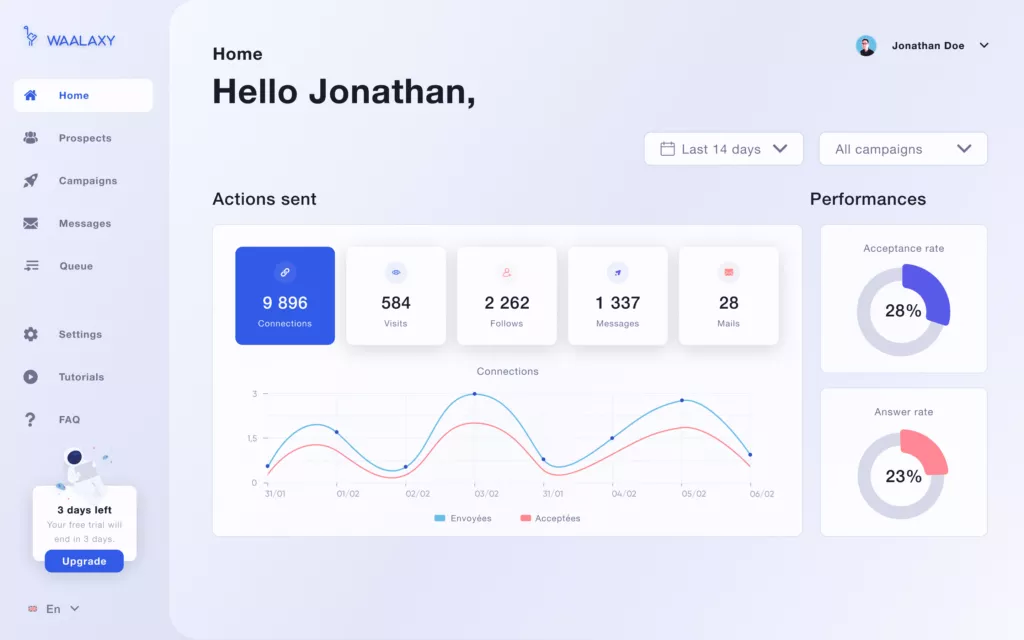 💡 If your tools don't have one, there are some important KPIs you should not miss.
The most important KPIs: 👇
Open rate. (number of emails opened compared to the total number of emails delivered).
Click-through rate. (Number of clicks registered by your ad, divided by the number of displays. In the case of an emailing, this is the number of people who clicked on the link in the email, compared to the number of mailings)
Conversion rate. (the number of visitors to a site who have taken an action compared to the total number of visitors)
Cost per acquisition. (This is the campaign budget per number of customers or purchases generated.)
For social networks: 👇
Number of views.
Number of likes.
Number of shares. (or retweets on Twitter).
Number of comments.
Once you have analyzed the KPI's, you can look to develop your cross channel strategy by understanding what works best for your industry based on your target audience. Nothing can be more informative than your own analysis. 💹
Conclusion: What are The Objectives of Cross Channel Marketing?
To conclude, here are the main objectives of cross channel marketing: ⏬
Make an impression by outperforming the competition: leverage multiple interaction channels.
Improve brand-prospect relationship management.
Build lead loyalty by creating a relationship of trust.
Create lead generation that you take care of, adding them to highly personalized sequences.
Accompany customers through the buying process, from A to Z.
Advantages of the cross-channel strategy:
To establish a good ✔️ marketing strategy, we advise you to use the cross channel. Why go for this strategy rather than another one? Because it has many advantages that we will talk about now:
The fact of using several channels will help you to increase the visibility of your site (e-commerce or other).
This strategy allows you to optimize all your interactions with your customers and therefore potentially engage in customer loyalty in the long term through various levers such as SMS, digital solutions, telephone …
By facilitating the customer journey 😀, you will be able to impact your company's brand image. When your customers are satisfied, they provide you with the necessary feedback for your business and are therefore more likely to recommend you to others.
Give your customers more options: if your product is not available in your physical store, they have the choice to buy it online.
Cross channel marketing:
As we have explained in this article, cross-channel is used to link 🔗 your different distribution channels (we are talking about physical channels, digital channels and commercial channels).
Thanks to this strategy, you will succeed in making the customer's journey more fluid, but also in offering them an experience, and this is how you will have a complementarity of channels in your communication that will only be beneficial.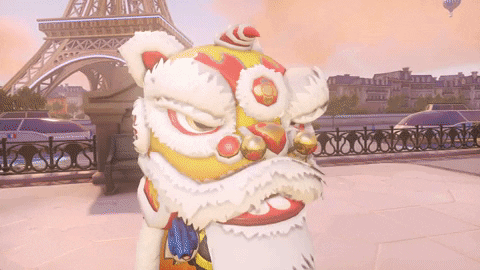 👉 Implementing a cross-channel strategy will be an integral part of your digital strategy. It is thanks to the changes in consumers that this strategy was born. Indeed, there is a significant change in behavior since the arrival of digital.
So before buying, your consumers will also be able to verify the quality on the net by seeking the approval of other testers or users of your products or services. This way, they will already be in contact with your company without even having purchased yet. This strategy allows you to be flexible 🤩 and adapt to any change in your prospect's buying behavior.
FAQ: Multi Channel Strategy
What are the basics for initiating a multi channel strategy?
Clearly define your targets. 🏹
Choose your communication channels carefully.
Find relevant tools.
Determine the message you want to convey.
Do your own tests, check marketing analytics.
Analyze your tactics and repeat the marketing and sales actions.
How to integrate digital into your multi channel strategy?
You can use different digital marketing media: ⏬
Website.
Blog.
Vlog.
Facebook.
Instagram.
Twitter
LinkedIn.
Mobile application.
YouTube.
Emailing. (Newsletter, Cold Emailing).
Natural referencing (SEO).
Paid search (SEA).
What is the difference between omnichannel, cross channel and multi channel strategy?
Omni-channel: Use all available acquisition channels. 🧲
Multichannel: Use several different channels without the communications being linked.
Cross Channel: Work in prospecting "sequences". A prospect enters a sequence in which the prospecting messages are linked and follow a certain continuity.
What tools help multi channel prospecting?
First, anything that will allow you to enrich your prospect base. 🔍 The more information you have about them and the more ways you can contact them (Example: LinkedIn + Facebook + Email), the more you can create efficient and complete cross-channel sequences. There are extensions that allow you to find data about your prospects online. (We call it "scrapping" 👀). At Waalaxy, we do scrapping on LinkedIn mainly, if your target is there, you can test our tool, if not, there are other brands that do the same thing on other networks.
Try Waalaxy Now 👩‍🚀
👉 There are several tools to engage in cross-channel prospecting depending on your targets:
Emailing tools + LinkedIn messages with integrated CRM.
Automated prospecting tools.
Multi-channel online advertising sites.
Multi-channel chatbots.
How to leverage multi channel strategy in B2B?
With Waalaxy, you can use LinkedIn and emailing. 👽 There are several sequences/scenarios, more or less complex, that allow you to automate your sales tool to the maximum.
Here are some examples of the scenarios you can use with Waalaxy: ⏬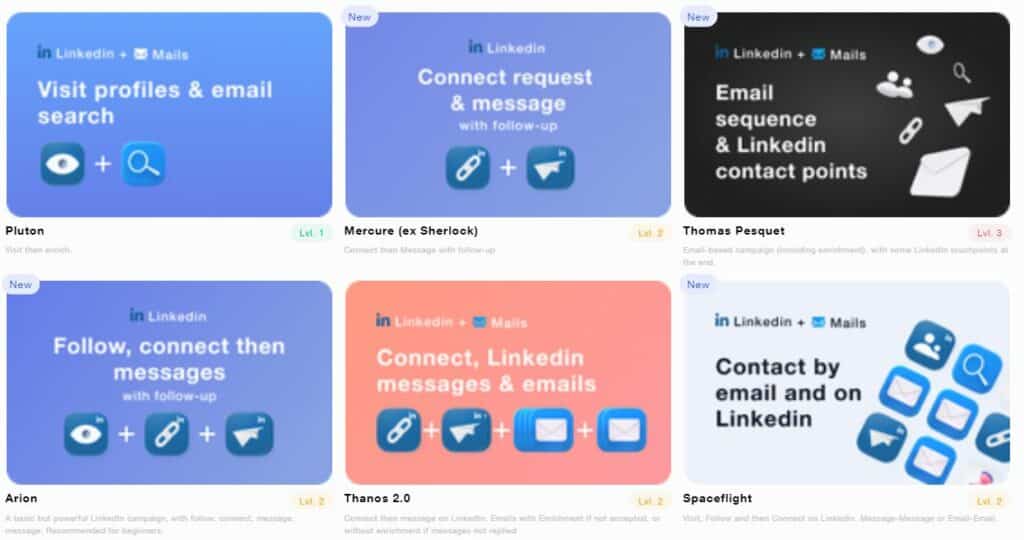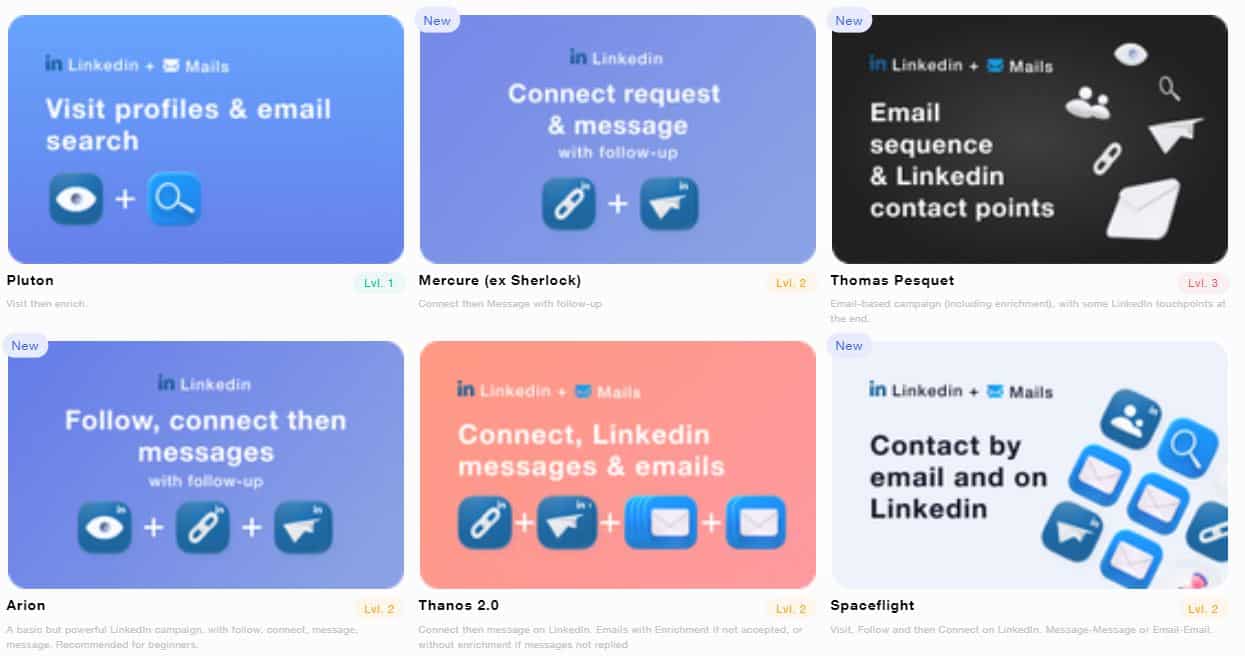 Of course, there are lots of different features, and you can take a look at and see which multi channel strategy fits your target and needs. ⚡