What is the Hiring feature on LinkedIn?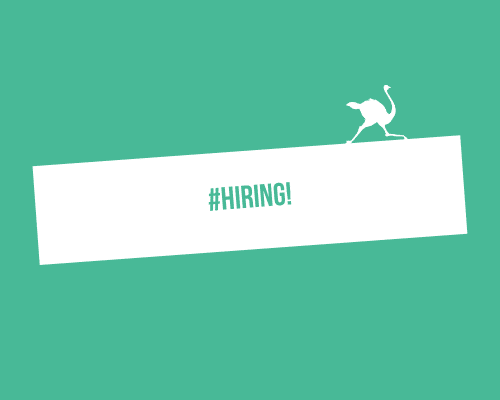 5

min
Since the end of 2020, LinkedIn offers two new features to its millions of users. From your profile, you can now indicate that you are looking for a job or that you are looking to recruit for your company. The Hiring feature is very simple to use and can help you find new talent very easily. What is the Hiring feature on LinkedIn?
#OpenToWork and #Hiring, the new LinkedIn features
At the end of October 2020, LinkedIn Talent Blog published a post to highlight its new features: #Hiring and #OpenToWork. In the context of a global pandemic, they explain, helping each other is more important than ever. And at a time when many employees may have lost their jobs or may be struggling to find one, it's important to increase the visibility of opportunities. Similarly, recent graduates may have difficulty getting hired.
As such, LinkedIn has developed two new features, very simple but very effective: the ability to add a colored stripe to your profile picture, to indicate whether you are looking for a job or hiring. All you need is a functional LinkedIn account and a LinkedIn company page!
Announce that you are looking for a job on LinkedIn
The #OpenToWork banner is a green banner that you can add to your profile picture. It reads #OpenToWork, which means "open to opportunities" or "looking for a job". This means that you can clearly show your network that you are looking for a new position. Combined with an evocative LinkedIn profile title, it can help you catch the eye of recruiters. Your LinkedIn network will also know that you're actively searching, so they may forward you opportunities that are deemed interesting. 😎
The #OpenToWork banner is very easy to get. Go to your profile, and indicate that you want to find a job. LinkedIn will give you two options, "Recruiter only" or "All LinkedIn members". If you select the second choice, the famous banner will appear on your profile picture.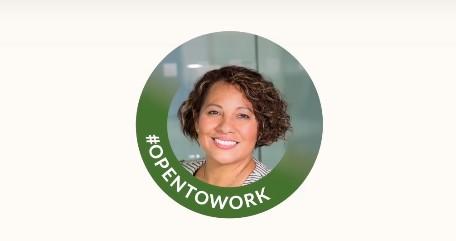 OpenToWork banner on LinkedIn
LinkedIn has published a very clear explanatory video, which shows you step by step how to do it.
Announce that you are recruiting on LinkedIn
The second feature developed by LinkedIn to face the recruitment crisis induced by the epidemic, is the implementation of a second banner. This purple one is the counterpart of the first one: it says #Hiring. Put it on your profile picture if you are looking for talent for your company !
The idea, through these new features, is to highlight the profiles that are recruiting, and those who are looking to be recruited, to promote the meeting between candidates and career opportunities.
How does #Hiring work on LinkedIn?
But how do you put this banner in place on your LinkedIn profile? Again, it couldn't be easier. Go to your profile. Under your name, photo and title, you'll find an "Available for" button. By clicking on it, you can indicate that you are available for a) new opportunities (and thus get the #OpenToWork on your LinkedIn photo) or b) hires.
Clicking on "Recruiting – Indicate that you are recruiting and attracting qualified candidates" opens a pop-up window that asks you to select the company you want to recruit for. LinkedIn defaults to the company you are currently working for and/or the companies linked to the LinkedIn pages you have created.
If you want to recruit for another entity, such as a personal project, be sure to create a company page related to that project first.
Once you've selected the company you're looking for candidates for, LinkedIn gives you two options. Either select one of the jobs already posted by your company, or create a new specific job posting. The latter feature is free.
Once you've selected or created the jobs, you can post them directly to your profile. LinkedIn will then add the purple #Hiring banner to your photo, making it clear to your network that you are looking for candidates.
What other ways are there to indicate that you are actively hiring on LinkedIn?
This new LinkedIn feature is obviously not the only way to indicate that you are hiring. Let's not forget: LinkedIn is first and foremost a professional social network, which is designed to make it easy for its users to find opportunities. So, if you want to actively recruit on LinkedIn, there are several strategies and tactics.
Posting job opportunities
LinkedIn offers the ability to post jobs, which can then be found in the "Jobs" tab of the menu. Clearly indicate the position to be filled, and give as much information as possible to distinguish yourself from other offers. This will attract more candidates to interview!

Indicate on your profile that you are hiring
The #Hiring feature is part of this strategy. But your profile picture is not the only place you can indicate that you are hiring. LinkedIn offers you the possibility to modify your profile title as you wish. Don't hesitate, if you're a recruiter, to indicate that you're actively looking for talent! Many people do: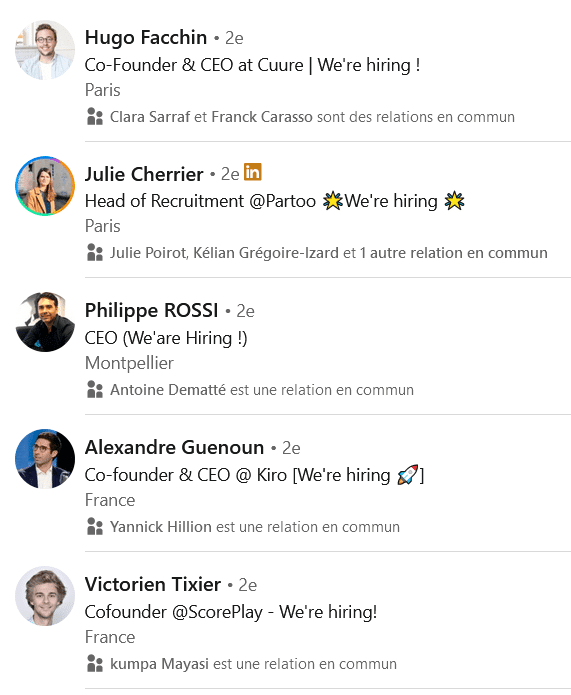 Saying "We're Hiring" is a common practice on LinkedIn Optimizing your LinkedIn profile is a necessary practice if you want to be visible on the platform. This is also the case if your goal is to recruit for a job!
Prospecting on LinkedIn to recruit
This is the technique of headhunters. While the two previous strategies are used to bring candidates to you (a kind of inbound recruitment), prospecting on LinkedIn, in the recruitment field, makes you go towards them. Approach them, to convince them to join your company.
The "#OpenToWork" feature can help you identify potential candidates!
LinkedIn's new #Hiring feature will help you highlight the fact that you want to recruit. But don't stop there: if the banner does indeed give you more visibility with potential candidates, LinkedIn offers other recruiting features that will allow you to get in touch with the best candidates! There is no reason to deprive yourself of this!