Which alternative for Meet Alfred?
3
minutes
You are using the extension Meet Alfred, but it's restricted. 🤔 The automation of your LinkedIn account isn't an easy choice, you should be aware. We offer you to discover ProspectIn. The security of your account is our top priority.

ProspectIn is the best alternative to Meet Alfred
Tools like Meet Alfred aren't easy to use. No matter your activity, prospecting takes a significant time on your core business. The automation must ease the task and not the reverse. Don't complicate it more with a risky spam tool that doesn't care about your activity's safety. Discover our detailed analysis of the two tools.
To choose ProspectIn is to choose security. Unlike Meet Alfred, we simulate human behavior by setting up daily quotas and detecting risky behaviors. You don't want to be a spammer and your ROI either. We recommend that you do not use Dux soup either.
Create your own campaigns, separate your projects and optimize your marketing efforts. The organization is the key to increasing your conversion rate. Also, you can perform A/B tests. Even more with transactional scenarios allowing you to define your actions beforehand.
Our main strength? Ergonomics. Handy and easy to use with live support and detailed tutorials. Only one goal. Make your prospecting easier and not a chore. Send an automatic LinkedIn message in a few clicks and in a customized way. Save time on your marketing campains.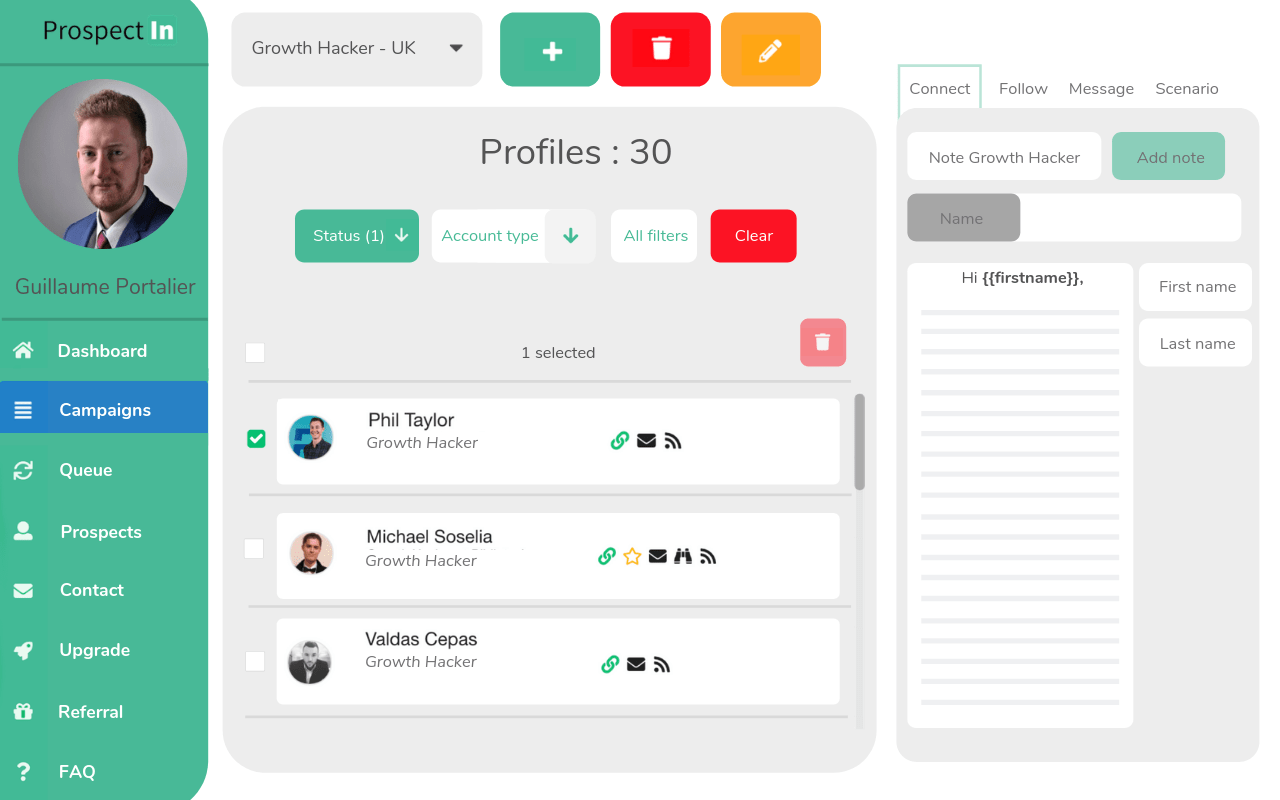 Meet Alfred is dangerous for your LinkedIn account
Besides being dangerous for your LinkedIn account, it doesn't take into account the "spam" aspect of automation. It doesn't offer every necessary feature to automate your activity.
Why don't you discover our automated transactional scenarios which are a unique feature? You won't find this somewhere else. But what does it allow you for?
Discover our transactional paths for your prospects.
Add "seen" and "not seen" messages criteria.
Define actions a few days after your initial action.
That's not all, our extension is affordable and easy to install on any computer.
What does ProspectIn offer compared to Meet Alfred?
Follow your B2b performances.
Make use of statistics.
Make A/B tests.
Configure workflows.
A suggestion of optimized funnels for conversion.
Prospects management per campaign.
How does ProspectIn protect my LinkedIn account ?
Optimal daily quotas (which vary according to your conversion rate and your account seniority).
Deadlines between actions.
Risky account warnings.
Meet Alfred is more expensive than ProspectIn
We offer a tool affordable to every purse
If you want to discuss this with us, contact me directly on my LinkedIn profile. We would be very happy to have you on ProspectIn, the best marketing platform for LinkedIn!  😎