The best alternative to Dux-Soup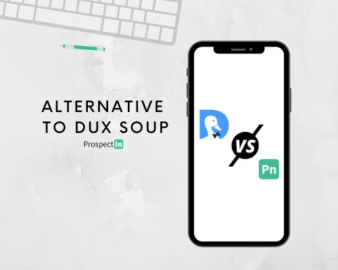 3
minutes
Have you thought about your account's safety? 🤨 Dux-soup isn't a secure tool. Your account being suspended or banned is quite a big risk. Automation of your LinkedIn prospecting needs an appropriate tool.
The best alternative to Dux-Soup
Tools such as Dux-Soup, aside from not being easy to use, are not safe for your account. No matter your activity, if prospecting is at the heart of your client acquisition, you must choose a trustworthy tool, safe and overall effective.
Optimization and automation of your LinkedIn prospecting must be easy. You don't want to look like a spammer alongside your future prospects, your corporate image would take a knock.
We offer you to discover ProspectIn. The best alternative to Dux-Soup. Choosing our tool means prioritizing security. We simulate human behavior by setting up daily limits, allowing you to prospect safely. We detect risky behaviors and set up alerts to anticipate LinkedIn's algorithm.
ProspectIn allows you to:
Making A/B tests,
Automatic LinkedIn messages,
Sending customized connection requests,
Carrying out transactional scenarios.
Our main strength: ergonomics. Fast, simple and handy with 24/7 live customer support and detailed tutorials! Our aim? To make your prospecting easier, not an ungrateful task. Send automatic LinkedIn invites with a few clicks all in an extremely customized way. 🔥

Dux-Soup is dangerous for your account
Dangerous for your account because it doesn't set up limits. It doesn't fake the human behavior and you'll quickly be caught. Ban, suspension… here is what's waiting for your account if you don't pay attention.
Dux-Soup represents a risk of being banned by LinkedIn since the actions you perform from this software modify the HTML code of LinkedIn. This social network will have to ban you. You will then only have to create a new account and start all over again from the beginning!
ProspectIn simulates human behavior and does not exceed the daily quota of actions, so you won't pretend to be a robot, even if you use one!
We made up a detailed analysis to compare the two tools.
Dux Soup doesn't offer a LinkedIn scenario
Our feature is exclusive. You won't find it on any other tool. You needed more automation. We made it. A way to save time thanks to our LinkedIn scenarios. You plan your actions while adding conditions. Seen/not seen messages… For the moment, we offer 14 optimized scenarios patterns to increase your conversion rate. See how to get more than 51% of answers to your prospecting with our last article.
With Dux-Soup you don't have access to the dashboard to manage your activity on LinkedIn. If this tool is one of the first in the field of LinkedIn automation, it seems that it stopped along the way and did not seek to evolve to facilitate the user experience or to stand out.
Finally, Dux-Soup does not allow multi-account use yet in some cases the Enterprise offer can bring many advantages such as grouping all your LinkedIn accounts on a single interface.
If you are interested in transactional scenarios, our detailed article will explain it to you specifically.
If you want to discuss, contact me directly on my LinkedIn profile. 😎