Today we are going to talk about printing, but not just any printing, we are going to talk about what are impressions on LinkedIn. If you don't know LinkedIn, it is the first professional social network in the world with no less than 850 million users. Yes, that's right! Let's get back to our impressions. Here is a quick summary of the article:
The definition,
Organic impressions, what are they?
What is a good LinkedIn impression rate?
And finally, how to increase it?
Come on, let's see if you have a good impression or not. 👀
LinkedIn impressions : definition
Impressions on LinkedIn are the number of times your content has been seen or posted in the news feed of members of this social media. Generally, the term "Impressions" is often used for paid content and the term "Engagement" is used for free content.
A piece of content may show up in your news feed when someone in your b2b network has reacted or commented on that post. You will see it appear without knowing the person behind the post and without having liked it for example. On LinkedIn, you can react by browsing the "Like" button and you will then have the choice between :
Like. 👍🏼
Bravo. 👏🏼
Support. 🫱🏼‍🫲🏽
Love it. 💖
Informative. 💡
Funny. 😄
As a bonus, member feedback can boost a post. Inevitably, the more we see a post with interaction and comments, the more we want to know what it's about and read it. 🤓
LinkedIn organic impressions : what is it?
If you didn't know, the word "organic" in marketing means the fact that you are reaching prospects for free, without having set up sponsored ad campaigns for example. ✨ For example, if you are doing community management and you are a community manager, organic impression is an important performance indicator if you have done digital marketing with relevant keywords and hashtags with the aim of targeting a desired audience or audiences.
What is a good number of impressions on LinkedIn ?
This question can be complex because, the good impression rate is quite variable and is divided into 3. Here are the details:
Between 0 and 2.5% ➡️ you have a low impression rate, but don't panic, you can easily increase it by implementing a communication strategy on a LinkedIn page adapted to your objectives for example.
Between 2.5 and 4.5% ➡️ you have an average impression rate, your potential customers and followers are starting to react to your publications but are still shy. It's the beginning, it will go up little by little.
Between 4.5 and 5.5% ➡️ you have a good engagement rate. That's it, you are starting to get more and more interactions but, it's not yet what you are hoping for.
More than 5% ➡️ you have an excellent engagement rate. Congratulations, you have a lot of people reacting routinely to your posts, which shows that you are among the active users and this boosts your visibility, reputation and e-reputation on this social media.
How to get more impressions on LinkedIn ?
If despite all your efforts in researching and developing a suitable communication strategy does not give the expected result, do not worry, we have unearthed some tips that we think can and will be useful to you! 🥰 Come on, let's go with 3 tips that will help you increase your LinkedIn post impressions. 👇🏼
1) Join groups
Among the many well-known social media platforms such as Facebook, Instagram, Snapchat, Messenger or even Twitter, LinkedIn, just like some of these social competitors, offers LinkedIn Groups. What is the purpose of this you might ask? 🧐
Well, as simple as it sounds, joining a group allows you to meet new people, increase your network, see the number of users, share knowledge on various topics, create debates and learn new things. Do you see where I'm going with this?
The more groups you join that are relevant to your network, related to your industry and communication goals, the more your impression rate will increase! 📈
2) Boost impressions with a dedicated tool
If I told you that there is a tool that can boost the engagement of your posts and generate leads quickly on LinkedIn, would you like to know what it is? Well, it's Podawaa, a chrome extension that allows you to subscribe to pods. But, what are pods? 🤔
They are engagement groups that include a greater or lesser number of LinkedIn members and have a common theme.
This way, the members of that pod will see your content and can react manually or automatically.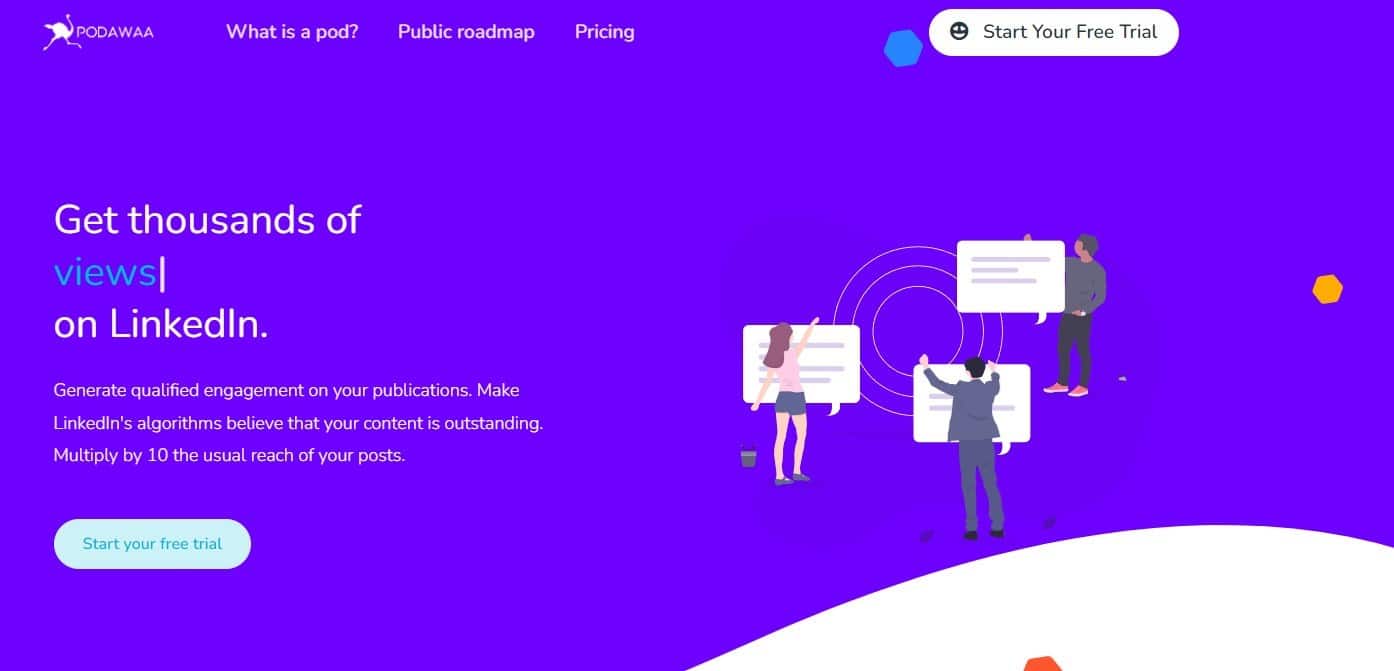 The ideal is to integrate a group that can represent your target audience 🎯 you can select it from different criteria. Don't be tempted by groups that include a large number of members.
With Podawaa, you are free to integrate multiple pods and change them to vary your audience. One of the undeniable advantages of this tool is that it simulates human behavior. It will generate a reaction every 30 seconds or so, just as you would if you were active on LinkedIn yourself, without using this tool.
This way, you are sure not to be penalized by LinkedIn. ✨
3) Have an engaged audience
This goes back to what we said earlier. Once you have an engaged audience, that is, one that is interested in your content and regularly looks at your posts, then your LinkedIn impression will automatically increase.
For example, if you are a company specialized in renewable energies and your audience is mainly composed of users, influencers, unique visitors or prospects who work for cosmetics, then maybe you won't have as good a KPI, the impression rate, as if you had an audience close to your activity field.
In a nutshell of the article : what are the impressions on LinkedIn
Concretely, LinkedIn impression is an important data if you want to progress and break through on LinkedIn. It's all well and good to post every day, but if no one reacts or comments on your post, you're not going to get much traction. 🛫
That's why, we can't tell you enough but, creating and defining a digital communication strategy and clear and relevant goals are important for your LinkedIn account. ✨
Last little tip, in order to improve your influence marketing as well as your branding, don't hesitate to :
Add a profile picture on your optimize LinkedIn account.
Have a consistent editorial line.
Develop your community.
Check your number of subscribers regularly.
Be present on social networks, on Youtube for example.
Use social media for media marketing.
Improve your brand-awareness
Do remarketing and online-marketing
Frequently asked questions of the impressions LinkedIn
Not so fast, we still have a few resources to perfect your knowledge around social networks. 🥰
What are post impressions on LinkedIn ?
If you use Facebook and just like a Facebook page, a post impression is a metric to measure the rate of people who have seen a post and reacted. This allows you to measure the effectiveness of an advertising or marketing campaign.
What to do when I have a good impression rate?
You take advantage. No, I'm kidding, you're right to ask yourself this question. In reality, on the various social networks you should not rest on your laurels 🌺, quite the contrary. Sometimes you may be overwhelmed by the number of interactions, comments and even private messages following one of your posts. In this case, don't panic, we have the solution for you: Waalaxy. 👽
This is a LinkedIn and Email prospecting and automation tool that will save you time, lots of time! Thanks to its new feature, LinkedIn messaging, you'll be able to respond to your LinkedIn messages, faster and more efficiently, all centralized on one cloud tool. ☁️
If you want to know more about it, go here! ⬅️
What is the impression rate?
The rates are measured by simple formulas. On the internet, and especially on social networks, there are a multitude of rates, such as the rate of engagement, the rate of reaction, the rate of response, the roi, the ppc, or our famous rate of impression.
So there you have it, you now know everything about what are impressions on LinkedIn. See you soon! 👋🏼