Finding a job may seem long and difficult, but LinkedIn can save you a lot of time if you use it correctly. In this article, I explain how to use LinkedIn to find a job in an efficient way.
The essential function to find a job on LinkedIn
LinkedIn has a "Job" function available for all profiles, including the free ones. Thanks to this function you can target your search according to :
The title of the position you are looking for or your skills
Geographic area
You then have access to the available offers and you can filter your search by :
Date of publication by displaying the ads published since one month, one week or 24h
Level of experience
Type of employment by choosing a full time, part time, internship…
Company
LinkedIn offers you different filters to refine your search and save you time.

When a job alert catches your attention, you have the possibility to apply directly from LinkedIn. In the ad, simply click on the "simplified application" button to apply and send your LinkedIn profile to the author of the ad. In some cases, you may have an "Apply" button, in which case you will be redirected to the company's website to complete your application. It is also possible to record a job posting by clicking on the "record" button in the job posting if you wish to apply later.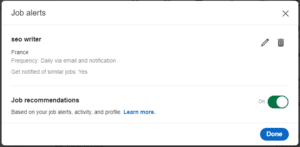 You can find the recorded alerts directly in the "job" section accessible in the top menu of LinkedIn. You can also use this section to create job alerts based on your LinkedIn profile. By clicking on the job title, you can directly access the available ads. By clicking on the button next to the job title, you can change the frequency of notifications for new job postings.
LinkedIn employment: an ultra-competitive market?
The job market is very uneven and mostly very competitive.
There are some niche jobs: engineer in tech, developer, home help, delivery man, call centers… where there is always a search for candidates and finding a job will not be as complicated as for other positions.
On the other hand, if you are in human resources, marketing or sales, for example, there are certainly a large number of offers but even more requests. So the candidates are jostling for position.
💡 So, the advice I can give you is to go out and do some information and competitive intelligence:
What is the average salary for the position you are looking for depending on the city? Salaries in Montpellier are lower than in Paris for example, but again, it depends on the position.
What is the average salary based on years of experience in your industry?
How hard is it for recruiters to hire? Basically, whether you have the edge or not.
How many jobs are there for this position in your city? How long have they been online?
How many people have applied to the jobs you are interested in? (you can see this on LinkedIn).
What are the most sought after soft and hard skills for this position?
How to use linkedin to find a job: Where can I find job postings on LinkedIn?
Link to the job listing on LinkedIn: it's here. 🖖
Then you can add your filters: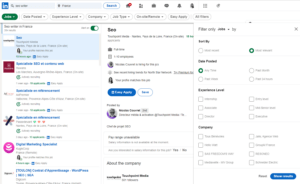 The ads on the site can be classified quickly:
You can choose which type of offer you are interested in: permanent, fixed-term or internship offers.
You can also choose between: full time, part time or short assignments.  🚀
You can also qualify your professional experience, if it is a first job for example or if you are already an expert, then you can check the corresponding box in the tab. Only jobs requiring these qualifications will appear.
You can also filter by date of publication of job offers. The first applications are more appreciated. (Recruiters are not yet tired of receiving 200 resumes). 👀
LinkedIn and the job search: the network codes
The LinkedIn network, like any other social network, has its own codes.
Be friendly and create a climate of trust around your name/branding.
Remain polite and courteous (even if ranting makes the buzz, it's not great for your image in the long run. 😂)
Never criticize your competitors (or at least not directly)
Be authentic, because otherwise we get bored!
Recruiting codes on LinkedIn:
Find out more about the company in question,
Go visit the recruiter's profile looking for little personal info. 🤫
Personalize your approach by being your original self*
*New concept that I just invented: that is, lie in light of who you are, in an original way. (You are allowed to steal the idea, it is not patented).
What LinkedIn title should you use when you're looking for a job?
Don't make the same mistake as many other candidates I see on LinkedIn. If you're looking for a job, don't put "job search" in your LinkedIn title. Otherwise recruiters will never have the ability to easily find you in the search function.
Instead, highlight your profession + your little extra and make it attractive.
Here are some examples from the guide. 👋
Here is a list of examples to apply to your title:
Job title | Specific achievement.

Prospecting Expert | +31% ROI at (Company Name) Want to know how? 🤯
Job Title | Years of Industry Experience | Icebreaker.

Account Executive | +5 years of b2b experience in (…) and still better than a robot. 🤖

Job title | Unique value you bring.

Communication Expert | I make creative content on LinkedIn. 🎨
The optimized profile to find a job on LinkedIn much more easily
Publishing content to attract attention is a very good reflex, but have you thought about optimizing your LinkedIn profile?
Yes, taking care of your profile is essential! If you think it's enough to fill in your professional experiences and studies, we warn you right away it's not enough! 👩🎓
Under your name, remember to indicate which position you are looking for with a catch phrase such as "looking for a position as". Recruiters will instantly see your title and that you are available.
You can also write a small paragraph in the info section available directly in your profile. Don't be afraid to write a text in an offbeat tone that reflects your personality! Make people want to know more about you !🧐
You can also highlight publications, projects or awards. Just click on "add a section to the profile", then "achievements" and choose what you would like to highlight.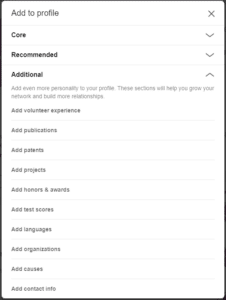 Finally the recommendations! I'm sure you have former (or current) colleagues in your network. Why not asking them to write a recommendation or rate your skills? This will give recruiters confidence!
Does boosting your LinkedIn profile really pay off?
According to the statista study, yes. ✅
These are reliable studies so I'm sharing them with you (it's not always the case on the internet).
Basically, what the caption means:
No profile = no profile picture, no description.
Summary profile = some information, not very up to date, not very nicely presented.
Complete profile = all parts of the profile filled in.
The data is really interesting. Basically, it's better to have nothing on your profile than to have the wrong information. It already proves one thing, that recruiters are actually looking at your profiles. 👀
So, all the more reason to optimize it!
Bonus = Go after the opportunities with application campaigns!
In addition to being active on LinkedIn by posting or interacting in groups or conversations, you could "make fate"!
The job search can seem long and tedious, we grant you. Why not use Waalaxy to save you time?
For example, you can create a scenario where you add HR and then send them a personalized note to start a conversation.
All companies appreciate original unsolicited applications! For the rest, we leave it to your experience and your ability to sell yourself. Make a difference and you'll see that finding a job on LinkedIn is possible! 😜
Example post LinkedIn job search
In addition to applying for a job via the "Jobs" tab of this social network, I recommend making small creative posts from time to time.
Potential recruiters or people who might recommend you, or get in touch with you, need to understand quickly that you are available and for what position!
Be clear in your message.
You can illustrate it and add some explanatory text.
Sample text.
Hi LinkedIn,
My name is (…)
I offer my talents as a (…).
The assignments I have done that have inspired me are (…).
I am based in (…) but mobile around (…).
And I am available from (…)
Contact me 👇
Info / contacts (favor LinkedIn messaging over your personal data).
Faq of the article : How to use linkedin to find a job
These are the questions that people often ask about LinkedIn jobs. We decided to answer them, maybe they will help you?
How to apply for a job on LinkedIn
To answer a job offer on LinkedIn, you have several solutions / options.
You can apply directly to jobs via the "jobs" tab on LinkedIn.
You can reply to a recruiter directly about a job by asking for the link to the application form.
You can send a personalized message to the recruiter to stand out. If he/she doesn't answer you, don't panic, he/she is probably very busy, apply anyway!
Joining LinkedIn without a job
Can I register on LinkedIn if I am unemployed? Yes, of course you can! It is even recommended to boost your visibility with recruiters.
Signing up on LinkedIn is completely free. You just have to go on the network, click on "register" and then, LinkedIn will ask you where you work, then you just have to fill in "unemployed".
Example summary LinkedIn job search
If you want to find relevant resume examples to create, you have CVDesigner.
The site is online and free, you do not need to download anything. You will find plenty of examples of summaries / CVs.
You're all set to find a job on LinkedIn.