Whether it ' s convertingleads into prospects or prospects into customers, knowing customer retention should make acquisition and conversion costs worthwhile.
If your strategies are effective, retaining them can be profitable for you. 🤑 Your loyal customers can become ambassadors for your brand and evolve as promoters on social media
How do you build customer retention? Definition
Customerloyalty is used in inbound marketing to define an approach aimed at building lasting , trusting relationships between a business and the consumer. 💪 F or companies, this translates into brand communication and loyalty building that is attentive to the innovation of the company's products/services
Loyalty enables companies to maintain constant sales without having to attract new customers all the time. 🤯 Loyal customers will naturally return to your brand. These same customers tend to rave about your brand , making it a word-of-mouth advertising vehicle that builds throughout the customerrelationship
Therefore, valuing the customer relationship is essential, as a general rule consumers are willing to pay more for a better customer experience. 🤔 It is therefore an important criterion that influences the price of the product
What are the different types of customer retention?
Sought loyalty is loyalty behaviour that customers reflect through the implementation of specific strategies and actions 🎯 (such as loyalty programmes, the implementation of solutions to manage customer personalisation, customer-centric approaches, etc.)
Induced loyalty is a state of brand loyalty where consumers suffer from market conditions (monopoly, barriers to exit, exclusivity of offer, etc.) rather than true brand appeal. 😑
This is due to the inertia of behaviour and habits, rather than the result of genuine brand preference. 😦 This is often due to practicality
💡 Customers can remain loyal to the point of sale because it is part of their daily routine, for example
Describes loyalty behaviours, or repurchases, which correspond to preferences developed in the real world for brands. The various factors that can drive attitudinal loyalty are generally: ⏬
product quality
price
the quality of the customer or purchasing experience,
the quality of the customer relationship.
Consequently, loyalty has its own attitude and is very often the result of loyalty demanded
👉 The existence of these different forms of customer loyalty shows that the relationship between customer satisfaction and loyalty is much more complex than we think. Satisfaction is certainly a lever for building loyalty, but there are also "dissatisfied loyal consumers". What's more, consumers are rarely totally satisfied and totally loyal to a brand. 🫶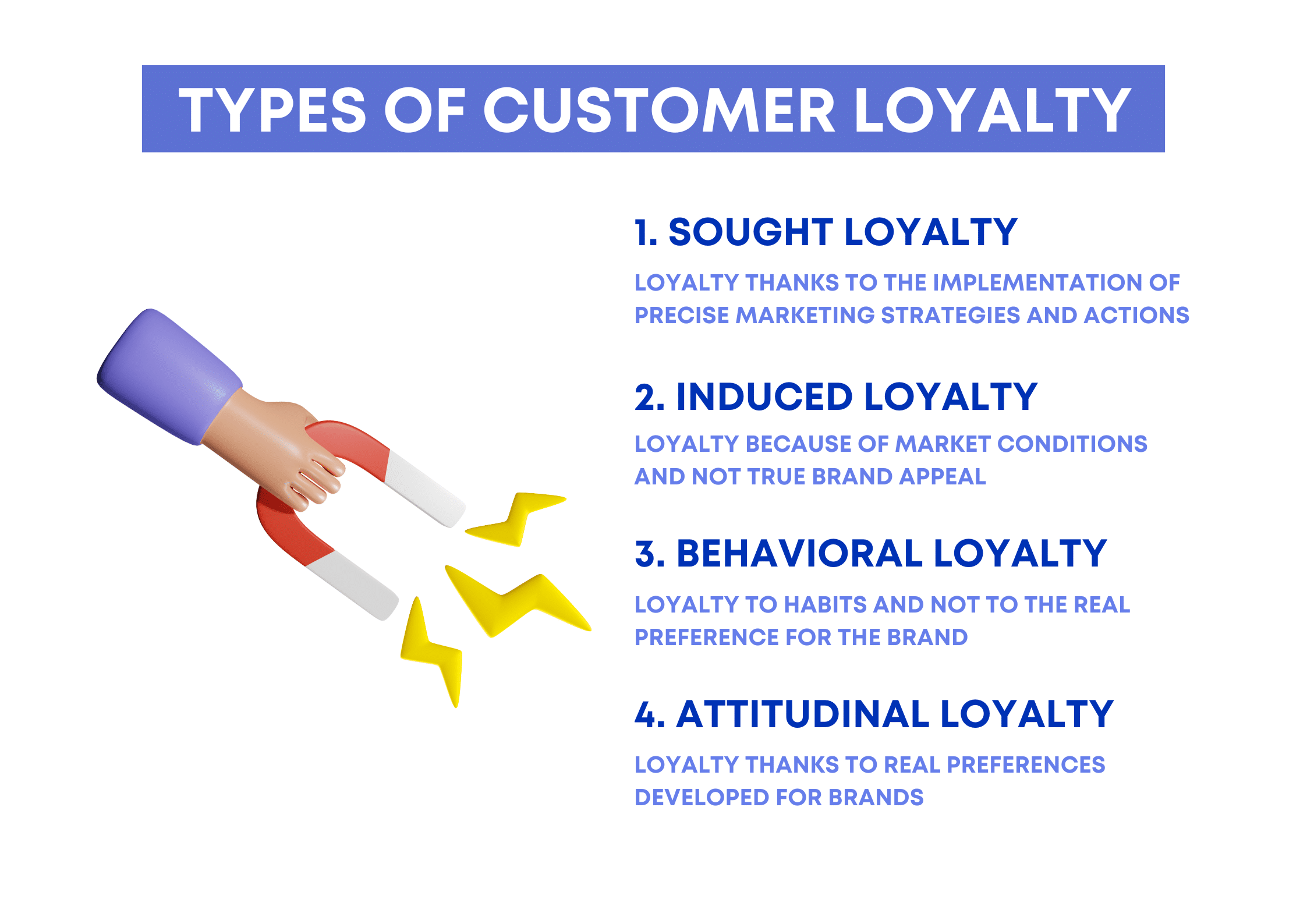 Customer retention example
For example, when you shop on Amazon, you're always offered products bought by customers who look like you… 🔍 But how do they know that?
Let me explain 😉
If having excellent customer service were an Olympic sport, Amazon would win the gold medal. 🥇 With its hyper-focus on customer satisfaction and a unique customer experience, Amazon's level of customer service is practically a loyalty programme itself. Here are a few tactics Amazon uses to ensure superior customer service
Fast order fulfillment.
Free returns.
Ease of purchase and payment.

Personalised

recommendations and

offers

(based on your search history).
Product diversity.
Amazon Prime" benefits for subscribers.
👉 Broadly speaking, Amazon focuses on 4 principles that guide its marketing strategy: a customer obsession rather than a focus on the competition, a passion for invention, a commitment to operational excellence and long-term thinking. 🏹
Innovation and testing have long guided Amazon's forward-thinking approach toe-commerce. Amazon harnesses its wealth of data to continuously improve the customer experience. 💹 In fact, Amazon will often test a new concept on employees first or choose a specific market to quietly launch a new service
🤫 This agile method allows Amazon to respond quickly to feedback, continuing to test and tweak until they find the right solution for its customers!
9 tips to improve customer retention
1.
Guarantee
the
quality
of your
products
and
services
Customer retention is based first and foremost on the quality of your product or service. 💎 Your customers must receive what you promised them. So take good care of your customers with quality after-sales service
What's more, the quality of your offering should be measured periodically , not just when the service is provided. Quality customer support means : 👇
Building

a

community

of

customers

ready

to

help

others to lighten the workload of the "community manager",

Indicating

the

availability of customer support, by

direct

contact

or

through

intermediaries

,

Establish

clear

rules

with

your

customers

on

sales conditions

and processing times

.
2.
Continuously
improve
the
customer
experience
Customer experience brings together all the interactions between a customer and a brand. The aim is to create a unique, unforgettable experience that is difficult to recreate with the competition. 🥰
This requires a highly personalised customer relationship , so you need to be present throughout thebuying process : 👇
Upstream

(visit to

your

website,

presence

on

social

networks

,

etc.),

During

(delivery,

set-up

,

use of

the

product,

etc.),

And downstream

(

billing,

reviews

,

customer

service

,

etc.)

.
Each purchase of a product or service creates a customer contact. 🧲 Take advantage of this opportunity to strengthen your relationships throughout the customer journey. For example, with
A

welcome

email

to

the

community.

Above all,

be

present

at

the machine

to

see

the

final

result

.

Your

presence

can

reassure

customers

and

ensure

quality

control

.

After

2-3

months

of

providing

the

service

,

systematically

remind

customers

to

check

that

everything

is going

well

.

Stay

connected

with

your

customers

by

sending

them

regular

content

(tutorials,

results,

tips,

new

product

showcases

,

etc.)
3.
Listen

to

the

voice of

the

customer

Listening to your customers is the basis of any successful business ! 👂 By knowing the needs, uses and expectations of your customers,you can develop offers tailored to the market ("Product-Market Fit"), anticipate changes in your industry and look afteryour customers over the long term

That's why it' s so important to listen to what your customers have to say , whatever channel they use
"

Requested"

via

questionnaires,

interviews,

surveys,

etc

.
"

Unsolicited"

via comments

on

social

networks

,

customer support

, online reviews

,

etc

.
"

Implicit

"

through

observation of

market

trends

,

etc

.
💡 The important thing is to gather your customers ' opinions , by all available means. At the same time, let your partners and brand ambassadors speak on your behalf. The voice of customers is the best "storytelling" a company can acquire
4.
Turning
complaints
into
opportunities
There will always be customer complaints . 🙈 React like a pro to restore trust and react very quickly to retain these customers!
In these cases, customer services must show empathy and find a solution as quickly as possible, which will make it possible to
Turn

complaints

into

opportunities

by

improving

your

offer,

Build

a

relationship

of

trust

with

your

customers,

Build

customer

loyalty

to

your

brand

.
👉 It's true that complaints and negative comments can damage a company' s image . But consider it as "information " rather than a personal attack. Responding quickly and effectively is the best you can do
5.
Continue

to

offer

after-sales

value

What else can you offer your customers after they've bought your product or service ? 🤔 For a start,show them that you exist!Even if you ' re dealing withsatisfied customers , you need to show them that they' re important to your business. 💖 To do this, you can share free content with them , such as blog posts, tutorial videos, etc

Also, you can contact them directly, to dispelany doubts after the purchase
Immediately after

the purchase

,

send

customers

a

message

to

thank

them

for

their

trust

(thank you email,

personalised SMS)

,

Make sure you

have

stock,

and

remind them

of

your

promises

to

them

.
6.
Decide
which
customers
to retain
As you know, it's very difficult to please everyone, so it will be difficult to retain all your customers. 😅 You need to identify the 20% of your customers who generate 80% of your sales – this is Pareto's law
So you need to get to know them well by looking at the history of all exchanges and analysing their behaviour. Prioritise your loyalty strategy according to these criteria
Segment your

key

customers

by

sales

volume

,

Identify those

who

bring

you

brand awareness

by

having

them

in

your

network

,

Identify customers

who

have

hidden

potential

for

the

development

of

your

business

.
💡 This analysis will enable you to align your actions with the right message and the right marketing targeting!
7. Looking after your customer database
In addition, the prospect > customer file givesyou a better understanding of buying habits , consumption patterns and buyer typology , etc. 💯
You can also collect strategic information that enables optimal customerrelationship management by personalising the buying experience. 🤲 This makes it possible, for example
Develop

products

and

services

that

improve

the

customer

experience

.

Study

purchasing

behaviour

to

generate

additional

and

complementary

sales

.

Analyse

changing

needs,

motivations

and

behaviour

to

innovate

and

develop

new

products

and

services

.
👉 However, this customer file must be constantly updated so that coherent and effective commercial actions can be put in place to build customer retention !
8. Setting up a loyalty programme
If you want to offer a loyalty programme, you need to measure the satisfaction of your existing customers through questionnaires, surveys, telephone calls, etc. 📞
Next, identify customers who make regular purchases. 💰 There are several loyalty programmes, depending on the type of business
Referral

by

offering

some sort

of

reward

(discounts,

gift vouchers,

rewards

,

etc.)

every

time

a

customer

brings in

a

new

customer

.

Points

system

that

accumulates

based

on

order

value

and

purchase

history

.

Invitations

to

private

events

(parties,

product

launches

,

private

sales

,

etc.).

Competitions

for

customers who are part of the

loyalty programme

.

Send

reminders

by

SMS

or

email

to

renew

regular purchases

.
9.
Measure
the effectiveness
of
loyalty
efforts
Finally, anything that can be measured, can be improved : 👌 see if your loyalty strategy isreally working
The analysis will vary depending on the loyalty programme you choose. Here are a few indicators that can help you : ⏬
Net

Promoter

Score

measures

the

likelihood

of

customers

recommending

your

community

.

The

repurchase

rate

is

the

percentage

of

customers

who

buy

again

after

the

first

purchase

.

The

Upsell Rate

is

used

to

determine

the

percentage

of

customers

who

make

a

new

purchase

different from

the

first

.

The

customer

retention

rate

(or

retention

rate

)

is

the

length

of

time

a

customer

is

active

.

The

customer

acquisition

rate

can

be

used

to

check

the effectiveness

of

your

marketing

efforts

(

for

example

,

based on

the

number

of

leads

generated)

.

How do you satisfy a customer?
Here are 3 simple tips to improve customer satisfaction: 🌟
1.

Find out

more

about

your

customers

:

To satisfy a customer, you must first take care of them. 💝 This is also why customer satisfaction relies on customer knowledge. My first piece of advice is simple: get to know your customers better

Who are they? 🧐What do they think of your product, your service and your company?

There are various ways of getting to know your customers better , such assatisfaction surveys . 👁️‍🗨️ In fact , asking your customers directly is the most direct and effective way of obtaining this information. ✍️

Feedback from customer support and online reviews can also help you to better understand your customers' expectations !
2.
Improve
customer
relations
:
Furthermore, it ' s not just the product that creates satisfaction, 🙊 but also the quality of the customer relationship. If you want your customers to be satisfied, you need to value who they are, not just the products and services they buy
You need to personalise your relationship with your customers, andthat includes improving your empathetic listening to your customers ' needs. 👂 Of course, the better you know your customers, the easier it will be to personalise your messages with them. 🤝 Creating satisfied customers also means meeting and surprising unexpressed expectations. To understand this better, learn to anticipate customer needs
3.
Set
specific
objectives
:
Customer satisfaction is a metric that needs to be measurable. 📏 To do this, you need to put in place satisfaction measures such as NPS (Net Promoter Score), CSAT (Customer Satisfaction Score) and CES (Customer Effort Score)
These actions should be carried out through satisfaction surveys sent out periodically and automatically. To satisfy your customers, you need to know them better . To get to know them better , you need to use a feedback management platform. This is a way of continuously feeding your CRM with customer knowledge and satisfaction data. 🧠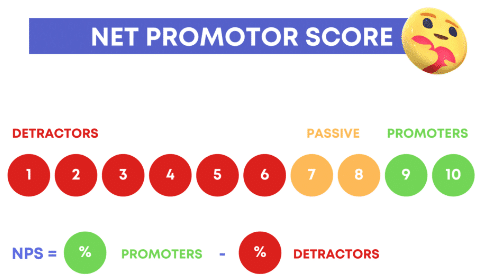 How do you thank a customer?
Finally, we must remind you not to make the mistake of not taking the time to thankyour customers for their purchases and support! 🫣
However, this attention is a show of appreciation for potentialcustomers and it's also the best way to build strong , lasting relationships. 🧱 Thanking a customeris more than just a polite message . It shows that you genuinely care about your customers, no matter how well they' ve been involved in your portfolio, purchased from you, remained loyal to you , or had conversations with you
In this way, this approach affirms a certain appreciation for finding a trusted partner and forging a more personal relationship between customer and company. 😍 Thank-youemails are also used to reiterate the points discussed, reiterate certain elements and underline the motivations of the contact
These exchanges can also be used to provide new information, offer additional suggestions or call prospects to action. This is a highly strategic way of targeting, attracting and retaining new prospects, but it can also retain old customers through up-selling or cross-selling. 🔗 Post-purchase email is also a great way to enhance brandimage, and it's the surest way to build customer retention to your business over the long term
Example of a professional thank you email for a customer
👉 Here's a sample professional thank you email for a customer
Conclusion: Customer retention
To conclude this article on how to build customer loyalty, we have seen the definition of customer retention and the concrete example of Amazon. 🤖
In addition, we've seen 9 tips for better customer loyalty: 👇
Guarantee the quality of your products and services.
Continuously improve the customer experience.
Listen to the voice of the customer.
Turn complaints into opportunities.
Continue to deliver value after the sale.
Decide which customers to retain.
Look after the customer file.
Set up a loyalty programme.
Measure the effectiveness of loyalty measures.
💡 Now you know why it' s important to build customer loyalty, especially if you want to grow in a highly competitive market… 😩 Companies that value their existing customers and want to reduce the search for new ones think that customer retention is the best business strategy ! 💫
If you want to know more about customer loyalty strategies, like affiliate marketing, then read this content
And don't hesitate to get in touch if you have any other ideas for improving this article 😉 (See what I just did there?)
FAQ : How do you build customer retention?
How do you attract customers?
Here are the 4 steps to attracting customers online: ⏬
Step 1: Attract qualified visitors to your website
If you want to attract customers, you must first persuade them to visit your website. Define the keywords that potential customers search for before considering a purchase. Create optimisedweb content , with a good SEO strategy. Promote your content via social networks and email marketing. 📩
Step 2: Convert visitors into leads
Once you ' ve attracted qualified visitors to your website , you need to do everything you can to retain them. Collect their contact details before they leave you. When they submit a contact form or subscribe to a newsletter, youcan provide them with premium content to download. To maximise your conversion potential, it ' s also important to have call-to-action buttons on yourwebsite. 🔔
Step 3: Convert prospects into customers
Once you' ve collected your visitors ' details and converted them into leads, they need to trust you . 😌 To achieve this, it ' s important to regularly send high-value content to motivate potential customers to buy. This is known as "lead nurturing". What's more, havinga combination of lead nurturing and "lead scoring" can turn prospects into customers. 🔥
Step 4: Retaining new customers
As you know, acquiring new customers costs a lot more than retaining them. However, sometimes it's difficult to implement an effective loyalty strategy. 😬 But that wasbefore inbound marketing ! You can measure customer satisfaction using the same mechanism as lead nurturing and lead scoring. And then regularly send out quality content to improve the customer experience .👌
What are the 3 types of customer retention?
The 3 main types of customer retention are: ⏬
Sought loyalty

: This

is

loyalty

behaviour

that

customers

reflect

through

the

implementation

of

specific

customer

strategies

and

actions

🎯

(

e.g.

loyalty

programmes

,

the

implementation

of

personalised

management

solutions

,

customer-centric

approaches

,

etc.)

.

Induced loyalty

: This

is

brand

loyalty

behaviour

in

which

the

consumer

suffers

from

market

conditions

(exclusivity,

exit

barriers

,

exclusivity

of

offer,

etc.)

rather

than

a

genuine

attraction

to

the

brand

.

😑

Behavioural loyalty

:

This

is

due

to

the inertia

of

behaviour

and

habits

rather

than

a

genuine

preference

for

the

brand

.

😦

This is

often

due

to

practicality.

For

example

,

customers

may

remain

loyal

to

their

point of

sale

because

they

are

part

of

their

daily

journey

.
What are the loyalty-building techniques?
There are many loyalty techniques that businesses use to keep their customers loyal and encourage them to return. 😇
Here are some of the most common techniques: ⬇️
🔵 Loyalty programme.
🟣 Exclusive offers and promotions.
🔵 Personalised communication.
🟣 S ponsorship programme.
🔵 Exceptional customer service.
🟣 Exclusivity.
🔵 Personalisation.
🟣 Thanks and recognition.
🔵 After-sales follow-up.
🟣 Special events.
🔵 Membership cards.
gamification.
🔵 Easy return and exchange programme.
🟣 Collecting feedback.
We recommend combining several of these approaches to create a comprehensive and engaging loyalty experience for customers. 🧲
Now you know all about customer retention! 👏