Cross Channel sales Definition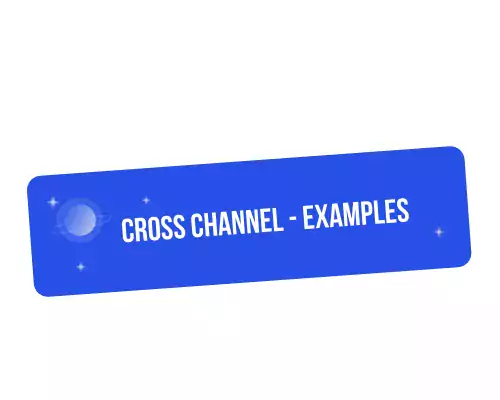 4
minutes
Cross-channel sales, definition, strategy, examples, illustrations. Learn all you need to know about cross channel marketing.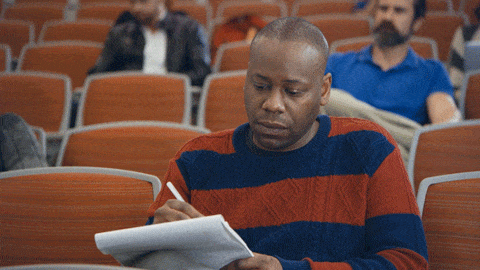 Definition of Cross Channel Marketing
Cross channel is a distribution strategy that takes advantage of several channels. It follows logically from the multi-channel strategy since it takes into account the fact that the customer uses several channels to make his purchases. For example, the Internet channel, but also shopping centers, specialized stores… At the expense of another channel, the customer can choose the channels he wants, for the same purchase. In a multi-channel strategy, all channels are completely independent of each other. In a cross-channel strategy, the different channels communicate together
Discover a product on your Instagram feed, subscribe to the brand.
Receive a promo code in their email, and fill in their phone number to create a customer area.
Be reminded by SMS about the promo code a few days later.
Place an order via your computer.
Example of a B2b cross-channel strategy
To give you a concrete example of a cross-channel sequence in B2B marketing, here is what you can do:
You find your prospect on LinkedIn with a good search (learn how to segment your searches here).
You invite them to visit your site via a call to action.
On your site, you set up a newsletter on which you collect the email address of your prospects.
You contact your prospects by email and create automated email sequences thanks to your CRM.
You invite them by email, to sign up for a demo to show them your tool and finalize the sale.
You will have used 4 channels: LinkedIn, Emails, Website, phone. The future customer enters a sequence in which he will feel accompanied in his buying process. You create a link between the prospect and you/the brand. He is ready to buy. 🔥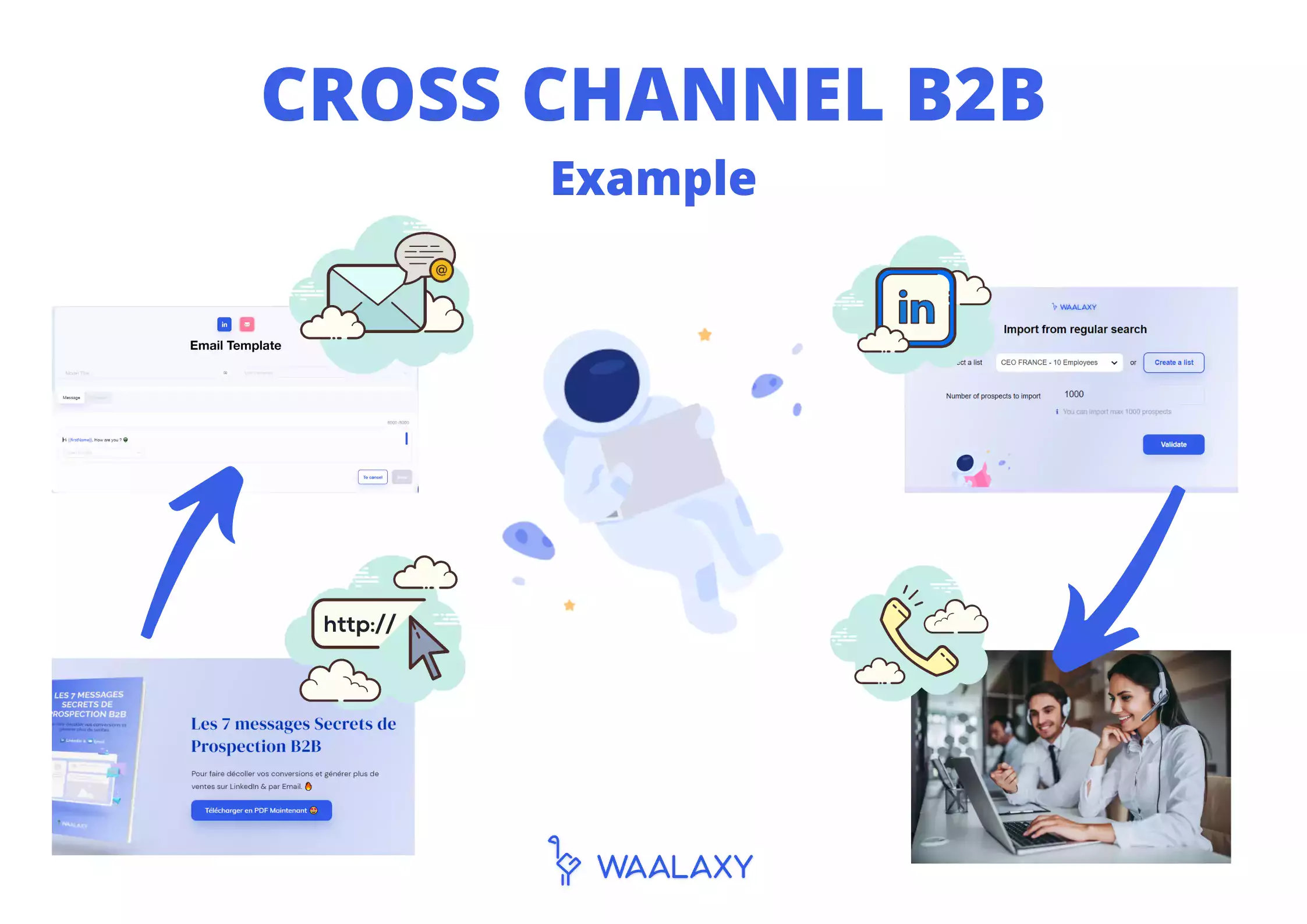 Example of cross channel in B2c
In B2C, the rules are slightly different. There are more channels and more variation. While in B2B, LinkedIn and Emailing have been deemed the most effective channels… Now the rules are changing a little bit. You're going to have to understand a little bit more specifically what networks your target is on. For example: You sell shoes, both online and in stores.
You will do paid advertising on Snapchat, which redirects directly to your site.
You're going to offer a "follow us on instagram and earn 10%" promo code on the entire store.
In-store, you're going to feature this ad to encourage customers to follow you on the networks.
On Instagram, you highlight the Snapchat account and blog on your posts. You also post photos of the stores.
You use 4 channels here: (cal: the store), (Online: two social networks and a website). We could have imagined other channels like SMS reminders, Newsletter, etc…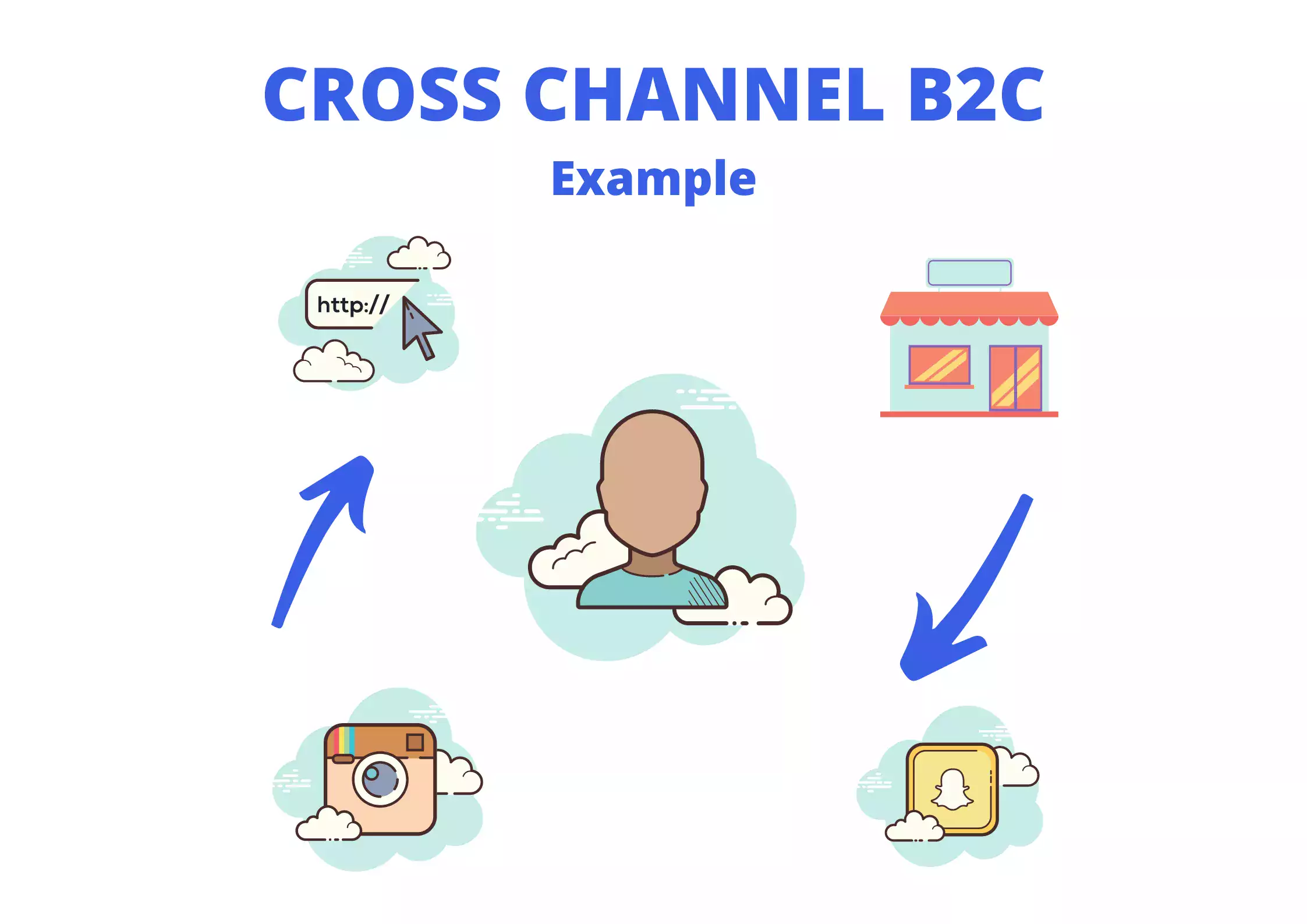 Conclusion: Cross Channel sales Definition
The most difficult thing in the cross channel strategy is to have enough information about the prospect to be able to contact him on different channels and not to "lose his trace", that is to say to make the link between his data, for example:
Phone number.
Email.
LinkedIn account.
The more information you have about him, the more you can create personalized sequences and create a scheme to accompany the purchase.
The goal is to improve the consumer's path (or buying path), by multiplying the distribution channels.
This complementarity of channels allows a real personalization of the customer experience, from A to Z.
What is the difference between omnichannel, cross channel and multichannel?
Omni-channel: Use all available acquisition channels and control the distribution of information.
Multichannel: Use multiple channels without the types of communications being related to each other.
Cross Channel: Work in prospecting "sequences". A prospect enters a sequence in which the messages will be linked and will facilitate the purchase.
Here is an example I found here that illustrates these 4 types of channels: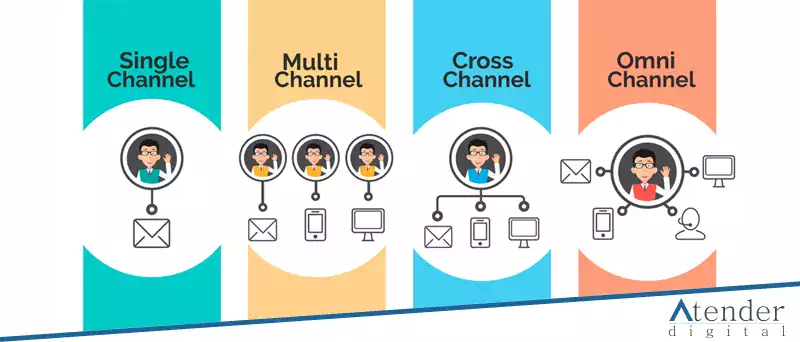 What are the different distribution channels?
Physical store.
Ephemeral stores and stands.
Digital channels: Digital commerce (e-commence site).
Wholesalers or buying groups.
Retailers.
The large distribution.
What are the different communication channels?
Mobile application and SMS.
Website.
Blog.
Vlog.
Facebook.
Instagram.
TikTok.
Twitter
LinkedIn.
Youtube.
Emailing. (Newsletter, ColdEmailing).
Natural referencing (SEO).
Paid search (SEA).