What is closing sales? Definitions and principles
The closing sales, is also called "closing" is the last step in your
sales funnel.
In other terms, it means "
closing the sales
".
The principle is simple, it is about finalizing the sale, usually by phone or face-to-face. This kind of practice does not correspond to all the markets, generally when you have salesmen who make phoning it is because you sell expensive tools and services and wish to offer a quality service to your customers.
You know that they will not buy if they are not reassured during the process.
The digital world has brought out new vocations and offers great professional opportunities, including becoming a "closer." In this article, we focus on the definitions, sales strategies, and salaries of the job.
And as a bonus, we show you how to set up a prospecting plan.
What is closing in B2b and B2c?
Closing is practiced in B2c: Buying a new kitchen, a car, and insulation work. These are offers where the competition is tough and the choice varies. The consumer, therefore, needs to be accompanied, otherwise, he will go to the competition to obtain the goods.
The B2b closing: Purchase of an expensive and customizable sales software like SalesForce, an event service, the renovation of the premises, the purchase of industrial machinery. Closing is often done by phone in order to reduce costs or is sometimes done during trade shows.
In both cases, the sales steps are always the same, and the sales process must be structured :
Approach the customer (Making contact).
Identify the customer's needs.
Propose a solution.
Respond to objections (Negotiation).
Conclude the sale (Closing).
Sign the contract and follow-up.
What tools are needed to achieve a successful closing?
Closing meetings are almost exclusively held by telephone or videoconference, but can sometimes take place in person.
The advantages of telephone prospecting to achieve a closing are numerous:
To be able to call several interlocutors in one day.

There are no geographical barriers,

You can internationalize your customers,

It allows to do digital prospecting,

It's less expensive than physical travel.
A good internet connection,
A powerful camera,
Something to present the tool/service (a simple and visual presentation),
Something to note down any questions you cannot answer.
A professional outfit that reassures the interlocutor if you are on video!
Choose a quiet, clean place with good reception if you are on the phone.
👉 The advantages of physical appointments to close a deal:
You make more sales per appointment (but not necessarily more sales overall). If the client has accepted the appointment in person, it means that he wants to buy.
You create more links and sustain the customer relationship more easily.
Something to present the tool/service, either on a PC or in a brochure.
Something to write down any questions you cannot answer.
A professional outfit that reassures the contact person.
A small gift from the company, why not.
A business card.
What are the principles for a Successful Closing?
For the closing to work, the salesperson must know the offer or product inside out, in order to be able to respond to all objections with predefined sales arguments. It is also necessary to know how to evaluate the right moment to propose the purchase. As long as there is an outstanding question, it is better to postpone the closing time, even if it means rescheduling an appointment.
🅰 Be careful, if the closing has not been done, you absolutely must leave with a date and a slot for a new appointment, otherwise, you have a high chance of losing the client.
The timing is, therefore, paramount. 😜
What are the steps to a successful closing?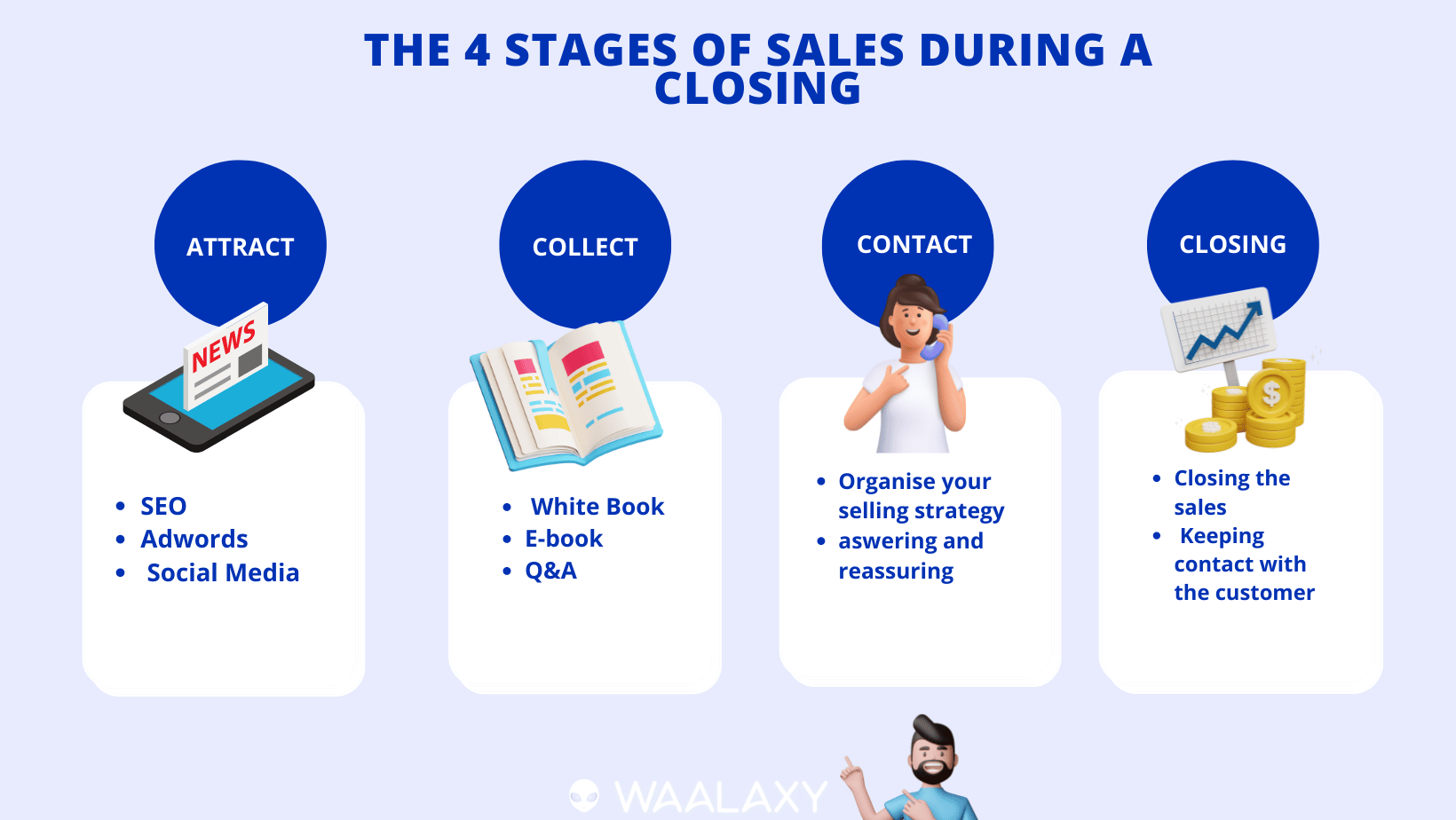 Attract: In order to make a successful sale, you must first have attracted your future customers to you. To do this, you will use SEO, advertising, and social networks for example. You can also go to trade shows or participate in webinars. Basically here, we will count all the actions that make your prospects come to you.
Collect: Probably the most important step of your sales funnel is to collect data on your prospects. This information will be crucial and will help you to know your prospects as much as possible. During the closing, you will use this information to argue your case. You can therefore insert all this information into your CRM.
LinkedIn is an incredible source for getting prospects and collecting as much information about them as possible. You can discover their needs in even more specific ways by finding out about their interactions on the network.
Contacting: It is in this step that you will really identify the customer's need. Practice active listening, and rephrase his need. In this step, you must know your product by heart, and know how to argue all possible objections (price, time, complexity).
Conclude: This is the most important step since it makes you sign your sales contract! Conclude, make a closing… That is to say, knowing when it is the right time to propose to the prospect to go ahead with the purchase.
We look at some techniques below. 👇😜
Discover 3 ways to make a good closing
Succeeding in your closing is above all about having good sales skills and tactics. You have to know how to reassure and be confident in front of your future client. What I explain in this article are therefore techniques that work, but only if you have a relaxed attitude towards your interlocutor's questions.
There are therefore several sales methods for closing: 👇
1) Draw up a balance sheet
To make a positive assessment, you must, on the one hand, list all the key arguments and customer benefits that the prospect will have confirmed himself during the sales meeting. Then, remind him/her how the tool responds to the problems he/she has mentioned. Basically, you help the prospect realize that you have answered all his objections and that the purchase is the logical continuation of the interview.
"If I recap, you want a new modern kitchen within your budget, with a stainless steel plate, oak wood storage and installation included in the selling price? And you want us to deliver it to your home, and you like this model? Well, I think we found a solution to your request!"
"If I understand your need correctly: you need a visual and easy-to-use prospecting software that you can use in a team and thanks to which you can create lead scoring and track your KPI's ultra easily? Waalaxy does all that, and it also automatically enriches your database."
2) Create urgency and offer an incentive
Is your customer still hesitating? For convincing the customer make them feel that time is of the essence. Give yourself a deadline. If they take too long to make up their mind, the bonus will become irrelevant. As a result, your offer becomes more valuable because it becomes rare. The "Now or never!" idea can pay off.
But be careful with this technique, if your customer was not ready to buy or feels oppressed, he will run away when the pressure is on.
"If you walk away with the CRM today, I can create the referral code for you and you can refer all your team members. It will save you two months of subscription. However, the code is only valid for 24 hours, so, what's keeping you waiting?"
3) Sell to the right people, the right products
You'll never see this argument in any other article online, yet for me it is paramount. Don't sell to sell, sell because you have the solution to your prospect's problem. If you don't have it, or too little of it, offer him another product, even a competitor.
This will save you from a slew of unsatisfied customers who will give you bad publicity and will not be loyal at all in the long run.
Remember that it is much easier and cheaper to keep a customer than to find another one, so work on customer loyalty and try to resell products to your existing customers or their relatives:
Offer referral promo codes if a loved one buys a kitchen from you too.
Ask for customer interviews with your CRM's top users.
Create trust, and boost your brand image.
Average = Between 30 000 and 50 000€ Annually in France.
Closer is a job with multiple systems of remuneration. First of all, it is important to know that the Closer is above all a salesman. Sometimes, he does the whole sales process by himself (he looks for and contacts the clients beforehand) and occasionally he simply receives appointments from interested people who have been sorted out in advance by a lead generation.
The sales representative can therefore be paid according to his status (freelance or employed) and the type of product he sells, and his experience.
View job openings as a Closer. 👀
The salary of the freelance closer
If he is his own boss, the sales representative is paid in commission on the sales he makes. In this case, the percentage of commission generally varies from 10 to 20% of sales. It is rare that the freelancer has a fixed salary. They are not part of the company's workforce and if they do not make a sale, they do not make a profit. In this case, acquiring new clients can take time.
The salary of the closer in business
When hired by a company, they receive a fixed salary, generally based on 35 hours per week. The salary varies according to several criteria including experience. In addition to this fixed salary, there is a variable salary based on the number of contracts signed.
Sometimes the variable is monetary, for example, 200 euros per contract.
Other times the variable is based on the amount sold: 3% of the sales price.
Conclusion: What is Closing Sales?
Finally, what is the closing sales?
It's a technique that allows you to finish your sales. It is usually done by phone and marks the transformation of the prospect into a customer. There are several ways to end a closing: the urgency argument, the offer of a bonus, the reformulation of the need, and the response to it…
And there you have it, I answered the following questions in the article:
What are closing sales?
Where is the closing in the sales process?
What tools do you need to prepare?
How to succeed in the closing?
What is the salary of the closer?
FAQ: Closing Sales
Who needs a Closer?
Many companies need closer to managing the sales pitch, whether in B2b or B2c, it is an experienced salesperson who will know how to handle the art of words to reassure the future buyer. Generally, companies that hire closers sell expensive offers or services and the competition is quite tough, for example :
Car dealerships,
Customized travel agencies,
Professional events,
Sales of structural work,
Interior decorators,
Sales of industrial machinery,
Sales of solar panels.
Is "sales closer" a business of the future?
In a commercial era where we personalize more and the buying process and where the competition is higher and higher (many new companies are born), convincing the customers becomes an art. The job of a closer can really make a difference in a company, it allows it to establish a relationship of trust with its customers thanks to the values transmitted by the closer.
To be part of these closers able to close a sale by putting forward the human aspect, it is advised to follow a commercial training or a closing course.
Have you ever thought about marketing automation?
In order to get even more sales calls, you can automate part of your prospecting and find customers much faster. For example, with Waalaxy, you can contact hundreds of prospects on LinkedIn and even find their phone numbers thanks to data scrapping.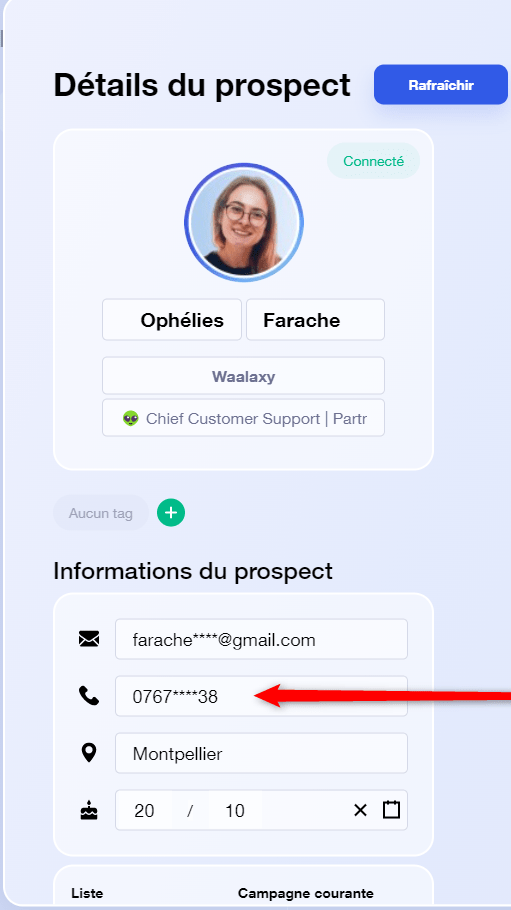 Découvrir Waalaxy 🪐
Any other questions about closing sales ? Write to us on Waalaxy and we'll get back to you. 😁