LinkedIn is a marvel 😍 of social network to develop your business. Fantastic BtoB base, your business will take off if you are a self entrepreneur on LinkedIn. We explain how to be an ace. Although the professional platform was originally intended for job searching, its use has opened up to new practices such as prospecting for example. But what else can you do?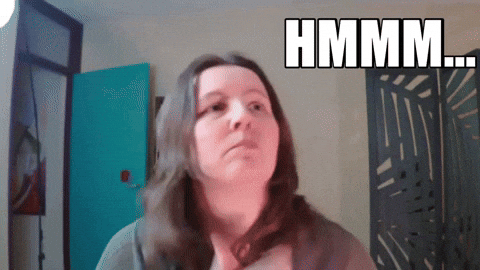 Being on LinkedIn when you are a self employed entrepreneur
We are not going to teach you, but LinkedIn has many advantages 🚀 in its use such as:
Develop your professional network.
Get new prospects (or customers).
Increase your visibility (or the visibility of your product).
Develop your personal branding.
Exchange with professionals in your sector.
Among the points below, some of them are going to be useful for us if we are a self-contractor on LinkedIn. Because, yes, LinkedIn is one of the best social networks 🔥 to carry out your self-entrepreneurial activity.
Create a company page or a LinkedIn profile?
It's a question that comes up a lot around here. And the answer is always the same: make a profile page if you have a self-business. If you are an entrepreneur, it's better to create a good profile. Keep in mind that LinkedIn is a platform based on trust ❤️.
This means that if you are seen with a complete profile, a recognized network of professionals, post publications that show that you know your way around a particular field, then you will have more chances to convert.
Speaking of a complete profile, let's talk about it right away. Indeed, it's very important to have a profile that builds trust, and how do you do that? We see it in steps.
How to have a good LinkedIn profile
You're not going to be able to get started in your business and be looking for potential clients if your profile doesn't generate any interest. So you're going to need to pay special attention to these points:
The famous profile picture: choose one that looks professional, not the one you use for your Instagram account, or worse your Tinder… We said "professional"!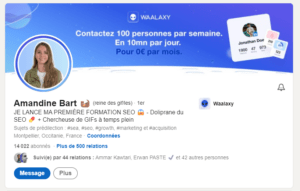 Think about your banner or cover photo. You can create it yourself by writing down what you do. A quick and easy way to understand what you do.
Your title: it must attract attention and also make it possible to understand in which field you are located. Your potential prospect, if he decides to come on your profile, must be able to decide whether or not you are able to answer his problems.
Your summary: put forward a short description of what you do. Here, it's the same, you only have a few lines to put forward your know-how 👊.
Your professional experiences: fill in your various experiences so that we can know your various areas of expertise.
Recommendations: you can totally ask some people in your network who have already worked with you to leave you a recommendation. And of course, you can make recommendations to others. This will also allow people to see your seriousness through the people you have already dealt with.
Add your skills so that people can quickly see what you can do.
Personalize your URL (with your first and last name for example). Why is it better to do this? Well, you should know that when you have a LinkedIn profile, it will be referenced by search engines. It is therefore better, in this case that it includes your first and last name.
So you'll have understood, when you have an optimized, clear and above all complete profile, you are more likely to be trusted 🥰.
Why use LinkedIn when you are a self employed entrepreneur?
LinkedIn is the largest BtoB database. Therefore, to grow your business as a self-contractor, it is the perfect tool. OK, once your profile has been created, what's the next step?
Set up your persona to expand your network
Simple, basic, you'll need to expand your network. If you are going to use your account exclusively for your business, you will need to set up your persona.
If you don't know what a persona is, we'll tell you now. It's simply a portrait of your ideal customer. It's a fictional character to analyze 💥 your prospects' behavior. You have THE product (or offer) that fits their need. Therefore, you will need to know all the following info:
His first and last name.
Your age.
His/her gender.
His location.
His profession, his sector of activity.
His function in the company (if you start with a b2b target).
His goal (what we consider as a motivating factor, what will make him buy your product or service)
His pain points / frustrations.
You can very well add other elements that will complete your persona if you think they are relevant in the development of it. Once this is done, all you have to do is add the people who correspond to the portrait of your ideal customer.
Develop your network
The platform presents a list of industries for you to sort through. Once you know your target 🎯, the industry or even the industry that person works in, you'll be able to search for your prospects. To do this, you have two ways to do this:
Find leads manually.
Find leads automatically.
Searching for prospects manually is viable if you only have a few people to search. It will take you some time, you will have to go on their profile, verify that this information matches and then add them to your network.
If, on the other hand, you want to add as many people as possible who match your target, you should use an automation software. This is a good thing, because we have a great tool for you to discover.
The automation experience: Using Waalaxy
You guessed it, this is Waalaxy we're talking about 👾. By using Waalaxy, you're going to be able to directly import your various searches so you can aggregate your leads in one place. Pretty convenient, right?
And on top of that, you're going to be able to send messages by personalizing them without spending hours on them, pretty convenient, right? And we forgot one important detail, Waalaxy is free. So what are we waiting for to test it?
Discover Waalaxy 🪐
To use it, nothing could be easier. Just enter your keywords in the LinkedIn search bar (related to your persona).

Once done, you will have a list of people that will be displayed. You can decide to import them with Waalaxy and then send them a connection message.
Content strategy: communication on LinkedIn as a self employed entrepreneur
If you are on LinkedIn when you are an autoentrepreneur, it is to give visibility to your offer. Once you've managed to give it visibility, you also need to sell 🤑.
To sell on LinkedIn, you need to show that you know your stuff. And to do that, you're going to have to post on LinkedIn. To make a great content strategy on LinkedIn and show that you know your stuff, you're going to have to come up with a theme that relates to your offering. When we think of that theme, we should think of you.
To prepare this theme, you need to find post ideas that you will group into 3 categories:
To understand what it is, we give you an appointment on this 👉 article to understand all the tricks of the content strategy.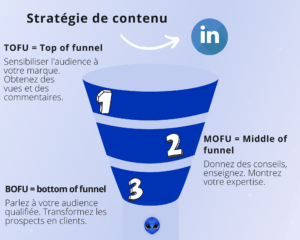 Your content should be engaging and add real value to your LinkedIn contacts. With this in mind, don't hesitate to look at what's being done in your sector, get inspired (but don't copy for pity's sake).
When you start publishing on the professional social network, the objective is of course to increase your visibility, but above all to increase the trust of your LinkedIn contacts (or your subscribers).
The importance of LinkedIn
You've been using it for a while now and, this professional platform is a gold mine 🪙 to find a job or to boost your visibility and sales. LinkedIn will promote connections between various professionals in order to grow your network.
The platform has millions of users, enough to largely find your happiness and refine your prospecting. Moreover, other tools are at your disposal (subject to a subscription) such as :
Sales Navigator.
Recruiter.
LinkedIn Learning.
LinkedIn Marketing.
The advantages of LinkedIn or how to present your company on LinkedIn
On LinkedIn, its biggest advantage is that you will be able to surround yourself with professionals and thus potentially see new opportunities arrive.
This is the very principle of networking. Thanks to LinkedIn, you don't need to have your own website (well, you don't have to). Your LinkedIn account thus acts as a showcase 😍, hence the importance of taking good care of your profile.
Indeed, when a user will type your name on a search engine, there is a good chance that your LinkedIn profile will appear on the first page. But that's not all. Indeed, other people are like you and show their expertise to their LinkedIn contacts.
So you can keep an eye on your competitors directly from the platform. You can also join relevant groups in which you can exchange with professionals of a dedicated sector. You can then exchange with other members.
Conclusion of the article: Using LinkedIn when you are a self entrepreneur
When you start out as a self-employed entrepreneur, there are good practices ✅ to put in place. Signing up on LinkedIn and using it is one of them. To be able to sell a product or service on LinkedIn when you are a solopreneur, you will need to establish :
A good LinkedIn profile.
Your persona.
A great content strategy.
Don't hesitate, get started on LinkedIn: that's what the platform is for. And don't hesitate to use a software such as Waalaxy to facilitate your prospecting.
FAQ of the article
Being a self-employed entrepreneur is not an easy task, but on LinkedIn, you can largely make it take off.
Is it necessary to register on LinkedIn when you are a self-employed entrepreneur?
This platform is a jewel since it has millions of users who regularly update their data. Can you imagine a database that updates itself without you having to do anything?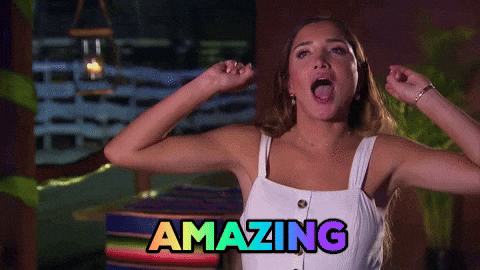 That's exactly why you should use LinkedIn: to get potential prospects to update their information.
When to create a LinkedIn account?
You don't have to wait until you have a self-made business to sign up for LinkedIn.
It is a platform that will allow you to seize new opportunities in the professional field. Why deprive yourself of it?
You can absolutely sign up because you are looking for a job or simply because you want to offer visibility 👀 to your product. It's up to you.
Now you know all about the tips to become a self employed entrepreneur on LinkedIn.