We all know that having a well-optimized LinkedIn profile is a must, it implies having a professional profile picture, a catchy job title and of course having a nice LinkedIn background banner is no exception! 👌
That's why in this updated article for 2022, we will show you how to make your profile stand-out in the vast LinkedIn sea, by following these simple steps. 🌊
LinkedIn background banner: What you need to know before you start
Last year, we created this article on how to create the perfect LinkedIn banner! 🍑
Inside, you will find a step-by-step guide on how to highlight your profile easily, by showing you examples and which tools to use. 🛠️
Therefore, before you let your creativity run wild 🌈, there are a few guidelines to keep in mind when creating a good LinkedIn background banner for your personal branding:
A well-defined digital marketing approach! What is the demographic of your intended audience? What is your message? What are your products? What are your principles?
High-quality pictures or images (created by your graphic designer – or found online, you will find more details below).
You will need creative software programs, like Canva, Photoshop or Illustrator, in order to get inspired or create your own background LinkedIn banner.
A cohesive color palette for all your creations, it has to be carefully chosen according to your company's graphic charter.
Lastly, you need to have the right image size and format, in order to not lose any quality when uploading the photo cover to your LinkedIn profile!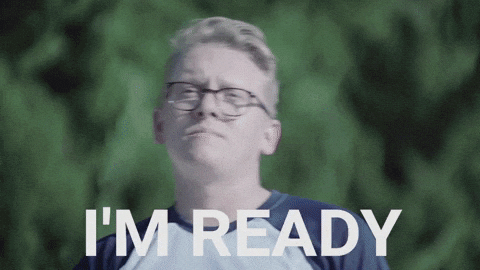 Templates for LinkedIn background banners
If you're looking for already-made templates for your LinkedIn banner, then using Canva is the way to go. 🤗
Here's the link to +2100 free templates you can start using right now (you can even filter them by colors). 🕺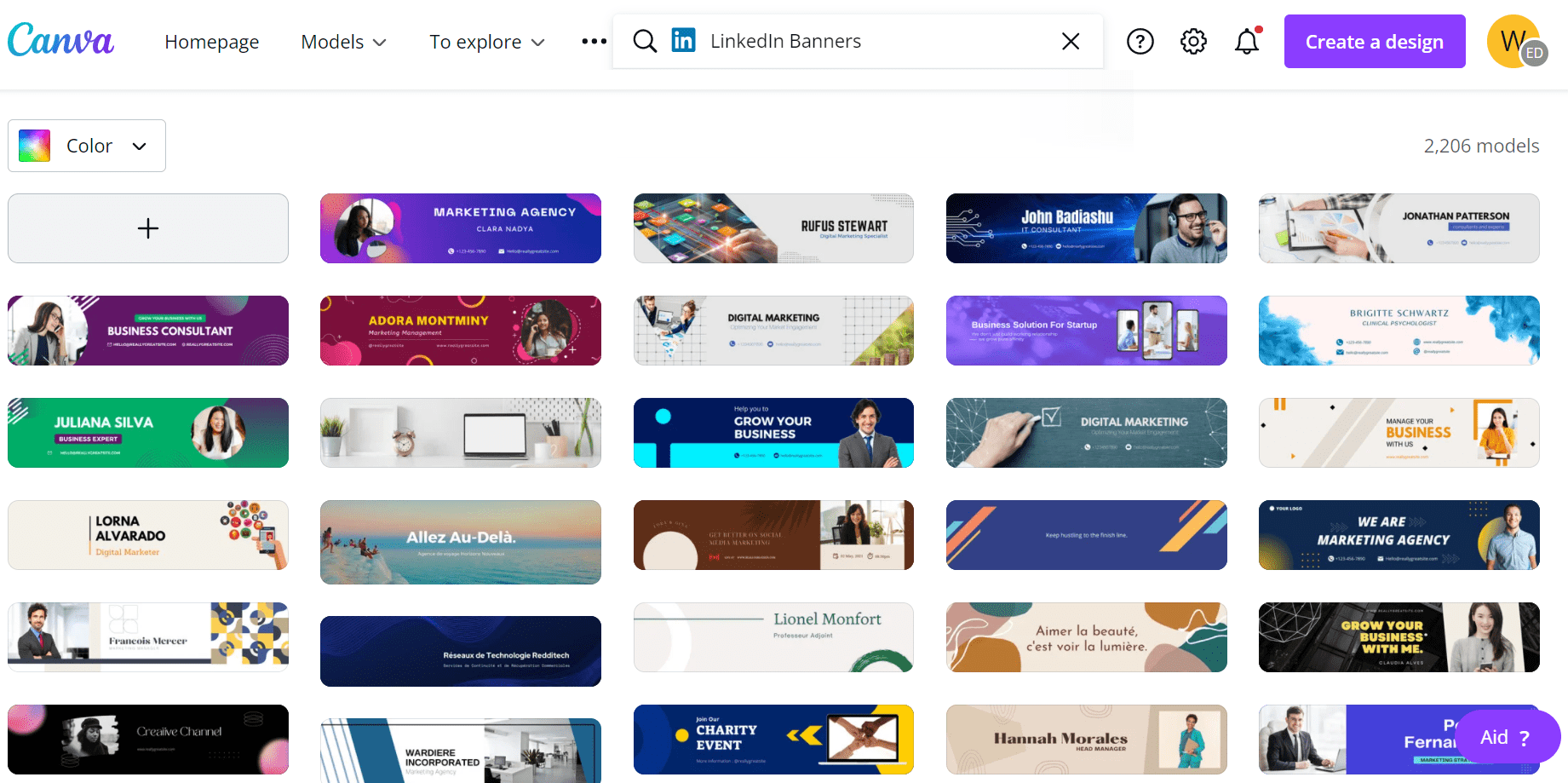 We will go into step-by-step details on how to create banners for LinkedIn, in the next parts of this article, so be patient. ⌚
It will be worth it, I promise! 😜
In the meantime, here's an example of the background banner template we use at our company. At Waalaxy, we all decided to use the same banners in order to showcase the colors of our new products! 🦩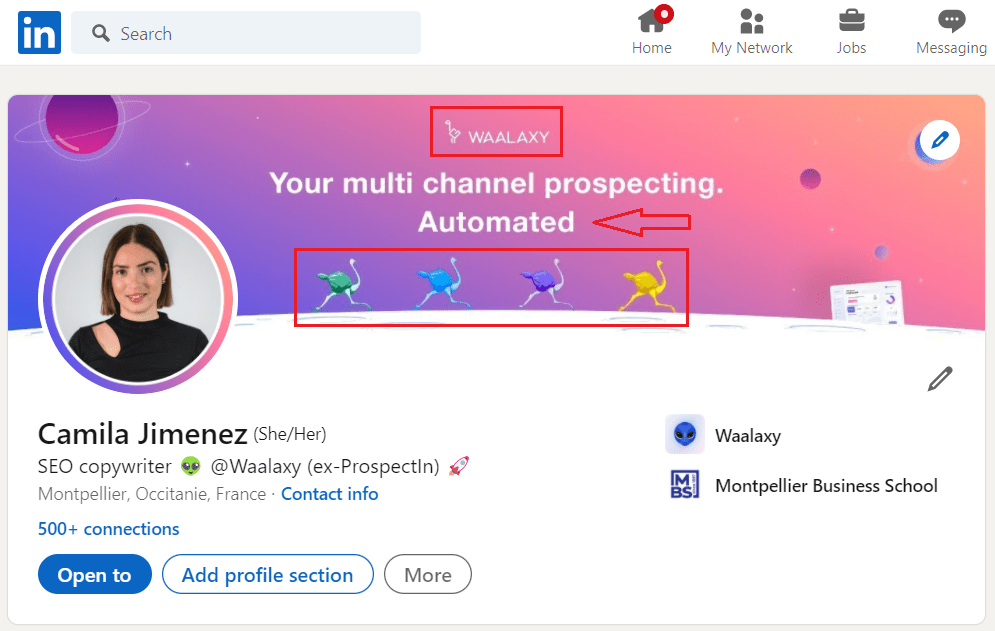 In this template, you can see the color palette is lively and tailored to the company's product colors (Waalaxy, ProspectIn, Inbox waalaxy, etc.). 🌌 We added the company logo on top, our slogan in the middle and the product's icons at the bottom. ⚡
In addition, we used the same graphic chart and images for all communications, that were created by our lovely web designer, Pauline Beauté. 😘 This LinkedIn background banner represents our value proposition in a quick and effective way! 👏
PS: avoid adding any images or elements at the bottom left side corner of your banner, otherwise they could be hidden by your LinkedIn profile picture. 😅
LinkedIn cover photo Tips
Firstly, you must always adhere to the predetermined format. There's a reason for this: to prevent last-minute cropping that will "disrupt" the image's intended look. ✂️
Don't overdo it with the writing! 😵‍💫 LinkedIn has different areas for this ("About" section, your summary, articles, and posts). The banner is for images that are attractive and vibrant.
Don't cram too much information on there: keep it simple and appealing to the eye. 👀
Let's take the use case of a graphic designer who wants to distinguish him/herself from other graphic designers by emphasizing his/her work on LinkedIn. 🤔
🔴 First example, is this "Head Graphic Designer" profile, but his background cover is a standard city landscape… it doesn't show any of his work. 🤦‍♀️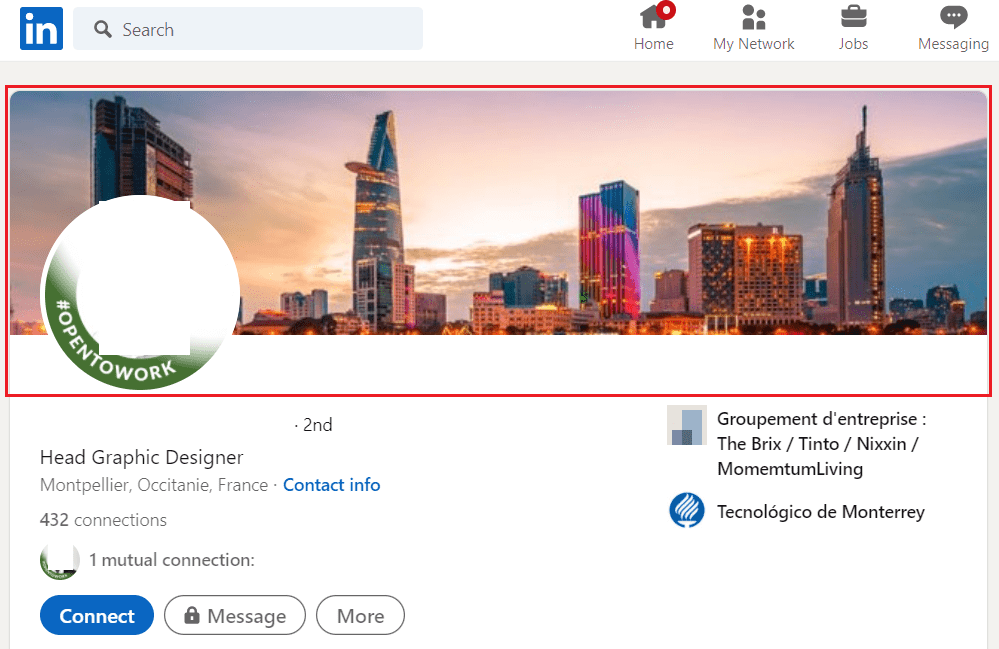 This is a shame because you should use every bit of your LinkedIn profile to advertise yourself, especially if you're on a job hunt! 🧲
🟢 The second example, is the profile of a "Graphic designer & Illustrator", she's open to work too, and she used her cover photo in order to highlight her original designs! 😍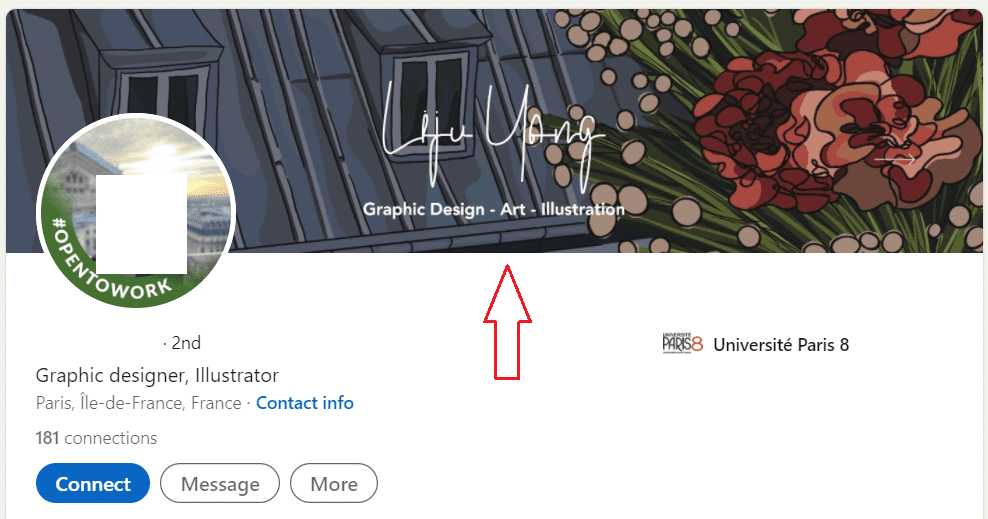 This shows what kind of style she has, and what kind of work she does. Very nice to look at, don't you think? 😀
It's always good to personalize your LinkedIn profile and avoid using standard content, when you can. 🙏Choose high-quality images for your profile picture, an eye-catching banner, and the main information that is relevant to your business.
And making sure your banner isn't too crowded is essential for this. 👌 Especially if you work in the visual arts, such as a graphic designer, photographer…
The right tools to build your LinkedIn profile background banner
Now you know what to do before you create your background banner, make sure it reveals what you do and has a welcoming message for anyone who visits your LinkedIn account. 🤗
Also, remember to choose colors and graphics that reflect the added value you want to express! ✨
You'll need a creative tool to perfect your banner, right? 🙌 Depending on your preferences, you can use Photoshop, Illustrator, or Canva.
In this article, I will show you how to use the latter! 👇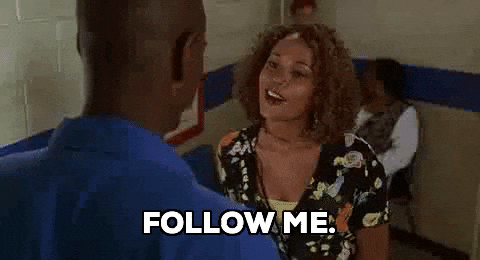 Use Canva to create a free LinkedIn background banner
Canva reigns supreme for our team! 👑
We enjoy using the tool for all our graphic creations, and we suggest it because it's really easy to use, especially if you are not a graphic designer. 😉
It immediately provides you with the ideal dimensions size for your image, depending on the platform you require it for (Facebook, Instagram, LinkedIn…).
This is quite useful, and you can't go wrong with it. 👌
For more info, you can follow this Canva article on how to create a banner from scratch! 💥
How to change your background banner on LinkedIn?
To add a photo cover from Canva to your LinkedIn profile, you need to follow these simple steps:
Go to Canva and select "Make a design."

Then pick or type "LinkedIn banner" from the scroll down menu.
Add the visuals you want to use from the templates, or design your own by searching/adding elements.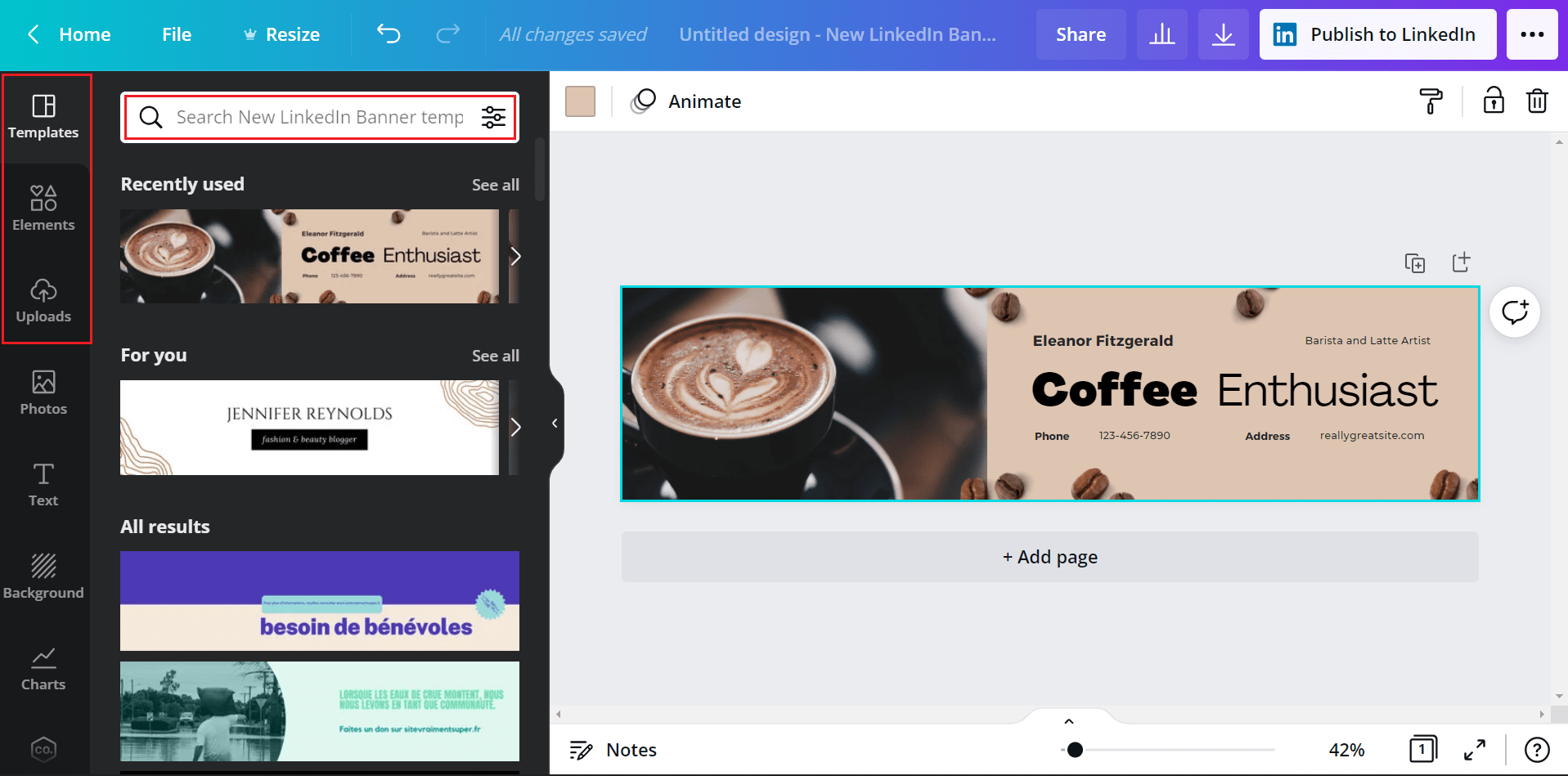 Use text and photos as needed (adapted to your graphic charter).
Then, manage the layout and colors before downloading it.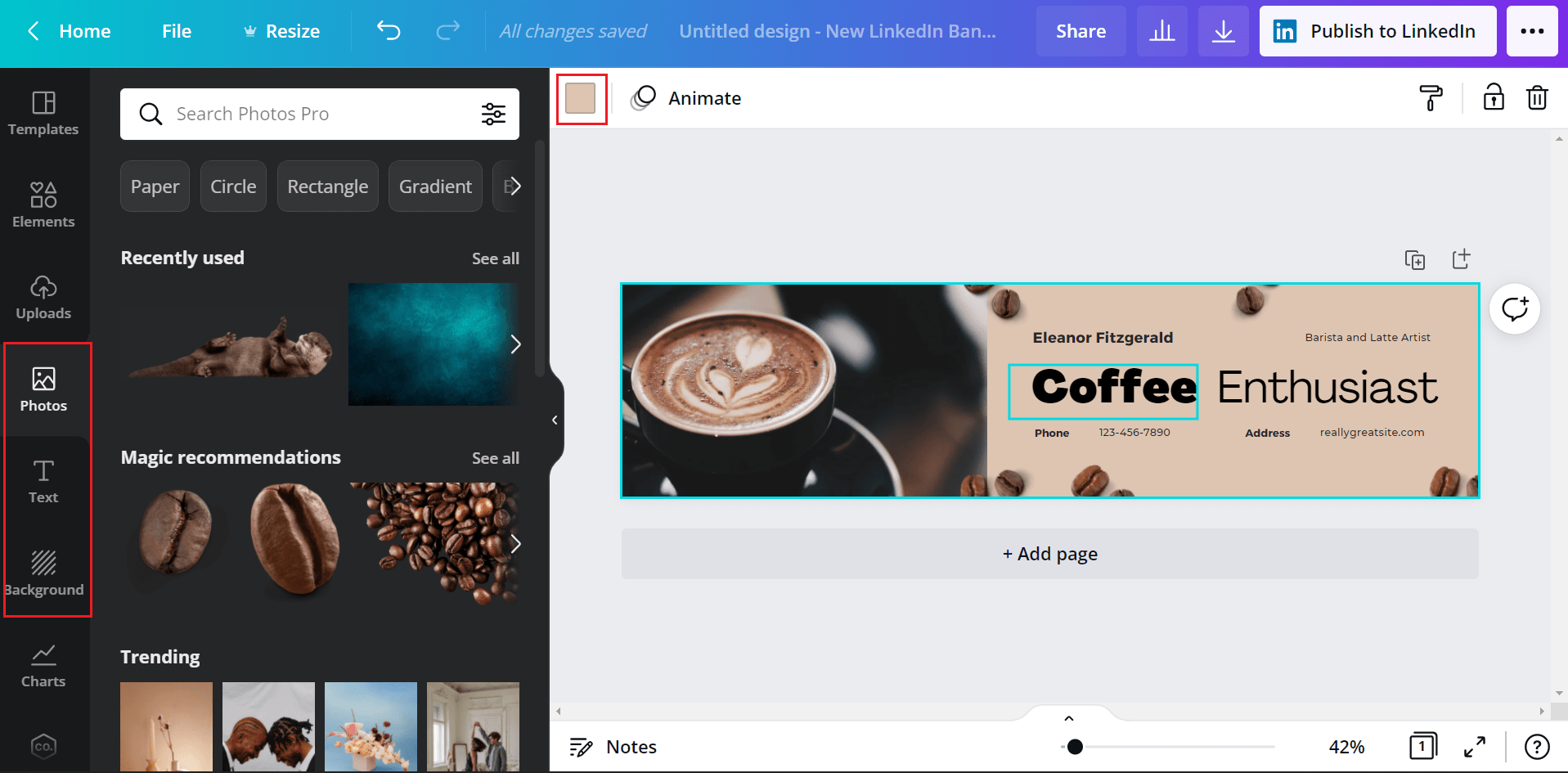 Use the "3 dots" button or link your Canva with your LinkedIn account in order to download it in the format you want. Changes are saved automatically, too!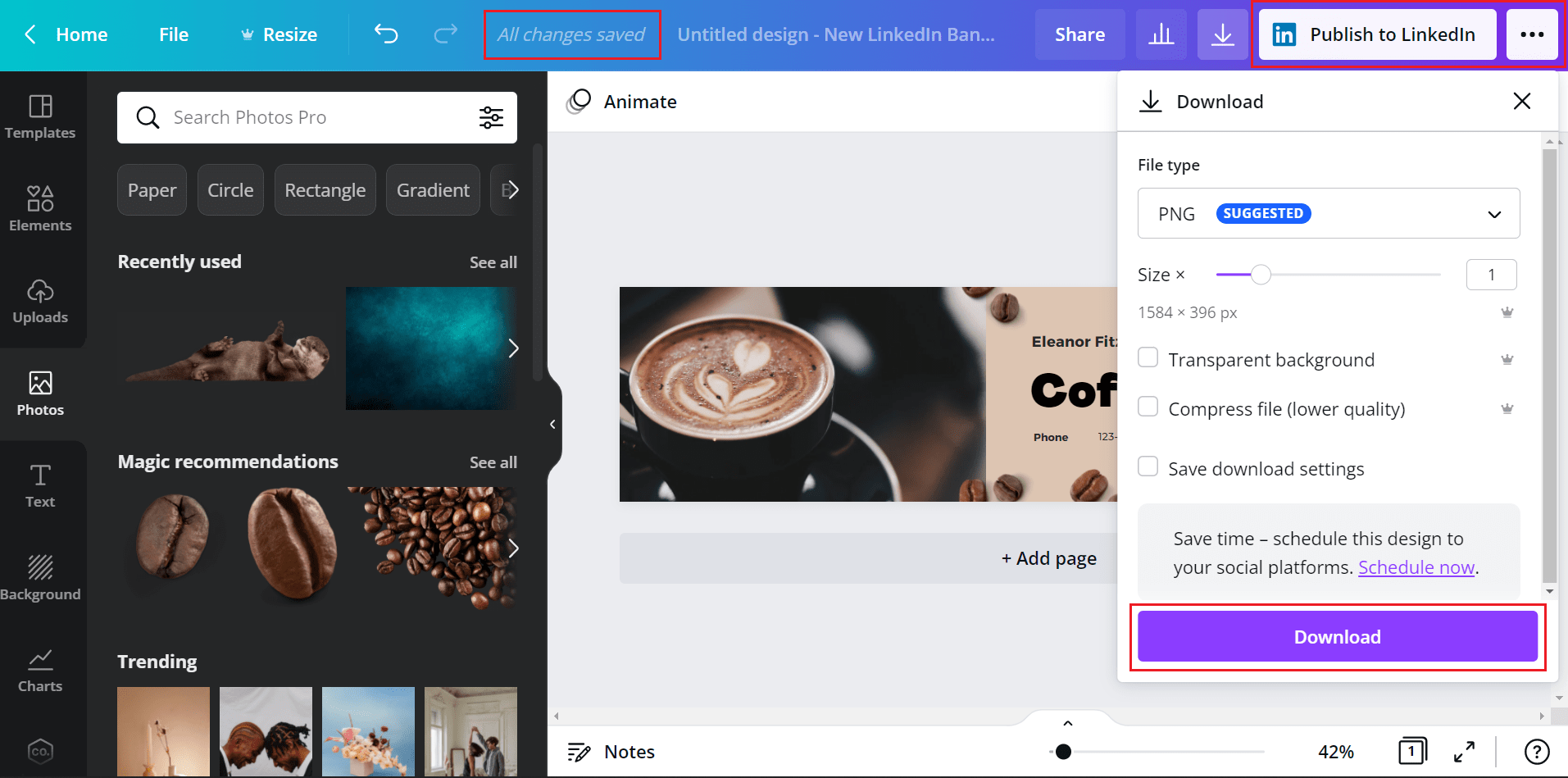 Now, visit your LinkedIn profile and in the cover picture, click on the "pencil icon" to edit.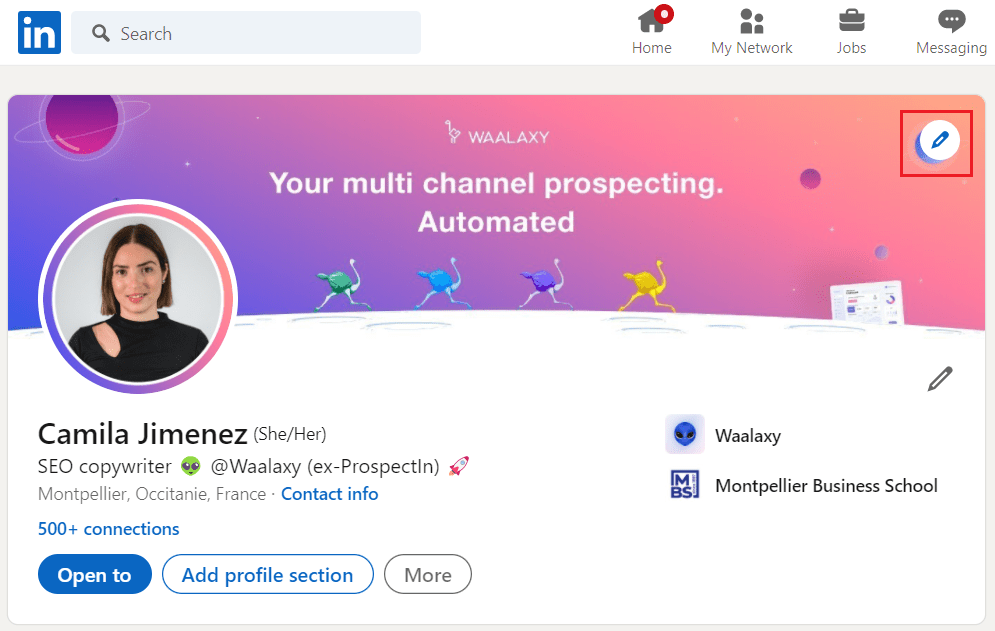 Then go ahead and click "Change photo" to upload the image you just made!
Finally, make adjustments if needed, and click on "Apply" to update it.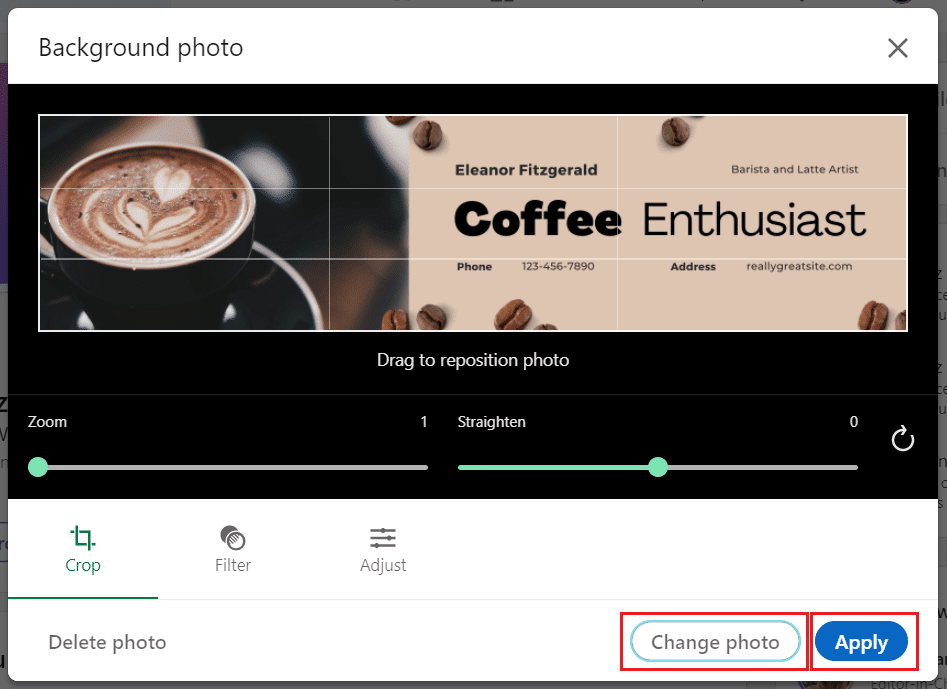 That's it, your new personalized background banner will be added to your LinkedIn profile.
Pretty easy, right?? 🤩
Original LinkedIn background banner Examples
Many folks will just leave a blank banner or use their corporate logo as a background cover and call it a day. 🤷‍♀️
However, this is not the way to go if you wish to stand out from the crowd!
Furthermore, let's have a look at different banner examples from Canva and LinkedIn for the technology, sales, marketing, and education industries to see how you could get inspired by them. 😏
LinkedIn background banner technology
Here's a free LinkedIn background banner if you work in the tech industry. 👨‍💻

They're usually very geometric designs, using dark colors like black and deep blue to contrast with neon tones like purple, green, blue. This reminds us of the web and the coding environment they work on. 🌌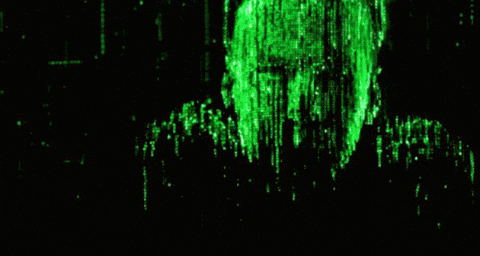 LinkedIn background banner sales
For sales, I took the example of a LinkedIn profile that was very interesting. Let's take a look together.👇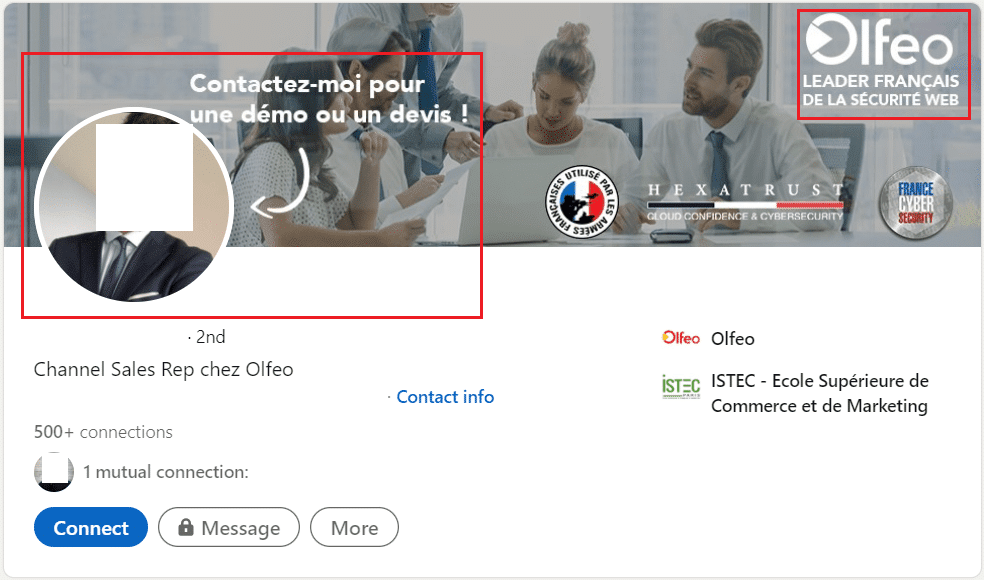 It respects the rule of leaving a blank space on the left side bottom corner of the banner, for the LinkedIn profile picture, like I explained before. 😉
But, most importantly, it has a CTA inside the banner! That's a really nice move, if you work on sales and want the prospects who look you up on LinkedIn, to also feel free to contact you for a free demo or quote. 👋
In addition, you can see that he has a professional profile picture, the background image has a good quality and the company logo is visible at a first glance. 🤩
Well done, Mister! 💯
LinkedIn background banner marketing
Here's another charming example from Canva, if you work in the marketing industry. 👍

It has a very straight-forward, yet fun design, and it's certain to make your profile pop out in the LinkedIn searches! ✨
Additionally, you can use specific color choices depending on the message you want to convey about your business. The "Color psychology" is used in marketing to send a subconscious message to your target and inspire different emotions when they see your brand. 😊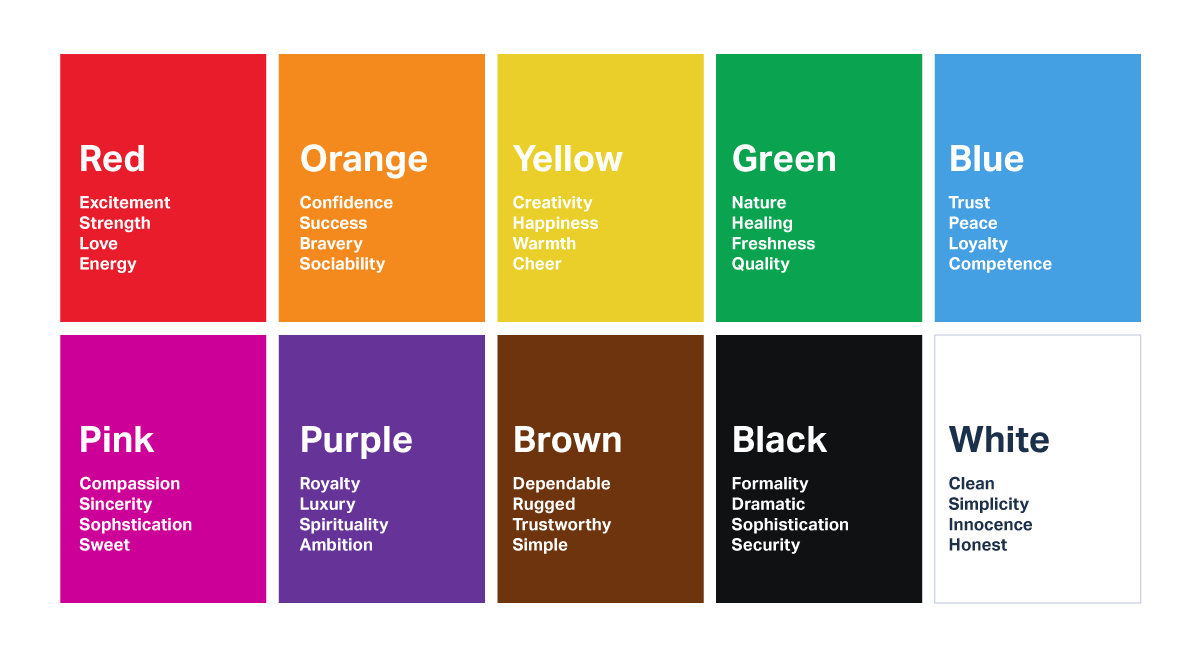 LinkedIn background banner education
Lastly, we have some examples from Canva and LinkedIn, for education-related background banners. 🍎

The first one ☝️, has kind of the same feel as the sales background banner that we saw earlier. Meaning, the design is modern and simple, so it goes straight to the point! 🎯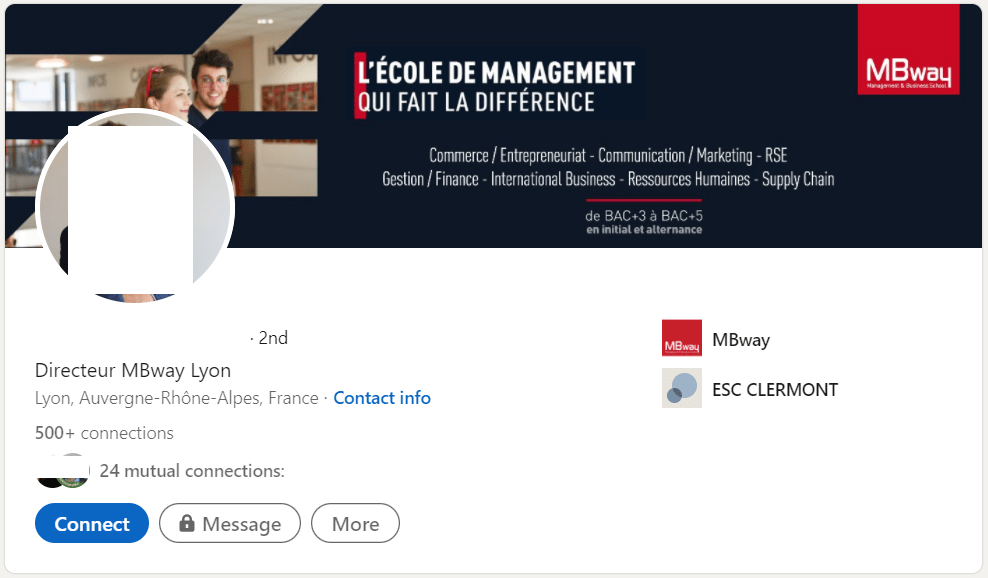 Secondly, if you manage or work for a school ☝️, then you want people to enroll it, so it's good to advertise the careers you offer. Or, if you are giving internships for students at your company, then this is a good way of letting them know. 🤗
Background LinkedIn banner quotes & images online
You might be asking yourself, "What should I write on my LinkedIn cover?" "What kind of LinkedIn cover photo could I possibly make?" 😫
Make your cover image unique to your business. The more personalized your LinkedIn portfolio is, the better it presents your work (in a carousel, for example), the higher your profile – and hence your branding – will be! 🚀
If you're feeling poetic, you can use quote finders online, like BrainyQuote in order to find inspiring messages for your background banner. 🥰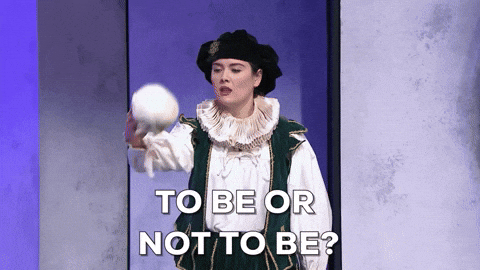 Otherwise, not everyone has the ability or the financial means to produce high quality images. 📸 So I looked into several interesting possibilities for you.
You have two choices:
If you require something extremely special that you will use on your company's social networks, you might need professional help.
But, if you simply want to build a banner for yourself, then using creator websites is enough for you.
Let's have a look at the second option together. 👌
First, you need to know that images are classified into two types:
Vector ones, more like "virtual drawings": you can get them for free from Pixabay or Freepik – both of which are safe sites with thousands of free vectors.
Second, you have professional photos: Pixabay and Unsplash provide high-quality images and a large selection to help you choose the perfect image for your business. (Which you can resize afterwards.)
I hope these tips help you find the best quotes and images for your background banner creations! ✨
Banner ideas: make a creative background LinkedIn banner!
Once again, make yourself stand out from the crowd! Make a statement. Be true to yourself.  🦄
Try to avoid the ready-made, one-size-fits-all backgrounds that are available everywhere. Instead, use templates but make them your own. 💅
Here's the replay of a tutorial we did in order to show you how to make creative content for LinkedIn, using simple yet efficient tools: 🍀
PS: you can add subtitles in different languages by using the YouTube settings in this video! 😊
Conclusion
So, it's time to recap all that we've learned about generating LinkedIn banners: 🔥
What you need to know before you start
Templates for LinkedIn background banners
LinkedIn cover photo Tips
The right tools to build your LinkedIn background banner
Original LinkedIn background banner Examples
Background LinkedIn banner quotes & images online.
With the aforementioned best practices and the LinkedIn banner examples for the various sectors, perhaps you learned a thing or two. 😜
After you've successfully constructed your LinkedIn profile, with a great resume, great photos, etc. then you can begin focusing on producing leads and reaching out to prospects. 🚀
Begin with a free 7-day Waalaxy trial to start automatically reaching out to 100+ leads every week!
Try Waalaxy Now 👩‍🚀
Alternatively, if you're seeking for additional information about LinkedIn lead creation, you should also read this article! 🪐
Now, let's go through some of the most often asked questions about LinkedIn banners. 👇
FAQ of the article
Should I use a LinkedIn banner?
Yes, of course! 😜 There's no reason why you shouldn't use a custom-made LinkedIn banner if you're serious about improving your profile. 👌
It's an excellent approach to inform people about what you do, how they can contact you, and how you can assist them. 🤝
Your LinkedIn profile says a lot about you, so make sure to warm it up before to start prospecting! 🔥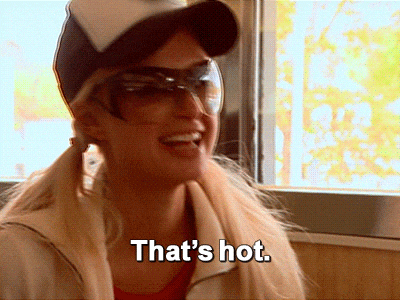 To discover what your banner should look like, make sure you're following the best practices in this post. 💯
Best LinkedIn background banner creator tools
To obtain royalty-free photos, visit Unsplash (for commercial images). Like explained before, Pixabay and Freepik are two sites where you may find royalty-free images. Also, you can use IloveIMG to resize your images and photos for LinkedIn.
But, for us, Canva is the best tool for putting together your design. 🥇
However, if you're not feeling inspired to create a background banner by yourself, you can use Fiverr in order to contact a freelance graphic designer who can help you out! 🤫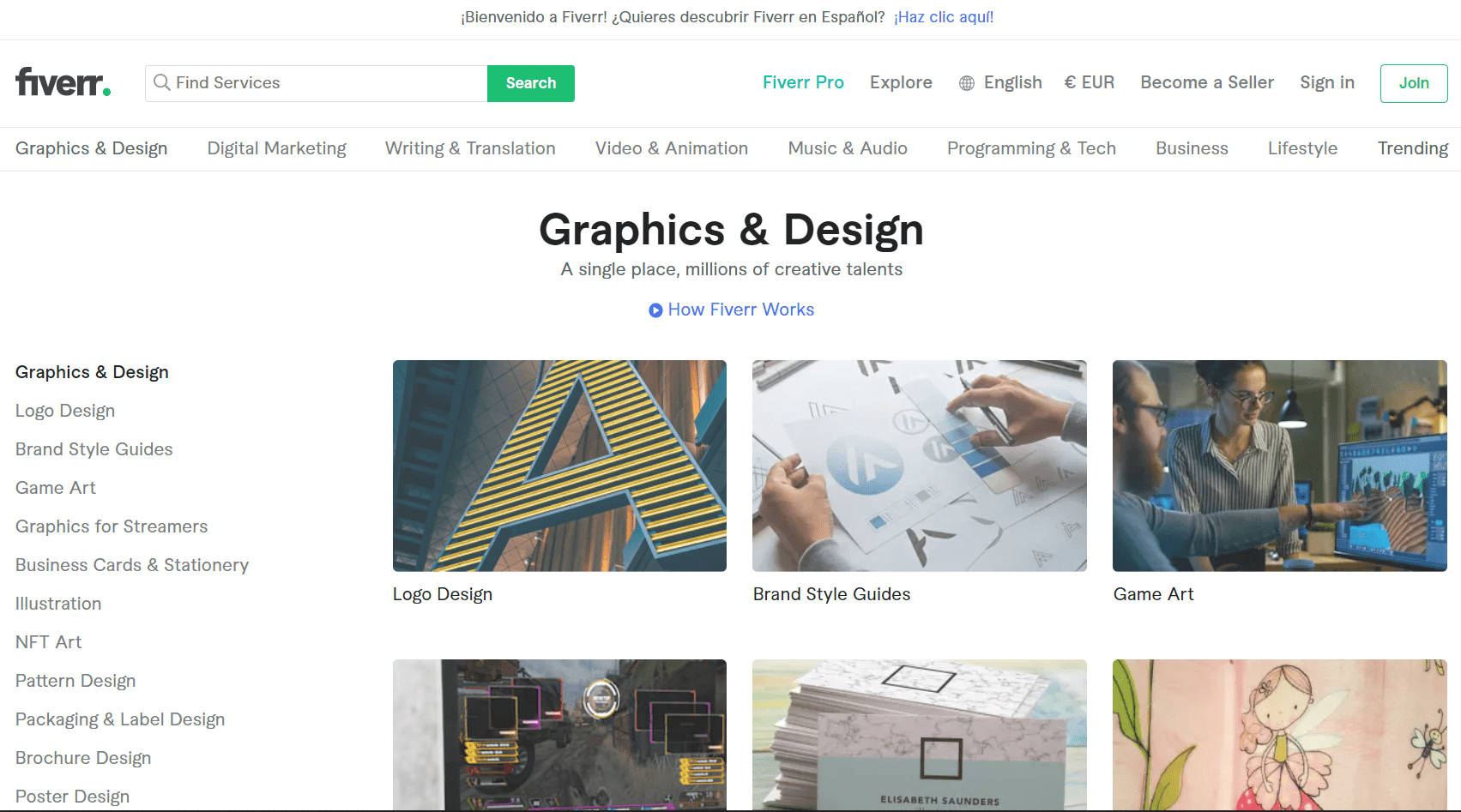 What is LinkedIn background banner size and format in 2022?
👉 The LinkedIn banner picture has a maximum file size of 8 MB. (In JPEG, GIF, or PNG format.)
👉 The LinkedIn cover size is 1584 × 396 pixels (optimal dimensions).
There you have it! 🤲
Now you know how to update, create and design your LinkedIn background banner with easy-to-use tools. 😘