Thanks to the LinkedIn open to work feature, you're going to be able to find job oportunities more easily.
Let's start with the basics. LinkedIn, the number one professional social network in the world with no less than 850 million members, is the perfect place to find your future job! 🌍
Don't know what it is or how to use it? Don't panic, we explain everything from A to Z here with a little bonus! 😎
Ladies and gentlemen, fasten your seatbelts, takeoff is imminent! 🚀
What does open to work mean on LinkedIn?
As the name suggests, you are available for a new job. LinkedIn opened this feature in 2020 to make it easier to find a job. You can find it in different formats 👇🏼
An option that frames your LinkedIn profile picture as a green band. Among other things, it lets recruiters, but also your entire network if you wish, know that you are open to offers. 🤗
A badge, which is displayed directly in your profile below your description in the form of a box, with the mention open to work as well as the new jobs title. 🎖
Once you activate the feature, you will have the choice to fill in the type of post, your availability, or even the type of contract.
A hashtag. The #opentowork can be used on one of your best job search posts to be among the many users of it. 🔎
Now that you know what LinkedIn open to work is, here is the little tutorial to add it to your profile and find work with job search resources!
How to add open to work on LinkedIn?
If you are on a career change or you want to find a job, to add this feature, nothing could be easier: ⬇️
Click on the "You" icon at the top right of your homepage, then click on "View Profile."

Then click on "Open to" and then "Finding a new job".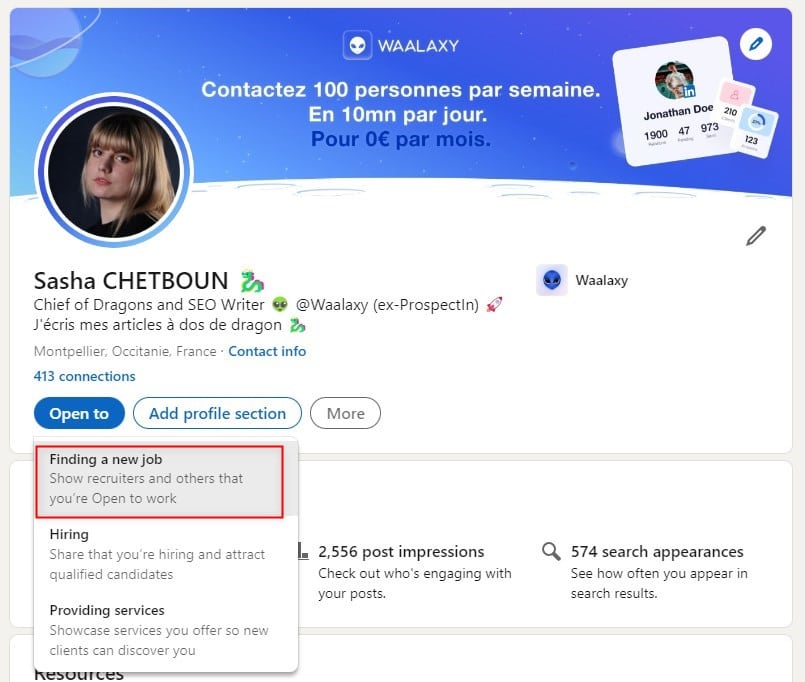 A new window will appear where you can enter job titles, workplaces, start dates, internships, etc. Be sure to fill in everything.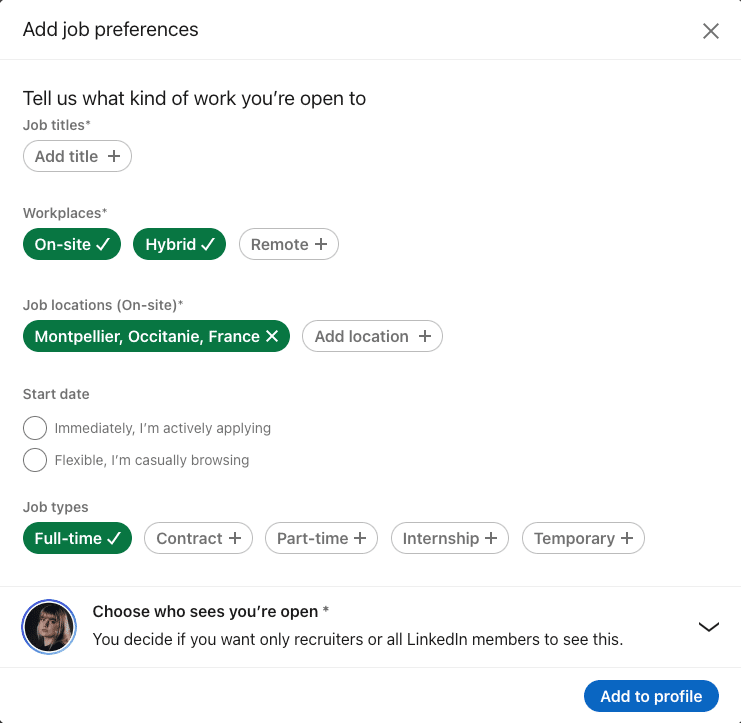 Once you have filled in the information and made your choice, click on "Add to Profile".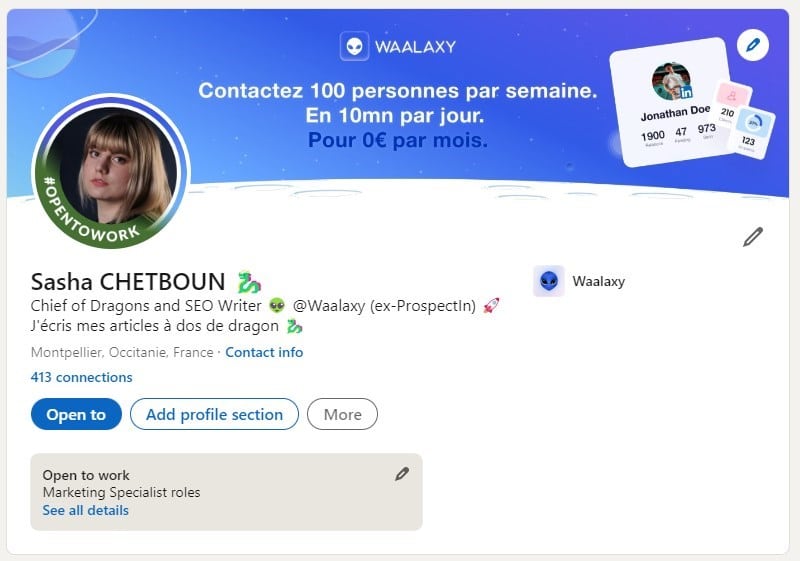 The function is now activated, and you will receive emails with job board offers according to what you are looking for.
There you go, you are now publicly open for submissions!
Who can see open to work on LinkedIn?
Before you check out, you have the option to choose who will see your badge.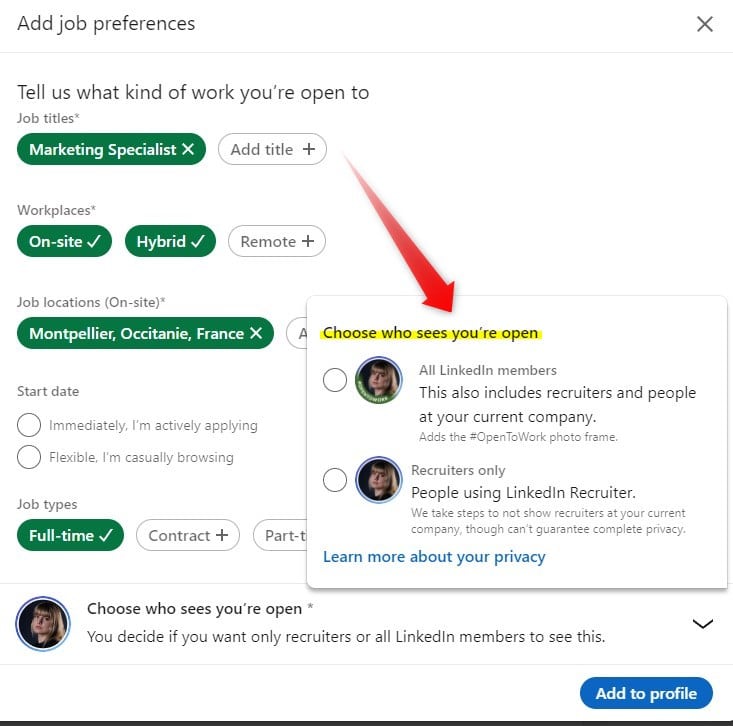 You have two choices:
All LinkedIn members ➡️ i.e. users present in your network as well as recruiters, with the added bonus of the green banner with the mention #opentowork.
Only recruiters with LinkedIn Recruiter.
Theoretically, this feature is only visible to people using LinkedIn Recruiter. However, LinkedIn warns you that it cannot guarantee complete privacy.
In what case can this happen? 🧐
Let's say you want to leave your company and are looking for a new online job, I think you don't want to display the green box directly on your profile picture, at the risk of your current employer noticing.
With this feature, only recruiters will see that you are looking for the best job and maybe, to hire! 😊
If you're not sure which choice to make, further down in the article, we explain the pros and cons of posting LinkedIn open to work. 😇
How to change open to work on LinkedIn?
Want to change your open-to-work status but don't feel like starting from scratch? Don't panic, we can change it. To do so:
Go to your profile and click on the little pencil at the top right of your badge.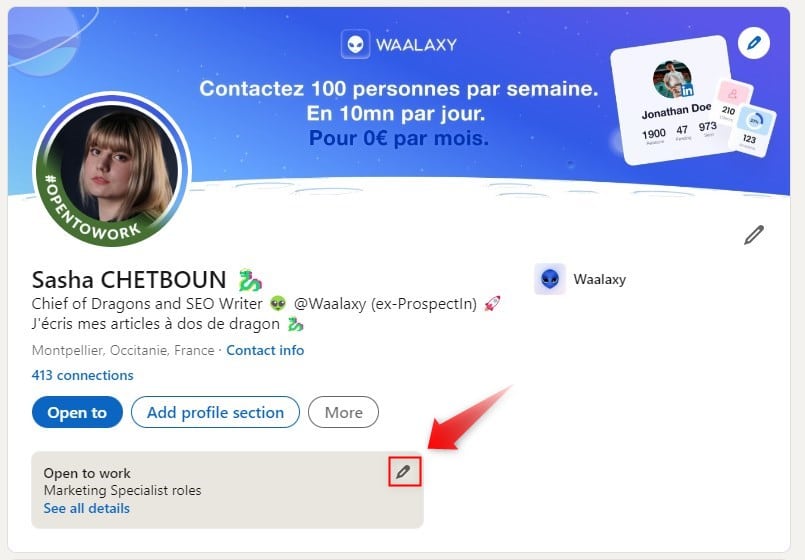 Hop, the previously seen window appears again and you can change the job title, location, start date, and type of employment and re-define who can see your status. 😇
How to remove open to work on LinkedIn ?
Okay, I hope for your sake that you're not going to be job find hunting indefinitely. So it's time to remove this feature!
Go back to your profile and click on the little pencil ✏️ on the badge.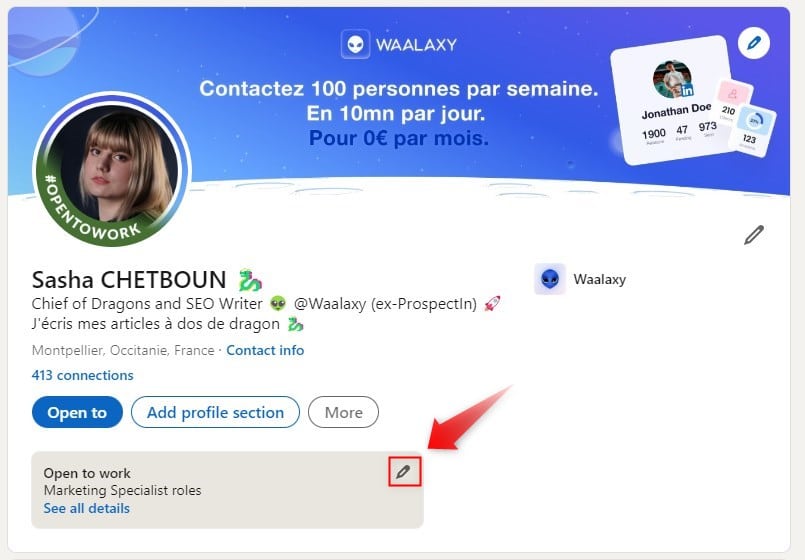 Scroll down to the very bottom and click on "delete from profile".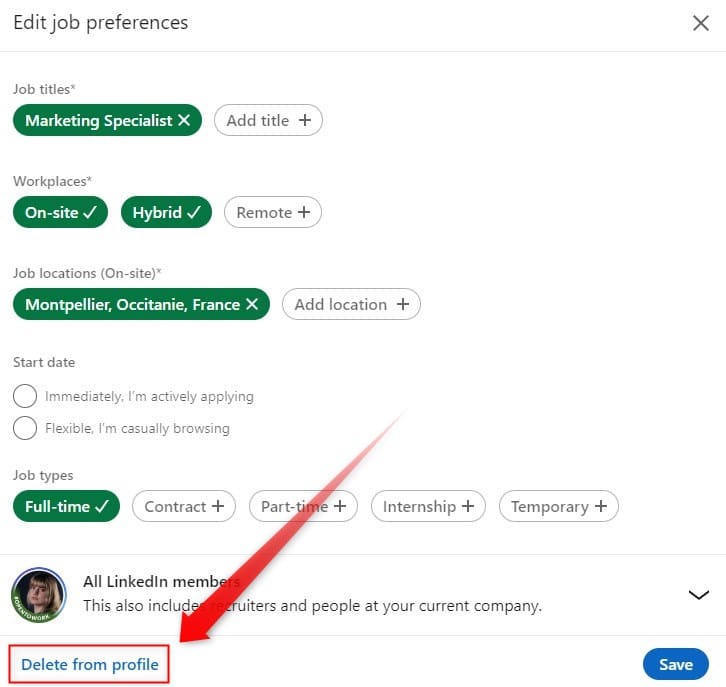 And there you have it, your profile no longer displays the LinkedIn Open to Work feature! ✨
For or against the open to work badge?
If you're looking for a job-hunting on LinkedIn, there are offers the option to publicly post or not post the fact that you're a job seeker, why not?
You're not the only one on this professional social network looking for jobs available, so you may be able to position yourself more quickly on one or more interesting job offers.
As my dear friend Otis would say, there is no right or wrong situation. ☀️
On a more serious note, here's what the LinkedIn Open to Work can do for you:
Your profile will be highlighted with your profile picture compared to other candidates who do not have this feature enabled.
Be aware that recruiters and headhunters do not necessarily have the time to scrutinize all profiles.
Thanks to this option, they can directly see if you are looking for a dream job or not.
This feature is free. So you don't need a premium LinkedIn account to use it.
However, sometimes it can be "frowned upon" to display the filter, we'll explain why.
Why not put open to work on LinkedIn ?
As a reminder, this feature is free, so many people use it. You are potentially doing the "same thing" as others, so there is little differentiation from other passive candidates. It may be one of these job search strategies that don't work very well… 🤷🏻
Aside from this aspect, this may be misinterpreted and you may be positioning yourself as a desperate job offer seeker who wants to find a top job market as soon as possible.
So you can totally use this feature, visible only to recruiters. 😇
Also, there is a delicate situation that could make your choice on this subject: you already have a job.
As I said before, you already have a first job in marketing but you want to leave it for x or y reasons.
The problem is that you don't want your current employer to find out. This could lead to complications with your company an finding a job could be more complicated. .
Therefore, be careful with the use of this badge. It's not sure that it will generate employement opportunities as planned.
Again, everyone is free with these actions, it's up to you what you prefer! 🦋
Why use #opentowork in your posts?
LinkedIn is a huge free database, that is to say, a goldmine, both for job seekers, and recruiters. 🌞
Hashtags and tags are very often used on social networks, be it Facebook, Instagram, Twitter, and even LinkedIn, so that other users can access your content through keyword research. On LinkedIn, you have the ability to use keywords, and hashtags and if you are looking for jobs, feel free to mention #opentowork in your posts.
Do you see where I'm going with this? 🤔
Recruiters write on the search bar #opentowork and access all publications that have this hashtag! So, if you want more visibility under your posts, you know what you need to do. 👀
Open to work LinkedIn post example
Now that you understand the importance of using the LinkedIn open to work hashtag, let's move on to a quick sample post! Let's say you've just graduated and want to target a permanent position in communications. ⬇️
If you ever want more details on how to create the perfect post for your job search websites, it's in this article! 👈🏼
Bonus: LinkedIn messaging tool
Once you put on your badge and have your awesome job search engine post, you're most likely going to get a lot of connection requests as well as messages. But how do you handle it all? 🤯
We have for you, the solution… Drum roll 🥁: Waalaxy 👽.
Waalaxy is a LinkedIn automation and prospecting software, and recently we have a new feature, LinkedIn messaging, by Waalaxy. 💜
How is this different from LinkedIn messaging you might ask? Well, let's find out! ⬇️
Manage your conversations 10x faster,
Personalize your exchanges,
Export your prospects via your CRM,
Schedule follow-ups.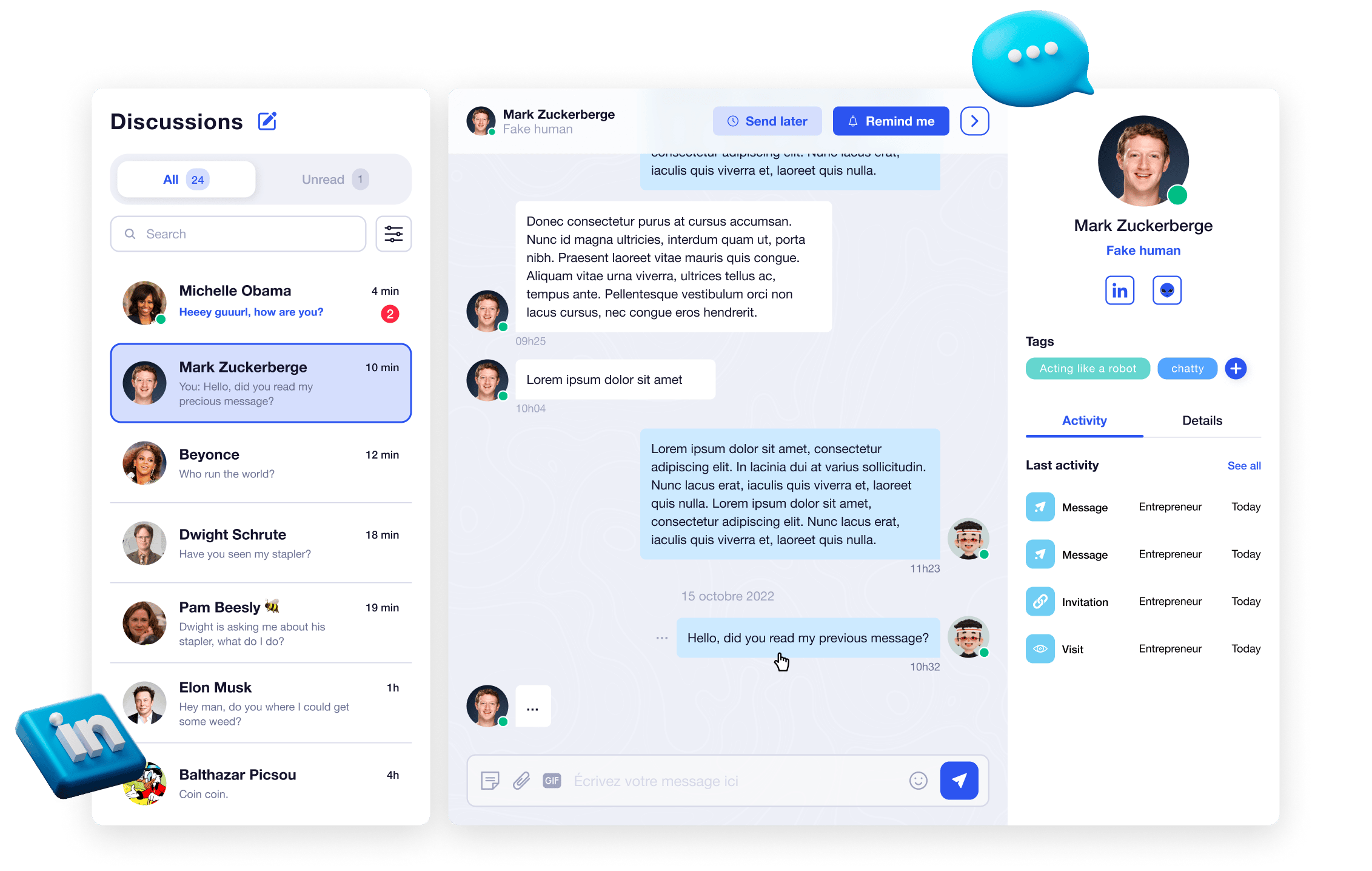 Would you like to learn more? Click on the button below! 🥰 Discover Waalaxy messaging 🚀
Conclusion of the article
In the course of this article, you have hopefully understood what LinkedIn open to work is, but also :
How to add the badge and the filter to your profile,
How to customize it according to your job type,
How to modify it,
How to remove it once you have found your successful job search,
Pros and cons of this LinkedIn open to work,
Why is it useful to add the #opentowork in your job searches publications,
Waalaxy, the LinkedIn messaging tool.
Frequently asked questions
Butterfly minute 🦋 sure, it's almost the end of the article, but we still have resources to share with you.
Let's get to the questions! 👀
LinkedIn open to work only for LinkedIn premium members?
Let's keep it short, the answer is: NO.
Whether you have a LinkedIn freemium or premium account, the open-to-work feature is open to everyone! Thank you, LinkedIn. 😇
How to set an open-to-work for alternates?
Remember the tutorial earlier in the article on how to add the open to work to your profile? Let's go over it again with one step change:
When you click on "my goals", a window opens, and at the very bottom, you have the job types. Instead of choosing full-time, click on intern.
As of today, LinkedIn only offers"intern", but this one is the closest to "alternating". Just in case, feel free to specify this in your post. 😉

And that's it, LinkedIn, your network as well as recruiters know that you are looking for a work-study position.
How to put hiring on LinkedIn?
The hiring on LinkedIn is like the open to work but for recruiters.
Yes yes, it is also a colored banner that announces that you are recruiting. You can add it to your personal or professional profile if you have one and even your
LinkedIn company page.
To add it, nothing could be easier:
The same process as for the open to work, click on your "profile", then on"Open to".
Now click on "Hiring".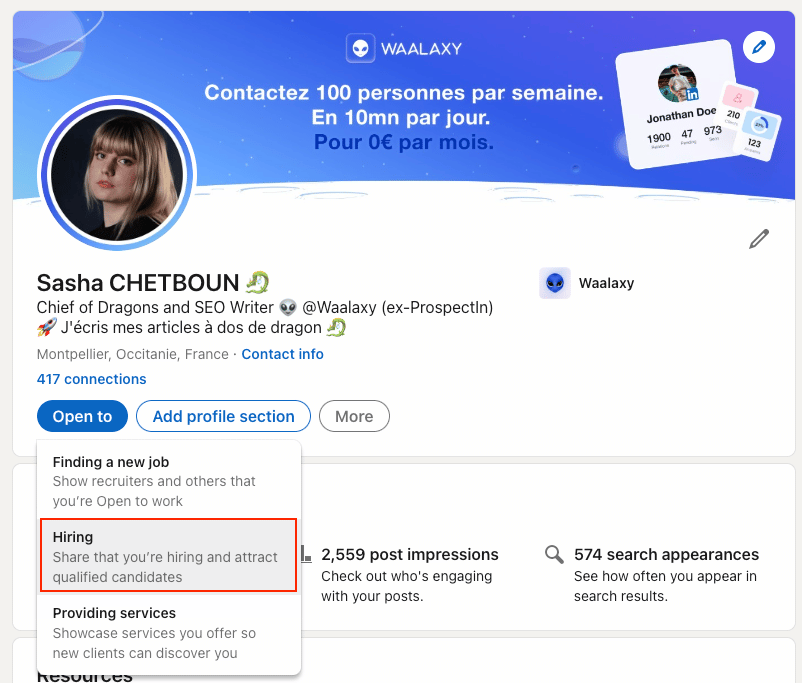 Select the company where you want to recruit new talent.
The magic happens 🪄 you have your purple filter this time and not green, as well as #hiring. 💟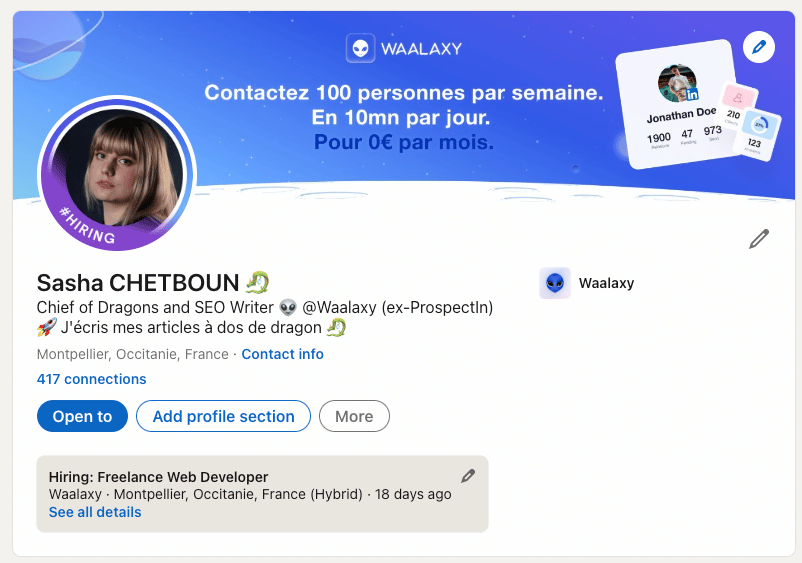 How do you find the #opentowork?
If you are a recruiter or want to see the type of job where the hashtag #opentowork is present, just :
Go to your LinkedIn homepage and type in the search results bar #opentowork.

Then click the green "Posts" filter and click on the #opentowork in the posts.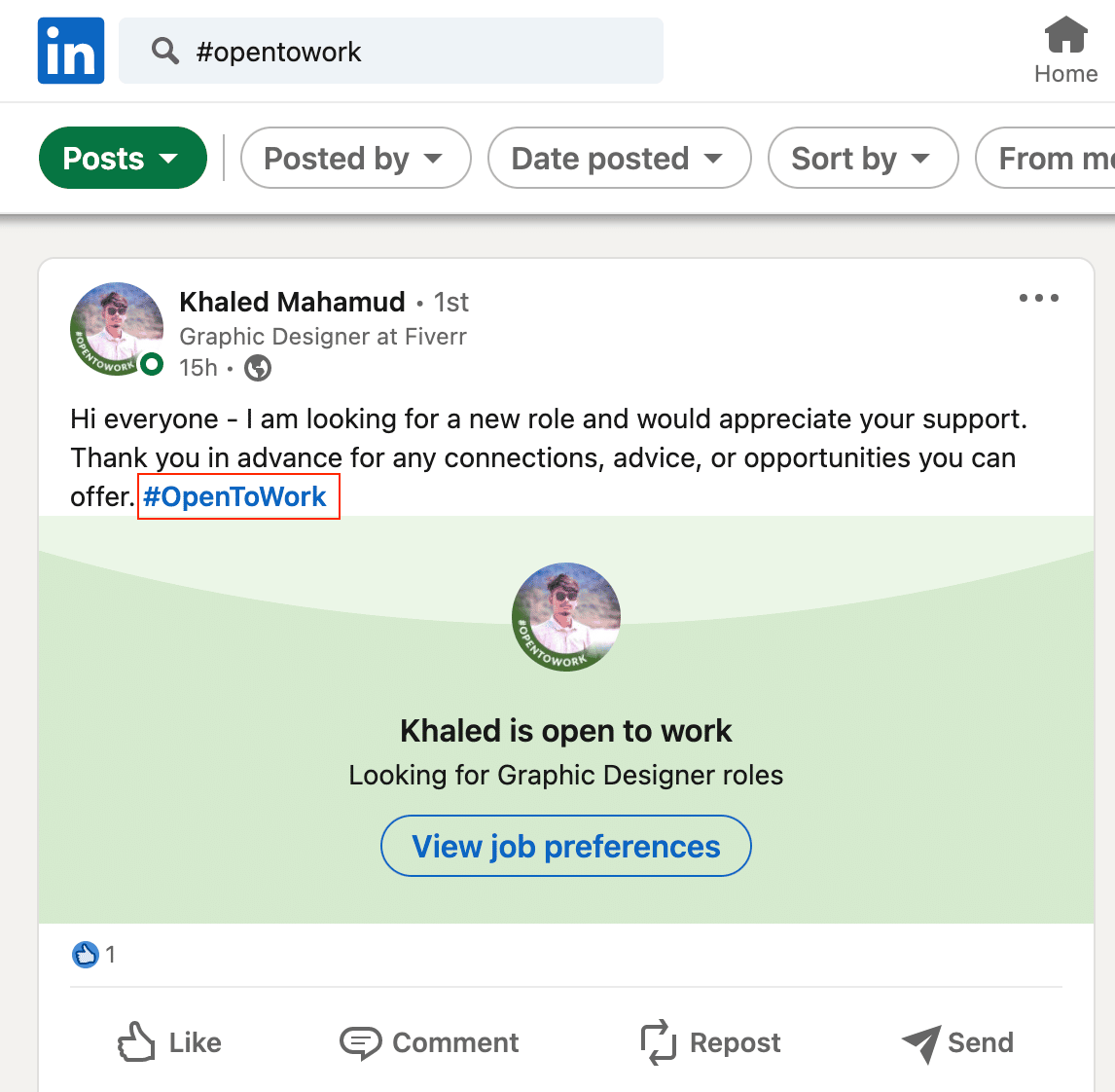 You now have a list of all publications with job board #opentowork. As a bonus, you can subscribe to this hashtag and not miss any publication that has the #opentowork.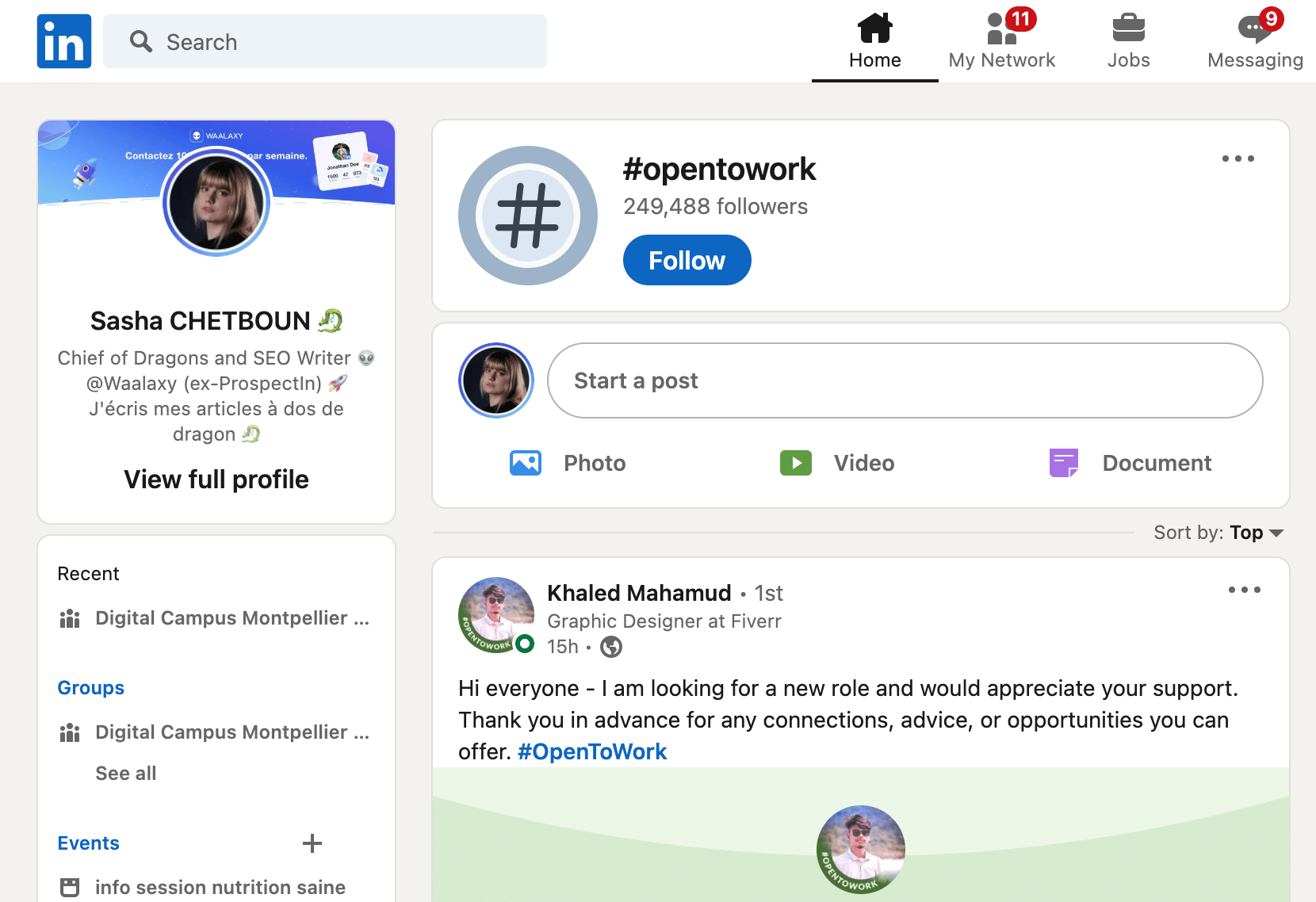 And that's it! You now know everything about LinkedIn open to work.
If you have any other questions, don't hesitate! We'd love to answer them 😇.
Until then, we wish you a great day! See ya. 👋🏼