Developing and implementing Instagram giveaway ideas is a terrific place to start if you want to have a well-known Instagram account! In this article, we'll look at how Instagram contests can help you promote your brand. We'll also discuss some of the top guidelines for organizing successful online contests. 🤑
In the end, you'll understand how to manage an effective Instagram contest ⚡ that will boost your brand online.
Instagram Giveaway: 15 Contest Ideas to Boost your Brand Online
If you don't know where to start, 🧐 you can try searching for trending hashtags on Instagram, like: #freecontest, #giveaway, #instagramcontest, #IGgiveaway, #freegiveaway, and other similar variations, to find hundreds of examples of contests that you could do in order to promote your brand.
Psst! 👀 Hashtags are your best friends 💕 when looking for inspiration for your next Instagram giveaway.
To help you even further, we have created a list of 15 contest ideas. 💡 These giveaways offer examples of various contest management techniques, entry procedures, prize concepts, and inventive giveaway promotion ideas.
Let's discover them below! 👇
1. Engaging to enter
This is the most basic type of Instagram giveaway. 💯 Your audience can join the contest simply by engaging with the post (liking, commenting, sharing, or/and following). Because of this, entering is incredibly simple for users and highly appealing since the chances of winning are high. 🚀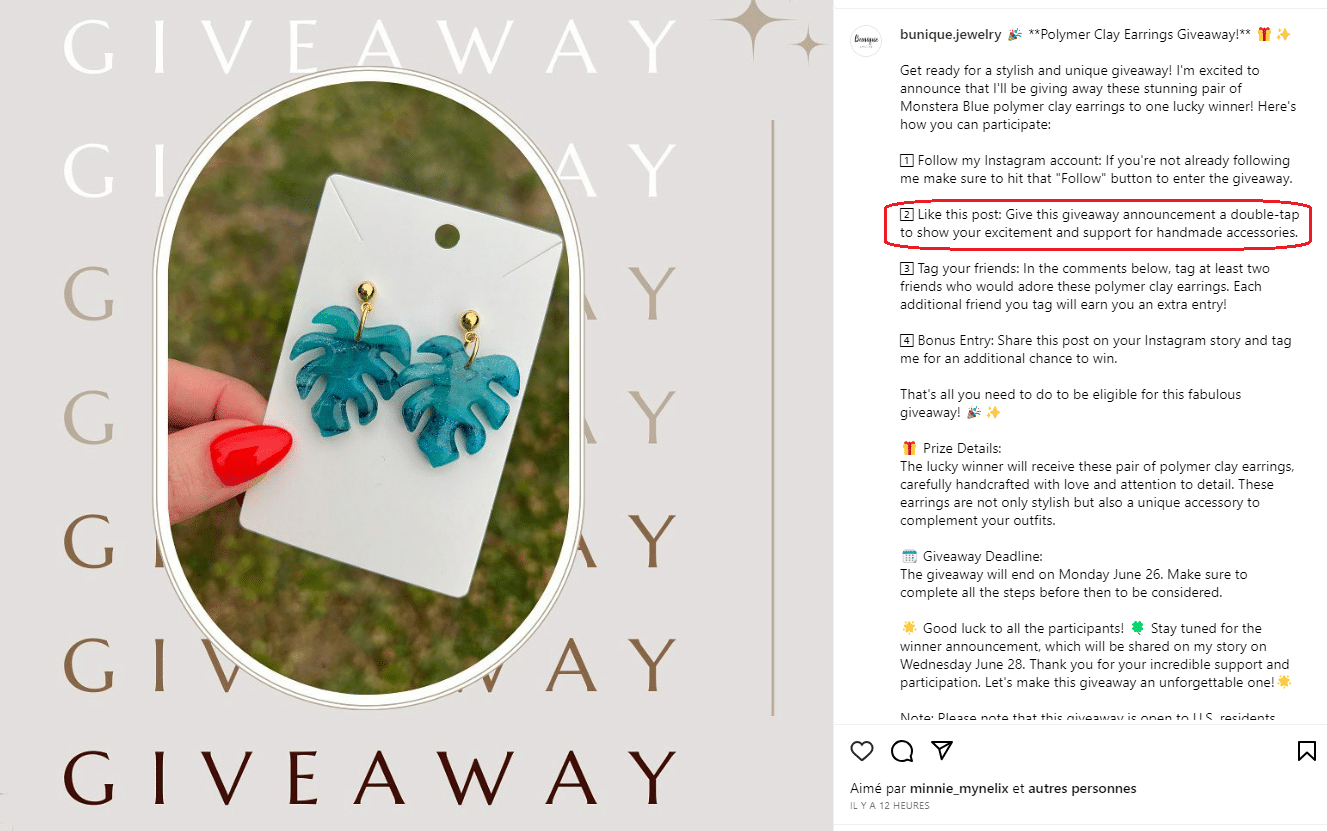 How to use it: ⏬
When choosing which entry strategy to use, keep in mind your marketing objectives. 🤔 Do you want to increase your "Share" statistics, acquire more likes and comments, or gain more followers?
Keep entry as straightforward as you can; complicated entry procedures are a surefire way to reduce engagement. 🙈 Create a contest where entering is as easy as "ABC… 1,2,3".
When deciding on entry strategies, consider long-term growth. 💥 For instance, "Like to Enter" just results in likes on a single post. However, "Follow to Enter" could result in lifelong followers.
2. Sharing in a Story
Creating an engaging Instagram Story contest is a great way to boost engagement and reach. 🚀
Here are a couple of ideas: 👇
Quiz Contest:

Instagram's Quiz Sticker feature allows you to create a fun and interactive quiz. 🤗 Ask questions related to your brand or industry. Followers who answered correctly could enter a raffle.

Step 1: Create a Story, add a Quiz Sticker, and enter your question along with possible answers.
Step 2: Promote the quiz, specifying the prize and end date.
Step 3: After the quiz ends, randomly select a winner among the correct entries.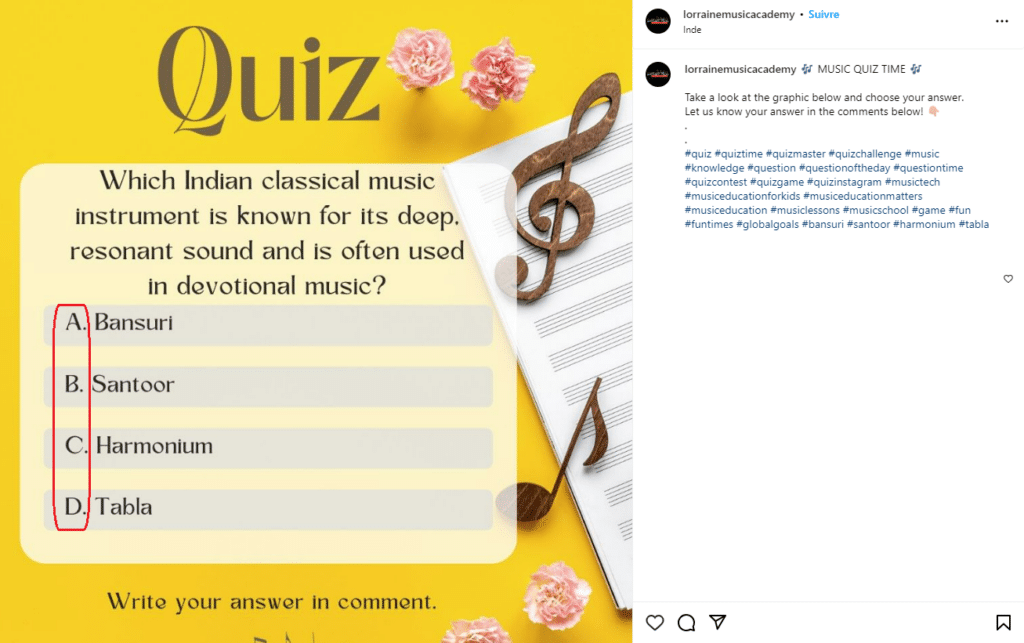 "Guess the Product" Contest:

Share a close-up image of a new product and have your followers guess what it is. 🧠

Step 1: Post a Story with a zoomed-in or blurred image of the product. Invite followers to guess via Direct Messages (DMs).
Step 2: Announce that the first few correct guesses win.
Step 3: Reveal the product and winners in a follow-up Story.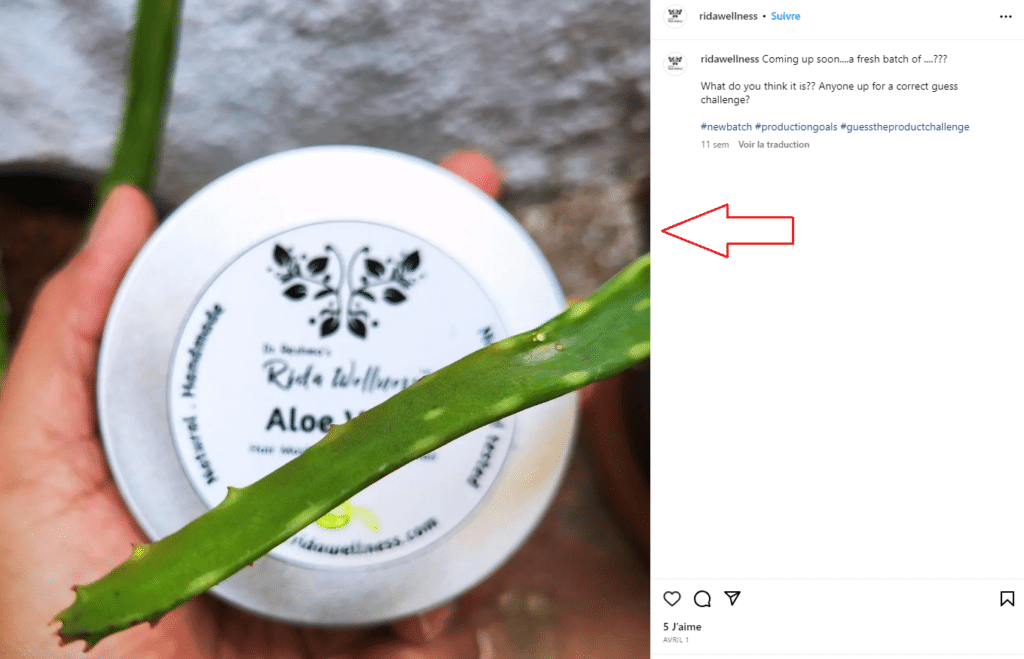 How to use it: ⏬
Remember, always include a clear call-to-action (CTA), specify the contest rules, and make the prize attractive! 💎
Keep track of all entries and choose winners fairly to maintain transparency and trust. 😇
3. Tagging a friend to win
It's basically a brilliant, diabolical idea 😈 to ask people to tag their friends in the comments and then count each of those tags as an entry. In addition to encouraging them to participate in the contest as well, it means that the participant's friends will get a notification to check your post.
This means your reach will explode… It's simple math! 🔥
Imagine if one user tags 3 friends, and those 3 friends tag 3 more friends, and so on. It will be exponential growth.
Of course, not everybody will continue the "tagging chain". 🔗 In fact, we're pretty sure that serial tagging has caused friendships to fall apart. 😂 Nonetheless, it's a really successful growth strategy!
It makes especially sense if you're giving away a romantic getaway for two, a dinner date, matching BFF socks… 🧦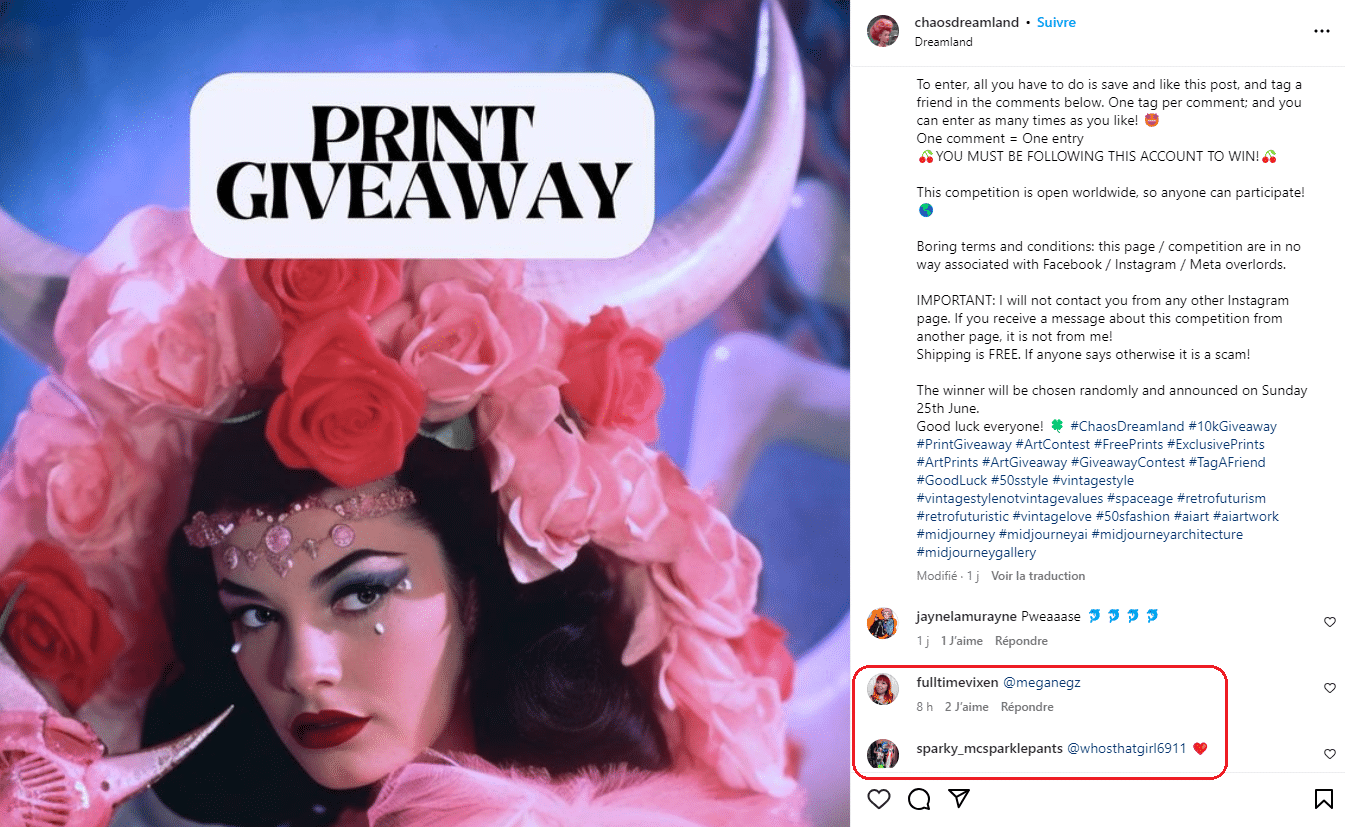 How to use it: ⏬
To broaden participation

in your contests

, make tagging a friend in the comments a mandatory way to enter.
Consider how tagging a friend might benefit the user as well. 🤗 For instance, you could give away 2 or more prizes (ensuring that the buddy who was tagged also receives a gift). This way, all the people participating in the contest will be happy to do so!
4. Presenting a new product
Doing an Instagram contest is a terrific way to spread the word about the debut of a new product and get your audience excited about it. 🥳
Additionally, even if the real monetary value of the prize isn't very high, a brand-new product always has a higher perceived value. 😏
That's just the way of the world! 🌎 People always want to be the first ones to get their hands on something new, rare, or unique.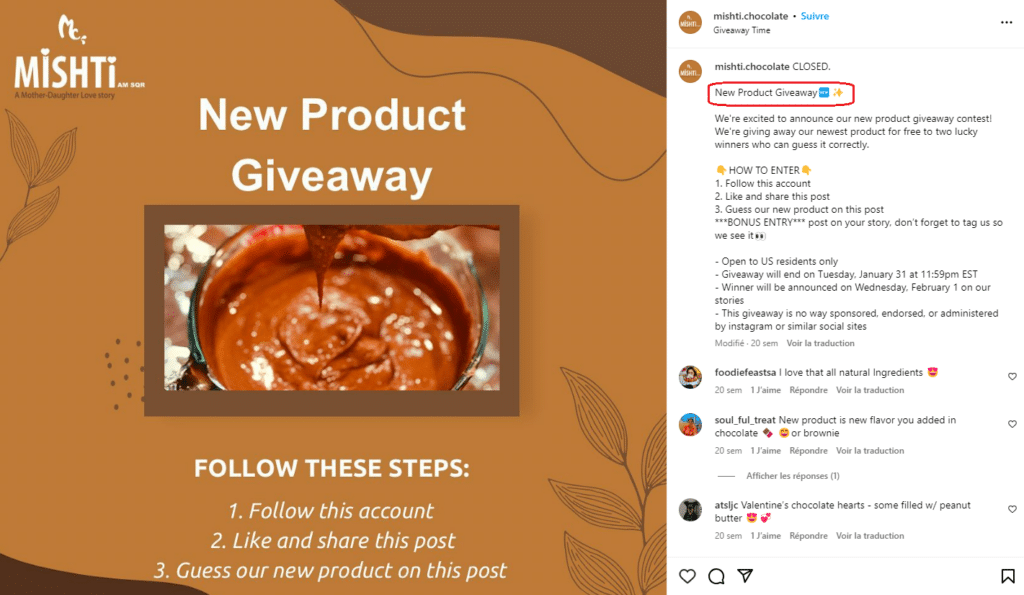 How to use it: ⏬
When introducing new products or services, make sure to include contests in your marketing plan.
When promoting this contest, make sure to highlight the "newness" of the prize. 🤩 When possible, think about giving a precise timeframe to participate so that the winner of the contest is the first person ever to use or experience it.
5. Special Holiday giveaway
Actually, people adore free items all year-round, so you don't really need a reason to hold a contest. 😅 But you can do one to honor a special day or occasion. Or, you can even create your own special occasion, like we did at Waalaxy.
We created the "Black Thirstday", it's a mix between the universally known Black Friday and a "Thirst trap". 💦 (I'm kidding, haha!)
Actually, I think it's pretty clever! Since it's a funny way to make a mid-year, summer sale 🌴 to commemorate the launch of our tool.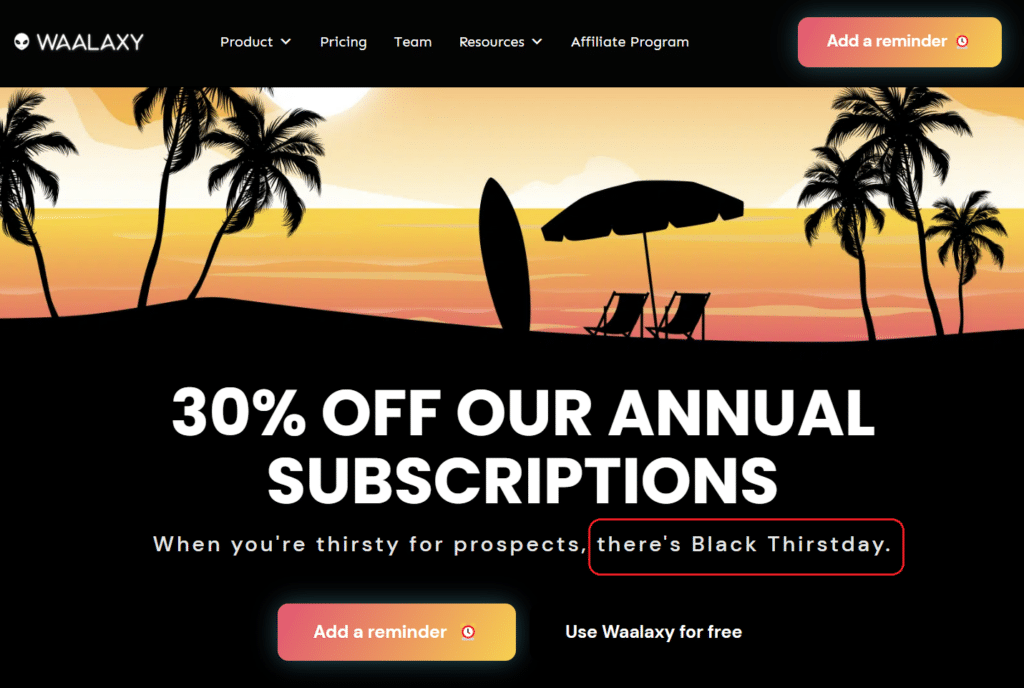 Furthermore, you could make a contest about a private event (like your brand's anniversary or getting 10 K followers). 🪙 Or, you can do the traditional dates like Valentine's Day, Christmas or Women's Day, etc. (I'm sure you could find a special event for each month of the year).
How to use it: ⏬
To give your contest a purpose, center it around a well-known holiday or significant date for your brand.
Make sure that the

contest reward

is something related to the event (for instance, give away a candle-lit dinner and a champagne bottle for Valentine's Day). 💘
6. Making a Photo contest
Since the invention of cameras, photo competitions have existed. 📸  They are a great way to meet new artists and collect great user-generated content.
This way, you can ask that participants of the contest to upload pictures of your items to promote them!
These kinds of contests are also a terrific way to gather qualified reviews. 🥰 You can ask your clients to submit their most beloved personal tales involving your company or products.
👉 Just make sure the rules explicitly state that you are allowed to repost any of the entries (to avoid any copywriting issues).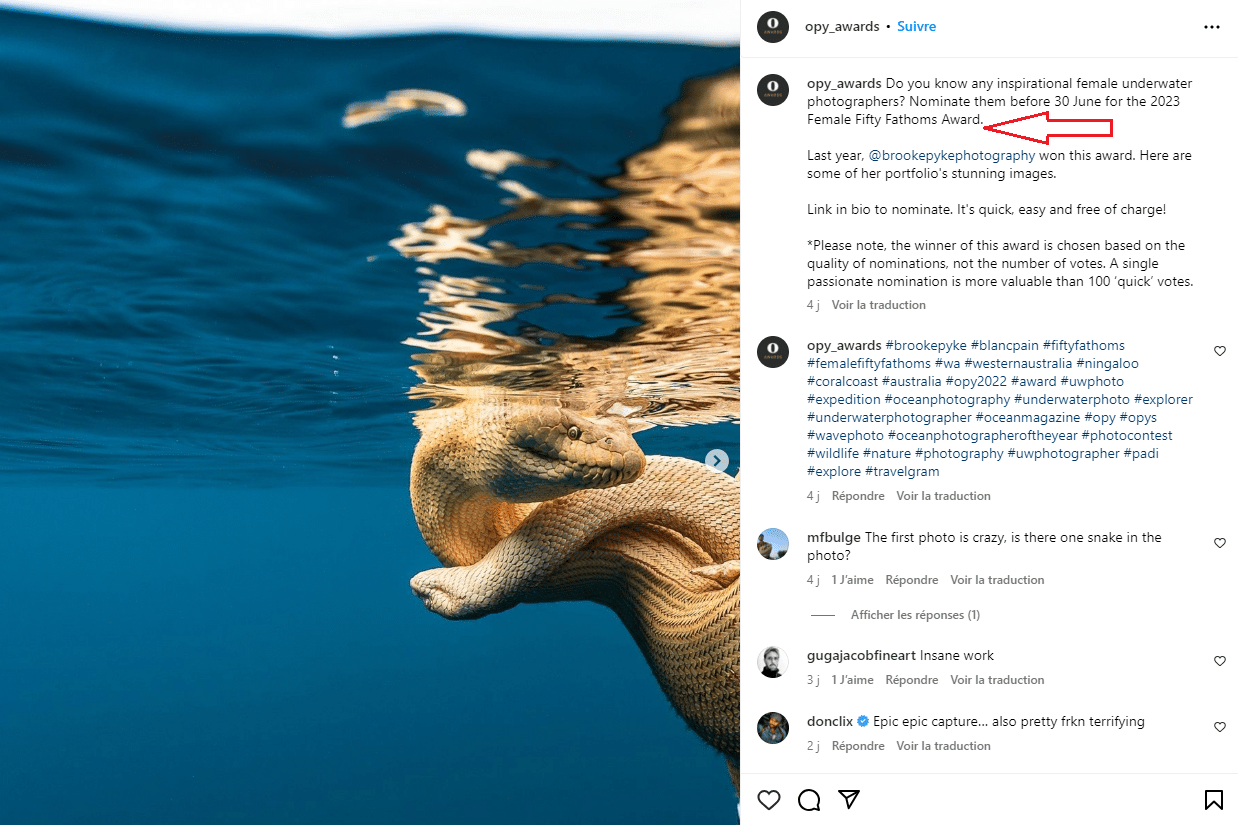 How to use it: ⏬
Make sure you have the time and resources necessary to judge a picture contest before you create one. 😬 Don't leave people hanging!
Think of using the submitted photos as user-generated content (with the user's consent).
The permission to repost any entries, as well as the permission to tag the users that shared the content, should be stated in the guidelines beforehand.
7. Doing a Selfie contest
Making a Selfie contest is a perfect fit for Instagram, 🤳 which is undoubtedly THE "selfie platform".
This particular contest style benefits products quite well. 👌
In a selfie contest, you encourage participants to upload a photo of themselves using your product or with it in the background. 🧐 Besides, it shows potential clients how to use your product, so this contest structure is very helpful for businesses.
Just like the photo contest, 👆 this type of user-generated content is quite useful to create your social proof or e-reputation.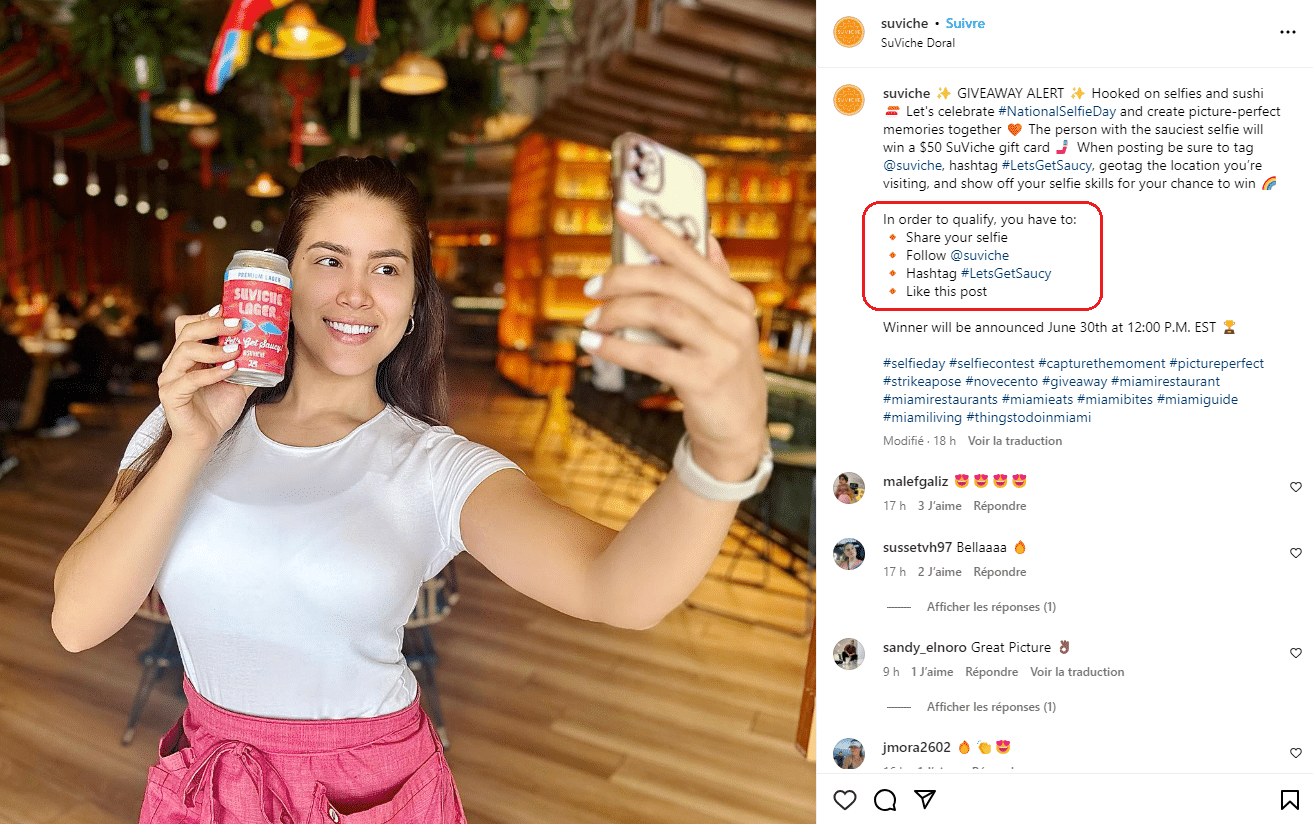 How to use it: ⏬
When the competition is over, select the "selfie" you believe to be the best fit. 📷
Make sure to say that you will repost the entries, among the other

rules of the contest

.
You can continue to use the content from the contest, long after the contest has ended. 🥰
8. Upvoting Battle
Creating an "Upvoting Battle" contest is great, because so many social actions are required. This contest model is excellent for increasing participation. 💹
Additionally, those who enter the competition will advertise their own entries on other social media networks. ✨
However, this type of contest format might be too much to ask of people… 🙈
👉 As a result, you might want to only use this contest style when you are sure that you have an audience that is really interested in your profile and its content!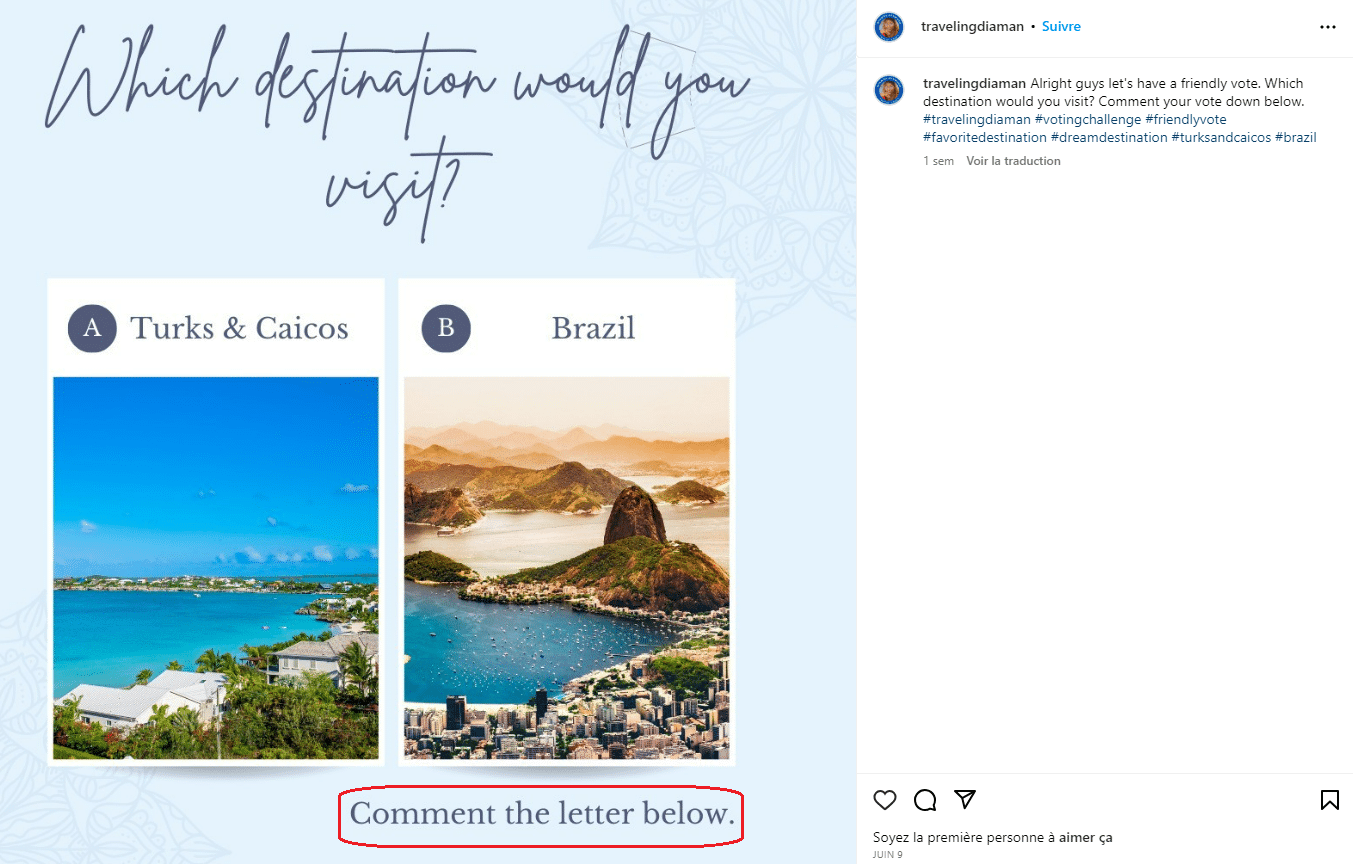 How to use it: ⏬
Ask your followers to post a piece of content using the appropriate hashtag. ✅ Additionally, you can ask that they tag your profile in the caption.
After

searching Instagram

with this hashtag, your followers selected the top candidate. 👍 Asking people to like the image they believe should win is the simplest way to collect votes.
The contest winner is determined by who has received the most likes.
9. Viral Challenge
A viral challenge contest might be quite helpful if you find yourself in a situation where you must quickly organize a contest. 😮
The idea behind this contest type, is to create a straightforward challenge that participants must complete; 💥 the winner is the one who completes the task first.
The challenge doesn't have to be very difficult. Actually, simpler contests encourage greater participation and social interaction! 😅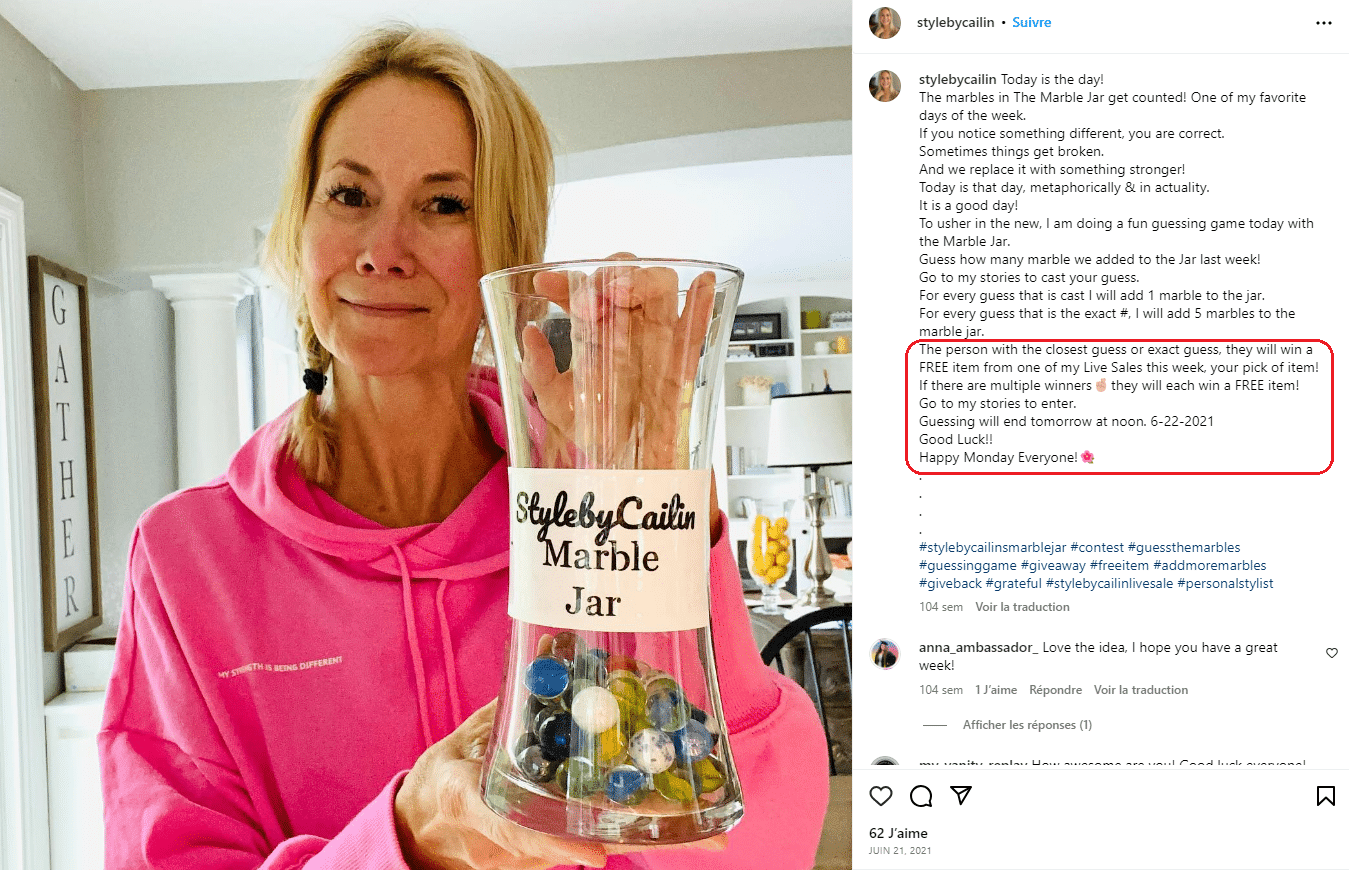 How to use it: ⏬
Challenges or guessing games are easy and enjoyable. 😋 It also helps promote long-term engagement.
This kind of contest requires little work, making it a suitable option for contest beginners.
10. Making a Reel
In terms of social media strategy, video content rules the internet nowadays! 👀 Create a "Reel" to attract visitors and promote your giveaway.
In order to promote your giveaway, you can create a "Reel" that first draws viewers in with powerful images and audio, then includes the contest rules in the description. 🎣
The idea is to keep it straightforward and entertaining. 😍 This way, the contest is not just promoted by the reach of the "Reel", but your audience will receive value from it.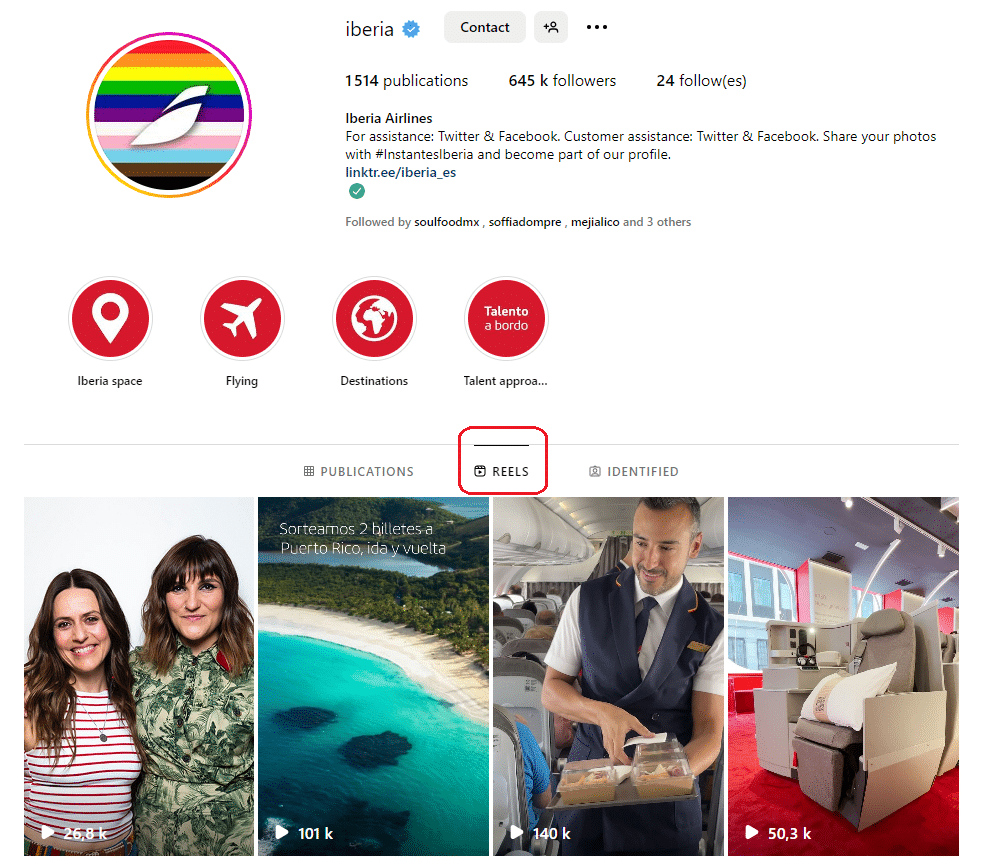 How to use it: ⏬
Use "Instagram Reels" to promote your giveaways and contests.
To avoid feeling out of place, make sure your giveaway "Reels" are consistent with the rest of your content.
In order to make the "Reel" more interesting, add content that goes beyond the contest announcement. For example, if you have a bakery, you can show your customers how to make your famous chocolate chip cookies! 🍪
11. Creating a Hashtag
Hosting giveaways is a wonderful excuse for using hashtags! 😎 Like a contest for user-generated content, hashtag giveaways demand that participants post to their personal pages or stories using a specific hashtag that you have chosen.
The ideal outcome is to have a hashtag that receives a good amount of traffic. 📈 It's also simple to keep track of entries by using this format. Additionally, the hashtag interactions will increase engagement, which the Instagram algorithm loves!
A powerful hashtag will increase traffic to both your page and your Instagram post. 😉
However, you need to check if nobody else is already using that hashtag. 🤐 For example, if you only use #IGgiveaway it's very likely that your contest will be lost in a sea of Instagram giveaways. 🌊 So be careful, and use specific hashtags to identify your brand like #GoofyGoat.

How to use it: ⏬
Pick a

specific hashtag

that participants can use to enter your contest. 🐐
Ensure that you are the only one using the hashtag, and that it is original! 👽
To gauge the success of the contest, keep track of the popularity of the hashtag and the number of entries you're receiving.
12. Best Quote/Caption contest
A caption contest is a competition where you invite participants to provide a caption or quote for a picture you've uploaded. 😊
After that, you have two options: 👇
Choose the best caption based on your own criteria,
or Request that your audience vote for it.
The quote or caption that receives the most likes wins. 🎉 The first option can prevent people from inflating their likes, while the second option may be a terrific approach to engaging your audience.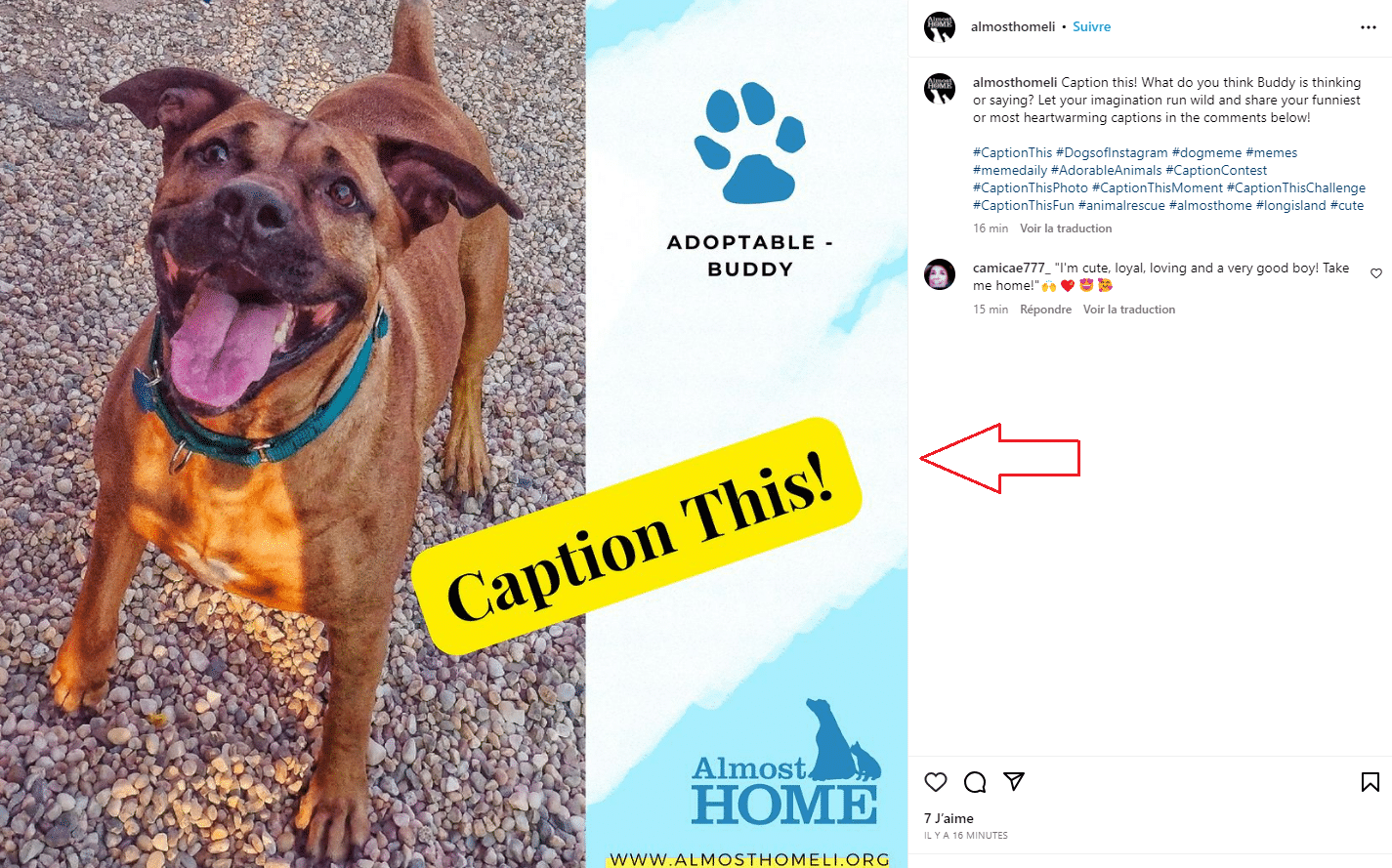 How to use it: ⏬
You can use an edited contest image that shows that it needs a funny caption, for example!
You can also put speech bubbles in your image to ask people to complete it. 🫡
13. Partnership with Brands
By partnering with a similar brand, you automatically increase the number of people who can enter your giveaway because the contest may be seen by both your followers and those of your partner. 😉
You can collaborate with a partner brand on the contest advertising as well as the contest reward. 👌 For instance, in these types of contests, the winner can gain goods or services from both brands or just one.
While the other brand just promotes the contest, 📣 it profits from the buildup of customer loyalty that the contest creates!
👉 In either case, the most crucial aspect of any collaboration is that your brand values and those of your partner are aligned.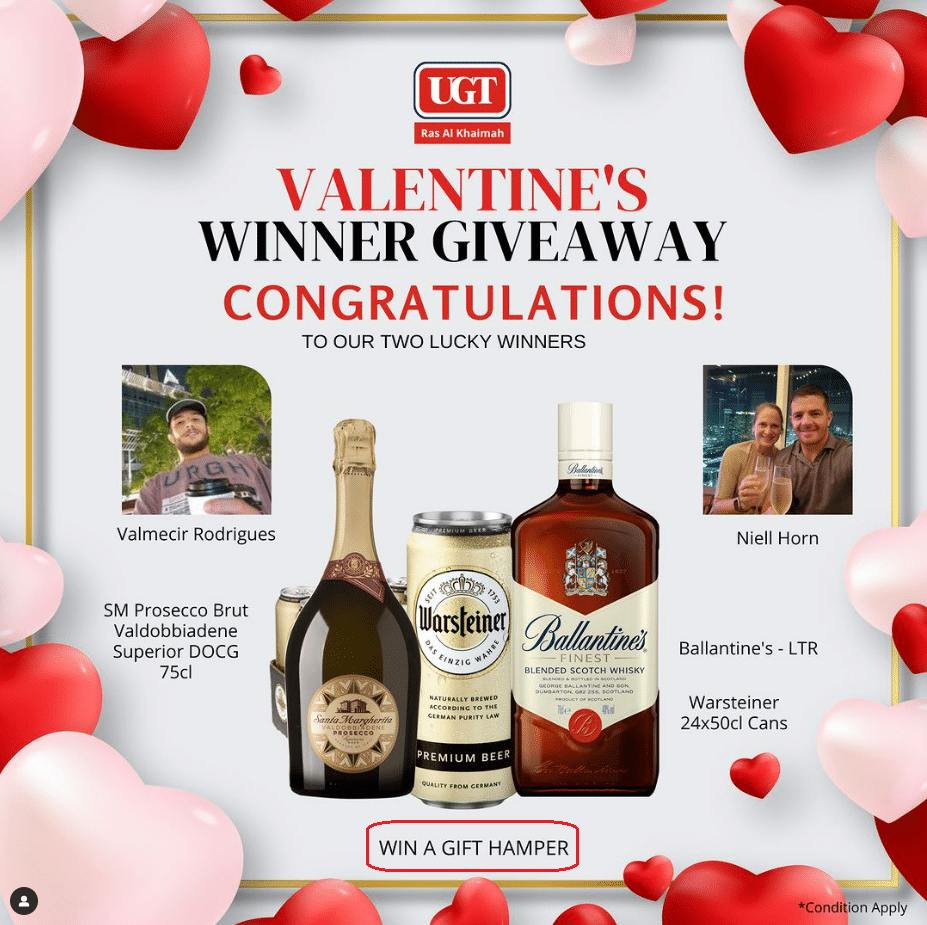 How to use it: ⏬
Join forces with another company to reach a wider audience with your giveaway. 💪
As well as being a good practice in general, making sure the brand's values match yours also increases the likelihood that their customers will also enjoy your products.
If it makes sense, include items from both brands in the

winning prize

. The more, the merrier! 🎉
14. Using Paid Partnerships
Paid partnerships are one of the finest methods for creators to monetize their Instagram accounts, 🤑 and as a business, they're a terrific way to grow your target market and establish some serious brand awareness.
Find the best fit for your brand, by conducting research on the influencers who can promote your contest (and, obviously, your company's goods). 👏
For the greatest outcomes, collaborate with reputable influencers who have a strong community!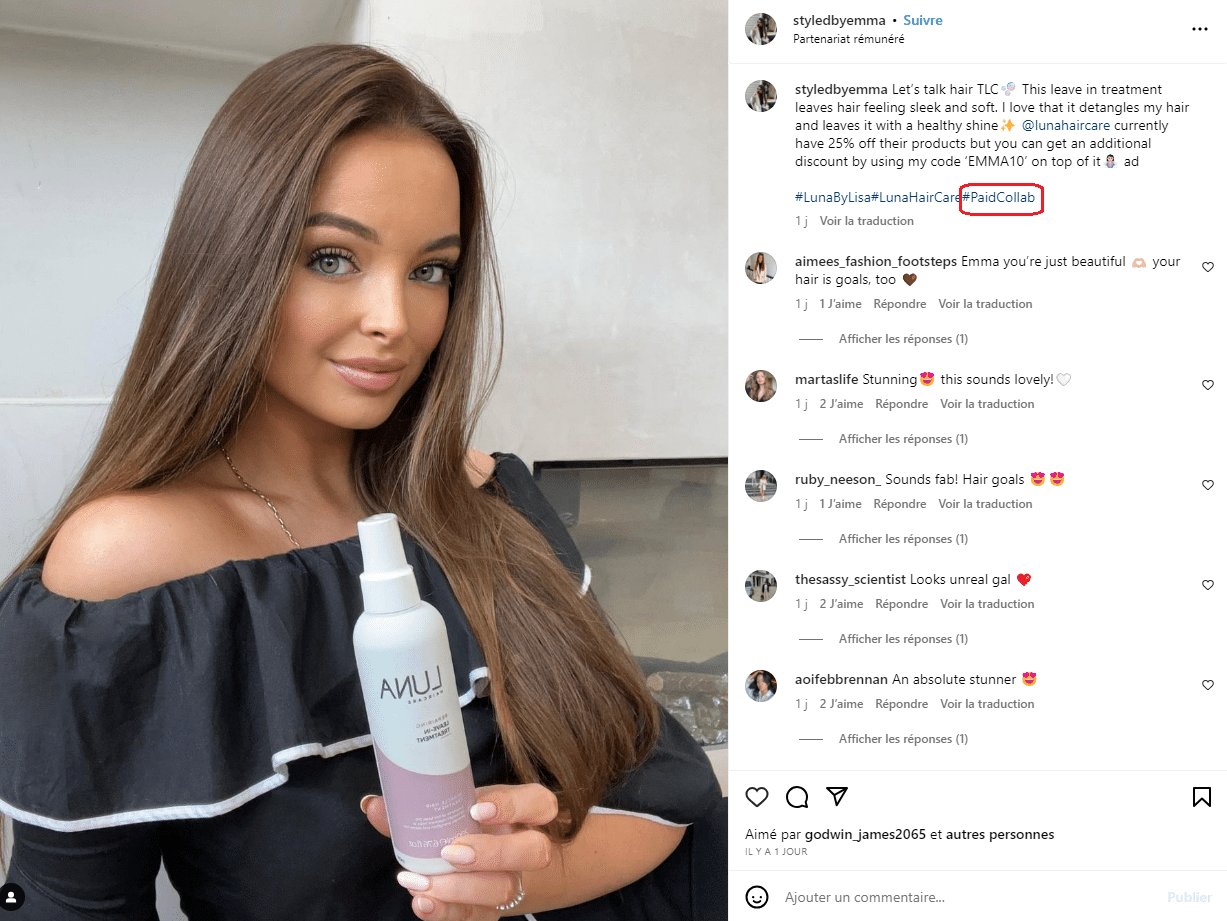 How to use it: ⏬
If your company is hosting an Instagram giveaway, 🔎 look into the creators/influencers who could be a perfect match to promote it.
Once the ideal "persona" has been identified, collaborate with them to produce the content (and compensate them for their efforts).
However, keep in mind that you have to identify any paid collaboration. Otherwise, Instagram may delete it or flag your account. 🚩
15. Don't forget to Share the winner
Believe it or not, many Instagram contests hosted by brands never say who the winner is! 😰
This happens way too often… 🙄 Typically, after entering a contest, most people completely forget about it. However, sharing the name of the winner is one way to keep the contest fresh in your audience's minds (even if they don't win).
Of course, obtain the winner's consent beforehand and keep all of their personal information to yourself. Therefore, announcing the winner encourages customers to trust you and participate in your future giveaways. 🧲 That way, they'll know you're legit!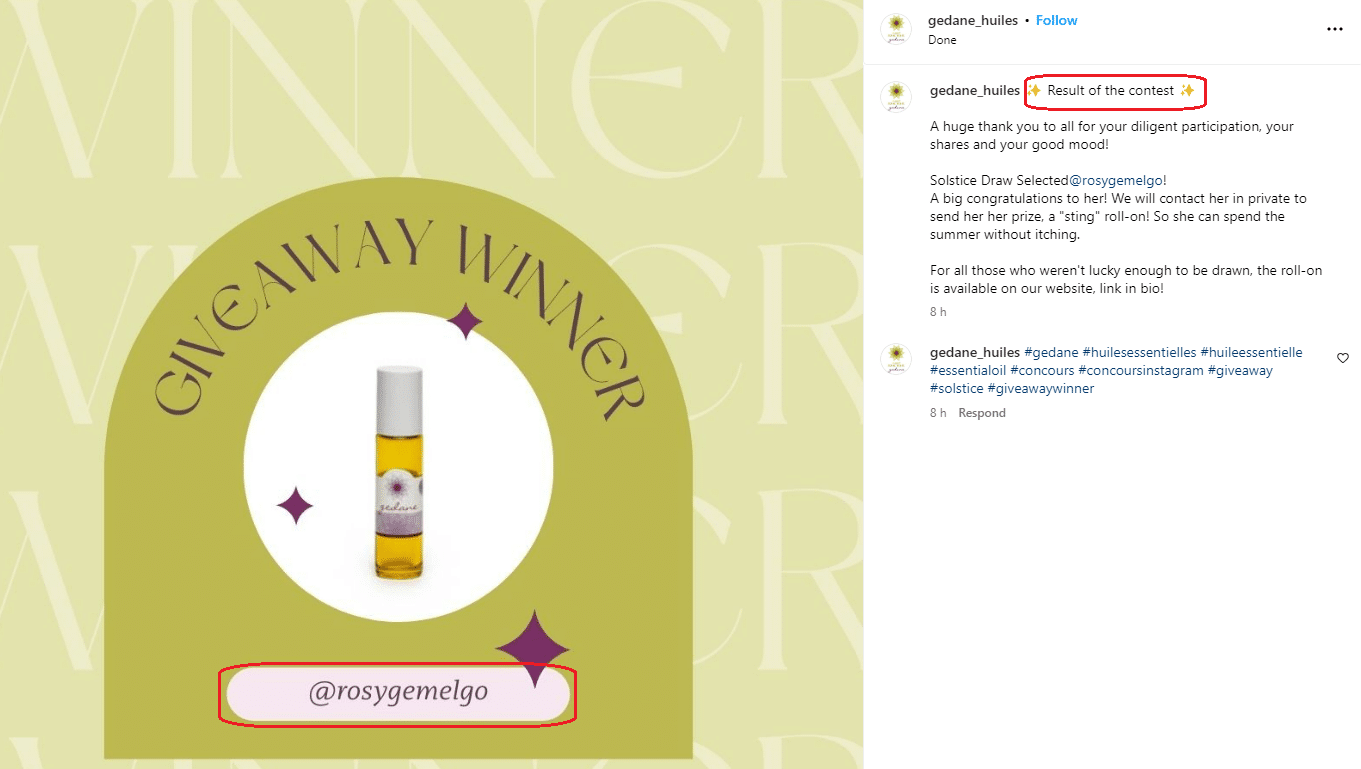 How to use it: ⏬
Remember to ask the winner of your giveaway if their first name or Instagram account can be

shared online

. 🤫
To reassure your followers that you are "the real deal" and to entice them to participate again, make sure to share the winner!
Best Free Instagram Giveaway Pickers: Which is the Best Instagram Giveaway Picker?
Choosing the best Instagram Giveaway Picker depends on your specific needs, such as ease-of-use, fairness, and transparency. 🧐
Here are some of the top tools available: 👇
Woobox:

🥡 Renowned for its simplicity and reliability, Woobox allows you to randomly select winners from likes and comments on your giveaway post. It supports additional entry methods like voting and trivia, offering a robust solution for complex campaigns.

Easypromos:

🏷️ Easypromos offers comprehensive functionality, including comment-based selection, options to include or exclude participants, and detailed analytics. Its certificate of validity feature assures participants of a fair draw.

ShortStack:

⚡ShortStack stands out with its powerful features that include creating landing pages for giveaways, collecting email addresses, and running user-generated content contests.

Comment Picker:

🗣️ If you're looking for a simple, no-frills solution, Comment Picker is an ideal choice. It's a free tool that randomly selects a comment from your post.

RafflePress:

📜 While primarily a WordPress plugin, RafflePress integrates with Instagram and offers a visual contest builder, easy winner selection, and fraud prevention features.
👉 Each tool offers unique benefits, so select one that aligns best with your giveaway's scope, complexity, and overall objectives. 🎯
Set the Instagram Giveaway Rules Beforehand
Now that you know how to use Instagram contests to boost your brand online, you need to know the basic guidelines: 🥸
Choose a contest theme,
Set the rules before starting,
Choose a specific hashtag for easy follow-up.
Promote the contest on other platforms to increase your reach. 🚀
As soon as you host your first contest, you'll realize how much fun the entire process is! 🥳
You'll find out that it's much simpler than you thought. 🙌
⚡ Furthermore, remember to encourage your followers to tell their friends to enter the giveaway as well. 👀
This way, more people will react to your content. 💫
Conclusion: How to do a Giveaway on Instagram? (How to do an Instagram Giveaway?)
Doing an Instagram giveaway can effectively boost your engagement, follower count, and brand visibility. 🧨
Here's a step-by-step guide on how to do an IG Giveaway: 👇
Define Your Goals:

🎯 Start by identifying what you want to achieve. It could be increasing your follower count, boosting post engagement, or promoting a new product.

Choose Your Prize:

🎁 Select a prize that resonates with your audience and is relevant to your brand. It should be attractive enough to incentivize participation.

Set the Rules:

✍️ Clearly outline the giveaway's rules. This typically includes following your account, liking the post, and tagging friends in the comments. Consider using a branded hashtag for tracking purposes.

Select the Giveaway Duration:

⌚ The timeframe should be sufficient to generate buzz, but not so long that it loses momentum. A week is usually a good start.

Promote Your Giveaway:

👂Utilize your other social media channels, email newsletters, and website to promote the giveaway.

Choose a Winner Fairly:

🔮 Use a random comment picker tool or manually pick a winner. Make sure this process is transparent.

Announce and Contact the Winner:

🤝 Publicly announce the winner and contact them privately for prize delivery.
💡 Finally, ensure your giveaway is compliant with Instagram's promotion guidelines to avoid any issues. 🔕
After the giveaway, analyze its success and ROI, to make improvements for future campaigns! 👏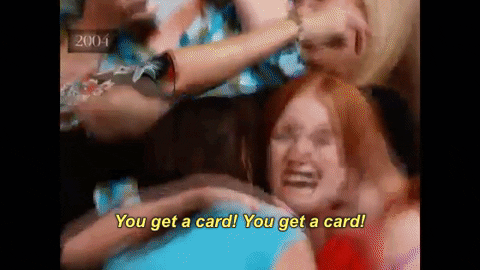 FAQ: Instagram Giveaway for Followers
Are Instagram Giveaways Real/Legit?
Instagram giveaways are indeed real and have become a popular marketing trend for many businesses. 💸
However, it's essential to keep in mind that not all giveaways on Instagram are legitimate. 😫
Regrettably, some accounts host fake giveaways with the sole intention of gaining followers or collecting personal information. 💢
Therefore, it's important for participants to discern the genuine from the fraudulent. 😥
Here are a few tips that can help you decide: 👇
Evaluate the Host:

🔍 Look at the profile hosting the giveaway. A legitimate account usually has a history of posts, an authentic following, and engagement indicative of a real business or influencer.

Check the Rules:

🤔 Genuine giveaways clearly outline the rules and details about the prize. If these details are vague or absent, it may be a red flag.

Watch for Excessive Requirements:

😥 If the giveaway requires sharing too much personal information or making a purchase, proceed with caution.

Assess the Prize:

💣 If the prize seems too good to be true, it probably is.
👉 As a business, if you plan to host a legitimate Instagram Giveaway, you need to follow the contest rules, be transparent about the terms, and conduct a fair winner selection process.