Instagram Ads should definitely be taken into account if you have money set up for paid social media. 🤑 Why? You'll discover it in this easy guide, where we will show you How to advertise on Instagram, and will walk you through making your first ad in just 6 simple steps.
Ready… Set… Go! 🔫
How to create Instagram Ads?
Boosting an existing post and generating a new ad in the Meta Ads Manager are the two methods for starting Instagram Ads campaigns (previously known as Facebook Ads Manager). 🛠️
While it only requires a few taps and can be done directly from the Instagram app, promoting an existing post does not offer the personalization options found in Instagram Advertising Manager.
We'll show you these 2 techniques below. 👇
Method 1: Using Instagram Boost
Promoting one of your already-posted content is the simplest approach to begin advertising on Instagram. 😉 This is comparable to the "Boost Post" feature on Meta.
Promoting a post inside the app is a quick and simple way to increase its success and make it visible to new Instagram followers if it is performing well in terms of engagement. 🗣️
To do this, you'll need a creator or business account on Instagram. Also, you'll need to connect your Instagram account to a Meta Business Page, here's how to do it: ⏬
All you have to do is click "Boost post" on the article you want to use as an advertisement.
Then, pick your objective. You'll have three options: more profile visits, more website visits, or more messages (this includes more WhatsApp messages).

Define your audience

. You can decide whether to let Instagram choose your audience for you automatically (based on your follower data). Otherwise, you can manually enter your targeting choices to establish your own audience. If you'd like, you can also decide to run the boosted post on Facebook too.
Choose your daily budget and the number of days you want the advertisement to run now. You have the option of setting a specific number of days or letting it continue indefinitely until you actively interrupt it.
When you're ready to go live, check your ad one more time, and click "Boost Post".
Now, you're done! Meta will examine and approve your advertisement. Follow the progress of your ad in the Promotions section of your Instagram profile when it goes live.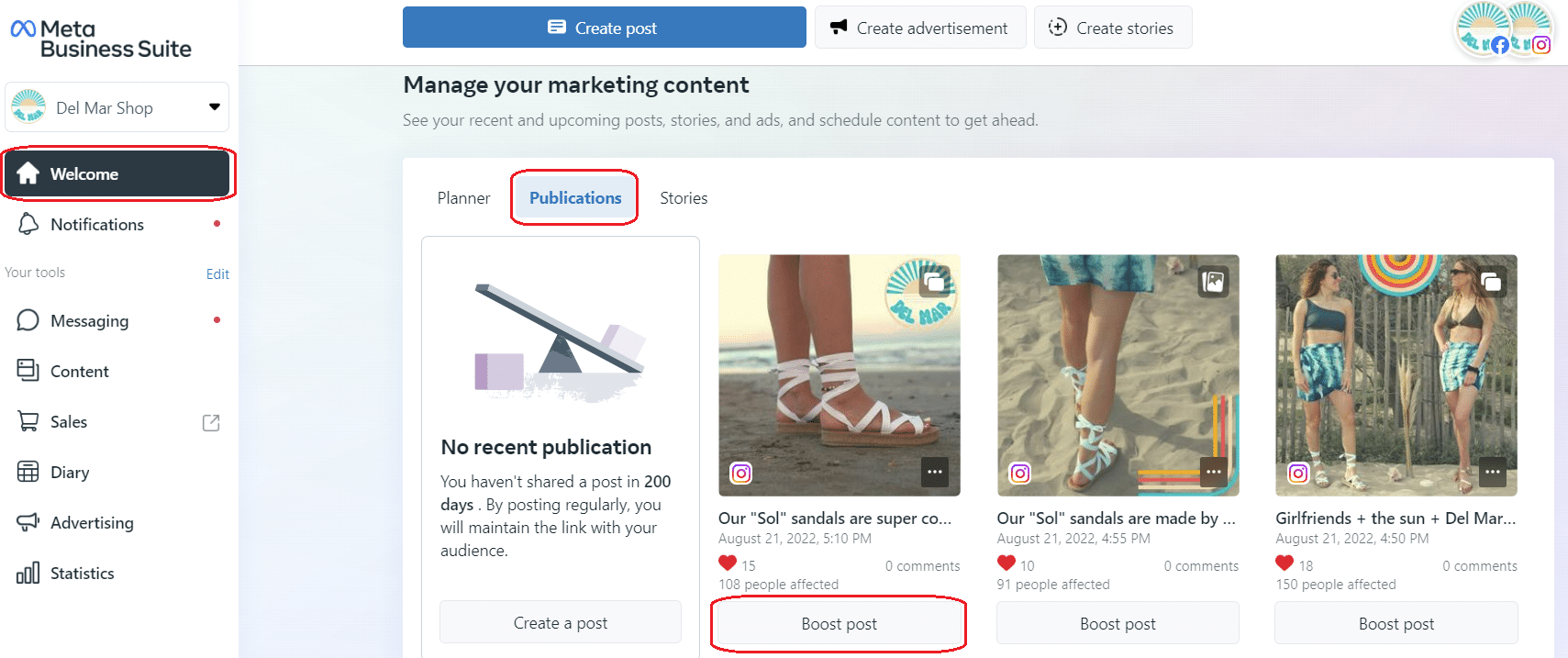 Method 2: Using Instagram Ads Manager
Use the Meta Ads Manager to construct ad campaigns to make the most of Instagram's Ad targeting. 🎯 Although it involves a bit more work, in this 6-step tutorial, we'll go into greater detail about this.
6 Steps to Advertise on Instagram Ad
Step 1: Create a new Instagram Campaign
Go to Ads Manager and click "Create an Ad" to get started.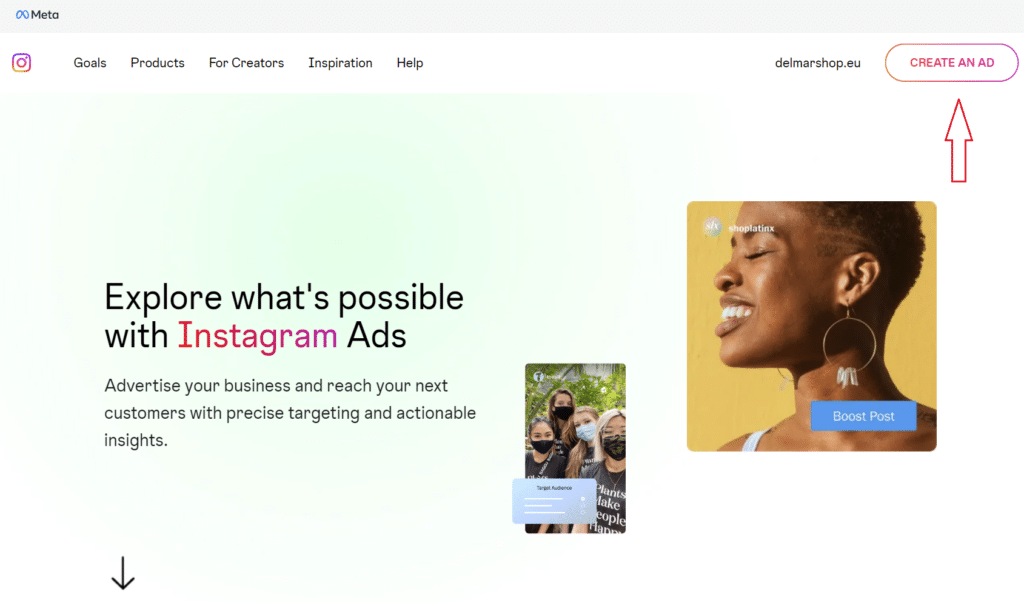 Step 2: Choose your Target
Go to "Create an Ad" and you can then decide to join your new ad to an ongoing campaign or launch a brand-new one. You must first decide on your campaign's goal before you can launch it.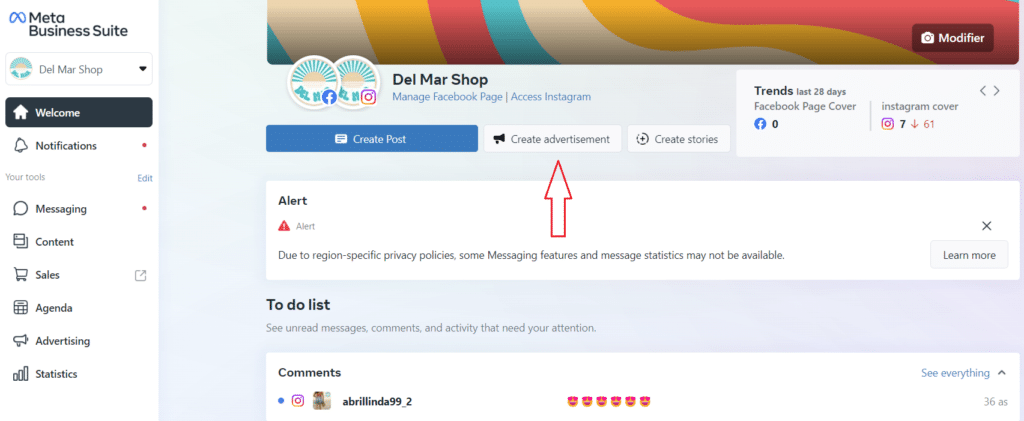 Choose the goal that most closely aligns with your preferences, then click "Continue".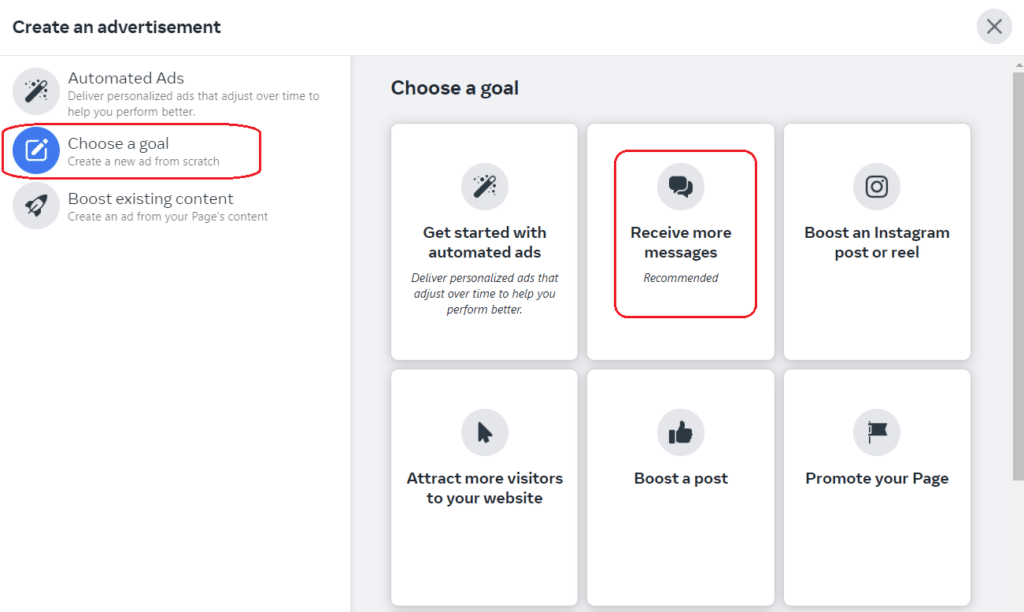 Step 3: Name your Campaign
You'll be asked to give your campaign a description after choosing your objective. (To make it easier for you to keep track of your campaigns, give it a specific name based on the campaign objective.)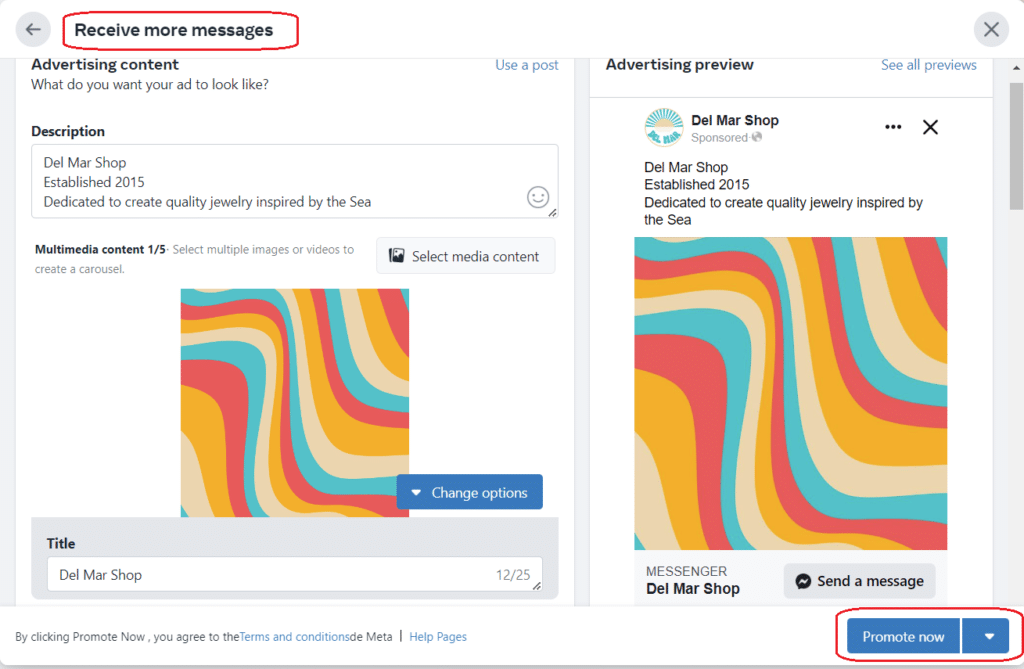 Step 4: Choose your Budget and Schedule it
Once you've decided how you want your advertisement to look. Choose "Time and Duration" by scrolling down. Here, you can specify your budget and the duration of your campaign.
You will have two choices based on your budget:

Setting a daily spending budget is helpful for always-on advertisements.
Set a maximum spending limit for your entire campaign; this is useful for advertisements with a specific end date.

You can view the "Audience" and "Estimated Daily Results" modules in the right-hand column as you make changes to these settings, which will help you determine the expected impact of your budget.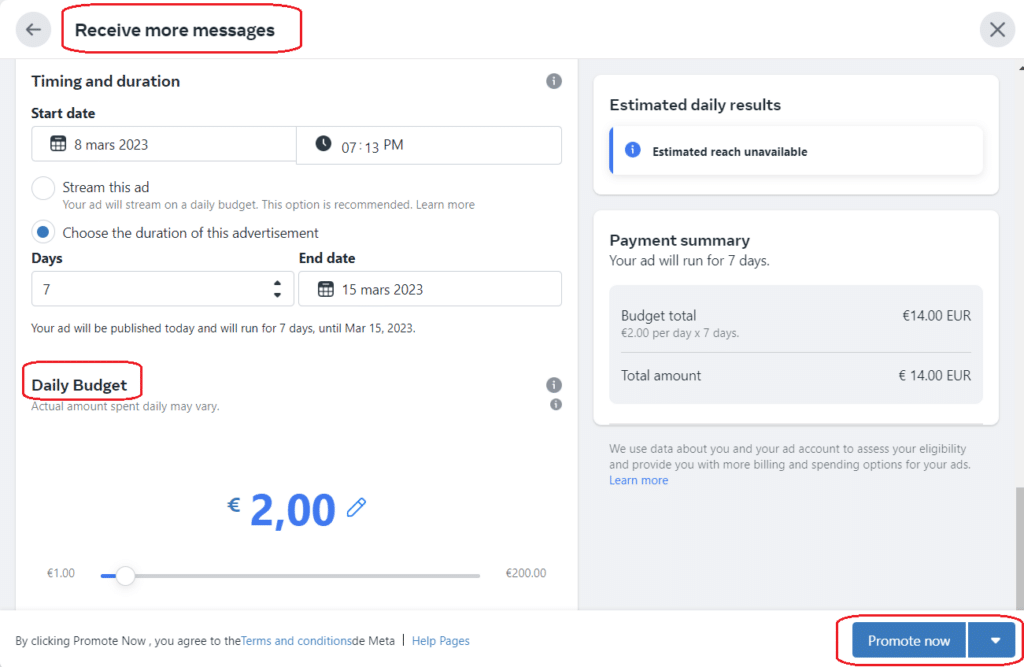 Step 5: Choose your Instagram Ad Placements
You can select the locations where your advertising will display in the "Placements section". You have 3 possibilities to publish on:

Instagram.
Facebook.
Messenger.

We advise using all the available placements if you're new to Instagram advertising, in order to boost your engagement.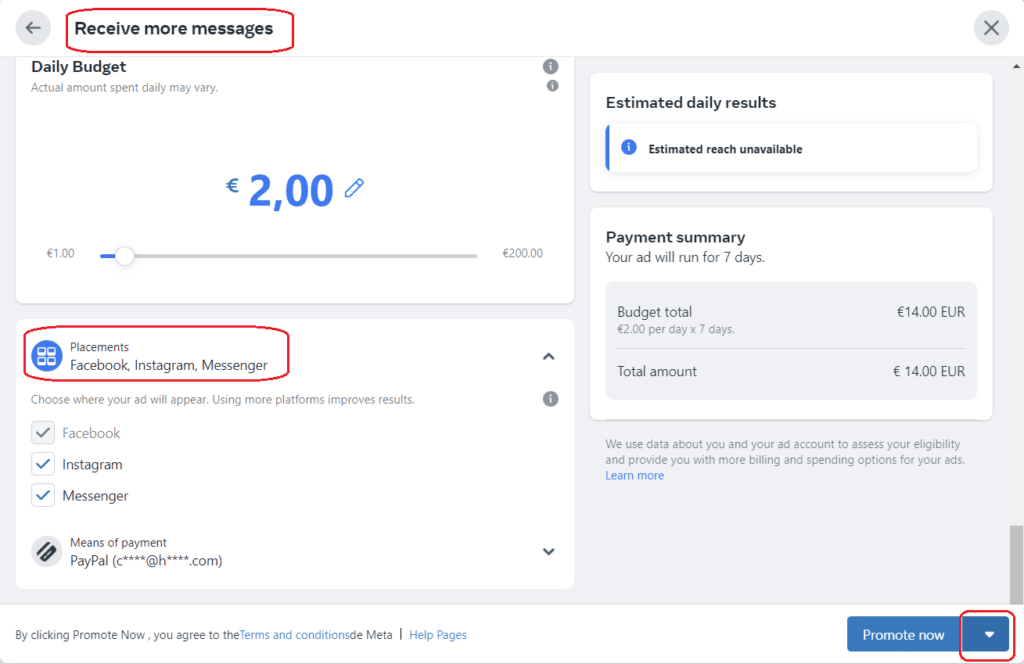 Step 6: Publish your new Instagram Ad
Finally, you can choose to "Promote now" or you can "Program" your ad by clicking on the arrow icon. ⏬ Then, you can choose the time and date to start promoting it on the selected platforms.
Your Instagram ads will now run according to the selected timeline and budget. To monitor the effectiveness of your ads, be sure you frequently check your Instagram Analytics.
That's it! You posted your first Instagram Ad. In the next part, we'll see the different types of Instagram Ads there are. 😏
8 Types of Instagram Ads
Nowadays, Instagram Ads offers 8 types of advertising options, including: ⏬
Image Ads.
Video Ads.
Story Ads.
Carousel Ads.
Shopping Ads.
Collection Ads.
Explore Ads.
Reels Ads.
6 Instagram Ads Campaign Goals:
👉 Since there are so many options, you can select the ideal ad type to suit your unique business objectives. Furthermore, Instagram's advertisements support 6 campaign goals:
Awareness.
Traffic.
Engagement.
Leads.
App promotion.
Sales.
Depending on the ad style and objective you select, there are different call-to-action possibilities! 😏
Now, let's take a closer look at the different types of Instagram Ads. 👇
1) Image Ads
Companies can use a single image to promote their brand, goods, and services via Instagram image ads. 📸
The greatest campaigns for Instagram Image ads are those with strong visual content that can be encapsulated in a single image. These pictures can be produced using excellent photography, design, or illustration. ✨
Text can also be added to the photos. However, Instagram advises keeping overlaid text to a minimum for the sake of accessibility and optimal performance. 👌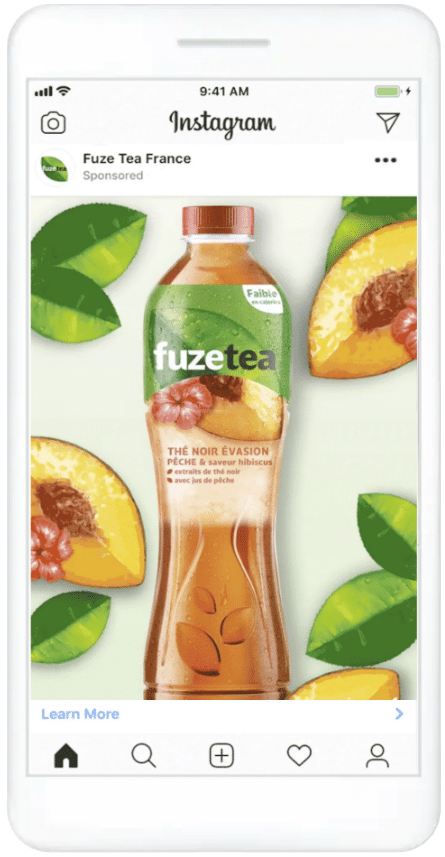 2) Video Ads
Instagram Video ads are a fantastic method to present your goods or services in a captivating, noticeable way. 🤩 You can use video advertisements to showcase special features, show how items work, or just convey your brand's storytelling.
Although in-feed video advertisements can last up to 60 minutes, shorter films are typically more impactful. 🧨 Read more about Instagram ad specifications in this best practices article.
3) Story Ads
Full-screen image or video ads for Instagram are displayed in between user stories. 🤓
Almost all Instagram users watch Stories every day, making it a popular feature of the app. Because Stories advertisements fill the entire mobile screen and are far more immersive than in-feed ads, engagement is frequently higher with them. 💹
The greatest Instagram Stories ads blend in with regular stories and don't stand out as ads. 🤫 Companies can use the normal Instagram Stories' features, including filters, text, GIFs, and interactive stickers, while creating Stories ads.
👉 Therefore, videos, carousels, and still images can all be used in Story Ads. At the bottom of the Story, there is a swipe-up link that leads to the chosen call to action.
4) Carousel Ads
With Instagram Carousel ads, users can swipe through a collection of images or videos. 🎠  There's also a call-to-action button or swipe-up link that takes viewers directly to the advertiser's website, they can appear in the feed as well as within Instagram Stories.
Furthermore, Carousel Ads are useful for: 👇
Display a group of related products.
Share an extended story about your brand.
Show up to ten pictures or videos simultaneously.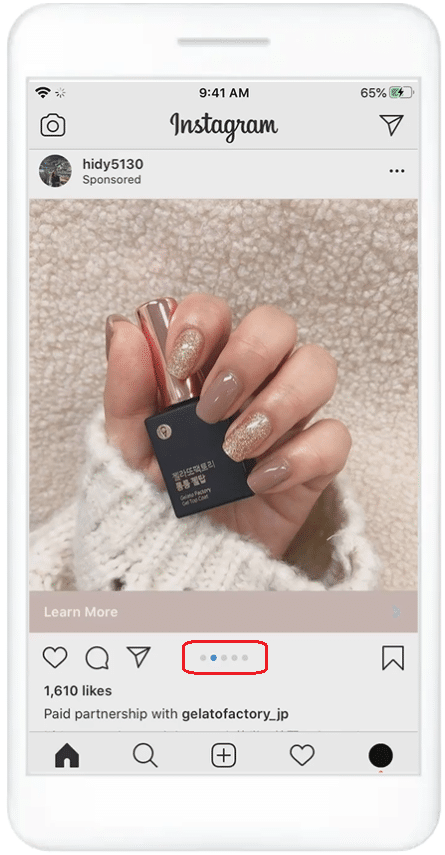 5) Shopping Ads
It's understandable why Instagram has been significantly enhancing its ecommerce tools over the past two to three years, given that many Instagram users make purchases on the platform weekly. 🛍️
Users can now view and buy things without ever leaving Instagram, thanks to the platform's most recent shopping functionality (limited to businesses with Instagram Checkout enabled). 💳
Users are taken immediately to a product description page within the Instagram app by using the Shopping ads. After that, they can make a purchase on a mobile website, for example.
👉 In addition, businesses must set up an Instagram Shopping catalog if they want to run an Instagram Shopping Ad and link them to their Shopify interface, for example.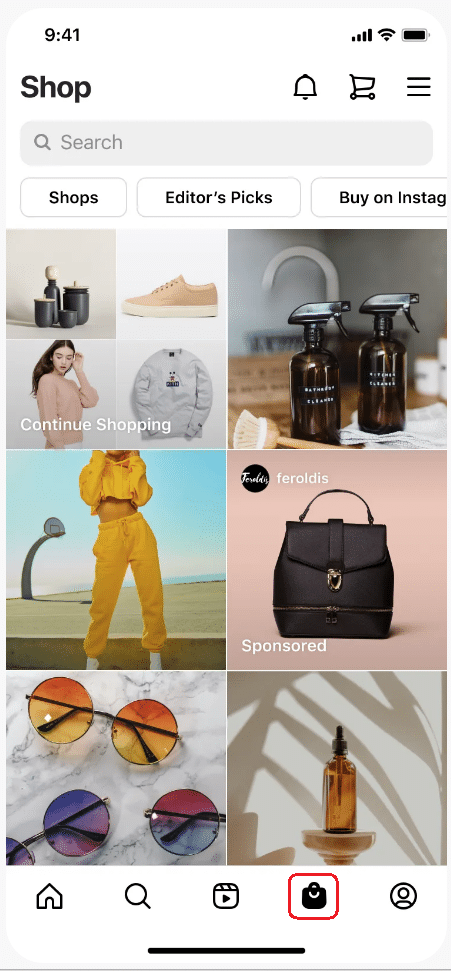 6) Collection Ads
Instagram Collection Ads are a hybrid of Shopping Ads and Carousel Ads. 🍝 Advertisements for collections show off items straight from the seller's product catalog.
Collection ads are ideal for e-commerce businesses since they allow customers to buy items right from the advertisement itself. 💰 After clicking the advertisement, users are taken to an Instagram Instant Experience Storefront where they can find the specifications of the item and make a purchase.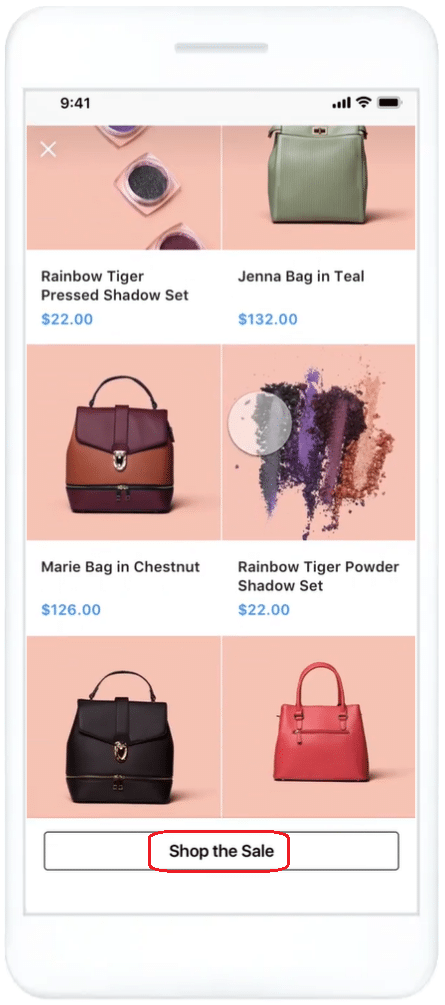 7) Explore Ads
The Explore page of the Instagram app is where users find new material and accounts that are customized based on their Instagram usage habits, and it contains what is called Explore ads. 🕵️
Instagram Explore ads are displayed after a user clicks on a photo or video from the Explore tab. Explore advertising lets companies be displayed with content that is currently hot and trending, 🔥 since the content in users' Explore tabs is always changing.
👉 Images and videos can also be used as an Explore ad, meaning that you can use existing Instagram Ad assets in order to create your ads campaign.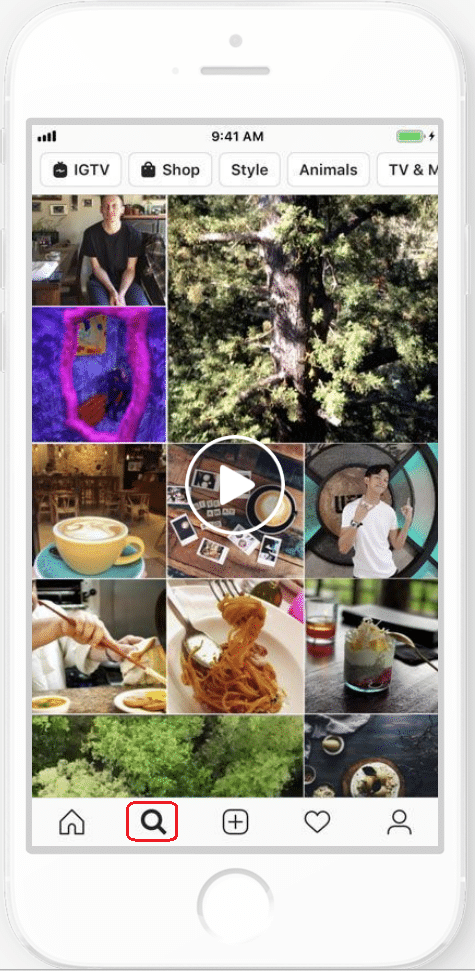 8) Reels Ads
Instagram recently announced that Reels would now support advertising following the successful debut of Reels. 💫
Different advertising is displayed between Reels and can last up to 60 seconds. They have similar specifications to Stories ads (full-screen vertical movies). To blend in effectively with organic Reels, they should have sound or melody. 🎶
👉 Furthermore, a "Sponsored" mark will appear next to the account name in every Instagram Reels ads. Also, be aware that Instagram Reels ads won't stop looping until they are stopped. 🙃 Users may also "Like," "Share," "Comment," and "Save" your Reels ads.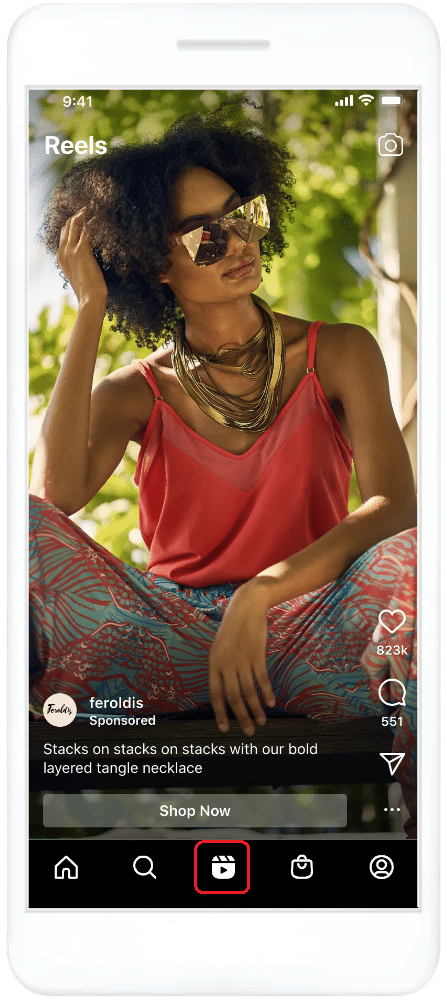 How much do Instagram Ads cost?
The cost of Instagram advertisements is determined by your campaign's overall budget, duration, and goals. 🏌️ It's up to you how much you want to spend on your Instagram ads because you can establish a daily or permanent budget.
Although there is no standard amount to spend, Meta advises beginning with at least $5 every day. 🤌 There is no standard or typical price, however some cost factors might include:
Your targeted audience,
The industry's level of competition,
Time of the year (costs often go up during holiday shopping periods, for example),
Your choice of placement (costs can differ between ads shown on Facebook vs Instagram).
Marketers have the option of manually adjusting their maximum bids for each auction, or letting Instagram do it for them. 🪙 So, it's better to start with a low maximum bid to gather some experience if you're new to Instagram advertising.
Determining whether increasing your maximum offer is essential once you have a better understanding of the competitive environment for the demographics and industry you have chosen. 🤔
The best way to assess your budget is to create a draft campaign in Instagram Ad Manager, where you should look for the Audience Definition and Estimated Daily Results modules. 🔍 These modules will let you know if your budget settings are adequate to reach your target audience within the campaign duration you've chosen.
Why you should advertise on Instagram?
Organic social media engagement techniques may appear to be cost-efficient, but they rely heavily on trial and error and are only so effective when competing with constantly evolving social media algorithms. 🙊
Because of this, it's crucial to concentrate on a social media strategy that combines both free and paid methods. You achieve the best of both worlds, by doing this. Through your Instagram posts, you actively interact with your followers, and by using ads, you may connect with a bigger audience that may not be familiar with your business yet. 🚀
Instagram Ads are a fantastic method to showcase your products because they are a visual medium. 👀 Additionally, you can make it simpler than ever for Instagram users to become clients by implementing Instagram shopping directly in your ads.
6 Tips to Boost your Instagram Ads
Now, you have all the information to set up and launch Instagram advertisements. 👏 The next step, is designing powerful visual elements for your commercial campaigns.
Here are some tips for creating eye-catching ads for Instagram. 🌈
1. Create Ads compatible with Mobile Devices
It's critical to build your content for mobile viewing rather than desktop, because more than 4.08 billion people visit social media through mobile devices. 🤯
Here's what you should keep in mind for creating mobile-first ads:
Make sure to capture video content in vertical format, because this makes it easier to crop than from landscape format.
Limit the amount of text in your advertisements.
If you do use text, pick a size that is easy to see on mobile devices.
To immediately interest viewers, add animations and motion graphics to videos.
Make short videos (15 seconds or less).
2. Maintain a focus on Branding and Messaging
If a viewer scrolls through your ad and decides to stop and stay for the entire piece, that decision will be made in the first few seconds. 😦
For this reason, it's crucial to begin your advertisement with the main idea and to introduce your branding within the first 3 seconds! ⚡ (Yeah, that's how short the average attention span is, specially since viewers have to process so much information on social media).
3. Make sound enjoyable for your Viewers
According to recent data, most people access social media without sound. 🔕 In order to please the few Instagram users who have sound on, it's crucial to build your adverts with enjoyable sound and to make sure it's compatible for sound-off consumption, as well.
Here are a few tips to accomplish it: ⏬
Without music, tell your story and convey your main point using explicit graphic elements.
Any voice-over or written audio should include captions.
Deliver your main message using a text overlay in the absence of sound.
4. Test and Repeat what works
Instagram advises creating a mix of different creative styles that complement one another to attract attention and encourage interest: 👇
Brief assets that quickly and effectively convey the campaign's premise.
Resources that let interested audiences engage in light inquiry and interaction.
Immersive materials that let users delve deep into your campaign concept.
5. Use different Ad formats
With so many Instagram Ads options available, you may test various combinations of imagery and messaging to see which one most appeals to your target market. 🏹 As part of your advertising strategy, take into account including video advertisements, Story ads, carousel posts, collections, shoppable posts, and more.
Get inventive with your creative, too! 🎨 Why not try using meme advertising, original graphics, or animated GIFs to spread your message? Keep in mind that Instagram advertising should showcase the overall design and style of your brand identity.
To maintain your audience's interest, though, there is no reason why you shouldn't spice things up from time to time! 🌶️
6. Use Analytics to understand your results
The best approach to discover if your Instagram advertising is functioning successfully is to assess its efficacy with analytics. 🥸  This native reporting feature on Instagram provides information on important metrics including impressions, clicks, engagement rate, and ROI.
To track your campaign effectiveness in greater depth and make data-driven decisions about how to enhance upcoming advertising campaigns, you can also use third-party solutions. 💡
6 Instagram Ads Examples to Get inspired
Let's look at some effective Instagram ad campaigns from various brands to get some inspiration. 🥰
Take a look at the different images employed, the placements of the ads inside the stories, and how the copywriting is used by the businesses to engage their target audiences as you navigate through these Instagram ad examples: 👇
Example 1 Instagram Ads: Starbucks coffee
It is interesting to see the Starbucks advertising strategy, it is more focused on showing messages and brand philosophy than showing the products, this community-driven approach has been shown to be a complete success! 👏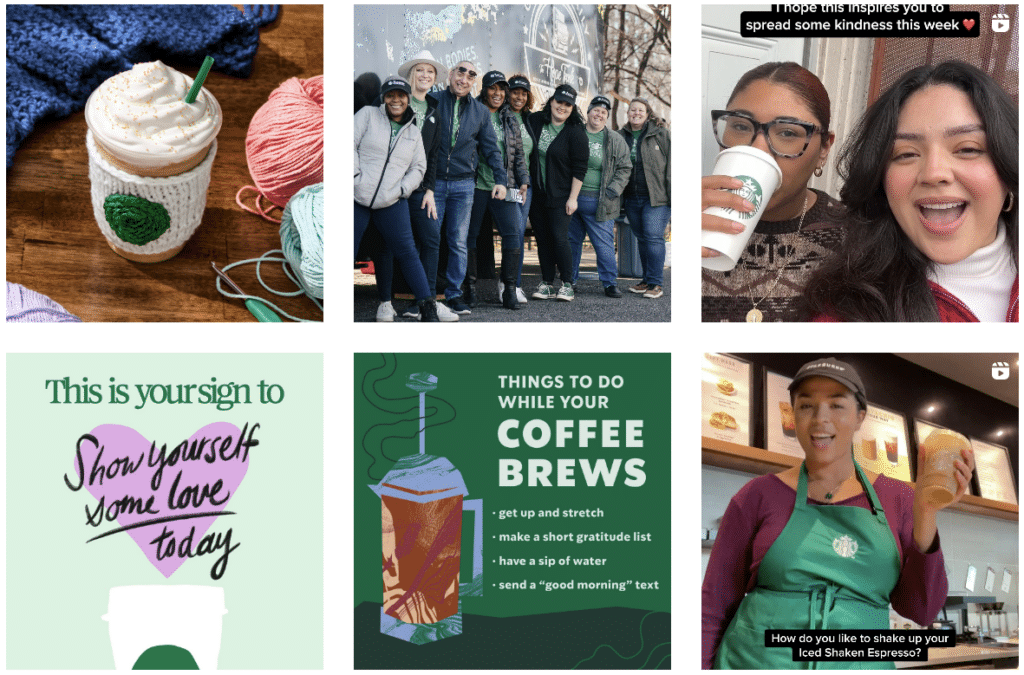 Example 2 Instagram Ads: Opel cars
The car company Opel has been an early adopter of Instagram Carousel Ads, and one of the first to successfully design an efficient and innovative campaign using that format. 🤩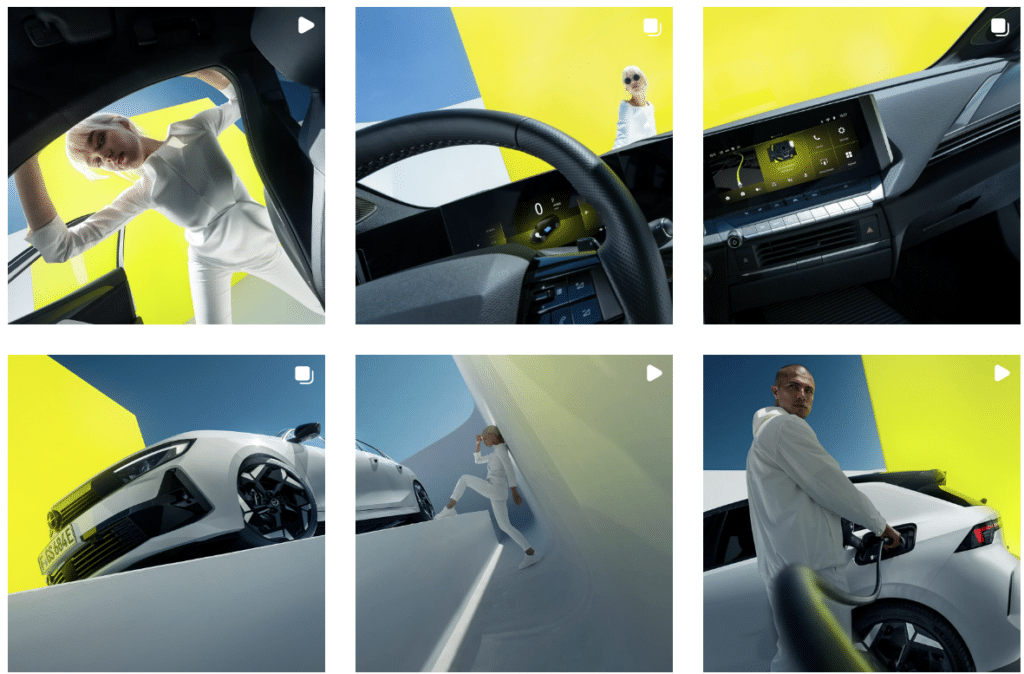 Example 3 Instagram Ads: Orange telecom
Orange telecom knows it only has a few seconds to grab its viewer's attention–so they don't waste any time telling you what they're selling. In one simple and effective graphic poll, they interact with their audience. 📣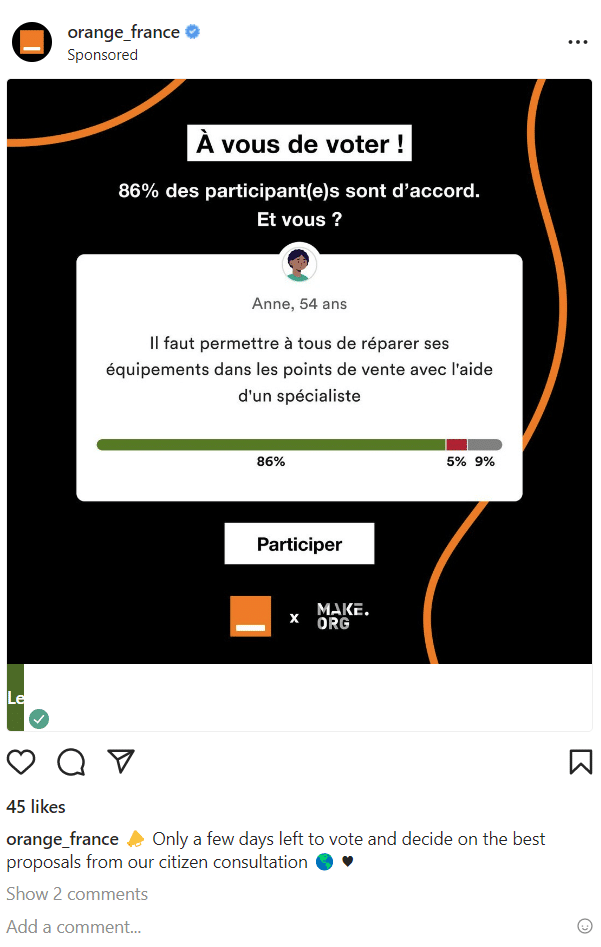 Example 4 Instagram Ads: Burger King
Marketing is all about emotion, right? And what's more emotional than food? 🤤 Burger King does a great job of connecting with its audience on Instagram by showcasing mouth-watering images of its most drool-worthy dishes and the reactions they receive.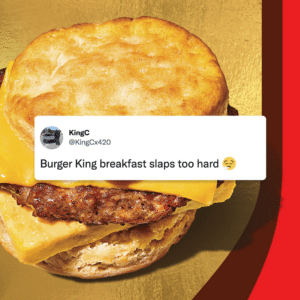 Example 5 Instagram Ads: Rare Beauty
Instagram Reels, Story, and Video Ads are a great way to showcase how your products work, especially when it's a makeup brand. 💅 Here, Rare Beauty uses Instagram Reels Ads to show the product in action and what it looks like in real life by using its creator, Selena Gomez, as their own muse/model.
Example 6 Instagram Ads: Cider clothing
Making an Instagram Ad doesn't have to be expensive every time. Cider's in-feed graphic advertisement is uncomplicated but powerful. 💪 They present the item to you and explain the benefits of purchasing it. It doesn't have to be any more difficult than that.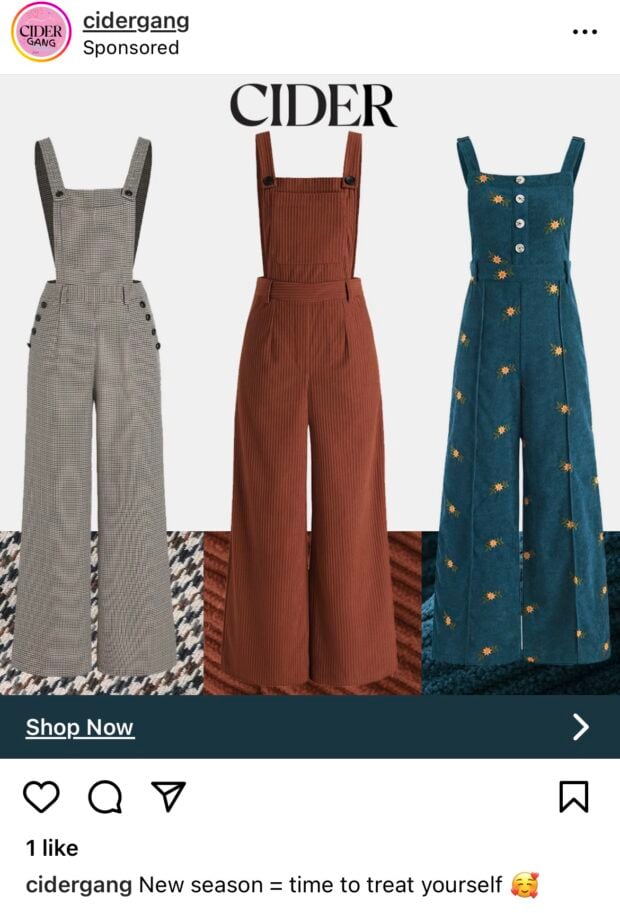 💡 Bonus: You may reach more viewers by using Instagram Promotions on the platform. It could be useful to make a photo or video go viral and reach a larger audience!
Conclusion: How to run Ads on Instagram?
In conclusion, increasing the amount of people who view a particular post or have a broader ad-targeted audience, can help you improve your social media strategy. 🔥
You can communicate your brand's story using a variety of photo and video formats by selecting the one that best suits your content and your target audience. 🤩 If you discover that your customers frequently use Instagram, you might want to consider using Instagram ads to reach even more potential clients.
FAQ of Insta Ads
What are Instagram Ads?
Instagram ads are posts that companies can buy to distribute to particular target audiences. 📣 Similar to how organic content from other Instagram accounts appears in users' feeds, Stories, and explore pages, these paid advertisements also appear there.
Images, videos, carousels, and photo collections can all be seen in Instagram advertisements!
Instagram ads resemble regular posts, but always have a Sponsored label to identify them as advertisements. 👀 Additionally, they frequently include other elements than a standard post, including links, CTA buttons, and product tags.
Should I advertise on Facebook and Instagram at the same time?
Whether you decide to run advertisements on Facebook or Instagram will depend on who your target demographic is and which platform they prefer to utilize. 🧐 Both platforms allow you to run targeted ads.
Can I make Instagram ads without having an account on Instagram?
Yes, you can create Instagram advertising by using the Facebook business page. ✅
Perfect, now you know everything about Instagram Ads! 😋