Want to know the best metrics to follow for your email marketing KPIs and campaigns?
Discover the 14 simple calculations to know if you are making good campaigns.
Throughout the article you will discover tips:
✅Email marketing best practices.
🚨 What not to do in your campaign.
🔝 The most important rate calculations and how to track them.
Email Marketing Kpis #1: Number of emails delivered
Just because you are sure that all email addresses are accurately noted on your mailing list does not mean that your email was delivered. In fact, a 100% deliverability rate is virtually impossible. 😱
And this is for two reasons.
Reason 1: If 80% of your emails make it to the inbox, that means 20% may not exist either. So if you have 1,000 names on your list, that means 200 people never received your message.
Reason 2: You need to know if deliverability has dropped. Sometimes, through no fault of your own (sometimes it's your fault too 😜 ), a marketer can suddenly find themselves blacklisted by an email provider, (especially if you have a shared IP address instead of a dedicated one). Another way to land in spam is to have used spammy wording in your titles and content. Spam blockers at email providers may consider you harmful. For example, if you are suddenly unable to send an email to someone with a Gmail address, you should take immediate action to find out why and fix the problem.
Note: There is a difference between a "sent" email and an email that actually arrives in the inbox. It is most likely sent, but will go directly to the recipient's spam folder. That's why more and more marketers are starting to use Inbox Positioning Rate (IPR) as a key performance indicator, so they can measure how many emails actually reach the inbox. So, to recap:
Email addresses can be wrong.
The emails can be in spam.
✅ In order to get as close as possible to perfect deliverability, there are some best practices:
Calculate the deliverability rate of a mail = (number of delivered emails / total number of sendings) x 100.
Email Marketing Kpis #2: Email open rate
Reaching the inbox is not enough. You also need to consider the number of emails opened. 💌
Let's go back to our example. 🧐
If 80% of your emails are delivered and your open rate is 25%, it means your contacts are paying attention to your marketing messages. (That's a good open rate 💟) On the other hand, if only 5% of the delivered emails are opened, it means you didn't reach 95% of your target, and that stings. 🐝 That's why you need to track open rates.
Just like deliverability, you need to monitor trends in open rates and adjust accordingly.
Note: You can compare your open rate with your industry's open rate for reference, however, you should not build your entire digital marketing strategy around this data. A good open rate is one that increases with testing. That's mostly what you need to remember! 👩
✅ Best practices to boost your open rate:
Learn about your industry!

Be sure

to

do

industry-specific

comparisons,

as

some industries,

like finance and hospitality,

typically have higher open rates (which makes sense since people

will often open

emails from their banks and hotels they frequent)

.
Do A/B marketing tests: Test only one variable at a time (change the title, change the subject line…) = Do A/B tests.
Adapt to your targets and their language, a young target needs to laugh, to be surprised = Find his persona.
Once again, do not use spam words.
Warning. 🚨 Keep in mind that some people use the preview pane for their email. This can record email opens that are not actually opened.
Calculation of the opening rate of emails = (Number of openings of the email/number of emails delivered) x100.
Email Marketing Kpis #3: Click-through rate
The click-through rate (CTR) shows how many people clicked on a link in your email. Unlike open and deliverability, however, you have to dig a little deeper to find out how many people were interested in the offer in the email. For each campaign, you need to know not only which links they are most interested in, but also where to place those links in order to get the most clicks.
✅ Best practices for click-through rate:
Once again, you'll have to do A/B tests 😉 For example: Assuming you provide the same link but written in two different ways and one works better than the other, then you can optimize your CTA text accordingly. Also compare the buttons with the text links. You can compare:
Click here.👈
Discover the offer.
Learn more.
Boost my sales.
Sign up for free.
Watch the demo video.
Let me be surprised.
Open my gift. 🎁
And other CTAs based on your product or service offering.
Warning. 🚨 Clicking on an unsubscribe link can be considered a click – that's a bad sign!
Click-through rate calculation = (clicks / impressions) x 100.
Impressions are emails seen, not necessarily read or clicked. Impressions are the emails that have appeared in the mailbox of our dentist.
For example, 1000 emails were sent and received (with acknowledgment of receipt for example), and of course these 1000 emails, 5 people clicked on the CTA. That's a 0.5% click-through rate for the entire campaign. 🤓
Email Marketing Kpis #4: Click-through rate for opening
This calculation is more accurate and important than the previous one. 🧐
Warning. 🚨 Impressions are not the same thing as email opens. Not to be confused.
In this calculation, we will check the clicks according to the opened emails.
For example, 100 emails were opened, but only 5 people clicked on the link in the email. Then the click-through rate for the opening will be 5%.
This rate allows you to know if the people who opened your email were convinced by the offer and/or the approach.
There is no point in comparing the click-through rate to the number of emails
sent, as this will distort your results.
Why? 🧐 Because, if your deliverability is low, it doesn't necessarily mean that the email wouldn't have more to the recipients! 😜
✅ Best practices for click-through rate per opening:
Check if the click-through rate is dropping or increasing,
Try to identify why (Title, description, copywriting, visuals…).
Reiterate what works and forget what doesn't work for your target audience.
! Now that you know how to use it well, you need to calculate it. 😍
Calculate the click-through rate= (number of clicks / number of opened emails ) x 100.
Email Marketing Kpis #5 : Unsubscribe rate (churn)
We never think enough about these email marketing metrics, and yet it's a super important KPIs!
You can learn a lot from the unsubscribe rate.
For example, it means that people didn't report your emails as spam, they took the time to unsubscribe.
Warning. 🚨 If the unsubscribe process is difficult (asks for an email address, a phone code, a form), recipients
will more easily report you as spam, because it's easier for them!
By unsubscribing, they are indicating that they no longer care about your emails, your brand, and your offers. They are out of the conversion process (at least in this way).
Don't worry. It's not always negative! Remember, unsubscribers don't want to be on your list and leave voluntarily, which is much better for the long-term health of your offer.
So, it helps to clean up your databases as you go along. It's normal for there to be disobedience, don't try to aim for 0% on this metric.
✅ Best practices for analyzing churn :
Check trends in your churn rates, especially after making changes, such as segmentation, template redesign, or new broadcast schedules.
If the number of unsubscribes suddenly increases in response to the change, you'll need to reconsider the change.
And above all, don't spam your interlocutors too much, offer interesting and relevant content, and there you will see that the numbers will reduce by themselves. 😜
Calculation of churn rate (overall) = number of unsubscribed / Number of people enrolled ) x 100.
Calculation of the unsubscription rate (per campaign) = number of unsubscribed persons / number of contacted persons ) x 100.
Like all other rates, it is calculated over a given period
! For example: from one campaign to another, or from one month to another.
Email Marketing Kpis #6: Bounce rate
Already, you need to identify the two types of bounce rates. 🧐
A strong "hard bounce" is a permanent output while a light "soft bounce" is temporary.
Hard bounces are usually caused by invalid email addresses. That is, they are directly related to the deliverability rate. Many hard bounces = low deliverability rate. As a reminder, it can be a false email address, a typo, an address that has been deleted …
🚨 Pay attention to high bounces because they show that you are behind in cleaning your prospect database.
It can also indicate that you need to use double opt-in or another method to verify that the email address is entered correctly, you can read more about this here. On the other hand, temporary "soft bounces" are temporary and caused by a problem in the inbox. For example, the inbox may be full or the server may be down. Depending on the email service provider or email marketing platform you use, the system will automatically try to resend messages only a certain number of times.
✅ Best practices for bounce rate:
Make sure you have good databases at startup.
Delete all invalid email addresses without delay.
Keep the email addresses where you entered a soft bounce, if after 3 new sends
it doesn't work, you can delete the emails from your data box.
Use the double opt-in to check the email addresses before sending!
Calculation of the "hard" bounce rate
of mails = (number of undelivered emails / total number of sends) x 100.
Calculation of "soft" bounce rate of emails = (number of mails delivered but not received by the mail server / total number of sends) x 100.
Email Marketing Kpis #7: Social shares
This KPI shows the social engagement related to your email. Depending on what you're looking for, it can be a good indicator, or it may not interest you at all. I present it to you anyway! 🧐
It can be a good indicator of the quality of your content. But the opposite is not true. That is, just because no one shares your email, doesn't mean your copywriting is bad. It is quite rare, sharing on social networks when talking about email marketing campaigns.
On the other hand, you can be quoted or picked up on LinkedIn for example. 😍
So make it easy for your readers to share your content by adding social buttons to your emails, it might not be bad.
🚨 But be careful not to have too many buttons on your email and lose your target, they should click on the CTA first!
✅ Best practices:
Only use this bias if it is relevant to your strategy. For example, you are a social media influencer and you also use emails as a means of communication.
For the calculation, nothing could be easier, just analyze the percentage of sharing. Don't worry if it is low. As I said, shares are very rare!
Calculation of the social sharing rate = (number of shares/emails received ) x 100.
Or (to be even more precise),
Calculation of the social share rate = (number of shares / opened emails ) x 100.
#8 : Email forwarding
As the term suggests, email forwarding, also known as "Email Forward Rate" or "Share Rate" calculates the number of people who have shared your email via a social network or forwarded it to another contact.
It is the same as the share on social networks, it is less important than the other metrics
. On the other hand, if some of your mails are forwarded a lot it's a good sign, it proves their values for your targets. 🎯
It is important to know that all your future customers can be positively influenced by the advice of friends or acquaintances (and their posts on social networks) to make decisions to buy their products/services.
✅ Best practices:
Identify the emails that were forwarded a lot,
Find the reason (the added value, the trigger).
Repeat the strategy.
Be careful though 🚨. Mails that have worked very well (because they are original, spontaneous, have an innovative mail subject…) will never work as well twice. What is original or surprising once, will not be original or surprising twice. It's a bit like a new haircut, you always have more success the first day, then people get used to it. 💇
Calculate the transfer rate = (number of mails sent / number of transfers) x100
The rate will never be very high, don't worry, we rather look at the rate evolutions in these cases.
Email Marketing Kpis #9: Conversion rate
So here we come to my favorite marketing KPIs! 😍
Boosting the conversion rate is one of the main objectives of an email marketing strategy.
It is a metric that allows you to calculate the number of people who become customers thanks to your emailing actions.
That is, they went beyond just clicking on a CTA, they went on to purchase.
✅ Good practice for calculating conversion rate:
Make sure you have different tracking links for all your marketing campaigns,
Follow these tracking links to identify which campaigns are working best.
Adjust your digital prospecting based on the results, asking yourself the right questions: what types of emails work best? How can you improve the buying process? Why don't the x% of customers go on to purchase after clicking on the CTA?
Warning. 🚨 It's not enough to know how many buy, but more importantly how many don't buy and why. If you can identify what is preventing your targets from taking action, then you can
improve your
conversion tunnel
, and therefore, your
conversion rate
will go up.
Think about it 💡 You can very well define a conversion rate that is not directly related to money made.
Let me explain: The conversion rate can be linked to other marketing actions, they can be whatever you want, like:
Filling out a form,
Booking an appointment,
download an e-book…
The number of users who clicked on the link and performed the required action is then considered as a conversion.
Did you know that? 🧐 Email marketing has the highest conversion rate of any other digital marketing method. It was time to look into it. 😉
Conversion rate calculation: number of people contacted / number of buyers (or other action to be determined) x100.
Email Marketing Kpis #10: Revenue per subscriber
Revenue per subscriber is one of those email marketing.
KPIs that tell you how each email in your email campaign is performing.
For example, You send 1000 emails and 2 people convert (buy), and one email in your campaign generated 100 euros of purchase and another 1500 euros.
The revenue per subscriber formula is: (total revenue / total people contacted).
In our example, this gives: (1600 / 100) = 1.6.
This means that 2 people generated revenue, but that this revenue corresponds to 1.6 of your total mailings.
✅ Best practices for tracking revenue per subscriber:
Identify the types of people who pay and those who don't: to refine the target. 🎯
Create a new one: add people who paid in all your campaigns to create specialized campaigns for your customers. 😍
Once you determine what types of emails work best, you can optimize your email marketing campaigns to increase your long-term profits.
You can also target more people when you know the characteristics of your subscribers. 😁
Email Marketing Kpis #11: Email ROI
My second favorite! ROI = Return on Investment.
That is, you don't just calculate the benefit of email marketing, but also, and more importantly if it's profitable for your business. And there often, we have surprises. 😱
You can measure this by taking the revenue you get from the campaign profits minus the amount you spent on marketing, and dividing by that amount. Email marketing doesn't require a large investment, but it offers the best return on investment compared to other digital marketing strategies (Advertising, for example, can be very expensive). For example, if you invest €100 in your e-mail marketing campaign and you generate €800 in revenue,
The calculation of the return on investment of the e-mail is: [(revenues – marketing costs) / 100] x 100
If we keep our example: [(800 – 100)/100] x 100 = 700%. (you earn 700% more than what you spend.
But then, why are there surprises? Well, because few people really calculate the right marketing cost.
✅ Best practices for calculating the ROI of your email campaigns:
Do not forget to add in your expenses the tool subscriptions (CRM, email sending tool..) and divide the cost according to the campaigns. For example, if you send 4 campaigns per month, only take 1/4 of the subscription price per campaign cost. Don't forget to add the human time. If it takes you 1 hour per campaign, you will have to deduct your gross salary + charges for one hour of work.
Email Marketing Kpis #12: Growth Rate
The Growth Rate will depend on what growth you want to measure.
The growth of sales related to email marketing,
The evolution of sales KPIs,
The number of new leads…
For example, if you want to calculate the growth of the database you will have to do: (number of new leads – number of unsubscribes) / total number of leads) x 100.
This is a calculation that allows you to see if your digital strategy is going in the right direction, or if you need to readjust it.
✅ Best practices: Calculate only one metric at a time. For example: focus on database growth, then focus on sales growth rate. If you try to measure everything at once, you will skew the results. 🤓
Email Marketing Kpis #13: Spam complaint rate
This rate comes last because you need to get into email marketing first before you can really get going.
But beware. 🚨 Just because it's 14th doesn't mean it's not very important. In fact, it's one of the most important.
The number of people reporting your email as spam counts towards the spam complaint rate.
It is calculated by dividing the number of spam complaints by the number of emails sent.
Multiplying this number by 100 gives you the spam complaint rate. This number increases if users find your email irrelevant. Therefore, make sure your message is meaningful, relevant and personalized. The acceptable spam complaint rate is 0.1%.
Spam rate calculation = (Number of spam reports / Number of mails sent) x 100.
The more you are considered spam, the more your deliverability will drop, and the less you will be able to reach your target.
Faq of the article on the Metrics of your marketing mails
Which tool should I use to launch my email marketing campaigns?
The tool we suggest you use to launch hundreds of successful campaigns is Waalaxy. You can :
Find email addresses and create a database with the email finder.
Launch your email campaigns with great templates.
Easily develop your strategy with multi-channel actions (see the video 👇).
Track metrics and KPIs of your marketing emails easily with the integrated CRM ! Want to know how it works?
Well then, what are you waiting for, it's free 😉
[maxbutton id="56″]
What are the 5 key performance indicators in marketing?
The 5 key indicators of your digital strategy are:
Deliverability rate.
Click-through rate.
The opening rate.
The conversion rate.
Return on investment.
These are the 5 most important metrics to follow closely. Of course, don't forget to check the growth rate and to closely follow your A/B tests. 👀
Conclusion: what are the 13 KPIs and metrics of email marketing?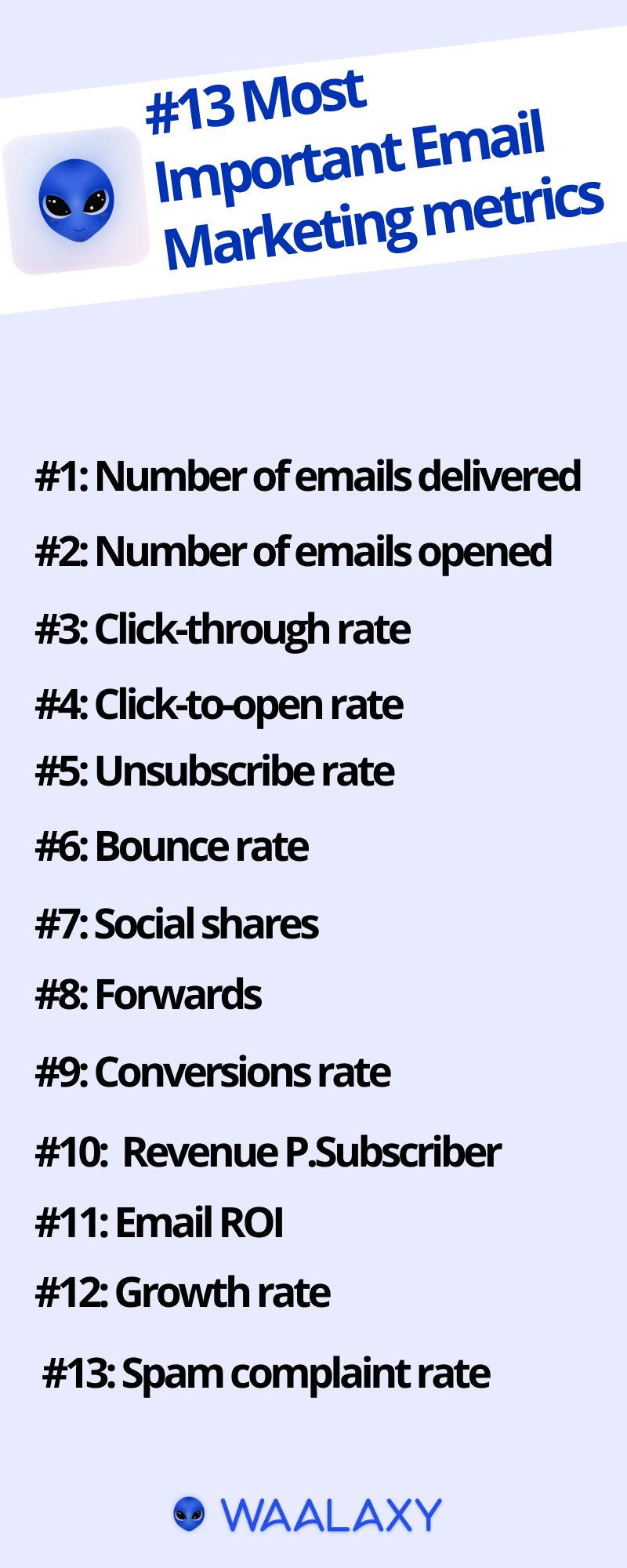 There you go, you know everything about email marketing KPIs, metrics, and performance indicators.
All you have to do is shine. Don't forget,
copywriting
is the key to a successful email!