Whether you're a passionate creator or an expert in your field, as an entrepreneur you've probably already asked yourself the question if you should have a business bank account ? 🤔
In this article, we're going to dive into the financial world of entrepreneurship and explore in detail why having a separate bank account is not only advantageous, but also, often a legal requirement
Get ready to discover how this simple practice can
🥇 Simplify business management.
🥈 Pave the way for financial growth.
🥉 Have optimised tax management.
Ready to find out more about this area? Great, let's get started! 🛩️
Why have a pro account as an business bank account ?
When you embark on the adventure of self-employed entrepreneurship, it's often easy to underestimate the importance of having a business bank account dedicated to your activity
And yet it offers considerable financial and organisational advantages! 👇🏼
Let me explain. Separating personal and business finances is essential. Yes, having a business bank account allows you to separate the two and offer clear visibility of transactions linked to your business
This separation 💔 prevents confusion and the mixing of funds, which, let's face it, is essential for accounting clarity, and is required by law in some countries
What's more, all business transactions are grouped together in one place, allowing you to analyse 🔎 financial flows, identify trends and, above all, take decisions if necessary. 👀
Is it important to have a microbusiness bank account?
For your
information, since the Pinel law of 1 January 2016, there is no longer any difference between auto-entrepreneur or micro-entreprise
In fact, the two schemes have been brought together to form a single status: the micro-enterprise. 💪🏼
Now that you know the two mean the same thing, let's get back to business. 🐏
Opting for a bank account for your micro-business offers a separation between your personal and business finances. What's more, it gives you greater credibility. 📈
Yes yes, you heard right in credibility, because when dealing with customers, suppliers or partners, providing professional bank details boosts the trust and legitimacy of your micro-business
The advantages of a pro account for auto entrepreneurs
When you're a self-employed entrepreneur, opening a bank account can bring a series of essential benefits that contribute to the optimal management of your business. Here are just a few of them. ⬇️
#1. Fees and commissions
A dedicated business bank account gives you clear visibility of your business expenses. This separation between business and personal transactions makes it easier to keep track of the fees and commissions specifically associated with your business
As a result, you can better understand your operational costs, optimise your spending and, above all, identify opportunities for savings. 🔎
#2. Online and mobile services
Many banks offer online and mobile services specially designed for pros
Let me explain. These platforms allow you to
👀 Quickly check your balances.
💸 Make payments.
🔁 Make transfers.
⬇️ Download bank statements.
#3. Debit card options
Having a debit card associated with your business account offers a practical solution for making business-related payments. It allows you, for example, to effectively separate business transactions from personal transactions. ⚡️
#4. Authorised overdraft
Last but not least, having an authorised overdraft. 👀
This can be a solution if you have temporary 🏴‍☠️ cash flow problems
As you can see, having an account: 👇🏼
🔲 Simplifies fee management.
🔲 Provides convenient access to banking services.
🔲 Offers professional payment solutions.
🔲 Includes flexible options such as authorised overdraft.
All these benefits contribute to more efficient financial management, which is essential for the growth and sustainability of your self-employed business. 😇
Bank account regulations for auto-entrepreneurs
In fact, this measure aims to increase financial transparency, make it easier to track business-related transactions and, above all, improve the collection of social security contributions and taxes
This regulation is an important dimension to consider in order to ensure the legal compliance and financial transparency 😶‍🌫️ of your business. I don't think you have any desire to have problems, or even receiverships. 👀
So here's an overview of the main aspects of the regulations relating to bank accounts as a self-employed entrepreneur! ⬇️
1) Obligation to separate accounts
What does this mean? 🤔
Well, it means that you must have a separate bank account dedicated to your business. This obligation is designed to ensure accounting clarity, make it easier to track transactions related to your business and meet tax requirements. ✨
2) Traceability of transactions
You need to be able to justify every business transaction. Yes yes, you heard right, every transaction. 😅
As you can imagine, this traceability is essential for accounting and tax purposes. 🦋
3) Invoicing and VAT
If you're VAT-free as a self-entrepreneur, your invoices don't have to include VAT
We have an article dedicated to auto-entrepreneur factors if you're interested 😉
4) Choice of bank
You are completely free to choose the bank you want to open your businessaccount with
Nevertheless, we recommend that you compare the fees, online services and benefits offered by different institutions
That's just as well, because further down in this article, we'll be giving you 4 banks to choose from! So just wait a little longer. 😋
3 practical tips for opening an auto-entrepreneur account
Well, now that you've understood that opening a bank account is a crucial step in managing your business finances, it's gift 🎁, here are 3 practical tips to keep in mind 👁️
1) Evaluate fees as a whole
Well, as said before, when choosing a bank, it's essential to carefully assess the associated fees.🔍
To do this, make sure you understand
Account maintenance charges.
Transaction fees.
Professional debit card charges.
Any other potential costs.
2) Consider additional services
As well as fees, it's also worth looking at additional services. It's always nice to have a little ➕ right? 😇
There can be user-friendly online services, mobile apps, financial management tools or even payment solutions
Don't hesitate to choose a bank that offers features that match your specific needs as a micro-business. 💟
3) Find out about customer service
Last but not least, the quality of customer service! We're sick and tired of sitting on the phone for hours on end or never getting answers to our questions!
Make sure the bank you choose offers responsive and competent customer service, capable of answering all your questions and resolving any problems quickly. 🕵🏼‍♂️
Finally, choosing the right bank takes time, and you'll see that by choosing the right one, you'll simplify the management of your finances as a self-employed entrepreneur and thus contribute to the success of your business. 💪🏼
4 banks for self-employed entrepreneurs
Remember when, at the beginning of the article, we warned you that we were going to offer you 4 banks? Well, now's the time. Take notes, here we go. 📝
Bank no. 1: Boursorama Banque
Let's start with Boursorama banque, known to all!
Here's a quick overview of what's included in the pro offer
🔵 A business bank account for €9 incl. tax/month ➡️ no transaction fees or charges on your SEPA Inter-company direct debits (b2b).
🟣 An ULTIM bank card with immediate or deferred debit ➡️ secure Internet payments, card payments and euro withdrawals free of charge in France and abroad.
🔵 Boursorama protection pro insurance ➡️ protection for your daily life, from your means of payment, your papers, your keys, vehicle locks, premises, safes, or even your stolen portable equipment.
🟣 A livret pro ➡️ account rate is 2.50% per year, whatever the term and amount of your investment.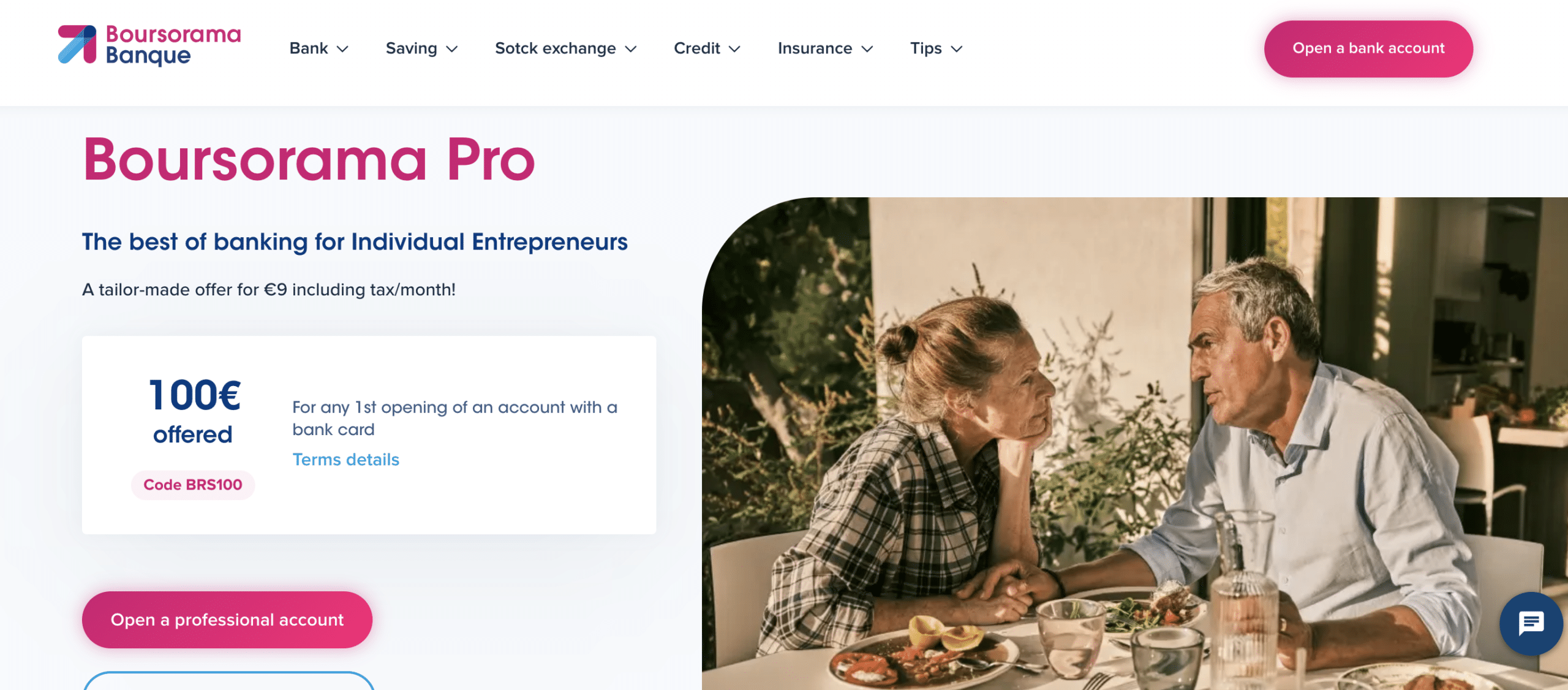 What are the advantages and disadvantages?
Let's go through the pros and cons of Boursorama Pro! ⬇️
Bank no. 2: Qonto
Qonto is an online neo-bank that focuses on banking services for professionals and businesses, including self-employed entrepreneurs
You can be: 👇🏼
Self-employed.
Freelance.
Self-employed.
VSE (1 to 9 employees).
SME (10 to 250 employees).
Associations and donations.
Here's what they offer
A professional pro account and 3 card options ➡️ to pay and get paid.
Customer and supplier invoices ➡️ centralise all your invoices.
Team expense management ➡️ delegate while keeping control.
Accounting and Reporting ➡️ automate your processes.
What are the advantages and disadvantages of Qonto?
Here's a quick rundown of the pros and cons of Qonto: 👇🏼
How much does Qonto charge?
Qonto offers 3 different rates. Here are the prices!
Bank no. 3: N26 Business
N26 is a no-fee bank account for self-employed entrepreneurs. You can open your account in 8 minutes and have direct access to your virtual card. 💳
You have many features, depending on the card you take, such as
🔵 Shared space.
🟣 Unique benefits.
🔵 10 sub-account spaces.
🟣 Personal responsibility.
🔵 Trip interruption.
🟣 F ree foreign currency withdrawals.

Let's move on to its advantages as well as its disadvantages
Advantages and disadvantages of N26 Business
How much does N26 Business cost?
As mentioned above, this bank offers 4 different packages
🦋 Standard.
💡 Smart.
🫵🏼 You.
🤟🏼 Metal.
Here are the prices! ⬇️

Bank no. 4: Société Générale
Let's move on to the last bank and one of the biggest traditional banks in France, I'm talking about… 🥁 Société Générale !
Given that this is also a physical bank, you have some features that are not to be overlooked
🔲 Support from a dedicated expert.
🔲 Tailor-made financing.
🔲 A range of payment methods.
cheque and cash deposits.

The advantages and disadvantages of Société Générale
How much does Société Générale charge?
There are two offers available for auto-entrepreneurs
Shine from €7.90/month excluding VAT ➡️ automatic transmission to your chartered accountant, real-time notification, management of your purchase receipts, 100% digital.
Jazz pro from €39/month excluding VAT ➡️ monthly fee known in advance, professional advisor close to you, 25% discount on a wide choice of payment cards, price advantages on certain products.
How about a quick recap?
At the end of the day ( +1 for the joke? 😅 ), opening a dedicated bank account as an auto-entrepreneur is much more than a simple administrative formality, it's a crucial decision for the financial management and success of your business
Admittedly, regulations can vary from country to country, but in many places this separation is now a legal requirement! ✨
Frequently asked questions and summary
Did you think we'd finished with this article? Well no, here are some frequently asked questions
Is it compulsory to have a business account as an auto-entrepreneur?
In France, since 1 January 2015, auto-entrepreneurs are not legally required to have a business bank account dedicated to their activity. 💡
What costs need to be taken into account when working as an auto-entrepreneur?
Here is a list of 10 common expenses to take into account
🔲 So cial security contributions.
🔲 Income tax.
🔲 Bank account charges.
🔲 Insurance costs.
🔲 Travel expenses.
🔲 Equipment and supply costs.
🔲 Communication costs.
🔲 Training costs.
🔲 Marketing and advertising costs.
🔲 Accounting and management costs.
What is the difference between a business account and a personal account?
They're not the same thing, and we'll quickly explain why: ⬇️
🤍 A personal account is for one-off individual use to manage your personal finances, such as day-to-day spending, bill payments and personal savings.
🤍 A business account, on the other hand, is specifically designed to manage your company's finances. It is therefore intended to receive income from your professional activity and to manage business expenses.
That is now the end of this article about the business bank account. See you soon! 💟