Welcome to the Waalaxy Import Q&A. All questions, no matter how small, will be answered here. 😎 Without imports, there is no prospecting.
No prospecting. No prospecting. This is the first step that will allow you to make your campaigns on Waalaxy. Welcome to the Frequently Asked Questions!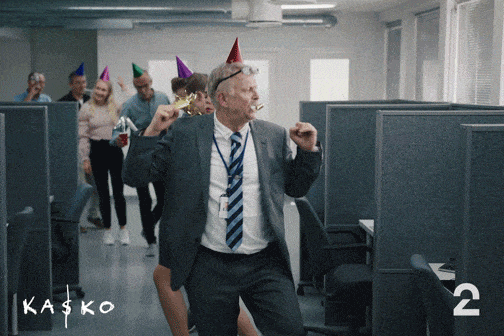 What is an import?
An import is the act of populating, bringing profiles from a tool to Waalaxy.
What are the channels to import to Waalaxy?
To date, you can import on Waalaxy, from 👇
A classic LinkedIn search.
Your degree 1 relations from LinkedIn.
A LinkedIn group.
A Linkedin event.
A classic Sales Navigator search.
A Sales Navigator prospect list.
A Sales Navigator saved search.
A Recruiter Lite search.
A CSV file.
To get details about each of these ways, you can read this article ➡️ All the ways to manage leads with Waalaxy.
Which subscription allows me to do an import on Waalaxy?
You can do imports regardless of your subscription: Freemium, Pro, Advanced and Business. ➡️ Our Waalaxy subscriptions.
How many leads can I import?
LinkedIn limits: 1000 leads
LinkedIn limits the display of search results to 1000. Therefore, it is not possible to import more than 1000 leads per search.
If your search has more than 1000 results, try splitting it into several smaller searches (varying regions for example) to import all the leads.
Here's an article that explains how to get around this limit. 😊
Sales Navigator limits: 2500 leads
Sales Navigator limits the display of search results to 2500. Therefore, it is not possible to import more than 2500 leads per search.
If your search has more than 2500 results, try splitting it into several smaller searches (varying regions for example) to import all the leads.
Here's an article that explains how to get around this limit. (it's the same as the one above). 😊
Waalaxy Limitations
In Waalaxy, there are limits to follow depending on your subscription type. 👇 In Advanced and Business subscriptions, you can't have more than 50,000 leads in the tool, this limit is 25,000 if you have a Pro subscription, and 10,000 if you have a freemium subscription.
Is there anything I should do before I make my first import?
We recommend warming up your account before using any automation tool, Waalaxy or others. This includes some actions to do so that your LinkedIn account is not blank with actions, LinkedIn is indeed very suspicious with new accounts, hence this recommendation. You need to follow the different actions detailed in this article to do the necessary. 🔥
How do I know who to import into my Waalaxy?
Finding the right prospects is one of the most important steps in your prospecting. LinkedIn is a goldmine, but you have to know this tool to be able to use it well. For that, we have written two guides that can give you all the keys. 👇
➡️ Do a good search on LinkedIn.
➡️ Do a good search on Sales Navigator.
Does Waalaxy import duplicates?
Waalaxy handles duplicates, so it is not possible for it to import people who would already be in your tool, regardless of the prospect list involved. During an import, Waalaxy will scan all leads, identify duplicates, and simply not process them.
What is the import report?
The import report will summarize the import after it is done, you will be able to see the number of leads scanned in the search, the number of successes, the number of errors, and the number of duplicates. You can find this report from Settings > Last Import. 👇
Can I choose the start page in my import?
You need to do an initial import on a search for the tool to scan all profiles in the search. If you start this import again, you will get the page the tool stopped at. You can restart this import at this page, or modify it yourself.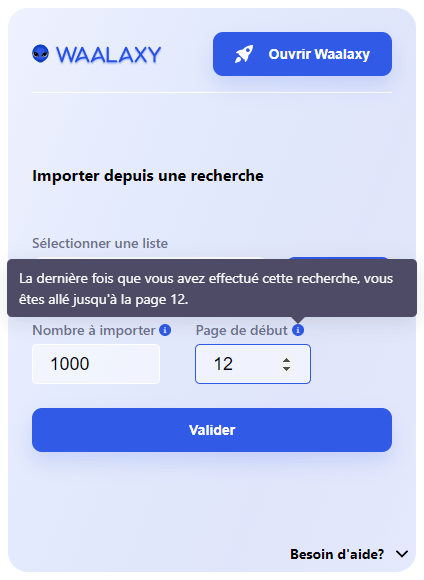 What is anti-duplication security?
The anti-duplication security is a feature included in the Team subscription only.
We already know that you can't have the same lead in your Waalaxy CRM, but in Team, you can manage duplicates to choose if :
you prefer Waalaxy to check if the leads you are trying to import are already in the CRM of one of your teammates,
you prefer to keep duplicates even if they are in other CRMs of your colleagues,
Choosing the second option will give you access to the "Duplicate Management" interface, which allows you to look at and put duplicates in the CRM you want.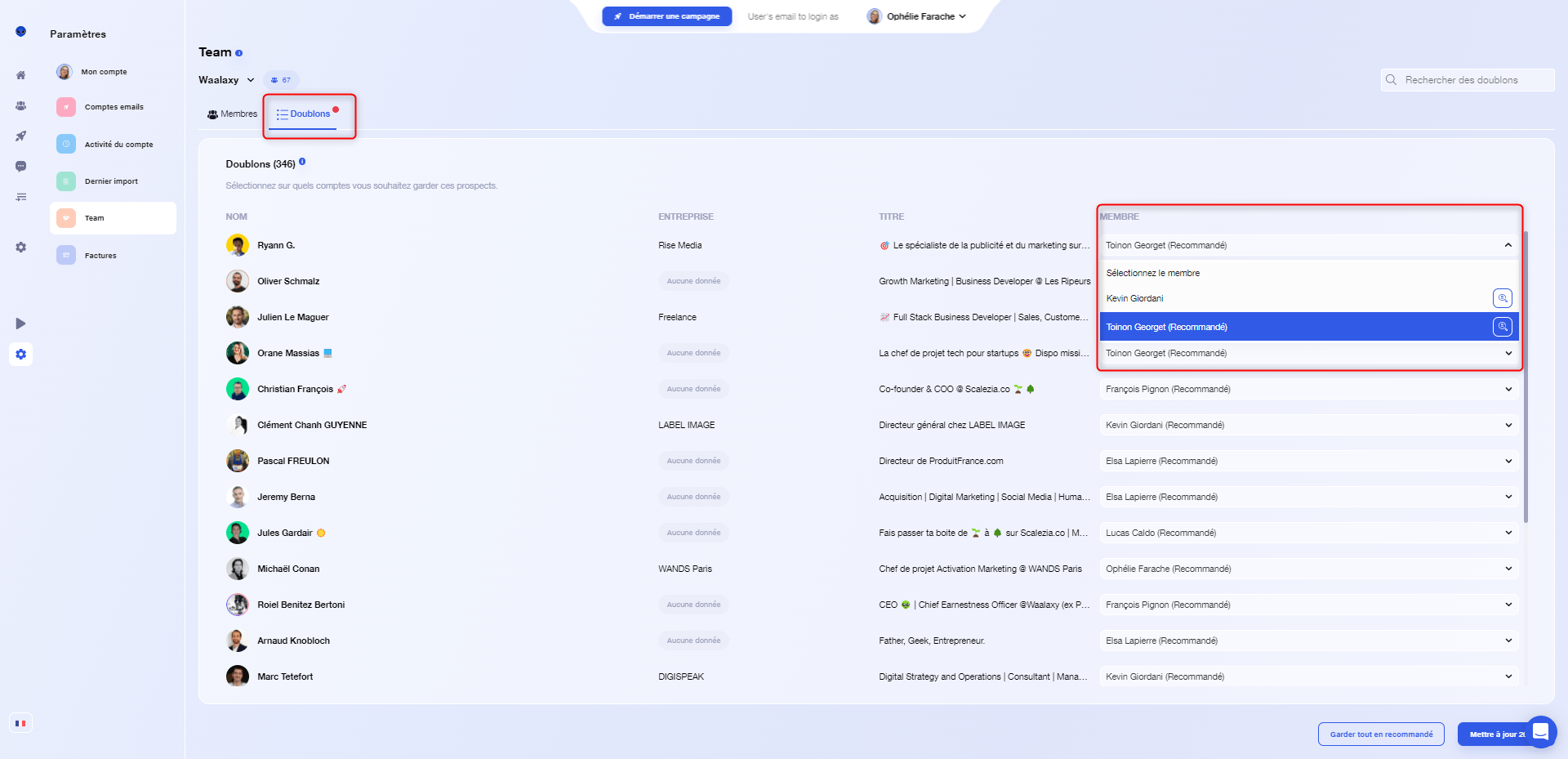 ➡️ If you want more details about anti-duplicate control, you can read this article.
Why in my search I see "LinkedIn Member" and not the first and last name of the prospect?
In LinkedIn, there are degrees of relationship: 1st, 2nd, and 3rd.
1st means first-level relationship: you are directly connected to this person on LinkedIn, after having sent him an invitation or accepted his invitation. You are each in the other's professional network. Through this connection, you have the possibility to correspond by message and to see their activity in your news feed.
2nd means second-level relationship: these members are not in your network but connected to your direct relationships. They could be described as "friends of friends". You can't send them a message (except InMail), but you can connect with them. If they accept your invitation, you will become 1st level relationships;
3rd, or third level relationship, means that this person is a connected member of one of your 2nd level relationships. Your 3rd level relationships are not part of your network. You will not be able to correspond by message unless you send an email. (We do not process InMails with Waalaxy).
In your search for prospects, the "LinkedIn Members" are people of level 3 or more to whom you do not have access, so you cannot import them.
My import doesn't work, what's going on?
It may be that your import does not work, or more, this can be explained by several reasons. 👇
The import blocks at 0
There are two reasons why your import may be blocked at 0%:
you have already done this import, In this search before, the tool scans the prospects but only identifies duplicates, it doesn't find any prospects to import, so it blocks.
You have 0 relations on LinkedIn, you have not warmed up your account. You need to have some relationships before using an automation tool, you can look at all our tips here.
The import stops in the middle
This can be due to an external element or to an import stop, by mistake.
You will just have to redo the import, don't worry, Waalaxy will automatically resume where the import stopped.
Import takes too long
You'll have to try the following points to solve the problem, and, start again. 👇
Refresh your LinkedIn page.
Log out/log in from LinkedIn.
Clear your cache (here is a tutorial to help you).
Remove/reinstall Waalaxy.
Update chrome if it is not up to date.
Turn off/on your computer.
Start importing again.
You are not using the right browser
Waalaxy is a chrome extension, so you need to do your imports, and use the tool from Chrome, and not from another browser.
Can I import emails from an external file?
You can import CSV files on Waalaxy, however, we only take into account LinkedIn profile URLs, no other information, so we don't import files with emails. Leads will appear with an "Unknown" status because they are URLs that are imported, so you will have to do a "profile visit" or "profile follow up" action to update this data.
Can I import emails from a LinkedIn search?
You will be able to retrieve the emails of the prospects you import from LinkedIn or Sales Navigator, only if you are connected with these prospects. If you are not, if you are "on hold" or "not connected", the emails will not appear but you can retrieve them either:
You will find more possibilities about this in this article. 😊
Does my computer have to be on to do the import?
Your computer and your LinkedIn tab must indeed both be open and active for the import to take place.
Can I automate an import?
It is possible to automatically scrape profiles based on a particular condition. Today there are 5 conditions to automatically import leads into your lead list on Waalaxy. 👇
Visited my profile.
Sent me a connection request.(With self-acceptance).
Leads from a saved Sales Navigator search.
Leads from a Sales Navigator lead list.
Commented on a LinkedIn post.
You have the option to enable the "Retroactive" option which allows you to take into account previous data. If you still see any question marks, which were not seen in the Waalaxy Q&A on Imports, please feel free to come to us at support. 😎