Want to create 100% automated prospecting campaigns, so much so that new prospects are added automatically every day? That's what Waalaxy allows with the auto-import feature! 😄
Find out how to scrap LinkedIn profiles automatically! 🚀
What is an auto-import on Waalaxy?

There are 3 ways to import leads into Waalaxy:
an import from LinkedIn (profile page, search, list of your relations…).
a CSV file containing LinkedIn URLs.
automatic imports.
The principle of "auto-imports" and to automatically populate a campaign over time. Formerly called "triggers" on ProspectIn, this feature also allows you to make more original and particularly efficient segmentations. Thus, every 12 hours (if your computer is on and one LinkedIn tab is open), Waalaxy will fetch the new prospects corresponding to the chosen auto-import. 😄
Where to set up an auto-import?
Create a campaign, from "Campaign" and "Create a campaign".
Choose the sequence you wish to set up.
In the step "Add prospects", select the list of prospects, and click on "No, let me select".

Click on "Auto-import" and choose the type of auto-import you want.
Validate or not the option "Retroactive" and save. 🚀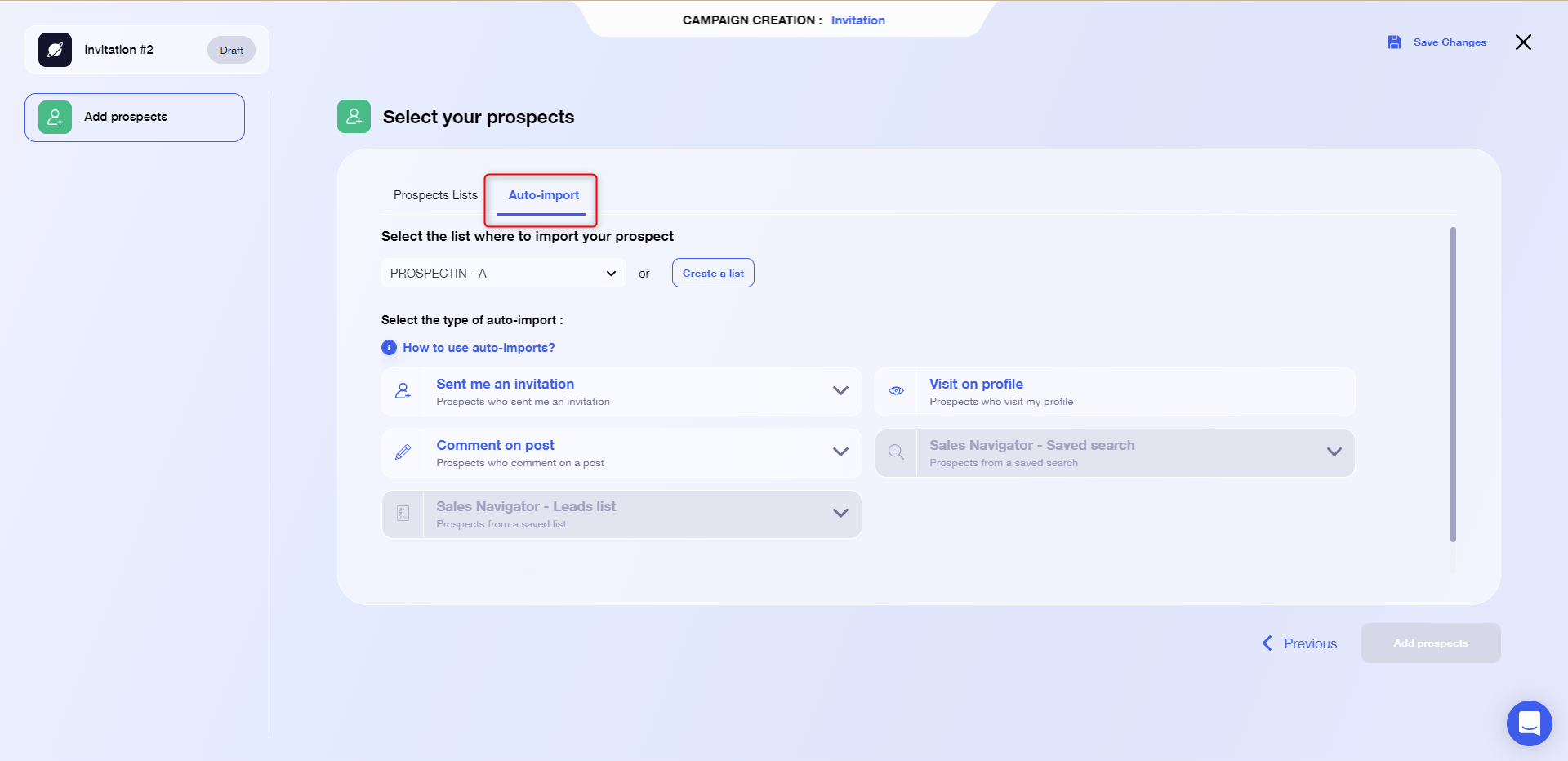 Contacting people who comment on a LinkedIn post
This auto-import allows you to put people who comment on a LinkedIn post into a prospecting campaign automatically.
The people who like the post are not retrieved over time because the data provided by LinkedIn is not prioritized over time. So, a post with several thousand likes would require making hundreds of queries every hour, which might tell LinkedIn that you are using a bot. 😅
On the other hand, it will soon be possible to import the people who like a post, directly from it. 👽
Contact people who visit your LinkedIn profile
This auto-import allows you to contact people who have visited your LinkedIn profile. So every 12 hours, profiles will be retrieved and added to the campaign. Ideal for contacting people who have shown interest in you.
In the free version of LinkedIn, only the last 4 people are available. If you are very successful, you will need a premium subscription to recontact all your visitors. 😄
Contact people who send you an invitation request
Very useful to send a little welcome message. As of early June 2021, auto-acceptance of leads is not yet possible on Waalaxy but it's under development. 😎
If you accept or decline the invitation before Waalaxy has time to process it, it will not be considered. ❌
New leads in a saved search (Sales Navigator only)
It is possible to save a search on the Sales Navigator. LinkedIn will then regularly show you new leads that match your criteria. With Waalaxy, it is possible to automatically retrieve these new leads and send them directly into a campaign. Powerful isn't it? 😎
Article FAQ to scrap LinkedIn profiles
What happens if a lead is already among my lists and it matches an auto-import?
At the moment, this lead is ignored. So using auto-import for post comments, in the case of a lead magnet will not send the link to people who are already in another list.
What is "retroactive" for an auto-import?
By activating retroactivity, all the people matching the criteria before the first execution of the auto-import will also be imported. For example, for a LinkedIn post, if you have retroactivity enabled, comments that have already been posted will be retrieved. If you don't enable it, only new people who comment will be imported into the campaign.
You know now how to scrap LinkedIn profiles automatically! 😉