Send your LinkedIn contacts into your personal CRM with this tutorial. 😍
Waalaxy is your favorite prospecting tool, but not yet your favorite CRM?
You want to combine the two and exchange some data between your tools, it's possible on Waalaxy thanks to a feature we developed: the Response Objective.
Let's take a look at it together in this article. 😍
What is a response goal?
First of all, let's define what"response goal" means.
For any prospect in a current campaign, who has a "Message" or "Connect Note" or "Email" stage and responds, may have their data automatically sent to their personal CRM.
You will then be able to process this data as desired as part of your prospecting strategy. 🔥
How to set it up?
It is possible to synchronize Waalaxy with your personal CRM, thanks to the Zapier tool.
Zapier is a tool for anyone who wants to automate actions via the connection between different applications used on a daily basis. In concrete terms, it is about taking advantage of a platform to automate repetitive tasks.

Prerequisites
You must register on Zapier. You can first use the Zapier trial, then their free version which gives you 5 Zaps.
1. Create and launch your campaign on Waalaxy
The first step is to choose / create your campaign on Waalaxy.
You will need to choose a campaign that includes an action that can be responded to: Message, Email, Login Note.
You can search for a sequence simply through our action filter system. 👇
Let's take the simple sequence "Message" as an example. 👇
Select it and open it from "Create a campaign".
Name the campaign.
Write your message.
Launch the campaign.
🌟 Bonus: Succeeding with a message approach.
2. Create the Zap and get the Webhook URL
Once your campaign is launched, you can go to Zapier to create your Zap and get the Webhook URL.
"Create a Zap",
Search for the app "Webhook by Zapier",
In the Event, select "Catch Hook",
Do "Continue",
In "Pick off a Child Key", fill in a name or leave it blank,
Do "Continue",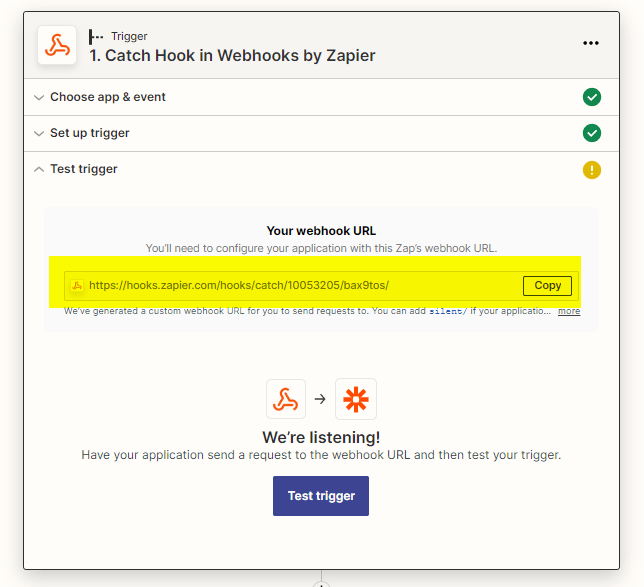 ⌛ Leave that aside for a moment, we'll come back to it in a few minutes. First of all, you need to put the Webhook URL previously copied into the Walaaxy campaign to synchronize the data.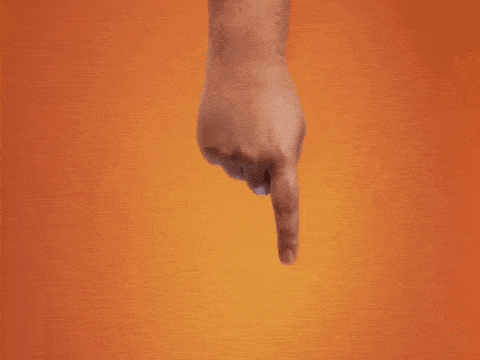 3. Edit the Waalaxy campaign
Back to Waalaxy. 👽
Go to the "Campaign" tab,
Click on your campaign,
Click on "Edit the campaign",

In the step "Action on response", select the tool you configure and, paste the webhook URL(Here we will take for example the module "Webhook").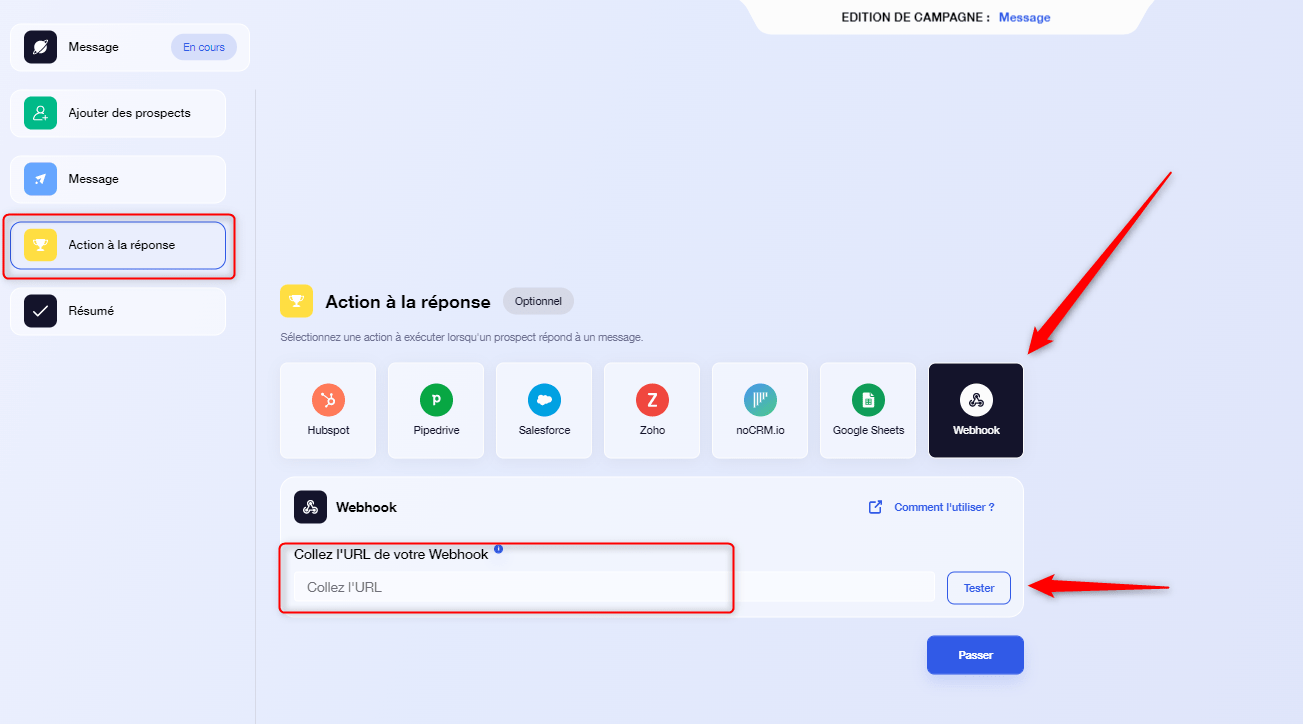 Test the webhook, then save the changes,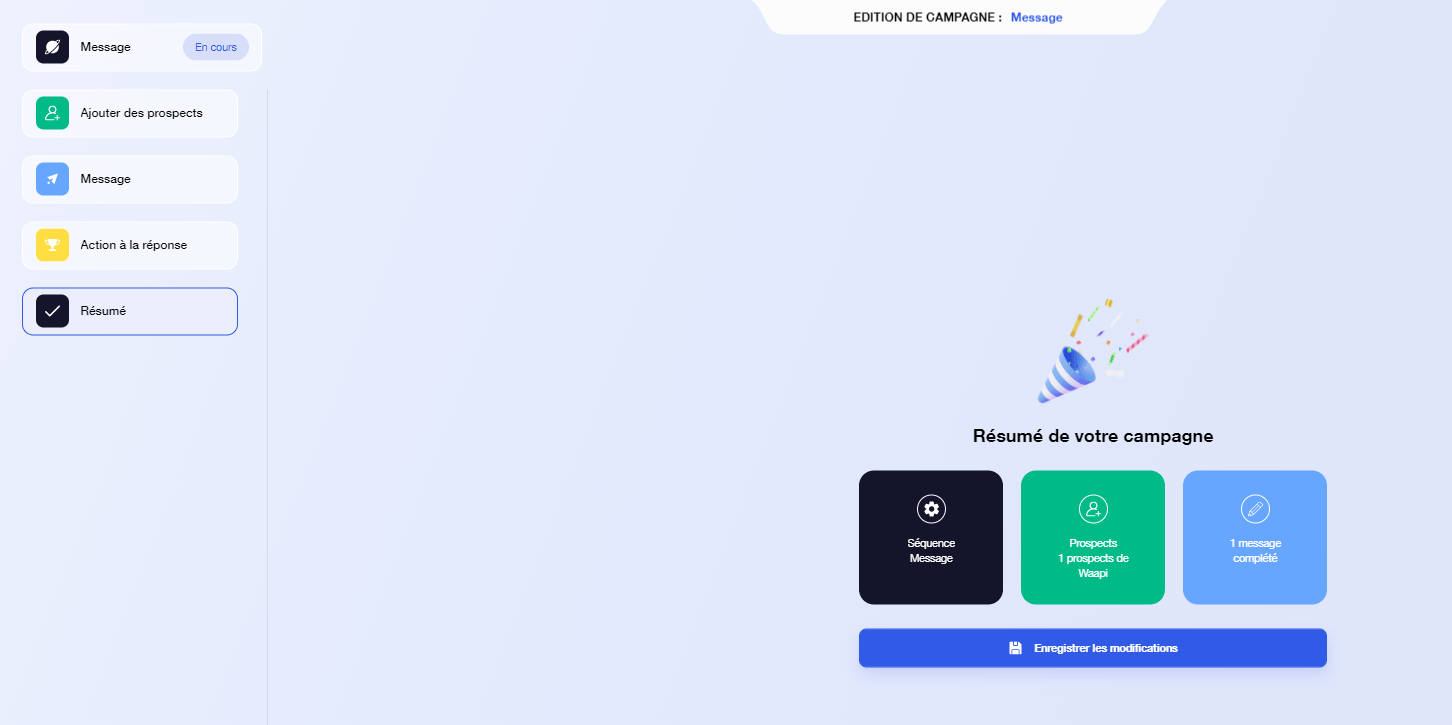 4. Set up and format the data to be sent via Zapier
We left something out, remember? ⌛ You had just "copied the webhook URL", now you can click on "Test trigger" in the same place. 👇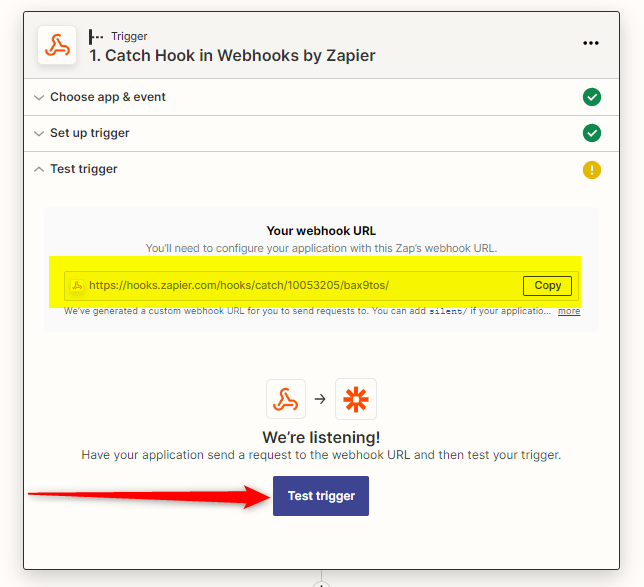 By clicking this button, all the data stored by Waalaxy will be sent to your Personal CRM, via Zapier. 👇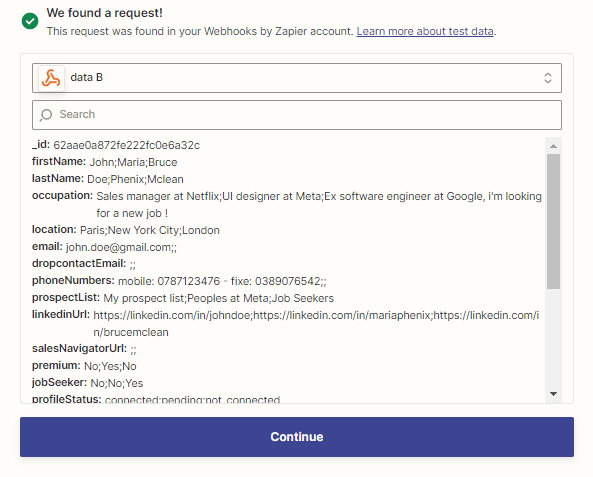 Then click on the small "+" to add the "Format by Zapier" module. 👇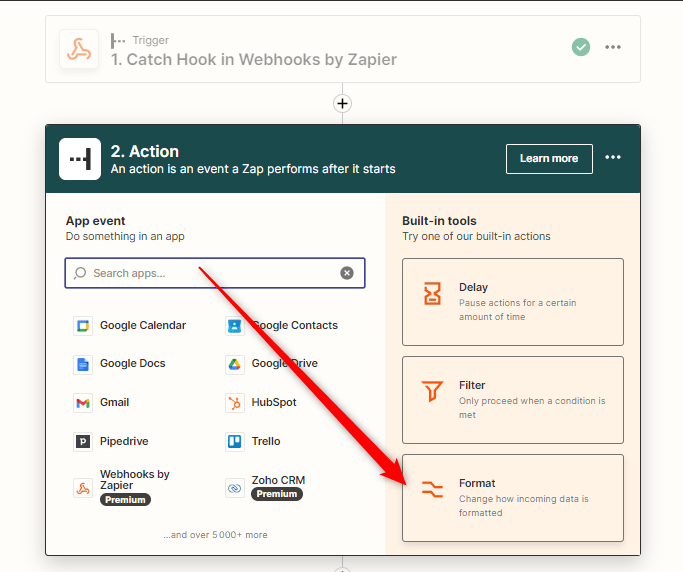 In "Event", select "Text" and do "Continue",
In "Transform", select "Split text",
Here you can fill in each of the variables you want to synchronize in this way 👇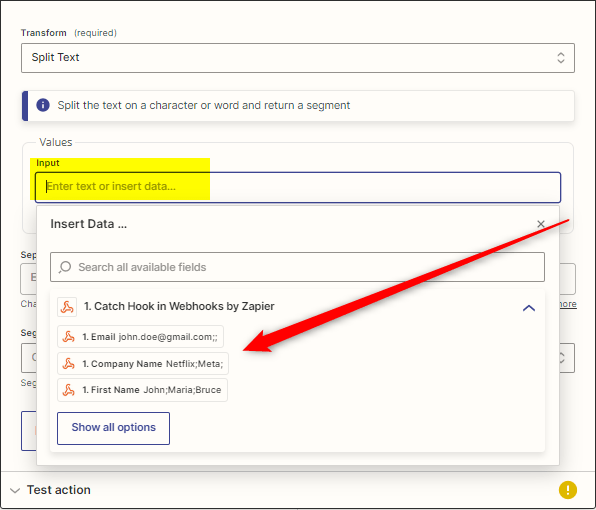 Separator : " ; "
Segment Index : All as Line-items.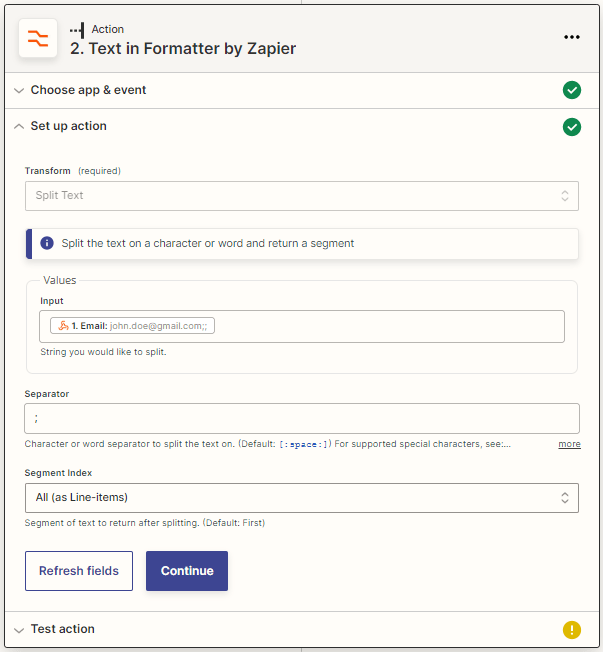 Do "Continue" and "Test & Continue",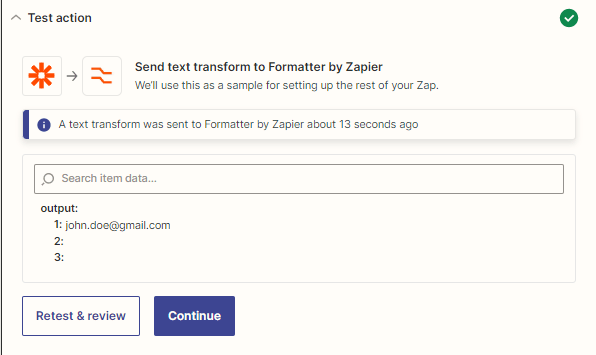 You will need to do this for each of the variables you will want to set up:  First Name, Last Name, Company Name, Occupation, Region, Phone #, Linkedin Profile URL…
5. Add a Google Sheets step
After formatting the data, you can add a new step to send the data.
Usually we use a Google Sheets step at this level to allow you, in addition to having your data stored on Waalaxy and on your personal CRM, to have an Excel file that will update with all the data. You will be able to use this file in other contexts. 😎
To do this, I invite you to look at the last part of this article.
6. Define your Personal CRM
So if we go back you have a Zap that goes: Webhook > Waalaxy > Format Data > Google Sheets > ?
You will be able to synchronize any tools that are present on Zapier. To make your life easier, we have prepared already completed tutorials for the most popular CRMs.👇
Waalaxy x Airtable Synchronization.
Waalaxy x Hubspot synchronization.
Waalaxy x Pipedrive synchronization.
Waalaxy x Sendiblue synchronization.
Waalaxy x NoCRM.io synchronization.
Waalaxy x Axonaut synchronization.
Waalaxy x Salesforce synchronization.
It's up to you. 🚀
FAQ : How to send LinkedIn contacts to your CRM?
Does this work with all the tools?
You can do this with any tool on Zapier, or Integromat.
➡️ Waalaxy ex Integromat synchronization.
Which Waalaxy sequences does this work with?
All sequences on which a prospect can respond, so simple "message" or "invitation with login note" sequences, or complex sequences, with messages, and emails combined.
Why do I have to copy the Webhook URL and run the campaign before I finish what I started on Zapier?
If you test the trigger before you have filled in the Webhook URL in Waalaxy, for Zapier there is no data yet, and therefore, nothing to synchronize. 🤷
When exactly is the data sent?
An initial stream of data is sent as soon as you start Zap, and then it works in batches of data: every 10 leads, data is sent. Don't worry about it, if you "never" get to 10, we have a security feature that allows us to send the data every 30 minutes.
If a prospect replies to two different messages, will it send duplicate data?
This cannot happen for the simple reason that, as soon as a prospect responds to a message, a connection note, or an email, they are automatically removed from the campaign.
If the prospect does not respond to message 1, message 2 will be sent to them, if they do respond, the campaign stops for that prospect and their data will be sent via Zapier. 🤓
Do I need a special subscription to have this feature?
You must have at least the Advanced subscription
Conclusion: Send your Linkedin contacts to your CRM
You know now how to send your LinkedIn contacts to your CRM. 😁
The response goal is a pretty powerful feature that can help you close your prospecting in an efficient and fast way. All you have to do is prepare, launch and retrieve your prospecting results on your CRM. 💫