Airtable is a must have. Today we will see how to sync Waalaxy x Airtable. It's a SaaS NoCode tool that allows you to create databases for everything.
It's a tool for all types of people: agency, photographer, business developer, start-up etc. Airtable's mission is simple: Connect everything. Make anything happen. That opens up the field of possibilities, doesn't it? 😍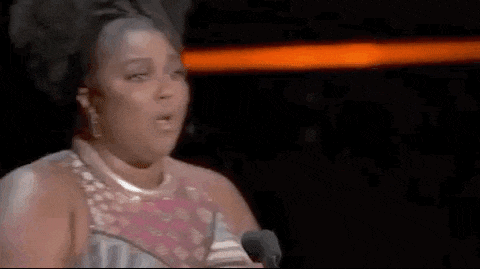 Waalaxy x Airtable Zap link
You can directly copy the link of this Zap to synchronize Waalaxy x Airtable, for the more challenging, follow the tuto! 👀
➡️ Waalaxy x Airtable Zap link
Prerequisites to synchronize Waalaxy and Airtable
Before you can sync Airtable, you will need to build the first part of the Zap Webhook – Google Sheets with the help of this article.

See you soon! 😍
Sync Waalaxy with Airtable
You have set up the data from Waalaxy to your Google Sheets sheet. Normally, a first stream of data has been sent to your sheet, now we'll be able to sync these with Airtable.
Create the database on Airtable
You will need to create the database, the place where the data will be imported. For this, nothing could be simpler 😉. On the Airtable home page, you can "Add a database". Click on it and rename it.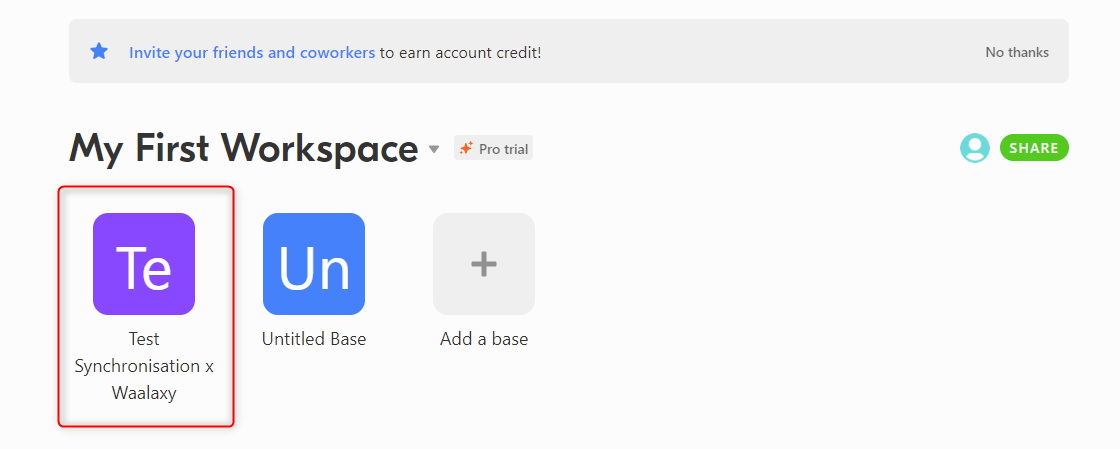 Then create a new sheet, I called mine "TEST".
Select for each column, the format of the variable 👇.
Data such as "First name", "Last name", "Emails" are text data, select "Single line text". For data such as Linkedin profile URL or Sales Navigator, select "URL". For phone number data, select "Phone".

You can set up as many columns as you want. Your database is all set. 😍
Build the Zap
To do this, go back to your Zap.
Click on the little "+" and search for "Airtable".
Select "Create Record" 💡 in "Action Event" and do "Continue".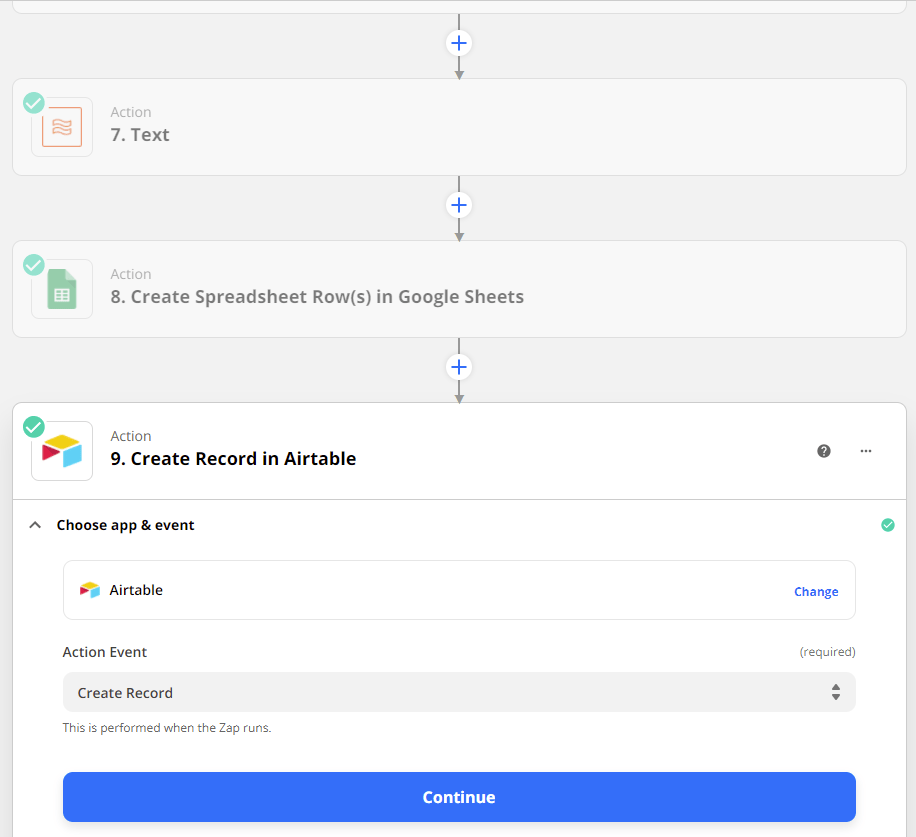 Connect your Airtable account.
To do this, you'll need to retrieve the API Key that allows Zapier to connect to your Airtable account. On Airtable, access your account by clicking on your profile at the top right. Your API Key will appear 💖 on this page.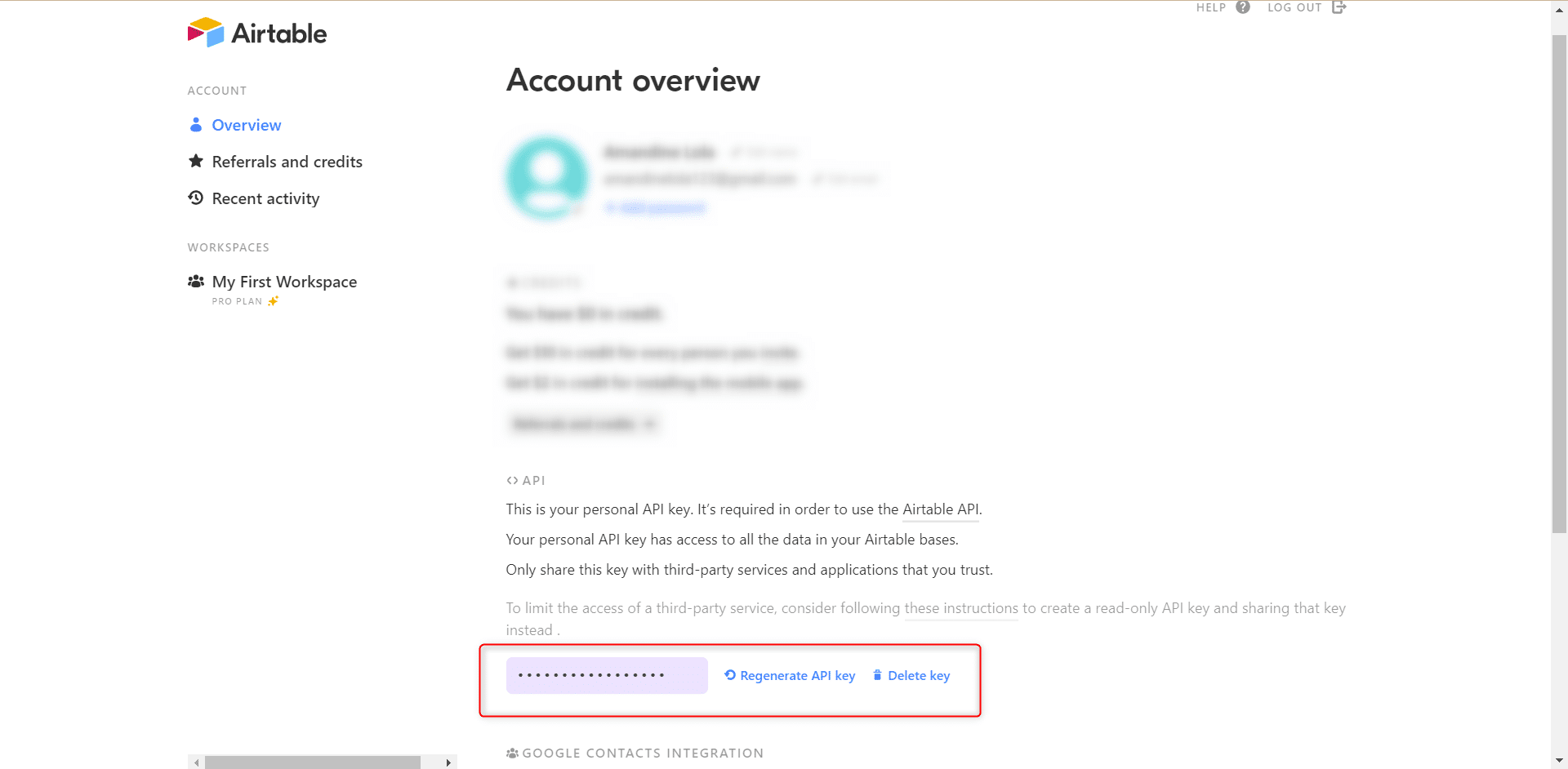 Now that you've connected your Airtable account to Zapier, let's move on. 👀
In the Action Set-up, you can fill in the fields as in the screenshot below: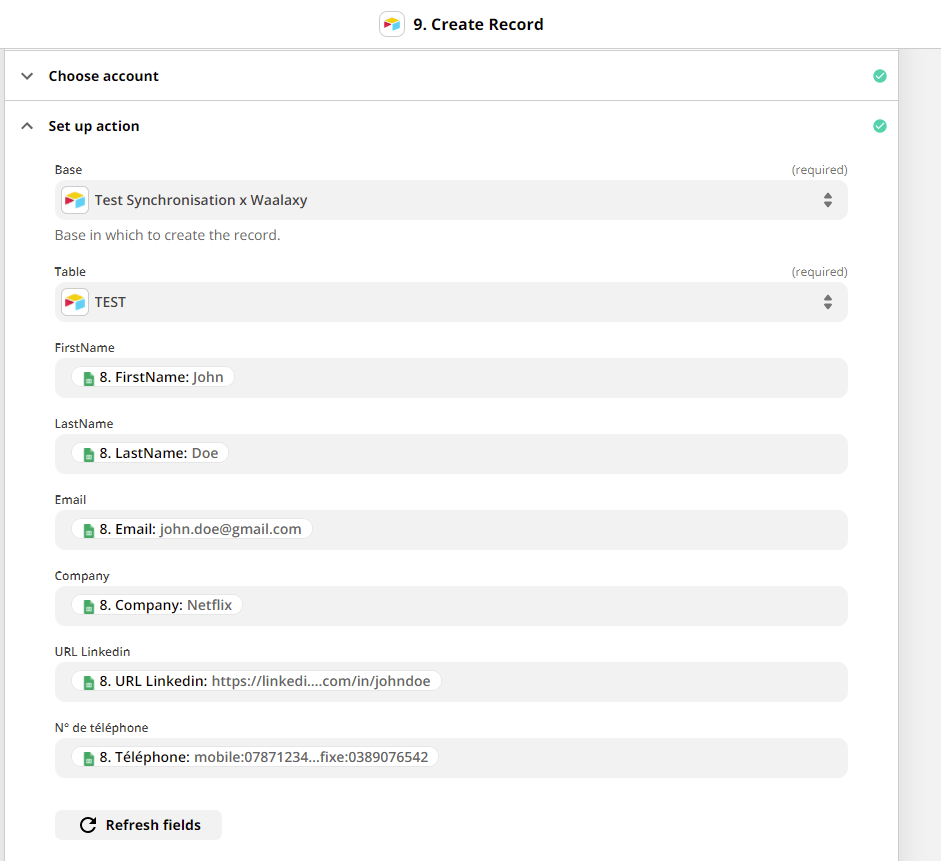 Test the action and do "Turn On Zap".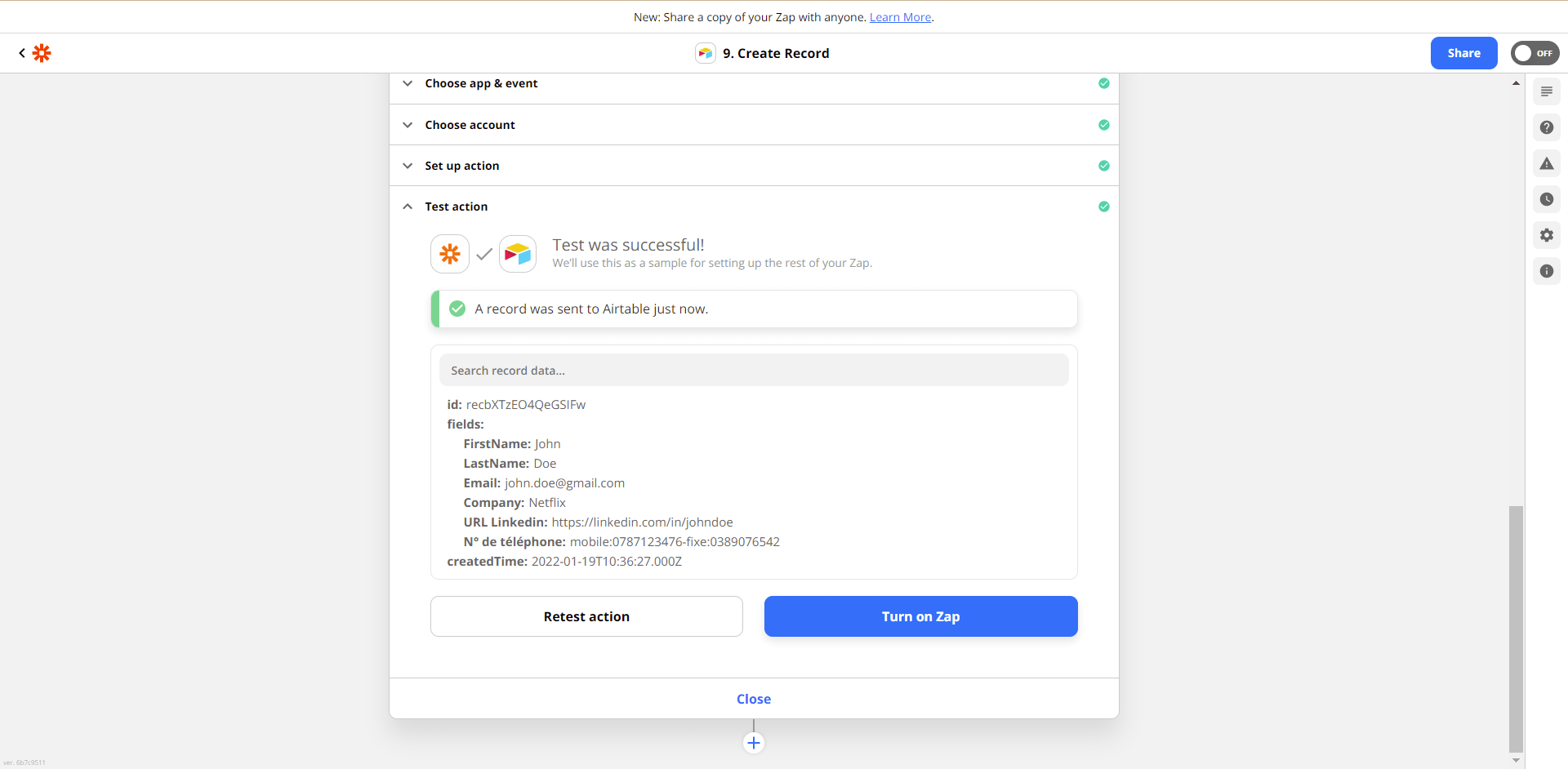 View on Airtable
Go to Airtable to see what it looks like. You can go to the database you had created for this purpose, normally all the data will be stored 👇.

The trick is done! 😍
FAQ of the article Synchronize Waalaxy and Airtable via Zapier
What is the pricing for Airtable?
There are several subscriptions on Airtable: free, Plus, Pro and Enterprise. You can try each of these subscriptions for free 👌.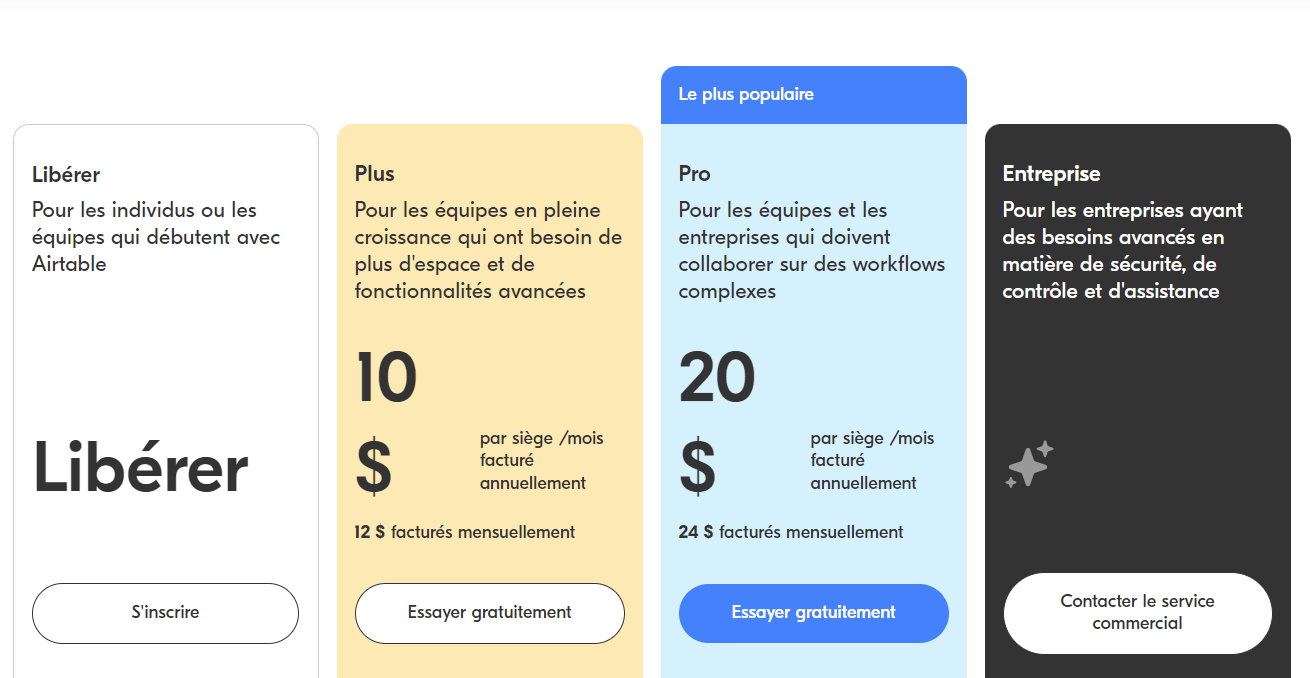 Learn more ➡️ Airtable pricing.
How do I edit a column on Airtable?
To edit a column on Airtable, simply double-click on the field, select the variable type, edit the name and save.
How is the data sent to Airtable?
We send data in streams of 10, not one by one. However, we have set up an automatic system that sends data every 30 minutes.
Conclusion
Airtable is a complete tool. It is possible to do thousands of things, it is a tool that can address all profiles 😍, whatever the business: in CRM, in pipe to follow your results, in management tool, in automation.
Everything is possible with Airtable, what makes it even more powerful is the fact that you can sync Waalaxy with Airtable which, allows you to have an automated prospecting tool and management tool: time saving, and efficiency!