It is possible to automatically import your data to other CRMs, via a Zapier sync or, an Integromat sync. This will automatically send all the data you want to your other tools, or CRMS. Pretty handy, isn't it? 😈
Today we will see how to synchronize Waalaxy and CRMs via Integromat. If you're more Team Zapier, no worries, we've got a tutorial for you too.😎
Get your glasses ready, here we go!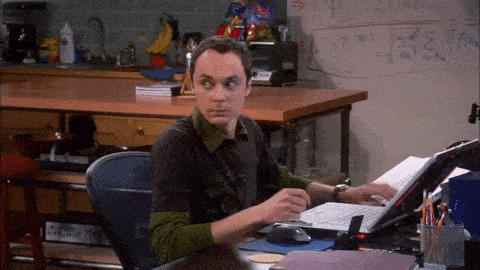 Integromat: what's the deal?
Integromat is a tool that allows you to automate your workflow with other tools. Same principle as Zapier, Integromat allows you to connect several tools together so that data is synchronized and automatically sent from one tool to another. Integromat's ergonomic interface allows you to visualize your scenarios in real time to see how your automations are running and how data is flowing in your sequences.
Unlimited steps, HTTPS/JSON/XML modules, scheduling, execution history, live viewing, activity logging, sharing with other members, iterators, aggregators, filters, routers, it is an ultra-complete tool. 😎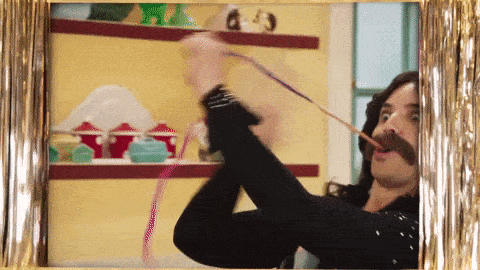 How do I set up synchronisation with Integromat?
Step 0: Prerequisites
The first thing you need to do is create an account on Integromat. There's no need to sign up for a paid plan, you can use Integromat Freemium to do this synchronisation.
Sign up with your Google account, your Facebook account, your Github account or by entering your personal details. 👇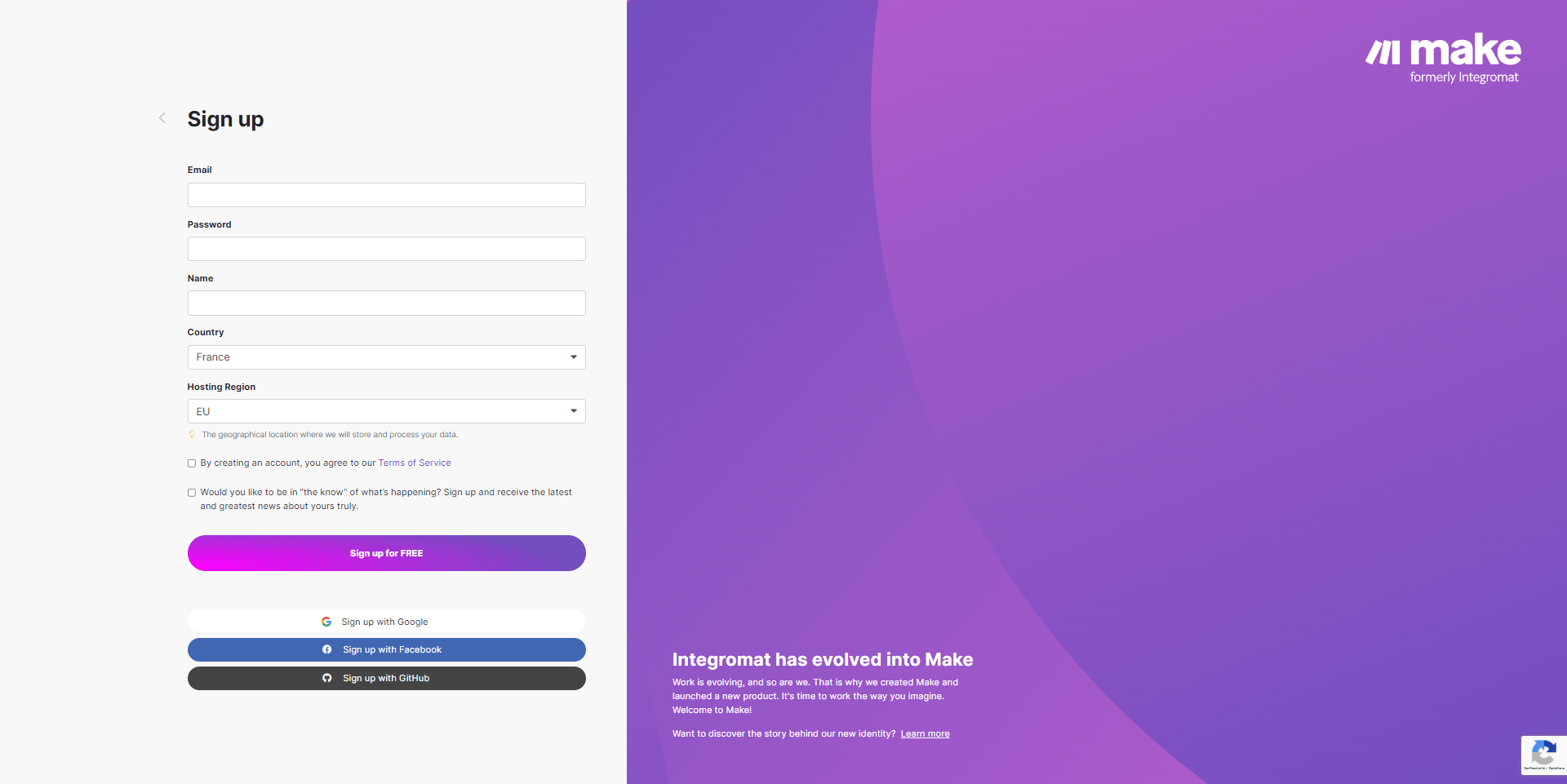 Step 1: Create the scenario
Once you have logged into your account, you will be taken to the MAKE home page. You can go to the "Scenario" tab, which is where we'll be able to create a sequence to synchronise Waalaxy x Integromat. 👇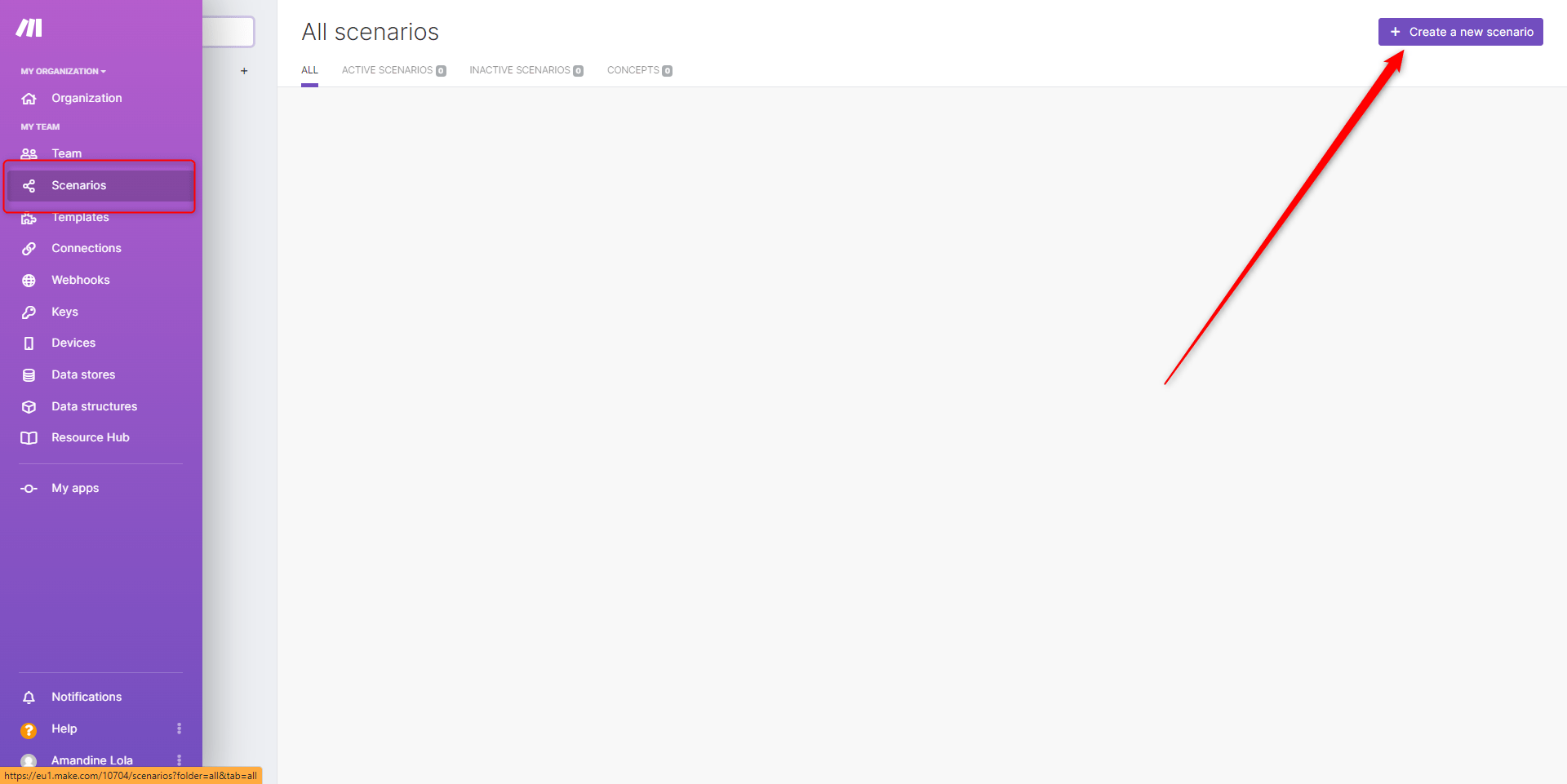 Step 2: Create the Webhook
Click on the "+" and search for "Webhook".
Select it and choose "Custom webhook".
Click on "Create a Webhook".
In "Webhook Name", rename the name, or not.
Leave "IP restrictions" blank.
Click on "Save".
This step enables Integromat to create a Webhook address.
Copy the URL you have created.
Click "Ok".
Step 3: Create your campaign on Waalaxy
To enable data to be sent via Integromat, you need to create an integration campaign into which you will copy the webhook URL you created earlier.
Go to the "Campaign" tab and "Create a campaign".
If you have a FREEMIUM subscription :
You will not have access to this option.
If you have an ADVANCE or BUSINESS subscription:
You do have access to the "CRM Synchronisation" functionality.
➡️ Our Subscriptions and their features.
Find a sequence that interests you and includes the "CRM Sync" action, you can search for it from campaign creation using the action filter. 👇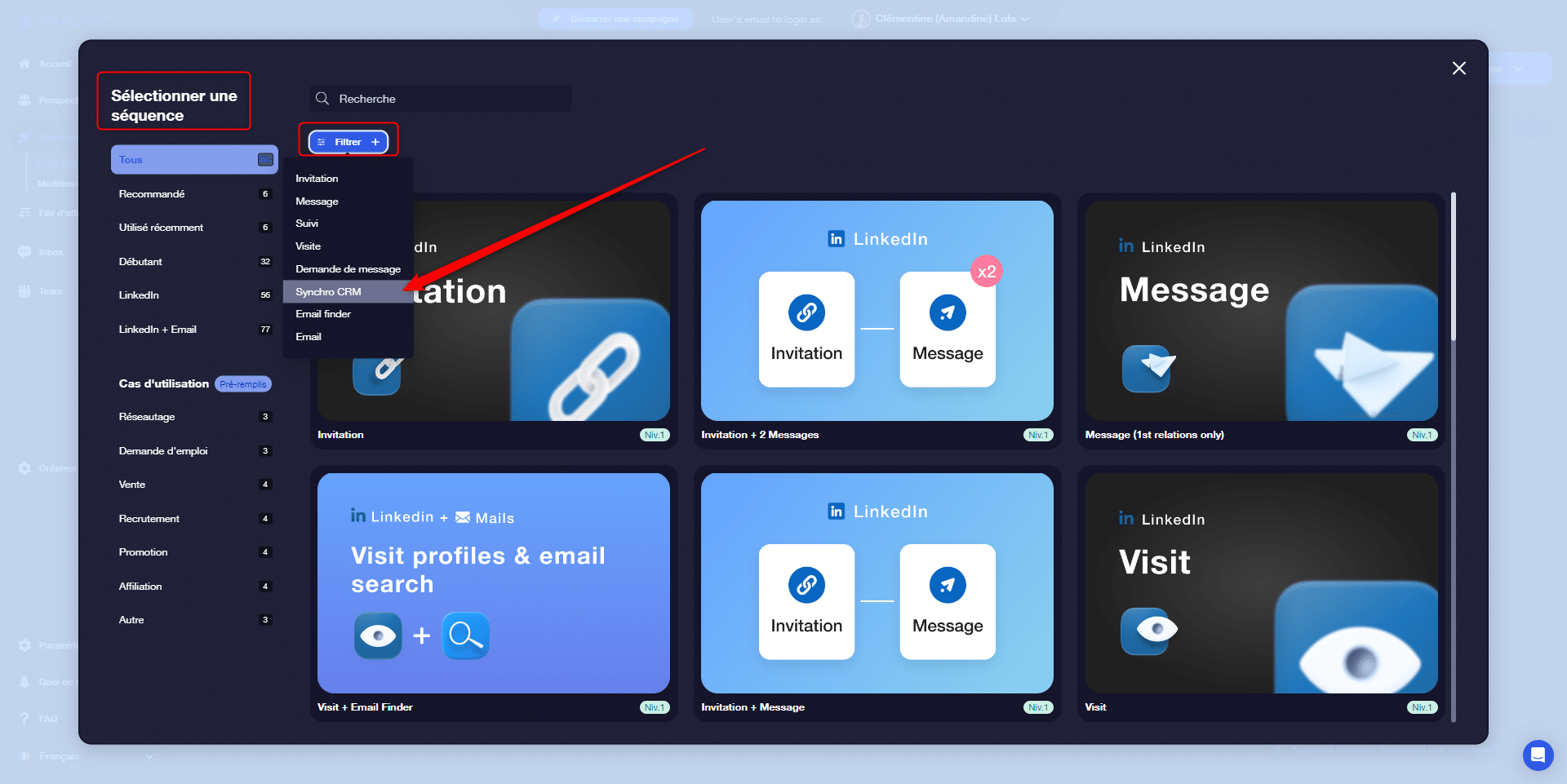 Once you've found the sequence of your choice, fill in the various fields (Add leads, deadline, actions, message content etc…) until you get to the "CRM Synchronisation" stage. 👇
Paste the Webhook URL previously copied in this section.
Click on "Test", then "Next".
Step 4: Back to Make – Setting the data parameters
Return to Make to continue the scenario.
Click on "Add another module",
Click on the "Tools" tab.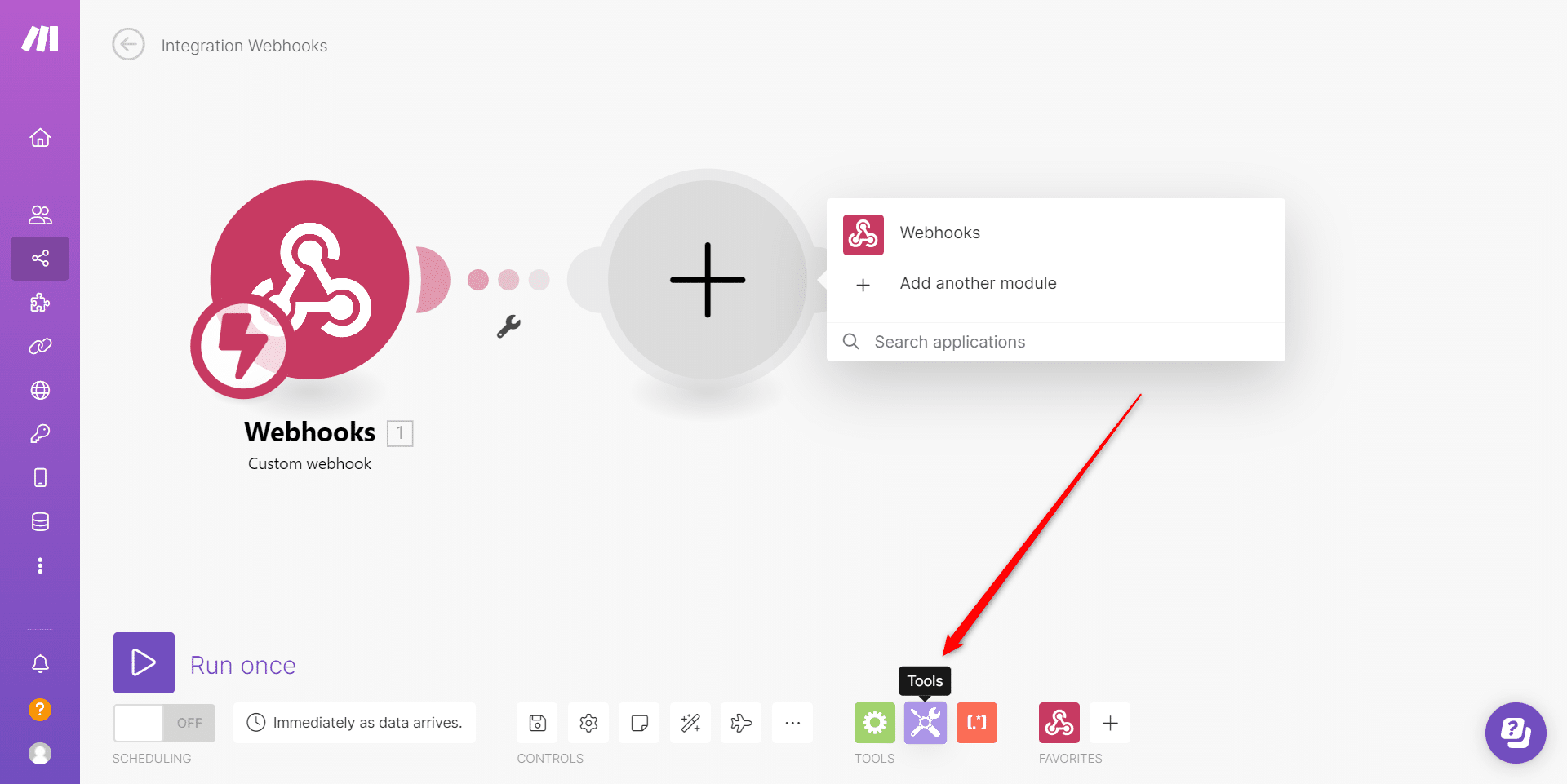 Select "Set multiple variable".
Click on this heading.
Fill in each of the variables by clicking on "Add Item", for example "FirstName" , "LastName", "Email". 👇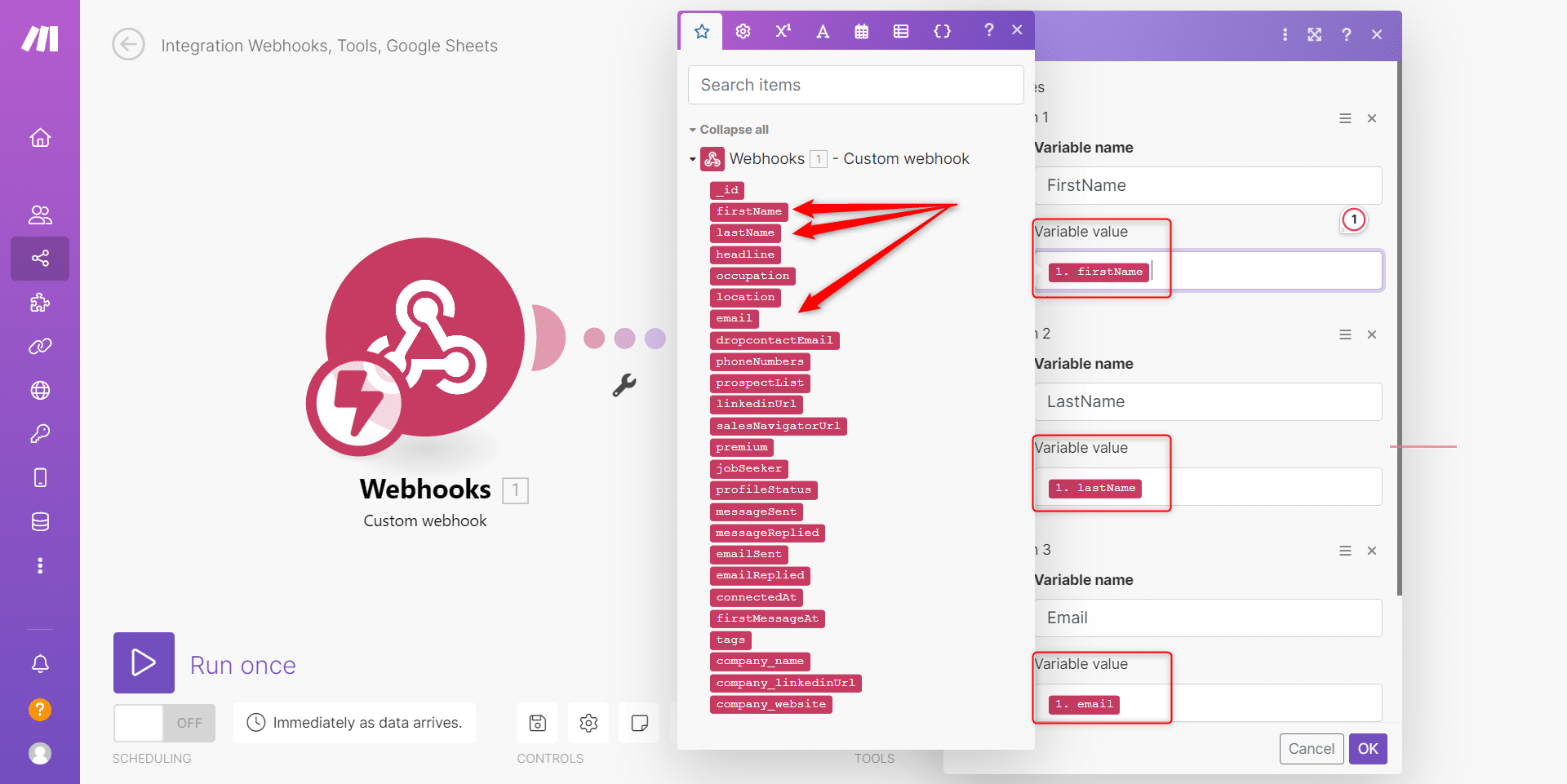 Step 5: Add your CRM (Example: with Google Sheets)
At this stage you can add any of your CRMs, here we'll use Google Sheets as an example.
Click on "Add a new module",
Search for "Google Sheets" and "Add a Row",
Connect your Google account.
You'll then need to create a new Google Sheet with columns equivalent to the variables you've set up.
For example, in my example, I've set up FirstName, LastName and Email.
So I'm going to create a Google Sheets sheet with a FirstName column, a LastName column, and an Email column. ✅
On Make, you fill in :
"Connection" 👉 Connect your Google account.
"Choose a Method" 👉 "Select by path".
"Choose a Drive" 👉 "My Drive".
"Spreadsheet ID" 👉 Select the sheet you have created.
"Sheet Name" 👉 Select the name of the sheet.
"Table Contains Headers" 👉 Select "Yes".
"Values" 👉 In FirstName, put the variable Firstname, and so on.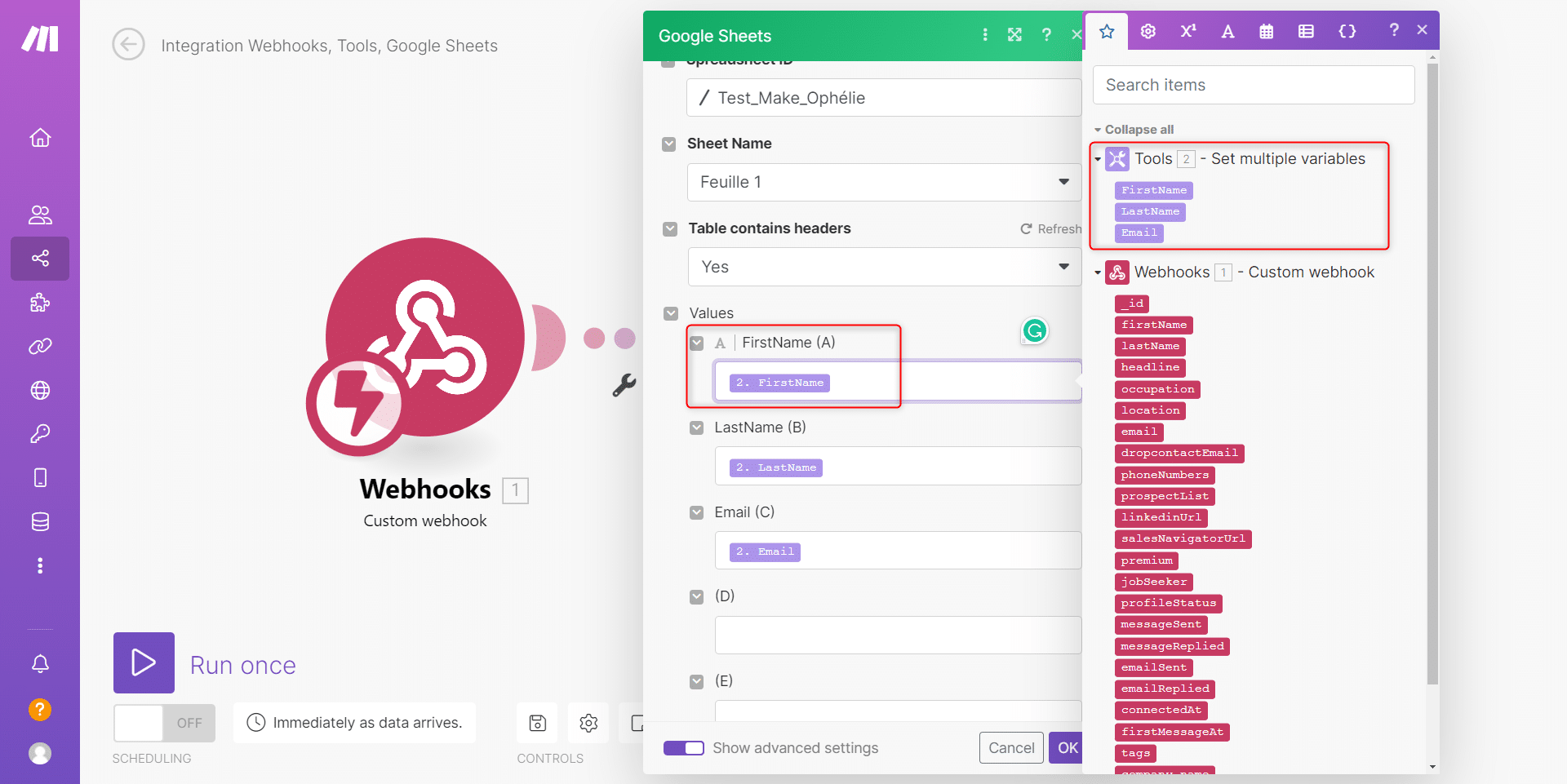 At this point, you've finished setting up the scenario that will synchronise Waalaxy x Make!
Last step 👉 Click on "Run Once" to launch the scenario. ✅

Step 6: View on Google Sheets
Return to Google Sheets to see your synchronised data. 👇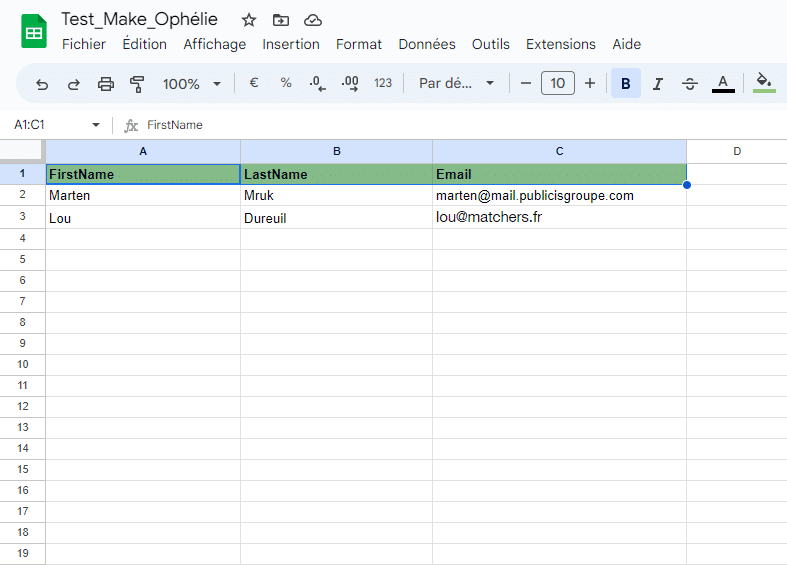 That's all there is to it. 😍
Your data is now synchronised between Waalaxy and Googlet Sheets, via Make.
You can continue the scenario and add another step to synchronise another CRM.
FAQ : Synchronization Waalaxy x Make
Can I synchronize any CRM via Integromat?
Thanks to Integromat's API, it is indeed possible to link any tool without writing a line of code! Integromat has dedicated an article to this topic, if you want more information ➡️ Integromat Applications & Services.
What is Integromat's pricing?
Integromat offers you several subscription levels: the Free, the Core, the Pro, the Teams and finally for large structures, the Enterprise. 👇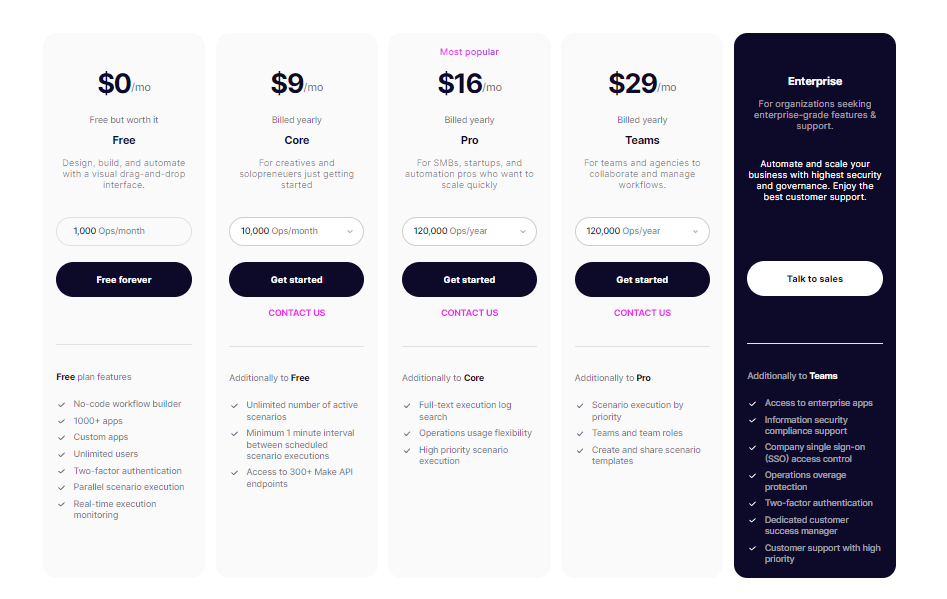 To learn more about the specifics of their subscriptions, go here ➡️ Integromat Subscriptions & Features.
How is the data sent?
Data is sent one by one.
What data can I synchronize?
You will be able to synchronize all the data that is given to you when you set up the variables, which is: Prospect data: first name, last name, position, location, email, Dropcontact enriched email (if we got it), phone number, LinkedIn profile URL, Sales Navigator profile URL, Premium profile, Profile in OpenToWork, company name, company website name, company profile URL.
Waalaxy data: prospect list name, profile status, message sent yes/no, message replied yes/no, email sent yes/no, email replied yes/no, connection date, first message date, tags.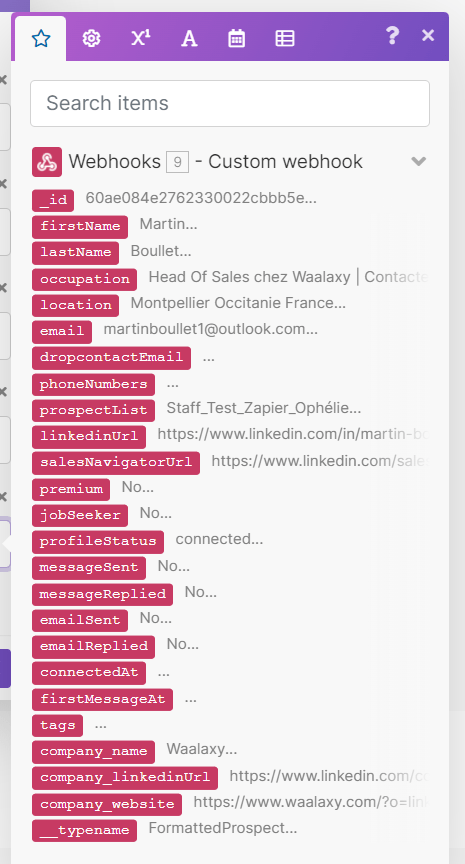 Article Conclusion: Synchronize Waalaxy x Make
Integromat is a must-have No-Code tool, easy to use, ergonomic, it offers you a multitude of possibilities to synchronize all your tools. All you have to do is set up the synchronization and… You can take it easy while tracking your results.
Bonus 🎁 Learn here : How to Automate Lead Scoring With Integromat.
😎 Now you know how to synchronize Waalaxy and other CRMs via Integromat.