You're asking yourself 🤯… Should you get a Waalaxy subscription or should you get Lemlist? Let me reassure you right away, our Waalaxy vs Lemlist article is not at all here to convince you that one of the two tools is better.
No, the goal is to tell you about the features of both tools, their similarities and differences, so you can find the one that suits you best. 🤗
What is the purpose of a multi-channel acquisition tool?
Acquisition tools allow you to:
Find contacts of potential prospects on different channels.
Insert them into a dedicated CRM.
Launch prospecting campaigns with personalized messages and automatic actions.
Generate sequences of several actions to boost your sales.
In short, make money and grow your business by finding the right prospects and turning them into customers.
Still, you need to know about the right practices and know how to use them. For that you can rely on tools like Waalaxy and Lemlist which are complete and reliable. How does it work in practice? You embark on the ship of possibilities and sail in the space of automatic sequences. 🪐
It looks complicated, but you'll see, when the tools are well done, it's fun to use. Here, for example, is a complete sequence on Waalaxy:
You search for prospects on LinkedIn.
You integrate those leads into your CRM.
Step #1 Send a LinkedIn connection request – the prospect enters the prospecting scenario.
Step #2 If they accept the request – you have previously written a "sample" message that all prospects going through step two will receive on LinkedIn.
Step #3 – You go through the "if invitation is not accepted" emails.
Step #4 – And to make sure you don't forget anyone, you send a pre-set email to the prospects who passed step two.
This is just an example of a Waalaxy sequence, there are lots of different options, just like at Lemlist, which we will see very soon after this tutorial. 🥰
How do you launch your campaigns?
In this Waalaxy vs Lemlist article, we will talk about both tools and try to equally compare them. 😊
Before you know which tool is best for you, you need to know the interfaces and which one speaks to you the most. Here's a quick look at Lemlist: they made the choice to clean up the tool, the template is pretty minimalist, but nice. They have emojis for absolutely everything. Personally, I really like those little yellow heads. 😁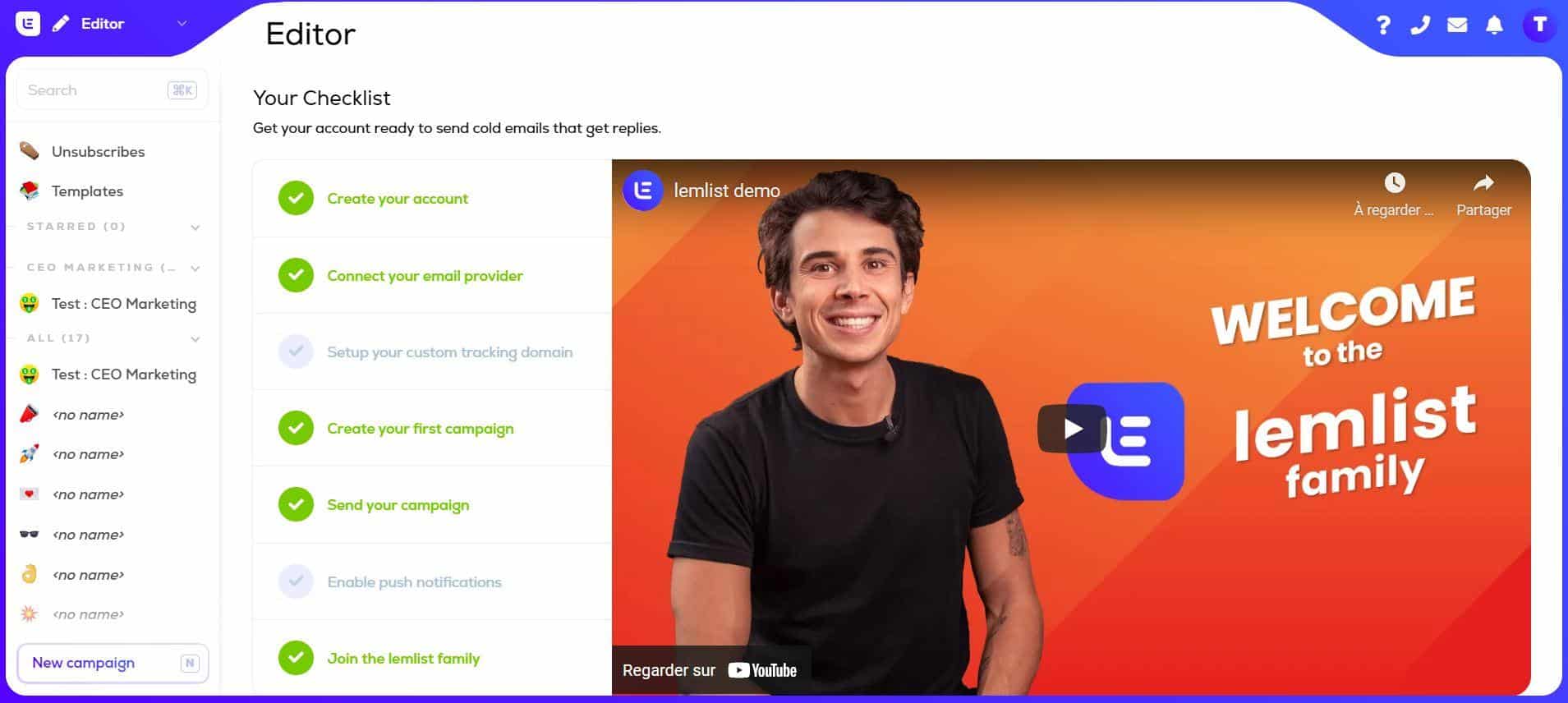 On the Waalaxy side, the "beautiful" bias wins out. The idea was to create a galactic universe that fits the name of the product. 👽
It's a whole other style, but I love it too. Plus I find the interface very pleasant to use.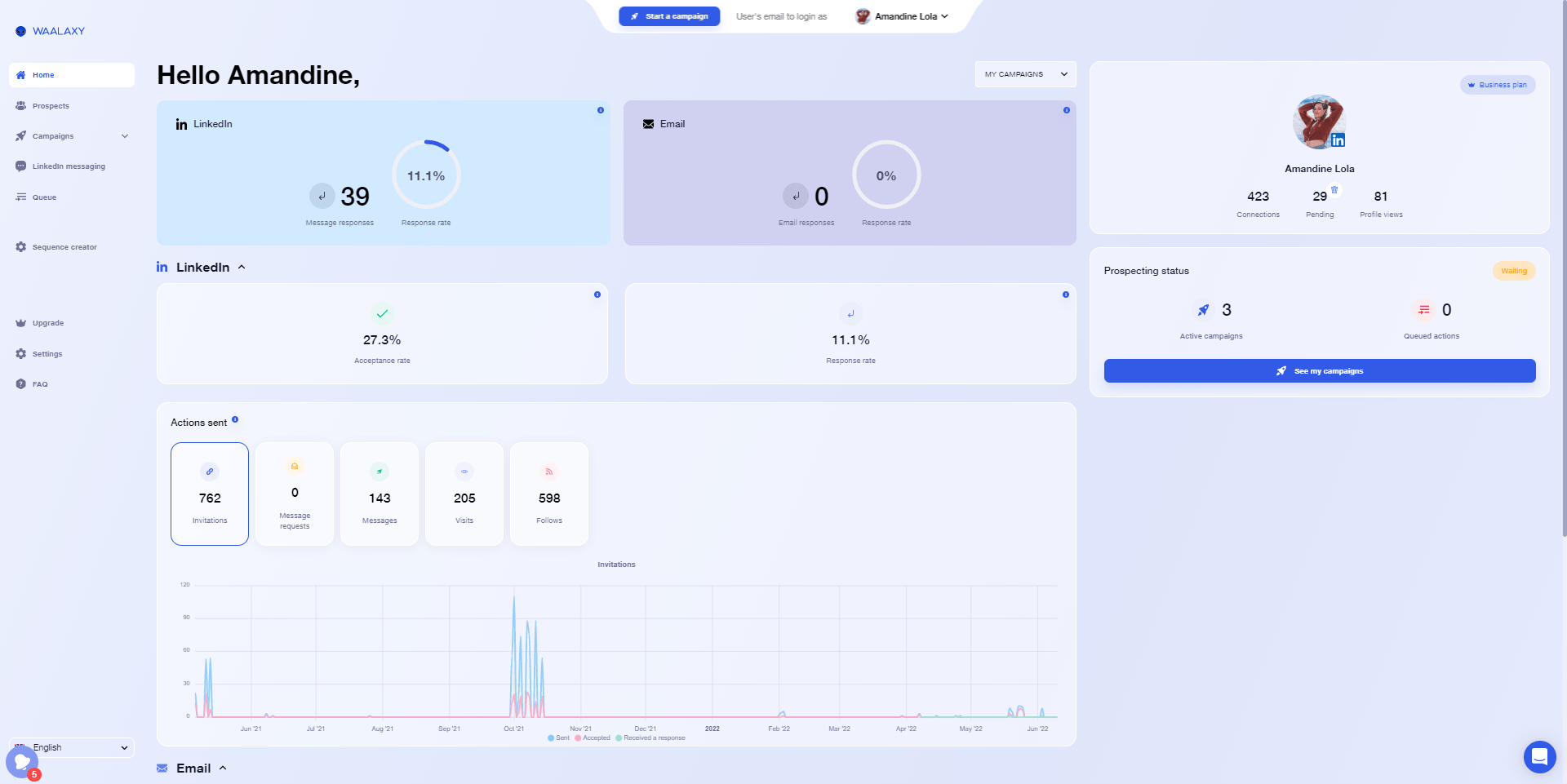 To find out which tool speaks to you the most, you get a free trial:
14 days to dig through all of Lemlist's options. 🤓
7 days to discover the world of Waalaxy. 🪐
But since we wanted to make things easier for you, we decided to compare these two great tools with the most objective eye possible.
Getting started with Lemlist
Let's imagine that you haven't already tested the tool. (if you have, feel free to scan quickly through the article… I imagine that's what you're doing right now anyway 😋)
Already, you have a checklist to follow to make it easier to launch your first actions: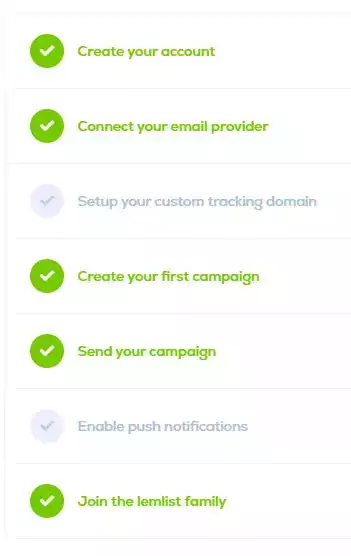 Important: To pass step 3, you will need a developer at your disposal. (It is about setting up a tracking of emails to analyze your results).
Then, you will create your first campaign.
As long as you don't have the Sales Engagement offer, your actions are quite limited. You can only send emails. You will receive this notification if you try to do more.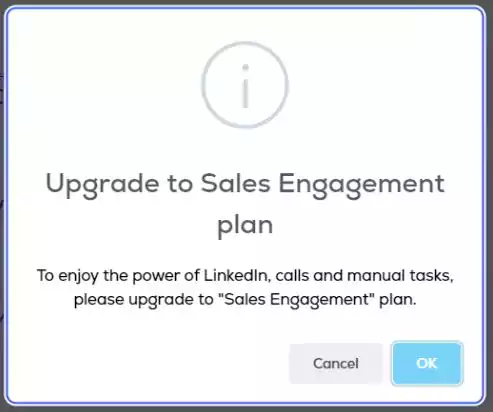 With the Sales Engagement plan, here's everything you can do (of course, you can combine several of these actions):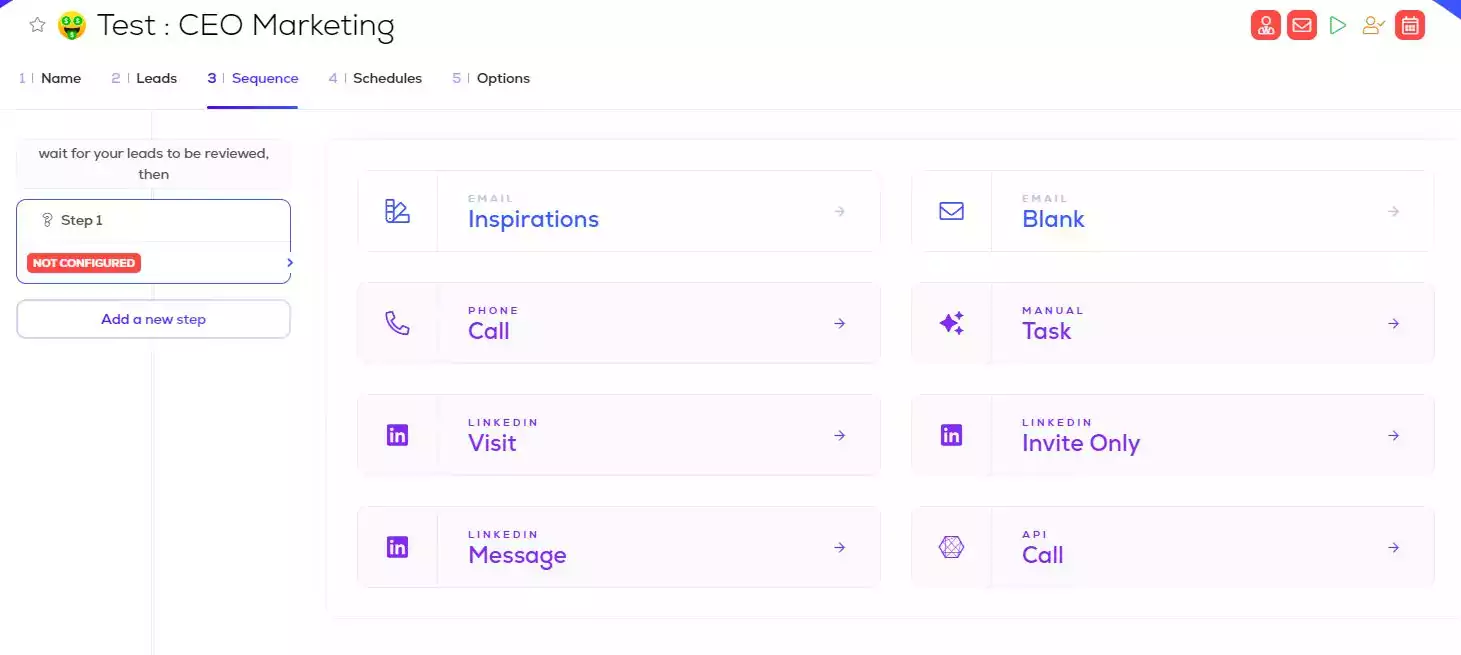 To launch your campaign, you have to follow these 5 steps:
Names – Name your campaign and find it an emoji. 🔥
Leads – Insert a CSV with your leads' email addresses into Lemlist, or write them in manually. ✍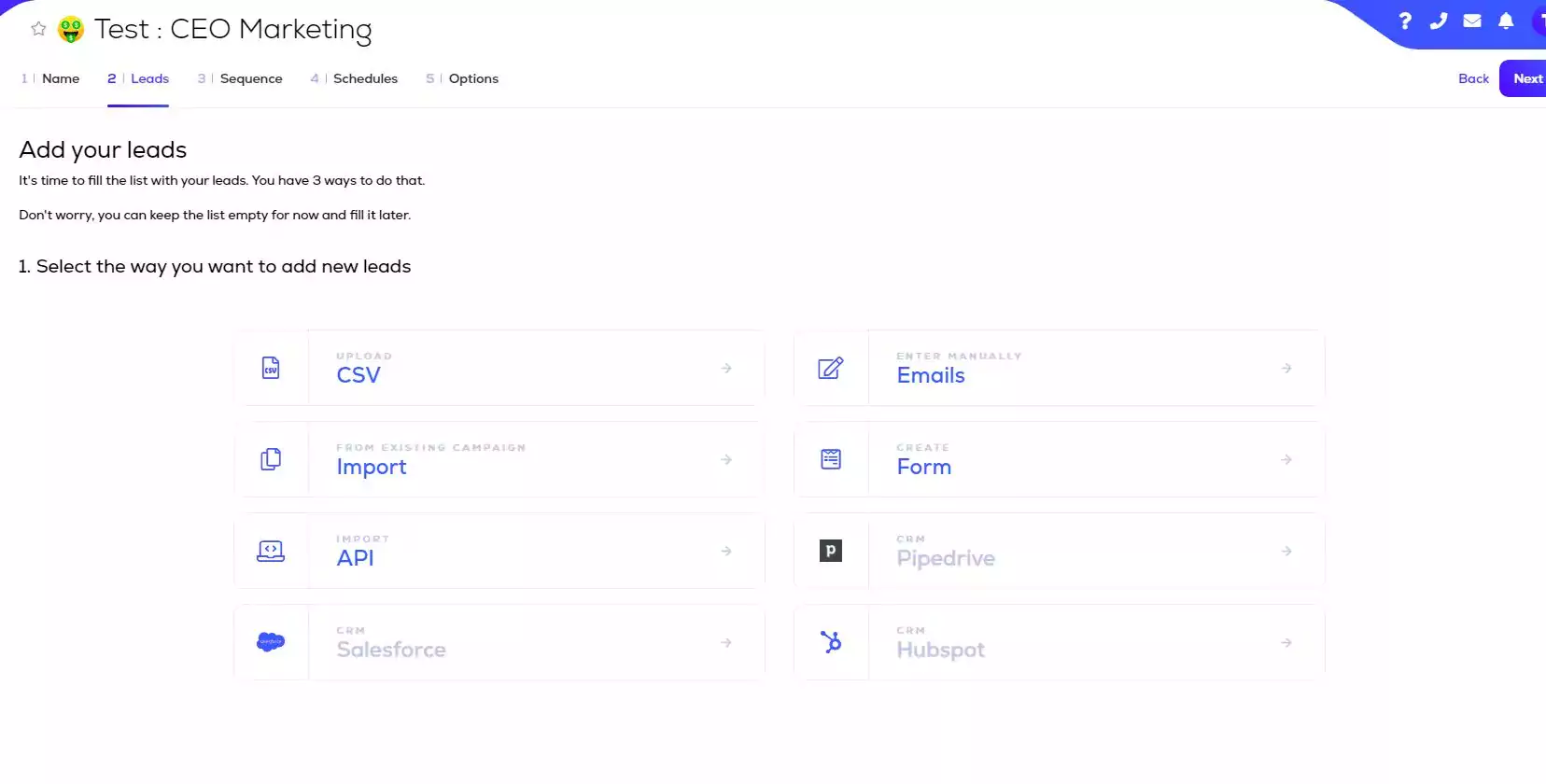 Sequences – Choose what you want to do – LinkedIn Message, Email, Invitation…
Schedule – How often are your actions sent? Set the times and days
Options – This is a pretty cool tab, you can choose how your sequence goes to the next step, here are the options. 👇

As I said, with the Sales subscription, you can do multiple sequences that are cross-channel, and multi-channel means. With Lemlist, you will need to "add a step" to insert other actions in your campaign.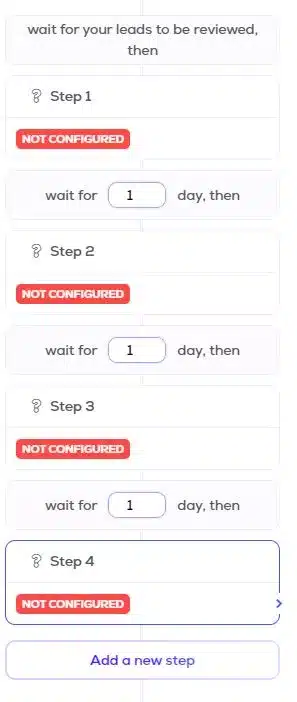 The nice little extras of Lemlist
As I said at the beginning, we try to have a neutral bias and to advise you beyond convincing you. Both tools have their advantages.
The statistics
Once again, Lemlist keeps it simple, it's pleasant to look at, and there is all the information you need to analyze your KPI's.

Easy A/B testing
At Waalaxy, we are big fans of A/B testing. We quickly realized the power of testing in the development process of a company. That's what made us take off. A little birdie tells me that Lemlist had a similar experience!
So they implemented A/B testing as a feature in the tool. It's easier to set up. Let's hear it for that, it's pretty damn ingenious. 👏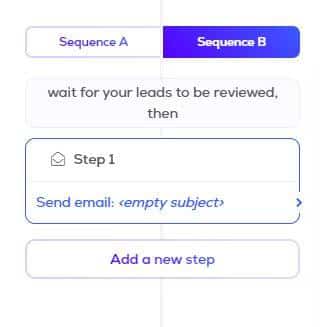 Lemwarm
Speaking of ingenuity, I had to bring up this option. You can only get it by using a paid account, and it's really not bad. It's a $29 monthly deal if you take the option alone.
Depending on the age of the domain you use and the way you send emails, Google has more or less confidence in you.
To summarize, if you are a beginner and you send a lot of emails = you will definitely be markes as spam. Lemwarm starts by sending a small number of personalized mails and automatically generate the answers. This allows your domain name to be "warmed up" and thus increase the trust factor. In addition, Lemwarm keeps your mails from going into spam and promotions. 🤓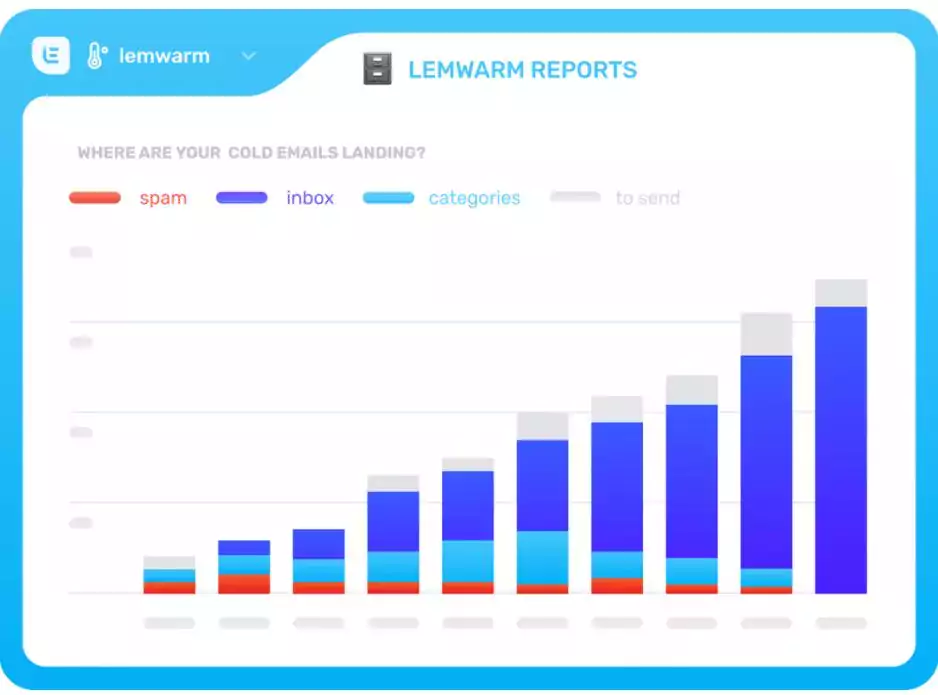 As you can see, it's pretty simple to launch a campaign on Lemlist. To be totally transparent with you, it is slightly more complex on Waalaxy at first. It was a choice to offer a multitude of options and therefore different prospecting scenarios. I'll show you them right now. 😍
What is Waalaxy, in short?
Before going into the details of what our tool could do to make your prospecting take off, it is customary to present it. First of all, you should know that it is a chrome extension that you can download right here.
IF you want to :
Generate new customers and/or prospects,
Reduce the time you spend prospecting,
Automate your prospecting.
Then, yes, Waalaxy is for you 😜.
The cool features of Waalaxy
In order to adapt to users' needs, Waalaxy has implemented several small features that can be very useful to you.
Previewing messages
You no longer have any excuse for making a mistake when you write a message. No more wondering if you have written the variable correctly. We've set up the message preview so you'll know how it will look afterwards.
The really cool thing is that if your variable is incorrect, you won't be able to view the message, so it will tell you that the variable name is wrong. So you have the power to change what's wrong.
The "What's New" feature?
You will be aware of the latest implementations on Waalaxy with the "What's new" tab. In order to improve our users' experience, we notify them when there are new features available.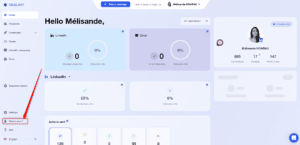 Pre-filled sequence templates
Yes ✅, depending on your use case, Waalaxy adapts and helps you in your prospecting.
Click on "Start a campaign" and then on "Browse sequences". You will then have sequences for :
Networking 📎.
Job application.
Selling.
Recruiting.
Promotions.
Depending on where you are in your prospecting funnel, we can help you and make your job easier with this ingenious system.
What are we waiting for to find out?
Discover Waalaxy 🪐
Taking your first steps on Waalaxy
How does launching a prospecting campaign on Waalaxy work? 💫
By clicking on "create a campaign", you will land in the ship of possibilities, here you drive your own campaign, choosing the destination of your leads.
There are several levels :
The so-called "Beginner" sequences: these are sequences with a single action: a visit, an invitation for example.
The " Linkedin " sequences: group all the sequences with Linkedin actions, for example a sequence " Visit – Invitation – Message ".
Linkedin + Email" sequences: include all sequences with Linkedin actions, email registration and/or email sending. Welcome to the Multichannel Planet! 🌏
You choose the one that works for you, then embark on step two. 🛸
You will go through 4 simple steps before launching,
Select a sequence (this is what we just did).
Add leads.
Complete your campaign – add your personalized messages.
And set out to conquer new territories. 🌌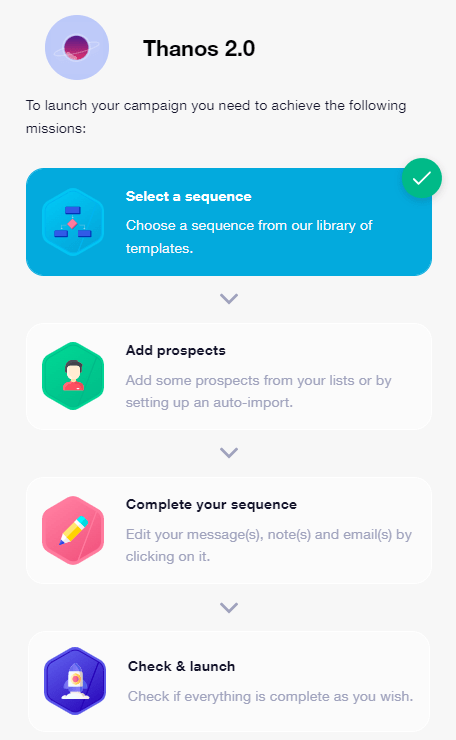 To add leads, you have several options.
Indeed, you can import in several ways on Waalaxy:
From a classic Linkedin search.
From a Linkedin group.
From a Linkedin event.
From a classic Sales Navigator search.
From a Sales Navigator prospect list.
From a Sales Navigator saved search.
From a Recruiter Lite profile search.
From a CSV file.
Cool, we're already at step 3. 😎 Completing your campaign, what is that?
You have added prospects, that's good. ✅
Now you will write your prospecting messages. Just click on all the"messages" tabs and fill them in, whether they are Emails or LinkedIn Messages. Don't worry, there are plenty of templates to help you.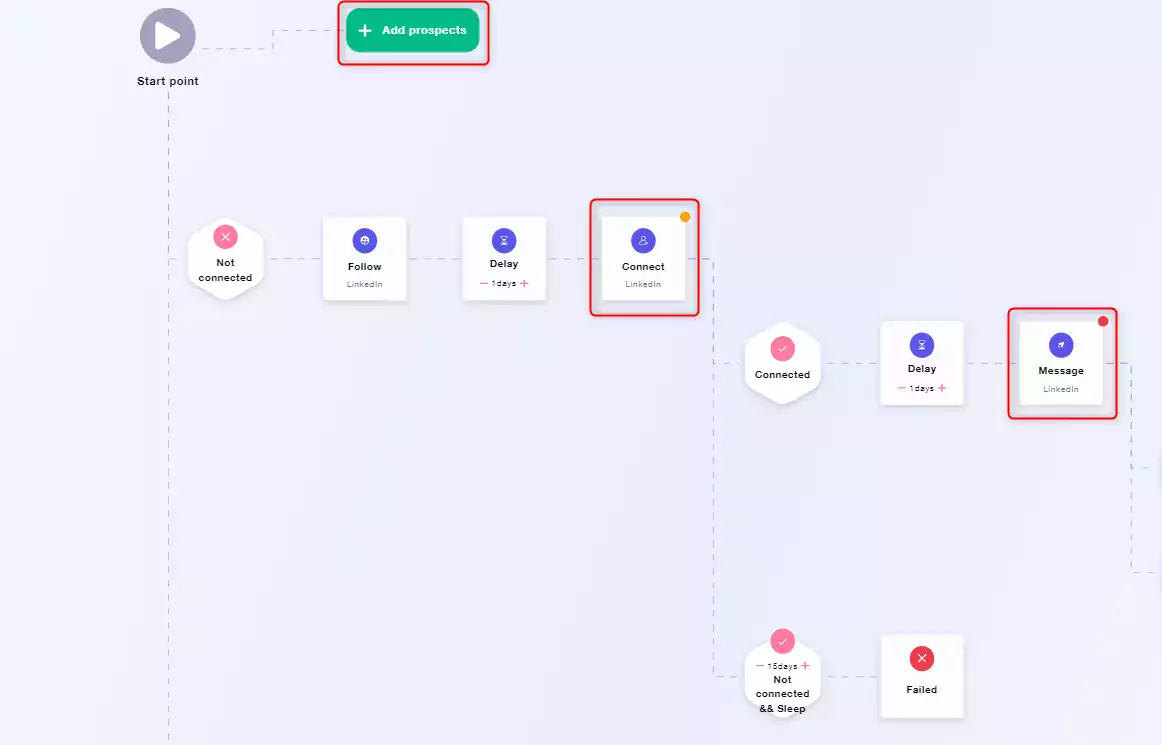 When you write your messages, you can add automatic variables (name, first name, company).

Once you've completed these 4 steps, you can get started. 🚀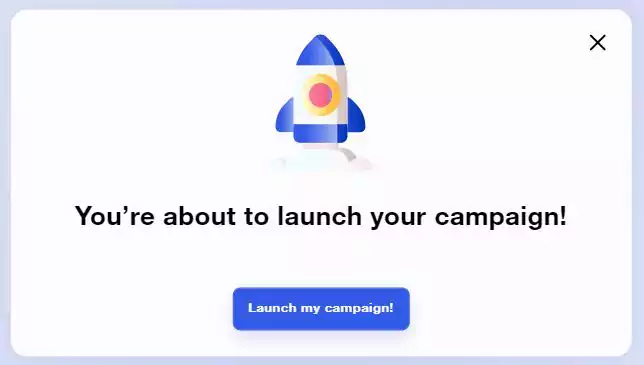 The coolest features of Waalaxy
We created the first version of Waalaxy based on user requests. The idea is to continuously adapt and make all the necessary changes to make the tool meet your needs. The devs have implemented some cool things that I'd like to show you. Are you coming?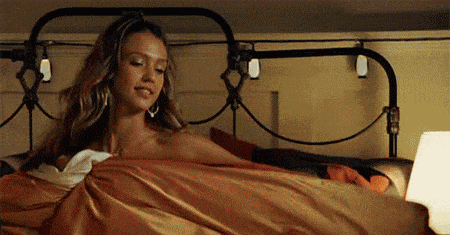 Triggers
Triggers are ways to get already qualified leads from places you wouldn't have thought of 🤭.
At Waalaxy, we started with the premise that someone who is interested in you shouldn't be forgotten. If someone performs an action related to your LinkedIn account (visiting your profile, commenting on a post, requesting an invitation) – then you can automatically include them in a campaign provided for that purpose. 💥

We don't miss a beat when it comes to what LinkedIn has to offer you. 😋
Bypassing the limitations imposed by LinkedIn
LinkedIn has imposed a limit of connection requests on the network to 100 per week. The goal being to reduce spam and ensure a more qualitative connection on LinkedIn. We think this is a good warning. It is essential to segment your campaigns in order not to spam everyone. The goal is to write to prospects who might be interested in your solution.
But hey, 100 people a week is very very small. ❌
Too small to grow your business. 💢
So, we found a way to get around this limitation, thanks to a smart and safe bypass for your LinkedIn account. At Waalaxy, you won't get a warning or stop after 100 connections. ✅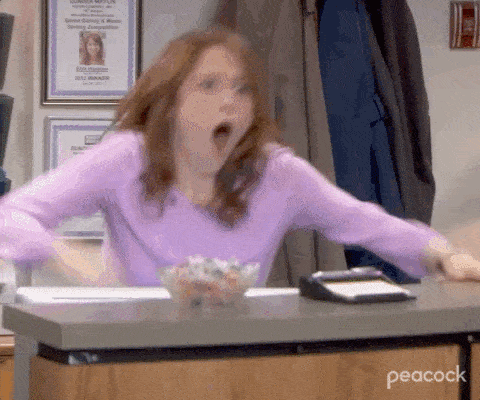 Email finder
Want to send emails to your prospects and do multi-channel prospecting, but you don't have your prospects email addresses? We knew this would happen to you. So we put a nice tab in Waalaxy: Email Finder.
Thanks to this, you will be able to enrich your prospecting campaigns, because the tool will directly search for the prospect's email. 🔍
Important: it's not always possible to find them, it will depend on how the field are filled in on their account.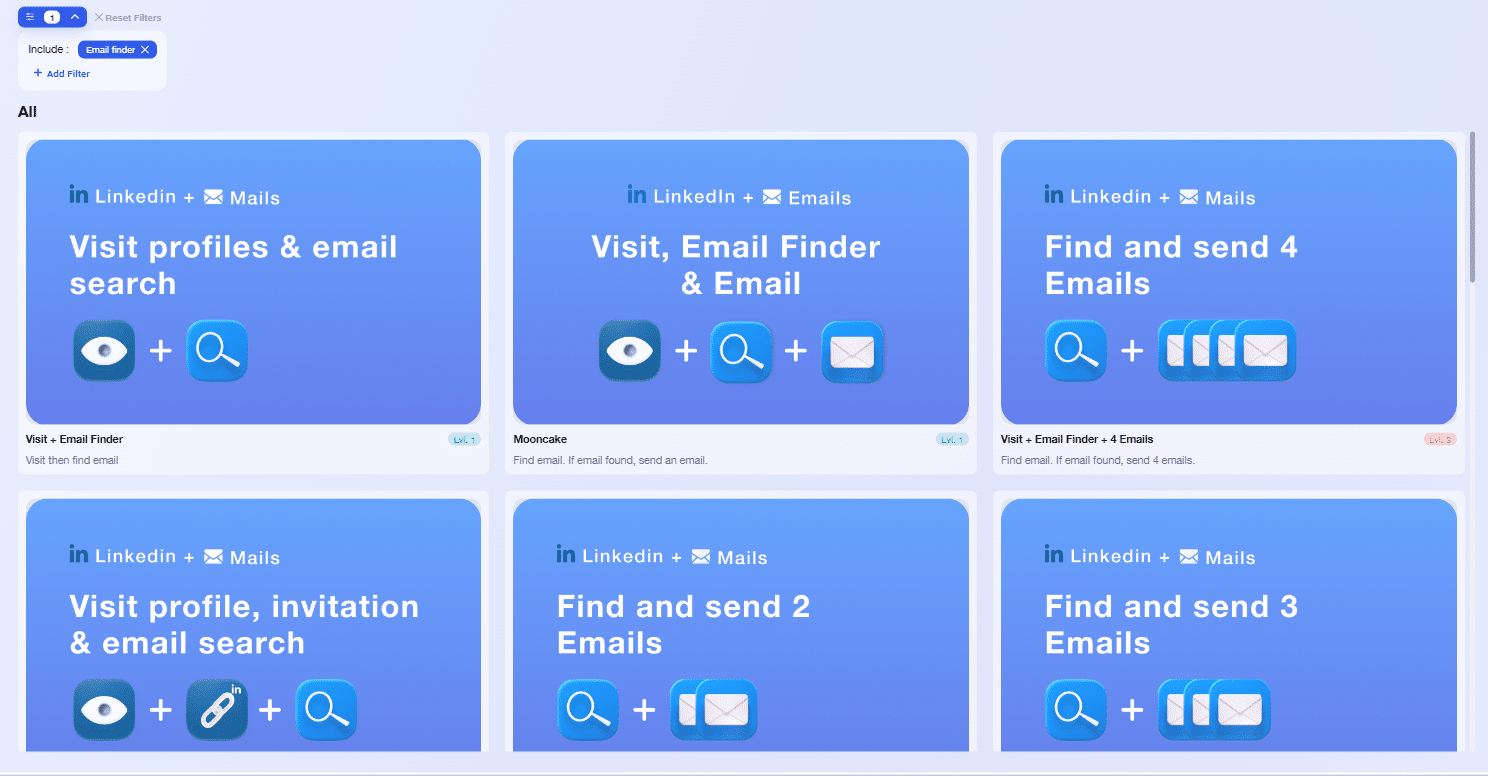 Waalaxy VS Lemlist : Subscription rates
Lemlist, like Waalaxy, works on a subscription basis. You can choose between a monthly offer (full price), or an annual offer (with a discount).
To be able to make multi-channel sequences, you will have to type in the "Sales commitment" bracket.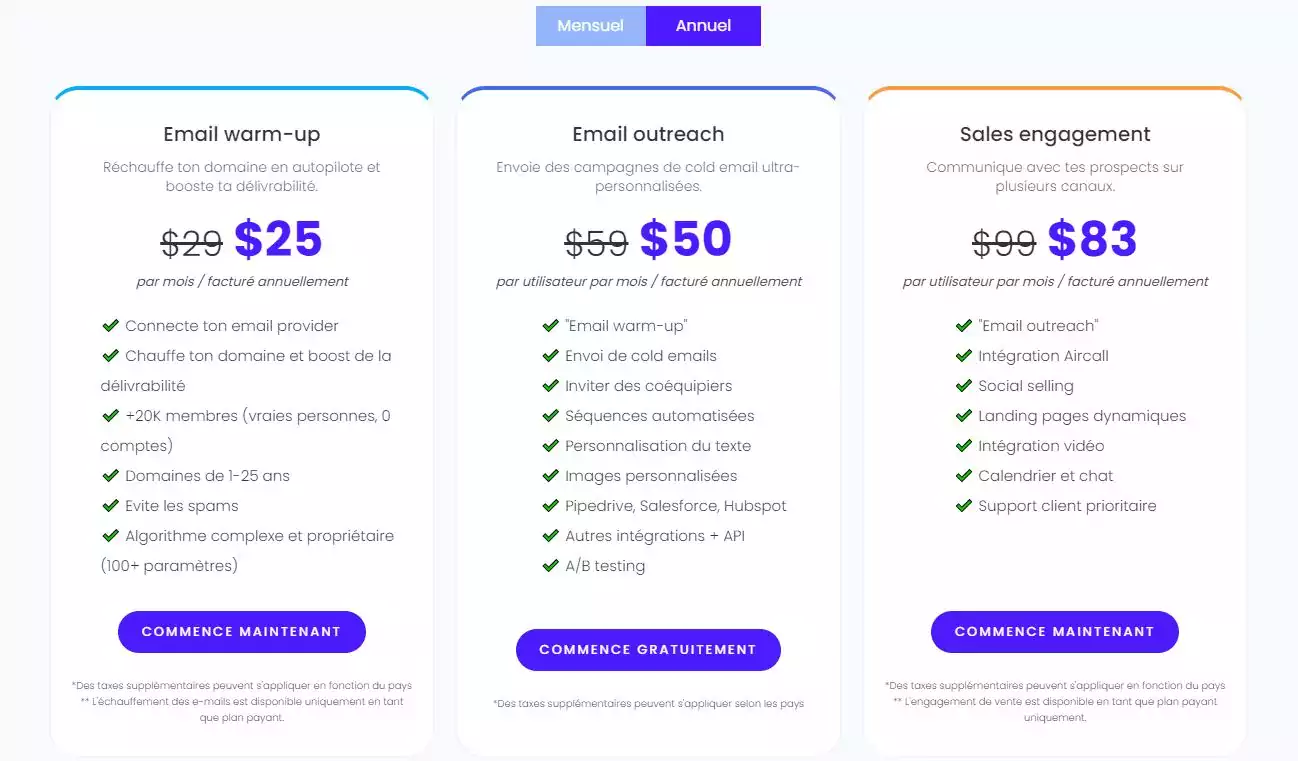 At Waalaxy, we are in a much lower price range, as Advanced is half the price. It also allows for multi-channel and complex prospecting sequences.
How do we explain such a price difference? 💥
Lemlist is much older in the Cold Emailing market, while Waalaxy excels in the LinkedIn part.
Waalaxy is still taking off, some features are offered by Lemlist and not yet by Waalaxy, like the Lemwarm.
Waalaxy's pricing has been strategically designed to stay lower. It's a different proposition than Lemlist, plain and simple. 😌
How do you compare Waalaxy VS Lemlist?
Now that you know how the tools work, we'll try to give you a 360 view of what to expect when choosing one of the two tools. 😁
In this comparison you find mostly: customer support, access to information, integrations and restrictions.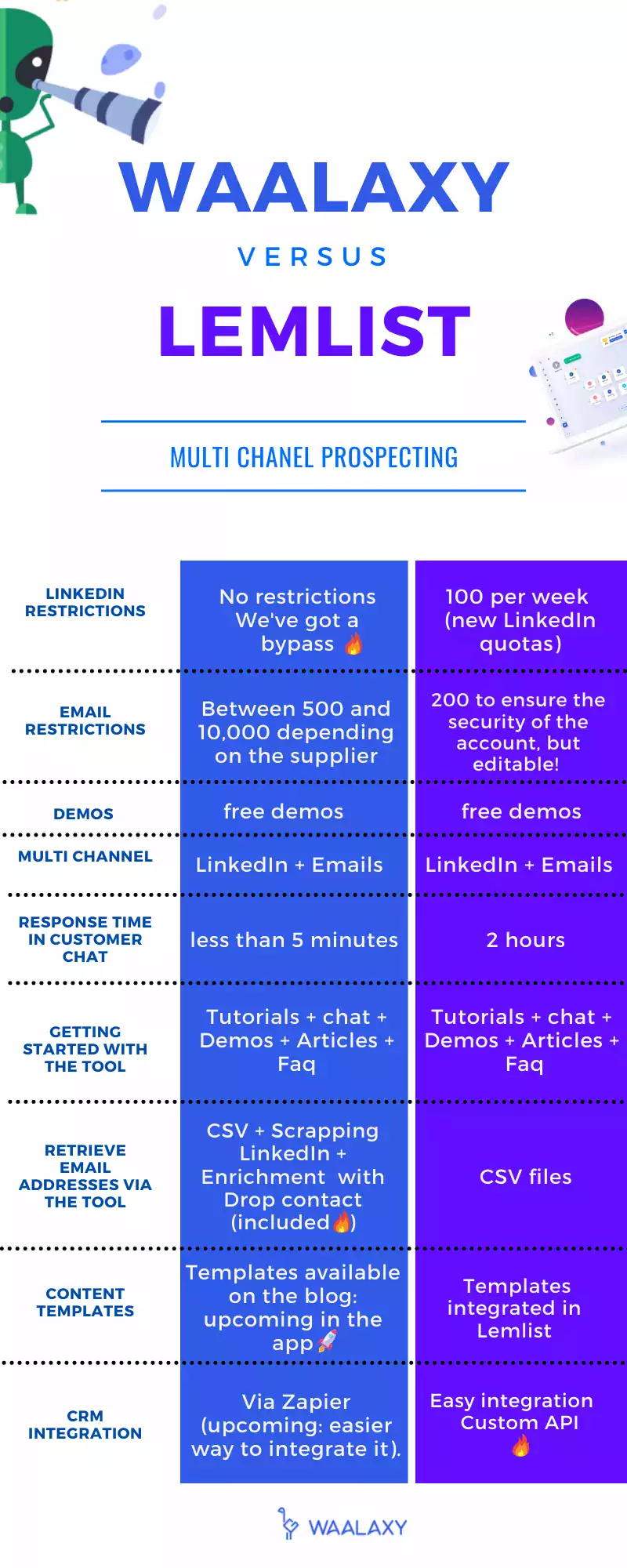 Conclusion Waalaxy vs Lemlist
Both tools are great, there is no doubt about it. Lemlist is more finished and Waalaxy is just taking off, so inevitably there are differences. 🤓 Lemlist's main advantages:
A very very good knowledge of cold Emailing.
A very easy to use tool.
Very cool options to customize your emails: built-in templates, gifs.
Easy CRM integration.
Lemwarm.
Waalaxy's main advantages:
A real LinkedIn expertise.
A price that defies the competition.
Super fast tech support that responds in less than 5 minutes. We're too proud of our support 🤩.
Email Finder to enrich your prospecting campaigns via Dropcontact. (included)
A bypass to the restrictions on LinkedIn. 🔥 (included)
FAQ what's coming to Waalaxy this summer?
Here's a small preview of what's coming before September. Of course, this is just the beginning. 😎
Public Roadmap 🚀
And you, Waalaxy vs Lemlist, which tool are you going to choose?