Are you interested in cloud-based LinkedIn automation? Yes? Well, you've come to the right place!…
If you came across this article via our support, or a link placed somewhere on Waalaxy or ProspectIn, you are probably looking to run our extensions via the cloud. Otherwise… It's because https://blog.waalaxy.com/wp-content/uploads/2021/05/Capture-décran-2021-05-20-à-16.34.07-1.webp, our SEO manager, is doing a great job. 😁
Before I start, let me apologize for French language screenshots; I did not manage to find the relevant pages in English. However, this should not hinder your understanding of how it works.
Here we will see how to use Waalaxy, ProspectIn, and Podawaa online safely. In fact, this tutorial will guide you through how to run any extension via the cloud.
Why run Waalaxy(or ProspectIn) in the cloud?
Waalaxy, ProspectIn, and Podawaa are Chrome extensions. All performed actions on LinkedIn with our tools are done from your computer. However, there are several possible reasons why one may need to run extensions elsewhere than on their PC. The two most common being:
You don't want to keep a LinkedIn tab open on your machine, or you just want to make sure your account is always running somewhere
You manage several accounts and they cannot all run on your PC
There is an obvious simple solution: buy an additional PC, dedicated to running the additional accounts. Of course, this option will not be suitable for most people, as it is not exactly cost-effective. Additionally, you will still be limited to 4-5 simultaneous accounts, depending on the performance of your machine (See "How to run multiple accounts on one computer").
Here's how to use cloud-based LinkedIn automation
There are "Cloud" LinkedIn prospecting tools where the tool runs your LinkedIn profile directly via the cloud. These solutions have two major drawbacks:
You have to provide the tool with your LinkedIn login details. Every time you do this, there's always a risk of data theft.
The IP used by the servers in question is often an IP based abroad. LinkedIn doesn't really like this, and tends to ban accounts or use captchas to verify their identity. This may also result in seeing your account banned.
This tutorial is based on tests we performed ourselves. As of the date this article was published, the procedure listed in this tutorial works. However, if you do encounter any problems, please do not hesitate to contact us. We would be more than happy to assist you – although of course we can't guarantee success 😉
0. Pre-requisite:
You must have a Google account
You must have a VPN or be able to download one
1. Launch a Google Chrome session in the Cloud
The creation of a Chrome instance is based on this tutorial provided by Google. Do not hesitate to refer back to it if you have any questions.
Here we are going to use Google Cloud: the Google service that allows you to use servers quite easily and run Linux or Windows sessions in the cloud.
Why specifically Google Cloud and not other services?
Our reasons are purely arbitrary. It was the first service we tried, and everything worked with zero hiccups. There is also the fact that Google offers you $300 of free credit, which should make it possible to run 2-3 free LinkedIn accounts in the cloud for 1 year (the credits are only valid for 12 months).
A. Start Google Cloud's Free Trial
So go to this link and start a free trial (if you already have an account, you can skip this step).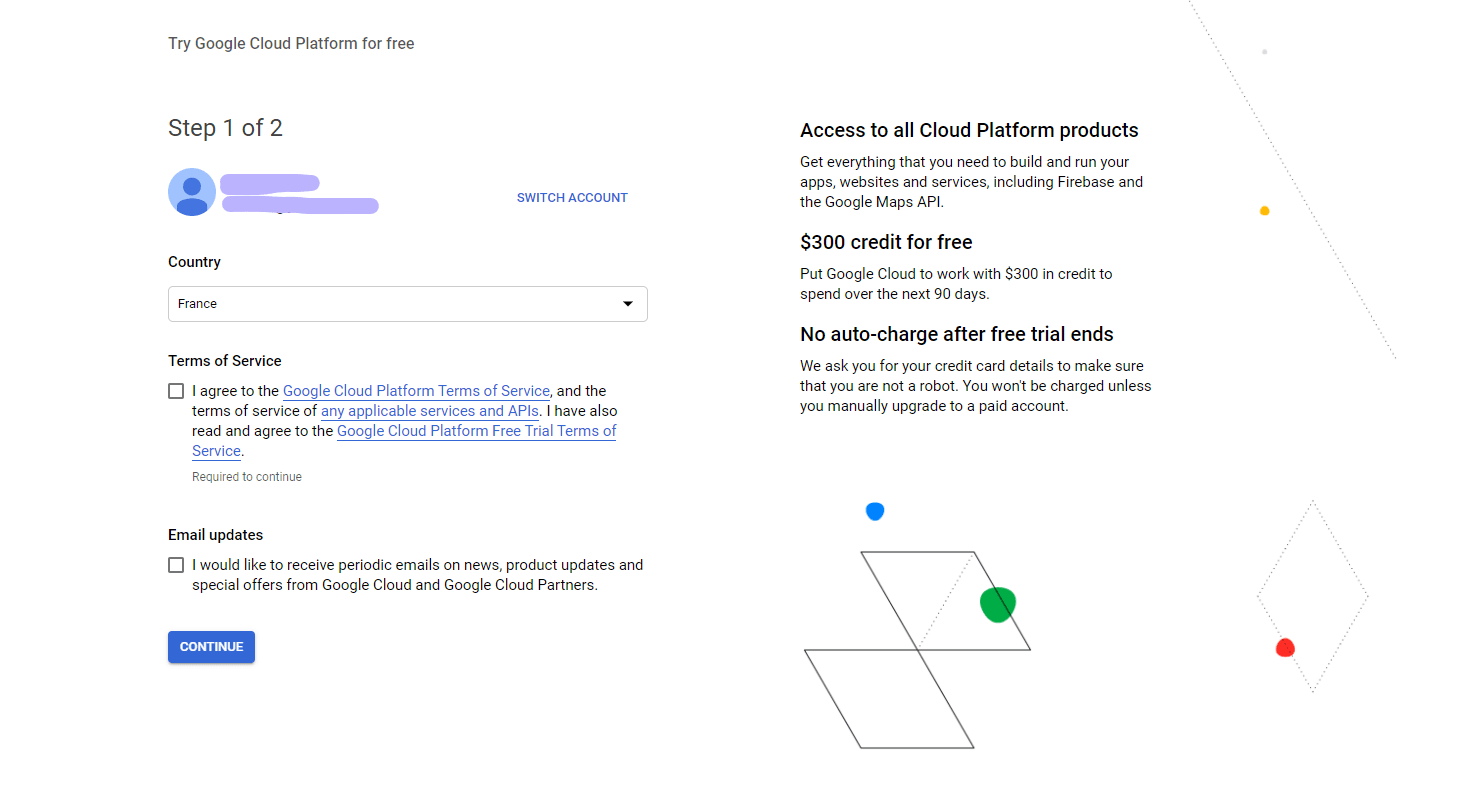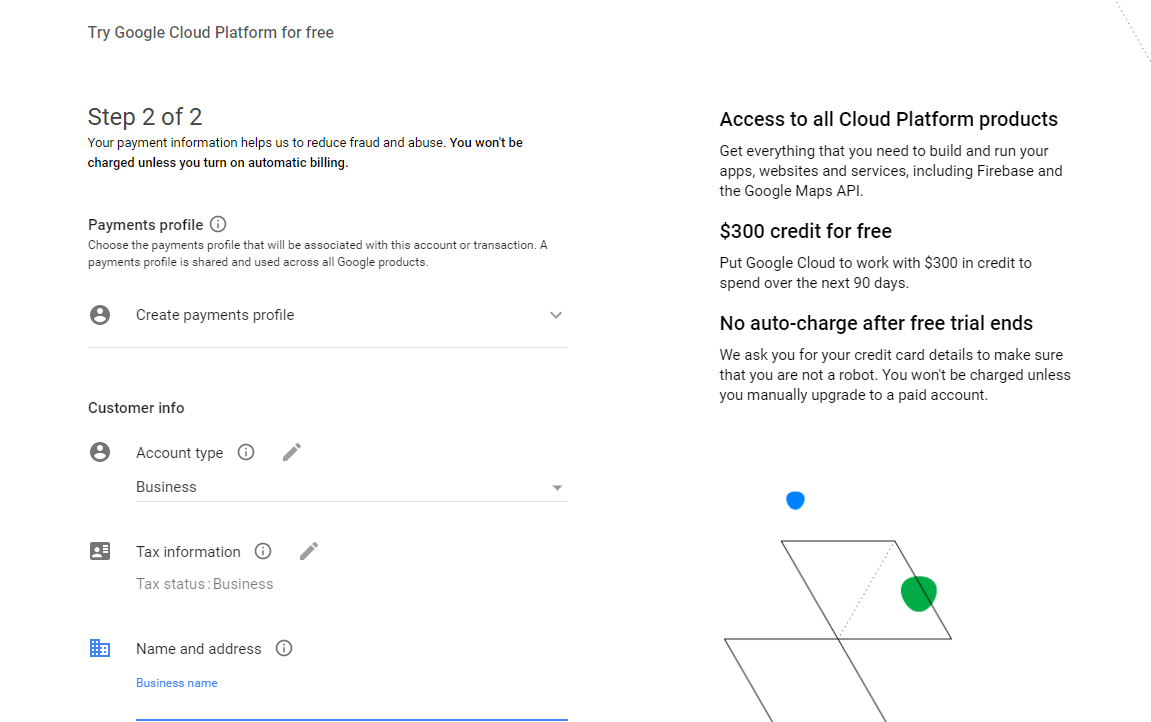 Google will ask you for a payment method. It is mandatory in order to proceed. However, if you follow this tutorial properly you should not have to pay anytime soon. It will also alert you that automatic billing has been activated.
Let's start the free trial.
B. Launch your first Virtual Machine
Google Cloud allows you to do a lot of things, many of which are very technical and complex – at least that's how it looks. To be honest, I didn't even know about the service before I started the process myself 😅
In this tutorial we will be focusing on VM: Virtual Machine.
A virtual machine will simulate a Windows or Linux session on a server, as if you had your own computer in front of you.
Except that when you turn off your computer, the server keeps it running. And that's exactly what we're going for. 😉
First go to the VM instance management page.
Select a project or create one. It does not matter too much which one, because you can have multiple VM instances in the same project. Personally, I selected the default project and that worked out just fine for me.
Open the selected project.
The site will load for a few seconds/minutes and then offer to "Create" an instance, "Import" or follow the "Quick Start". Click on "Create"

Now we're about to get down to business. Give your instance a short name.
Then choose the region where the servers that you will use will be. It does not matter much because we will then use a VPN to bring the account back to your country. However, if you are concerned about the GDPR, choose a country in Europe.
Now, we will have to define the power of our VM. Like a computer, we will assign it a RAM. As you can imagine, the more powerful the server, the more expensive it will be. You can see an overview of the cost at the top right-hand side of the page. To date, I have only tested this for 2 LinkedIn accounts that run with Waalaxy and Podawaa. I tested the smallest server power and failed to launch a browser. Based on this, I suggest you go for a minimum of 1 GB of RAM per LinkedIn account or even 2. Personally, I took the proposed N1 base, and it worked great for 2 accounts.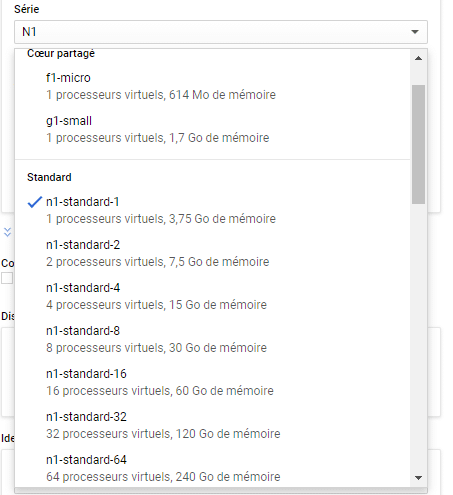 For the Disc type, i.e. the Operating System, I left it on the default Debian server (Linux), which does the job very well. I tested a Windows one and the estimated price was 8x higher. Choosing a Windows one over the default Debian server doesn't offer us any advantages, so if you're planning to use the VM machine in a similar way as us, I suggest you also choose Linux. The rest of this tutorial follows this choice 😉

Finally authorize Https and Https traffic, then create the instance.
After a few seconds, your instance will be created.
C. Finish the configuration to access the graphic interface
Do not panic! We will have to type a few command lines. But don't worry, if you follow our step-by-step guide and know how to copy and paste, you will be just fine!
To launch the GUI, I used this Google tutorial.
Now that you are on your VM instances, you will start the SSH connection. A command terminal will start.

— If the instance is in red and not green, there is a bug somewhere. If this is the case, delete the instance and re-create it. —-
You are now on your machine in the cloud. What? It doesn't seem like it?
Please do not ask too many questions. Just trust us, and more importantly, trust in the magic of copy + paste 😂:
 sudo apt-get install wget   
Doing this will create a "wget" package. It will ask you to confirm. Just type "Y" for "Yes".
When you type "Y", if the result is "abort"; execute the following command:
 sudo apt install wget   
Then copy this:
wget https

://

dl

.

google

.

com

/

linux

/

direct

/

chrome

-

remote

-

desktop_current_amd64

.

deb
sudo apt update
sudo dpkg 

--

install chrome

-

remote

-

desktop_curr

ent_amd64

.

deb
sudo apt install 

--

assume

-

yes 

--

fix

-

broken

sudo apt install chromium
It'll take 1 or 2 minutes to install. Then copy and paste the following commands again:
sudo DEBIAN_FRONTEND

=

noninteractive 

apt install 

--

assume

-

yes xfce4 desktop

-

base
sudo bash 

-

c 

'echo "exec /etc/X11/Xsession /usr/bin/xfce4-session" > /etc/chrome-remote-desktop-session'

 

sudo apt install 

--

assume

-

yes xscreensaver

 

sudo systemctl disable lightdm

.

servic

e
I skipped all the technical details and explanations for each command. If you want more information, have a look at this Google document on the subject.
We are almost there with cloud based LinkedIn automation!
Go to this address. Click the download button and download the Chrome extension to your browser. It will ask you to install the plugin on the computer. Go ahead and confirm.

Then start the configuration of a remote device. You will get a code to copy/paste. Take the Debian version and paste it back into the Command Terminal.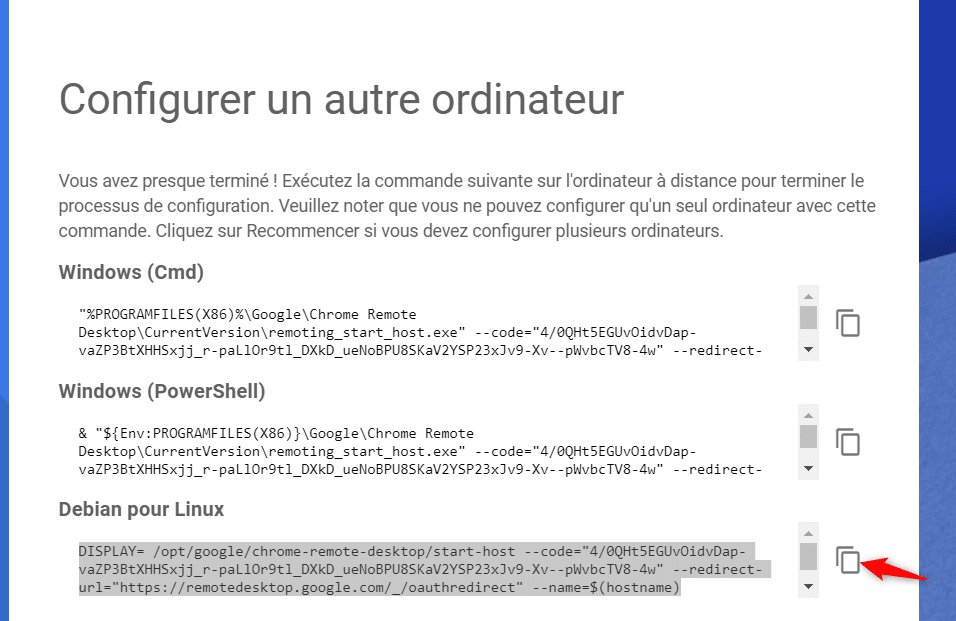 That's it! By clicking on "Remote Access" again at the top of the page, you should see your instance, accessible in one click! Click and enter your password.

Here you are on a splendid Linux interface! Congratulations!
If a popup appears, choose "Use the default configuration".
D. Configure the machine to automate campaigns (optional)
You will not need to go to this interface often. Once it's functional, you can manage your campaigns from your extension on your computer, just as before.
3. Start your LinkedIn account on a VPN
It is important to know that LinkedIn does not really like when there are IP changes in different countries.
Why? Simply because it is often a sign of fake accounts or the use of cloud automation tools 😉
That's why we're going to use a VPN which works as a Chrome extension. It is probably possible to install a VPN other than an extension on the server, but the option I've just presented to you is simpler. (The truth is that I didn't manage to get the other VPN options to work😅)
Personally, I chose Nord VPN because they offered an extension.
What is important about the VPN you choose is that you'll be able to obtain an IP in your country, to keep a "normal" behavior in regard to LinkedIn.
Once your VPN is purchased, go back to the Remote Desktop: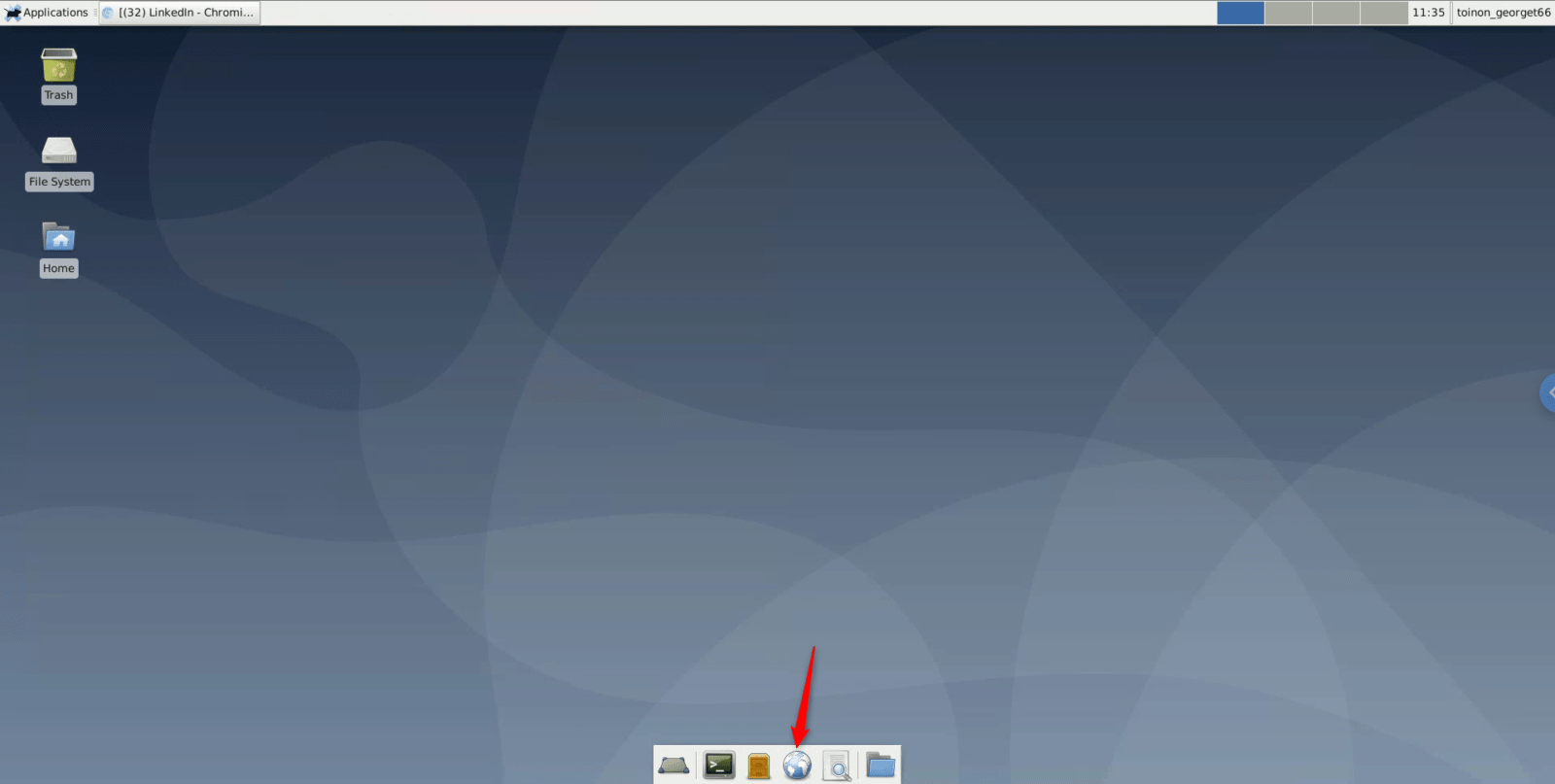 Launch Chromium by clicking on the browser icon at the bottom of the screen
Download the VPN extension in question. Log in. Choose an IP in your country
Open LinkedIn and log in. It is possible that despite the local IP, LinkedIn detects that it is a data center and asks you to confirm your identity by entering a code received by email. It's important to keep in mind that this method is not 100% risk-free. Although I tested with a new account over a few weeks and never encountered any problems, I cannot be held responsible if your account is ever restricted.
Download extensions like Waalaxy, ProspectIn, Podawaa, and Piwaa, that you want to run on your account.
That's it! Your account is now ready to run 24/7.
If you ever encounter problems whilst following this tutorial, do not hesitate to contact me on LinkedIn. I can't guarantee anything but I will try my best.
In the event of a machine bug when using a cloud-based system for LinkedIn
Several times, because I chose the smallest version of the server, it crashed. Go to this page, click on the 3 dots and click "Stop". Then when the machine has stopped, follow the same steps, but this time click "Start".
Now you know how to master cloud based LinkedIn automation! 😉