Here we go, you've been on LinkedIn for a while and you're certainly following the news that interests you. Maybe on LinkedIn, you have people you know who are referents in a field. You got it right ✅, today we're going to talk about LinkedIn influencers.
And we're even going to give you a little top 10.
Talking about your area of expertise is a great way to promote your business on LinkedIn. So many people have decided to take the plunge in order to increase their visibility 👀 and optimize their content-marketing. Only, a few of them stand out from the crowd. Let's make a small ranking of the top 10 LinkedIn influencers.
Top of the best LinkedIn influencers
On LinkedIn, we are starting to find more and more content creators. And yes, being present on the networks is no longer reserved to the social networks we are used to use such as Instagram, Facebook or Tik Tok… We could obviously expect this since LinkedIn has millions of monthly users on its platform (so a lot of prospects 💰).
We might as well say that we are not bad at visibility. Come on, let's go for the first influencer of this top 10: Neil Patel. ⚡These people are not ranked according to their number of subscribers nor according to their popularity ⚡.
#1 Neil Patel
I'm not going to introduce you to Neil Patel, I think we all know him 🧠. He is the one of the famous b2b influencers and he knows a lot about webmarketing. Neil mainly talks about :
SEO.
Traffic.
Social media.
Marketing and digital marketing.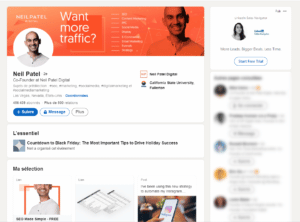 He has around 456 000 followers (which is huge). We can note that he regularly publishes on LinkedIn about what the subjects he likes.
#2 Richard Branson
Richard Branson is the founder of Virgin Group and his favorite topics are :
Travel.
Entrepreneurship.
Dyslexicthinking ✒️.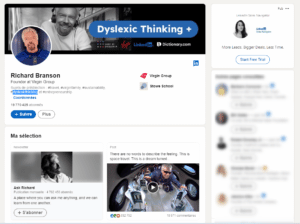 With over 19 770 000 subscribers 😱, Richard is a network behemoth and shares very regularly on the subjects that are important to him.
#3 Hunter Walk
This LinkedIn freak is an international author and speaker. He shares on topics such as: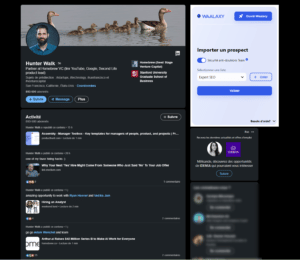 This macro-influencer has over 893,000 subscribers and doesn't hesitate to address current events through his posts.
#4 Bill Gates
I don't know if we really need to say who Bill Gates is. His favorite subjects are :
Books 📕.
Healthcare.
Innovation.
Climate change.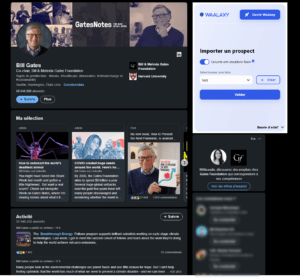 Bill shares with his 35 948,000+ subscribers posts related to the power of books and news.
#5 Liz Ryan
Liz Ryan is the founder of Human Workplace. She is quite known as a speaker and author.
Consulting.
Leadership.
Recruiting.
Career advice.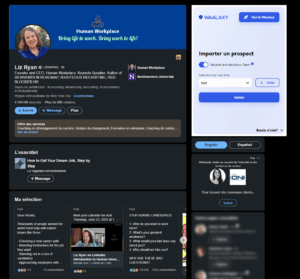 Liz has over 3, 130,000 followers on her LinkedIn page and regularly posts about human resources.
#6 Daniel Goleman
This author from Massachussets
Empathy.
Conscious leadership.
Emotional intelligence.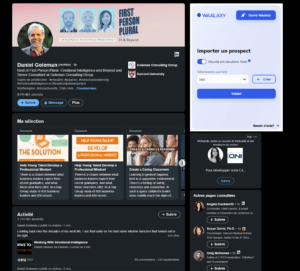 Daniel has a great community of over 5, 711,000 followers on the social media LinkedIn.
#7 Mickey Mikitani
Maybe you have heard about Rakuten. Well, Mickey Mikitani is the CEO of it. His favorite topics ✒️ are:
Financing.
Digital Content.
E-Commerce.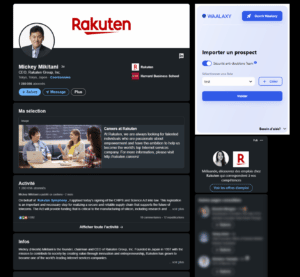 Mickey is not so regular in commenting but has a very impressive community of  1, 280, 056 followers.
#8 Gretchen Rubin
Gretchen is a writer. She will be happy to discuss the following topics:
Habits.
Happiness.
Copywriting.
With over 3,029,000 subscribers, she shares on the various topics that regularly animate her.
#9 Gary Vaynerchuk
Here is Gary Vaynerchuk who is also the CEO of VaynerMedia. If you like news about entrepreneurship, the ups and downs of starting a business and all sorts of adventures, and you want tips on the levers of a good acquisition strategy, follow Gary. His favorite topics are:
Business.
Investing.
Entrepreneurship.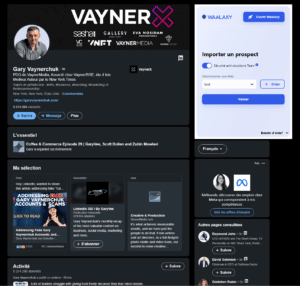 Gary has over 5, 274,000 people following him on his LinkedIn page. He also publishes regularly on the subjects that animate him.
#10 Jill Schlesinger
Jill, she's passionate about favorite subjects are :
Podcast.
Finance.
Investments.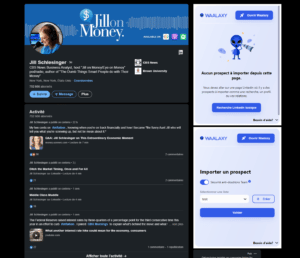 Jill has over 752,600 subscribers and speaks with great pleasure about her the subject she talks about in her podcasts (CBS Mornings).
Content creation on LinkedIn
On social media, there's not just one way to do content creation. On LinkedIn, you can write posts related to your field of activity or write articles. And you can even combine the two. What you need to keep in mind 🤯 is that your topics must be relevant and in line with your targets.
The persona
By the way, we're going to come back to this topic as well… Even if you're just showing your expertise, it's important to target your audience. In fact, if you share your knowledge with people who are not at all interested in your field of activity, you risk losing visibility.
How do you do that? Well, when you don't like something in your news feed, you hide it. Hiding a post will automatically make you lose visibility, and make you worth less in the eyes 👀of the algorithm. You may have noticed that for each of the influencers we mentioned, we said they publish regularly.
Obviously since creating a new post is going to help you please the LinkedIn algorithm and therefore appear more often in the news feeds of those who follow you. You need to have a presence on social networks.
Why is it important to publish on LinkedIn?
You have everything to gain if you start publishing on LinkedIn, regardless of your profession. The professional media has over 800 million monthly active users. A huge database that updates itself automatically. It's crazy not to try to use this medium for your prospecting or to sell a product or service.
By publishing on LinkedIn, you will gain notoriety and therefore you will also create an audience. This means that you will have a target audience for :
Your area of expertise.
The product you sell.
Build your personal branding.
This is a golden opportunity to boost your marketing strategy. So don't hesitate to use the digital tools that come your way. LinkedIn is relevant when you are trying to get known and actively participates in your Inbound marketing strategy.
Conclusion of "LinkedIn Influencers
Here is almost the end of the article and we saw some famous people on LinkedIn,also known as influencers. They were not classified by the number of their followers. So we had the occasion to see :
Richard Branson.
Neil Patel.
Bill Gates.
Liz Ryan.
Jill Schlesinger.
Gary Vaynerchuk.
Gretchen Rubin.
Mickey Mikitani.
Hunter Walk.
Daniel Goleman.
As a marketer, it could be very interesting to dig among these people. What are the keys to their success on LinkedIn? You can try to understand their marketing strategies by analysing their way of publishing.
FAQ of the article on BtoB influencers
Why is it important to make a good profile?
When you set a goal on LinkedIn (and on any other platform), whether it is to :
Visibility 👀.
Selling.
Prospecting.
It is crucial that you optimize your profile. You are probably wondering why? The answer is very simple 😁. LinkedIn is above all a platform based on trust. What does that mean in practical terms? Well, when you interact on LinkedIn, you don't face the "Gatekeepers", you can directly talk to designers, managers and project directors. Having an optimized profile on LinkedIn also allows you to gain points in SEO, so you will also appear on search engines.
The Social Selling Index
On the B2b platform, there is a small score that exists called the"Social Selling Index" or the SSI. It is your social selling index noted on /100. The higher this KPI is, the more influence you have on the network. A good score starts at 75. You can know your SSI right here.
How to become a LinkedIn influencer?
On the social network LinkedIn, you can absolutely become an influencer. You have to take up what we said before, we will list the important points:
Follow people who inspire you.
Comment on and interact with posts.
Sort through your news feed.
Research your topics and write about them (put them all up).
Post regularly.
Share with your readers so interact with the community.
These points are very important for your social strategy and for your development in order to retain your audience. We are all good, we told you in detail about the different LinkedIn influencers 🌈.